Brilliant Earth Review | Read Before Buying
Should you buy a diamond engagement ring from Brilliant Earth?
---
Brilliant Earth has been established since 2005 and in that time it has carved out a niche within the diamond industry as the jeweler that goes above and beyond to ensure that its diamonds do as little harm as possible to the Earth and the community.
That's a laudable goal, and if ethical purchasing is important to you then Brilliant Earth should definitely be a jeweler you consider. But should you buy from them? In this Brilliant Earth review, we're going to look at:
Brilliant Earth's position in the market
Brilliant Earth's Diamond selection
Brilliant Earths' engagement ring settings
Brilliant Earth's pricing
The Brilliant Earth purchase experience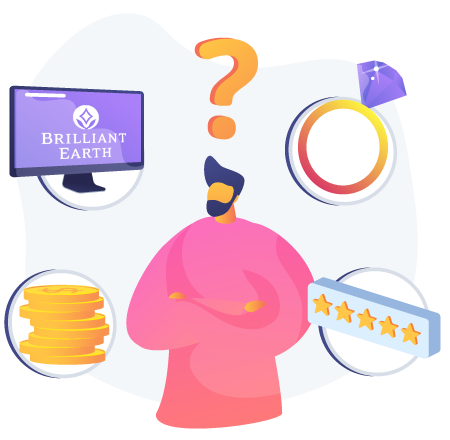 Brilliant Earth's position in the market: Beyond Conflict Free
One of the first things that separates Brilliant Earth from not only their online competitors, but also almost every other jeweler out there, is their focus on ensuring that their diamonds do as little harm as possible.
This has been a staple of their business model since they were founded in 2005, the year before the film 'Blood Diamond' was released and awareness of conflict diamonds was raised around the world.
Brilliant Earth's call their commitment 'Beyond Conflict Free':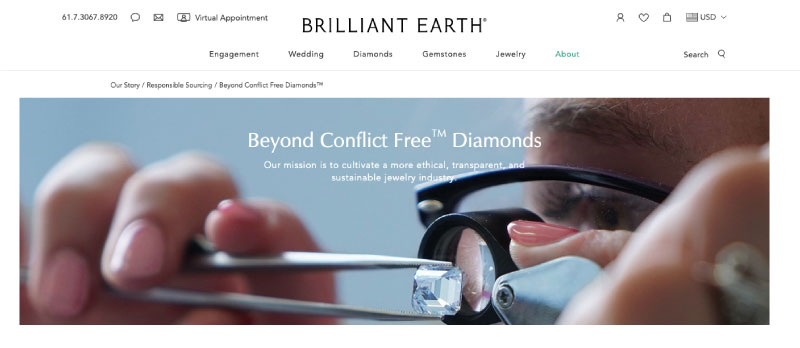 The core tenets of Beyond Conflict Free are:
Does Not Finance Rebel Movements (ie. don't finance African wars)
Protects Against Human Rights Abuses
Minimize Environmental Degradation
Maintain Safe and Responsible Labor Practices
Support Community Development

Reading through that list, you may think that they're things that every diamond retailer should be ensuring that they do too.
But many just do the bare minimum, which is to adhere to 'The Kimberley Process' – an agreement that that the vast majority of the diamond trade has signed up to and which has been somewhat successful in removing conflict diamonds from the global supply chain, but isn't infallible.
Brilliant Earth aim to go beyond this and have deployed technologies like blockchain, which enables them to track a diamond all the way through the supply chain, and GIA 'Origin Reports' which use chemical composition tests to determine where a diamond was originally mined.
The other one that stands out that is worth explaining is 'Supports Community Development'.
While this may sound like a strange thing to focus on, for some countries, the diamond industry has become the largest export which has allowed them to develop faster than comparable countries.
The best example of this is Botswana which is a good example of how well-organised mining practices can have a positive effect on a community. Brilliant Earth is focusing on supporting other communities like the one around the Lungudi mine in Ivory Coast where they have built a school, or helping gold miners in Peru learn how to mine sustainably.
Lastly, Brilliant Earth also use recycled gold here in their jewelry, make their ring boxes from wood sourced from Forest Stewardship Council (FSC) certified forests, and are certified as carbon free, offsetting their carbon emissions by contributing to rainforest conservation in Brazil.
In short, they're doing the things that you would hope that a responsible business would be doing in 2021, but not every jeweler does.
In the past, Brilliant Earth has been subject to critical examination around just how effectively it can track diamonds back to their source, but as we'll see, the current technology deployed can show beyond reasonable doubt where each stone was sourced from.
Brilliant Earth Diamond selection
---
Like most online jewelers, Brilliant Earth has a huge number of diamonds to choose from, in each of the 10 shapes most commonly used in diamond rings, as well as an easy-to-use search function, which will allow you find to find the balance of the 4Cs that is enough for you.
At the time of writing, Brilliant Earth offered 112,370 natural diamonds and 83,191 lab created diamonds: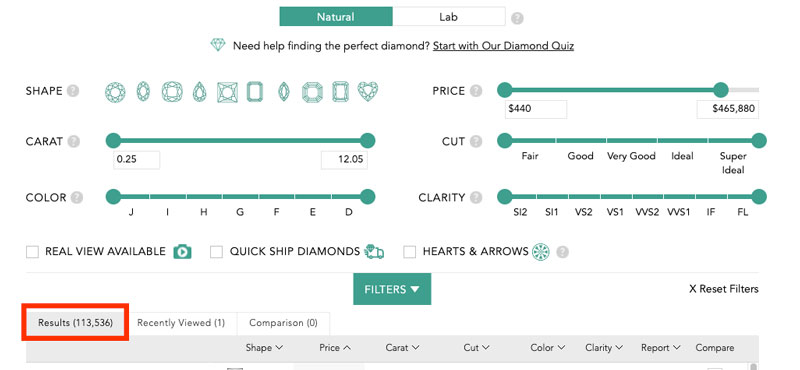 That isn't as many as some online retailers, but is definitely more than enough to ensure that you can find he balance of the 4Cs and your budget to find the right diamond for you.
Unlike many retailers, Brilliant Earth gives you more choice on what type of diamond to choose from, including:
Blockchain-tracked diamonds
Diamonds with GIA origin reports to show where they came from
Hearts and arrows diamonds
Recycled diamonds
Lab-grown diamonds
Each of these will apply to a different type of diamond buyer, from those who are looking for the very highest cut quality (hearts and arrows), to those who want to ensure that they can known the exact source of their stone and see how it developed from a rough diamond to the final polished gem (blockchain tracked).
Click below to open up each of the tabs to read more:
Blockchain-tracked diamonds
Of the options available, the smartest for me is the ability to choose a diamond that has been tracked on the blockchain throughout the supply chain.
For example, for this 1 carat diamond: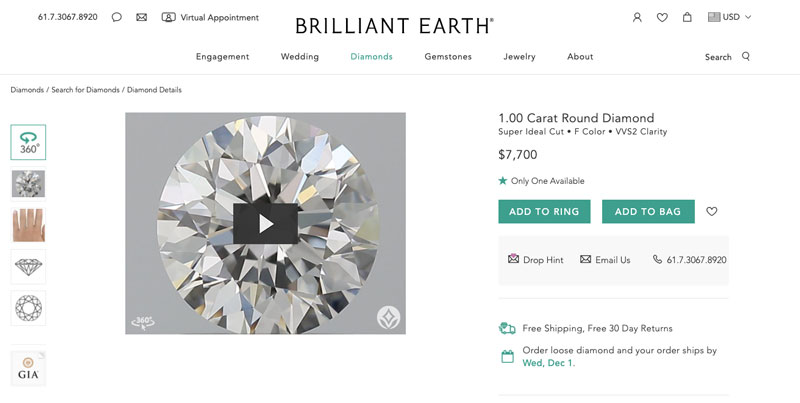 Can be tracked all the way back to the individual mine and the individual rough diamond that it was created from: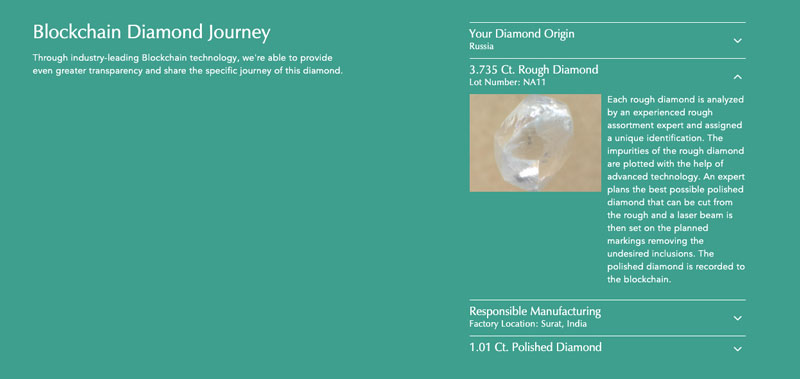 You can see this rough diamond at full size here.
When I first saw this, I was blown away – I can't think of another product of business that would allow you to trace the final article back to the original raw materials.
The blockchain tracking then allows you to see how the rough diamond was assessed to be split into two different pieces used CAD modelling: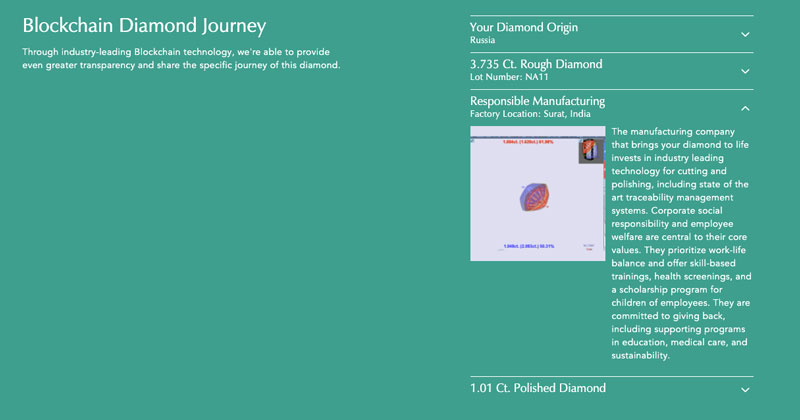 Again, you can see the full size image of this here, which shows that the original rough diamond was split into two separate stones
The first would end up weighing 1.004 carats, and was 61.98% efficient in its use of the 1.62 carat of diamond rough
The second would end weighing 1.048 carats and was 50.31% efficient in its use of the 2.083 carat of diamond rough
This may just be my inner diamond-nerd coming through, but I think that is super-cool, and is the sort of detail that can't be found from most other retailers.
For me, knowing the story of a diamond's origin and seeing where it came from adds a lot to the story and the specialness of it.
There are currently around 10,000 blockchain-tracked diamonds available through Brilliant Earth, which should be more than enough to find a stone that fits what you're looking for if this appeals to you. You can check them out here.
GIA Origin Report
GIA origin reports are an extension to the standard GIA report, but also include the country that the diamond was originally mined in: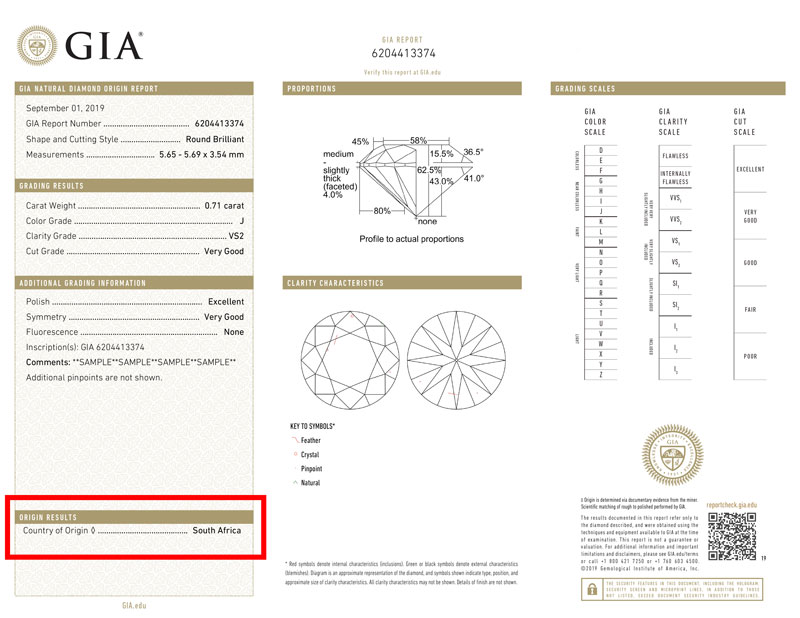 Countries that can be tracked back to include: Canada, Russia, Botswana, South Africa, Namibia, Australia, Brazil, Sierra Leone, Tanzania, and Zimbabwe.
As well as appearing on the certificate, the country of origin is also included in the laser inscription on the diamond's girdle (the ring around the middle of the diamond)
GIA collects and analyzes physical measurements, spectroscopic data (how it interacts with light), and imaging of the diamond as a rough crystal before it is cut and polished to match it to the original rough diamond and the country of origin.
This isn't as comprehensive as the blockchain tracking, or as cool, but it does mean that you can have some comfort that if a diamond says that it is Canadian, for example, that it really is.
Recycled diamonds
Even above lab grown, or ethically sourced natural diamonds, recycled diamonds are the most eco-friendly of all choices.
These are diamonds that have previously been mined, cut, and polished, purchased, and are now being made available again.
Because they are repurposed, these diamonds require no new mining, and minimal new energy to produce.
Before being made available for sale, these diamonds are graded by an independent gemological lab, which means you can be sure of their quality and compare them to other diamonds on a like-for-like basis.
At the time of writing, Brilliant Earth had 383 recycled diamonds available to choose from:

This isn't the largest selection, but you could get lucky and find one that matches what you're looking for. In theory, this could be a great option for people looking for an ethically-sourced stone.
However, one issue with Brilliant Earth's recycled diamonds is their price compared to a new diamond. For example, this 1.04 carat, G color, VS2 recycled diamond is priced at $9,130: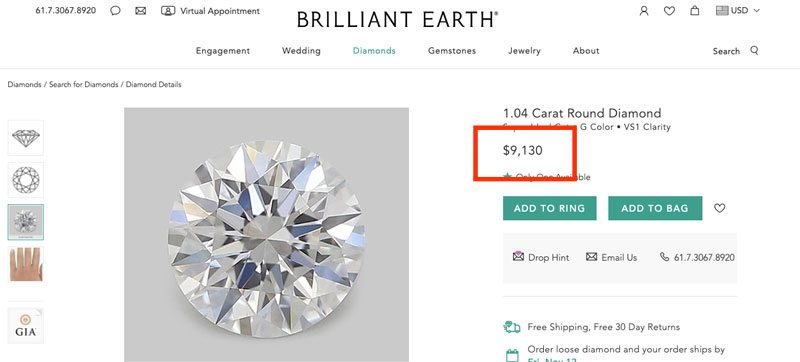 A non-recycled diamond with pretty much identical specs (G color, VS1 clarity but slightly lighter carat weight at 1.01) is priced around $3,000 lower at $6,190: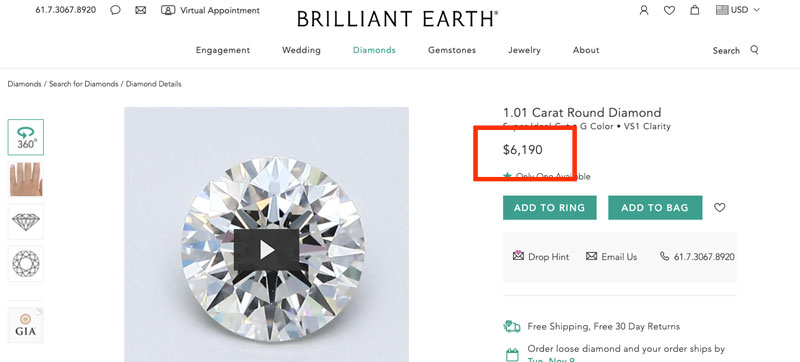 Hearts and arrows diamonds
'Hearts and arrows' is the name given to diamonds that have been cut to have exceptional symmetry, which can be seen when a special light is shined on it.
Perfect hearts and arrows looks like this: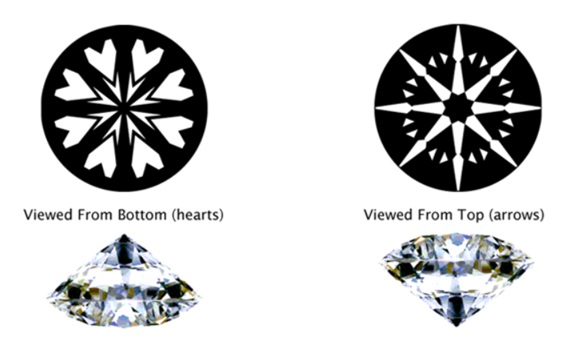 You should be able to see that in the image on the left, each of the hearts are symmetrical and evenly spaced from the chevron in front of them ,which on the image on the right, each of the 'arrows' is perfectly straight with the head connected to the shaft.
Hearts and arrows is a 'nice to have' and perfect symmetry like this doesn't necessarily mean that the diamond will sparkle better than one without hearts and arrows but which has proportions better optimised to reflect as much light as possible.
Brilliant Earth do offer a selection hearts and arrows diamonds, but this isn't their specialty.
This diamond is marked as hearts and arrows and is priced slightly higher than a stone with equivalent specs that doesn't isn't H&A: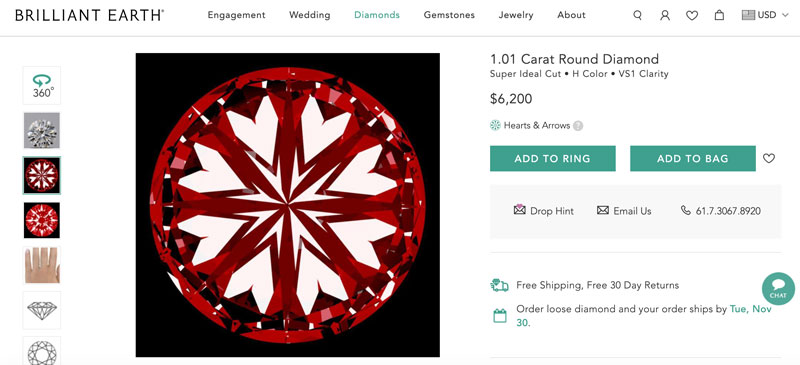 However, you should be able to see that its hearts aren't all perfectly symmetrical.
It's not terrible, and the symmetry is much better than a diamond that hasn't been cut to create hearts and arrows would be, but it's not perfect.
Even if you are willing to pay more, the symmetry is slightly better, but still not perfect: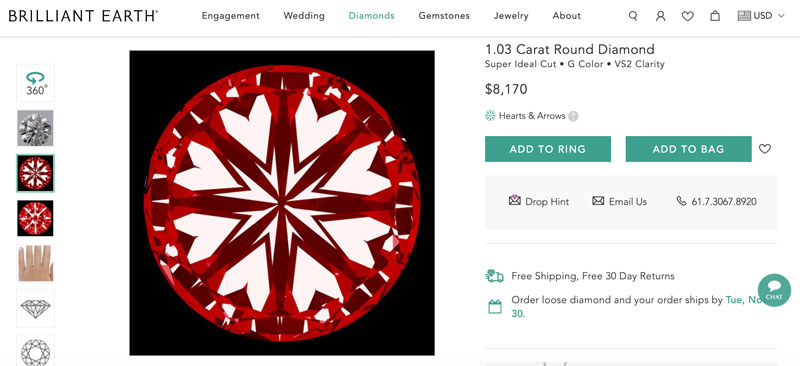 For most people who are choosing a hearts and arrows diamond, they want it to be perfect, otherwise the diamond misses the point slightly.
While you may be able to find a perfect hearts and arrows diamond from Brilliant Earth if you look hard enough, there are other retailers in my recommended retailers list that specialise in this, which I would recommend above Brilliant Earth.
Lab-created diamonds
Lab-created diamonds have come a long way in the last three years in terms of acceptance, and they have now lost pretty much all of the stigma that was once associated with 'synthetic diamonds'.
The reason for this is that they are chemically identical to natural diamonds and, for good one, display the same physical and optical characteristics as natural diamonds, including the same fire, scintillation, and sparkle.
Lab created diamonds offer excellent value when compared to natural diamonds, as these two stones with identical specs show:
1 carat, G color, VS2 clarity natural diamond: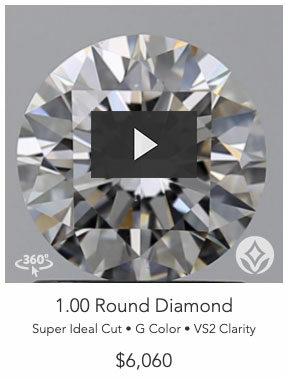 1 carat, G color, VS2 clarity lab-grown diamond: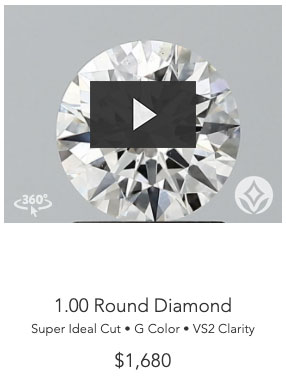 The price of lab grown diamonds has fallen significantly in the last year, which makes them an attractive proposition. Read our article on lab-grown diamonds for a full explanation of the pros and cons of lab grown stones.
If you're looking for a lab-grown stone, Brilliant Earth offer a wide selection (over 80,000), including a good selection of less common cuts. At the time of writing, there are over 4,000 lab-grown emerald cut diamonds available – a greater choice than most retailers offer.
One excellent feature of Brilliant Earth's lab grown diamond selection is that when a lab grown center diamond is chosen, settings that feature diamond side stones can also use lab grown diamonds.
This ring automatically changed its side stones to lab-grown after I selected a lab-grown center diamond:

While the setting above automatically changed to 'lab diamond engagement ring' to signify that the side stones are lab grown, not every setting does this.
However, most can have lab-grown diamonds used, but it may have to be requested, as the Brilliant Earth live chat confirmed: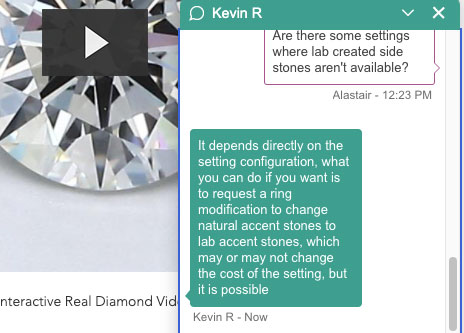 Lastly, one thing to note with Brilliant Earth lab-grown diamonds is that the vast majority of them are accompanied by an IGI certificate, rather than one from GIA.
While I would normally recommend a GIA reports for natural diamonds, at present IGI reports are far more common across the industry for lab-grown stones. The reason for this is that IGI reports give a more detailed grading for lab-grown diamonds than GIA reports: while the IGI report would tell you that a lab grown diamond is a G color and VS2 clarity, for the same diamond, GIA would only tell you that it is 'near colorless' and 'very slightly included'. The IGI report is therefore much more helpful to help you identify the exact specs of a diamond and compare stones on a like-for-like basis.
Overall, Brilliant Earth are doing a better job than most retailers in offering a wide selection of lab grown diamonds in a variety of shapes, as well as making it easy to stay consistent with your choice of lab grown diamond across the setting too, which most retailers currently do not offer. Check out the current selection of lab-grown diamonds here.
One of the best things about Brilliant Earth's diamond search function is how easy it is to search each of these factors, and even combine them.
We recommend you check out the search and have a play with each of the filters to see how it affects the selection available.
Brilliant Earth Engagement Ring Settings
---
Like many online retailers, Brilliant Earth offers a huge number of number of ring setting styles.
In fact, there are 278 available just for round diamonds, let alone all the other shapes.
If you know exactly what you want, it means that you are almost certainly going to find what you are looking for.
But if you aren't 100% sure yet, it can be slightly overwhelming.
One thing that I really like about Brilliant Earth is the modern feel of their settings.
Instagram and pinterest pages dedicated to engagement rings are full of narrow and elegant bands with significant-sized stones, and this is a style you can easily recreate through Brilliant Earth with settings like the Four Prong Petit Comfort solitaire ring or the Ballad pavé ring.
Another great thing about the ring selection process is that you can see exactly how big the diamond you are considering will look on the ring itself using a simple slider:

If we look at a simple 4 prong solitaire, this makes it super-easy to see the difference between a 3/4 carat diamond and a 2 carat stone: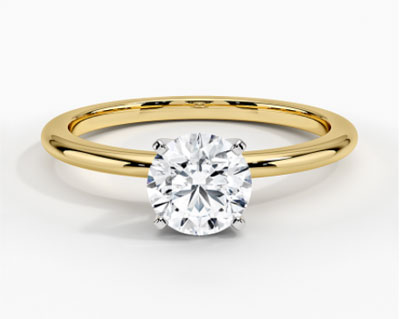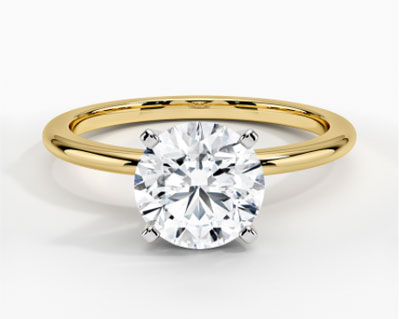 If you look at the prongs holding the diamond into the setting, you'll notice that they are white gold, rather than the yellow gold of the band.
This ensure that the diamond doesn't pick up any yellow tones from the yellow of the gold, which is a great feature to ensure that the diamond looks as white as possible.
Another nice touch when choosing your ring is the ability to see what the ring will look like on the hand, including the ability to change the skin tone to be closer to the actual wearer's.
Below you can see the 3/4 carat ring on the left, with the 2 carat on the right: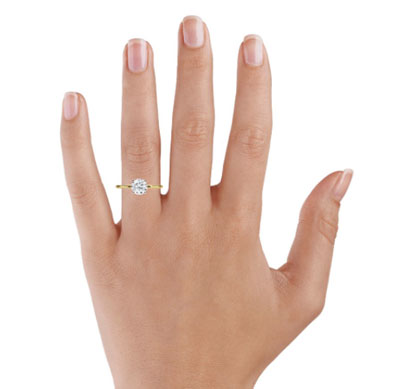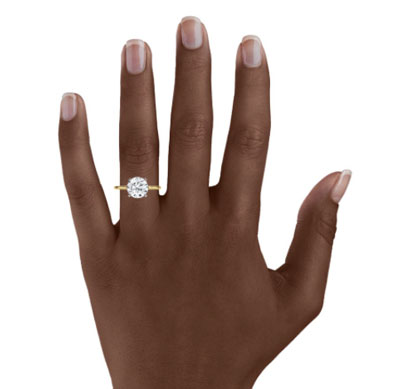 All of this aims to help you understand exactly what the ring you are buying will actually look like.
Lastly, one of my favourite features is the 'Recently Purchased' gallery, which is an incredible source of inspiration to see what other people are buying right now and to spark ideas on different combinations of diamond shape and setting style: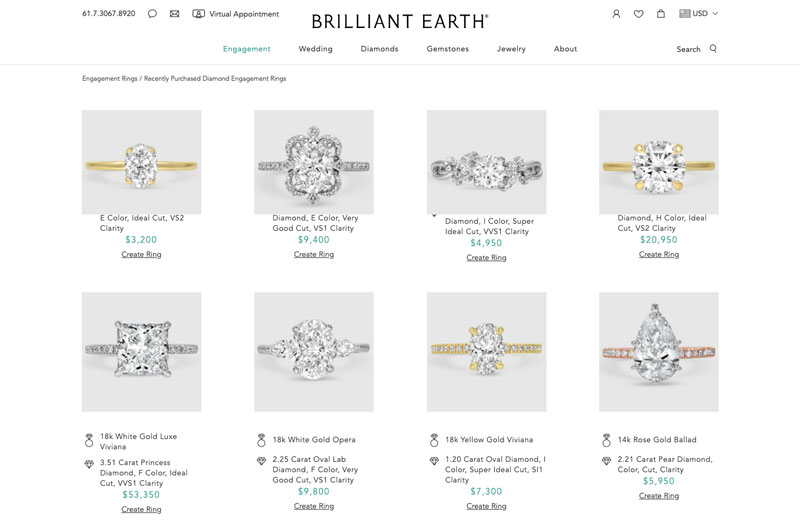 Even if you think you know what you're looking for, we recommend you click through to see what other people are choosing and to see whether it can spark some inspiration for you too, or check out all of the settings available here.
Brilliant Earth Service
---
It's got to be said, that most online retailers of engagement rings offer pretty much the exact same service guarantees:
30 day hassle-free returns
Free shipping both was (if you decide to return)
Lifetime manufacturing warranty
Free resizing
These items aren't a huge differentiator, but are a minimum to expect when buying an engagement ring in 2021.
There are other service guarantees etc available too (you can see them all here), but these are the key things that should mean that you can buy with confidence that Brilliant Earth are going to stand behind their workmanship and allow you the flexibility to change something if you need to (within a reasonable time-frame).
One thing that I would recommend when buying from Brilliant Earth (or any jeweler that is custom-building a ring for you), is to allow enough time between when you order and when you plan to receive the ring.
When selecting your ring, you are provided with an estimate of when it will ship:

How long this will be will depend on where the diamond is located (many are held by suppliers offshore) and how complicated the setting is (a ring with diamonds set into the band will take longer to create than a simpler solitaire setting).
During the process of the ring being created, you'll be provided regular updates on its status as it is created. Receiving these emails is pretty exciting as the ring you have chosen comes to life!
As with anything relying on a supply chain, there can be unforeseen delays. That could come from from Brilliant Earth's suppliers or the postal service that is shipping to you, so to avoid frustration, I recommend building in a buffer for your timings on when you hope to receive the ring. By doing so, you'll also be giving yourself some extra time to plan the perfect proposal!
Brilliant Earth International Guides
If you're outside the USA, there are additional things to consider when making the decision on whether Brilliant Earth is the right retailer for you. Click below to access your local guide:
Brilliant Earth Pricing & Value
---
As an online retailer, Brilliant Earth benefits from the economies of scale as many online retailers, which allows them to offer significantly lower prices than traditional bricks-and-mortar jewelers.
But with all of the different options available, it can be difficult to know how each of the options compares to each other.
So we checked for you.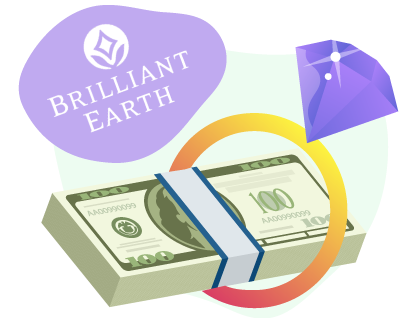 We compared four diamonds with identical specs to see how they stacked up:
Carat weight: 1 carat
Cut: Super Ideal
Color: G
Clarity: VS2
The results are below:
A Regular Gia excellent cut diamond with G color and VS2 clarity was $6,060.
Adding the GIA origin report to this increase the price by exactly $500, to $6,560.
Choosing the blockchain-tracking enabled diamond increase the price by a further $250, to $6,810.
While a lab grown diamond with the same specs was priced at just $1,680.
While this is a limited sample (we just looked for the average price for each of these types of stones – you can almost certainly find less expensive and more expensive examples), it is a good indicator of how the different types of diamonds compare.
There is undoubtedly a price-premium to pay for the additional reassurance that the GIA origin report of the blockchain tracking offers. This is probably to be expected, as both of these require more procedures and therefore more cost during the course of the diamond production than a stone without.
Whether it is worth it is a personal decision, but for me, I think that the reassurance that they offer and knowing more about the story of the diamond are worth paying a premium for.
Brilliant Earth review
Ring selection

Diamond quality

Service quality

Value for money
Our final thoughts on Brilliant Earth
Brilliant Earth are an excellent choice for the conscious consumer.
While there are some mis-steps (recycled diamonds are too expensive, the hearts and arrows selection isn't great), overall the selection of diamonds and settings are better than almost any other retailer, without
For me, the real pick is the blockchain-tracked diamonds – a really awesome innovation that allows you to be certain of the origin of the stone and knowing the backstory of such a financially and emotionally significant purchase really appeals.
If you care about where about where products come from and the effect that they have on the earth, it should be an easy decision to choose Brilliant Earth for your diamond ring.
Pros
Blockchain-tracked diamonds are a great innovation that allows you to understand the provenance of your stone
Excellent selection of beautiful and on-trend settings
Very well priced, even compared to larger online jewelers
Good service guarantees
Cons
Not as strong with diamonds that aren't its specialty e.g. hearts and arrows
Recycled diamonds are a great idea, but too expensive
Production estimates are longer than some other retailers – ensure you allow enough time for creation and shipping of your ring.