Brilliant Earth Shipping Time and Policies
---
If you're looking to buy an engagement ring, it's understandable that you're keen to understand Brilliant Earth's shipping time.
After all, you need to be able to plan your proposal around when the ring is going to arrive.
Thankfully, Brilliant Earth offers free shipping with fast delivery services, if you want to read their shipping policy in full, click here.
Just how fast will depend on what you order, and where you live.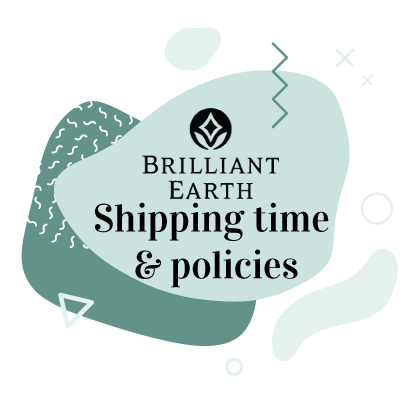 On this page you'll learn everything you need to know about:
Brilliant Earth Shipping Time
There are two things to think about when it comes to Brilliant Earth's shipping time
How long it will take for the ring to be sent by Brilliant Earth after your order has been placed
How long it will take the ring to be delivered to you once it has been sent
How long it takes Brilliant Earth to send a ring
When you purchase an item from Brilliant Earth, it will tell you the estimated time it takes to make that piece and when it will be ready for shipping, so you can see if that works with your timings.
This is displayed on the final confirmation screen before you finalise the purchase: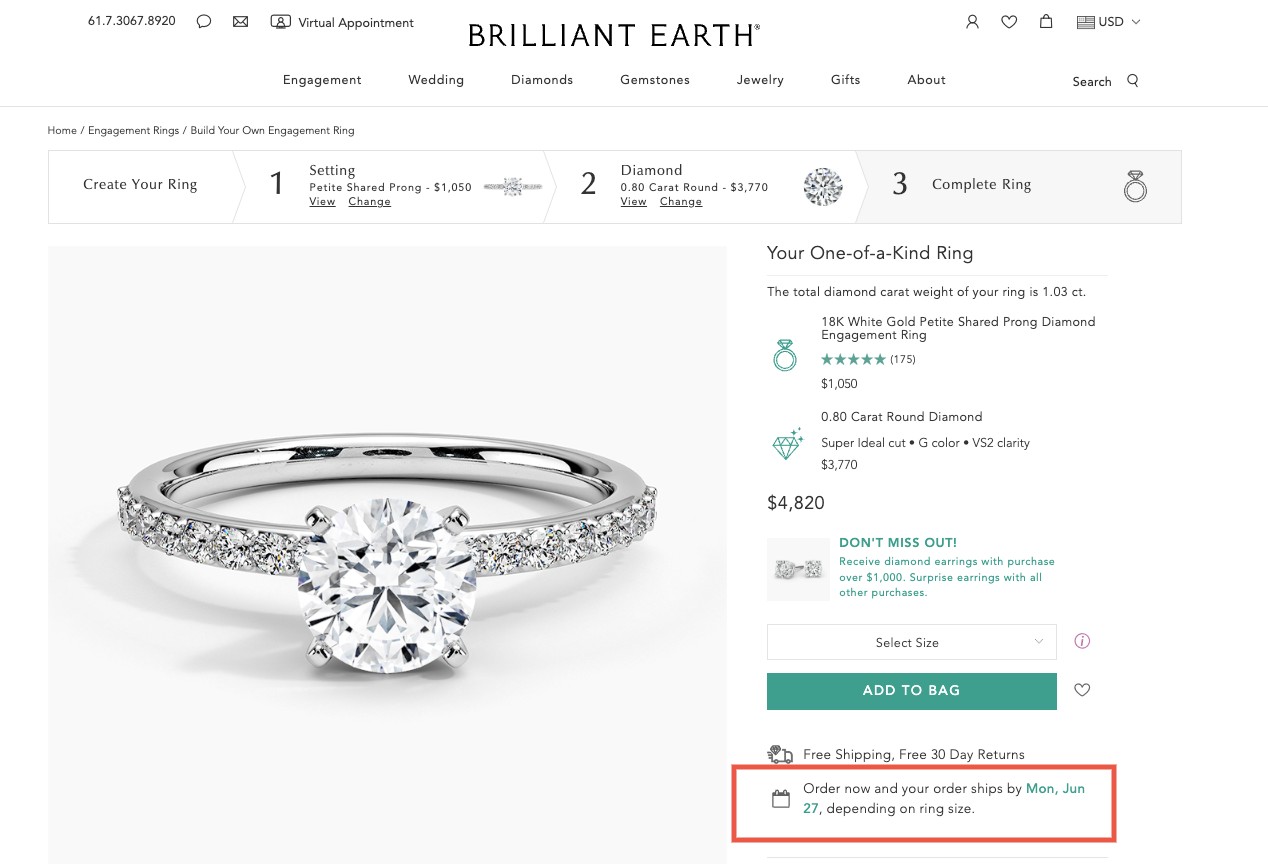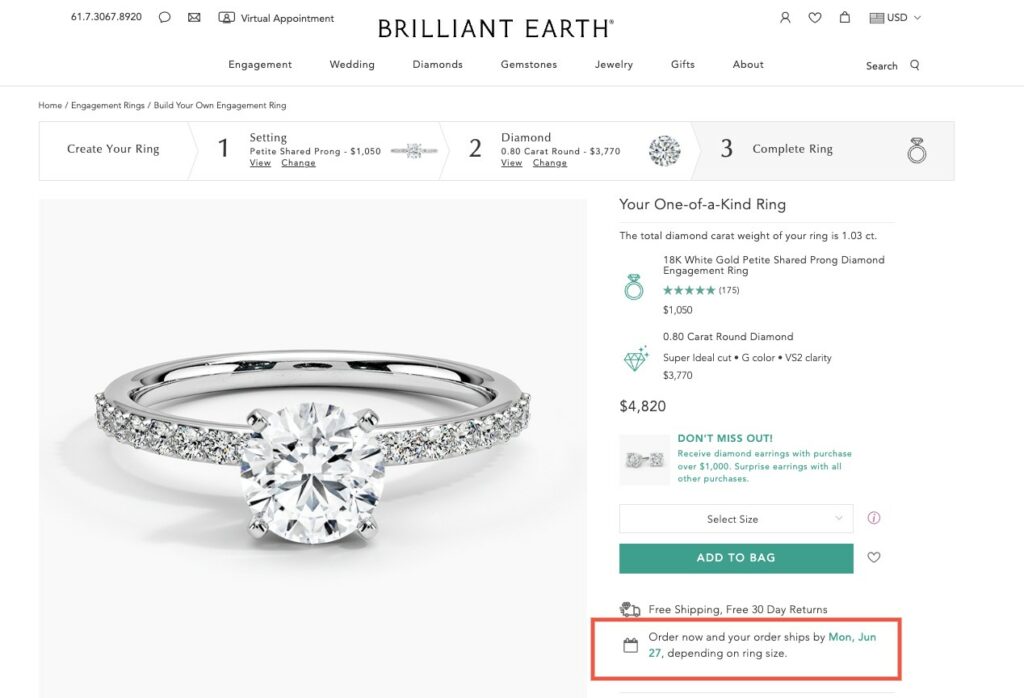 For a diamond ring, this is usually around two weeks from the date the order is placed, but can be up to four.
This time allows for the diamond to be sourced from a supplier and matched to your ring setting, plus the ring setting to be sized to fit the wearer perfectly.
If you'd like to see what this is for the ring you're considering, click here to visit Brilliant Earth, start a test order and then see what the current delivery time will be.
Your expected delivery date will also be sent to you in your order confirmation and most deliveries arrive before or on that date. Once your order is shipped, you'll receive an email confirmation – Brilliant Earth basically keep you up-to-date every step of the way.
How long it takes for the ring to arrive once it has been sent
When it comes to the actual shipping itself, Brilliant Earth use FedEx for all its shipping for customers.
On the FedEx website, it says that deliveries within the United States takes 1-5 working business days. If you're in Alaska or Hawaii, it will take up to 3-7 days, due to the longer distances. You can click through to the Brilliant Earth shipping page here to read more.
If you read any online reviews of Brilliant Earth, you may see some people expressing their frustration that the shipping took longer than originally indicated. It's therefore a good idea to leave a buffer between the stated shipping time and the date you actually need your ring.
Brilliant Earth Shipping Policies
Brilliant Earth offer free shipping both ways – both to you and back to Brilliant Earth if, for any reason, you need to exchange, refund or take advantage of the Brilliant Earth resizing policy.
Brilliant Earth will pay for the shipping and insurance via FedEx both ways, which is extremely generous and much better than a lot of other retailers. Click here to find out more about their shipping policy.
Read related article: Brilliant Earth return policy
If you are planning a surprise proposal, you may want to avoid detection, so Brilliant Earth are happy to organise a Saturday delivery, delivery on a particular date or delivery to a FedEx location, so you can go and pick it up. Just get in touch with their customer service team.
Top Ethical Choice Why we recommend Brilliant Earth:
Brilliant Earth are an excellent choice for the conscious consumer.
If you care about where about where products come from and the effect that they have on the earth, it should be an easy decision to choose Brilliant Earth for your diamond ring.
Blockchain-tracked diamonds are a great innovation that allows you to understand the provenance of your stone
Impressive sourcing policies.
Excellent selection of beautiful and on-trend settings
Very well priced, even compared to larger online jewelers
Excellent service guarantees
What happens if the delivery is not as expected?
Lots of things can delay a delivery – severe weather, a pandemic, incorrect addresses, the list goes on!
Brilliant Earth don't take any responsibility for these factors outside of their control, but if a package arrives and your Brilliant Earth ring box has been damaged, tampered with or lost during delivery, please notify Brilliant Earth within 5 days of receiving your tracking number and they will look at your case and help as much as possible..
Read related article: Brilliant Earth's warranty
And, if you are considering buying from Brilliant Earth and want to make sure that it will work with your timings, it's a good idea to click through to see the shipping time for the item you're interested in, to make sure that it works for you