Selling a Diamond or Engagement Ring
How to Get the Most Money When Selling Your Ring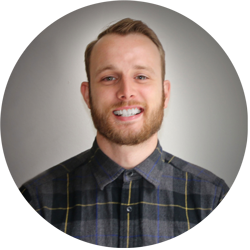 By Alastair Smith · Updated: March 20th 2023
---
Diamonds may be forever, but they don't necessarily need to be forever with the same person.
If you're looking to sell your engagement ring, it's a certainty that you want to know how to sell your diamond ring for the most money.
On this page you'll learn everything you need to know about: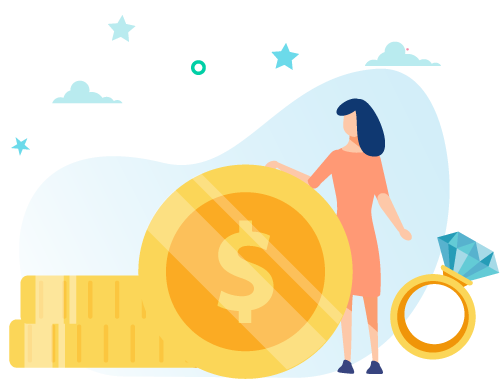 Ringspo is reader-supported, which means we may receive a commission if you click a link to a retailer & subsequently make a purchase.
We feature links to several retailers to help readers find the one that is the best fit for them. Find out more about how Ringspo works here.
Three things to know when selling your engagement ring:
Selling a diamond ring is like selling a second-hand car – you won't get the 'list price' ie. the appraisal value
The center stone size and quality is the main determinant of the value, the setting is less important
Finding the right buyer is key to get the most money possible:
Before we really get into it, there is some important information to understand about how diamond rigs are valued.
Understanding How Much Your Diamond Ring Is Worth Right Now
There are many values that are assigned to a diamond ring throughout its life.
If you're looking to sell a diamond ring though, there's only one that matters: what someone will actually pay you.
It's much more accurate than any kind of diamond price calculator ever could be.
However, it's important to understand each of the values that can be assigned to a ring and how they relate to each other.
Diamond ring appraisal prices vs. what you'll receive
Most people who own a significant piece of jewelry will have received an appraisal certificate with the purchase. And when it comes to selling a diamond, people often understandably base their expectations on the appraisal price.
In reality though, the price that a diamond can actually be sold for will almost always be significantly lower than an appraisal value.
Firstly, one thing to know is that appraisals are almost always higher than the actual value of the ring.
There are two reasons for this – one which is valid, and one which is less so.
Jewelry appraisal: replacement value
When a jeweler appraises a diamond ring, they will give a quote for the 'replacement value'.
This replacement value is the estimated amount of money that it would take to have the item replaced with an identically specced piece of jewelry.
That value can be based on the amount it would cost to buy the precious stones, the precious metals and create the ring, including any custom design or craftsmanship.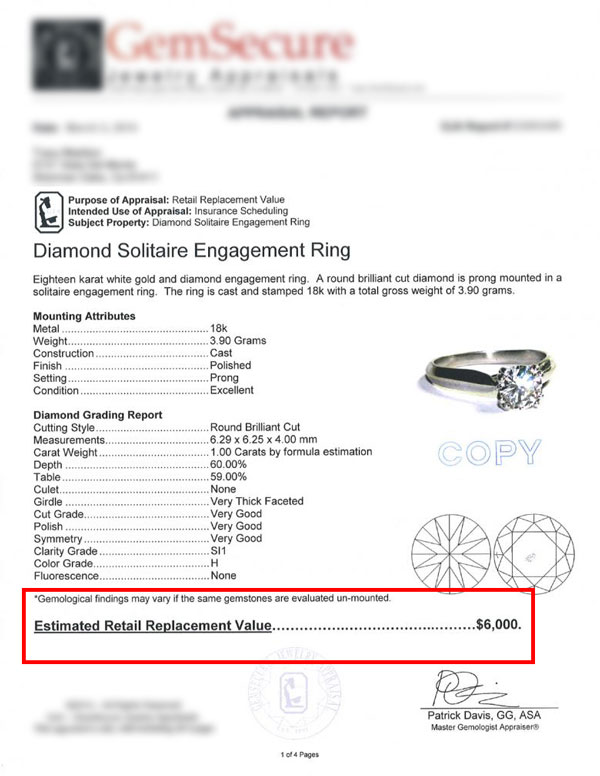 Replacement values generally try to take into consideration market shifts in the diamond prices over time – it's basically an estimation of how much the jewelry could cost in the future. As a result, they are usually higher than the actual purchase price.
However, even allowing for this, the replacement values that are included on an appraisal are often over-stated. Jewelers know that engagement rings are significant expense, so want to make sure that there is no feeling of 'buyer's remorse'.
The diamond in the appraisal certificate above is 1 carat 'round brilliant', with SI1 clarity, H color and very good cut, polish and symmetry.
An identically specced ring can be bought today for around $4,500 – a full 25% less than the $6,000 appraisal value: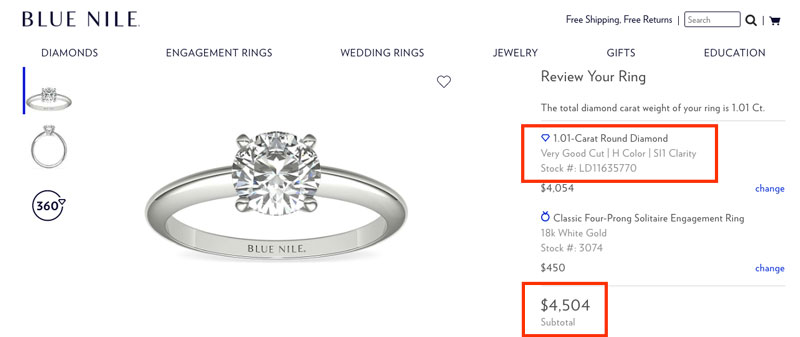 By providing an appraisal that is higher than the purchase price, jewelers make people feel that they got a great deal and hugely reduce the likelihood that people will have second thoughts and ask for a refund.
This is morally dubious, especially as it means that the buyer then needs to pay more than the ring is really worth for insurance.
What it also means is that if you are basing the amount that you hope to receive for your diamond ring off the replacement value on the appraisal certificate, you may be disappointed as it's unlikely that the ring was ever actually worth the stated 'replacement value' amount.
Jewelry appraisal: resale value
Resale value is the real number that you need to know for selling a piece of jewelry, but this won't be included on an appraisal certificate.
Instead, the resale value is the amount that someone will pay for the goods in their current, pre-owned state.
Often the biggest hurdle for a person trying to sell an engagement ring is accepting a resale value that they can live with.
Selling a diamond vs. selling a car
This isn't a perfect metaphor, but it's close enough to explain why resale value is lower than replacement value.
Jessica has had a change in life circumstances and is now looking to sell her sell her 6 month old VW Golf, which originally had a standard price of $25,000, with an extra $2,000 for aubergine metallic paint that she added as it's her favourite color.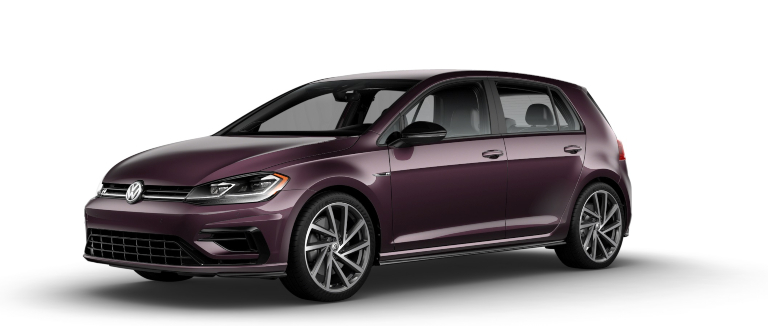 Rather than trying to sell it privately, Jessica decides to sell to a car dealer. On the way in she spots a similar used VW Golf priced at $20,000.
$20,000 would therefore be the 'replacement value' for her car.
The dealer offers Jessica $15,000 for her car. This is less than she originally anticipated, and the fact that she added metallic paint as an option doesn't increase the amount it is worth to the dealer. In fact, personalising it with aubergine paint actually makes the car less valuable to the dealer as it's likely that fewer used car buyers are looking for an aubergine car compared to a more common car color.
The dealer knows that he has to clean the car, fix minor issues, take pictures, advertise the car, store the car, pay staff salaries and then a bonus to the salesman who sells the car. All of this takes time and money, so $15,000 is what he can offer to ensure that he can make a profit and stay in business.
$15,000 is therefore the resale value.
Selling a diamond is similar to this. When you resell a stone, it will then be re-used (either in a new piece of jewelry or sold on), and in order for it to make sense to the jeweler:
The jeweler needs to cover his costs to get the diamond ready for resale – this might include getting it reappraised, repolished or resetting it into a new ring style.
A personal or less common choice in your ring design may mean that while it cost more to buy originally, it will likely be worth less than a simpler design when it comes to selling.
Used engagement rings are usually priced lower than jewelry with new diamonds, just like a used car
The jeweler needs to include a profit margin in the transaction in order to stay in business.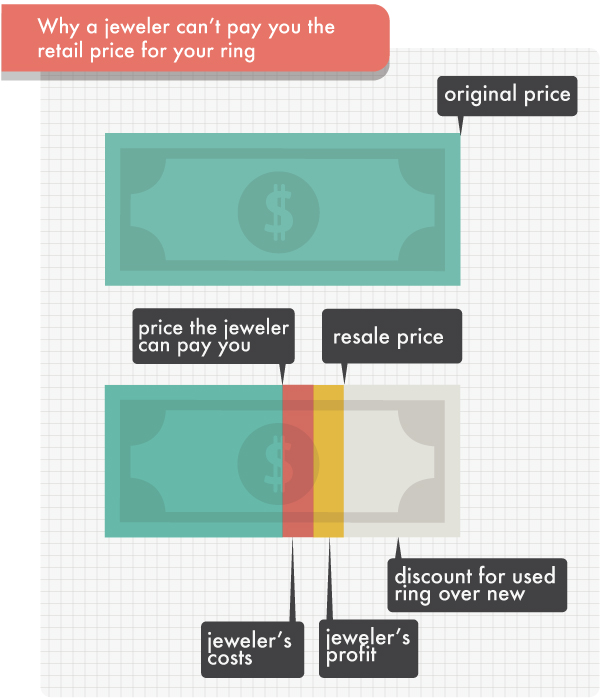 Where you bought your ring from may affect how you feel about the amount you're offered for your ring
If you bought from a bricks and mortar then the difference between the 'replacement value' listed on the appraisal and the 'resale' value that you are offered may be significant, and more than you expect.
This is because diamonds and jewelry at bricks and mortar retailers are generally overpriced.
Compared to online retailers, bricks and mortar jewelers have far larger overheads – staff, rent, stock etc. This means that they need to charge more for their products to cover these. With diamonds, this difference can be significant and the price of a diamond at a chain jeweler can be twice that of an online retailer.
For example, this 1.01 carat, G color, VS2 clarity diamond costs $11,185 at Zales.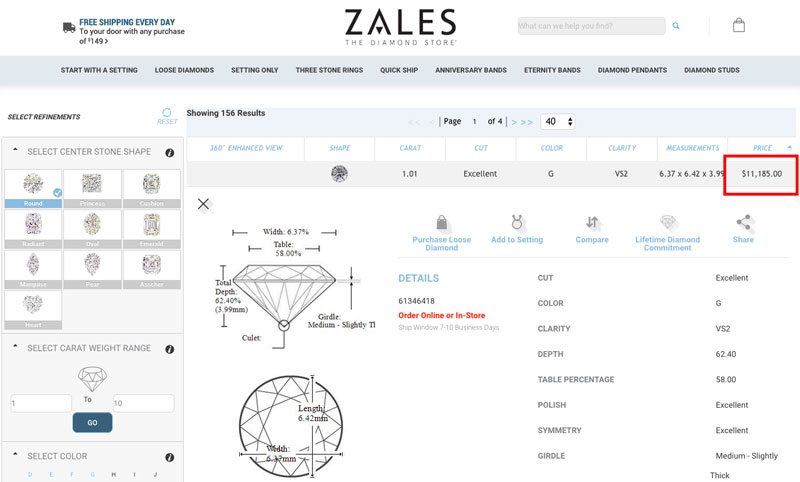 An equivalent diamond (also 1.01 carat, G color, VS2, excellent cut) is priced at $5,084 at one of my recommended retailers: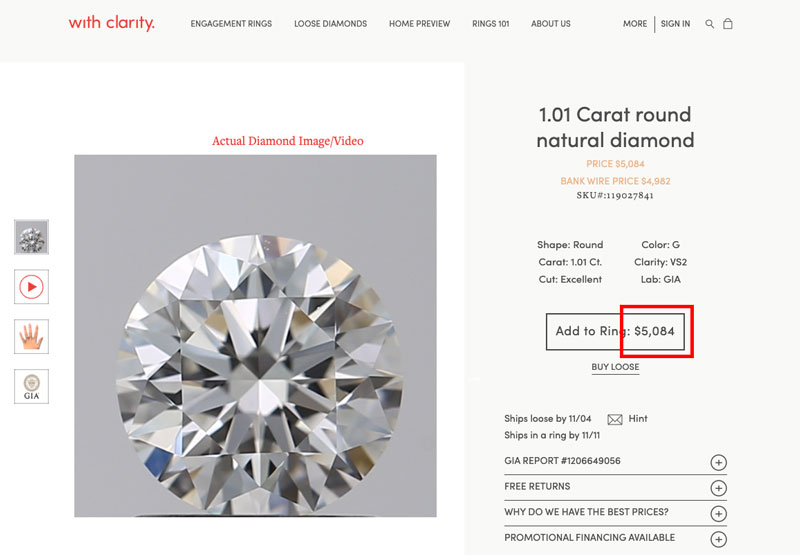 Despite this big difference in original price, these two diamonds would still be worth the same when it comes to selling them.
What this means if you paid a higher original price at a bricks and mortar or designer brand retailer, then the difference between the price you are able to realise when selling and the price you paid will be greater.
That can be difficult to come to terms with, but unfortunately it's the reality when some retailers charge significantly more for similar merchandise.
Factors That Affect Your Engagement Ring's Value
---
Like anything, a diamond ring is worth what someone is willing to pay for it.
Prices for new diamonds have varied hugely over the last two years because of Covid, but are now starting to settle again.
However, depending on your individual ring, the price you are offered can vary hugely compared to a different ring that originally cost the same amount.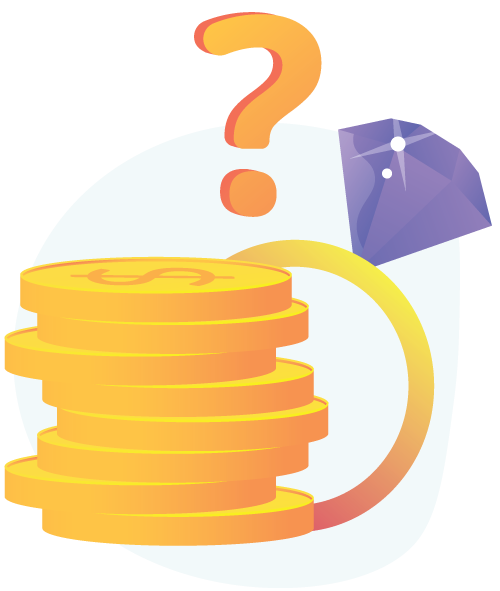 Jewelry retailing is extremely competitive and most jewelers operate on very thin profit margins. Online jeweler Ritani has recently started adding information about the amount of money they make on each and every diamond on their website:

On a 1 carat diamond that is being sold for $5,520, they make just $187.29 profit – just 3.4%.
When reselling your diamond, you are selling it back to an industry that doesn't make big mark-ups on new diamonds, let alone resold diamonds.
In the eyes of buyers, not all rings are created equal
Bottom line: the most important thing in determining the price you will receive is the size and quality of the center stone, not the ring setting.
While you may think of your ring as a single object, to a jeweler it is two separate things:
The ring setting
The center stone
When you are buying a ring new, the price of the setting can vary tremendously.
A simple solitaire ring setting in 14k white gold may cost just a couple of hundred bucks:

While an ornate platinum setting with significant amounts of melee diamonds set into it can be several thousand dollars: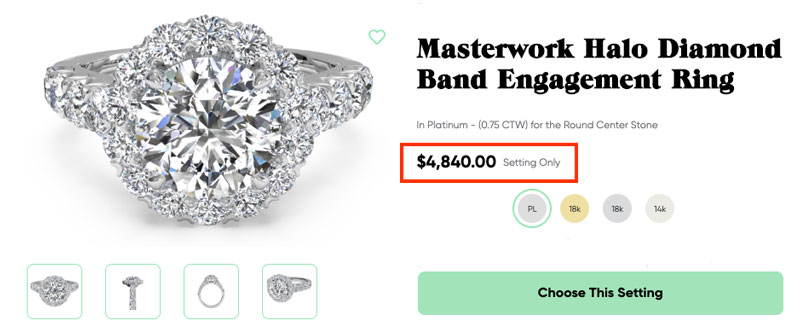 This difference can make a big difference to how much the ring is worth now, and maybe not in the way you might expect.
Two rings may have cost the same, but may now have very different values
If a theoretical engagement ring buyer originally had a $10,000 budget, they could have bought either of the two settings above, and used the remainder of their budget for the center diamond.
Choosing the expensive halo setting would obviously have left a significantly smaller proportion of the budget to go towards the diamond: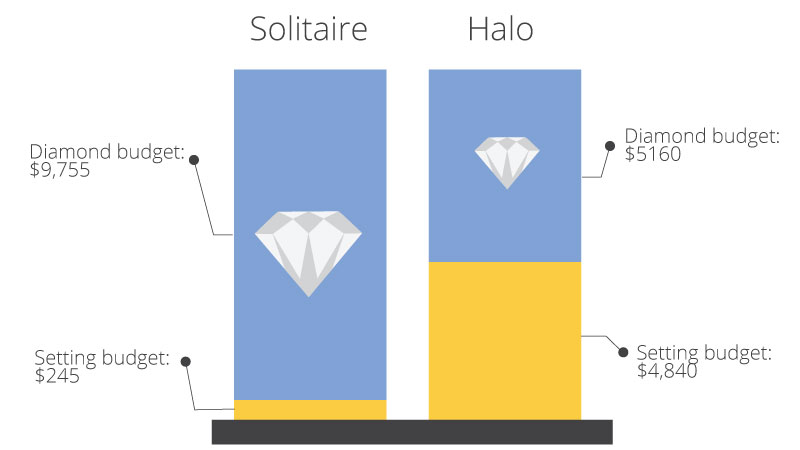 But when it comes to selling the rings, the ring with the solitaire setting and the larger diamond will be worth considerably more as it is the diamond, rather than the setting that is valued by jewelry buyers.
In fact, the ring with the simple setting and larger diamond would likely be worth more than twice as much, even though the two rings originally cost the same amount to buy. It's the carat weight and quality of the loose diamond when selling that makes a difference to the amount you'll receive.
Why expensive settings aren't valuable
When buying an engagement ring, the cost of production makes up a significant proportion of the cost. If a ring is custom designed, or if it has many small 'melee' diamonds set into it, it takes time, effort and money to create.
These certainly makes it more special to the wearer, but unfortunately when most jewelry purchasers place a value on a ring, they disregard the production value and base the their offer on the center diamond as they will usually remove the diamonds from the setting and melt it down to reuse in other jewelry.
This process of removing the diamonds is time-consuming and can mean that the time taken to disassemble the ring can be more valuable than the small diamonds are actually worth.
To a diamond buyer, therefore, the $10,000 ring with a setting that cost $4,840 doesn't have the same value as a simpler solitaire setting with an inexpensive $245 setting but a much larger diamond.
It doesn't mean that the expensive setting wasn't valuable originally, just that unfortunately it isn't valued by jewelry buyers to the same extent now.
Selling a designer engagement ring
The exception to this are designer rings, which do have a secondary market and which can be sold as complete rings.
Jewelry from these brands is known as 'signed' in the jewelry trade as they include an engraving of the maker's name on the inside of the ring.

So if you want to sell a Tiffany & Co, Bvlgari, Van Cleef, Cartier, Harry Winston or similarly branded 'signed' diamond ring then there's a good chance that you will be able to recoup significantly more than a 'generic' ring with a diamond of similar quality
Diamond certification and selling your diamond
As well as the 4 Cs of your diamond, another factor that will affect how much it is worth is its diamond certificate, or as it's more properly known: 'grading report':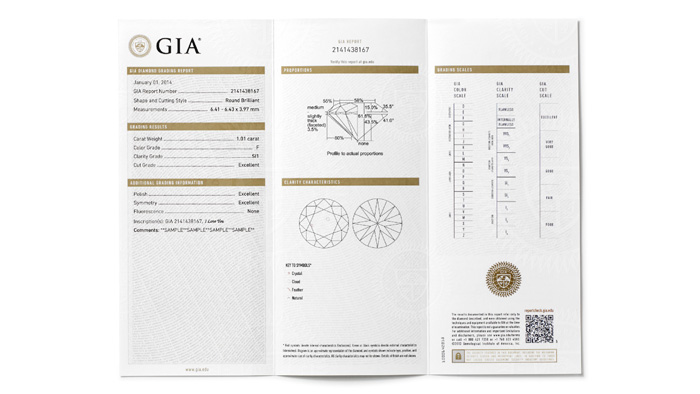 Grading reports are different from appraisals as they are prepared by an independent lab rather than a jeweler. They also don't assign a value to a diamond but they are a key factor in deciding how much a diamond is worth.
There are several different grading labs that assess diamonds, with some having a reputation for strictness and consistency while others are more generous with their gradings – known as 'overgrading'.
As a result, the same diamond can be graded very differently from different labs. In a test by a diamond industry publication, one diamond was graded as G color by GIA and D by EGL Israel:

The GIA has graded this diamond much more strictly and it is likely that this is a more accurate grade. As a result of this strictness, the diamond trade trusts that certificates from GIA are accurate and trustworthy.
If your diamond has a certificate from a lab other than GIA or AGS, or if your diamond only has an appraisal and no grading report, the diamond seller may offer you less than a diamond that has been graded by one of those two organisations, as there is a chance that it has been overgraded and is actually lower in quality than the report indicates.
Learn the Best Place to Sell Your Diamond Ring
---
The amount that you will receive when selling your diamond or engagement ring depends hugely on where you decide to sell it.
We conducted a test where we offered the same type of diamond to six different types of jewelry buyer:
A pawnbroker
A 'we buy gold' jewelry buyer
A local jeweler
eBay
Worthy.com
A specialist diamond buyer
The prices that we were offered for the diamond and ring ranged from $1,200 to $2,300.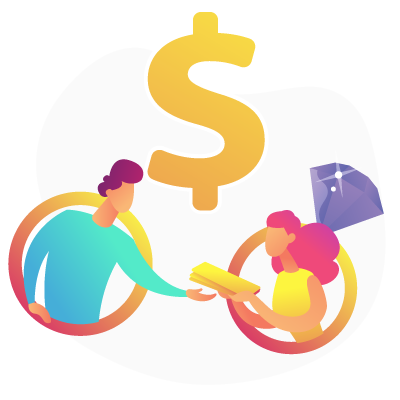 Finding the best place to sell your engagement ring
To test which jewelry buyer was the best, we offered each of the six types of jeweler exactly the same ring, and provided exactly the same information.
The ring we offered was an emerald cut diamond ring with a platinum solitaire setting:

Shape: Emerald cut
Carat: 1.21
Color: I
Clarity: VS2
Polish: Excellent
Symmetry: VG
Fluorescence: None
Grading report: GIA
If this ring was being bought new from one of my recommended retailers, it would cost around $4,700: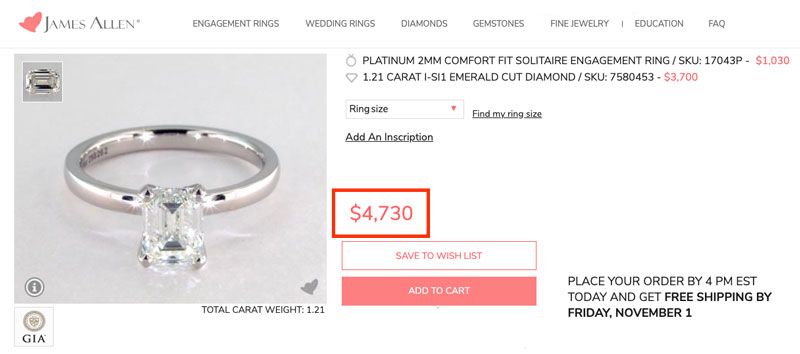 If it was being bought new from a chain jeweler, it would cost considerably more.
So how much could we get for our ring at each of the different types of jewelry buyer, and where is the best place to sell it for you?
Selling a diamond ring through a pawnbroker
Pawnbrokers' business model is to offer people who need money fast lower than market value for whatever goods they have available. They are taking advantage of people's need for.
When we asked for a price for our 1.21 carat emerald cut diamond from a NY-based pawnbroker, the price we were offered was the lowest out of any of the buyers: $1,200 – $1,400.
Even if you feel that you need to sell your engagement ring quickly, if you can wait just a few days then there is a much better way to make sure you get real value.
Selling your engagement ring to a 'we buy gold' store
'We buy gold' shines the neon sign and yes, these businesses do indeed buy gold, as well as platinum, diamonds and many other precious metals.
They are essentially a middleman who take the items that they buy and resell them on. Like a pawnbroker, they will give you an assessment of the value straight away and will offer cash.
We contacted two NY-based 'We buy gold' organisations and the offers that we received back were: $1,300 and $1,500.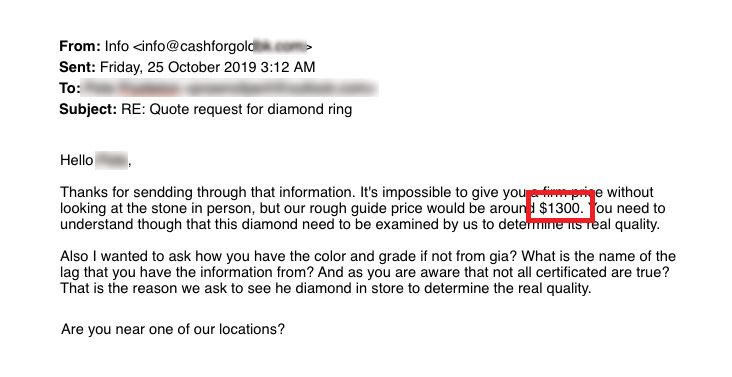 Selling your diamond to a local jeweler
Many local jewelers don't buy second hand jewelry because they would rather focus on selling new jewelry – the profit margins are better and it is less work for them.
If you can find a local jeweler who will buy your ring, they will normally sell it to a dealer who then will sell it to a wholesaler. Each of these people will be looking to make some profit on their sale, which means that the initial offer that the jeweler will make you is likely to be low.
We offered our ring to 10 local jewelers across the US, and two were interested. The highest price we were offered was: $1500 – $2000.
Selling a diamond ring on eBay
Ebay can be a great place to sell many things. But it's not a good place to sell a diamond or engagement ring, especially if you have a diamond with a good certificate ie. GIA or AGS.
While I didn't want to actually list the ring on eBay, by searching 'completed auctions', I found a ring that wasn't a million miles away – an emerald cut diamond three stone ring, with VS2 clarity and H color for the centre stone, and a total carat weight (including the side stones) of 2 carats.
The asking price was $2,499: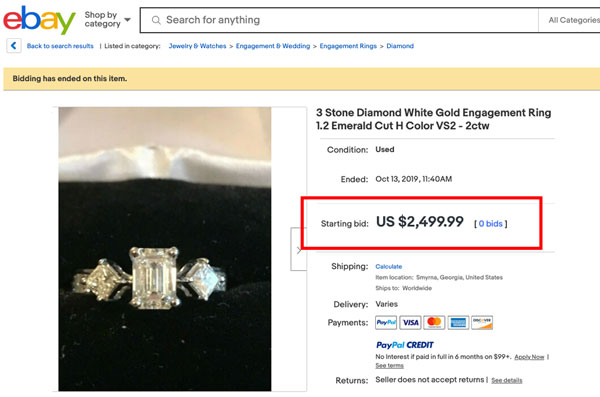 However, it didn't sell, indicating that this price was too high for eBay's buyers.
In fact, not many second hand rings sell on eBay, because it is cluttered with diamond and engagement ring listings from actual stores, rather than individuals looking to sell their diamonds.
And many of these diamonds have low quality certificates which means they are listed at extremely low prices. A brand new 1.5 ctw emerald cut ring with D color and VS2 clarity is listed at under $3,000:
Selling a diamond ring through worthy.com
Worthy.com is an online 'consumer to business' marketplace, where people can list an item of jewelry and professional jewelers and diamond buyers will bid and compete against each other to buy it.
For the right piece of jewelry, worthy.com is a great option. They have a great looking website and it can connect someone who wants to sell a diamond with far more potential buyers than they would be able to reach normally.
This crowd-sourcing of buyers means that the price attained should theoretically be the highest possible.
In fact, the ring that we were using in this test was actually sold on Worthy: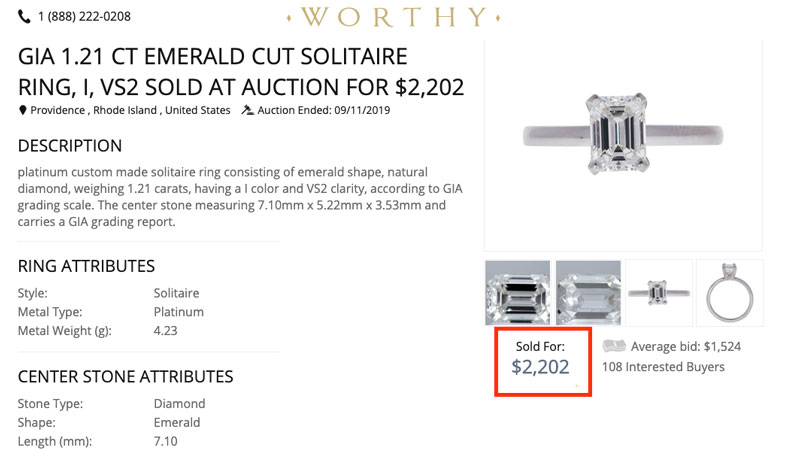 108 bidders were interested in it and it sold for $2,202.
But this isn't the amount that the seller would have actually received as Worthy's commissions need to be taken into account.
In this case, the commission would be $440, meaning that the person selling the ring would have received $1,540.
Sell your diamond ring to a diamond specialist
A diamond specialist is a person with the diamond trade that buys diamonds to reuse in jewelry, often melting the setting down to be reused also.
They're often called 'diamond dealers' and are actually exactly the people that buy jewelry through Worthy.
The difference here is that by going direct, there is no middleman to take a commission, so the seller (you!) gets to keep the entirety of the selling price.
As well as a higher price paid, the other big advantage that working directly with is that you get the money for the ring straight away – no waiting around for an auction to run its course.
Our recommended diamond specialist is Alon Mor at 'The Diamond Oak' – a third generation New York based diamond dealer who quoted $2300 – $2500 for the stone on its own – significantly higher than the other options.

The reason he is able to offer more is because he knows the true value of the stone and what it will be worth in its next life when it is used in another piece of jewelry.
Plus, as he isn't acting as a middle-man, he doesn't need to bid low in order to ensure it make business sense for him.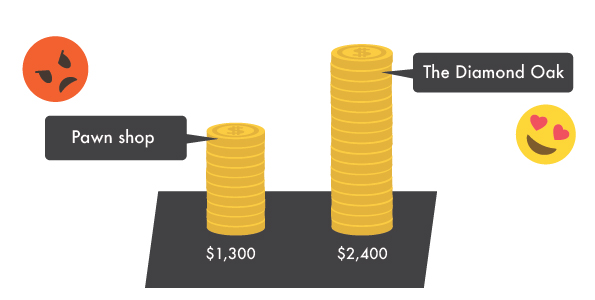 The Best Place to Sell Your Engagement Ring
When we tally up the different offers, it's clear that one type of diamond buyer will offer the most value for you:
| Rank | Name | Offer |
| --- | --- | --- |
| 1 | Diamond specialist | $2,300 – $2,500 |
| 2 | Local jeweler | $1,500 – $2,000 |
| 3 | Worthy.com | $1,540 |
| 4 | 'We buy gold' store | $1,300 – $1,500 |
| 5 | Pawnbroker | $1,200 – 1,400 |
| 6 | eBay | Unsold |
Parting with an engagement ring can be an emotional, but if you feel that the time is right then Alon at The Diamond Oak will guide you through the process and ensure that you receive the very best price possible – just click through and fill out the form and he'll get straight back to you with your offer to begin the process.
How to sell a diamond ring
---
When you're selling your diamond ring, it can be tempting to go for a quick, easy sale. However, doing do can mean that you receive significantly less than you should.
If you're in a hurry to sell and simply Google 'diamond buyers near me' and then choose the first on the list, it's likely that you will receive significantly less for your diamond than you should.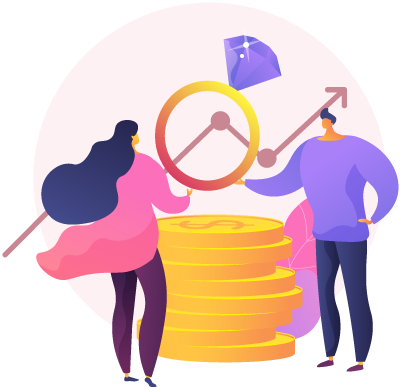 In this section we'll look at 7 steps to take when selling your ring to maximise your selling price:
Decide on what is important to you: price vs speed of sale
Understand your engagement ring's value
Collate documentation
Clean your ring
Photograph your ring
Source quotes
Choose the buyer that is the best fit for you
1. Decide on what is important to you: price vs speed of sale
Like many things, there is a small choice to be made between convenience and price.
If you're looking to sell your engagement ring, the same can apply. If you want to find someone to buy it from you the same day, the trade-off for this speed is that you are likely to be offered a lower price for it.
But, if you can be patient and willing to wait a little longer, you are likely to be able to command a significantly higher price for your diamond ring.
As detailed in the test above, while a pawnbroker offered $1,300 for an engagement ring, an online specialist offered $2,300 – $2,500 for the exact same ring.
Selling a diamond ring to the online specialist may take a week or so, but the increase in sales price is worth the trade-off for most people.
2. Understand your engagement ring's value
Trying to understand how much your ring is worth can be tricky as it may have several values throughout its life:
the price that was originally paid for it
the amount it is insured for
the a value of the raw materials
the amount that someone is willing to pay for it
Of these, it's the last one that is really important when understanding what your engagement ring is worth.
If you don't already have one, it can be a good idea to have a 'fair market' appraisal conducted before you sell, to understand how much your ring is worth, rather than a 'replacement value' appraisal.
Worthy.com's 'recent auctions' tool can also be useful to get an approximate ballpark figure of your engagement ring's resale value: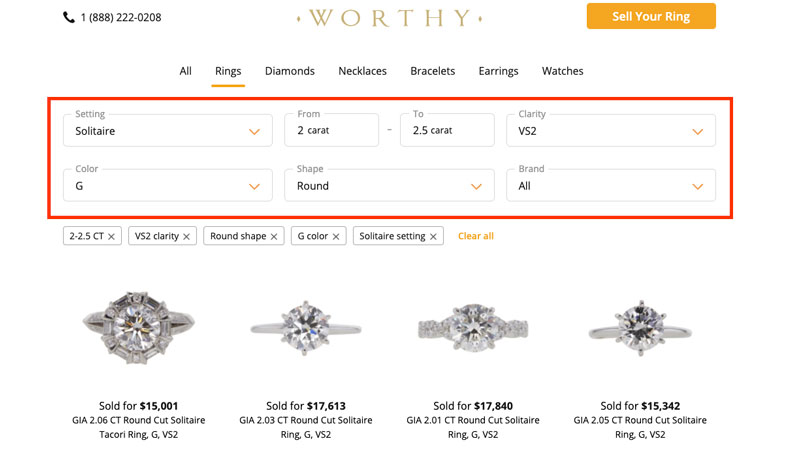 3. Collate documentation
When selling your engagement ring, there are a few things that a buyer wants to see:
Receipt or proof of purchase
Appraisal
Grading report
The first will show that the ring is yours to sell. Unfortunately jewelry is a commonly stolen item – it's high value and easy to move. A receipt or other proof of purchase will therefore go a long way to proving to a potential buyer that the ring is yours.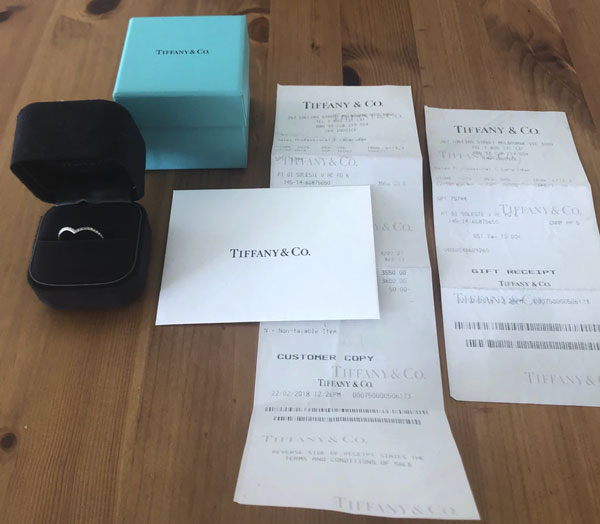 Being able to supply an appraisal can also help. While you won't get the value listed on the appraisal, it can be useful for you as a starting point for negotiation.
Lastly, if you have a grading report for the center stone of your engagement ring, this can save a potential buyer from having to repeat the grading process to ascertain the diamond's quality. Some independent labs like GIA, IGI or AGS allow reports to be checked online, so being able to supply a grading report number will instantly allow a potential buyer to check the stats.
4. Clean your ring
Like selling anything, presenting your ring in the best possible light is key to getting the most money possible for it.
Thankfully, cleaning an engagement ring is super easy and you don't need any special equipment for it.

Just use soapy water and a soft toothbrush to scrub the ring of any grime, then rinse it in clean water and let it air dry on a tea towel.
If you do have a jewelry polishing cloth, this can add a little extra sheen to the ring, but it's unnecessary.
Top tip:
Never clean your engagement ring in a sink – the possibility of it going down the drain is very real. Instead, always clean it in a bowl of soapy water, far away from any plugholes.
5. Photograph your ring
Even if they are professional jewelry buyers, the person buying your ring is a human being who will make a judgement call based on first impressions.
So, while the stats of your center diamond and the amount of gold in your setting are important, supplying some clear and high quality images of your engagement ring can go a long way to putting them in a positive frame of ind to make a good offer on your ring.
If your phone has a macro mode, use this to take in-focus, close-up shots
If possible, take a picture in natural daylight, as this is the optimum light to encourage a diamond to sparkle as much as possible. This shot could be on your finger, or you holding the ring, but the purpose is to show the diamond's sparkle, so make sure it is catching the light!
Take detail pictures with the ring lying on a plain, flat surface. This will allow you to focus on the ring itself, rather than the background
Take at least two detail pictures:

One looking at the ring from the front – this is the view that someone wearing the ring will see
One looking at the ring from the side, where you can see the shape of the prongs
If you have any details that are worth mentioning, ensure these are included in the photos too. This could be an under-halo, filigree or a suprise gem in the band etc.
6. Source quotes
It's good practice to source more than one quote when buying something significant to ensure you're getting good value.
I like to get at least two quotes to compare, whether that's sourcing a plumber, considering a new car or finding a printer for some birthday invitations.
And when selling something significant, it's good practice to do the same. I always recommend that you source at least two quotes to ensure that the price that you are being offered is fair.
7. Select the buyer that best fits
When you get the quotes back, it should be a pretty straight forward decision on who to go with: the one that is offering the most.
Other considerations can also be the speed of the transaction, the ease of the transaction and how secure you feel dealing with the buyer. After all, it's a high value item that you are
Summing Up: Our Recommendation on Where to Sell Your Diamond Ring
---
There are many reasons to sell a diamond ring – a change in life circumstances, an upgrade of an original engagement ring, passing on a family heirloom, or something else entirely.
This is a long article, so if you've made it this far, you are obviously serious about selling.
To summarise, our recommendations for the best place to sell your engagement ring to get the most money are below.
The Diamond Oak: Best for rings with a center diamond above 1.5 carats or designer rings
Extensive experience and good connections means that Alon can offer the best prices for higher value engagement rings, knowing he can sell the ring for a profit

Excellent customer experience and a fast transaction speed (typically 5-7 days) make this the best choice for higher value rings.
---
Worthy.com: Good choice for rings between 0.5 carats and 1.5 carats
Worthy is an auction site that exposes your engagement ring to hundreds of jewelry buyers.
This scale means that higher sales prices can be achieved, but Worthy's commissions do need to be take into account when calculating how much you will actually receive into your pocket.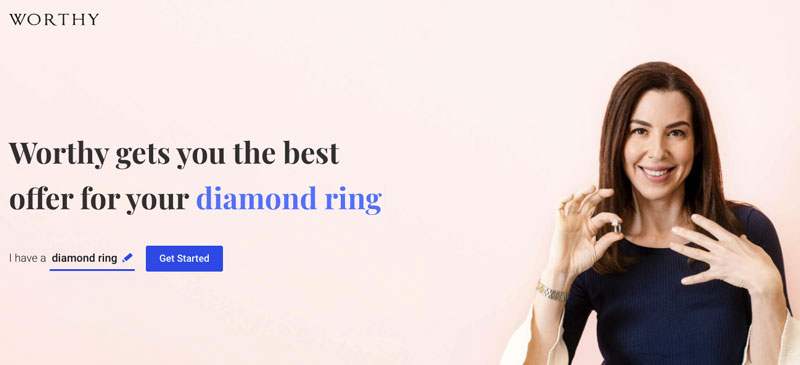 Worthy offers a great experience for sellers and is a good option for many engagement rings.
---
Express Gold Cash: Good choice for lower value rings
Express Gold Cash is the best option if your ring has diamond smaller than 0.5 carats e.g. cluster rings or if you are looking to sell a wedding ring.
It consistently offers the highest prices based on the spot price of gold or other precious metals that day. Its sales process is fast and it consistently generates a large number of excellent reviews.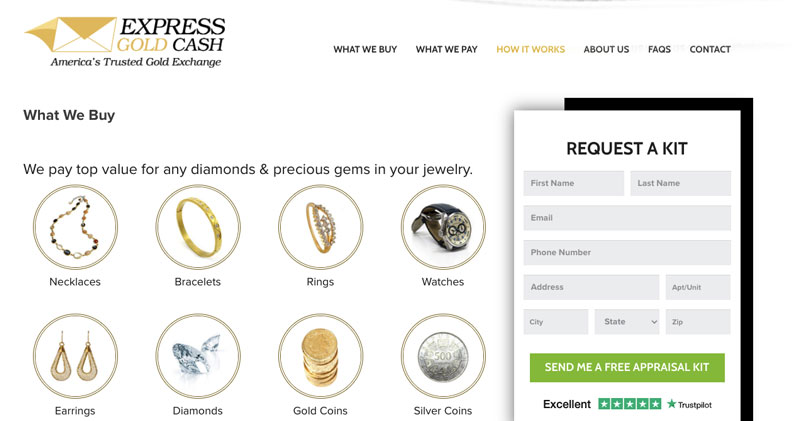 If your ring is unlikely to be worth over $1,000 on the secondary market, we recommend you contact Express Gold Cash
Buyer name
Customer Review Scores
Customer Review Scores
4.9 from 67 reviews on Google reviews
4.7 from 2,473 reviews on Trustpilot
4.9 from 517 reviews on Google reviews
Timings
Timings
Can send payment the day after sale price is agreed
Typically takes 2 weeks for auction to run
Can send payment the day after sale price is agreed
Shipping
Shipping
Free, trackable shipping
Free, trackable shipping
Free, trackable shipping
Insurance
Insurance
Up to $100,000
Up to $100,000
$5,000 standard, but can be increased to $100,000
Biggest benefit
Biggest benefit
Highest price paid for larger diamonds
Ability to get your ring in front of largest number of potential buyers
Highest price for precious metals