How much should you spend on an engagement ring?
How to find the engagement ring budget that's right for you
Written by: Alastair Smith
Last updated on: March 14th, 2022
---
Buying an engagement ring is a big investment, both financially and emotionally.
And how much to spend on an engagement ring is a topic that many people have heard conflicting 'rules' or opinions on.
You may have heard about the 'two month salary' rule, or you may know how much some of your friends have spent on their rings and be feeling some pressure to spend a certain amount of money.
But ultimately, deciding how much to spend is a decision only you can make.
This post will talk you through the thought process of deciding the amount of money you should spend on your engagement ring, making sure that it is right for you.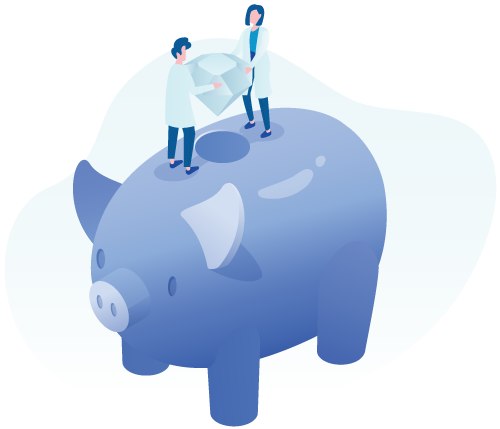 How many month's salary should you spend on an engagement ring?
We're going to get this one out of the way straight away.
There is no set rule about how much are you supposed to spend on an engagement ring. No formula based on your salary that you can apply to determine how much should you spend.
However, it's very likely that you have heard a variation of the 'you should spend two months' salary on your engagement ring' rule.
Where did this come from? Watch the video below to find out.
De Beers is a huge diamond conglomerate that controlled much of the diamond trade in the 20th Century.
In the '30s, De Beers ran an ad campaign with the tagline 'A diamond is forever' that was amazingly successful in linking the hardy physical properties of diamonds with the idea of everlasting love: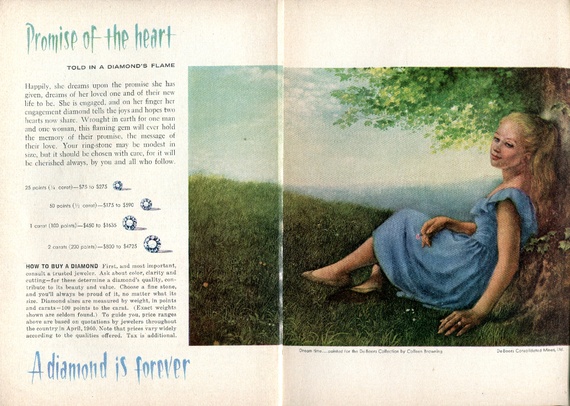 The tagline was so successful that the phrase has entered day to day language and even inspired a James Bond film title: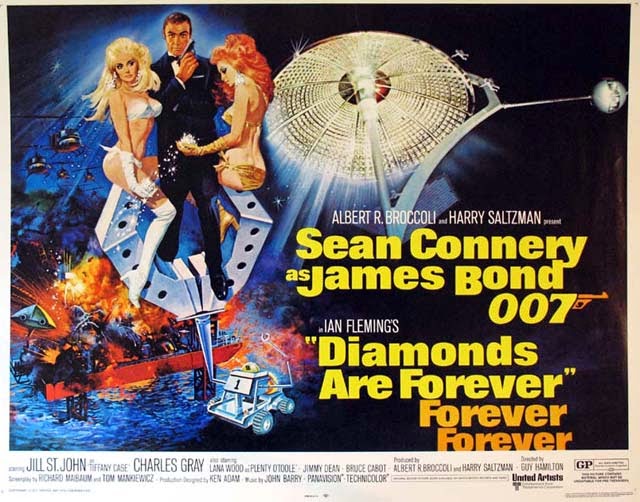 So it's fair to say that the phrase has entered every day language.
But before De Beers launched this campaign, diamonds weren't really associated with engagement rings or proposals at all. No specific precious stone was. De Beers literally invented the idea that the symbol of commitment that men should use when proposing should include a diamond, and it has now become part of our culture.
The 'two month's salary' engagement ring rule
In the '80s De Beers wanted to convince men that they should spend more on diamonds than they currently are. They ran a marketing campaign, with taglines like: "Isn't two months' salary a small price to pay for something that lasts forever?"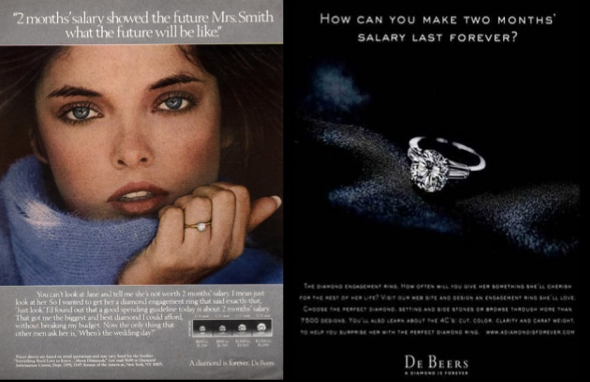 Again, it was an incredibly successful ad campaign – so successful that the "two month engagement ring" rule has become a yardstick that it seems everyone knows.
The 'three months' salary engagement ring rule
For some people, the two months' rule has morphed into three months.
Again, this is due to a De Beers, who ran an ad campaign in Japan in the 1980s where the two month salary rule was replaced by three months.
Japan has become one of the largest markets for diamond engagement rings, primarily because of the success of De Beer's marketing campaigns.
Why you should ignore the month-based engagement ring budget rules
The first is the fact that they are so poorly-defined – there are various versions of the 'rule' floating about and it isn't ever clear whether tax should be taken into account.
Two months' salary post-tax salary is very different from three months' pre-tax salary. So which should you follow? Clue: neither
The second, and the big one, is that they are the result of a marketing campaign, and an old one at that.
Do we still care about that time Coke tried to make us drink New Coke in the '80s?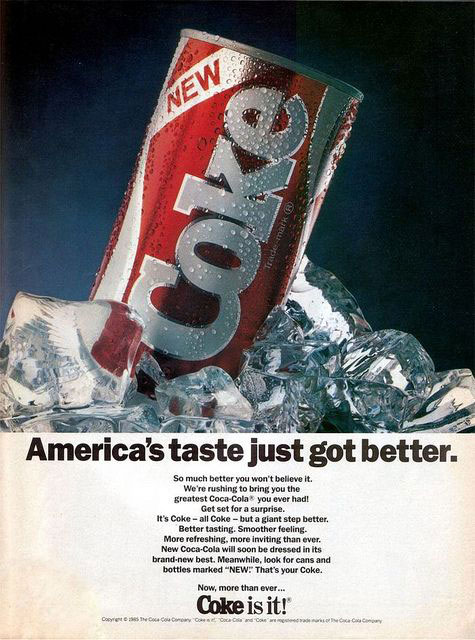 Hell no!
So let's all agree to forget all about the two month / three month salary rule – it just adds a layer of pressure and confusion that no-one needs.
And thankfully, that's just what the majority of people are doing.
In a recent survey Ringspo ran of 2,432 recently engaged couples, just 0.9% of people followed the 'three months salary' rule: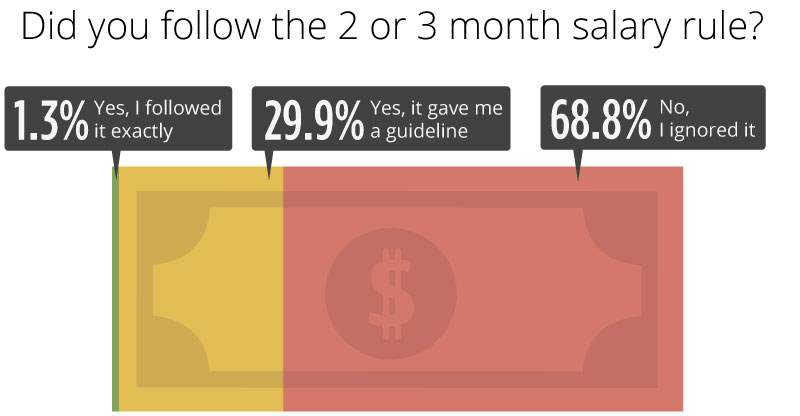 Average engagement ring cost
OK, so we're ignoring the two or three month salary rule, but knowing how much other people spend, on average, can be useful to help us frame our decision.
According to The Knot 2021 Real Weddings Study, the average cost of an engagement ring is currently $6,000.
In our own 2021 research, our respondents' average cost of an engagement ring was $5,225: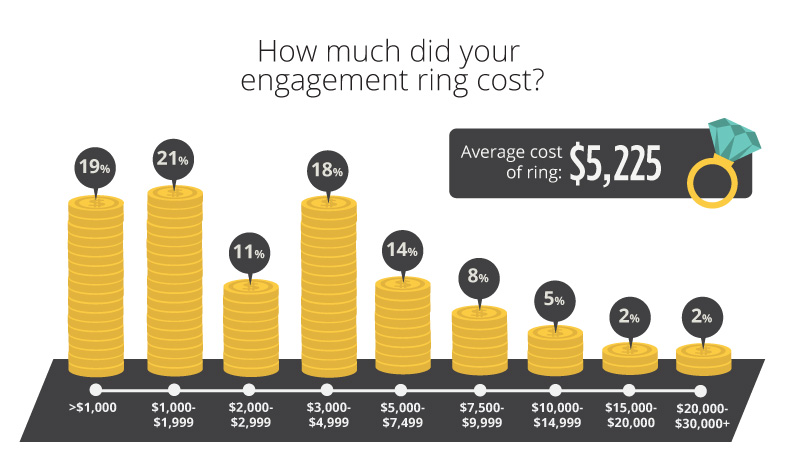 However, the actual amount spent varied wildly from $10 (it came inside a scented candle) to over $30,000.
This huge difference in price shows that there is no set amount that ring purchasers should spend on their ring – it's all about finding the ring that is perfect for you personally and your relationship.
How much should you spend on your engagement ring?
---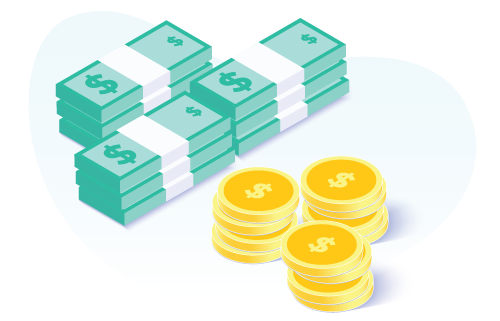 So we're ignoring rules around salary.. How do you know how much you should spend?
There's no magic formula or 'right' amount to spend on an engagement ring.
What is right for you is much more nuanced and personal than that.
These are the three things that you need to think about when deciding your budget:
The expectations of the recipient
Your attitude to spending
Your financial situation
The key is to think carefully about each of these and then strike a balance between all three of them: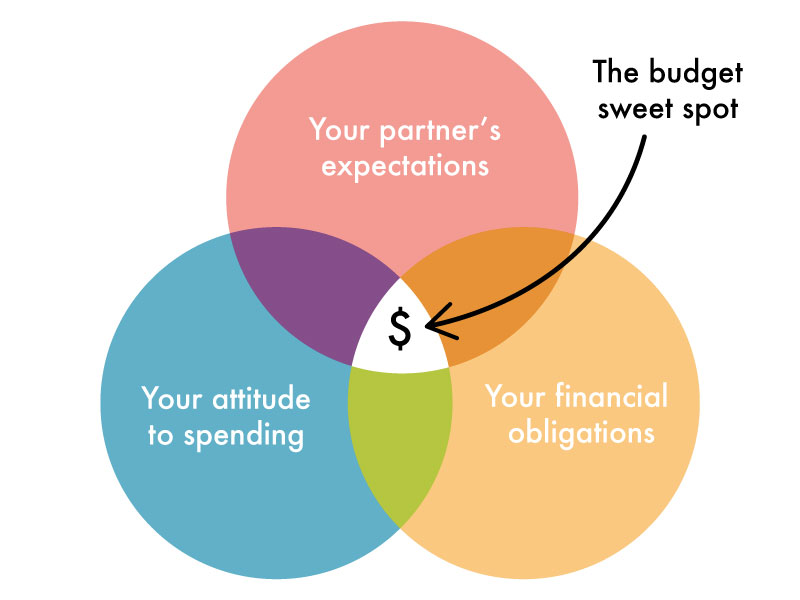 The amount you spend on your engagement ring should be an amount that sits comfortably within each of these.
The video below goes into this in more detail:
Consideration 1: The expectations of the recipient
The first thing to consider is the expectations of the recipient. This is important because your partner will have them.
And you want to meet them.. Or at least come as close as possible.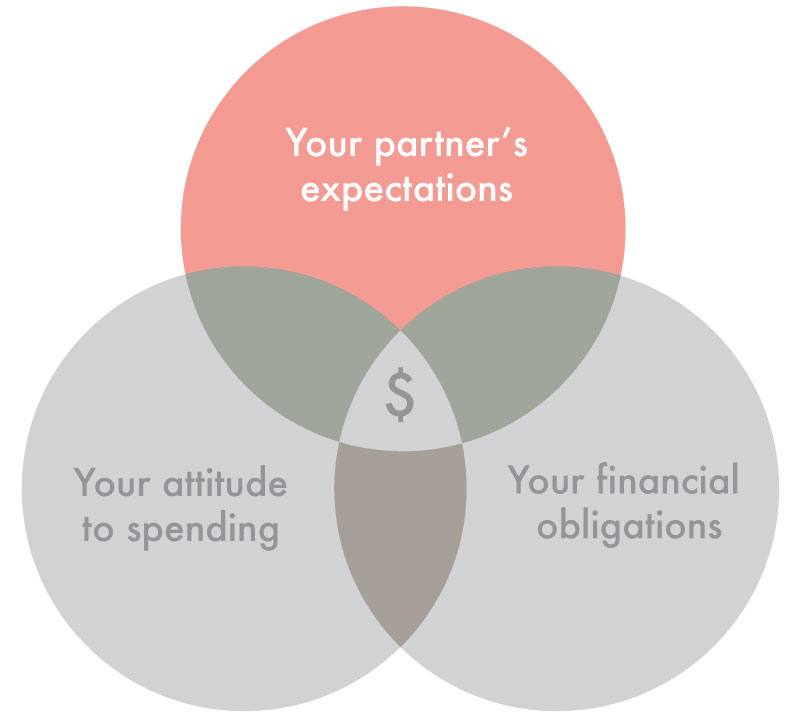 These expectations may not be about the amount that you spend, but may be more about the style or size of ring that they would like.
It's not uncommon for women to have a solid idea of their perfect ring, including the style, the diamond shape, etc.
Or expectations may be based on comparisons to engagement rings that friends or associates have received.
Consulting your partner
Your partner is also going to be wearing the ring every day and showing it to their friends, family and possibly the world via social media. Getting engaged is a big deal, so she wants it to be something that she is proud to show off.
If you are comfortable discussing the ring with your partner, then it can be a good idea to ask them to send you examples of rings that they like. From this, you can work towards finding a way to match the look and feel of these rings that fits within your budget.
Online galleries of recently purchased rings like this one can be a great way to see how closely your budget can match what your partner has requested:
Surprising your partner
If you want to surprise your partner with the ring, then it can be a good idea to use other methods to try and find out what she is looking for, rather than just guessing.
Buying a ring is not necessarily about spending a set amount of money. It's also about making a thoughtful choice.
If you can show that you have put real consideration into getting a ring that you think they'll love, then they will love and appreciate that effort even more
Consideration 2: Your attitude to spending
The next thing to think about is your attitude to spending money on the ring.
I have some friends who buy a new car every other year and think nothing of splashing $1,000 on a designer handbag.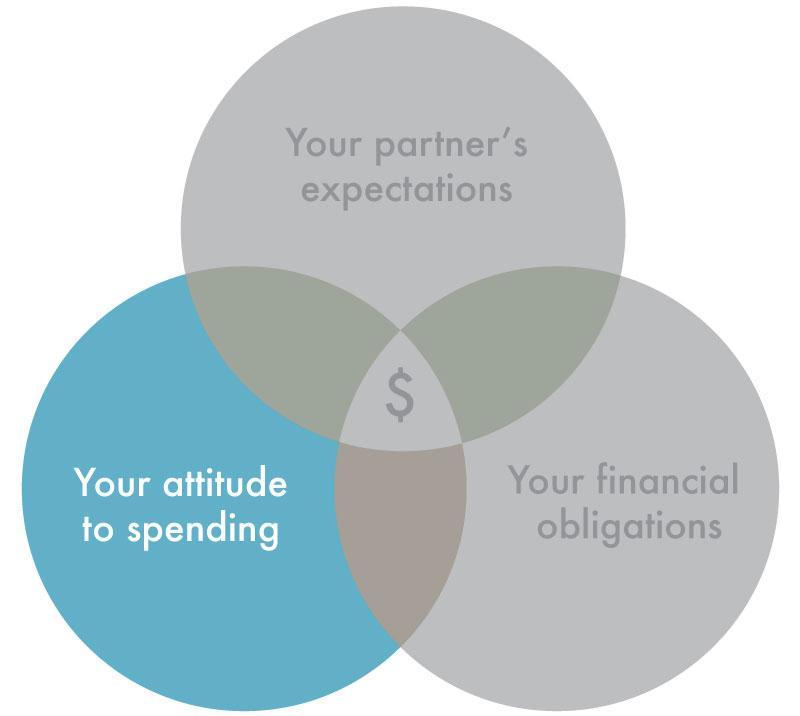 But then there are others who will only shop in thrift stores or Target, because they would rather spend their money on other things.
When buying an engagement ring, it's important to think about the value that you, and your partner, place on material things.
For some, a significantly sized diamond will be a symbol of just how big their love is, while for others a simple token of commitment is all they need.
Finding the amount to spend that is right for you
Buying an engagement ring is much more than just a material purchase. It's a gift that your partner is going to be wearing and looking at, ideally, for life. So it can be tempting to give in and spend more than you are really comfortable with.
A good way to look at it is to fast forward a year and think about what you would feel comfortable having paid.
If you think that you'll have pangs of regret and break out in a cold sweat at having spent so much, then revise your budget down.
It needs to be an amount that you're comfortable with, rather than going with what you think is expected.
Consideration 3: Your financial obligations
The final thing to consider is your personal financial situation – your current obligations and any future ones.
Current obligations obviously include your regular spending, including any loan repayments if you have them. Student loans, credit cards, mortgages etc all need to continue to be serviced.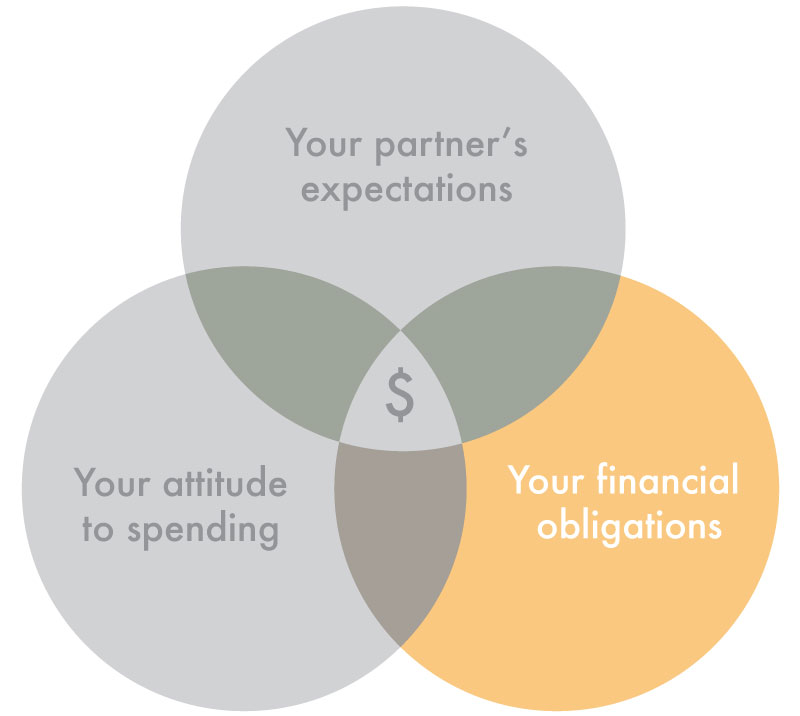 And then there are future financial obligations too. After you get engaged, the next stage on your life journey is likely to be planning a wedding
Weddings can be expensive – the average cost of a wedding in the US in 2018 was $33,931, while in the UK it was £30,355.
Of course, you don't have to spend this much, but wedding costs do add up quickly. If you are planning a sizeable wedding then saving towards this will be a new obligation that you should factor into your budgeting.
Financing your engagement ring
How you pay for your engagement ring and whether you choose to use credit to buy it is a decision that only you can make.
However, I would recommend spending cash on our ring, rather than putting it on a credit card if you can.
If you are spending the bank's money, it can be tempting to succumb to price creep and spend more than you would have if you were spending your own money.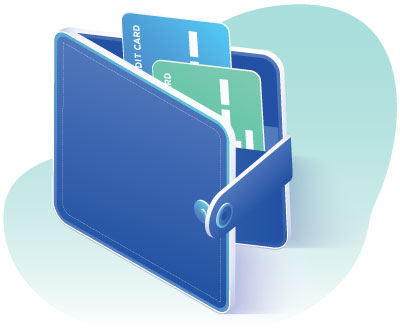 And feeling stressed about repayments or hiding how you paid from your partner could spoil the golden period of the engagement.
Plus, saving towards the purchase over a period of time can make it feel like a more meaningful.
Engagement ring budget calculator
As discussed, there's no magic formula of how much you should spend on your engagement ring and we can't provide a calculator to tell you how much it should be – it's a personal decision based on the three factors above.
But what we can do is give you a calculator which can help you determine how much you should save each month to get to your engagement ring budget:
Other considerations when deciding on how much you will spend on your engagement ring
---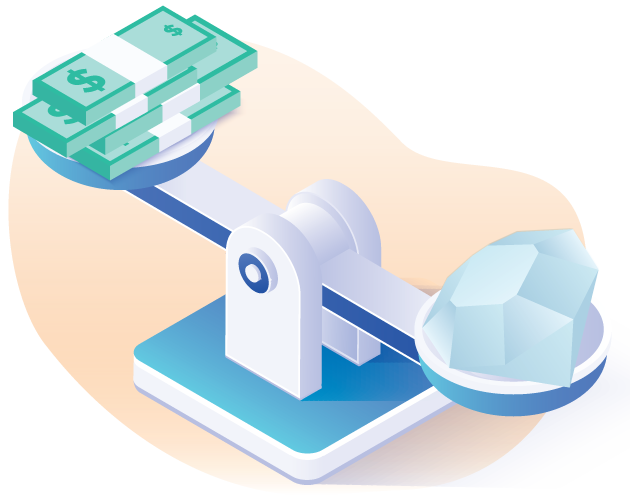 Once you've found the amount you are comfortable spending, the next task is to think about how you are going to spend the budget.
This includes how you are going to allocate the budget to the different parts of the ring, the quality that you choose, how big you want the centre stone to be.
There are many variables here, and they make a big difference to the value that you can get for your budget. Here's why.
Engagement ring value vs. engagement ring price
An important distinction to make when it comes to buying an engagement ring is price vs. value.
When buying a ring, what you should be looking for is value, rather than cost.
When it comes to diamonds, for me this comes down to making sure that they money you spend is going to make a visible difference to the impressiveness of the ring.
Some retailers may appear to offer low prices e.g. this one carat ring: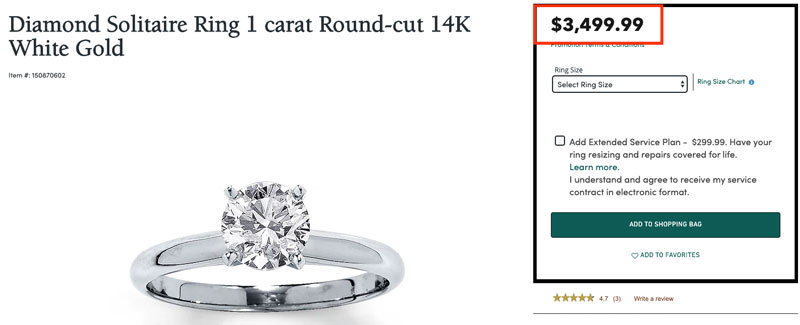 At first glance, this looks like it could be a great deal.
However, when we look at the quality of the diamond it is low, with I color and I2 clarity: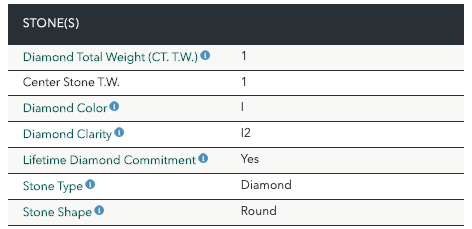 With I2 clarity, this diamond will have easily visible inclusions, which will negatively impact the beauty of the diamond: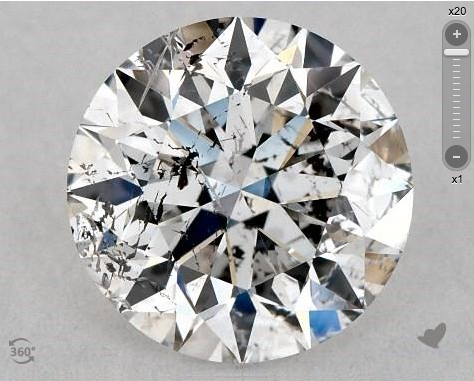 While this ring offers a low price for a 1 carat ring, it also offers poor value because it is not beautiful.
Making your budget go as far as possible: choosing the right retailer
Being smart with where you buy your ring from can make a huge difference to how far your engagement ring budget will go.
Again, we don't recommend buying a diamond at the quality of the one above, but as an example of how much difference choosing the right retailer can make, an identically specced ring (14k white gold solitaire with a 1 carat, I2 clarity, I color diamond) can be found for around half the price:

By being smart with choosing your retailer, you can make sure that you are getting real value. You can see our list of recommended retailers here.
Allocating your engagement ring budget
When choosing your ring, there are many decisions to make, but it can be broadly broken out into two big buckets:
The ring setting – the style and metal
The center stone – the type of stone (it doesn't have to be a diamond!), the shape and quality of the stone
Engagement ring setting budget
The ring setting is the style of the ring, and it's the thing that I recommend that you figure out first.
The metal chosen, the level of workmanship that goes into the setting and the number of supporting stones will make a huge difference to the amount that you have available for the diamond itself.
This could range from a couple of hundred bucks for a classically simple solitaire setting in 14k white gold:

To several thousand dollars for a halo setting with significantly sized diamonds set into the platinum: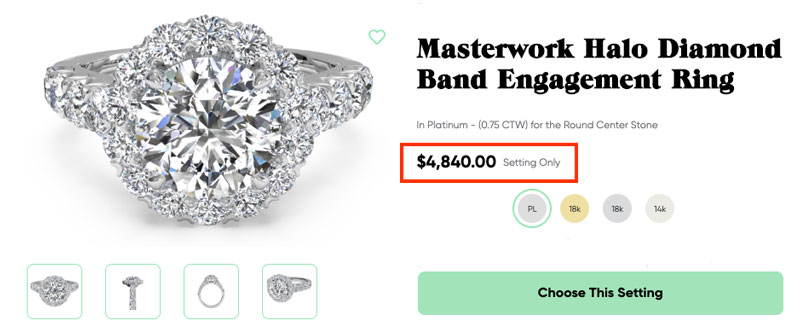 If you had a fictional budget of $10,000, the difference this would make to the budget available for your centre stone would obviously be considerable: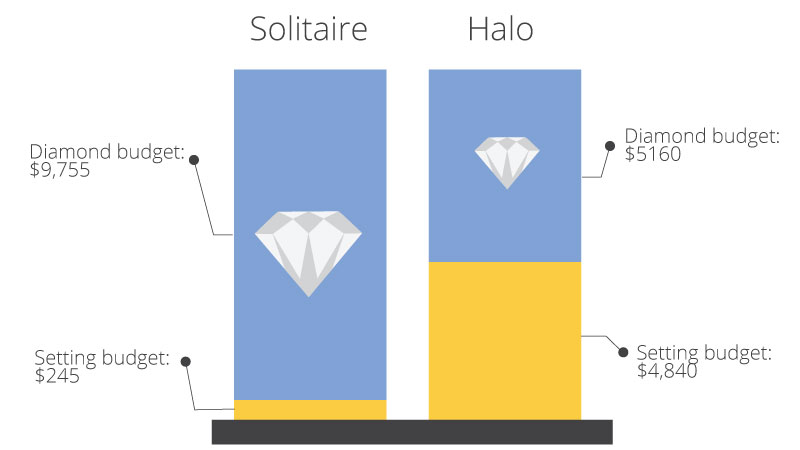 The solitaire setting will obviously leave more budget available to get a larger or higher quality diamond.
Once you know the proportion of your budget that will be earmarked for your setting, the remainder can then be put towards your center stone.
Allocating engagement ring diamond budget
While not every engagement ring needs to have a diamond as its center stone, they are still the most common choice, so we are going to focus on them in this section.
When choosing a diamond, it's basically about finding the compromise between the 5 Cs that you are comfortable with.
As well as the 4 Cs of buying a diamond
The fifth C is 'cost'.
As 'cost' is usually a constant, it's then about selecting the balance of the other 4Cs that works for you. If you maximise some of the Cs though, you will need to minimise the others, which could negatively impact the overall beauty of your ring.
For example, each of these three diamonds costs $5,000, but they all have a different balance of the 4Cs.
Maximising 'quality'
The stone below has the very highest grades for clarity, color and cut: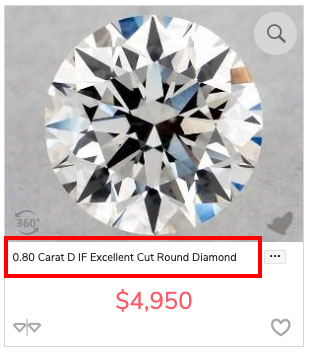 As a result, the highest carat weight that the budget can stretch to is 0.8 carats.
This is totally fine, if the 'quality' of the diamond is your priority, but it does mean that it will look relatively small compared to the amount spent.
Maximising carat weight
At the opposite end of the spectrum, the diamond below maximises carat weight at 1.25 carats.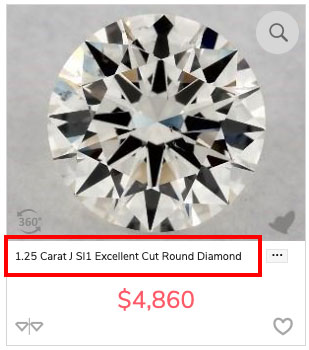 However, to allow us to hit this carat weight within the $5,000 budget, the color has been reduced to J (where it may look noticeably warmer in tone) and the clarity has been reduced to SI1, which means that black inclusions may be visible.
A good balance
The diamond below strikes a great balance between all of the different factors: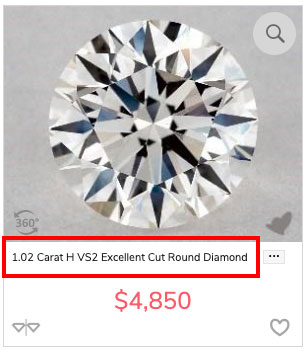 With VS2 clarity, no inclusions will be visible, while H color means that it will look perfectly white once set into a ring setting.
For me, this diamond is delivering the best balance between the 4 Cs and the best value, meaning that your engagement ring budget is being spent well and not wasted.
If you want to see what you can get for your budget, click below to visit our top recommended retailer: