Ringspo 2022 Engagement Ring Survey
---
The numbers are in and we are proud to present the results of the 2022 Ringspo Engagement Ring survey.
The aim of the survey is to get a true idea of the engagement rings that people are buying right now, to give guidance to prospective engagement ring buyers and help them make a truly informed decision.
We asked recently engaged guys and girls what styles of rings they bought, where they bought them from, how much they spent and a whole host of other questions to see what's hot and what's not as we head into the 2022 engagement season.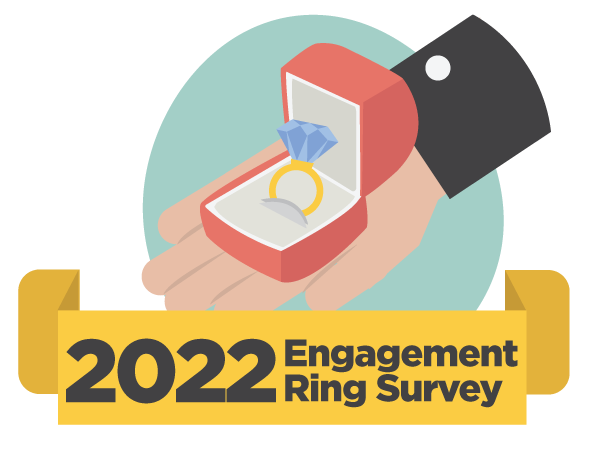 Ringspo is reader-supported, which means we may receive a commission if you click a link to a retailer & subsequently make a purchase.
We feature links to several retailers to help readers find the one that is the best fit for them. Find out more about how Ringspo works here.
2,432 people from across the US answered our survey, split out into 1,240 girls who had been lucky enough to recently receive a ring and 1,192 guys who had just popped the question everything about their new ring.
The answers have been split into four different sections – if you want to jump to a particular section then just click the icon below.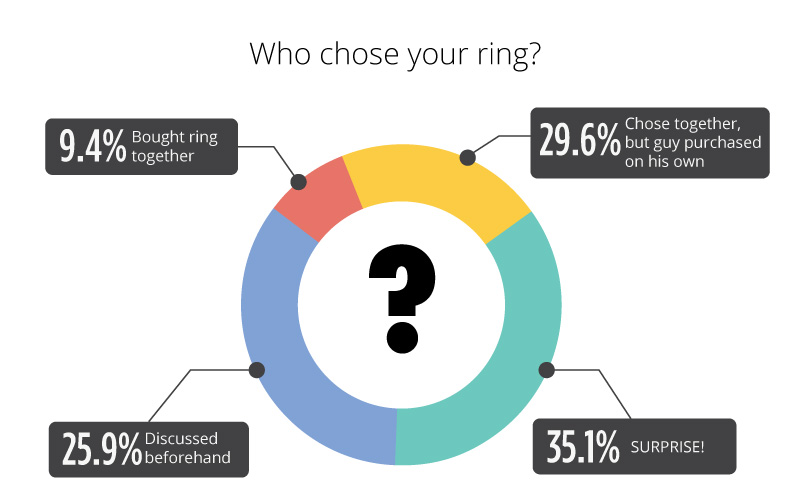 Although the romantic notion of a proposal is of a guy finding the perfect ring in secrecy and only revealing it at the time of the proposal, dazzling his intended with the ring's beauty and his mind-reading powers as he somehow picked out the ring of her dreams, the survey results show that this definitely isn't always the case.
Only 35.1% of engagement rings are a complete surprise, with a much larger percentage of guys opting to (perhaps sensibly!) play it safer.
29.6% of couples discussed the ring beforehand, with the guy then purchasing on his own. This can be a great compromise – the person buying the ring knows that their intended is going to like the style chosen, but there can still be an element of surprise of when the proposal actually happens. This route takes a lot of the stress out of it for the guy over whether he will get the right ring and allows him to put more thought into planning the proposal itself.
---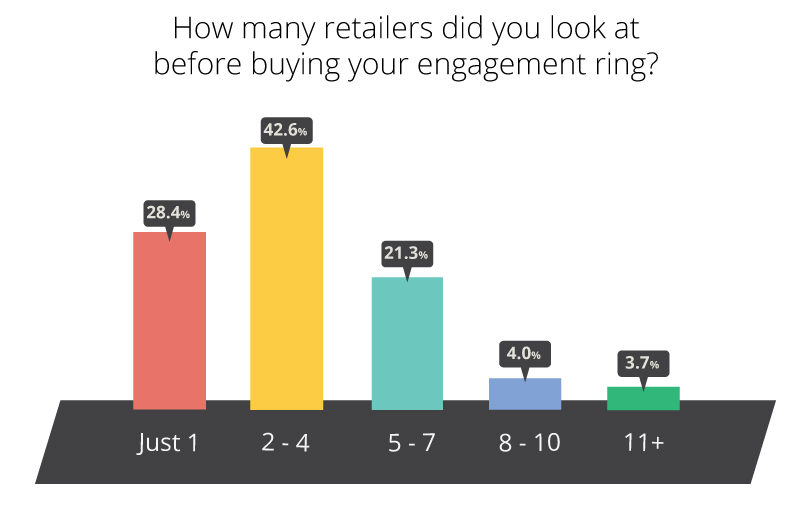 Nearly 30% of survey respondents bought from the only jeweler that they visited.
While for some this may be because they have a prior relationship with the jeweler and trust that they will receive great service and value, for others it may mean that they didn't get as much value as they might have if they had compared different jewelers.
Diamonds of the same quality can be sold for wildly different prices by different jewelers, so it's important for engagement ring shoppers to compare retailers to make sure that they are getting a fair deal.
The same diamond can even be offered for sale by several retailers, with the actual stone held by a shared supplier. The prices charged for the same stone can be as much as twice as much at some retailers as at others.
The vast majority of ring buyers looked in more than one jewelry outlet to compare different rings and their prices, which is definitely good practice.
Even if you have a friend of the family who has supplied your family's jewelry for generations, it's still a good idea to compare their prices to other jewelers in your area and check online too to make sure that you are being offered a fair price.
Engagement ring buyers often have little context to assess whether they are getting a good deal as they are unfamiliar with what constitutes fair value. The only way to check whether a ring is being offered for a fair price is to compare like-for-like across different retailers.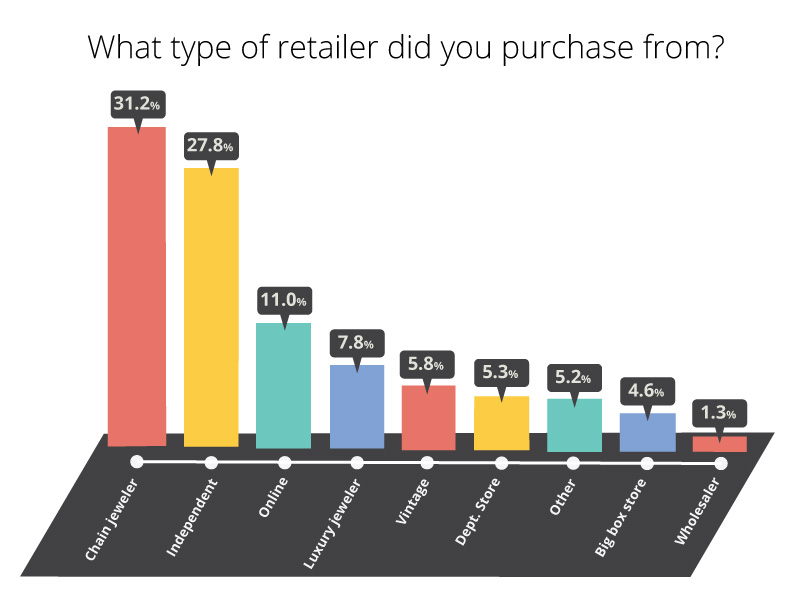 The vast majority of people still prefer to buy from Bricks & Mortar stores, with the largest proportion buying from from a large chain jeweler e.g. Zales or Kay and a slightly smaller percentage buying from a local or independent jeweler.
11% of respondents purchased their ring online. If you are looking at buying a ring from a bricks and mortar retailer then it is a good idea to get the specs of the diamond and double-check its prices against one of Ringspo's recommended retailers. There could be significant savings available, which means that you could get a bigger, better diamond for the same price.

While independent jewelers almost always give great service and will help ring buyers find the right balance of beauty, quality and price, chain jewelers often provide a poorer selection of rings and less value.
Do you need to follow the three months' salary rule?
Just 0.9% of people followed the 'three months salary' rule.
What isn't clear is whether the salary rule applies to net salary or gross salary. Most people are aware now that the rule came from a De Beers marketing campaign, so isn't a rule that necessarily needs to be followed.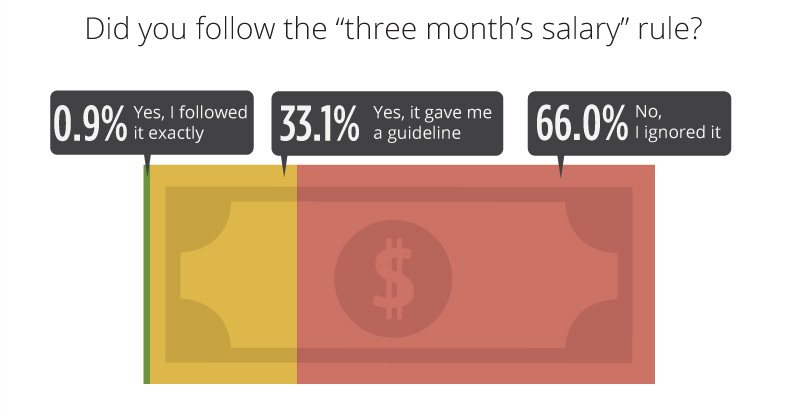 But as a broad guideline, it can be useful. As with many things to do with engagement rings, buyers often don't have much of a frame of reference, so having a yardstick like 'three month's salary' can be a good place to begin calculations from.
However, the amount that a buyer spends on their engagement ring should be the amount that they are comfortable spending.
---
Average engagement ring cost 2022
In our survey, the average cost of an engagement ring in the US in 2022 is $5,225: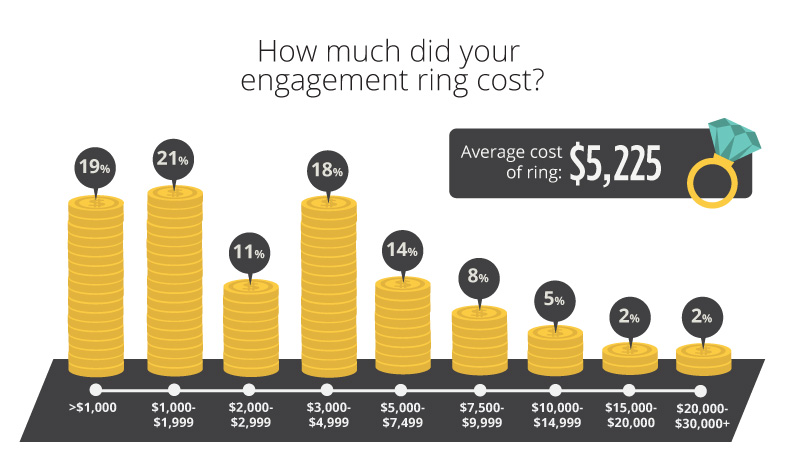 However, the actual amount spent varied wildly from $10 (it came inside a scented candle) to over $30,000.
This huge difference in price shows that there is no set amount that ring purchasers should spend on their ring – it's all about finding the ring that is perfect for you personally and your relationship.
And how does this compare to three months' salary of the average American? According to the US Bureau of Labor Statistics, the median salary (which means that the data isn't skewed by super-high earners) in 2020 was $983, which equates to $51,116 per year.
Divided by 12 months, this gives $4,259 per month, so the average engagement ring cost of $5,225 is significantly lower than three months' salary.
---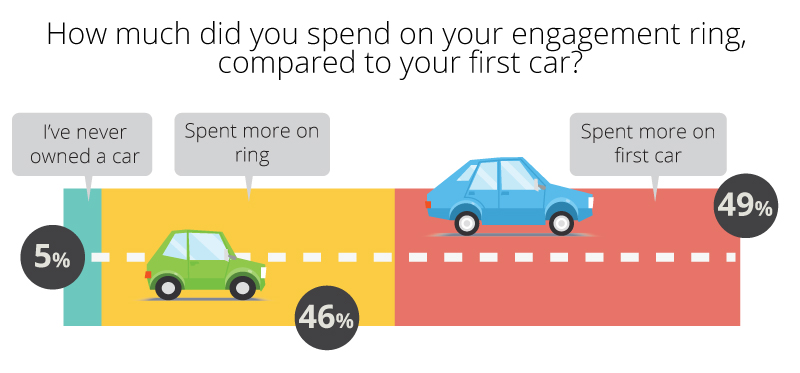 A huge 46% of survey respondents spent more on their engagement ring than they did on their first car.
While most engagement rings are purchased later in life, when people usually are usually more financially comfortable, this stat shows that engagement rings do rank up there as one of the most significant purchases in anyone's life.
Buying a car is something that most people don't take lightly. They talk to friends, read reviews and usually go out on several test drives to make sure that they buy the car that is right for them.
Buying an engagement ring is an equally large commitment and buyers should ensure that they are fully informed about what they are buying and ensure that they get the ring that is right for them at a fair price. After all, most first car buyers wouldn't just walk into a second hand car lot and buy the first car they were offered, so engagement ring buyers shouldn't do the same from jewelers.
Most popular engagement ring style 2022
In 2022, the classic solitaire continues to be the most popular setting style, with nearly exactly a third of respondents choosing this style of ring.
Solitaire's beautifully simple and uncluttered design allow the center stone to to its full brilliance, while its simplicity means that they are often priced the most keenly of any ring setting styles.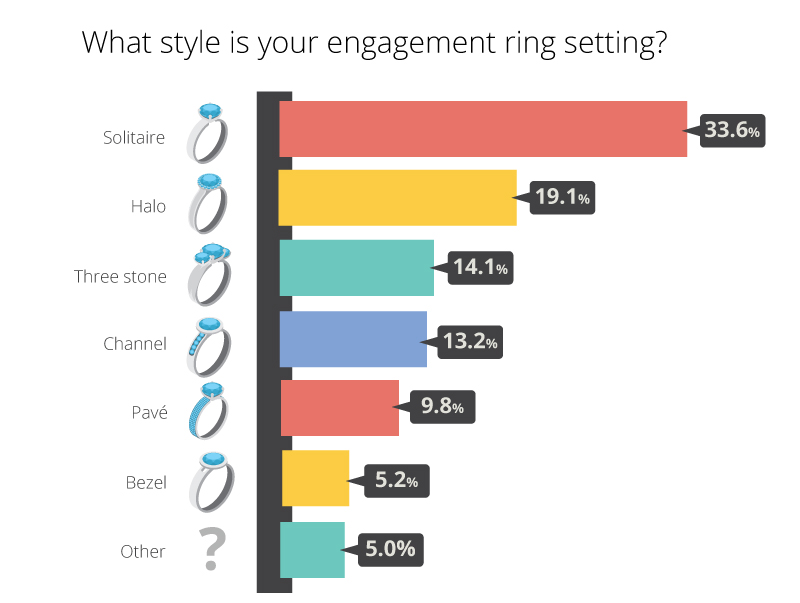 Supporting melee diamonds are a great way to add extra sparkle to a ring without the expense of a much larger center stone, and we can see this in the popularity of halo, channel set and pavé settings.
Halo settings are particularly en vogue at the moment, as they are a great way to make the whole ring appear larger, without the expense of a larger center stone.
There were a huge range of setting styles included in answers in the 'other' category, from split shanks to twisted 'love knots', tension rings to traditional Irish Claddagh rings.
---
Most popular engagement ring center stone 2022
In 2022, diamonds continually to be comfortably the most popular choice for the center stone of engagement rings with over 80% of people choosing them for their center stone.
Their combination of beauty and resilience is a great metaphor for marriage and their hardness makes them a great choice for a ring which is going to be work every day.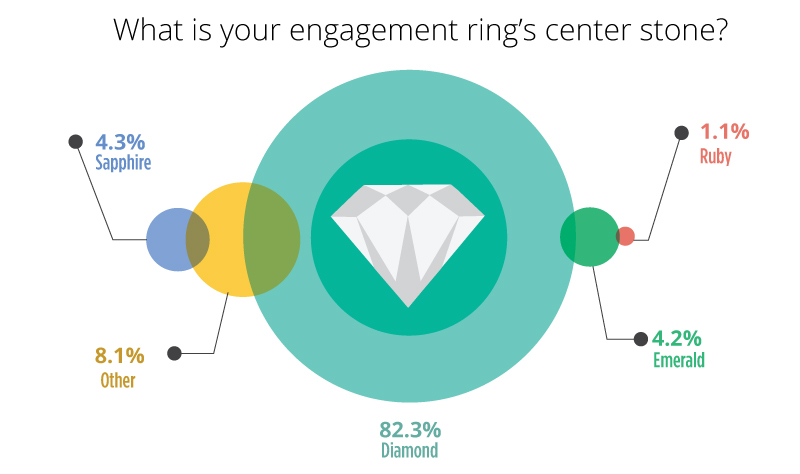 Sapphire and emerald tie for second place, with just over 4 % of respondents making them the center stone for their ring.
While both of these stones make a beautiful and fitting center piece to an engagement ring, they are both significantly softer than diamond, so more care does needs to be taken with them.
The 'other' category incorporated a wide wide range of stones, from diamond-like moissanite and cubic zirconia to semi-precious gemstones like amethyst and topaz, which are often birth stones.
---
Most popular engagement ring center stone shape 2022
In 201, over half of all center stones are 'Round brilliant' with 61.1% of our survey respondents answering that they chose them for their engagement ring.
The round brilliant is the classic 'diamond' shape that most people picture when they think of a diamond, and this seems to be the case for engagement ring buyers too. Over 60% of survey respondents chose a round brilliant shaped stone as the centerpiece of their ring. A well-cut round brilliant diamond undoubtedly sparkles the most brilliantly out of any diamond shape, but their popularity and the fact that they are difficult to cut well does mean that they are usually more expensive for a set carat weight and grading quality than most other shapes.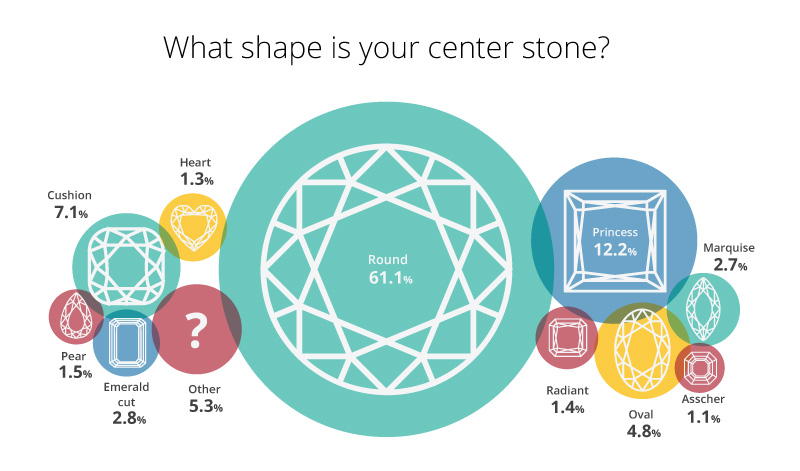 The second most popular shape was the Princess cut at 12.2%. Like round diamonds, Princess cut diamonds are also a 'brilliant cut', which means that the facet angles of the diamond have been calculated to sparkle as brilliantly as possible.
Other popular cuts were the cushion (7.1%) and oval (4.8%), with the other 'fancy cuts' making up the rest of the rings.
Making up the majority of the 'other' shapes were cluster rings, where several small diamonds are placed very close together to give the impression of a larger stone. This can be a great way of making a large visual impact with a limited budget.
---
Most popular engagement ring carat weight 2022
One carat is the most popular size of center stone for engagement rings in 2022.
One carat is an important psychological barrier for many people when buying an engagement ring and as a result more people chose it than any other carat weight.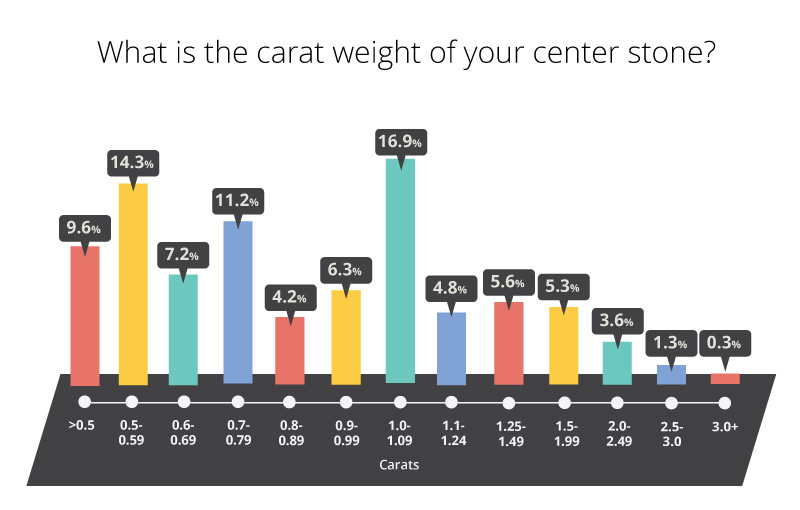 There are also two other peaks that can be seen in the results – at 0.5-0.59 carats and 0.7 – 0.79 carats.
That's because these sizes – a half carat and three quarters of a carat are also 'magic weights' i.e. sizes that represent a benchmark in engagement ring buyers' heads that they want to ensure that their center stone is larger than.
---
Most popular engagement ring precious metal 2022
As in previous years, in 2022 white gold continues to be by far the most popular choice for engagement ring setting metal with over 60% of respondents choosing it for their ring.
Its combination of and beauty and extreme hardness and resilience due to the layer of rhodium covering it makes it an excellet choice for an engagement ring which is going to be worn every day.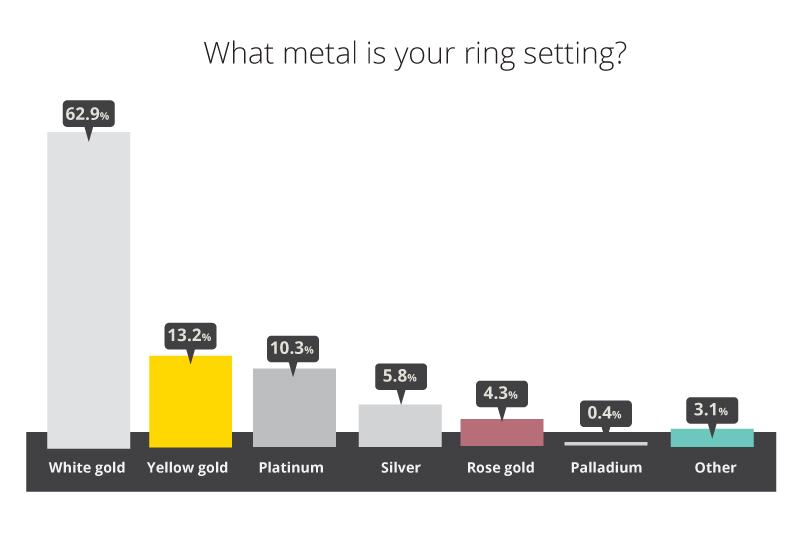 Yellow gold appears to be seeing a resurgence in popularity, overtaking platinum to be the second more popular choice.
Platinum has many excellent properties that make it a great choice for an engagement ring, but its higher price means that it isn't accessible to all.
Sterling silver was a surprisingly popular choice. It isn't usually recommended for an engagement ring which will be worn every day as it a relatively soft metal so doesn't stand up to wear and tear as well as harder metals. However, if care is taken then silver can definitely be suitable for an engagement ring setting.
Other materials that fell into the 'other' category were mixtures of white, yellow and rose gold, wood and even part of a meteorite.

This question was only asked to recipients of rings and a huge 95.8% of women who answered the survey said that they were happy with their ring, which is really heart-warming.
The huge majority of survey respondents that said that they were happy with their choice and this is the biggest thing to take away from this survey – no matter the size of the stone or the style of ring chosen, the recipient is almost definitely going to love their ring because of who it came from and the exciting new start that it signifies.
In conclusion..
Asking over 2,000 couples about their engagement ring has been a great way to get a a really good understanding of what rings people are buying right now as we head into the 2022 engagement ring season over the holiday period. It has confirmed that classic combination of a round brilliant cut diamond in a solitaire setting is still the most popular choice of engagement ring, but there were also some surprising results too – like the 46% of engagement rings that were more expensive than the survey answerers' first cars – a pretty crazy statistic!
If you're currently researching your ring the hopefully you have found this interesting and useful and it has helped to give you some context around your purchase and make it easier.