Heart shaped engagement rings are a less common choice, but they can be one of the most beautiful shapes of diamond out of any.
However, because there is so much skill needed to cut a heart diamond well, and so much variety in the quality of the diamonds, they can be tricky to buy.
We're going to look at:
What's good about heart shaped engagement rings
What's bad about heart engagement rings?
Heart shaped engagement ring setting styles
A heart shaped diamond buying guide to tell you what you really need to know
Recommended specs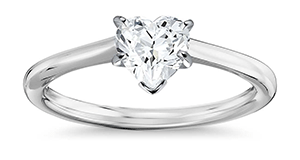 As demand for heart shaped stones is quite low, so too is the supply. In fact, heart shapes are usually only created when a stone has an inclusion on it that means that a stone can't be created in one of the other, more popular shapes.
Often if a stone that was destined to become a pear shaped diamond has a large flaw in the top 'lobe' the diamond cutter who is shaping the gem will cut into the end, trimming out the inclusion and giving a win-win scenario. The jeweler now has a perfect stone and you get the opportunity to buy a heart shaped diamond engagement ring.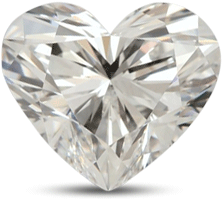 While the first heart shaped diamonds were created over 100 years ago, it wasn't until the advent of 3D scanning and laser cutting technology that heart shaped diamonds were able to be created with 'brilliant' facets, which are calculated to reflect as much light as possible back to your eye.
This is what you are looking for a – a stone that sparkles as much as possible, rather than one that has just been cut to hit a certain carat weight. It's much more impressive to have a 0.8 carat stone which sparkles brilliantly than a 1 carat stone which is dull and lifeless.