Channel Set Engagement Rings
A beautifully practical choice
Channel set engagement rings are a popular choice to add some extra sparkle and bling to what could otherwise be a plain setting style. In a channel setting a series of smaller diamonds are placed in a row around the ring band – either a short row of just a few stones on the top half, or a complete circle, all the way around the ring.
Channel set rings are also popular as wedding rings, or as gifts to mark an anniversary e.g. an 'eternity ring' with diamond channel set all the way around the ring band is a popular present to celebrate 10 years of marriage.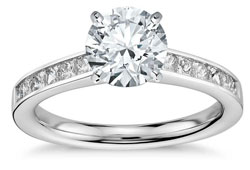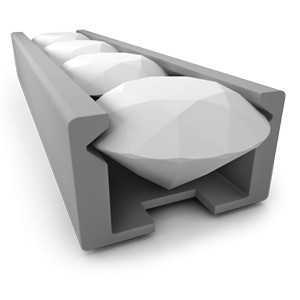 As the name suggests, the diamonds in channel set rings are set in a channel, with just the top of the stones visible. This holds them extremely securely and also gives them a good measure of protection.
On this page we're going to look at:
What's good about channel set engagement rings
What's not so good
A range of channel setting ring styles
By the end of the page you should have a good idea of what to look for with channel engagement rings and hopefully have some inspiration for your ring too.
What's good about channel set engagement rings?
Security
The alternative to the channel setting for featuring diamonds on the band of a ring is the pavé setting (pronounced pa-vay), where each of the small diamonds are held in place by tiny prongs. These prongs are very fragile and prone to be damaged if the ring isn't carefully looked after, which can result in the tiny diamonds becoming loose and possibly even being lost.
The channel setting holds the side stones extremely securely in the setting, making them one less thing to worry about.
Protection
Like the bezel ring, channel set rings give excellent protection to the diamonds that are enclosed in the channel. The outer edge of diamonds (known as the 'girdle') can be quite fragile, so having them protected by the metal sides of the channel is a big advantage to prevent them getting chipped.
What's bad about channel set engagement rings?
Resizing
If a ring has a diamonds set all the way around the band it will be very difficult, if not impossible, to resize it. Most channel set engagement rings only have diamonds on the top half of the band, which means that they can be resized slightly, but it definitely makes it more difficult than a solid metal band.
Because the diamonds have been laid into a channel cut specifically to fit them, making the ring much larger or much smaller will change the shape of the channel, which could mean that the diamonds are less secure in the future.
Cleaning
The side stones are protected by the channel, but this also makes them much harder to access and more difficult to clean.
When a ring is worn every day, it's inevitable that it will pick up some grime and all engagement rings need to be cleaned reasonably regularly if they are going to stay shiny and sparkly. Unlike some simpler settings, which can be polished at home, to ensure that a channel set ring continues to look its best it'll need to be polished by a jeweler.
Jewelers use an 'ultrasonic cleaner' which blasts the ring with high-pitched soundwaves to remove the dirt and ensure that the hard-to-reach channel-set stones are polished up as good as new.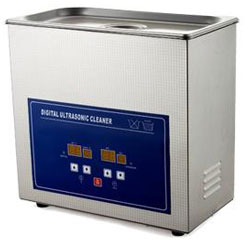 An ultrasonic cleaner, in case you were wondering what they look like
Limited customisation
As you learn about diamonds and the factors that affect how well they reflect light and sparkle, you may naturally want to ensure that the quality and color of the stones used in your channel setting are equal to that used in your center stone. However, most diamonds used in channel settings are graded much lower than the color and clarity grades that you are likely to choose for your center stone.
Although this might be a little frustrating, it actually doesn't matter too much. The diamonds used in the channel setting will be too small for any clarity issues or slightly lower color grade to make a difference at all – they will still look great.
Channel set engagement ring settings
There's a huge amount of variety available with channel set engagement rings, from changing the shape of the center stone to the colors of the stones used in the channel itself.
I've selected a few examples below to give you an idea of what is out there, but it is by no means a definitive list. Click through on any of the rings to find out more about it, or to check out the other channel engagement ring options at each retailer.
---
This classic channel setting has 12 princess cut diamonds set into the band, with a total weight of half a carat. As you can see, it's a great way to add considerable extra sparkle to what would otherwise be a very straight forward solitaire ring. Princess cut diamonds make a great choice for a channel setting because they sit flush next to each other, with no gap at all, forming an unbroken wall of brilliant sparkle.
Find out more about this channel set engagement ring at Blue Nile here.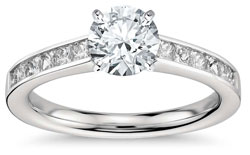 ---
Tapering the ring band towards the center diamond is a great way to increase the elegance of an engagement ring. This ring features 8 channel set diamonds, with a weight of 0.3 carats, channel-set into the band, with a taper that draws the eyes towards the center stone.
View this ring, together with 32 other channel set diamond engagement rings at James Allen, here.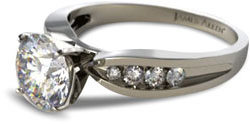 ---
This princess cut diamond channel set engagement ring has 0.7 carats of princess cut diamonds in the setting. While the 0.7 carats of diamonds in ring setting do make this a more expensive ring, choosing a Princess cut center stone is a great way to save money over a round brilliant diamond of the same carat weight and quality.
Click here to find out more about this ring at Enchanted Diamonds.
---
Mixing up the stones used in the channel setting can also be a great way to differentiate your engagement ring. This ring alternates diamonds with blue sapphires, with a great contrast between the colors.
Find out more about this channel set engagement ring with sapphires at Blue Nile here.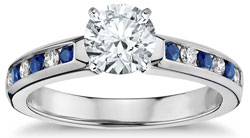 ---
Adding ornate details can also add to the vintage feel of an engagement ring. This ring from designer Tacori incorporates millgrain detailing (the tiny spots you can see on the edge of the ring), which is one of the oldest decorative metalworking techniques and is often found on vintage engagement rings.
See this and other Tacori engagement rings at Whiteflash here.
---
There's almost no limit to how decorative an engagement ring can be, as designers find interesting and innovating ways to incorporate more diamonds into the ring band. This ring from designer ring manufacturer Verragio includes channel set round diamonds in the band, but also diamonds set into the side of the band and into the side of the ring head, to ensure that it is dazzling from any angle.
Click here to get a closer look at this Verragio engagement ring.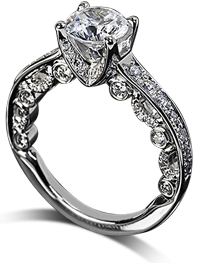 Make sure you get your perfect diamond engagement ring.
Get your
free guide to the 6 key mistakes to avoid
Don't pay for things you can't see
Find the diamond that is perfect for YOU
Learn where to buy to get the widest choice and the best value