How to sell Cartier Jewelry
Make sure you get the best price when you resell your Cartier Jewelry
---
Considered by many to be the finest jewelry house in the world, Cartier has consistently produced some of the most beautiful watches and jewelry in the world since being founded during a period of social unrest by Louis-Fancois Cartier back in 1847.
Its clientele has encompassed royalty, film stars and business tycoons and the highest echelons of society still flock to Cartier to buy or have their jewelry custom made.
But tastes and circumstances change, and we don't need to hold on to our Cartier jewelry forever.
If you are looking to sell Cartier jewelry and want to make sure that you get the fairest price for your piece, this blog will show you how.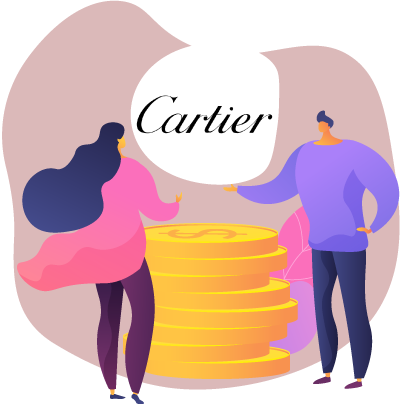 The bottom line when selling your Cartier:
The key to getting the best price when you are reselling your Cartier jewelry is to work with someone who knows the true value of the jewelry and eliminate as many layers as possible between you and the buyer.
Auction houses, online marketplaces, etc act as middlemen and take a cut, reducing the amount they will pay you.
Our recommendation is Alon at The Diamond Oak – a fine jewelry specialist who will give you the best price possible, avoiding middlemen and fees. Get in touch with Alon here.
A brief history of Cartier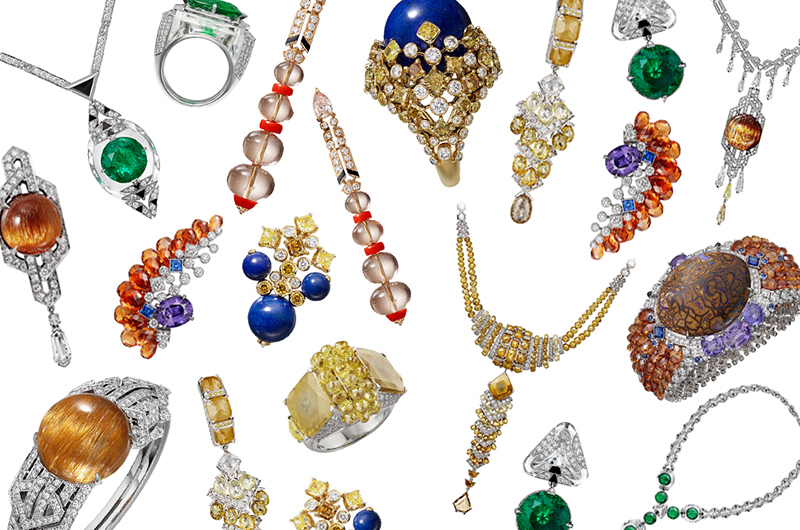 Louis-François Cartier was born in Paris, in 1819. As a young man, he became an apprentice under a master watchmaker, and worked in a modest store on Rue Montorgueil. In 1847, Cartier purchased the store from his employer and set about transforming the business and expanding into the jewelry market.
The store was small, but Cartier was determined to do more both as a watchmaker and a dealer in quality jewelry. However he hadn't expected that soon, the political turmoil engulfing France would present an opportunity to expand much quicker than he'd ever dreamed.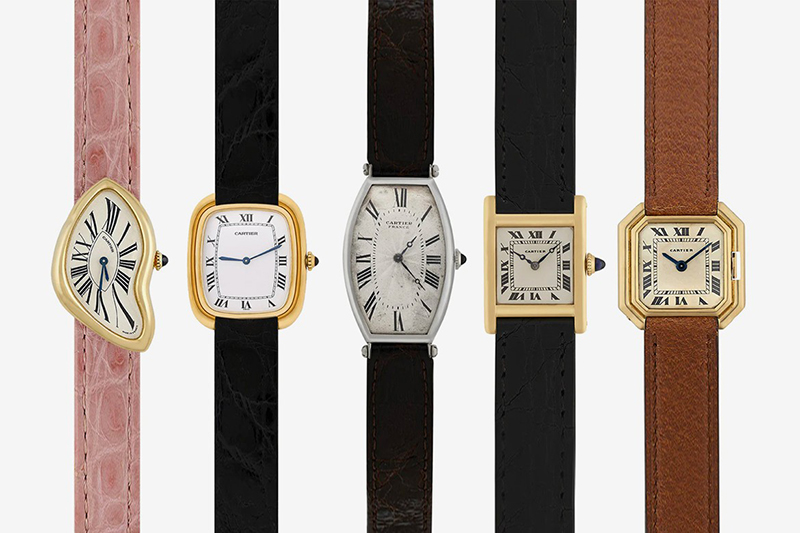 A selection of Cartier watches
In 1870, Cartier's world shifted forever. France had, over the last 100 years, become a nation of revolution. 1870 brought yet another uprising in the capital, known as the Paris Commune.
In fear of their lives, the rich looked for a way out. Unable to access their wealth due to sudden bank restrictions, they turned to whatever assets they had around them. Unfortunately for them, but fortunately for Cartier, that meant their jewelry.
Cartier, seizing on the opportunity which had suddenly presented itself, offered the desperate aristocrats merely fractions of what their prized pieces were worth. To them, something was better than nothing at all. Soon Cartier had built up one of the finest jewelry collections in France for less than half of what it was worth.
Although the uprising ended within months, by 1871, the future success of the Cartier business was assured.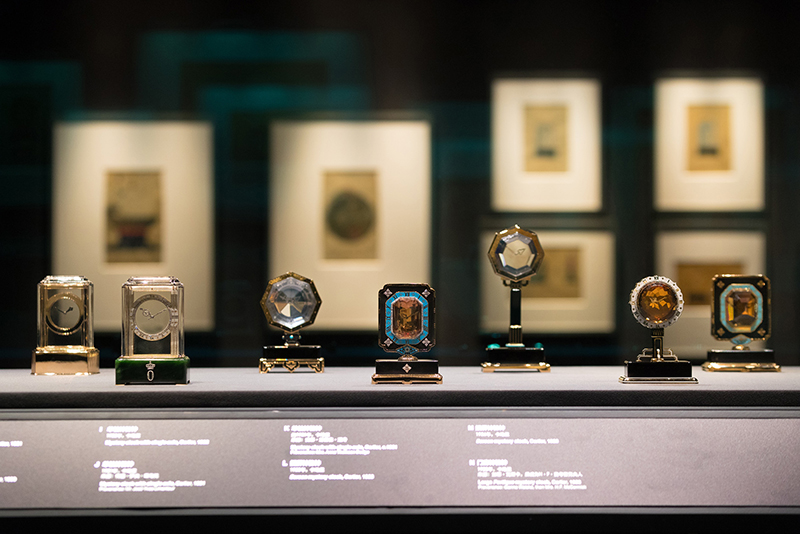 Cartier Mystery Clock Collection
When Louis-Francois retired from the business, his son Alfred set about establishing Cartier as a cut above the rest, moving the store's location to Rue de La Paix.
The move to Rue de La Paix became a greater success than even Alfred could have ever anticipated. With the reputation of Cartier catching the eye of the rich and powerful, including a great many royals, the jewelry world took note. Soon, the Rue de la Paix had become the single most important jewelry area in Paris, if not globally.
Upon Louis-François's death in 1904, Alfred wanted to extend the reach and influence of the Cartier brand out of Paris and into other major cities. This is where his three sons: Jacques, Pierre, and Louis would come into play.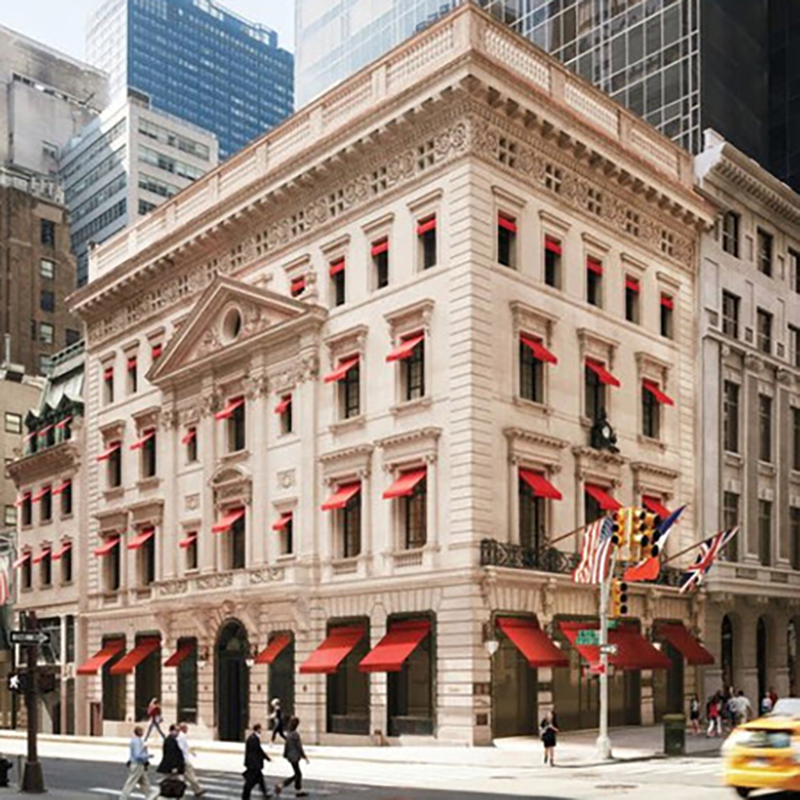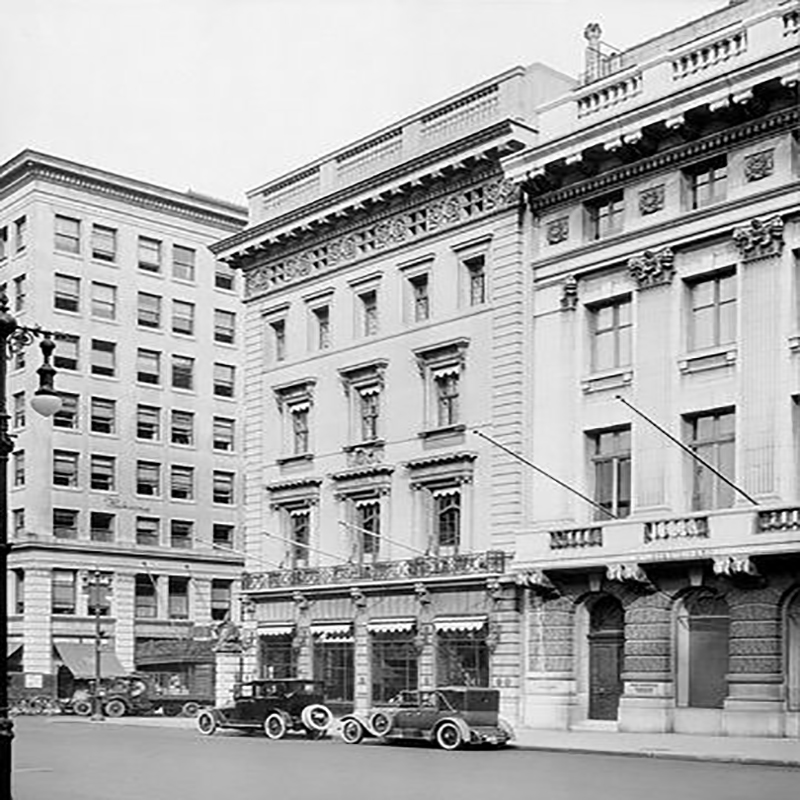 Now and then photos of Cartier's 5th Avenue NYC Location
In 1917, Pierre, with an office in London already thriving, bought a townhouse on 5th Avenue for $100 and a string of pearls, which become the New York headquarters of the company – possibly the best move the house ever made.
Cartier then made a single purchase that garnered enough attention to land them on the front of every newspaper in America.
The Hope Diamond is perhaps the most famous diamond in history. Shortly after opening his doors in New York, Pierre bought the supposedly-cursed diamond. The story goes that all of its previous owners had met with gruesome fates, from a beheading to being eaten by wild dogs. Pierre, however, did not hold onto the diamond long enough the verify the curse, instead quickly moving it along to a prominent socialite in New York.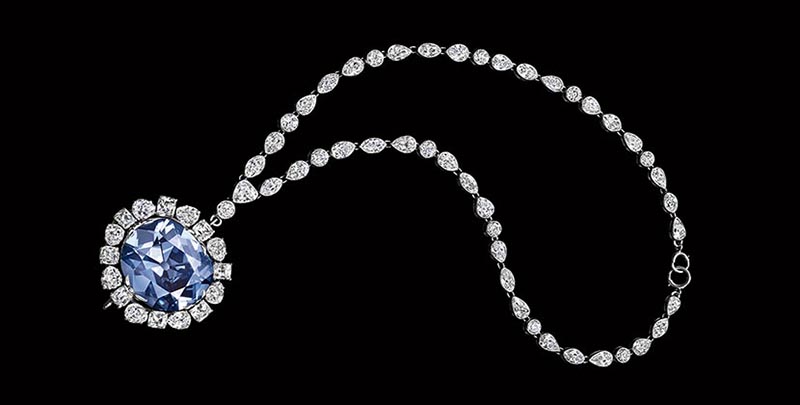 The famous Hope Diamond purchased by Cartier
Until Pierre's death, as the longest surviving of the three Cartier brothers, the company remained family owned. However, upon his passing in 1964, each branch would be sold separately.
From 1847 to 1964, there had always been a Cartier at the head of the company. In 1972, WW2 French Resistance hero Robert Hocq let a consortium to buy back all the branches of Cartier so that the Cartier legacy could be restored. Even though it is no longer headed by a Cartier, happily, the house was once again made whole, and remains so to this day, with 200 stores in 125 different countries.
Cartier's design principles
For Cartier, everything begins with the design.
Tank, Trinity, Juste un Clou, Santos, Love, Panthère and Ballon Bleu, these iconic styles in the world of jewelry and watchmaking are rooted in four main principles of creation: the purity of the line, accuracy of the shape, precision of proportions and precious details.
These immaculate designs transcend fads and decades, and remain coveted today.
Cartier designs span various price points, and allow jewelry lovers of all kinds to get a taste of the brand, from high jewelry pieces such as the Panthere De Cartier earrings below, to more attainable ones such as the Love Bracelet, that still bear that impeccable Cartier design.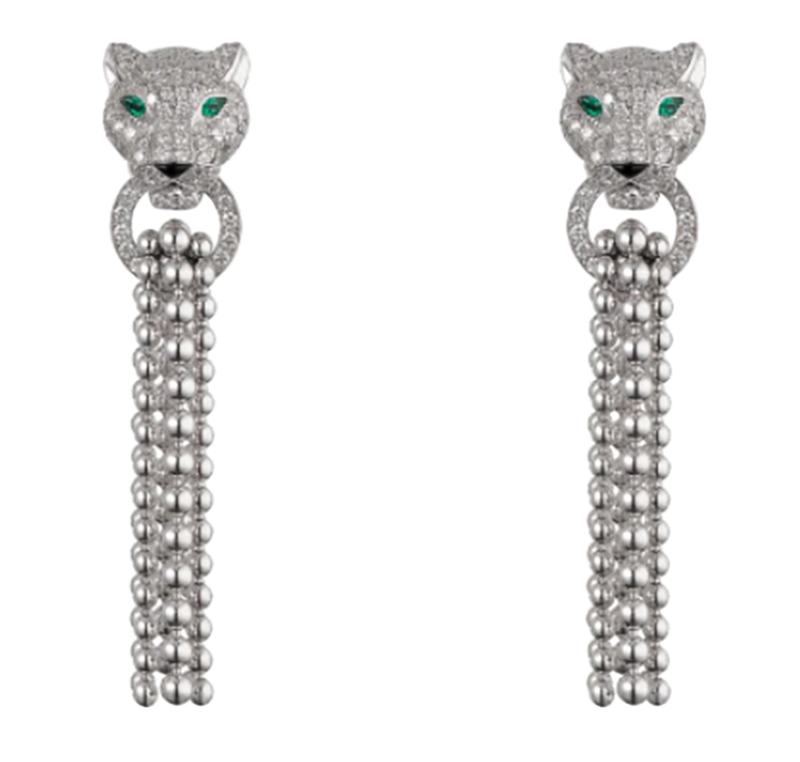 Cartier Panthere De Cartier Earrings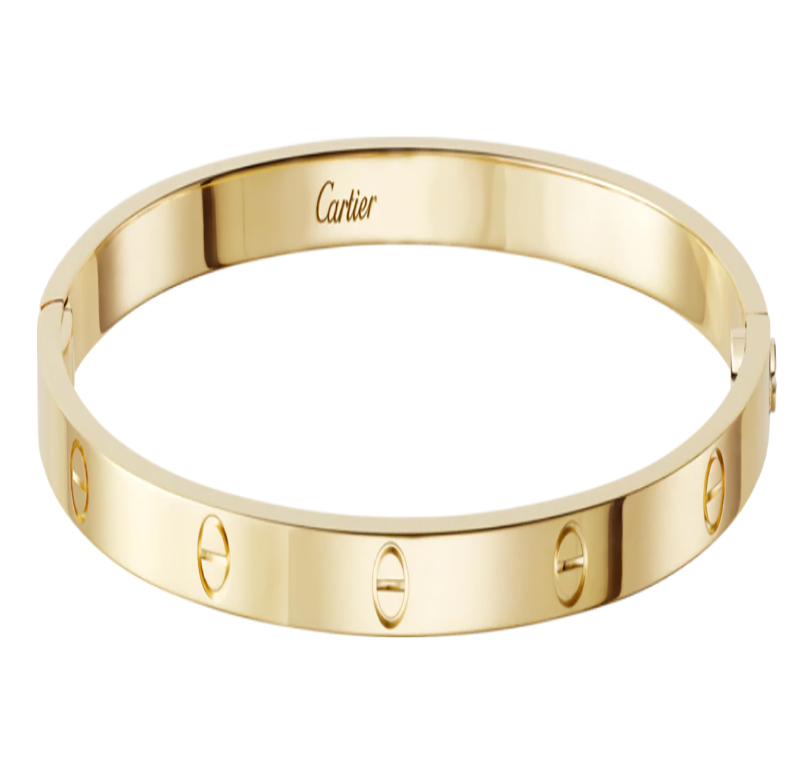 Cartier Yellow Gold Love Bracelet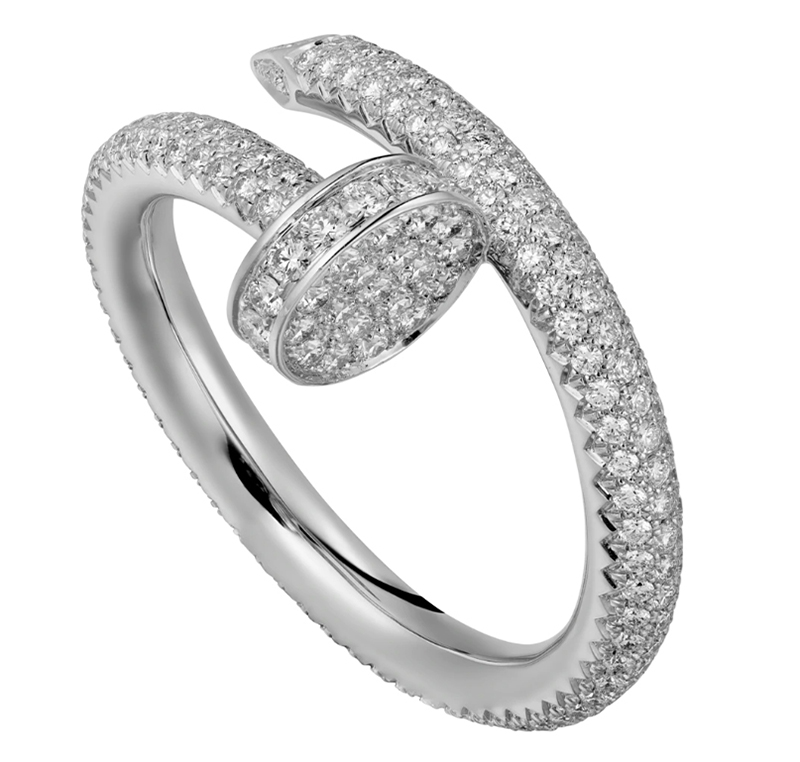 Cartier Juste un Clou Ring
What type of Cartier jewelry can be sold?
Over its history, Cartier has produced a variety of types and styles of jewelry, and if you're looking to sell your Cartier jewelry, then that's good news for you. No matter what piece you may own, you will be able to find an interested buyer, somewhere.
One thing to know though, is that the price you receive for your Cartier jewelry when selling is that can be dependant on a couple of factors:
Condition
All jewelry bears a history; no matter how it is cared for, if it's worn at all, it will necessarily pick up some nicks and scratches.
Some commonly used terms to describe pre-owned jewelry are as follows:
mint condition
excellent condition
good condition
fair condition
poor condition
When selling to a jewelry professional, it is likely that they will be intending to sell the piece on after improving its condition. That said, the better the condition of the piece, the less work will be required of the buyer; therefore, pieces in better condition should command a higher price.
Provenance
Provenance can be defined as the history of ownership of a valued object or work of art or literature.
There are multiple reasons why it is important to be able to demonstrate the provenance of your Cartier jewelry:
It proves ownership over the piece, and that it is therefore legally yours to sell.
It proves that the piece is genuine.
Possessing items such as your receipt, the box, jewelry bag, and other appropriate accoutrements that were included with your Cartier jewelry purchase will raise your buyer's confidence in the provenance of the piece: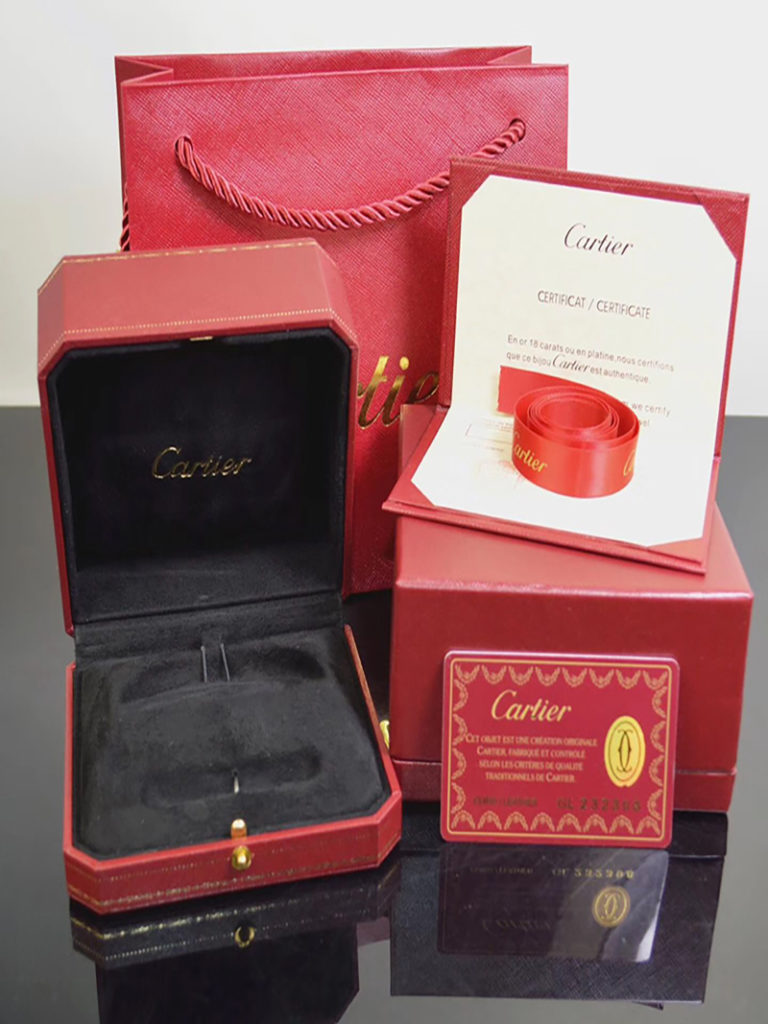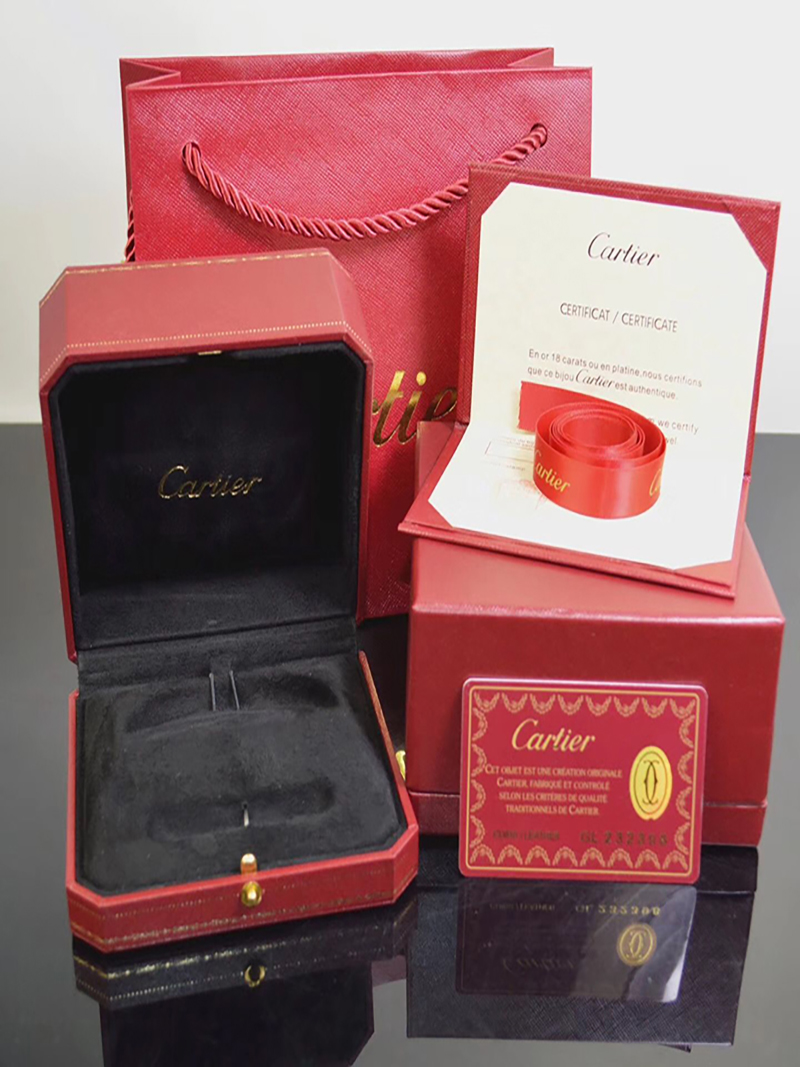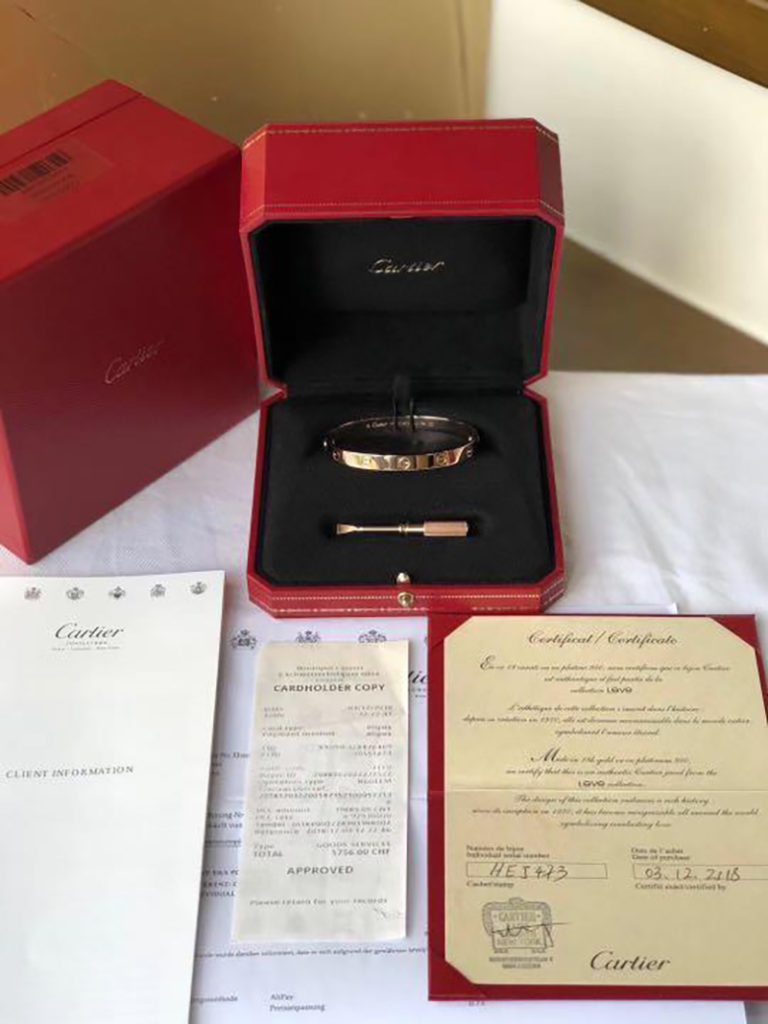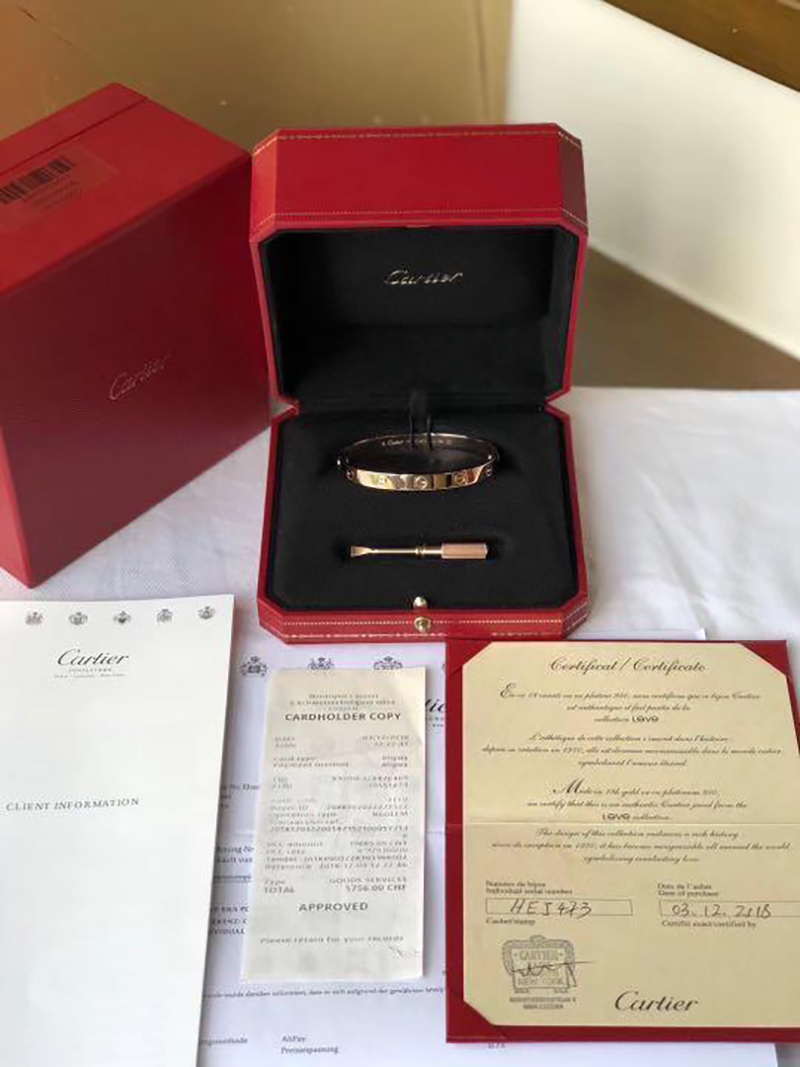 Your options when selling your Cartier jewelry
---
Once you've made the decision to sell, it's understandable that you would want to get the best price possible for your Cartier jewelry.
But it can be hard to know where to start.
In this section, we'll look at the different options for where you can sell, and a few things to take into consideration when deciding which is the best fit for you.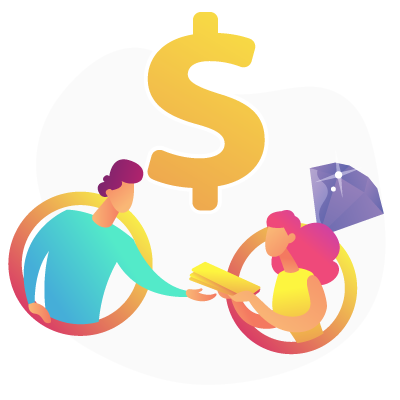 When selling your Cartier jewelry, there are a few things to consider:
What you are selling
What is more important for you – price or speed of sale
How much you value certainty
Understanding what your Cartier jewelry is worth
One of the first things to understand is how much your jewelry is likely to be worth when selling it.
You may have a jewelry appraisal stored away with a value attached to it, which you have used for insurance purposes. While there are a few types of appraisals, it's likely that yours will list the price that it would cost to replace the item with a new, or equivalent, piece.
Unfortunately, the value on your appraisal isn't the same as the amount that someone would actually be willing to buy the jewelry from you for. The reason being, that anyone who would buy it from you now, would then be looking to sell it as 'used' for lower than the price of a 'new' replacement item and still make a profit.
The amount that someone is actually willing to pay for an item is known as the 'fair market value'.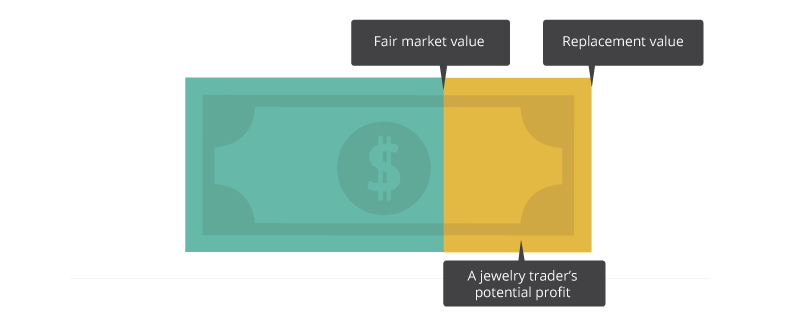 Determining the fair market value of something can be tricky, and many people look online to try and understand how much their Cartier jewelry might now be going for.
One of the most famous sites for high quality vintage jewelry is 1stDibs.com, which specializes in selling from professional jewelry dealers to the public.
Many jewelry lovers enjoy browsing the wares on 1stDibs and it's not uncommon to assume that if you see a comparable piece of jewelry being sold on there, then you may be able to receive a similar price for your own piece.
Unfortunately, however, the prices on 1stDibs are not a good guide on how much you are likely to get when you sell your jewelry, as the prices advertised are the prices that a jewelry dealer is selling them for, including making a profit once 1stDibs' fees and all their other costs have been taken out.
However, it can be useful to get a ballpark figure of how much a jeweller may be willing to pay for your item.
For example, this Cartier Boudoir Diamond Eternity Ring may be listed for $26,000: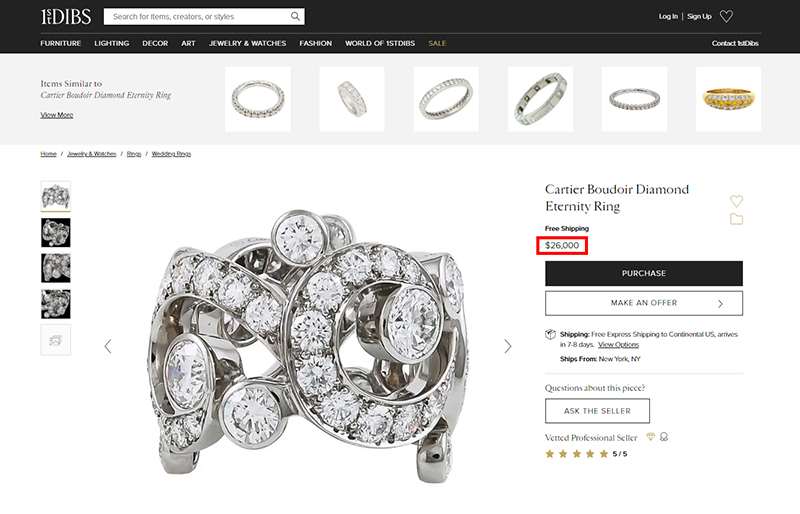 However, as with buying many vintage pieces, prices aren't fixed and dealers are usually open to negotiation.
Underneath the 'Purchase' button, you can see there is a 'make an offer' button, which says that sellers are most likely to accept offers of 5% – 20% below the $1,200 asking price: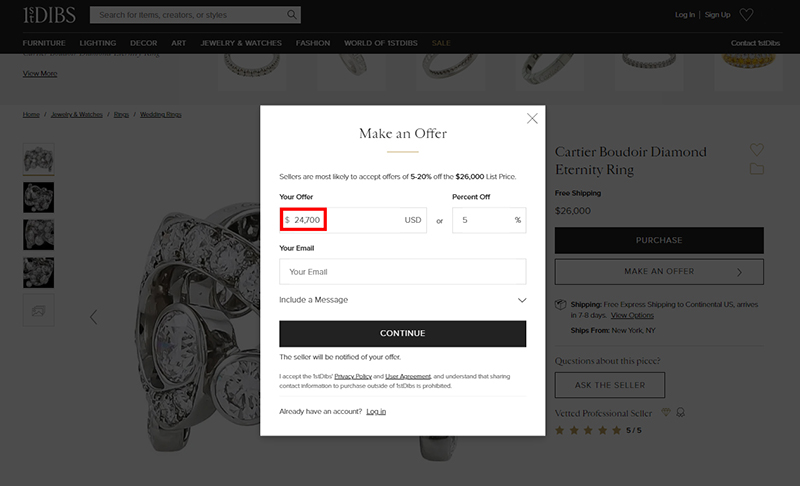 A 5% to 20% offer below the listed price is a $1,300 to $5,200 reduction on the original $26,000 price.
This reduces the amount that the jeweller is likely to receive for the watch to between $20,800 and $24,700
Then 1stDibs' commission fee needs to be taken into account. This is a 15% commission fee plus a 3% processing cost, which would reduce the price that the seller actually receives to between $17,056 – $20,254.
Most jewellers will look to buy jewelry for around half of what they are sure they can sell it for, so in order for this to make sense for the dealer, it's likely that they would aim to buy a watch like this for around half of the $17,056 – $20,254 figures.
This would mean that a jeweller is likely to pay around $8,528 – $10,127 for this particular ring.
If you have an extremely high end or one-off piece, consider an auction house.
Cartier has produced a wide range of jewelry over the designer's lifetime, from high jewelry pieces containing one-of-a-kind gems, to more attainable rings and necklaces which can be purchased in their boutiques worldwide.
If you are selling an extremely rare or high-end piece, then it may make sense to use an auction house, as they can result in a higher price achieved due to the competitive nature of several bidders pushing the price up.
Two of the most well-known auction houses for jewelry are Sotheby's and Christies:

When considering whether a traditional auction house is the right choice for you, it's important to understand that the final 'hammer price' you see for past sales is not the amount that the sellers actually received.
Sotheby's commission for the seller is typically 20% of the final sale price
Christies commission for a seller is also 17% of the final sale price, with an additional 2% 'performance commission fee' if it goes over the agreed 'high estimate
These high-end auction houses also charge the sellers an additional 10-15% of the final sales price, which can mean that they are less willing to bid high amounts.
The other thing to consider with auction houses is the length of time that these organisations will take to sell your item.
As the snippet from an email below shows, it can take around a month for them to assess the value of an item, and you would then have to wait for a suitable auction to be held, which could be an additional one or two months.

The other potential wait could be if you list your item and it doesn't reach your desired price, in which case it will be passed in and returned to you. This uncertainty can put off some buyers who are more comfortable with a fixed price.
For the reasons listed above, if you are keen to sell your item reasonably quickly, high end auction houses are unlikely to be able to help.
But, if you are willing to wait, you have an item that fits their high requirements and you are happy with the commission % that the auction houses charge then they could be the best solution to get a great price if your item is subject to a bidding war that drives the price up.
Selling using online auction sites
There are two types of online auction websites that deal with high quality jewellery:
Auction sites that sell to consumers e.g. 1stDibs.com
Auction sites that buy from consumers e.g. worthy.com
Cartier and Worthy.com
Worthy.com is a marketplace which works the opposite way to 1st Dibs.
Instead of connecting professional jewelry traders to customers, it connects ordinary people who are looking to sell jewelry with a network of nearly 1,000 jewelry traders who can bid on their items.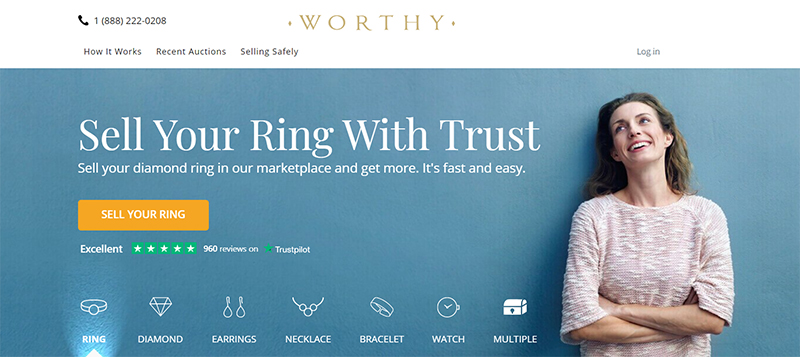 Worthy is much faster than selling through a traditional auction and it does put you in contact with a range of jewelry buyers who could bid the price of your item up, if they like it.
The cost to access these buyers is Worthy's 'success fee' commission, which is only payable on the completion of the auction.
These fees are:
Up to $5,000 = 18%
5,001 – 15,000 = 14%
15,001 – 30,000 = 12%
30,000 and above = 10%
Worthy can be a good option as it means that your jewelry can get out in front of as many people as possible, who will then bid against each other to increase the possible price you receive.
Cartier and IdonowIdon't.com
I do now I don't operates on a similar business model to Worthy.com, but has a slew of bad reviews on Trustpilot with reports of them not paying sellers for the goods that have been sold.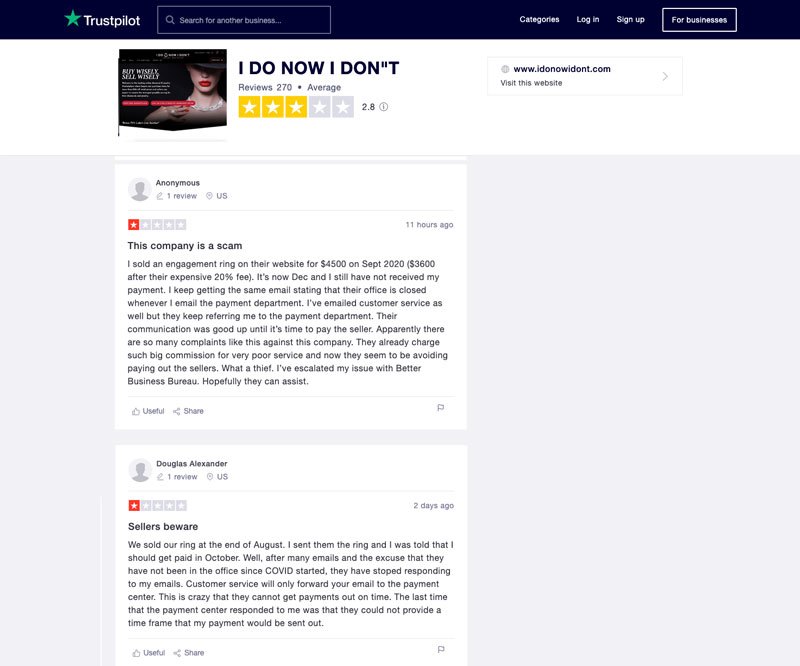 As a result I would not recommend that you use their service.
Selling Cartier direct to a jewelry dealer
The best way to get the most money for your Cartier jewelry is to eliminate as many layers between you and the person buying it as possible.
In essence, to talk directly to the type of people who are buying through worthy.com, but without having to pay Worthy the commission and reduce the amount you make.
Our recommendation is The Diamond Oak.
The Diamond Oak is a family run business with multiple generations in the jewelry industry, based out of the Diamond District in New York.

Best of all, working with Alon you will get a fair price extremely quickly, instead of having to wait for an auction to run its course and then pay the fees out of the sales price. Alon's process is:
Complete a form on The Diamond Oak's website
Alon will get back to you with an estimate, usually the next business day
If you like the estimate, Alon will provide a pre-paid and insured shipping label
Once he's received it, Alon will check that all looks OK, and then pay straight away.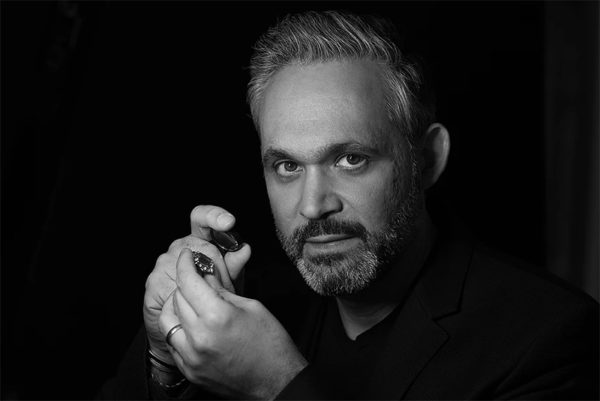 Alon of The Diamond Oak
If you have Cartier jewelry that you are looking to sell, Alon at The Diamond Oak will guide you through the process and ensure that you receive the very best price possible – just click through and fill out the form and he'll get straight back to you with an offer for you to consider.
Even if you don't end up working with him, you will receive a guide price back extremely quickly, which can then help you understand whether you are getting a better deal through other avenues.