THREE STONE ENGAGEMENT RINGS
For your past, present and future
Three stone engagement rings are a classy way to get a seriously impressive engagement ring, without being overtly 'blingy' or flashy. Three stone rings radiate luxury while still retaining an air of elegance.
Three stone settings are sometimes called 'Past, present and future' rings, and like many things to do with diamonds, this came from De Beers. In 2000 they started a marketing campaign promoting three stone rings as the jewelry gift of choice for an anniversary – tying the three stones to the past, present and future of a relationship. However, three stone rings are definitely not just for anniversaries and are a popular choice for engagement rings.
On this page we're going to look at
What's good about three stone engagement rings
What's not so good
A selection of three stone engagement rings settings for you to check out.
By the end, you should have a great idea of what to look for with three stone rings, and hopefully have some inspiration to help you make your choice.
What's good about three stone engagement rings?
Price
Buyers of a three stone diamond ring, have an advantage over those who choose a solitaire ring because a three diamond ring does not necessarily require a large single diamond, which can be expensive. Instead, the buyer can select three smaller stones of better quality, but since they are smaller, may have a lower price.
Versatility
Three stone engagement rings give you more opportunity than most other ring setting styles to mix up the design and really make it your own. As well as the choice of center stone shape, as you would have with other setting styles, you can also choose to pair these with almost any other diamond shape as side stones. And, if you want to add a flash of colour, you can pair a center diamond with other gemstones as the supporting stone. Emeralds, sapphires and rubies are popular choices.
As we'll see in the next section, there's almost no limit to the combinations that you can choose in terms of shape and color for your three stone ring.
Three stone engagement ring settings
The three stone ring offers the most variety of any format of engagement ring due to the combinations of stones shapes and styles that are possible, which means that it's possible to create a ring that is truly individual
I've selected a few examples below to give you an idea of what is out there, but it is by no means a definitive list. Click through on any of the rings to find out more about it, or click through to the Ringspo Ring Finder to see more options.
---
---
---
---
---
---
Rubies and sapphires can also make excellent supporting stones in side stone rings, and each is available in a range of shapes, either to match the center stone or as a great way to introduce another shape of gemstone too.
---
---
---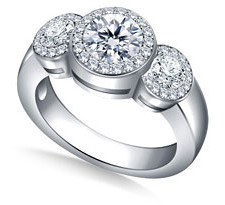 [/one_third]
---
---
---
Although most of the rings featured here are either platinum or white gold, there is also a wide selection of rose gold and yellow gold three stone engagement rings for you to check out. Click through and have a look!
Make sure you get your perfect engagement ring.
Get your
free guide to the 6 key mistakes to avoid
Don't pay for things you can't see
Find the diamond that is perfect for YOU
Learn where to buy to get the widest choice and the best value