How to sell Tiffany Jewelry
Make sure you get the best price when selling Tiffany Jewelry
Written by: Alastair Smith
Last updated on: March 14th, 2022
---
Tiffany and Co is some of the most beautifully designed and crafted jewelry in the world. Since it was founded in 1837, 'Tiffany' has focused on selling only the highest quality diamonds and providing a beautiful experience when shopping.
But tastes and circumstances change and we don't need to hold on to our Tiffany & Co. jewelry forever.
If you are looking to sell Tiffany & co. jewelry and want to make sure that you get the fairest price for your piece, this blog will show you how.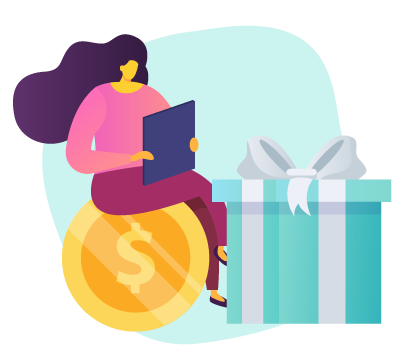 The bottom line when selling your Tiffany & Co. jewelry:
The key to getting the most when you are reselling your Tiffany jewelry is to work with someone who knows the true value of the jewelry and eliminate as many layers as possible between you and the buyer.
Auction houses, online marketplaces, etc act as middlemen and take a cut, reducing the amount they will pay you.
Our recommendation is Alon at The Diamond Oak – a fine jewelry specialist who will give you the best price possible, avoiding middlemen and fees. Get in touch with Alon here
Why selling Tiffany jewelry is different to selling most jewelry
Tiffany & Co. jewelry belongs to a small group of elite jewelers whose craftsmanship and brand lifts them above all others. These elite jewelers sign their pieces with the name of the jewelry house or maker with an engraving on the underside of the piece or the inside of a ring.
In fact, jewelery signed with a maker's name is simply called 'signed jewelry'.
Jewelers began signing their pieces in the 'Arts & Crafts' and 'Art Nouveau periods, from about 1860 onwards, and it's a tradition that continues today. The ring below dates from 1872 and the Tiffany & Co. engraving can still be seen despite nearly 150 years of wear: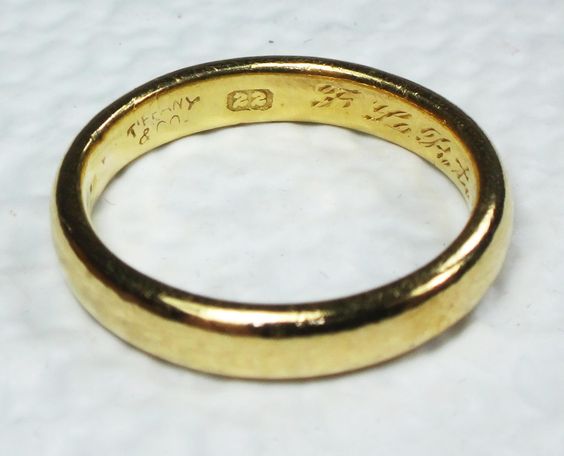 When it comes to Tiffany and Co. jewelry, there have been very jewelers that have been permitted to add their own signatures to Tiffany pieces in addition to the brand name:
Jean Schlumberger signed Tiffany & Co jewelry
Jean Schlumberger was a legendary Tiffany & Co jewelry designer who created hugely original designs inspired by nature.
His designs included brooches inspired by animals:
While his ring designs also included flowing and organic forms: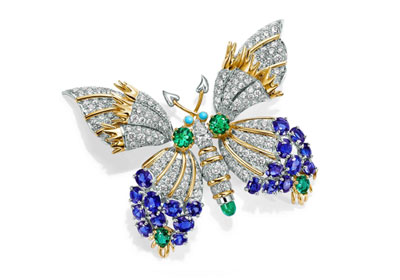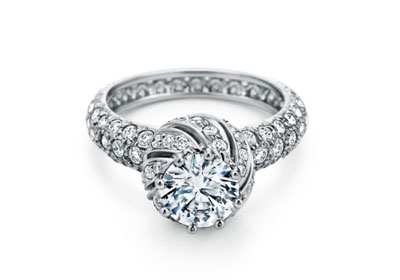 Paloma Picasso signed Tiffany & Co. jewelry
Paloma Picasso is the youngest of Pablo Picasso's four children and her designs For Tiffany combine timeless sophistication with bold style: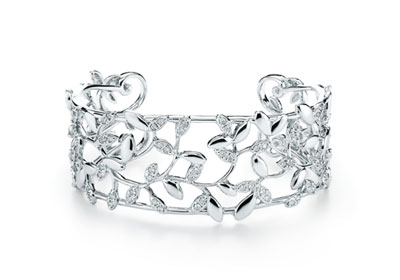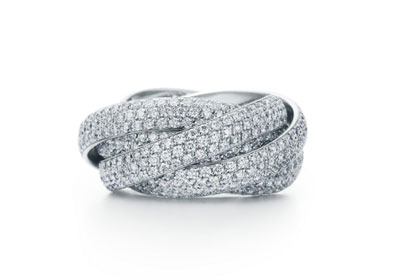 Elsa Peretti signed Tiffany & Co. jewelry
Elsa Peretti's sculptural and organic style was a departure for Tiffany, but they are amongst the most popular styles still being sold today: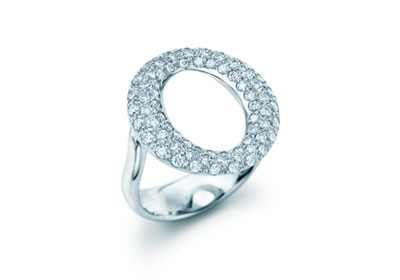 It's clear that from the examples shown here that Tiffany & Co. has produced a wide variety of beautiful pieces of jewelry over the years, in a wide variety of styles.
Tiffany & Co. jewelry is worth more than the sum of its parts
One thing that many people don't realise when selling jewelry is that it often is worth more due to the value of the precious metals it contains than it is as a piece of jewelry.
If a person is looking to sell a generic gold engagement ring then it is likely that the diamond and the ring setting will be separated from each other. The gold melted will be melted down while the diamond is reused in a new piece of jewelry: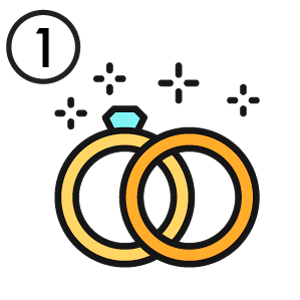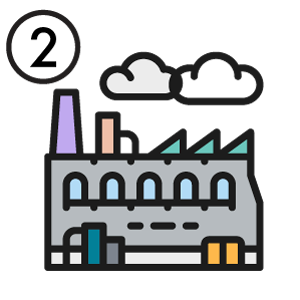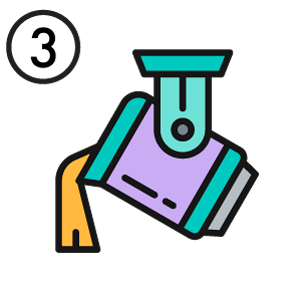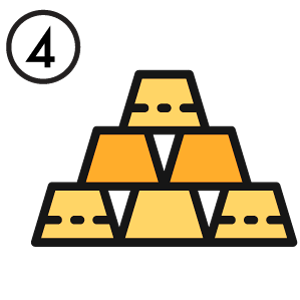 With Tiffany & co. jewelry, this doesn't happen. The strength of the brand and the quality of the workmanship means Tiffany jewelry is worth significantly more as jewelry than it would be in its individual parts.
When selling your Tiffany & Co. jewelry, it's a reassuring feeling to know that it will live on as jewelry and continue its story.
How the age of Tiffany & Co. jewelry affects its value
Tiffany has a rich heritage, and several of its designs are iconic. For example, the classic 6 prong Tiffany diamond ring setting was first introduced in 1886: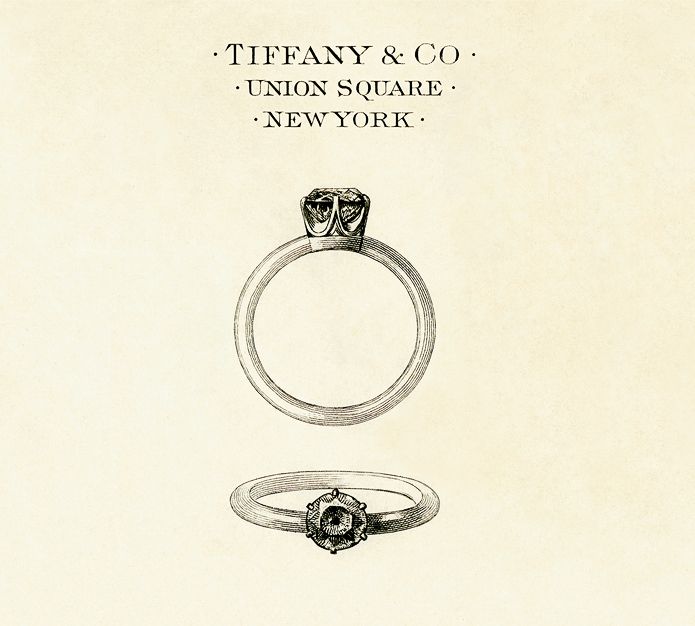 And the design hasn't changed a huge amount since, as this Tiffany ad shows: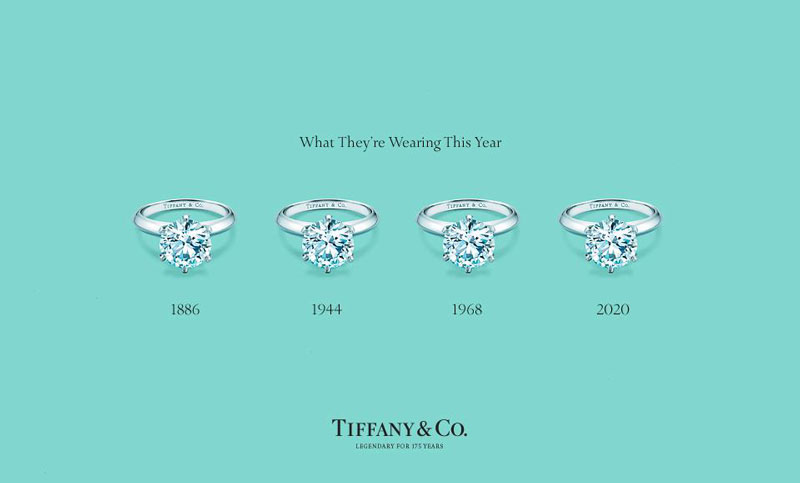 So how does age affect the value of a Tiffany jewelry?
If the jewelry is an exceptional example of a period e.g. Art Deco, Belle Epoque etc. then it is likely that it will be valued more highly. For example, this cushion sapphire platinum and diamond ring from around 1925 is likely to be valued at around $25,000: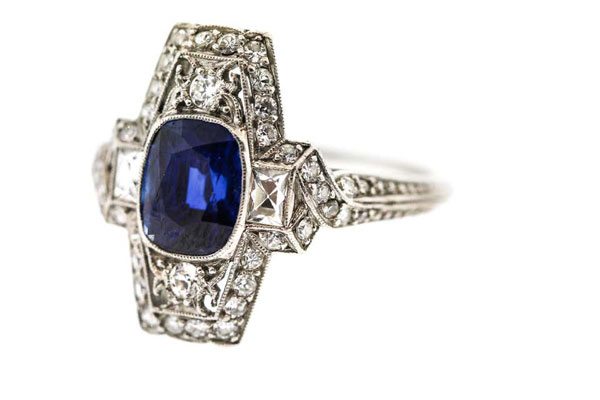 However, if jewelry is a more commonly found design, then the fact that it is older does not necessarily mean that it will be valued more highly.
A six prong Tiffany engagement ring from 1950 will be no more valuable than one from 2015.
How to maximise the amount you will be able to sell your Tiffany & Co. jewelry for
Part of buying any Tiffany & Co. jewelry is the experience, and with that comes the immaculate presentation of the jewelry in the signature Tiffany Blue box.
Including the blue box with the sale goes a long way to proving that your jewelry is genuine and also ensures that the new buyer is able to feel some of the Tiffany and Co. magic that is associated with the box.
Even better is being able to include all of the elements that came with the jewelry originally:
Tiffany presentation box
Tiffany bag
Original receipt
The warranty card
A certificate of authenticity
An information booklet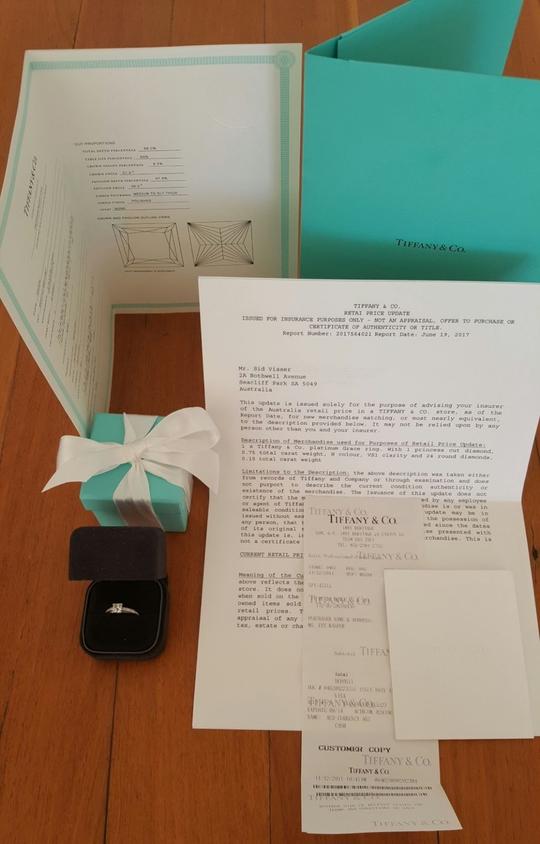 It can also be a good idea to have an appraisal of your jewelry performed before you sell it. This involves an expert reviewing the jewelry, the materials used and its condition and assigning a value to it.
A 'fair market' appraisal is important to understand the value that is realistic for your jewelry, and this is likely to be lower than the 'replacement value' appraisal that you may already have for insurance purposes.
What if you don't have the Tiffany & Co. box, papers etc?
If you don't have the box and accompanying documentation then all is not lost. If you were the original purchaser of a diamond ring, you can contact Tiffany & Co. to request the official paperwork. If this isn't possible, then a jewelry appraiser will be able to confirm that the item is genuine and assign a value to it.
It should be noted though, that not including the box and papers with a sale can reduce the sale price by as much as 10%.
How much can you sell Tiffany & Co. jewelry for?
---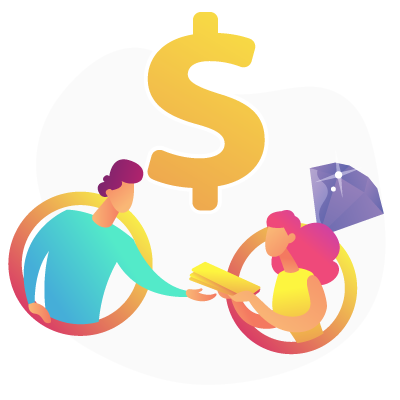 Once you've made the decision to sell, it's understandable that you would want to get the best price possible for you Tiffany jewelry.
As we've seen, over its rich history Tiffany & Co has sold a huge variety of jewelry. If we look at bracelets, it ranges from hugely ornate pieces with multiple carats of diamonds like this: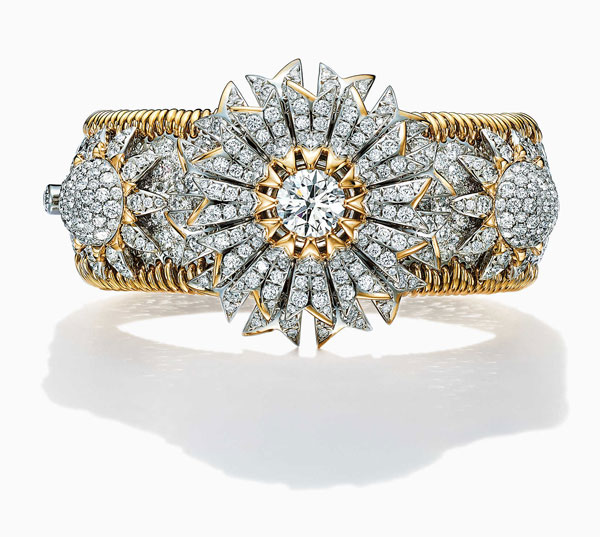 To simple sterling silver pieces like this: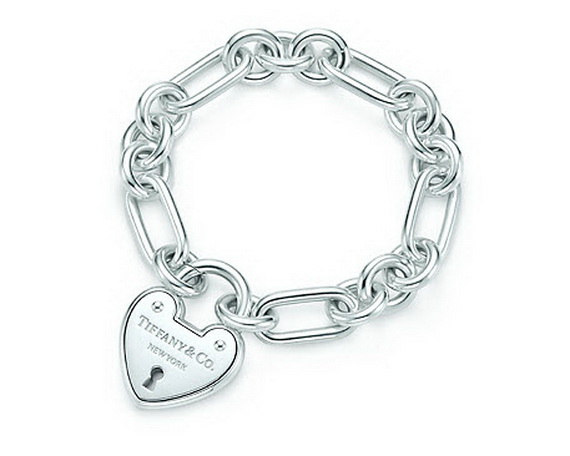 There's therefore no easy answer to how much you will be able to sell your Tiffany & Co. jewelry for. It depends on what it is, its rarity, its provenance , its condition and the current market conditions at the time you are looking to sell.
But to make it easy to understand roughly what can be achieved when selling Tiffany jewelry, we'll look at how much a diamond engagement ring can be sold for.
The ring that we'll look at has the following specifications:
1 carat
VS2 clarity
G color
Excellent cut quality
Bought new from the Tiffany & Co. store, a diamond ring with these specs would cost $14,200: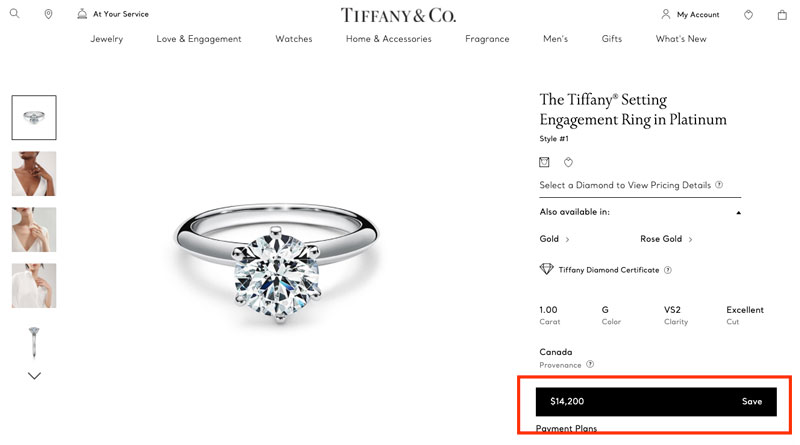 When selling a ring like this there are a few things to consider:
You want to ensure that the other party is trustworthy – that they will honor the deal
You want to ensure that you receive a fair price for your jewelry
Ideally you want it to be a relatively straightforward and friction-free process
Finding the resale value of a Tiffany engagement ring
1stdibs.com is one of the premier online destinations to find pre-loved designer goods, including Tiffany jewelry.
All of their goods are authenticated as genuine by independent appraisers, so it definitely ticks the boxes for being trustworthy.
They have a ring with similar spec to our test ring priced at $11,500: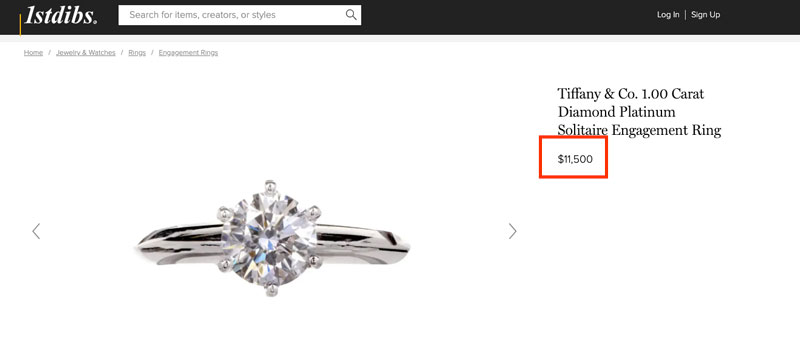 One thing to know with 1stdibs is that it is a marketplace for professional jewelry traders to sell their wares to the public. As a result, the $11,500 price is the price that the ring is being sold for after the jeweler's expenses and profits have been taken into account.
It's not therefore a fair market price for what can be expected to be received if you are selling a similar ring.
The second thing to know about 1stdibs is that haggling is common and expected. On each page there is the option to make an offer for the piece, with instructions that offers of 5% to 20% below the asking price are most likely to be accepted: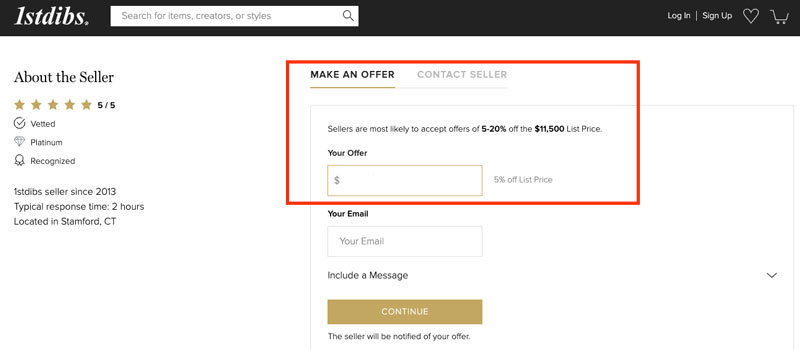 At 5% to 20%, this is a $575 to $2,300 reduction on the original $11,500 price. This reduces the amount that the jeweler is likely to receive for the ring to between $9,200 and $10,975.
Then 1stDibs' commission fee needs to be taken into account. This is a 15% commission fee plus a 3% processing cost, reducing the price that the seller actually receives to between $7,544 – $9,000.
Most jewelers will look to buy a ring for around half of what they are sure they can sell it for, so in order for this to make sense for them, they are likely to be aiming to buy it for around half of the $7,544 figure – this is $3,772.
Selling Tiffany & Co. jewelry to a Specialist jewelers
If we look at a jeweler that specializes in used Tiffany & Co jewelry, the price of a 1 carat ring with specification similar to our example is $7,995: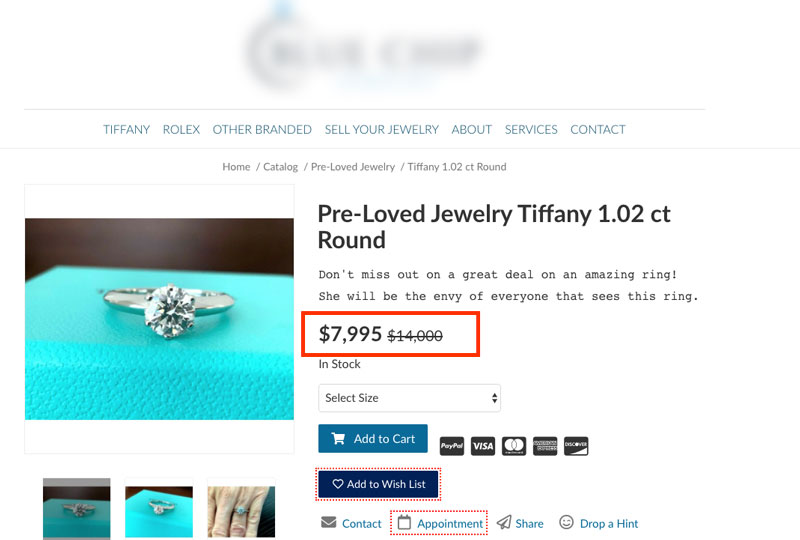 Again, we have to understand that this is the price that they are hoping to achieve after their costs and profits have been deducted.
If you were selling your ring to them, the price would be lower than this to ensure they can stay in business and turn a profit. Again, it's likely to be around half of selling price, or $4000.
Selling Tiffany & Co. jewelry to Worthy.com
Worthy.com is a marketplace which works the opposite way to 1st Dibs. Instead of connecting professional jewelry traders to customers, it connects ordinary people who are looking to sell jewelry with a network of nearly 1,000 jewelry traders who can bid on their items.
Reviewing recent auctions, we can find a similar ring to our 1 carat, G color, Vs2 example. The diamond in this ring is slightly larger at 1.06 carats and the clarity grade is slightly higher at VS1, but it's close enough to use here.
139 jewelry buyers indicated that they were interested in the piece and the average bid was $4,887. The final price achieved was $6,500: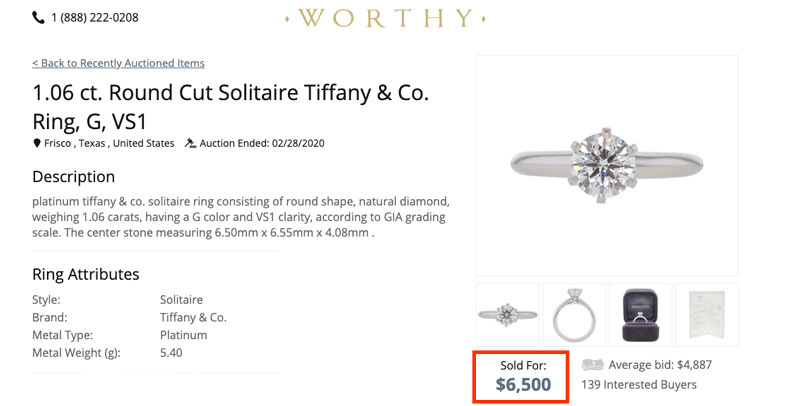 So, the jeweler will pay $6,500 for the ring and will then polish it up and resell it – possibly through 1stDibs, or through their own store.
The advantage of Worthy is that the number of people bidding on a ring can push the price up. The disadvantage is that as a marketplace, Worthy takes a % of every sale made: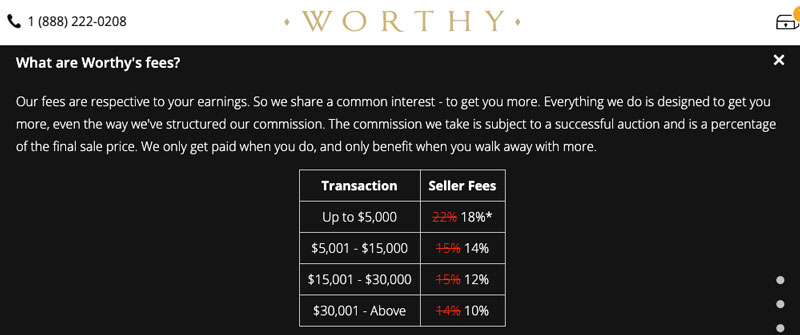 As this sale was between $5,001 and $15,000, a 14% commission would have been charged. On the $6,500 sale price, this works out at $910. The seller of this ring would therefore have received $5,590.
Selling Tiffany & Co. jewelry directly to a buyer
The best way to get the most money for your Tiffany & co. jewelry is to eliminate as many layers between you and the person buying it as possible. In essence, to talk directly to the type of people who are buying through worthy.com, but without having to pay Worthy the commission and reduce the amount you make.
Our recommendation is The Diamond Oak.
The Diamond Oak is a family run business with multiple generations in the diamond industry, based out of the Diamond District in New York.
As well as buying diamonds and modern Tiffany & Co. jewelry, Alon at The Diamond Oak is also interested in vintage Tiffany jewelry. Recent purchases include:
Vintage Tiffany leaf brooches: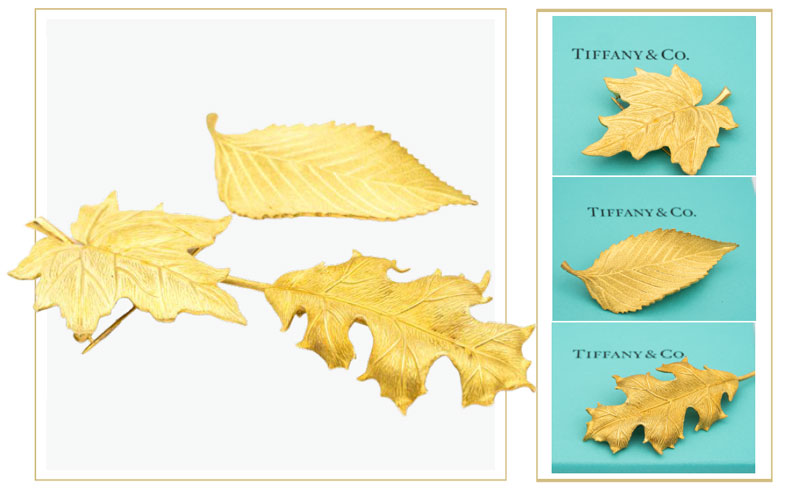 Vintage Tiffany & Co. gold knot earrings: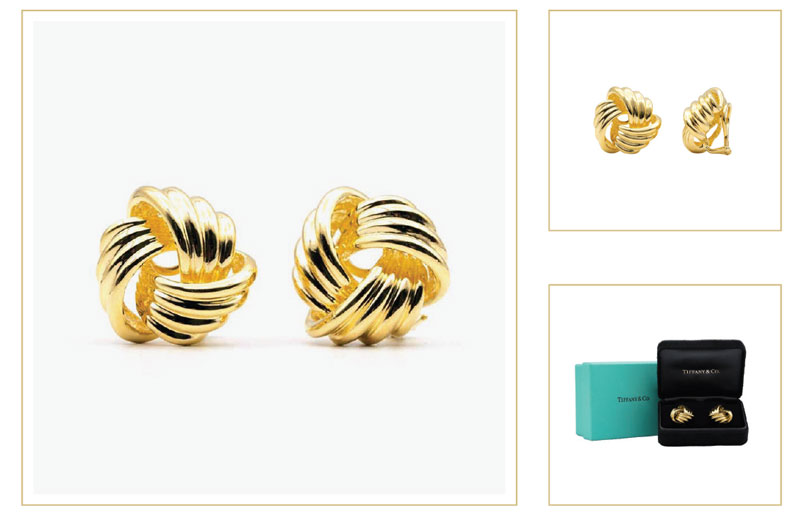 Vintage Jean Schlumberger-designed rings: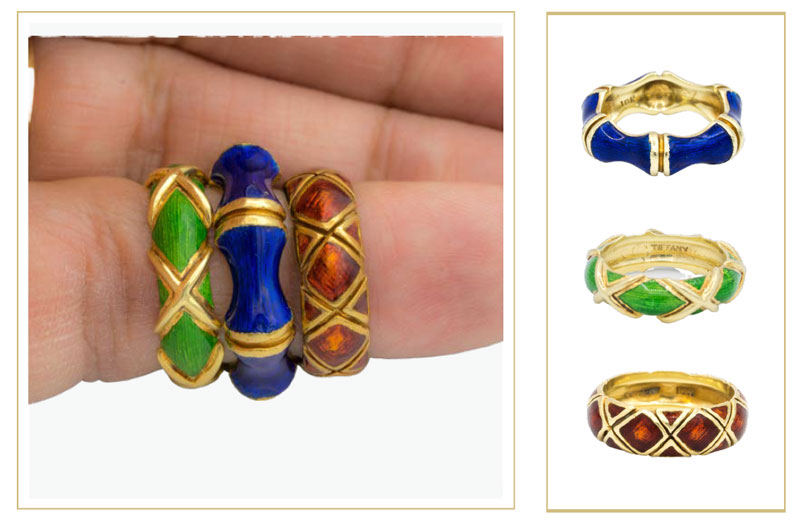 If you have Tiffany & Co. jewelry that you are looking to sell, Alon at The Diamond Oak will guide you through the process and ensure that you receive the very best price possible – just click through and fill out the form and he'll get straight back to you with an offer for you to consider.