How to sell Tiffany Jewelry
Make sure you get the best price when selling Tiffany Jewelry
Written by: Alastair Smith
Last updated on: March 22nd, 2023
---
Tiffany and Co. is some of the most beautifully designed and crafted jewelry in the world.
But tastes and circumstances change and we don't need to hold on to our Tiffany jewelry forever.
If you are looking to sell Tiffany jewelry and want to make sure that you get the price, this blog will show you how.
On this page you'll learn everything you need to know about: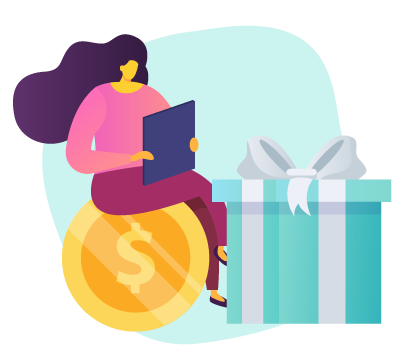 Ringspo is reader-supported, which means we may receive a commission if you click a link to a retailer & subsequently make a purchase.
We feature links to several retailers to help readers find the one that is the best fit for them. Find out more about how Ringspo works here.
The bottom line when selling your Tiffany & Co. jewelry:
The key to getting the most when you are reselling your Tiffany jewelry is to work with someone who knows the true value of the jewelry and eliminate as many layers as possible between you and the buyer.
Auction houses, online marketplaces, etc act as middlemen and take a cut, reducing the amount they will pay you.
Our recommendation is Alon at The Diamond Oak – a fine jewelry specialist who will give you the best price possible, avoiding middlemen and fees. Get in touch with Alon here
Why selling Tiffany jewelry is different to selling most jewelry
Tiffany & Co. jewelry belongs to a small group of elite jewelers whose craftsmanship and brand lifts them above others. These elite jewelers often sign their pieces with the name of the jewelry house or maker with an engraving on the underside of the piece or the inside of a ring.
In fact, jewelery signed with a maker's name is simply called 'signed jewelry'.
Jewelers began signing their pieces in the 'Arts & Crafts' and 'Art Nouveau periods, from about 1860 onwards, and it's a tradition that continues today. The ring below dates from 1872 and the Tiffany & Co. engraving can still be seen despite nearly 150 years of wear: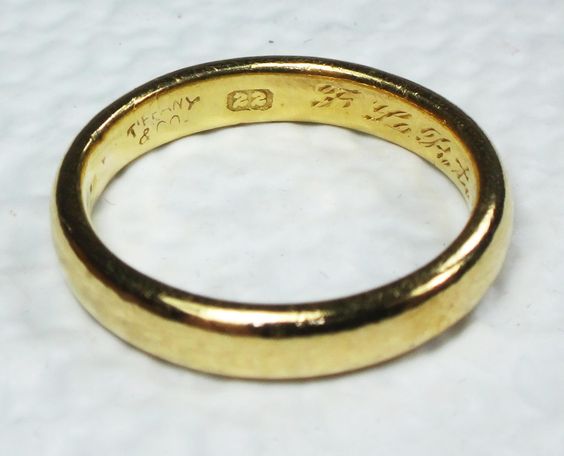 Tiffany & Co. jewelry is worth more than the sum of its parts
One thing that many people don't realise when learning how to sell jewelry is that it often is worth more due to the value of the precious metals it contains than it might he as a pre-owned diamond ring or other piece of jewelry.
If a person is looking to sell a generic gold engagement ring then it is likely that the diamond and the ring setting will be separated from each other. The gold melted will be melted down while the diamond is reused in a new piece of jewelry: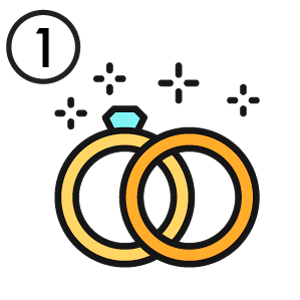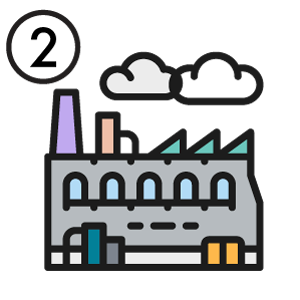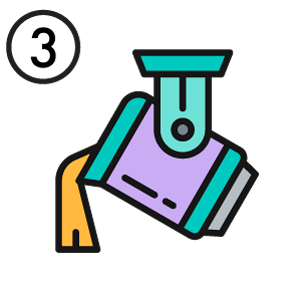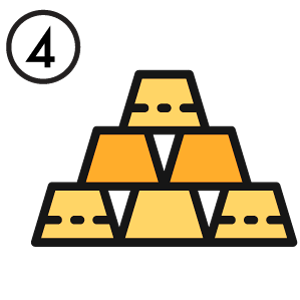 With Tiffany & co. jewelry, this doesn't happen. The strength of the brand and the quality of the workmanship means Tiffany jewelry is worth significantly more as jewelry than it would be in its individual parts.
When selling your Tiffany & Co. jewelry, it's a reassuring feeling to know that it will live on as jewelry and continue its story.
How to maximise the amount you receive for your Tiffany & Co. jewelry
Part of buying any Tiffany jewelry is the experience, and with that comes the immaculate presentation of the jewelry in the signature Tiffany Blue box.
Including the blue box with the sale goes a long way to proving that your jewelry is genuine and also ensures that the new buyer is able to feel some of the Tiffany and Co. magic that is associated with the box.
Even better is being able to include all of the elements that came with the jewelry originally:
Tiffany presentation box
Tiffany bag
Original receipt
The warranty card
A certificate of authenticity
An information booklet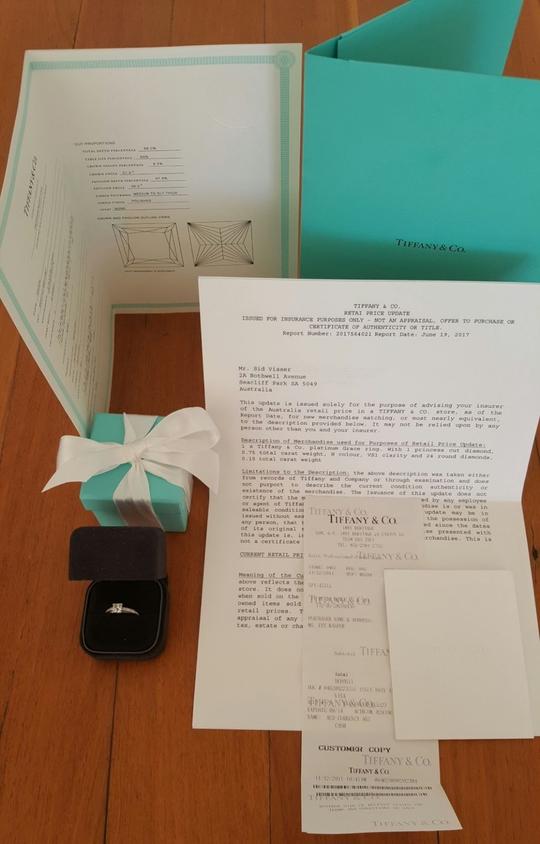 It can also be a good idea to have an appraisal of your jewelry performed before you sell it. This involves an expert reviewing the jewelry, the materials used and its condition and assigning a value to it.
A 'fair market' appraisal is important to understand the value that is realistic for your jewelry, and this is likely to be lower than the 'replacement value' appraisal that you may already have for insurance purposes.
What if you don't have the Tiffany & Co. box, papers etc?
If you don't have the box and accompanying documentation then all is not lost. If you were the original purchaser of a diamond ring, you can contact Tiffany & Co. to request the official paperwork. If this isn't possible, then a jewelry appraiser will be able to confirm that the item is genuine and assign a value to it.
It should be noted though, that not including the box and papers with a sale can reduce the sale price by as much as 10%.
Where to sell Tiffany jewelry to get the best price
---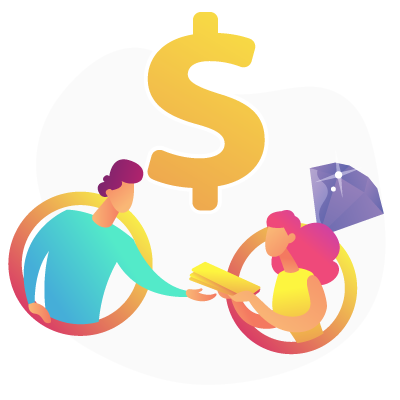 Once you've made the decision to sell, it's understandable that you would want to get the best price possible for you Tiffany jewelry.
When selling a ring like this there are a few things to consider:
You want to ensure that the other party is trustworthy – that they will honor the deal
You want to ensure that you receive a fair price for your jewelry
Ideally you want it to be a relatively straightforward and friction-free process
You have several option for where you could sell, but here's our recommendations if you want to get the best price and have the smoothest transaction.
Tiffany jewelry resale value
---
It can be hard to know how much you can expect to receive when selling jewelry, especially a premium brand like Tiffany.
While you may have an appraisal that says what it's worth, this details what it would cost to replace with a new item, rather than how much someone would be willing to pay for a used item.
The best way to understand how much your Tiffany jewelry is likely to be worth is to look at recent sale prices.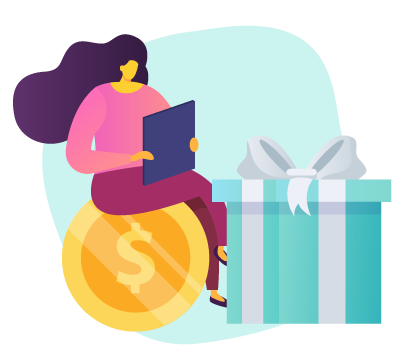 Reselling a Tiffany Engagement Ring
To make it easy to understand roughly what can be achieved when selling Tiffany jewelry, we'll look at how much a diamond engagement ring can be sold for.
The ring that we'll look at has the following specifications:
1 carat
VS2 clarity
G color
Excellent cut quality
Bought new from the Tiffany & Co. store, a diamond ring with these specs would cost $14,200: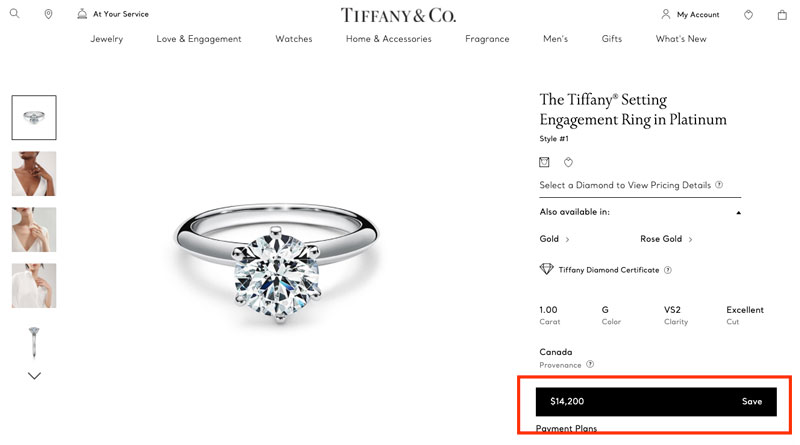 Checking Tiffany diamond ring resale prices on Worthy
Worthy.com has. a fantastic resource where they share the recent sale prices of auctions for rings, necklaces, earrings and eery other type of jewelry.
Reviewing recent auctions, we can find a similar ring to our 1 carat, G color, VS2 example. The diamond in this ring is slightly larger at 1.06 carats and the clarity grade is slightly higher at VS1, but it's close enough to use here.
139 jewelry buyers indicated that they were interested in the piece and the average bid was $4,887. The final price achieved was $6,500: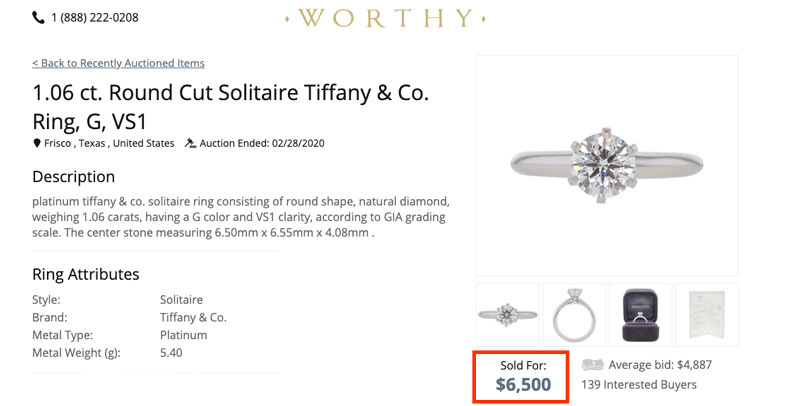 So, the jeweler will pay $6,500 for the ring and will then polish it up and resell it – possibly through 1stDibs, or through their own store.
The resale value of this Tiffany diamond ring is therefore 45%:
| | |
| --- | --- |
| Original Tiffany ring price | $14,200 |
| Resale price | $6,500 |
| Resale % | 45% |
The advantage of Worthy is that the number of people bidding on a ring can push the price up. The disadvantage is that as a marketplace, Worthy takes a % of every sale made:

As this sale was between $5,001 and $15,000, a 14% commission would have been charged. On the $6,500 sale price, this works out at $910. The seller of this ring would therefore have received $5,590.
You can check Worthy's recent sales out here – it's definitely worth looking at.
Selling Tiffany & Co. earrings
Next up, we'll look at some diamond stud earrings.
A paid of 0.28 carat diamond studs currently costs $2,150 on the Tiffany website:

If we look at recent sales on Worthy, a similar set of earrings recently sold for $1,200: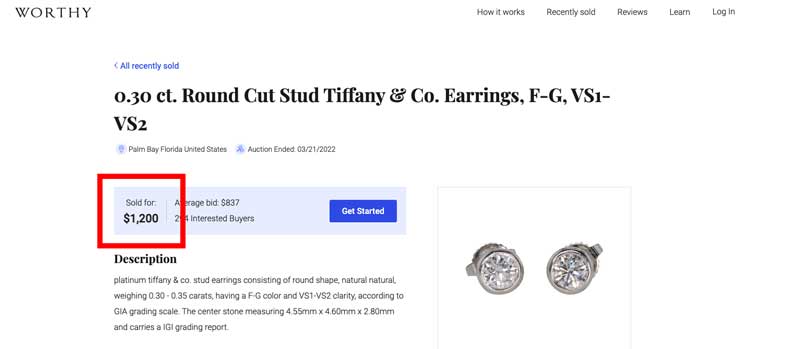 The resale value of these Tiffany diamond earrings are therefore 55% of the original sale price:
| | |
| --- | --- |
| Original Tiffany earrings price | $2,150 |
| Resale price | $1,200 |
| Resale % | 55% |
Selling Tiffany & Co. necklace
Lastly, we'll take a look at the price that can be achieved for a Tiffany necklace. Tiffany sells a huge variety or necklaces, from simple sterling silver to lavish diamond-encrusted affairs.
This "Diamond by the Yard" necklace is currently for sale on the Tiffany website for $39,000: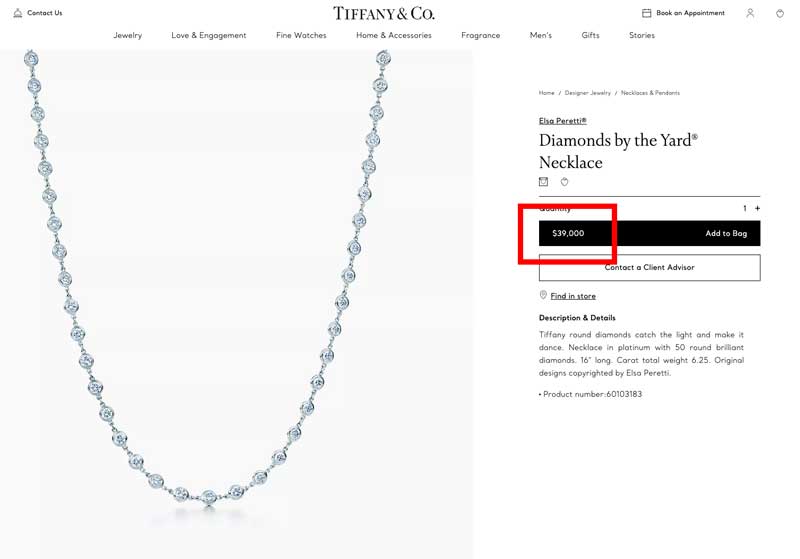 It's a beautiful piece, containing over 6 carats of diamonds, and we can find the same necklace was recently sold for : $10,073: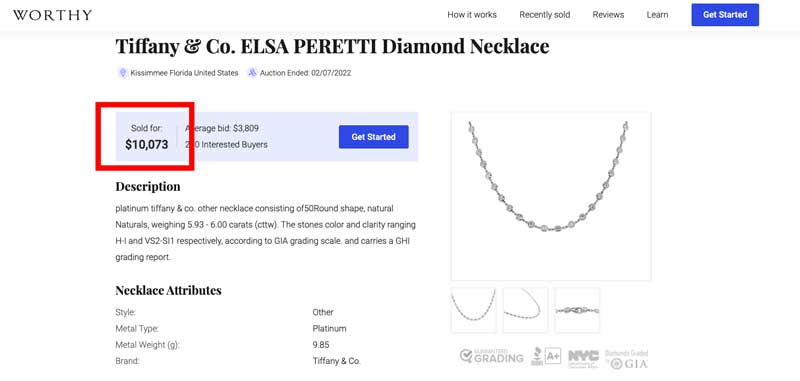 The resale value of this Tiffany necklace is therefore 25% of the original sale price:
| | |
| --- | --- |
| Original price of Tiffany necklace | $39,000 |
| Resale price | $10,073 |
| Resale % | 25% |
We can see from these three examples that there can be a significant variation in how much of the original selling price can be recouped when selling Tiffany jewelry. The best way to understand how much you are likely to receive is to find an item similar to yours:
Selling Tiffany & Co. jewelry directly to a buyer
If you want to avoid the middleman fee, a good way to get the most money for your Tiffany & co. jewelry is to eliminate as many layers between you and the person buying it as possible.
In essence, to talk directly to the type of people who are buying through worthy.com, but without having to pay Worthy the commission and reduce the amount you make.
Our recommendation here is The Diamond Oak.
The Diamond Oak is a family run business with multiple generations in the diamond industry, based out of the Diamond District in New York. We've seen hundreds of people successfully sell their jewelry to The Diamond Oak and feel that they currently offer the best balance of best price and service quality.
Recommended Tiffany buyer
The Diamond Oak
Our recommended first port of call when selling your Tiffany jewelry to get the best price and the smoothest sales experience.