Britney Spears' Engagement Ring
The ultimate guide to Britney Spears' diamond ring
Ringspo is reader-supported, which means we may receive a commission if you click a link to a retailer & subsequently make a purchase.
We feature links to several retailers to help readers find the one that is the best fit for them. Find out more about how Ringspo works here.
Britney Spears' engagement ring is a beautiful and shining symbol of her new life. With her new-found freedom, the "Oops I Did It Again" singer got engaged again, this time to model Sam Asghari. The couple first began dating when they met on the set of Britney's "Slumber Party" music video in 2016, and Asghari has stood by her as she endured a highly public battle to end her 13-year-long conservatorship.
He popped the big question in September of 2021, privately at Britney's home with minimal fanfare, with the two tying the knot on June 9th, 2022, at their Thousand Oaks, California, home both sporting Versace looks.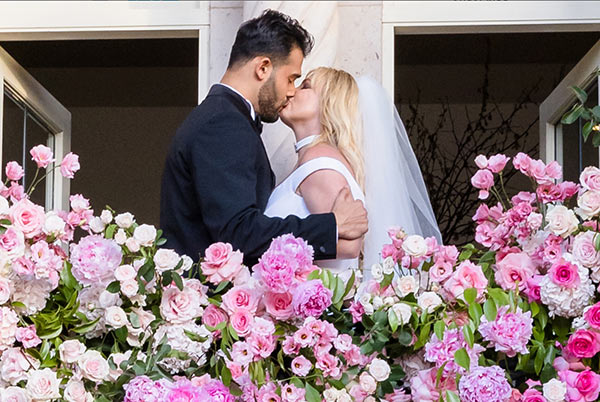 If you are looking for all the details about Britney Spears' engagement ring, you've come to the right place!
You'll find out:
What style Britney Spears' engagement ring is
What size the diamond on Britney Spears' engagement ring is
How much Britney Spears' engagement ring is worth
Britney Spears' engagement ring pictures
While the proposal may have been a private affair, Britney's engagement ring definitely doesn't shy away from the spotlight! Through photos posted by Britney herself as well as the ring's own designer, we have all the details on this stunning piece.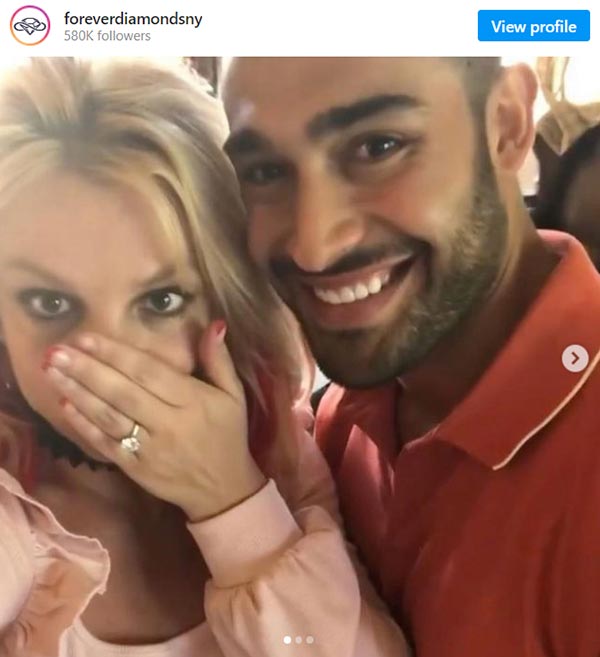 Spears first took to Instagram to announce her engagement, and we got our first glimpse of the ring. From this photo we can tell that the ring appears to be a round brilliant cut diamond set on a plain white gold or platinum band.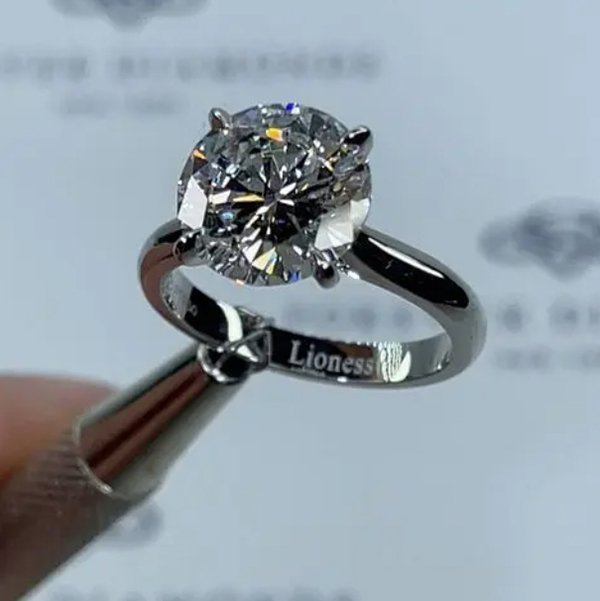 Now this is what we're talking about! The jeweler, Roman Malayev at Forever Diamonds NY, posted this close-up promotional image of the ring he custom-designed for Britney. We can see that the plain band actually has the word "Lioness" engraved on the inside.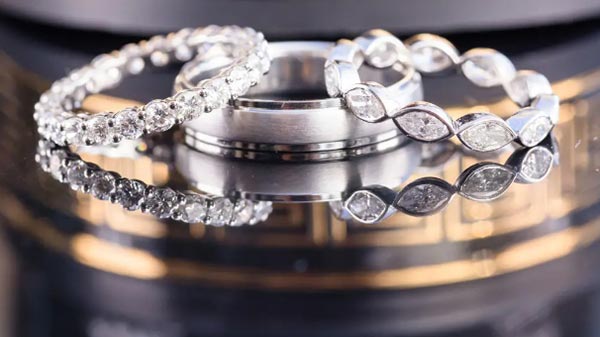 The happy couple chose the same jeweler when it came to wedding bands for their special day. Britney opted for not one, but two bands, one was a classic round diamond eternity band, and the other a more unique marquise diamond eternity band, with bezel settings. Both were created in platinum and weigh in at 2 carats a piece. Asghari chose a simple but elegant brushed platinum band.
What style setting is Britney Spears' engagement ring?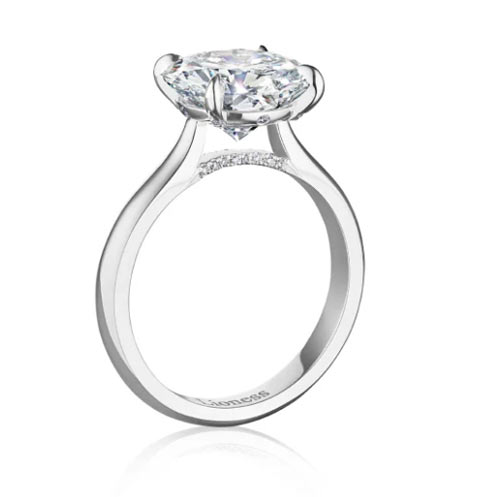 Asghari enlisted the help of Roman Malayev at Forever Diamonds NY to design a ring fit for the Pop Princess. Britney Spears' ring is a platinum, cathedral setting enhanced with a floating solitaire design. The idea was to create a custom mounting that would highlight the natural diamond as the star.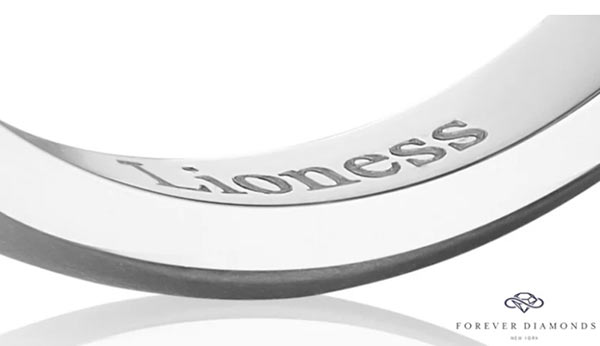 To add a sweet sentimental touch to the ring, Asghari also had his pet name for Spears, "Lioness," engraved inside the band.
How many carats is Britney Spears' engagement ring?
Britney's center stone is a four-carat round brilliant-cut diamond.
Asghari did an excellent job selecting the perfect setting to compliment such a breathtaking large diamond, that definitely demands attention.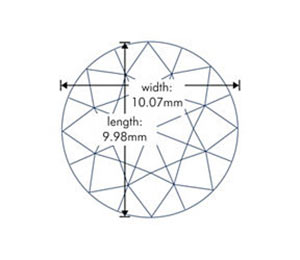 How much did Britney Spears' engagement ring cost? And what's it really worth?!
Designed by Forever Diamonds' president Roman Malayev, the ring has an estimated value of approximately $150,000.
But Asghari didn't necessarily need to spend that much to get a beautiful center stone. By choosing lower clarity and color grades, the ring could be just as impressive for significantly less money: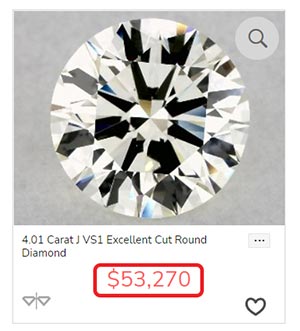 Britney Spears' Engagement Ring Copy
After such a turbulent year for Britney, it is so heartwarming to see such a fairytale ending come her way. Due to its classic style Britney Spears' engagement ring is actually very easy to copy for yourself! Here are two great options to channel your inner Britney!
The first is a very close match – an 18K white gold solitaire cathedral setting with a plain shank.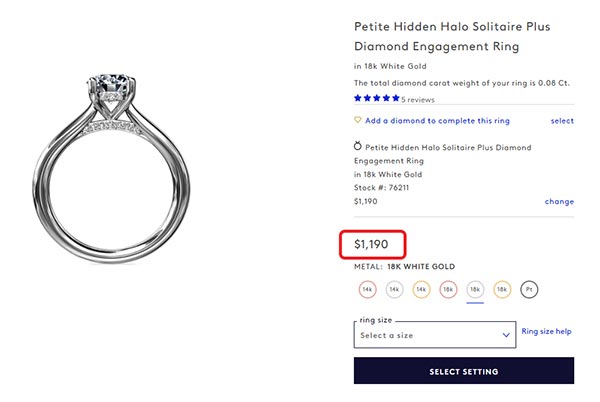 Click here to find out more information about this Petite Hidden Halo Solitaire Plus Diamond Engagement Ring from my recommended retailer Blue Nile.
Next up we have a subtle added touch of sparkle to achieve the visual impact of Britney Spears' ring without the huge price tag. This setting features a delicate halo around the center stone, mimicking the vibe of a larger diamond.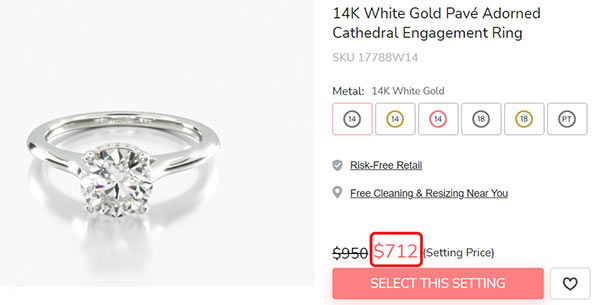 Click here to learn more about this 14K White Gold Pave Adorned Cathedral Engagement Ring from my recommended retailer James Allen.