Why you should never buy your engagement ring from a mall jeweler
How 3 minutes online can cut the price of your diamond in half
Ringspo is reader-supported, which means we may receive a commission if you click a link to a retailer & subsequently make a purchase.
We feature links to several retailers to help readers find the one that is the best fit for them. Find out more about how Ringspo works here.
Everyone knows that ecommerce has shaken up traditional retailing. But not everyone knows just how much of a huge difference it has made to the jewelry industry and to the price that consumers actually pay.
Diamonds and engagement rings must be one of the only industries where the same item – the exact same piece of brilliantly sparkling rock – can be sold by one retailer for $5,000 and then another retailer for $10,000 – a full 100% more.
How and why is this possible?
Read on to find out.
The way it used to be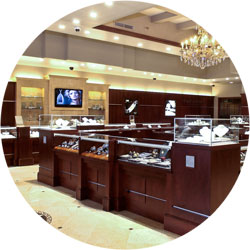 Twenty years ago, most guys who were in search of an engagement ring would have tootled off to a local jeweler with three months salary wedged into their wallet.
They would have nosed around a little, talked to a sales assistant and then taken their pick from whatever the mall jeweler or mom and pop store could offer them, maybe giving a half-hearted attempt at haggling.
That was the way it was done and there were few other options.
Choice was limited, but so too was guys' knowledge on what they were looking for.
Sure, most guys may not have always got the best deal, but there was no way for them to ever know that. Most men were happy to pay the sticker price for their ring and feel satisfied that they had laid down a few paychecks to show their commitment to their better half.
Bricks and Mortar jewelers today
Many guys still buy their engagement ring in the same way: from a local family or mall jewelry store. And for the jewelers themselves, that's good business.
Zales and Kay Jewelers are a familiar sight to anyone who as ever stepped foot in an American shopping mall and since 2014 they have been owned by the same company – UK based Signet Jewelers.
Between them, Kay and Zales have 2,365 stores across the US and Zales has a further 183 in Canada. Their parent company also owns and operates 253 'Jared: The Jewelers' stores across 39 states and 144 'Peoples Jewelry Stores' in Canada, as well as other jewelry brands too.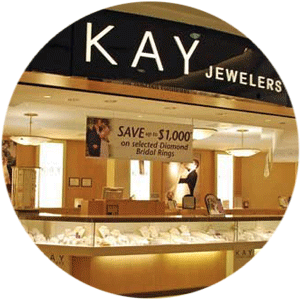 Over 3,000 Jewelry outlets is a lot of staff. It's a lot of rent to pay. It's a lot of stock to hold. But it seems to be working for them. Last year, Zales and Kay Jeweler's parent company turned over $3.8 billion in the US and made a gross profit of $1.2 billion. Not too bad!
Jewelers and virtual inventory
Running a jewelry store can be expensive, mainly because of the cost of the stock.
Diamonds are expensive, even at cost price, so most jewelers have a relatively small physical stock of stones. A stock of just 200 average quality 1 carat diamonds would run to over a million dollars.
Online jewelers often offer thousands of stones in their inventory – a jeweler was to actually physically own 200,000 diamonds, the value of their stock would be over a billion dollars.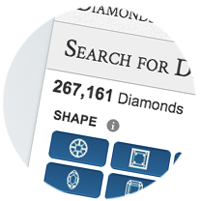 To avoid this, but to continue to offer a large range of diamonds, most jewelers use a 'virtual inventory'. They have a network of diamond manufacturers and suppliers who do hold a physical inventory and supply a particular diamond to the jeweler when a customer requests it.
Often a diamond supplier may have an arrangement with several retailers, offering them all the same inventory. This means that the exact same stone can be offered through several websites at the same time, sometimes at wildly different prices. To see just how big a difference there could be, I conducted a test with the US's two largest jewelry chains and some of Ringspo's recommended retailers.
To compare a mall jeweler vs. buying online we first searched for a diamond on Zales site and then repeated the search through Ringspo's diamond search tool. There are a few numbers coming up, but don't let them put you off too much – the most important numbers to pay attention to are the prices and the difference between them.
The first diamond we searched for was the most popular shape, a round diamond, with a typical spec:
• 1 carat
• Color G
• VS2 Clarity
• Ideal cut
• GIA Certificate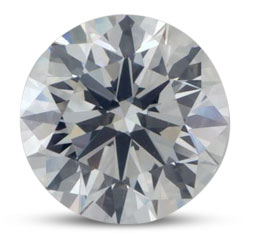 This is a good diamond, which would make a great center stone for an engagement ring. It scores highly in cut, which is the factor which determines how much it sparkles, while color and clarity are levels which will look perfect to the naked eye, but which offer more value than the higher grades.
Zales.com result
We found a diamond that matched these specs on the Zales site at $11,230, which was one of 29,606 diamonds that Zales was offering on the day the search was conducted.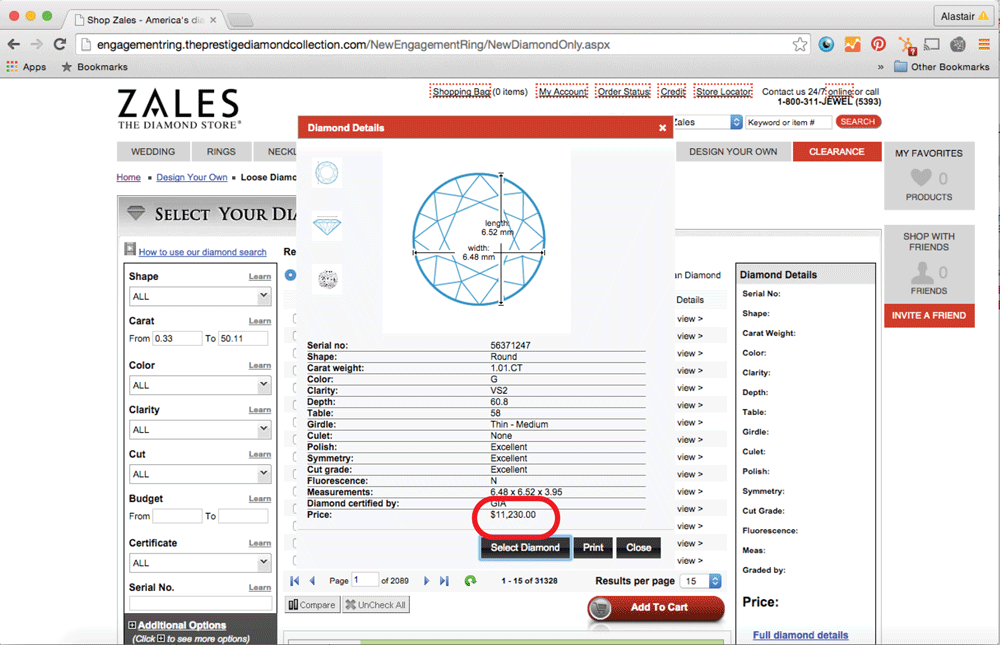 Although Zales is part of a huge organization, because they have so many diamonds for sale there was a high likelihood that this was a 'virtual inventory' stone which would also be on offer through other retailers.
Finding the stone through Ringspo
Diamonds are natural, which means that there is natural variation. A diamonds set of proportions and physical characteristics are as individual as a fingerprint.
We can therefore use the unique criteria of the diamond that we found on Zales' website to try and find it through Ringspo's diamond search tool. These criteria are:
• 1.01 carat
• Color G
• VS2 Clarity
• Ideal cut
• GIA Certificate
• Depth %: 62.50
• Table %: 58
• Polish: Excellent
• Symmetry: Excellent
• Measurements: 6.40 x 6.43 x 4.01mm
Plugging the stats into the Ringspo diamond search tool, we can see that the exact same diamond is indeed available.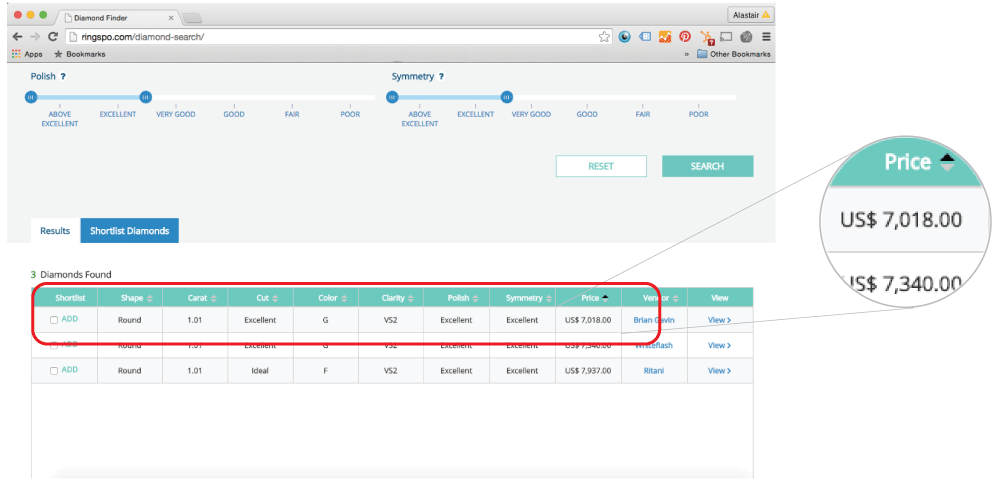 The price? $7,018.
That's over $4,000 cheaper than Zales for the exact same diamond. And if you enlarge the image, you can see that this diamond is actually available at three Ringspo partner retailers at prices ranging from $7,018 to $7,937 so it really does pay off to compare between Ringspo partner retailers too. Comparing Zales and the best price, we get:
| | |
| --- | --- |
| Zales Price | $11,230 |
| Ringspo Price | $7,018 |
| Difference ($) | $4,212 |
| Increase (%) | 60.01% |
How can we make sure it's the exact same diamond?
Although Ringspo's search results showed other diamonds with the same specifications at a lower cost, we wanted to find the exact same diamond to compare to the mall jeweler.
Clicking through to Ringspo's partner retailer allows us to get more information about the stone that we found on the previous page.
Mapping the unique identiying specs from the Zales diamond to the diamond found through Ringspo, we can see that all of the specs are the same: this is the same stone which is being sold at a 60% mark-up on the price of the Ringspo partner retailer.

What if this is just a one-off result?
To show that this isn't a one off, we repeated the test with another mall jeweler and another shape of diamond.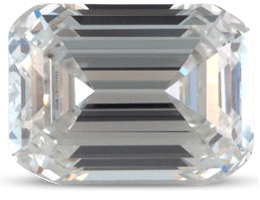 This time we looked at an emerald shaped diamond from Kay Jewelers with the following specs:
1 carat
• Color G
• VS1 Clarity
• GIA Certificate
Kay Jewelers Search Result
The search on Kay Jewelers website gives us a benchmark price of $10,599: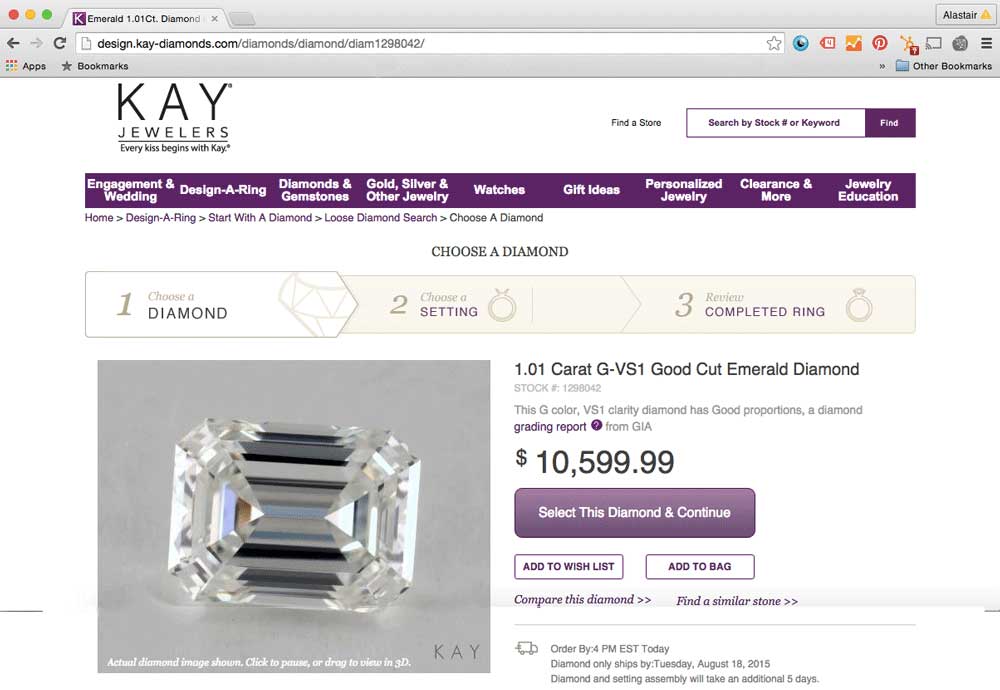 Searching for the same diamond through Ringspo's diamond search tool returns a result – it's on offer from three of Ringspo's partner retailers, with the lowest price of $5,263: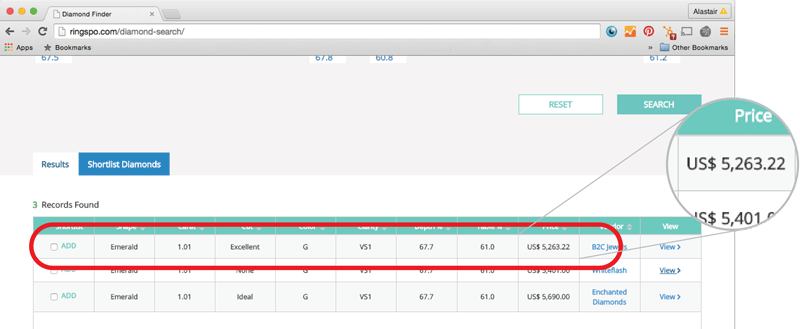 That's less than 50% of the price that the exact same diamond was being sold for on Kay Jewelers!
Breaking down the two results, we get:
| | |
| --- | --- |
| Kay Jewelers Price | $10,599 |
| Ringspo Price | $5,263 |
| Difference ($) | $5,336 |
| Increase (%) | 101.3% |
Conclusion
The internet has given us all access to almost unlimited power. We have mankind's entire sum of knowledge, built up through millennia, easily accessible with just a few finger prods. We can use this unimaginably powerful resource to inform ourselves on any topic, become an instant expert and make better decisions. Or we can use it to look at videos of squirrels waterskiing. Either way, it's almost always a force for good.
Who the internet is not so good for is mall jewelry stores or any bricks and mortar jewelers. We've highlighted Zales and Kay Jewellers here because it is easy to show the difference in prices on their websites, but similar savings will be able to be found between Ringspo partner retailers and most bricks and mortar jewelers.
As we've seen in this post, shopping online and comparing different retailers can result in absolutely incredible savings. There can't be many industries in the world where the exact same item is being sold by one retailer at a price 100% higher than at other retailers. One thing is therefore very clear – buying online offers more value than buying from bricks and mortar stores.
Another thing to take away from this is that even within Ringspo's partner retailers there can be significant variation of price for the same stone – there was $919 difference in price between retailers for the second stone – almost 13%. It's always worth using the Diamond Search to ensure that you get the very best price possible.
See Ringspo's recommended retailers
I have relationships with several retailers who I believe offer the best choice, the best prices and the best services on the web.
Some retailers are better for fancy shaped diamonds, some offer blingier designer settings, some are better for when the budget is slim.
All of them will offer far, far better levels of service and value for money than a typical mall jeweler and I recommend that you check them out.