Kate Middleton's engagement ring
The ultimate guide to the Duchess of Cornwall's sapphire ring
Ringspo is reader-supported, which means we may receive a commission if you click a link to a retailer & subsequently make a purchase.
We feature links to several retailers to help readers find the one that is the best fit for them. Find out more about how Ringspo works here.
On November 16th, 2010, Kate Middleton's engagement ring and news of her impending royalty, took the globe by storm.
The prince proposed during a holiday in Kenya, after asking Kate's father for his daughter's hand following a marathon eight-year courtship. Bravely, William carried the ring throughout Africa in a rucksack, until he finally popped the question!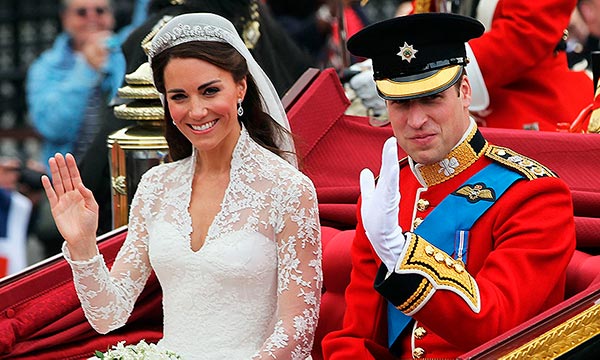 The royal couple first met while attending St. Andrews University and studying 'History of art', moving in together with mutual friends in 2002, and becoing a proper item around Christmas 2003.
The two where happily wed on April 29th, 2011 at Westminster Abbey. Upon marriage Miss Middleton picked up the nifty title of "Her Royal Highness The Duchess of Cambridge."
If you're looking for all the details about Kate Middleton's engagement ring, you've come to the right place!
You'll find out:
What style Kate Middleton's engagement ring is
What size the sapphire on Kate Middleton's engagement ring is
How much Kate Middleton's engagement ring is worth
Kate Middleton's engagement ring pictures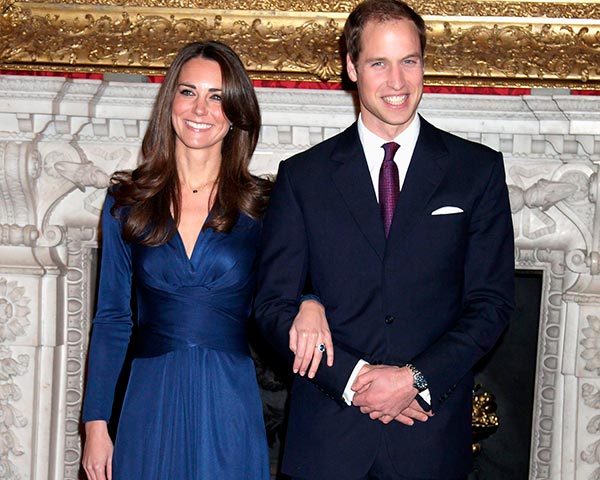 Kate first flashed the ring in the royal couple's first ever public interview, and also the announcement of their impending nuptials. The stunning sapphire was instantly recognizable!
This is one celebrity engagement ring with no shortage of close-up shots.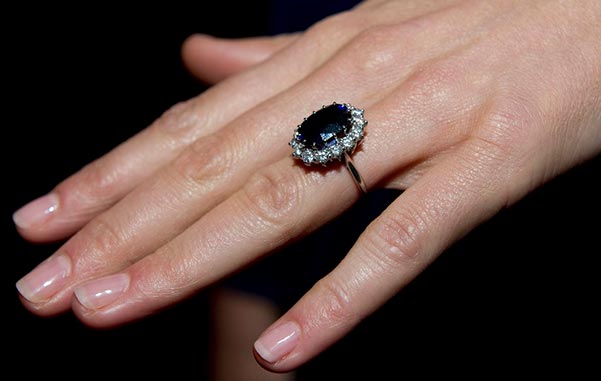 Here's a striking side-by-side comparison showcasing the engagement ring's royal lineage.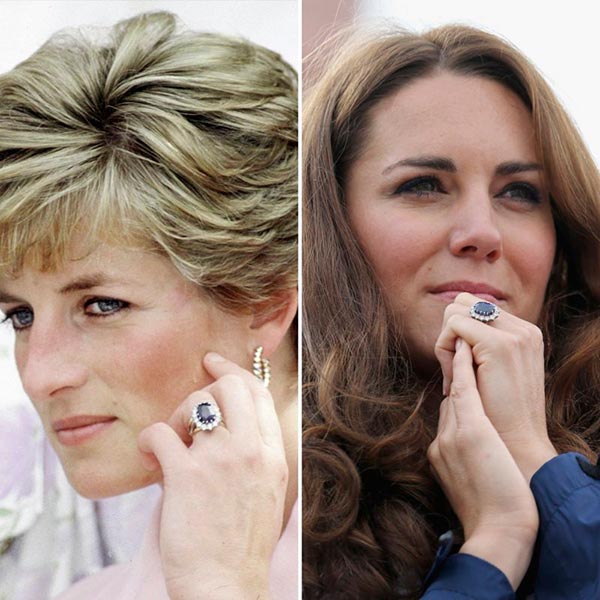 What style setting is Kate Middleton's engagement ring?
Kate Middleton's engagement ring is a halo setting crafted from 18k white gold.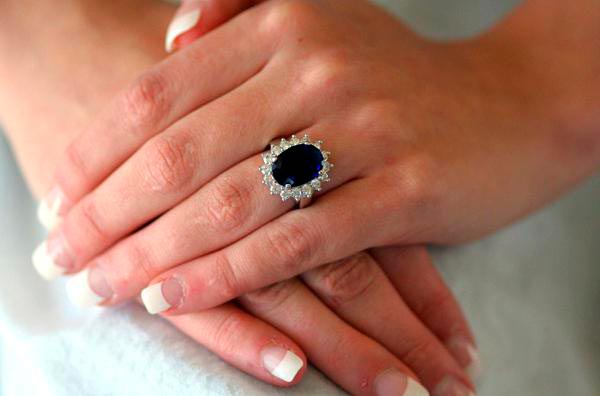 Halo engagement rings feature a circle of smaller stones in a, er, halo-style circle around the center stone of a ring. Although diamonds are often used for the halo, other precious gems like emerald, rubies or sapphires can be used too, to provide an interesting and unusual contrast effect. Although in this case the contrast is reversed!
Choosing a halo setting engagement ring is a great way to make a center stone look larger than it really is without the costs involved in actually splashing out on a larger stone.
What shape is Kate Middleton's engagement ring?
The center stone of Kate Middleton's engagement ring is a stunning oval cut blue sapphire. Blue sapphires are definitely the most well-known and beloved variety of sapphire due to their strikingly vibrant hue and the way they pair so brilliantly with white settings and diamonds.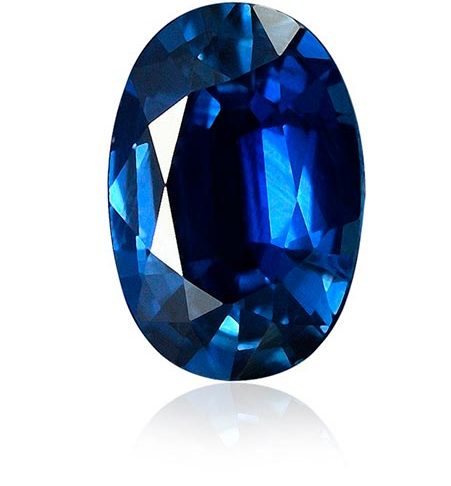 A precious gemstone second in hardness only to diamond, and coupled with their symbolism of truth and commitment, sapphires have been a favorite of royals for many years.
The particular sapphire in Kate Middleton's engagement ring is quite special, as it previously belonged to Prince William's mother, Princess Diana, who tragically died in a car crash in August 1997.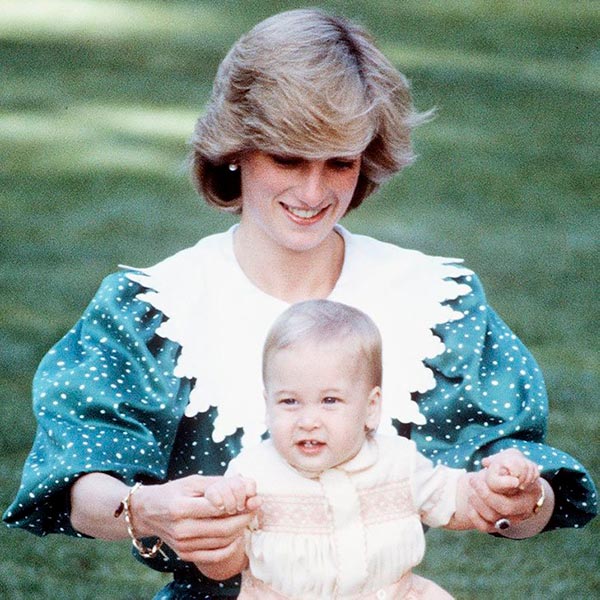 After their mother's untimely passing Prince Charles allowed his two royal sons William and Harry to select mementos from her possessions. Interestingly Harry, the younger brother, had chosen Princess Di's sapphire engagement ring way back when, and William had selected a Cartier watch.
Touchingly, when William confessed his intention to propose to Kate the brothers exchanged mementos, as Harry thought of Kate like a sister and wanted her to have the ring.
When interviewed Prince William said that giving the ring to Kate was his way of making sure his mother didn't miss out on his big day.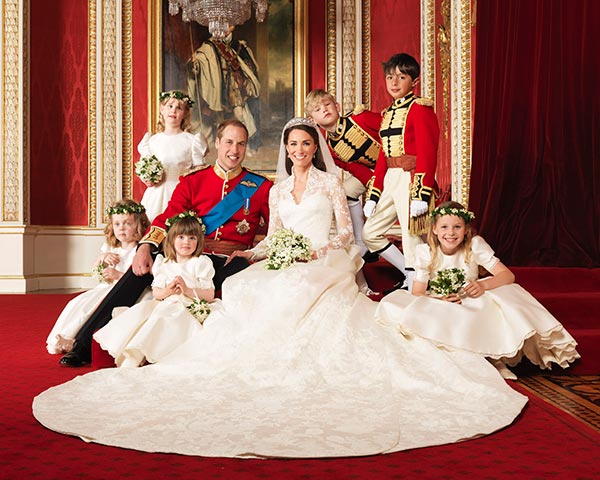 Ironically, many had originally criticized Princess Diana for choosing a prêt-a-porter ring as her engagement ring, instead of having one custom made. They even went so far as to dub it the "commoner's sapphire." Despite this initial criticism the ring went on to become the most famous sapphire in the world and the ring's style has been sought after in high demand for decades.
How many carats is Kate Middleton's engagement ring?
Kate Middleton's engagement ring consists of a 12-carat blue sapphire, surrounded by fourteen round melee diamonds.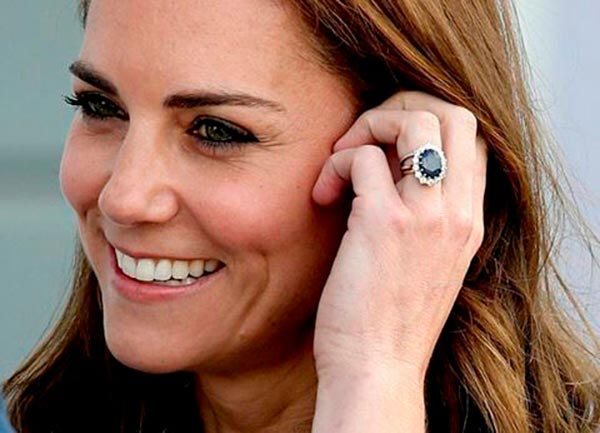 Where is Kate Middleton's engagement ring from?
Kate Middleton's engagement ring was originally created by Garrard & Co. , the former Crown Jeweller at the time of Princess Diana.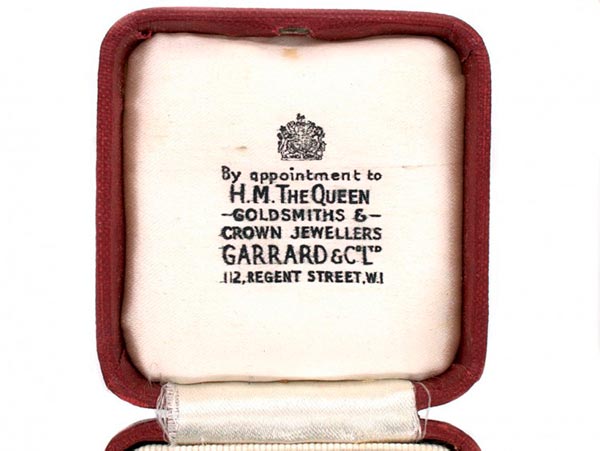 When Kate received the ring it was slightly too big, so platinum sizing beads had to be placed inside of the ring's band to make it fit more snugly around her finger.
How much did Kate Middleton's engagement ring cost? And what's it really worth?!
At the time of its creation in 1981, the sapphire ring cost approximately $50,000. It is now valued at around $500,000; of course its intense sentimental and historical value renders it absolutely priceless.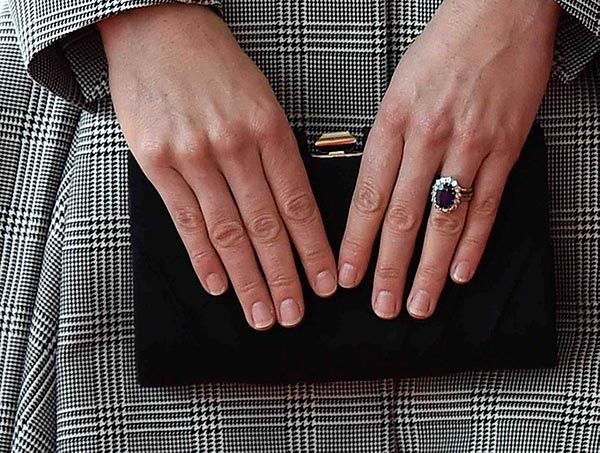 Kate Middleton's Engagement Ring Copy
When Prince William and Kate announced their engagement in 2010 sales of sapphire engagement rings went through the roof! You too can have a royal fairytale-worthy sapphire engagement ring just like the Duchess of Cambridge, without raiding the royal vault!
First up is very close replica, even listed as 'Diana Ring':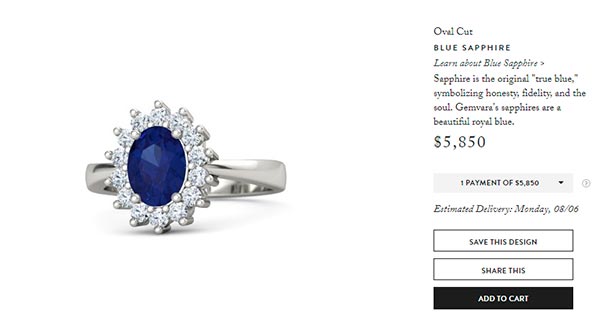 The setting is available in 14k, or 18k white gold, and features a 1.60 carat AAA oval cut blue sapphire. Click here to learn more about this classic Diana Ring from my recommended retailer Gemvara.
One of the best things about this option is how easily the center stone can be swapped out to different sizes.
Next we have a modern variation on Kate Middleton's classic look: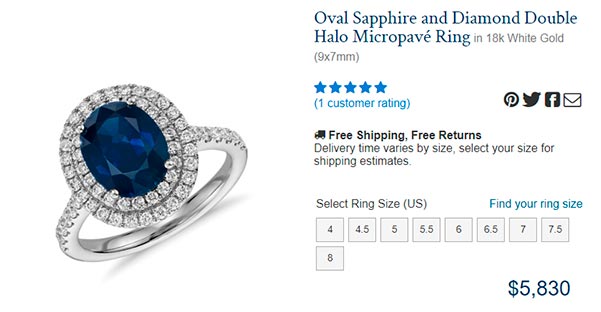 This 18k white gold setting features a double halo for added sparkle and size, as well as a half pave band. Click here to learn more about this Oval Sapphire and Diamond Double Halo Micropave Ring from my recommended retailer Blue Nile.
Last, but certainly not least, is this luxurious update on Kate Middleton's 1980's original: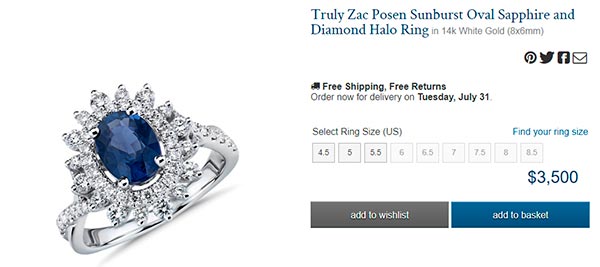 Truly stunning, an oval sapphire is set in 14k white gold, surrounded by a delicate sunburst of round brilliants, and paired with a twisted band embellished with pave-set melee stones. Click here for more information about this Truly Zac Posen Sunburst Oval Sapphire and Diamond Halo Ring from my recommended retailer Blue Nile.