Sydney Sweeney's engagement ring
The ultimate guide to Sydney Sweeney's diamond ring
Ringspo is reader-supported, which means we may receive a commission if you click a link to a retailer & subsequently make a purchase.
We feature links to several retailers to help readers find the one that is the best fit for them. Find out more about how Ringspo works here.
While her Euphoria character's love life might be on the rocks, Sydney Sweeney's engagement ring has her euphoric!
News of her engagement to long-time boyfriend Jonathan Davino first broke when Sydney was spotted out and about in Los Angeles on February 28th, 2022, sporting a dazzling diamond ring on her left ring finger.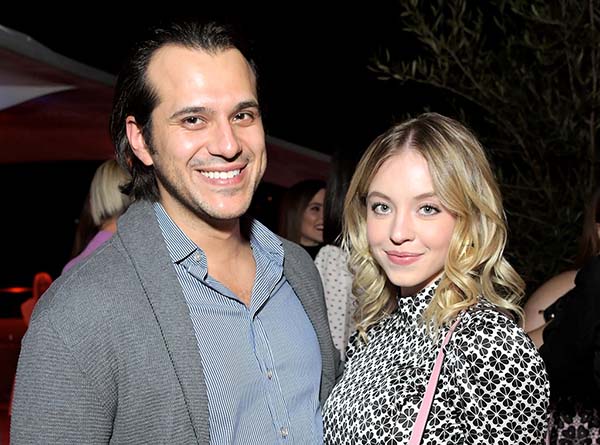 The actress known for her roles in The Handmaid's Tale, The White Lotus, and of course Euphoria had been dating Davino for four years. Davino is the sole heir to the Chicago-based Pompeii pizza company. In 2013 he was the co-owner of now-closed Chicago restaurants Mista Pizza and Pompei Xpress. His family also owns vaporizer design and packaging companies, 14th Round and Final Bell
The couple first sparked dating buzz in 2018 when they were photographed together at an Emmy party at the Nomad hotel in Los Angeles. Sydney Sweeney has notoriously kept their relationship private, though they have been spotted showing PDA several times over the years.
If you are looking for all the details about Sydney Sweeney's engagement ring, you've come to the right place!
You'll find out:
What style Sydney Sweeney's engagement ring is
What size the diamond on Sydney Sweeney's engagement ring is
How much Sydney Sweeney's engagement ring is worth
Sydney Sweeney's engagement ring pictures
In this photo, snapped on the day the ring was first publicly spotted, we can see what appears to clearly be a round brilliant cut center stone, set on what looks like a classic plain band.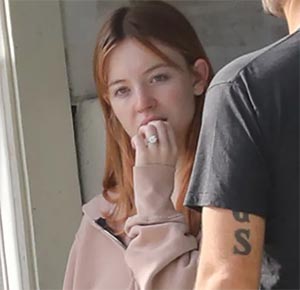 Looking at the engagement ring from another angle, it also appears to have a rose gold band.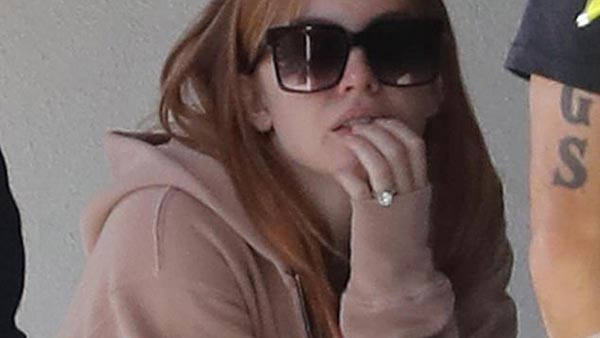 What style setting is Sydney Sweeney's engagement ring?
Sydney Sweeney's ring is a solitaire setting with a plain rose gold band. As the ring has slid to the side in the close-up image about, we can see that it is a very classic and minimal design, with no frills.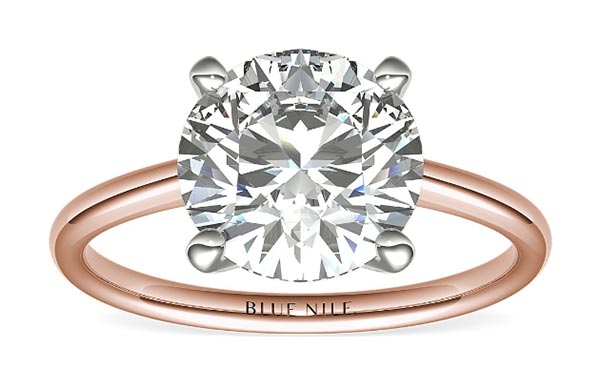 The prongs of the ring that serve to hold and secure the center stone appear to be white gold or platinum. This is a common choice as white gold is typically used for prongs of rose/yellow gold rings, to ensure that the diamond doesn't appear more yellow than it actually is due to the gold's color reflecting through the stone.
Solitaire rings are popular for a couple of good reasons. The elegant design lets the center stone take pride of place with no distractions. Being such a classic design, they also tend to be extremely well-priced, which means that there is more budget left for an incredible center stone.
What shape is Sydney Sweeney's engagement ring?
The center stone of Sydney Sweeney's engagement ring is a round brilliant cut diamond.
Round brilliant diamonds' whole reason for being is to be the sparkliest stones on the market, and if your diamond has been cut well then it will definitely deliver the dazzle.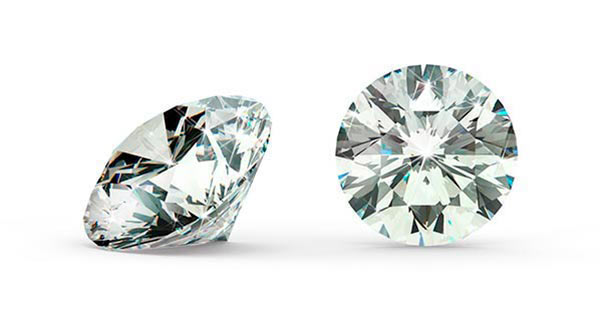 No other diamond shape can compete with the fire, brilliance and scintillation of a well cut round brilliant stone and the 'optical performance' of the light being reflected can make a stone look larger, improve the color, hide flaws and imperfections and generally make a ring look much more impressive.
Round brilliants are the easiest shape of stone to buy too, as they are subject to the most testing by laboratories. They are the only shape that are given a 'cut' grading by labs, which means that you can be sure of the quality of the stone that you are buying.
The cut grading, going from Poor to Excellent (with some retailers offering a cut above excellent also) is super important as it's the biggest factor that determines how much your stone will sparkle and therefore how impressive it is. When buying any round brilliant stone online, retailers will enable you to sort by cut grade which means that you can discount any really poor stones that aren't going to sparkle well straight away.
How many carats is Sydney Sweeney's engagement ring?
Sweeney's center stone has been reported to be a three-and-a-half to four-carat round brilliant-cut diamond.
Davino did a great job selecting an elegant setting to compliment such a beautiful large diamond, that definitely draws attention.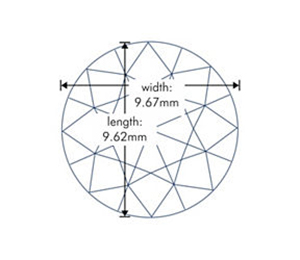 How much did Sydney Sweeney's engagement ring cost? And what's it really worth?!
While we don't know the official price, we can definitely speculate as to what a similar ring might cost.
The vast majority of the cost of the ring would be comprised of the diamond, with the setting making up a much smaller part of the total cost.
A top quality 3.5 carat round brilliant diamond with except cut quality, color, and clarity costs around $150,000.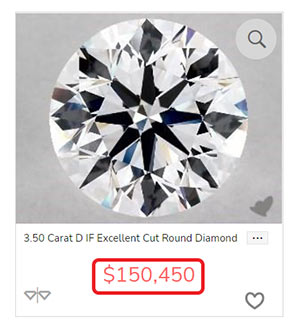 But Davino didn't necessarily need to spend that much to get a beautiful center stone. By choosing lower clarity and color grades, the ring could be just as impressive for significantly less money: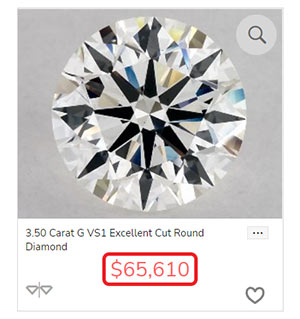 Sydney Sweeney's engagement ring copy
Due to its classic simplicity Sydney Sweeney's engagement ring is actually quite easy to copy. Here are two great options to claim a little Euphoria for yourself!
The first is a very close match- a rose gold solitaire setting with a plain shank.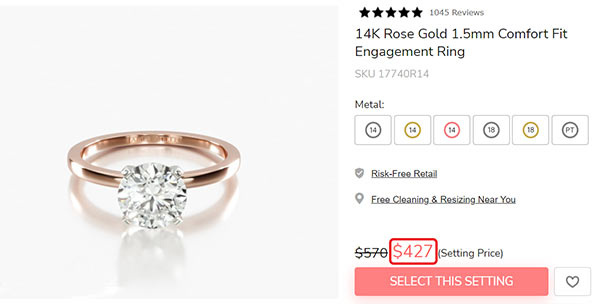 Click here to find out more information about this 14K Rose Gold 1.5mm Comfort Fit Engagement Ring from my recommended retailer James Allen.
Next up we have an added touch of sparkle to achieve the visual impact of Sydney Sweeney's ring without the huge price tag. This setting features a delicate halo around the center stone, mimicking the vibe of a larger diamond.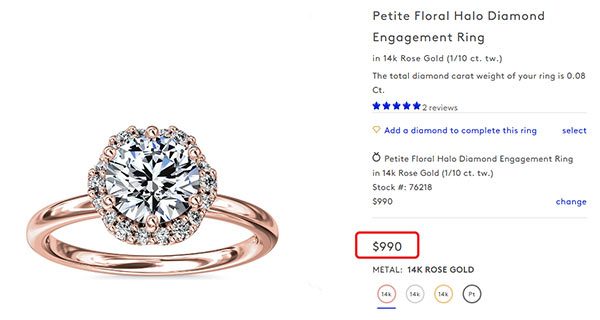 Click here to learn more about this Petite Floral Halo Diamond Engagement Ring from my recommended retailer Blue Nile.