Brilliant Earth Return Policy
---
Despite your best efforts to select the perfect engagement ring, there's always a chance that it may need to be returned.
Never fear though, Brilliant Earth returns are actually pretty good. You can view their page click here, or read our thorough summary below.
On this page you'll learn everything you need to know about: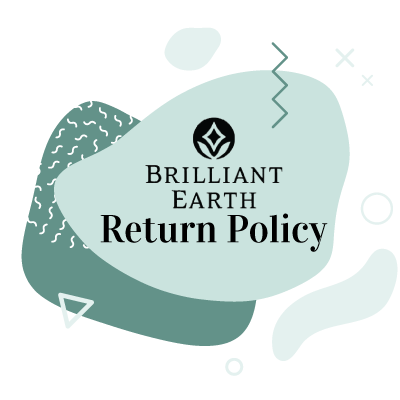 Brilliant Earth's 30 day return policy
As detailed on the Brilliant Earth return policy page, you have up to 30 days to return your order to Brilliant Earth for a full refund or an exchange.
Brilliant Earth offers free return shipping via Fed Ex both ways. As we detailed in our Brilliant Earth Diamonds Review, this is a lot more generous than many other retailers
As you can read on their website (click here), the 30 day return period is calculated from when your order is ready to be shipped or picked up, rather than when you actually receive your jewelry.
Even if you request that the delivery be delayed for whatever reason, the 30 days starts from when it was ready to be shipped.
The item you want to return needs to be in an unworn state, and be accompanied by all the original documentation, for example, the diamond certification.
Not everything is refundable, the below items cannot be returned or exchanged:
Engraved items cannot be returned to Brilliant Earth
Resized items
Items that have been previously exchanged
Custom designed items
Damaged or altered items
Layaway items that are 30 days from purchase
Gift cards
Some previously resized vintage and Extraordinary Collection are final sale
Improperly packaged or uninsured items will not be accepted
Read related article: Brilliant Earth Resizing
Top Ethical Choice Why we recommend Brilliant Earth:
Brilliant Earth are an excellent choice for the conscious consumer.
If you care about where about where products come from and the effect that they have on the earth, it should be an easy decision to choose Brilliant Earth for your diamond ring.
Blockchain-tracked diamonds are a great innovation that allows you to understand the provenance of your stone
Impressive sourcing policies.
Excellent selection of beautiful and on-trend settings
Very well priced, even compared to larger online jewelers
Excellent service guarantees
Brilliant Earth Returns – How to return the order
Get a Return Authorization Code
Once you've decided that you want to return the ring, you have to call the Brilliant Earth customer service team on 1800 691 0952 or contact them via live chat on their website.
The customer service team will give you a return shipping authorization code and send you a free FedEx return shipping label. You'll have to write this code on the outside of the package.
Please note: the Return Shipping Authorization Code is only valid for 7 days from the date of issue, and the package must be shipped within this time period. If the Authorization Code has expired, you'll have to get a new one.
Read related article: Brilliant Earth Warranty
Packing information
For exchanges and returns, it's important to include all the original packaging and collateral, including the packing slip and diamond certifications. There is a replacement fee of $250 if this isn't returned.
You can keep the complimentary jewelry cleaner.
If returning a ring for resize, you don't have to include any of the accompanying certificates and materials.
Please do not write 'jewelry' or 'diamonds' anywhere on the box as this might be a temptation for would-be thieves.
Double box it
On order for your item to be insured with the returns FedEx label, you must make sure you put the original box inside another box. Put the packing label on the outside of the bigger box. If you don't have the original packaging, you can get 2 boxes from FedEx.
Drop the package off at a FedEx office. You can find the nearest location to you here.
Brilliant Earth do not take any responsibility for packages dropped off at unstaffed FedEx drop boxes or non-FedEx staffed locations.
Don't forget to get a FedEx receipt to show that you dropped it off safely, this receipt will also act as proof of insurance.
Read more about the Brilliant Earth shipping policies here.
Other carriers
You can also choose to use another other carrier of your choice, this is just obviously not covered by Brilliant Earth. Please make sure you insure it, get a signature on delivery and request a return receipt to confirm that the package has reached Brilliant Earth.
Brilliant Earth do not take responsibility for any packages that get lost in transit.
Read related article: Brilliant Earth Shipping
When will you get your refund from Brilliant Earth?
Once the package is received by Brilliant Earth, their QA team will verify the condition of the item approve the validity of the return. Once this happens it will take 5 business days to process.
You'll get your money back the same way you paid for it. The exception to this is if you paid by cash or bank wire, you'll get a check.
Brilliant Earth will not cover any fees charged by your bank for the transaction. If the refund is back on your credit card, please allow one billing cycle for the refund to appear.
So there you have it, Brilliant Earth have quite a specific set of rules to follow in order to make sure you get a refund smoothly, but if you follow all the steps you should be totally fine.
Again, if you would like to read the summary of their policies on their website, you can find them click here.