Brilliant Earth UK Guide & Review
Everything to know about buying an engagement ring from Brilliant Earth when you're in the UK
---
If you're looking for an ethically-sourced diamond ring from a jeweller that prioritises sustainability over profit then Brilliant Earth is a great fit.
However, as Brilliant Earth is based in the US you may be wondering about how easy or difficult it is to purchase an engagement ring from them. Understandable for such a high value and significant purchase!
Read on to find out.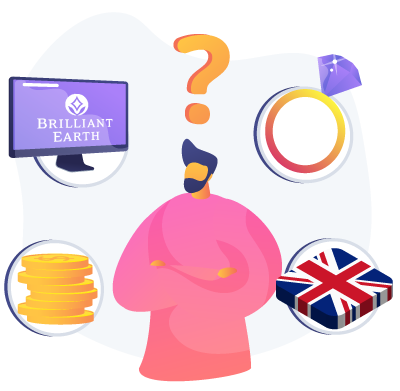 Import fees and taxes when shipping an engagement ring from Brilliant Earth to the UK
Unfortunately there's no getting around taxes, but Brilliant Earth make it pretty simple – they charge you the standard 20% UK VAT and build that into the price for you, so you'll know exactly how much you'll pay at check out.
This is the same amount of tax that you'd have to pay if you bought a ring locally in the UK.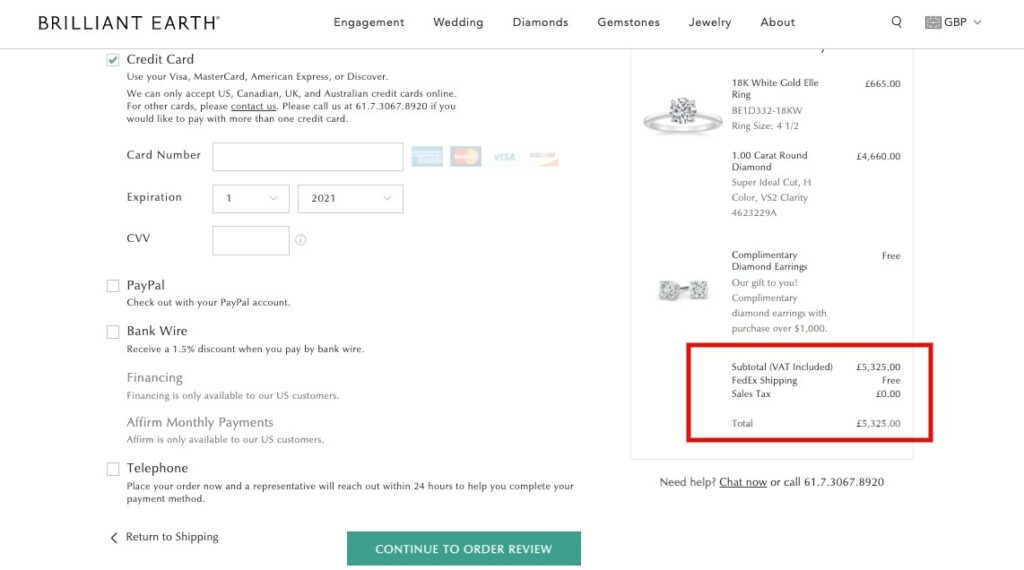 What they don't mention on their website is that you may have to pay extra for customs duty for purchases over £135 – you can read about it on the UK government website here.
This duty varies from 2% – 4% depending on what type of metal you buy for the ring. Read more about it here.
One thing to know though is that if you're just buying a loose diamond, there's no custom fee to pay.
These additional fees will be calculated when the ring arrives in the UK, and you'll have to pay this to customs before the delivery of the ring.
We've contacted Brilliant Earth to let them know that their website doesn't currently include the additional 2% or 4% duty charge, and they are currently reviewing this to ensure that they are providing correct info to UK customers.
For the moment though, it's important for you to know this so that you can build it into your budgeting calculations.
Brilliant Earth Shipping to the UK
How much does shipping from Brilliant Earth to the UK cost?
Brilliant Earth offers complimentary FedEx International Priority shipping to the UK, so postage is absolutely free.
This shipping includes full insurance for the total value of the purchase and Brilliant Earth also offer free return shipping as well.
Free return shipping is a big bonus over other US based retailers, which primarily only offer one way shipping. Being asked to pay for return shipping means that if you want to return the ring, or even just have it resized, you would need to pay for shipping and insurance. However, Brilliant Earth covers this for you.
How long does shipping from Brilliant Earth to the UK take?
Once an item is shipped by Brilliant Earth it takes 2 business days to be delivered to the UK via FedEx. There may a few extra days in addition to this for customs clearance and for any additional duty to be paid etc, but the process is pretty fast.
If you're choosing a specific diamond and building a custom ring, it can take anywhere from 2- 4 weeks to make the ring and pass all the necessary quality control checks.
The exact time will depend on the setting style you choose and where the diamond is located (many are held overseas by suppliers), but you'll be able to see a shipping estimate in the cart, to see if it'll work for your timelines.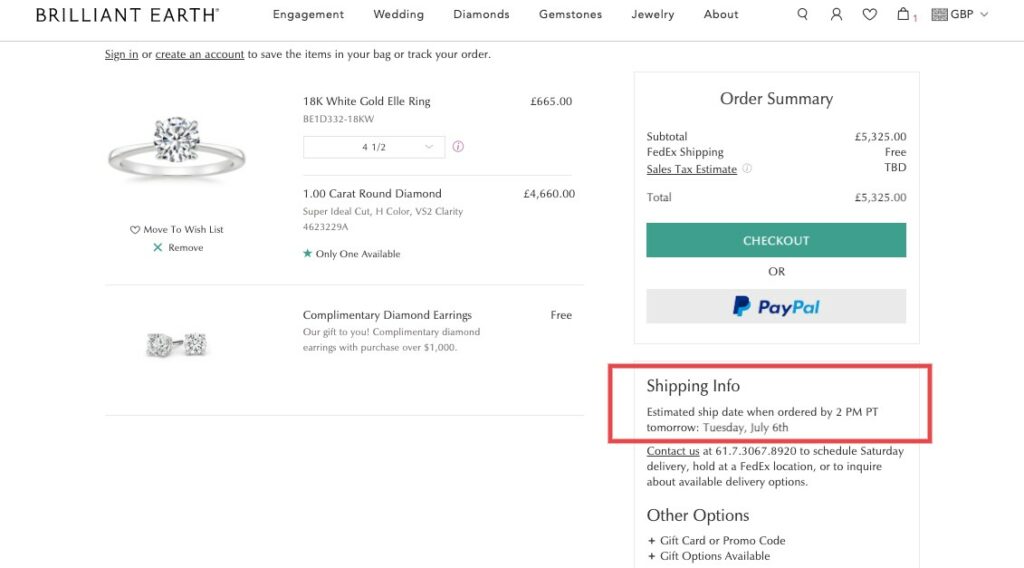 How do Brilliant Earth returns work from the UK?
Brilliant Earth have a 30 day return policy, this time period begins once your order is ready to be shipped out. You can return your purchase for a full refund or exchange as long as it's in its original, unworn condition with all the paperwork.
Brilliant Earth give you a handy return shipping label to make the returns process as easy as possible. If you want to find out more, visit their page here.
What if you need to get the ring resized?
If your ring is the wrong size, Brilliant Earth offer one free resize for 60 days after you've purchased the item. This is a super easy process with their free shipping both ways.
The ring sizes on their site are in standard US Sizes, but they've provided a ring size conversion table on their UK customer care page.
So you can get it right the first time, Brilliant Earth have a whole host of ring sizing resources so you can find out a person's ring size. They'll even send you a free ring sizer!
Do we recommend buying from Brilliant Earth if you're in the UK?
---
Brilliant Earth has a lot of good things going for it, from for their dedication to sustainability, to their transparency to their excellent service policies. And, they're also pretty good on price.
We've put together a simple price comparison to illustrate how they stack up compared to a local jeweler in the UK.
We used the following specs in comparing loose diamonds:
Round diamond
1.00 carat
VS2 clarity
H color
Excellent/Ideal cut
GIA
These specs will get you a beautiful diamond, and you won't be spending too much money on aspects that you can't see with the naked eye.
At Brilliant Earth, we found a diamond with these specs for £4,660, which includes the 20% VAT.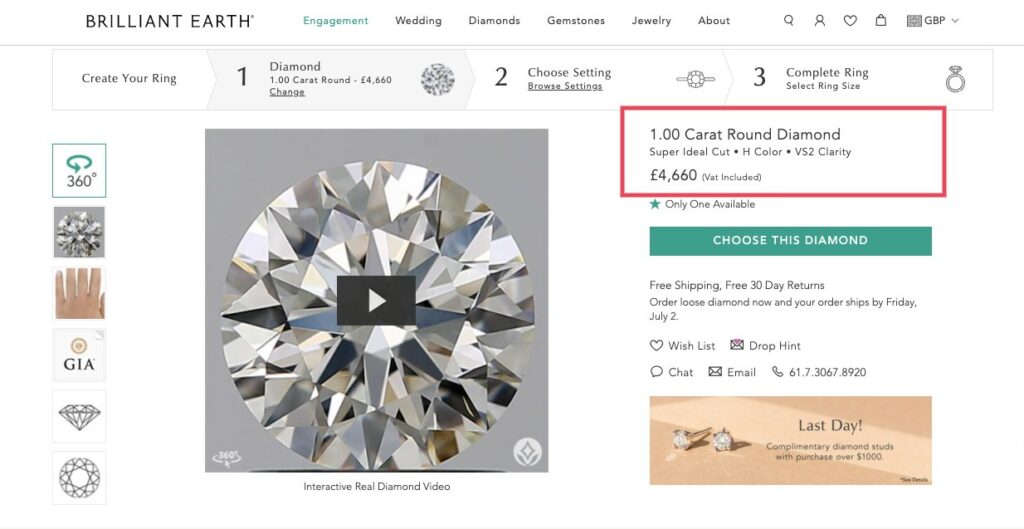 If we find a similar diamond with the same specs at a jeweler in the UK, you can see there's a quite a big difference in price.
Quality Diamonds has a diamond with the exact same specs for £6,275: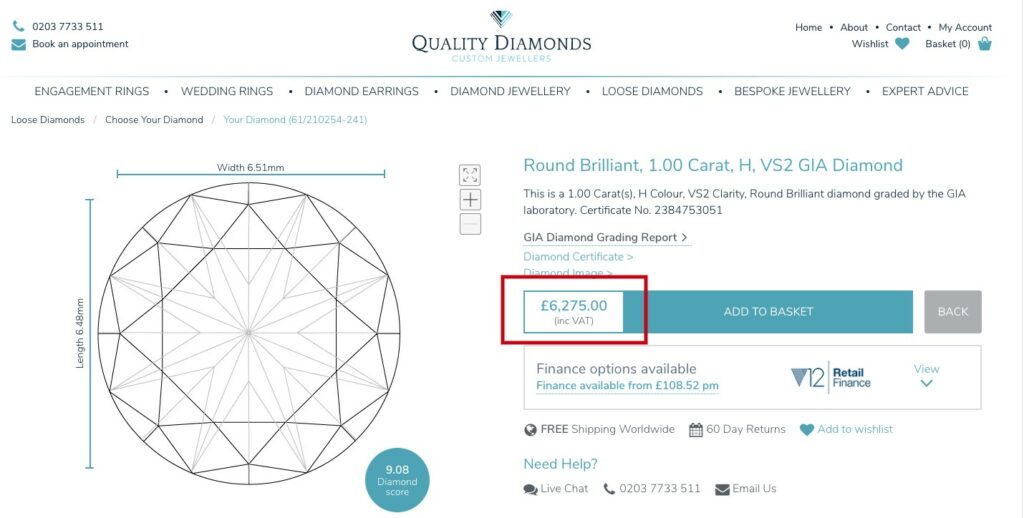 If you compare the two figures, it's plain to see that Brilliant Earth offers better value – you will save a whopping £1,615 by choosing to go with Brilliant Earth!
Deciding where to buy your engagement ring from is a big decision and there's a lot to weigh up in deciding between buying locally or from Brilliant Earth. Hopefully now you'll be armed with all the information you should need so you can make an informed choice about your forever purchase.
If you're not sure where to start with choosing a style of ring, we recommend having a look at Brilliant Earth's recently purchased gallery – it's got lots of beautiful rings that people have bought, you'll be sure to find lots of inspiration.
International Brilliant Earth Guides
If you're outside the UK and have somehow found your self here, we also have guides to buying from Brilliant Earth for several other countries. Click below to access your local guide: