Blue Nile UK Guide
Your guide to buying a diamond or engagement ring from Blue Nile when you're in the UK
---
Blue Nile is a solid choice if you're looking to buy an engagement ring or any diamond jewelry.
With more than 150,000 ethically-sourced and GIA-Graded diamonds on their website, you should be able to find exactly what you're looking for.
And as one of the originators of selling diamonds online, they've changed the industry with a big focus on quality of service and offering real value.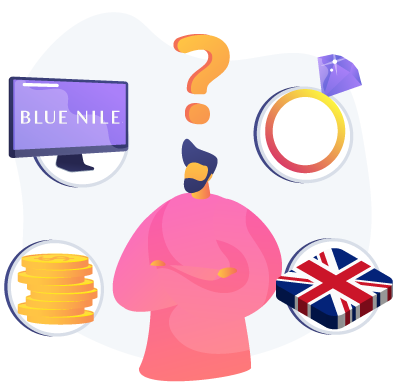 Blue Nile isn't an UK-based business, so you may well have some questions about the practicalities of buying a ring from them.
Read on to find out everything you need to know.
Import fees and taxes when importing an engagement ring from Blue Nile to the UK
Although they're a US company, Blue Nile have a manufacturing and distribution centre in Ireland, which services all of Europe.
In a post-Brexit world, what does this mean?
Blue Nile looks after all taxes for you
Blue Nile acts as the importer of record on behalf of you as a UK recipient. The 'importer of record' refers to the individual or company who is responsible for ensuring that goods are imported in accordance with all laws and regulations of the destination country or region.
With some overseas retailers, the recipient is the importer of record, which means they are responsible for paying all duties, taxes, and customs fees. This means the final price you would pay aren't shown on the retailer's website, which can make it more fiddly than it needs to be
With Blue Nile, the price you see at check out is the total price you'll have to pay.
For example, with this Riviera Pavé Diamond Engagement Ring, you can see that the price includes 20% VAT for UK customers. This is the same amount of VAT you'd have to pay if you bought the ring from a local jeweler.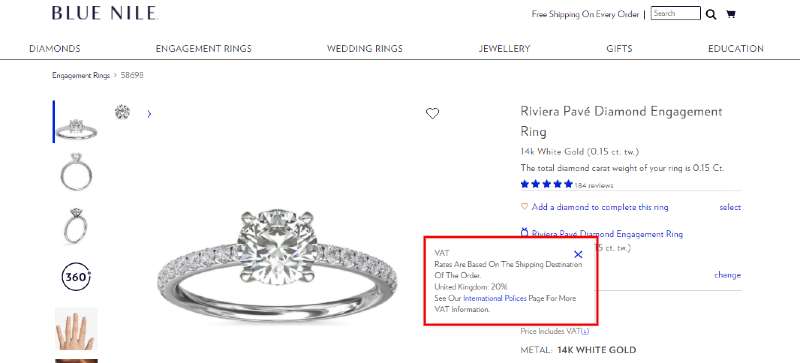 Blue Nile UK Shipping
Blue Nile offers free shipping to the UK. They ship in standard carrier boxes that are secure and non-descript so as to not attract unwanted attention from potential thieves.. Or your significant other!
Engagement rings arrive in a deluxe ring box, within an elegant presentation box ready for your proposal. The presentation box also secures your appraisal certificate and GIA diamond grading report.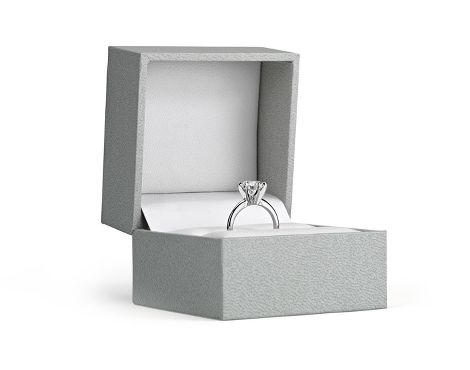 How much does shipping cost?
Great news! The short answer here is Blue Nile offers free shipping for UK customers.
How long does shipping from Blue Nile UK take?
Blue Nile's uses UPS Express Saver, which means it will take 1-2 business days to deliver your purchased item to the UK.
An order usually takes 1-3 weeks to dispatch, depending on the complexity of the ring to be made. You'll get a dispatch estimate when you check out, so you can see if it works with your timings.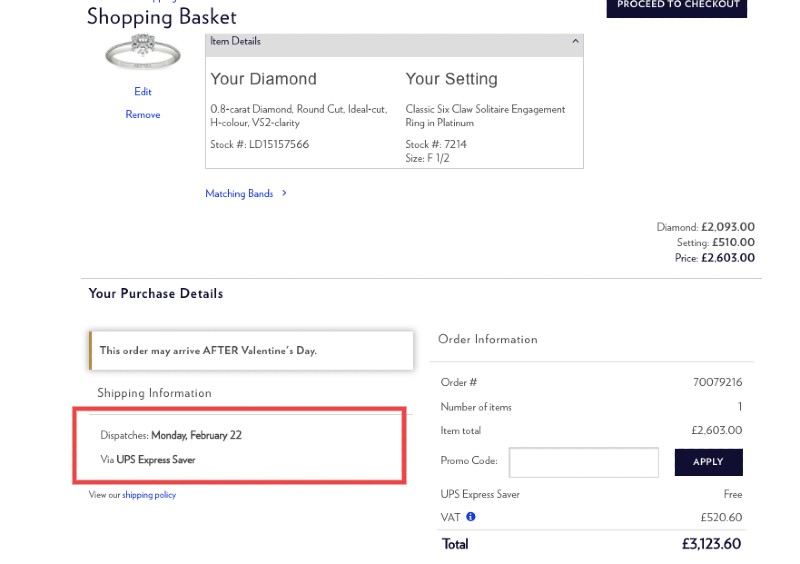 How do Blue Nile returns work in UK?
Blue Nile's commitment to you does not end at delivery. No question asked, you can return or exchange the ring within 30 days from when it's shipped.
To be eligible for return, items must be in their original purchase condition and include product documentation, but the whole process is very straight forward.
What if you need to get the ring resized?
Blue Nile provides complimentary resizing for most rings when within the manufacturer's recommended size range, during the first year. Simply contact a Diamond & Jewellery consultant at to arrange for your free resize.
To determine your proper ring size, you can use Blue Nile's Ring Sizer tool
Do we recommend buying from Blue Nile if you're in the UK?
Blue Nile is one of our top recommended retailers for their extremely competitive pricing and high quality diamonds.
To show you why we think they offer suck good value, we'll do a quick comparison for you below – we compare a Blue Nile loose diamond to a UK-based chain.
We used the following specs in comparing loose diamonds:
1.00 carat
VS2 clarity
H colour
Excellent cut
GIA certification
These are good specs for a diamond – high enough quality that it looks great, but without over-paying for quality.
On Blue Nile we found a diamond with these specs for £4,759.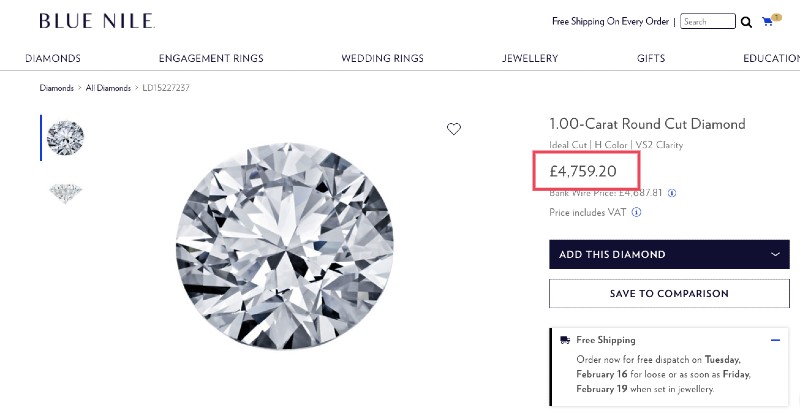 If you were to add a 18ct white gold setting to it the total price, including VAT, it is £5,180.40.
If we search for a ring with the same quality of diamond on UK jeweler Mappin & Webb's site, it's priced at £8,000: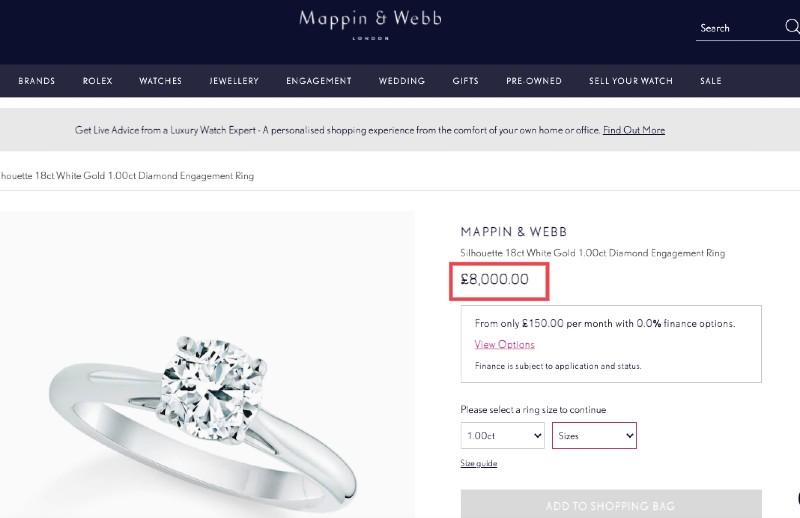 £8,000 for this ring is £2,819.60 more than Blue Nile are charging for the exact same quality of diamond and ring. A significant difference!
And the lower price doesn't mean that you suffer poor service to compensate – Blue Nile offer:
Free Shipping
30 Day Returns
Special Orders
Free Gift Packaging
Lifetime Warranty
Quality Guarantee
Complimentary cleaning and product check up
24/7 Customer Service
Buying an engagement ring can be a big decision and one that will you or your partner will hopefully have forever. So it's worth having peace of mind buying from a trusted retailer like Blue Nile.
A great place to see what other people have been buying is their 'recently purchased' gallery – it has a variety of ring styles with diamonds of all sizes which can be great for inspiration.
Otherwise, click below to visit Blue Nile, check out their ring and diamond selection to find your ideal ring:
Blue Nile review
Ring selection

Diamond quality

Service

Value for money
Do we recommend Blue Nile?
Blue Nile's size mean that it is able to offer a huge range of diamonds and high quality engagement ring settings at extremely competitive prices.
Where Blue Nile falls down compared to some of my other recommended retailers though is the current limited images of its diamond selection. This currently reduces the number of fancy shapes (ie. any other than round or Princess cut) that buyers can choose from considerably. However, as Blue Nile get more 360° images of their stones  up, this will no longer be a negative and they will have some of the highest quality images on the web.
If you are looking for one of the more standard diamond cuts e.g. a round brilliant or Princess cut, then Blue Nile is an excellent choice, with fair prices, a great range of classic ring setting styles and unparalleled service and support.
Pros
Huge selection of diamonds and ring settings
Competitive prices
European headquarters in Dublin for ease of purchase
Cons
Limited images of diamonds
Not as much choice in fancy shapes
International Blue Nile Guides
If you're outside the UK and have somehow found your self here, we also have guides to buying from Blue Nile for several other countries. Click below to access your local guide: