1 Carat Diamond Price in the UK
Why there's not an easy answer to the question: "How much does a 1 carat diamond cost?"
Written by: Alastair Smith
Last updated on: December 5th, 2022
---
There's no getting around it: diamonds are a significant investment, both financially and emotionally.
Known as a 'magic weight', a 1 carat diamond is significantly more expensive than a 0.98 carat stone, although they will look absolutely identical.
So how much does a 1 carat diamond cost? The answer depends hugely on the quality you are looking and also where you choose to buy from.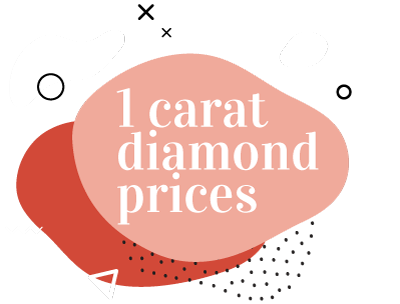 On this page you'll learn everything you need to know about:
The bottom line when it comes to 1 carat diamond price:
The price of a 1 carat diamond in the UK can range from around £3,000 to over £20,000, depending on the shape, quality and where you buy it from.
If you choose an online retailer like Blue Nile you should expect to pay around £6,000 – £6,500 for a 1 carat round diamond ring with excellent cut quality and good colour and clarity.
How diamond prices change over time
Diamonds are subject to the same supply and demand forces as any other good, which means that their price can change significantly over time.
As this graph from US-based diamond search engine StoneAlgo shows, the average price in the US for a 1 carat diamond has fluctuated by more than 20% over the last 12 months: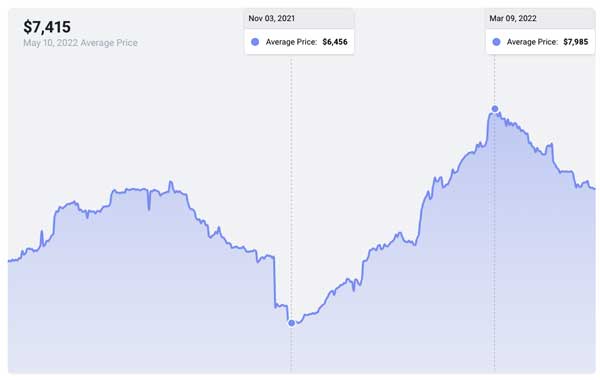 Of course, those prices are in the US, so aren't necessarily reflective of what you should expect to pay in the UK, but prices in the UK have varied similarly.
So, while this article is reflective of the time it was last updated (June 26th 2022), the prices when you look at retailers may be different to those listed.
The best way to understand current prices is to play around with the an online diamond search tool which will allow you to see today's prices, and how changing different quality factors of the diamond affects the price.
We also have guides to other diamond carat weight prices, which can be interesting to compare to one carat prices:
Factors that affect 1 carat diamond ring prices
---
No two diamonds are exactly the same, which means that there can be a significant difference in price between two stones that look very similar on paper.
In this section, we'll look at some of the factors that can have a major effect on the price of a 1 carat diamond
natural vs. lab
diamond shape
cut quality
colour and clarity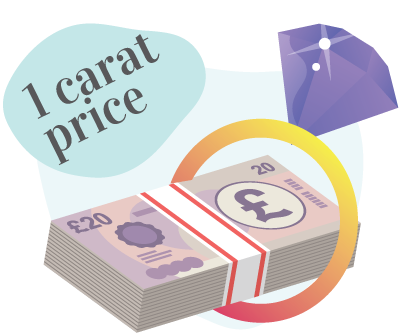 1 carat natural diamond price vs 1 carat lab grown diamond price
Lab grown diamonds have grown hugely in popularity and acceptance over the last 3 years.
They offer significantly more value at a lower price.
Win-win, if you are comfortable with choosing it over a 'natural' diamond (and there's no reason not to be comforable – lab diamonds are great!)
Here's how the price of a 'natural', mined diamond compares to a lab grown diamond at one of my recommended retailers:
Price for 1 carat natural diamond: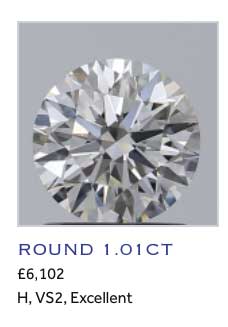 Price for 1 carat lab-grown diamond: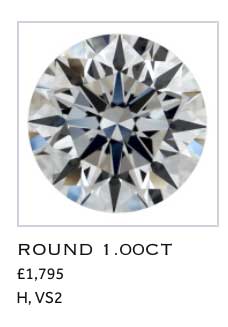 The difference between these two examples is a not-inconsiderable £4,307.
In other words, the natural diamond costs over three times as much as the lab-grown, while it will be impossible to distinguish.
For some people, a diamond needs to be natural – nothing else will do.
But, if you're open to the possibility of a lab-grown stone, you can get a beautiful 1 carat diamond at a much lower price.
Diamond shape and its affect on price
There are 10 commonly chosen shapes for diamond rings and while the 'round brilliant' is the most common, it's also the most expensive.
Cut: Excellent
Colour: H
Clarity: VS2
The results are below:
| Name | Shape | Price (£) | Difference (£) | Difference (%) |
| --- | --- | --- | --- | --- |
| Round | | £6,100 | | |
| Marquise | | £6,000 | £100 | 1.6% |
| Pear | | £5,400 | £700 | 11.5% |
| Oval | | £5,200 | £900 | 14.8% |
| Heart | | £5,100 | £1,000 | 16.4% |
| Asscher | | £4,800 | £1,300 | 21.3% |
| Princess cut | | £4,700 | £1,400 | 23.0% |
| Radiant | | £4,450 | £1,650 | 27.0% |
| Emerald cut | | £4,300 | £1,800 | 29.5% |
| Cushion cut | | £4,000 | £2,100 | 34.4% |
There's obviously a pretty significant difference between the top and bottom prices there – nearly a 35% lower price for choosing a 1 carat cushion cut compared to a round diamond.
Colour and clarity and their affect on price
Colour and clarity are two of the key '4Cs' that you'll need to consider and will make a huge difference to how much you pay.
Some examples of realistic prices for good examples of each combination of color and clarity:
A 1 carat round cut with H colour and VS2 clarity is likely to cost around £6,100, although this could be 10% either way, depending on the individual stone. This combination of colour and clarity is a good starting point for your search.
At the top end, a D colour, IF clarity 1 carat diamond is likely to cost around £20,000. Despite the huge increase in cost, this diamond will look very similar to a well-cut H colour, VS2 clarity diamond once mounted in a ring setting.
At the lower end, an I colour, SI1 clarity diamond is likely to cost around £4,000, but again there can be some variation depending on how it is affected by the SI1 clarity grade.
At the very lowest end, an L color, SI2 clarity 1 carat is likely to cost around £2,700, although we don't recommend that you choose a diamond with these specs as its appearance will be compromised by the low clarity grade.
How where you buy will affect how much your 1 carat diamond ring will cost
---
Where you buy a 1 carat diamond will have one of the biggest effects on its price.
In this section, we're going to look at four types of jewellers:
High St Jewellers
Luxury jewellers e.g. Tiffany & Co.
Specialist diamond stores
Online retailers
For each of these types of retailers, we'll show you what to watch out for and how you can avoid getting ripped off.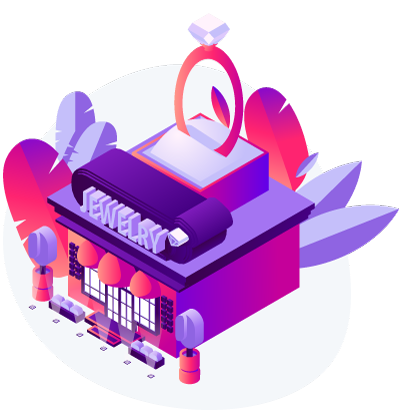 Our control price for a 1 carat ring
One difficult thing when it comes to buying a diamond ring is that it can be difficult to understand what a fair price is.
This is where comparing between retailers can be beneficial.
For the purpose of this article we'll use a control price from an online jeweller to compare other retailers against. The diamond's specs are
Colour: H
Clarity: VS2
Cut quality: Excellent
Carat: 1
Certification: GIA
At Taylor & Hart, one of my recommended retailers, this comes in at £5,618: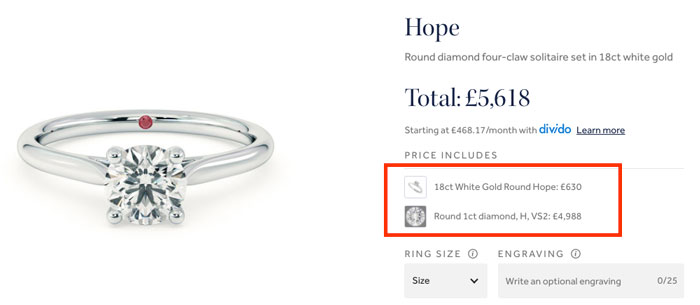 As we saw earlier, 1 carat diamond prices can move over time and at the time I am reviewing this article (June 2022), diamond prices are a little higher. However, this price is still useful to show the relative difference between this retailer and others.
1. Buying a 1 carat diamond ring from a high street / chain jeweller
In this section we'll look at buying a ring from a jewellery shop you might find on your local high street or shopping centre. We're talking about chains like:
Ernest Jones
Fraser Hart
Warren James
These aren't specialist diamond sellers and the majority of their revenue actually comes from the pricey designer watches they sell.
We can't look at every retailer in this article, so we'll take a look at how much this 1 carat diamond ring costs from Mappin & Webb, which at the time of writing is priced at £8,500: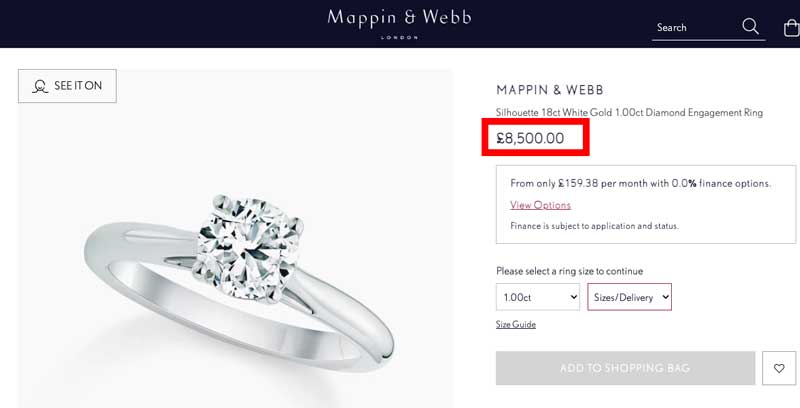 If we look at the quality of the diamond used in this ring, its clarity grade is 'I1', which means that flaws will be visible with the naked eye:

Most of my recommended retailers don't sell I1 carity diamonds, but here's what an I1 diamond typically looks like: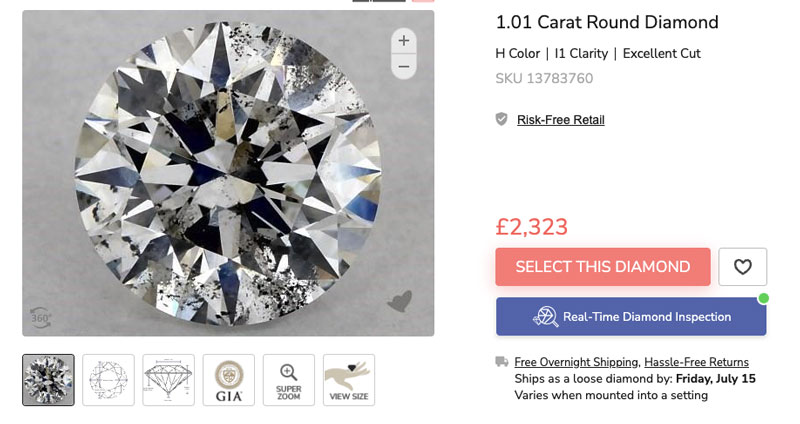 Inclusions are very obvious and as a result, prices are usually significantly lower for a stone with this level of clarity.
Mappin & Webb also don't mention either the cut quality (which determines how much it sparkles) or whether it has been graded by an independent lab.
This ring is therefore lower quality but significantly more expensive that our VS2 clarity, 'excellent' cut diamond which has been graded by GIA and is priced more than £2,000 lower.
Hopefully you can see that High Street jewellers charge higher prices than they should for lower quality products.
2. Price of a 1 carat diamond ring at a designer jeweller
The second category we're going to look at is designer engagement ring retailers:
Tiffany & Co.
Cartier
Bvlgari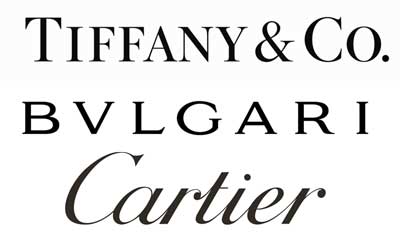 These retailers undoubtedly sell high quality merchandise and beautiful diamonds. And buying a ring from a designer jeweller is a lovely experience. You get a glass of champagne, attentive service and are treated as a VIP. It's fantastic.
What is less fantastic is the price you pay to be treated so well.
Our control diamond ring was a H colour, VS2 clarity, 1 carat, excellent cut ring in a 6 prong white gold setting, which was priced around £5,500.
If we look at a similarly specced ring at Tiffany & Co., it's priced at £12,700: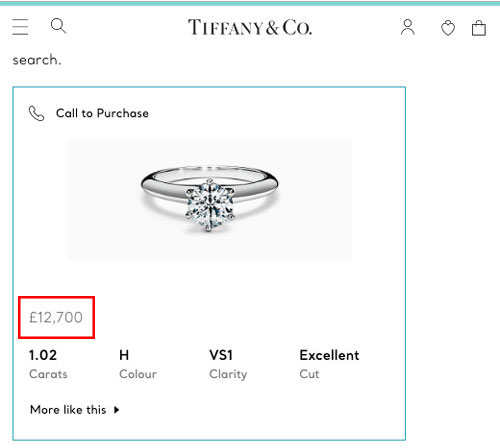 There are some slight differences – the Tiffany diamond is VS1 clarity and the setting is platinum. However, those two factors may add around £300 to the cost of our control ring at our control retailer.
At £12,700, the Tiffany ring is over £7,000 more expensive than our comparison ring – a huge 125% more expensive for a diamond of nearly exactly the same quality.
While having a brand name attached to a ring may be nice, and the blue box is special, once a ring is taken out of the blue box, no-one will know it is a Tiffany ring.
This £7,000 could undoubtedly be put towards your upcoming wedding or a fantastically memorable honeymoon, rather than just paying for a brand name.
3. Buying a 1 carat ring from a specialised diamond retailer
Most towns will have at least one high quality jeweller that specialises in diamonds, and there are some areas with a concentration of diamond specialists that are renowned across the country:
Hatton Garden in London
The Jewellery District in Birmingham
Specialised diamond retailers are often smaller, family-run businesses and generally speaking they can be a good place to source a ring if you receive a good recommendation.
So how do they compare value-wise?
If we look at the first two jewellers that are listed on the official Hatton Gardens website,we can get a good idea of the quality of the merchandise and the prices charged.
The first jeweller is Queensmith, and they offer high quality stones, which bodes well. The diamonds have been independently graded by GIA as having 'excellent' cut quality – this is exactly what we want to see.

When it comes to price, a 1 carat, VS2, H colour diamond (like our control) is priced at £6,570: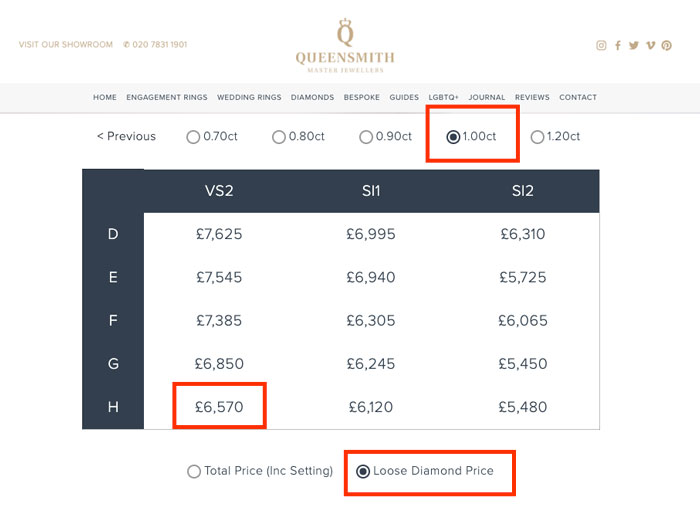 Adding a solitaire setting brings the price for a whole ring to £7,270: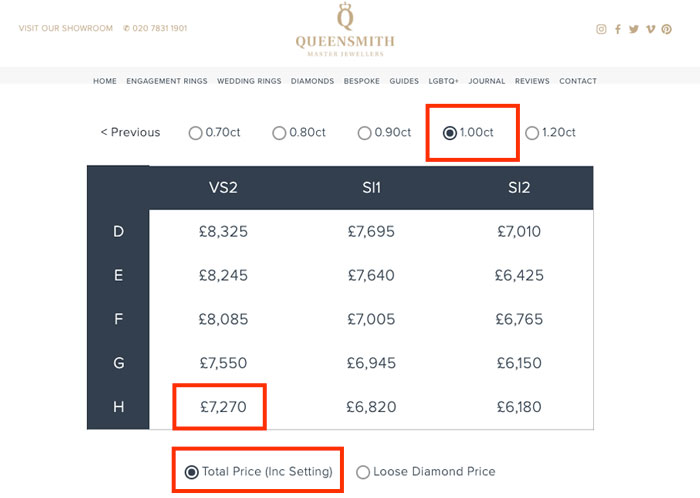 This is obviously significantly lower than the £12,000 that Tiffany & Co is charging, and lower than the £8,000 that Mappin and Webb were charging for a lower quality diamond.
But it's still significantly higher than our £5,500 control price at online retailers for a diamond of the exact same quality.
If you do decide to go with a traditional diamond specialist, there are some key questions to keep in mind:
Do they use offer jewels with certification? You should be looking for GIA, AGS, IGI or HRD
Do they offer a written money-back guarantee? A 10-day cooling off period after you buy should be the minimum, but ideally 30 days
Will they let you examine a diamond under a microscope, rather than just through a jeweler's loupe?
Do they offer clarity-enhanced diamonds? Most respectable diamond specialists don't
4. Buying a 1 carat engagement ring from an online retailer
As we've seen in our 'control' price, online retailers deliver lower prices than other types of retailers.
At the time of writing, a 1 carat, GIA-certified diamond ring with VS2 clarity and excellent cut is between £6,300 – £6,600 at my recommended retailer Blue Nile: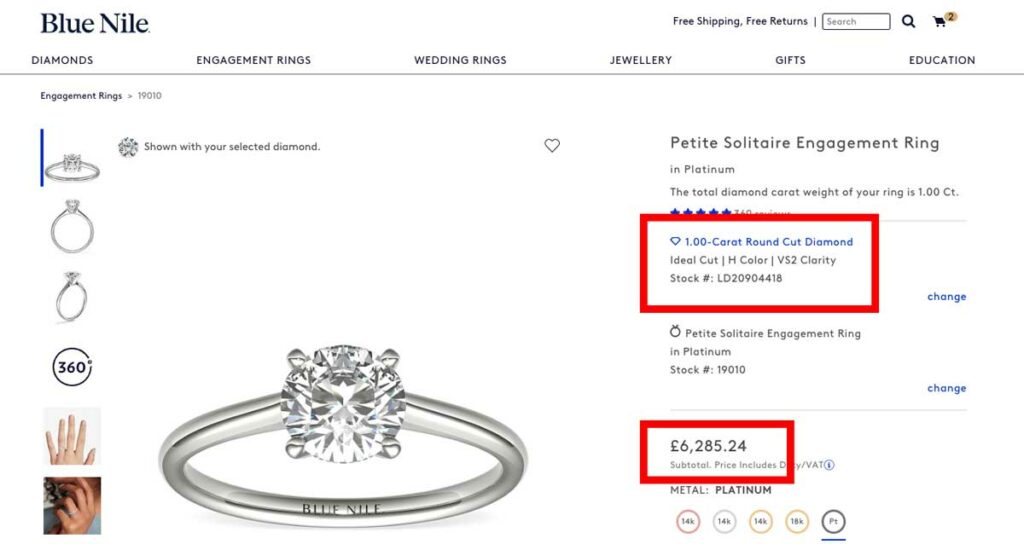 But as well as offering incredible value, one of the best things about buying online is the ability to take your time to find the diamond that is just right for you.
Online retailers offer search tools that allow you to narrow the search to exactly what you're looking for, without a salesman pushing you in a certain direction. So if we want to dial in our search to just a 1 carat, VS2 clarity, H colour, excellent cut diamond, we can: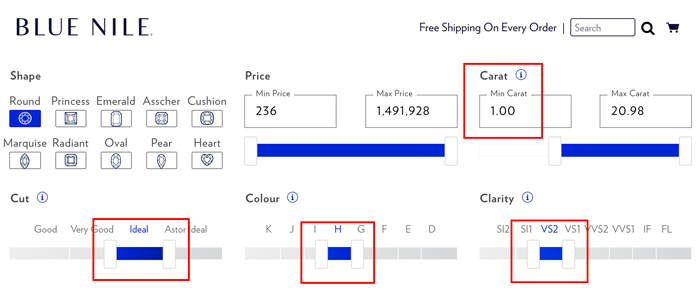 The other huge plus is the number of diamonds that you have to choose from. We saw with Hearts of London that they only had two diamonds that fit our specs.
Online retailers offer hundred of diamonds to choose from. For example, Blue Nike has 829 one carat, H colour, VS2 clarity, excellent cut diamonds, which makes it easy to find the perfect stone.
The diamond search tools and huge selection available means that you can take your time to find the diamond that is right for you, without any pressure.
Plus, online retailers offer excellent service as they know their business is only as strong as their reputation online. For example, Blue Nile offer:
Lifetime warrant on workmanship
30 day no questions asked returns
Free resizing
Diamond price matching, if you find a similar stone cheaper elsewhere
Free Worldwide Shipping
To sum up our test of prices for a 1 carat ring across each of the four retailer types:
Type of retailer
Example retailers
Price for 1 carat diamond ring
High street
H. Samuel
Mappin & Webb
£8,500
Designer jeweller
Tiffany & Co.
Bvlgari
£12,000
Diamond specialist jeweller
Hatton Gardens
Birmingham Jewellery District
£7,500
Online jeweller
Blue Nile
Taylor & Hart
£6,300
Compared to overpaying for low quality diamonds on the High St, paying twice as much for a brand name or only having a couple of diamonds to choose from at smaller diamond specialists, if you're looking for a 1 carat diamond then buying from an online retailer just makes sense.
You'll get a higher quality ring at a lower price.
Best places to buy a 1 carat diamond ring
I have a whole post on the best place to buy a diamond ring in the UK, but the key takeout is that I have two recommendations for you to check out, depending on what you are looking for:
Best for choice and value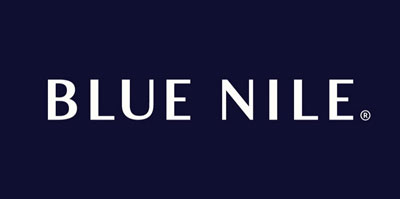 Blue Nile are the largest online diamond specialists and have been established since 1999. Primarily a US-based company, their huge economies of scale means that they can offer more diamonds then anyone else, at lower prices.
Although they are a US company, Blue Nile has a distribution centre in Ireland, which means there are no expensive import fees. Definitely worth checking out if you want to get the most for your money without compromising quality.
Best for custom design:

Taylor & Hart offer just about the service I have seen in any industry, bar none. With a fantastic selection of settings (as well as a specialism in creating custom ring designs), a huge selection of diamonds and excellent prices, they're always my first recommendation to check out.
Plus, if you are looking for a completely custom ring design, they offer Ringspo readers 10% off any platinum setting – find out more here.