Vashi review
Should you buy your engagement ring or wedding ring from Vashi?
---
Vashi is a little different to many jewellery stores in UK – they focus on providing a higher quality engagement ring to the buyer's own design from any of their extremely beautiful stores, or from their website.
Vashi started their journey online before opening their first store in 2016. Now with seven stores in the UK, they have a workshop inside every one offering personalised service.
In this Vashi review, we will primarily examine them from the point of view of buying a diamond engagement ring. However, the findings are equally relevant for any other type of jewellery.
If you'd like to jump straight to the 'value for money' section and see how choosing one of my recommended retailers could save £1,119 compared to Vashi, click here.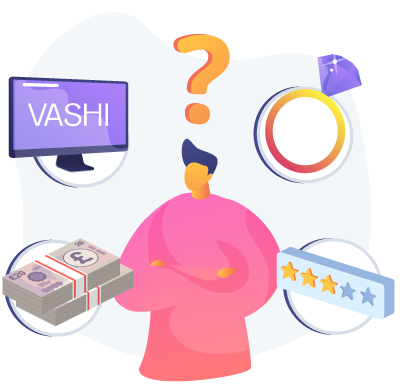 On this page you'll learn everything you need to know about:
Vashi ring selection
Vashi offers a total of 109 styles of diamond engagement ring to choose from: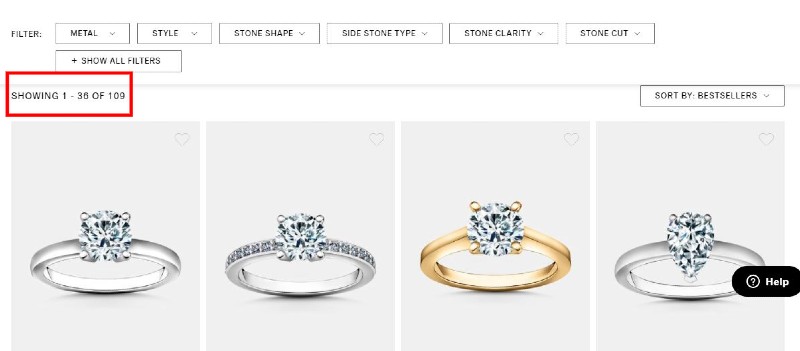 One of the best things about starting online is that Vashi have continued to create a great online customisation experience. Every ring setting style can be paired with any diamond shapes, and can be created in a range of precious metals:
platinum
white gold
yellow gold
rose gold

If we look at their classic solitaire engagement ring, we can see that the ring is available in carat weights ranging from from 0.3 all the way up to 2 carats. As a diamond's carat weight is one of the key determinants of how much a diamond costs, being able to choose from such a broad range means that you can choose the carat weight that's right for your budget.
Fewer carats, less expensive and more carats, more expensive. Simples.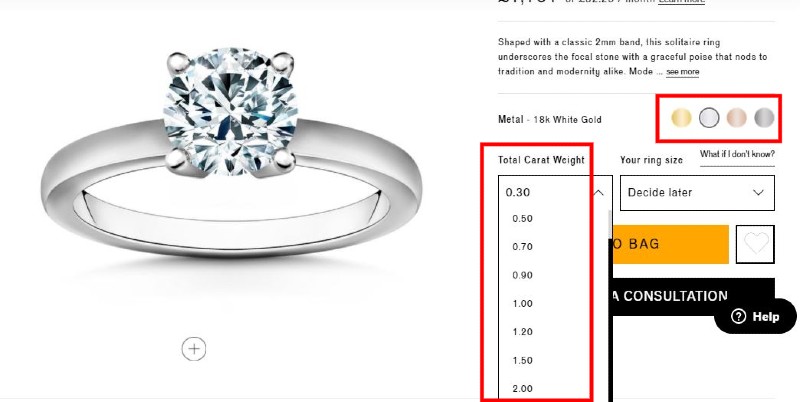 Overall, Vashi offers an excellent choice of ring setting styles, with an easy 10-step customisation process to ensure that you can create exactly what you're looking for: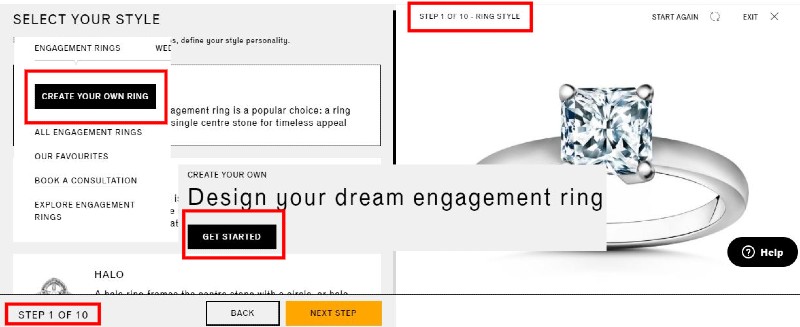 Vashi diamond quality
Engagement rings are all about the diamond, and being able to choose a diamond that will sparkle brilliantly will make the difference between a truly stunning engagement ring and one that looks dull and unimpressive.
In this section, we'll examine the quality of diamonds Vashi offers, as well as how transparent they are about the quality of the diamonds themselves.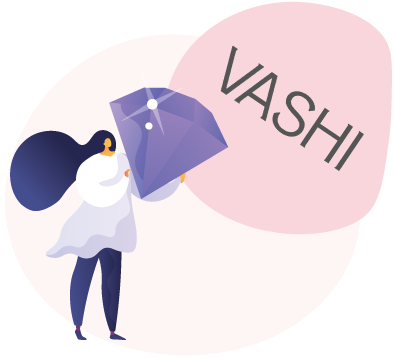 The good news is that Vashi make it easy to make the choice that is right for you. In their product filter we can see that Vashi included the information about the clarity and cut.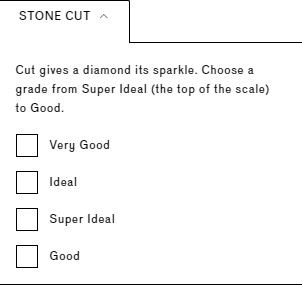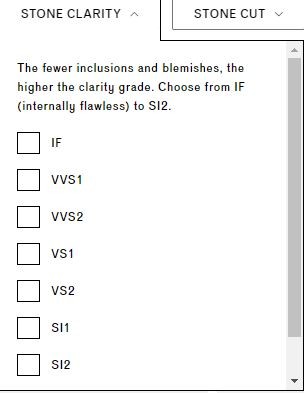 As you can see, the information about clarity and cut are already available in their product filter, which many UK retailers don't include. These two factors are extremely important when considering the quality of the diamond that is right for you and how it fits within your budget.
Understanding the cut quality of a diamond is absolutely essential to be able to understand whether it will sparkle. If you don't know the cut quality then you may very well be wasting your money.
As Vashi states on its website, "Cut gives a diamond its sparkle" and their product filter does tell people that Super Ideal is the top of the scale. Strangely though, the first option on the filter is 'Very good', which is not a cut quality that I would usually recommend as it is likely that the diamond will not have proportions that are optimised to reflect light, so won't sparkle.
Diamond is too shallow: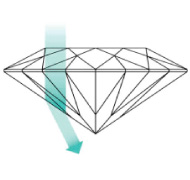 Light passes through the diamond and is lost, meaning the diamond looks dull and sparkles less than it should.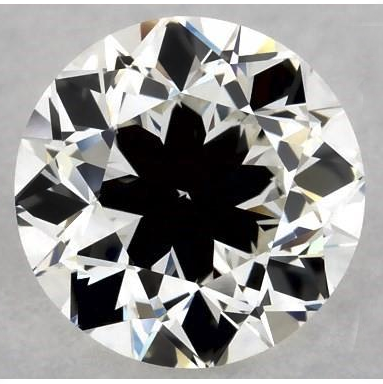 Diamond is too deep: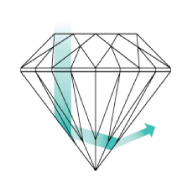 Light is bounced off the bottom facets at the wrong angle and is lost out of the side of the diamond, reducing sparkle.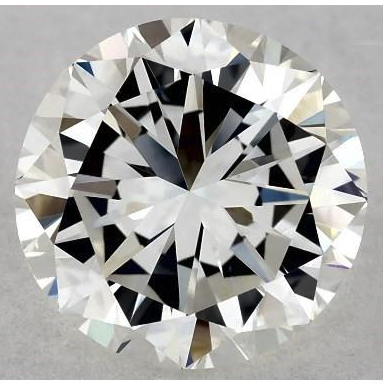 Excellent / Ideal cut: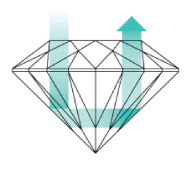 Light is reflected off the bottom facets and back through the table to your eye, meaning the diamond sparkles beautifully.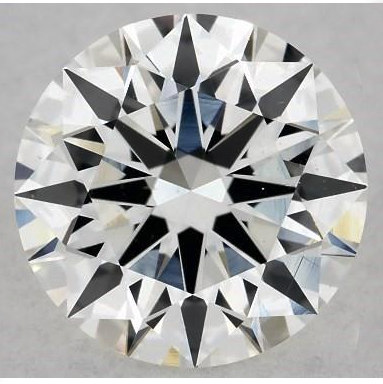 While cut determine if the diamond will sparkle, diamond clarity determines if your diamond has inclusions or flaws.
Our most commonly recommended diamond clarity grade is VS2, as at this grade inclusions are usually not able to be seen by the naked eye.
Vashi also offer low clarity grade diamond like I and SI1, where flaws are visible. Not ideal!
However, if you look at the pictures of diamonds on the website, Vashi just uses a standard image of the diamond, where no flaws are visible: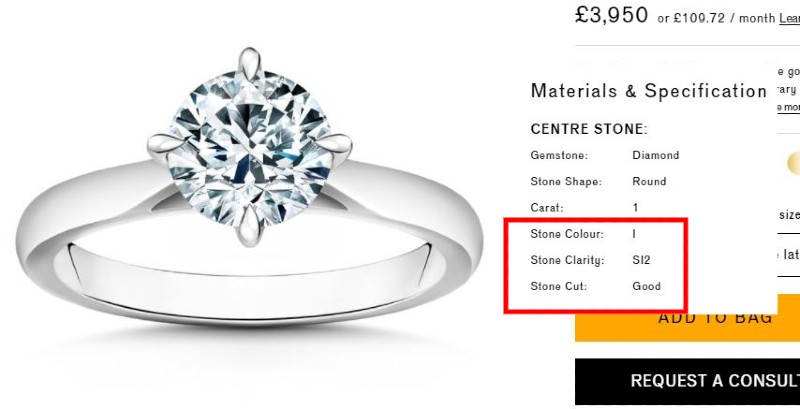 This is slightly misleading as this ring has been specced with an SI2 clarity diamond, which is very likely to have very visible inclusions that negatively impact the beauty of the stone.
You can see in the example of an SI2 diamond below from another retailer that there are inclusions all over the diamond including one significant one near the bottom. These would be easy to spot with the naked eye.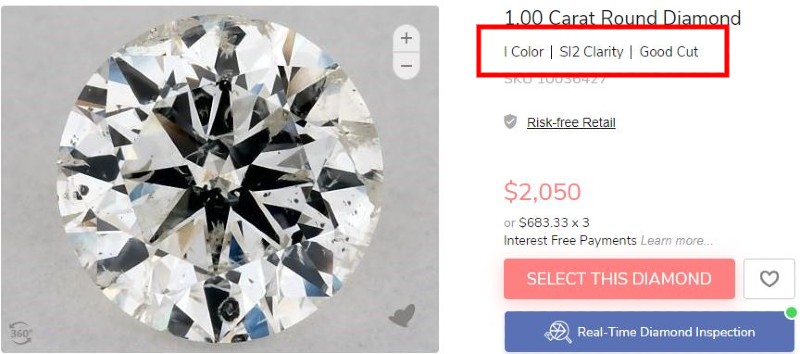 For this reason, I don't recommend buying a diamond of VS2 clarity or below without seeing a picture of the actual diamond itself. Otherwise you risk a significant inclusion being visible.
Overall, Vashi does provide prospective buyers with the opportunity to choose a high quality diamond through its online filters.
However, some off-the-shelf ring and diamond combinations on the website are lower quality than I would recommend. For example, the 1 carat diamond above is lower than I would recommend for cut, clarity and colour – it is likely to have visible inclusions, appear yellower than most people would want and also appear dull and lifeless with little sparkle due to the low cut quality grade.
In addition, the use of stock photos of diamonds and no real photos means that buyers are likely to struggle to understand what they are really buying. The diamond in the picture is not necessarily reflective of a I colour, SI2 clarity, 'good' cut stone.
So, while good quality diamonds are available, if you're buying from Vashi online, you need to be careful to understand what the diamond you are considering will actually look like, rather than relying on the stock images on the website.
Vashi diamond grading labs
Diamonds are graded on four key factors – carat, colour, clarity and cut – and a host of smaller factors too.
Diamonds which score higher are generally more expensive – an F colour diamond will be pricier than an H colour, if everything also is the same.
It's important therefore that diamond grading levels can be trusted – you don't want to pay more for diamond that has been graded as an F colour but it is actually an H.
This is why independent diamond testing labs are important. An independent testing lab doesn't have any incentive to say that a diamond is higher quality than it is, as they don't make any more money if they do. In fact, if they bump up diamond quality grades, it may mean people trust them less, which might mean that people use their service less and the make less money. Being able to rely on the grading scores from independent labs is a key part of comparing diamonds across retailers – you know that you are comparing like-for-like.
On the other hand, retailers do have an incentive to increase diamond quality scores, as it will mean that they can sell a diamond for a higher price.
For this reason, I recommend that you always look for a diamond which has been graded by an independent authority – my usually recommendation is the GIA, although there are other good diamonds labs too.
Vashi don't show information about diamond grading lab on their website. When I asked about this on their livechat, I was told that "We grade all of our stones in house by our Gemmologists. You shall receive a national grading report with your diamonds, which are audited by GIA-certified auditors."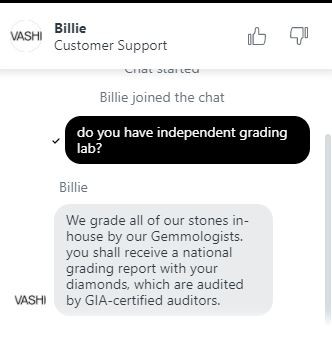 So, while Vashi's gradings may be audited by GIA-certified auditors, they aren't actually graded by GIA itself. This is less than ideal, and I would rather see independent certification to ensure that every diamond's grading can be trusted.
Vashi service
Buying an engagement ring is a special purchase, and you want to have confidence that the retailer will not only treat you well while buying your ring, but also that they will stand behind their product after the purchase too.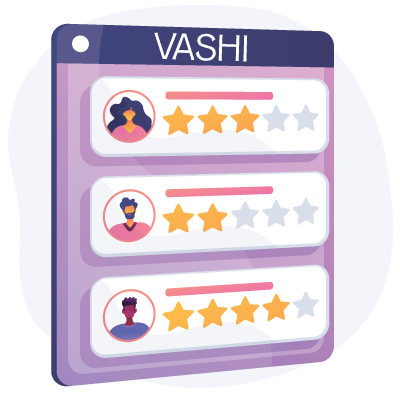 Vashi's focus on customisation and personalisation mean that they create every ring to-order in their own workshops.
Their focus on service extends to their returns policy, where buyers can return their ring within 30 days of receiving it (14 days for reduced-price products). For high priced items like diamond jewellery, the ability to return goods relatively easily can go a long way to giving you comfort over your purchase.
On Trustpilot, Vashi receives of 4.9 from 800 reviews (at the time of writing), with 95% of those being 5 stars.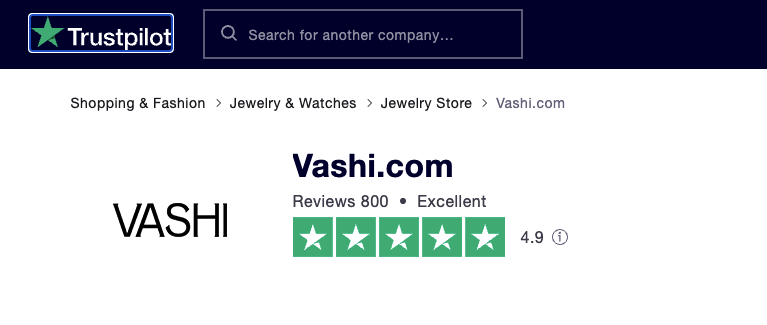 This is an excellent score, indicating that customers are extremely pleased with the service they have received.
Looking at reviews on Google, the reviews are split out by individual store. Looking at an example, the Vashi store in 46 Piccadilly, London has an impressive score of 4.8 from 415 reviews, indicating that people are very pleased with the service they have received from Vashi.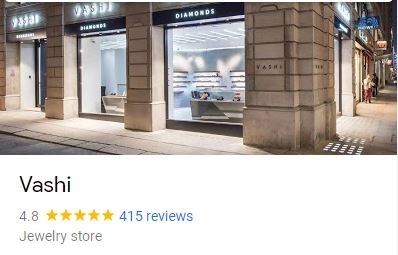 Vashi value for money
The easiest way to understand whether a retailer offers good value for money is to compare it to others in the market who sell comparable products.
In this review, we'll compare it to one of my recommended retailers – Blue Nile. Blue Nile is an American jeweller who has a manufacturing and distribution centre in Ireland, so the buying experience is very similar to buying from a UK-based online store.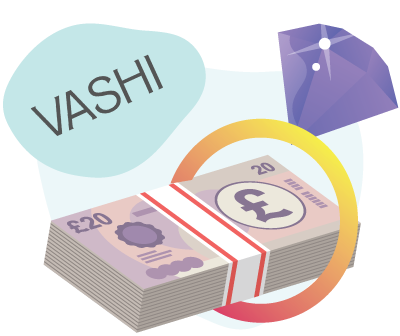 When comparing, we'll keep the ring style, diamond clarity, colour, carat as similar as possible. A good way to compare is to look at solitaire diamond rings as they are simple and timeless, without an ornate setting to make the comparison more complicated.
The "4 claw solitaire diamond ring" ring from Vashi is a good ring to compare because it is such simple design – just the ring setting and a diamond. On Vashi's website, the price of a 1 carat ring with 'good' cut quality, SI2 clarity and I colour is £4,540: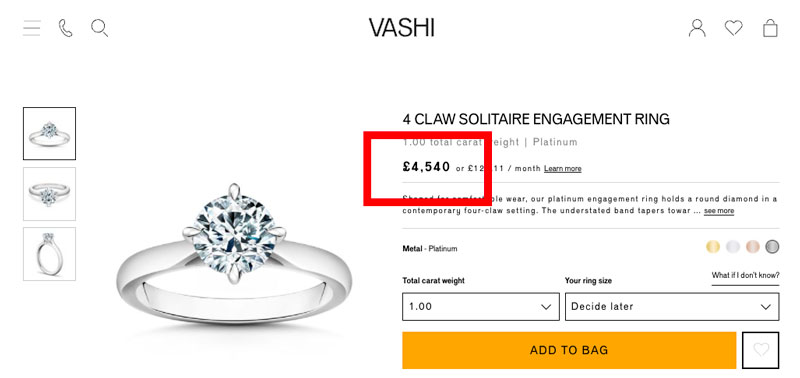 You can see the specs of the diamond here: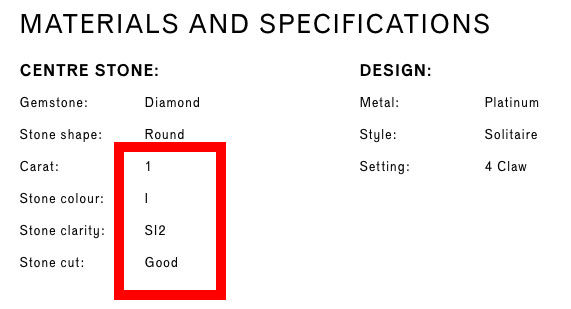 Finding a diamond with the exact same specs and a similar four claw setting on Blue Nile, the price is £3,421.08 including all taxes.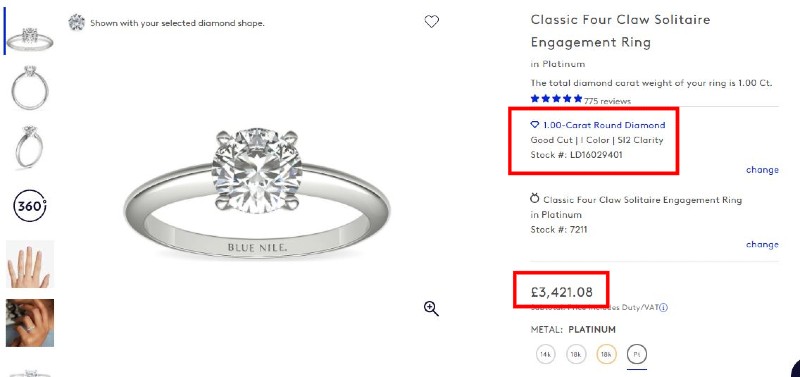 In addition, the diamond from Blue Nile has been graded by GIA, so we know that the quality is as stated.
If you look at the price with the same specification, we can see that you could save £1,119 by buying from my recommended diamond store: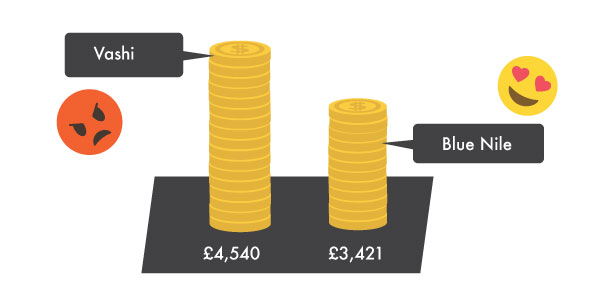 This is obviously a significant difference – you could either save over £1,119 by buying from Blue Nile, or if you did want to spend the same amount as the Vashi ring, you could:
Increase the diamond cut quality so it sparkles more
Increase the clarity so that inclusions aren't visible
Increase the carat weight so that it looks bigger
The prices at Blue Nile may be different on the day you look – maybe higher, maybe lower – it's worth clicking through to see today's prices for exactly what you're looking for.
Ring selection

Diamond quality

Service quality

Value for money
Do we recommend Vashi?
Vashi have 7 beautiful stores across UK and focus on providing a higher quality and more personalised service than many other jewellers.
They offer a wide range of ring setting styles, the ability to dial-in the diamond choice through their website and good service policies. Care does need to be taken when choosing diamonds online though as the images used on their website may not reflect the actual appearance of the diamond.
However, the excellent service comes at a price and that is high costs. Where you choose to buy your ring from is your decision, in my opinion, the benefit of being treated like a VIP inside their stores is not worth the extra expense compared to buying from Blue Nile.
While visiting a Vashi store may be a good idea to get an idea of what diamonds look like in real life, I would always recommend cross-checking the diamond against Blue Nile where you are likely to either save significantly, or alternatively can get a larger or higher quality diamond for the same price.
Pros
Beautiful shops around UK
Personalised service
Carat, clarity, colour and cut are available to be filtered on the website
Cons
No independent certificate with diamonds
Care needs to be taken when buying online as diamond appearance may not be as expected
Poor value compared to online retailers