3 Carat Diamond Price in the UK
Why there's not an easy answer to the question: "How much does a three carat diamond cost?"
Written by: Alastair Smith
Last updated on: July 22nd, 2022
---
There's no getting around it: diamonds are a significant investment, both financially and emotionally.
Known as a 'magic weight', a 3 carat diamond is significantly more expensive than a 2.95 carat stone, although they will look absolutely identical.
So how much does a three carat diamond cost? The answer depends hugely on the quality you are looking and also where you choose to buy from.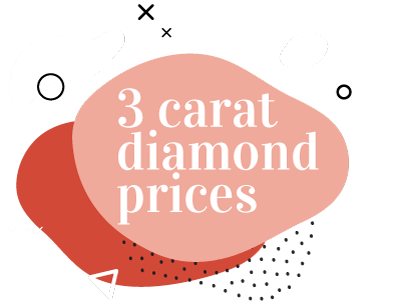 The bottom line when it comes to 3 carat diamond price:
The price of a 3 carat diamond in the UK can range from around £25,000 to over £170,000, depending on the shape, quality and where you buy it from.
If you choose an online retailer like Taylor & Hart you should expect to pay around £50,000 – £55,000 for a 3 carat round diamond ring with excellent cut quality and good colour and clarity.
How diamond prices change over time
Diamonds are subject to the same supply and demand forces as any other good, which means that their price can change significantly over time.
As this graph from US-based diamond search engine StoneAlgo shows, the average price in the US for a 3 carat diamond has fluctuated by more than 25% over the last 12 months: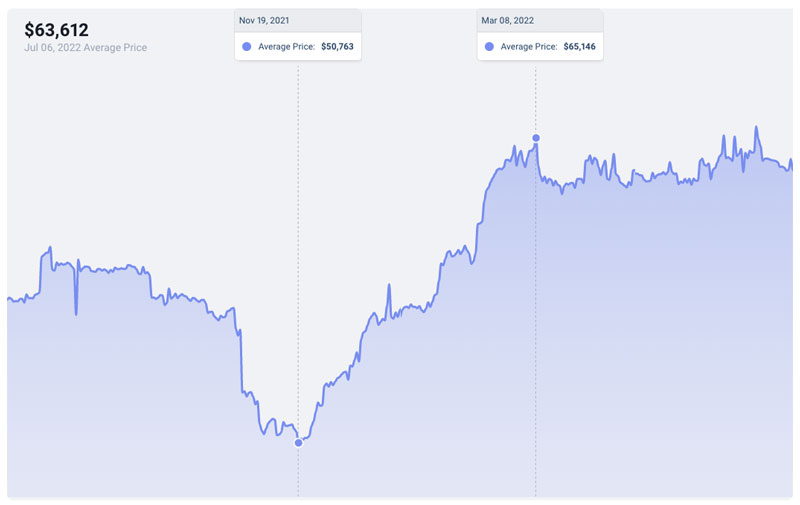 Of course, those prices are in the US, so aren't necessarily reflective of what you should expect to pay in the UK, but prices in the UK have varied similarly.
So, while this article is reflective of the time it was last updated (July 11th 2022), the prices when you look at retailers may be different to those listed.
The best way to understand current prices is to play around with the an online diamond search tool which will allow you to see today's prices, and how changing different quality factors of the diamond affects the price.
We also have guides to other diamond carat weight prices, which can be interesting to compare to two carat prices:
Factors that affect 3 carat diamond ring prices
---
No two diamonds are exactly the same, which means that there can be a significant difference in price between two stones that look very similar on paper.
In this section, we'll look at some of the factors that can have a major effect on the price of a 3 carat diamond
natural vs. lab
diamond shape
cut quality
colour and clarity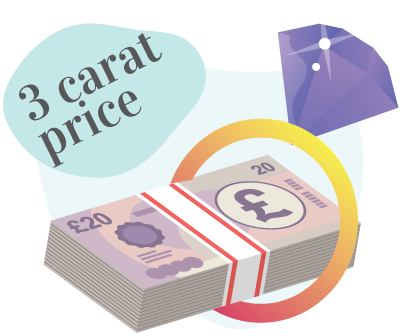 Diamond shape and its affect on price
There are 10 commonly chosen shapes for diamond rings and while the 'round brilliant' is the most common, it's also the most expensive. To show how much changing the shape can affect a half carat diamond's price, we searched for an average price with the following stats:
Cut: Excellent
Colour: H
Clarity: VS2
The results are below:
| Name | Shape | Price (£) | Difference (£) | Difference (%) |
| --- | --- | --- | --- | --- |
| Round | | £55,000 | | |
| Marquise | | £54,000 | £1,000 | 1.8% |
| Oval | | £53,000 | £2,000 | 3.6% |
| Heart | | £50,000 | £5,000 | 9.1% |
| Pear | | £47,000 | £8,000 | 14.5% |
| Radiant | | £47,000 | £8,000 | 14.5% |
| Cushion cut | | £45,000 | £10,000 | 18.2% |
| Emerald cut | | £42,000 | £13,000 | 23.6% |
| Asscher | | £40,000 | £15,000 | 27.3% |
| Princess cut | | £40,000 | £15,000 | 27.3% |
There's obviously a pretty significant difference between the top and bottom prices there – over a 25% lower price for choosing a 3 carat princess or Asscher cut compared to a round diamond.
Colour and clarity and their affect on price
Colour and clarity are two of the key '4Cs' that you'll need to consider and will make a huge difference to how much you pay.
Some examples of realistic prices for good examples of each combination of color and clarity:
A 3 carat round cut with H colour and VS2 clarity is likely to cost around £53,000, although this could be 10% either way, depending on the individual stone. This combination of colour and clarity is a good starting point for your search.
At the top end, a D colour, IF clarity 2 carat stone is likely to cost around £150,000 – £170,000. Despite the huge increase in cost, this diamond will look very similar to a well-cut H colour, VS2 clarity diamond once mounted in a ring setting.
At the lower end, an I colour, SI1 clarity diamond is likely to cost around £40,000, but again there can be some variation depending on how it is affected by the SI1 clarity grade.
At the very lowest end, an L color, SI2 clarity 3 carat is likely to cost around £25,000, although we don't recommend that you choose a diamond with these specs as its appearance will be compromised by the low clarity grade.
Best places to buy a 3 carat diamond ring
I have a whole post on the best place to buy a diamond ring in the UK, but the key takeout is that I have two recommendations for you to check out, depending on what you are looking for:
Best for service, design and quality:

Taylor & Hart offer just about the service I have seen in any industry, bar none. With a fantastic selection of settings (as well as a specialism in creating custom ring designs), a huge selection of diamonds and excellent prices, they're always my first recommendation to check out.
Plus, if you are looking for a completely custom ring design, they offer Ringspo readers 10% off any platinum setting – find out more here.
Best for setting selection: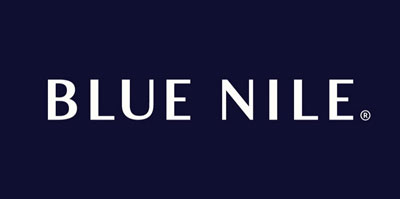 Blue Nile are the largest online diamond specialists and have been established since 1999. Primarily a US-based company, their huge economies of scale means that they can offer more diamonds then anyone else, at lower prices.
Although they are a US company, Blue Nile has a distribution centre in Ireland, which means there are no expensive import fees. Definitely worth checking out if you want to get the most for your money without compromising quality.