Taylor & Hart Review & Buying Guide
Should you buy your engagement ring from Taylor & Hart?
---
Taylor & Hart have cleverly combined the best bits of e-commerce – incredible choice and lower prices – with the best bits of old-school personal service.
In this Taylor & Hart review, we'll primarily look at the experience of buying an engagement ring.
However, the findings are equally relevant to any other type of jewellery from Taylor & Hart.
If you'd like to jump straight to the 'value for money' section and see how choosing Taylor and Hart can save £5,401 compared to a comparable jeweller, click here.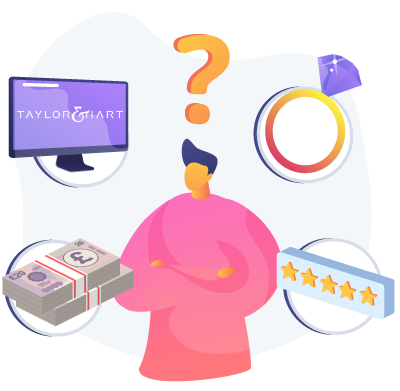 On this page you'll learn everything you need to know about:
Taylor & Hart Diamond Ring Settings
Taylor & Hart have two ways to buy a diamond ring
A bespoke ring design, created in collaboration with their in-house designers
From their collection of pre-designed rings, each of which also allow for some personalised touches to be added.
When Taylor & Hart launched, their focus was on bespoke engagement rings. Using CAD and 3D printing, they could develop custom designs more quickly, and at better prices, than anyone else out there.
This is still a large focus for Taylor & Hart, and I detail my experience of working with them in the 'purchase experience' section of this review. If you are considering a custom ring, I'd recommend you check out their article which answer the question 'what's possible with custom?' to get an idea of what can be done and to receive a healthy dose of inspiration.
As well as bespoke designs though, Taylor & Hart also have a range of beautiful settings to choose from – over 300 at the last count: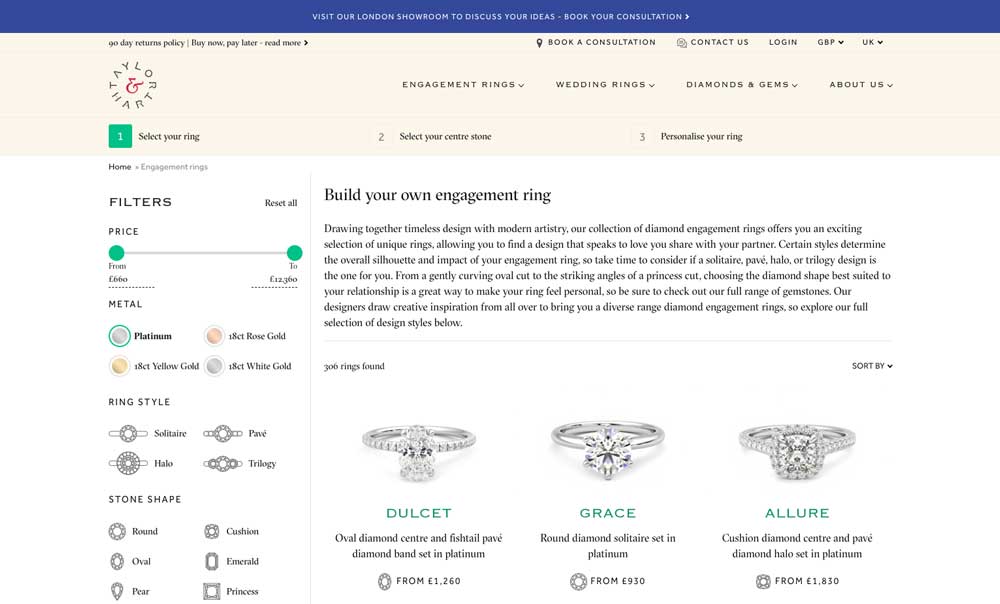 The advantage of this is that there is always likely to be a setting that matches what you're looking for. If you're looking for a round brilliant diamond in a solitaire setting, there are 12 options to choose from.
And even for what you may think would be a more unusual combination of diamond shape and setting, the selection is excellent. For example, there are 17 difference halo setting styles for oval halo rings!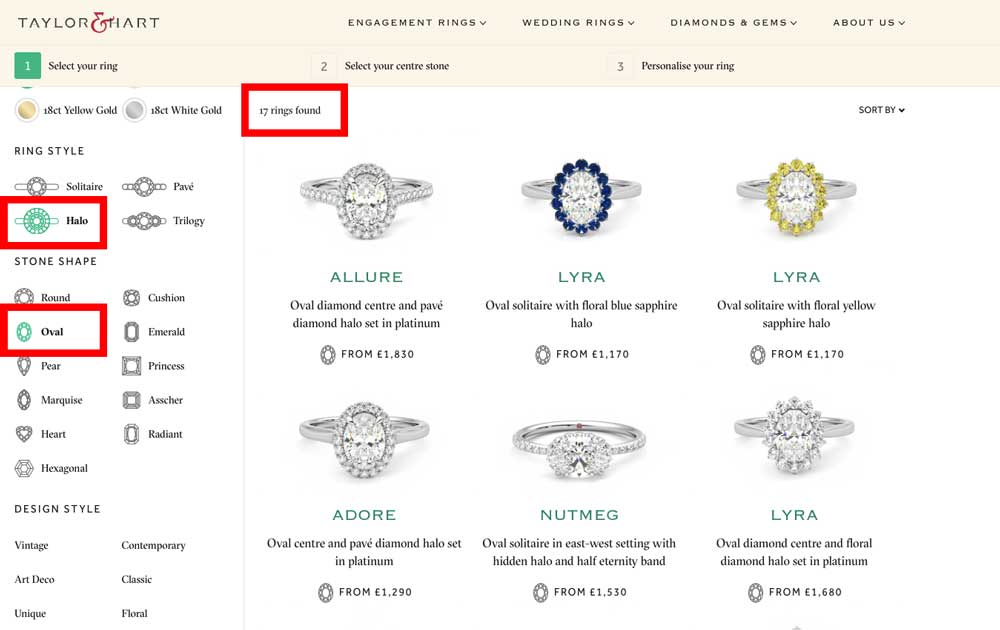 A nice feature to make even an off-the-shelf ring design is the ability to add a personalised 'signature gem'.
As standard, Taylor and Hart rings include a ruby inside the band of the ring: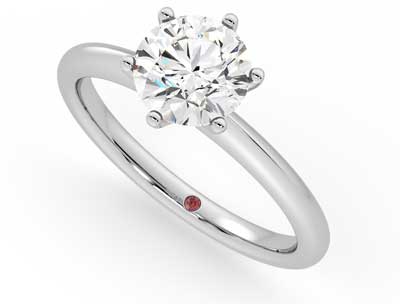 To make this personal to the recipient, Taylor and Hart can swap this out for another gem e.g. the birthstone of the person who is going to be wearing the ring.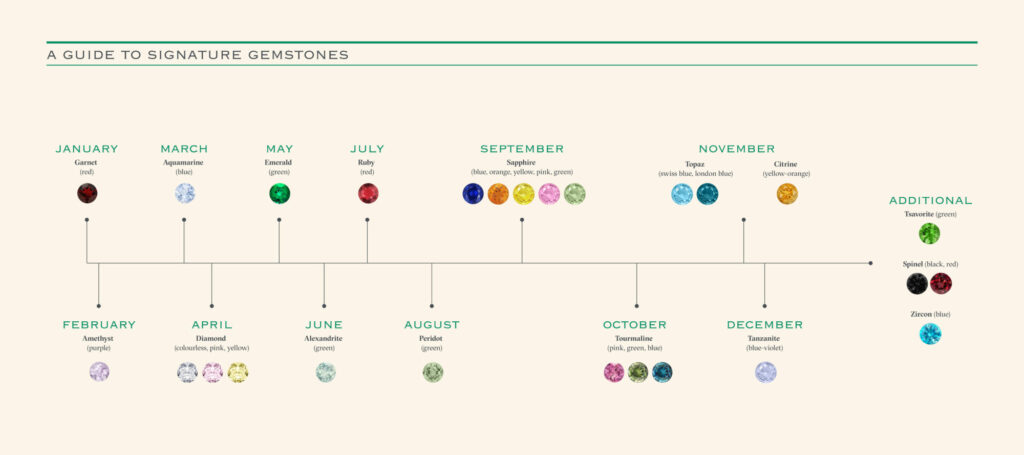 T&H have more details of the options available for this on this page which details all of the signature gems that are available, together with who they are most suitable for. Definitely worth a look if you would like to make your ring more meaningful to the recipient without the need to go for a full custom design.
Overall, Taylor & Hart have a one of the best selections of high quality ring settings available. As well as classic designs, they also offer some interesting vintage, art deco and floral options, if those styles will fit with the personal style of the recipient. Plus, if you have an idea for a ring that doesn't fit with an existing design, their custom process is a really lovely, collaborative way to create your perfect ring.
For a limited time, they are also offering 10% off platinum ring settings to Ringspo readers. Click here to find out more.
Taylor & Hart Diamond Quality
The centrepiece for any engagement ring is the diamond, and ensuring that you get a high quality stone can be the difference between getting a stunning ring and one that looks dull and uninspiring.
In this section, we'll examine Taylor & Hart's diamond selection, including how easy they make it to find a high quality stone.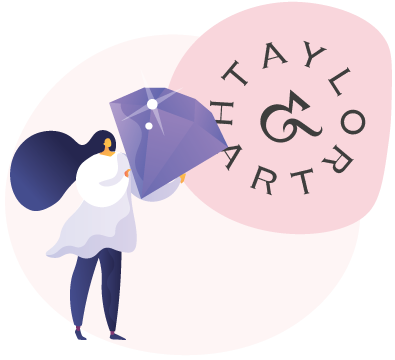 Before we jump too far into this section, it's worth noting that Taylor & Hart sell both natural diamonds and lab grown diamonds.
Lab grown diamonds have grown hugely in popularity over the last three years, as the quality and supply has improved and consumer acceptance has grown. The fact that you can get a diamond that is virtually indistinguishable at a fraction of the price is difficult to argue with if you are looking to maximise the visual impressiveness of your ring.
Just as an example below, here are two 1 carat, H colour, VS2 clarity diamonds from Taylor & Hart's inventory:
Natural diamond: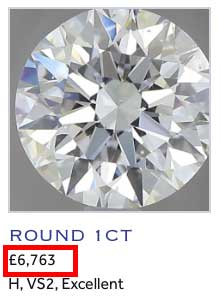 Lab grown diamond: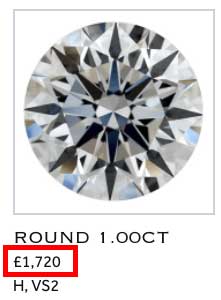 If you're unfamiliar with lab grown diamonds, you can find out more about them here – it's worth a read to learn more.
Find a great diamond at Taylor & Hart
Like many online retailers, Taylor & Hart have thousands of diamonds available to choose from – over 130,000 just in the round shape, for example.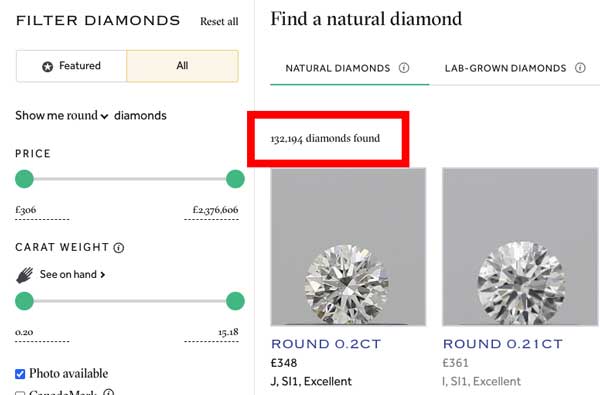 Having this much choice can be overwhelming, so there are a couple of ways to narrow it down.
The first is to ensure the 'featured' button is clicked and then dial in either your desired carat weight or budget: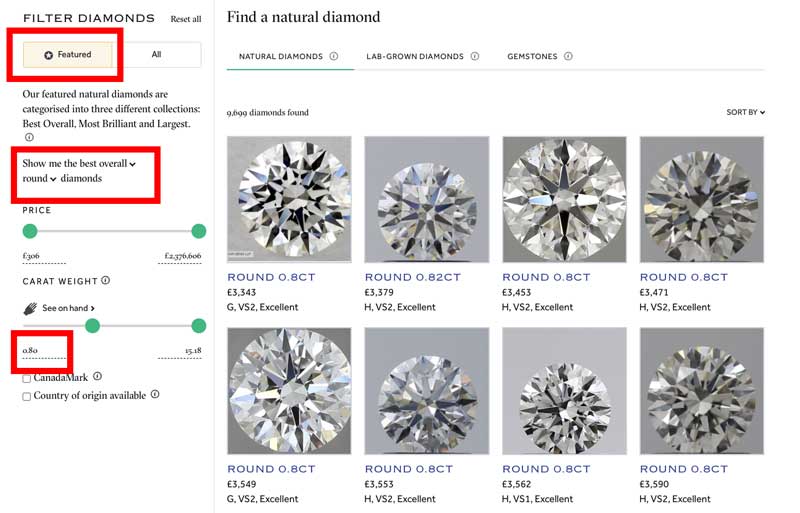 One thing I would say here is that the text-based system of choosing a shape isn't as intuitive as some other online retailers, so if you're looking for a shape other than the default round, you just need to click 'round' and then select your desired shape.
Choosing 'featured' diamonds greatly reduces the number of diamonds available, but also selects stones at the exact quality I would recommend you start your search looking at:
Excellent cut, so the shape is reflect as much light as possible and sparkle
G or H colour are both great options as they look white without incurring the expense of diamonds higher up on the grading scale
VS2 colour is the sweet spot between being eye-clean (ie. no flaws can be seen with the naked eye) while still being reasonably priced.
These featured diamonds also consider more minor factors like polish and fluorescence, which takes a lot of the thinking out of it for you.
You can also click 'All' to see all diamonds, which will allow you to dial in the cut quality, colour, clarity etc yourself, as well as dialling in factors like table % and depth %: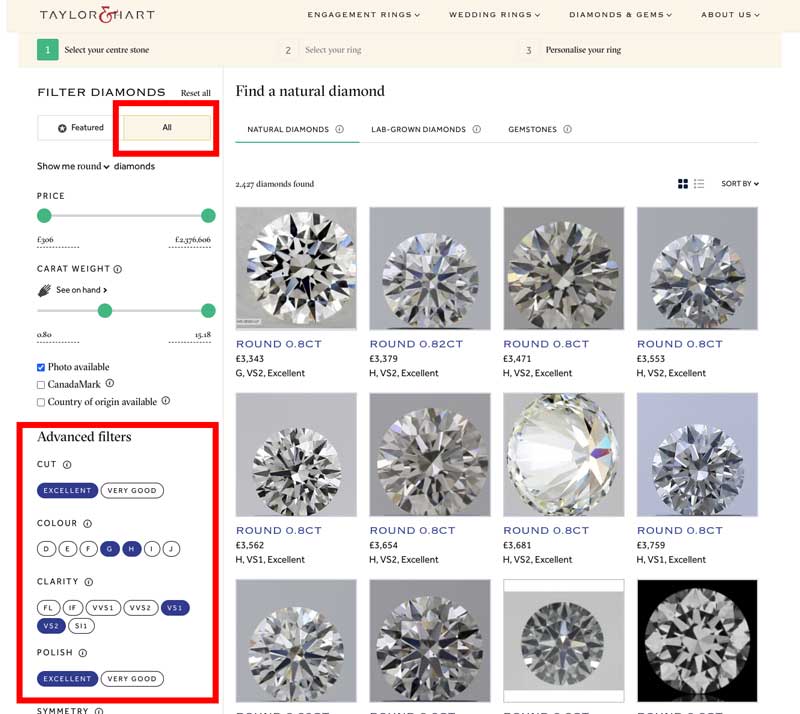 If you love to dig into the details and get granular (and there definitely is scope to do this with diamonds), them this is where you'll need to be to find your diamond.
Buying a non-round diamond at Taylor and Hart
For fancy shapes ('fancy' is the name given in the industry to non-round diamonds), not all of the diamonds have images available on the Taylor & Hart site.
For instance, if I search 1 carat oval diamonds, there are 4,516 available to choose from, at a range of colours and clarities.
However, if I click 'photo available', the selection is reduced to 1,776: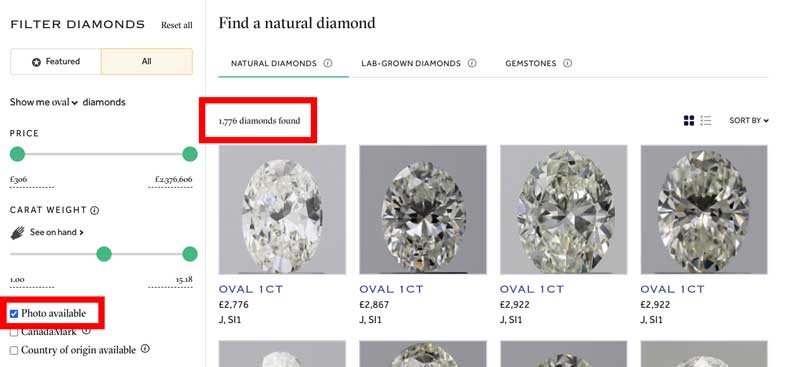 This is still a large number of diamonds and more than enough to pick from, but viewing a photo for some diamond shapes is essential to ensure you're getting a stone that has been shaped well.
Natural diamond certificates at Taylor & Hart
Certificates, or 'grading reports' are hugely important when buying a diamond. They're an independent stamp of approval that says that the diamond is a certain quality.
Not all UK retailers use independent grading reports, which means that it can be difficult to know whether the diamonds they are selling are truly the quality claimed. Some retailers like Vashi issue their own reports, while others lie 77 Diamonds use some high quality diamond grading labs but also include some lower quality labs too, muddying the water.
Taylor & Hart only sell natural diamonds which have been graded by GIA, which is my recommended grading lab.
A great feature is that each diamond has its GIA report linked to from the diamond detail page: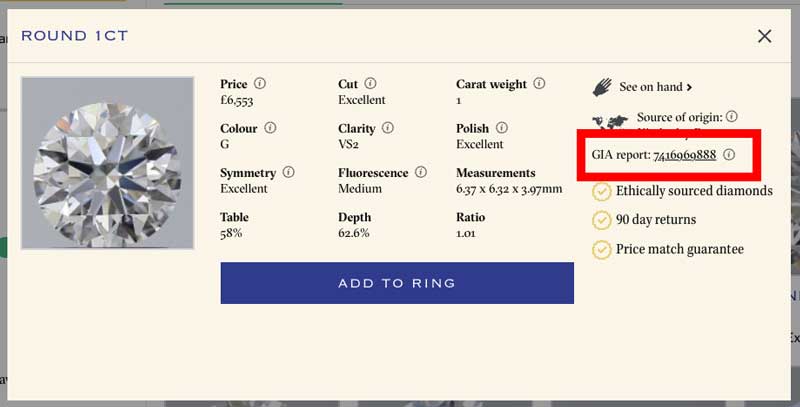 Clicking this opens the GIA report on the GIA site. For a UK retailer, this is very unusual – almost no other UK retailers offer this level of transparency.
Buying a lab grown diamond at Taylor & Hart
Unlike many retailers, Taylor & Hart have embraced lab grown diamonds. Many more traditional jewellers have rejected lab grown diamonds as they feel that they threaten the natural diamond trade. In my opinion, this is the wrong way to look at it – lab grown diamonds give customers more choice and allow them the option to either get a larger, or higher quality diamonds for their original budget, or alternatively to save a significant amount of money.
Buying a lab grown diamond is a little different from a natural one, and is more of a consultative process with the Taylor & Hart team.
If you click through to the lab grown diamond search, you'll see that lab grown diamonds are presented as nice round numbers (1 carat, 1.25, 1.5 etc), with a set selection of colour and clarity: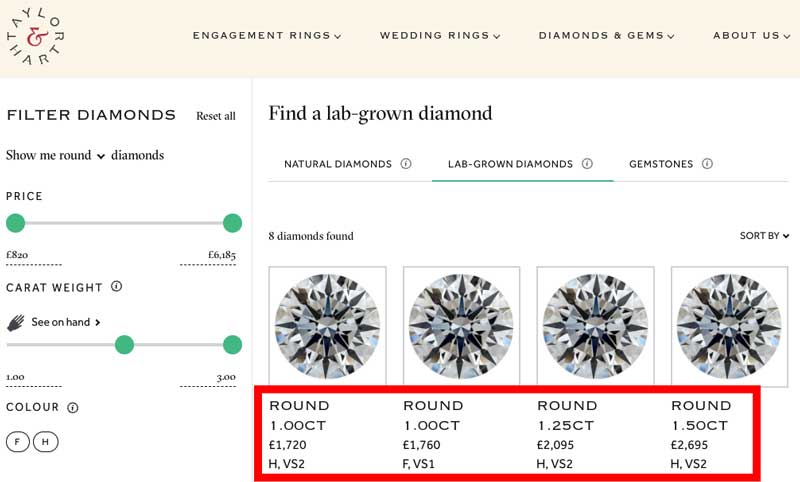 Like the with 'featured' natural diamonds, these diamonds strike the right balance between quality and value. They'll look good, but you're not overpaying for quality that can't be seen.
All Taylor & Hart lab grown diamonds are excellent cut (which is good!) and are accompanied by an IGI certificate. IGI is a rival organisation to GIA, but has established itself as the go-to organisation for assessing lab grown diamonds as the GIA was late to the party and is still playing catch-up.
Overall, if you are open to the possibility of a lab grown, it can be a great way to maximise the impressiveness of your ring or save yourself significant amounts of money.
Taylor & Hart Service Quality
Buying an engagement ring is a special purchase, and you want to have confidence that the retailer will not only treat you well while buying your ring, but also that they will stand behind their product after the purchase too.
In this section, we'll look at T&H's service policies, as well as more reviews from real customers.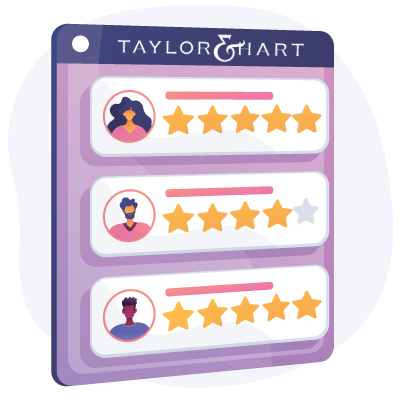 Buying an engagement ring online, especially a custom one, may seem daunting so I wanted to include some more information to help you understand whether Taylor & Hart is the right retailer for you.
Custom engagement ring timescale
One thing that many people worry about with customer engagement rings is how long they will take to produce, and this is a legitimate worry.
If you are hoping to propose next weekend, then a custom ring from Taylor and Hart is probaby not for you. They could help you out with one of their standard ring styles, and delivery time for those is within a week if you are located in the UK, or 2 weeks if you're further afield.
But if you want a custom engagement ring, the process takes a little longer.
Once the design is signed off, a custom-designed ring will be delivered within 30 days. Allowing for 2/3 weeks to agree the design of the ring, it's likely that the whole process will take around a month and a half.
I'd probably recommend leaving a couple of weeks buffer in there too to minimise the potential for stress, so if you are planning on I would allow two months from your enquiry to the delivery date.
Can the delivery time be reduced?
If you are really keen to work with Taylor & Hart to create a bespoke engagement ring, but your proposal date is looming, then Taylor & Hart can pull out all the stops to get you your custom ring within 12 working days.
There's an extra cost for this, which depends on the complexity of the ring. The best way to check whether Taylor & Hart can help you is to contact them to discuss what you're looking for and they'll be able to tell you whether it will be possible within your timescale.
Returns
Many traditional jewellers won't accept returns on custom made jewelry. Creating them is just too expensive and as they are working closely with a client there shouldn't (in theory) be any need to return the ring.
Not so with Taylor and Hart, who are happy to a full refund within 90 days of delivery. I've review a lot of online jewellers and this is by far the best I have ever seen. Most online retailers offer a 30 day return policy at best, while 14 is more common and more traditional jewellers often don't accept returns at all. More details of Taylor & Hart's returns policy can be found here.
Taylor & Hart Service Purchase Experience
In this section, I'm going to detail the experience I had when creating a custom engagement ring in collaboration with one of Taylor & Hart's designers.
Throughout this process, I asked tricky questions to see how Taylor & Hart would react, and I detail all of the comms here.
It's quite a long section, but I've included it in the review so that you can understand how the level of service you can expect.
If you would rather jump to the next section of the review, which looks at Taylor & Hart's value for money, just click here.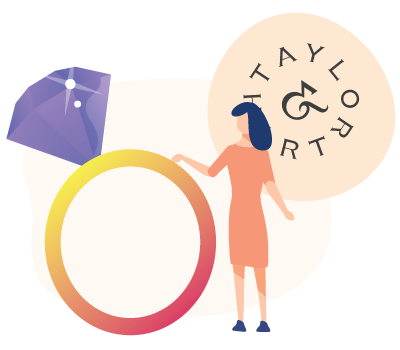 Because of what it signifies, buying an engagement ring is about much more than just choosing a diamond and a setting, and this is where Taylor and Hart excel. As you'll see, they make it a truly collaborative experience which means that even if you can't be in the same room as the jeweller who is creating your custom engagement ring, this really doesn't matter.
Taylor and Hart's Chat service
Taylor & Hart's thing is personal service.
With other online retailers, the experience of choosing a diamond and an engagement ring setting can feel no engaging than buying a T-shirt and chinos combination from an online store. But with Taylor & Hart you feel that you are receiving genuine service that aims to make sure that the engagement ring you receive is the one that is going to make your proposal perfect.
This starts as soon as you visit their website, where you can chat with a jewelry designer through a chat service.
Taylor and Hart's Chat service
I have mixed feelings about web chat services. The person on the other end invariably feels a little biased. While many retailers say that their chat assistants aren't commission-based, it's very rare that an 'impartial' customer service assistant will dissuade you from purchasing a diamond that you enquire about. Instead, they usually find a way to show you why you should buy it.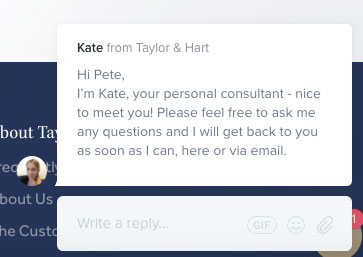 Taylor and Hart's chat service feels different. They're not trying to convince you to buy a particular diamond, but they are focused on helping you find the custom engagement ring that is right for you. This is a different interaction and its one that feels much more collaborative than other chat services on other retailers' websites.
If you want a totally unique engagement ring that is made just for you then the process is a little different.
In this section I'll walk you through my mystery shop of Taylor & Hart, show you what they do well and where you should make sure you pay attention.
Starting a custom design begins with clicking the 'Design a custom ring' button, where you're taken to a screen which explains the process and introduces you to your personal designer who you will work with throughout the process.
The first stage of designing your ring is a simple form where you can tell Taylor & Hart what you are looking for. I entered:
My budget – between £5,000 and £7,500
My ring style – three stone
My gemstone shape – round brilliant
I also included that I was looking for trillion side stones
Buying an engagement ring is a new process for most people, so this takes a lot of the thinking out of it and allows you to make some easy choices now, and leave it to the professionals to guide you through the finer points.
---
First follow-up email, including mock-up
Following my initial enquiry using the form, I received a follow-up email very, very shortly from Kate, the Head Designer at Taylor & Hart.
This email confirmed that they had received my enquiry and asked me to confirm whether I had a specific budget.
It also included something that I didn't expect – a mock-up of the ring that I had requested, which confirmed the style of the setting and the shape of the diamonds. This was a really nice touch and, while the drawing was super lo-fi at the moment, it definitely started to make the process feel more real for me and that they had created something just for me.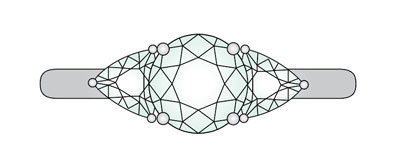 Throughout the review, I'll include my email correspondence with Taylor & Hart in sections that you can click to expand. If you want to see first-hand the level of service then click to expand and read the detail. Otherwise, I'll summarise the interactions so that you can see how the interaction progressed and how Taylor & Hart coped with my questions.
Taylor and Hart: Initial email with mock-up image (click to expand)
From: kate@taylorandhart.com
Subject: Taylor & Hart: Your Ring Design
Hi Pete,
I've started preparing the quote for your ring design and selecting centre diamonds for you to choose from and I wanted to quickly check a couple of things with you.
1) Making the ring will be a set price so, are there particular size diamonds you were looking for or do have a price you would like me to keep to?
2) Have you seen a particular design previously that you are looking for inspiration with, or would you like to see some design options?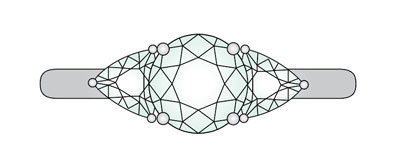 I am looking forward to hearing from you and helping you create the perfect design.
Kind regards,
Kate​
---
Starting off with some easy questions
Following the initial email, I wanted to start throwing in some requests and questions, to see how Kate, and Taylor & Hart, coped.
In my reply I confirmed my budget at £7,500 and asked my first question – about the relative benefits of white gold vs. platinum.
I also included some detail to keep my cover story going!
Alastair: White gold vs. platinum question (click to expand)
From: fakeaddress@outlook.com
Subject: Re: Taylor & Hart: Your Ring Design
To: kate@taylorandhart.com
Hi Kate,
Thanks for getting back to me and sending through the picture.
My budget is around £7,500 and I was hoping to get a 1 carat round stone together with the setting and the two other diamonds for that. Would that budget stretch to it do you think?
I know that my g/f wears a lot of silver coloured jewellery, but I'm not sure on white gold vs. platinum. Do you have a recommendation at all?
I don't have any pictures that I've seen that I can use as reference, I just know that she likes the trillion diamonds because her Grandma's engagement ring had them. I'd be keen to see any options you can give me to help inform the design
Many thanks,
Pete
---
Ring quotation page
Kate's reply to my question about which metal to choose was informative, pleasant and told me exactly what I needed to know.
She also linked through to a personalised 'quotation page' which became my hub for the whole transaction. This page includes all the details of the ring – the diamonds, the setting etc – and it meant that I could go back and review the ring at any time.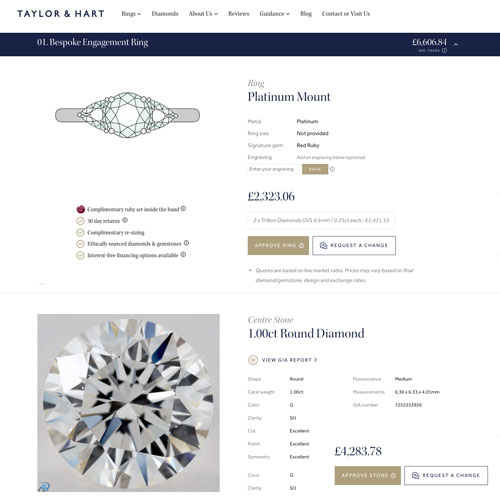 As my conversation with Kate continued, the information on the quotation page was updated. This isn't something that I have seen any other retailer do, but it's a great way of ensuring that you as a customer have all of the information you need.
Good value
The diamond that she had selected for me was an eye-clean SI1 with G color, which is a great option to deliver the most value possible. It also meant that the ring was coming in at well under my quoted budget.
Recommending an eye-clean SI1 straight away is a clear indicator that Taylor and Hart were looking after me as a customer – they knew that I could spend extra to get a higher clarity diamond within my budget, but this would have had minimal effect on how beautiful the final ring was.
If they had offered me a Flawless stone in this initial email then I would have questioned just how customer-focused they really are. Luckily, there were no such concerns.
Kate also sent through some examples of ring setting styles, to help me narrow down exactly what I was looking for, as well as asked a some practical questions about delivery etc.
Taylor and Hart: Confirming my choice and sending through inspiration (click to expand)
From: kate@taylorandhart.com
Subject: Taylor and Hart Ring Enquiry
Hi Pete,
Thank you.
Please find I have added the price of your ring and selected 3 diamonds for you on Your Quotation Page.
The price is currently for Australian delivery and in GBP although we can change this to AUD/USD and can ship to most places in the world.
The metal
Platinum vs white gold:
Platinum is around 4 times stronger, the price difference is around £200 and white gold requires maintenance every 1 -2 years because it turns slightly yellow. Whereas platinum remains white, so we always advise this.
The diamond
In case it's of interest to you, here's some information about why I choose this centre diamond…
Diamonds are priced according to the 4C's. Colour G, Clarity Si1, Cut EX EX EX is our most popular grade we recommend.
– Colour G Is exceptionally white whilst keeping out of the premium price bracket of a colourless diamond.
– Clarity Si1 is very competitively priced whilst this particular diamond is 100% eye clean, it looks like a flawless diamond to the naked eye.
– Cut EX EX EX refers to the grade of the cut, polish and symmetry and is also recommended to have the highest grades as this is the largest contributor to the light return and beauty of a diamond. This diamond is exceptional, very bright and full of life.
– Carat 1.0ct as requested.
Side diamonds
I selected large side diamonds. This does increase the price quite significantly although, I believe the total carat weight being 0.50cts. for the sides, will work beautifully next to the 1.0ct centre.
​The design​
​With the design, is it definitely a trilogy (three stone) ring you are looking for?
Engagement rings tend to be one of 4 styles:
– Trilogy
– Shoulder set
– Halo
– Solitaire
We can incorporate the trillion diamonds into any of these. For example: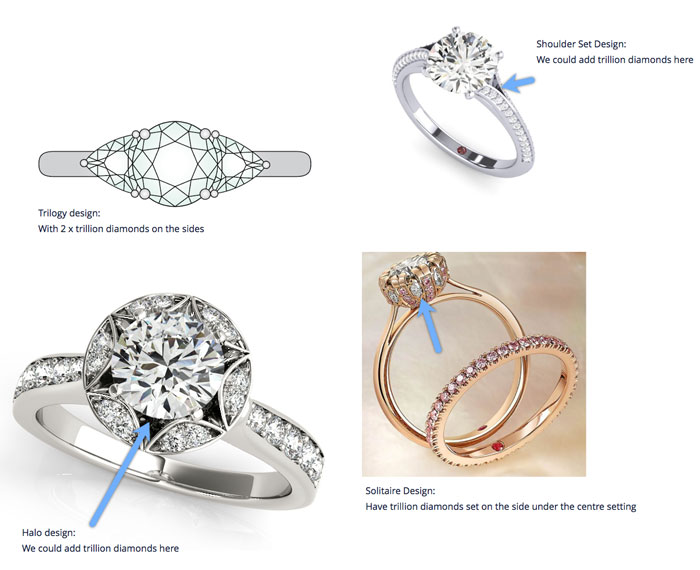 With this in mind, please can I ask:
1) Would you like a trilogy, shoulders set, halo or solitaire design?
2) Which currency and the country of shipping is best for you?
​Kind regards,
Kate​
---
Is that the actual diamond?
The quotation page included a picture of diamond that looked perfectly eye-clean, so I wanted to make sure that the diamond featured on the quotation page was the actual one that I could buy, rather than just a stock photo.
Diamonds graded SI1 for clarity can either be completely eye clean, with no visible inclusions, or can have a huge dark inclusion in the center of the table. For this reason, VS2 and below diamonds should always be inspected.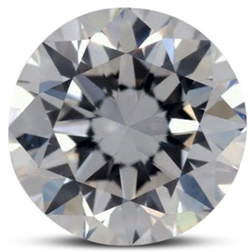 SI1 diamond with no visible inclusions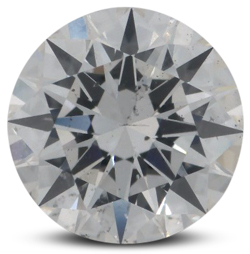 SI1 diamond with inclusions clearly visible
I also asked a couple of diamond-related questions.
Trillion diamonds aren't graded for cut quality – only round brilliant diamonds are – so I wanted to see whether Taylor and Hart would be totally up front about how these diamonds are assessed.
Lastly, I asked about shipping to Australia, where I live. Living in another country can actually make a ring less expensive than it would be in its original country if your import tax is lower than the VAT in the country of origin.
Alastair: More diamond questions and where best to send the ring? (click to expand)
From: fakeaddress@outlook.com
Subject: Re: Taylor & Hart: Your Ring Design
To: kate@taylorandhart.com
Hi Kate,
Thank you for getting back to me with such a thorough email
Diamond – the diamond that you recommend looks great. Is the diamond that is pictured on the quotation page the actual diamond that would be in the ring?
Ring style – I really like the trilogy ring style. How would selecting the trillion diamonds work? Are there cut grades for those, like excellent cut etc?
I live in Aus but am from the UK and will actually be back for Christmas – I land on 20th Dec. Would it be better for me to have it shipped to my address in the UK?
Thanks
Pete
---
International shipping advice to save me money
In my email, I had asked whether I should ship to Australia, or wait to pick the ring up when I was in the UK.
Kate from Taylor & Hart's reply was that taxes and duties to import the ring to Australia would be around 15% of the value of the ring, which is less than the UK's standard 20% VAT rate that is added to most purchases.
This means that as an international buyer, buying a ring from Taylor & Hart could actually be less expensive than it would be as a UK resident.
Kate also confirmed that the eye clean SI1 diamond in the image is an image of the actual diamond that I would receive, which is exactly what I wanted to hear.
Taylor and Hart: Great shipping advice to save me money
From: kate@taylorandhart.com
Subject: Taylor and Hart Ring Enquiry
Hi Pete,
Australian tax and duties are usually 5% import duty rate and 10% sales tax although, please be advised that Taylor & Hart has no control over the taxes & duties you may be charged. Therefore, the actual amount charged by customs may differ from the rates estimated. So, these prices are indicative to the best of our knowledge.
Shipping is free worldwide.
So, it would more than likely be more beneficial to you if we ship to Australia. You will save around 5% as the UK has the 20% VAT. We ship to Australia on a weekly basis and it has always been straight forward. Let me know your thoughts.
The picture of the diamond in your quote is an actual photo of the diamond.
With the side diamonds, they will not be certified. Our side diamonds are always EX EX, colour G and VS clarity with no fluorescence.
How would you feel about me creating a 3D drawing of the trilogy design using the exact dimensions?
Please let me know if you have any questions.
​Kind regards,
Kate​
---
Making sure it's a great diamond
In my next email, I asked Kate to switch out the diamond that she had already found for one with very specific proportions:
Table % – between 53% – 58%
Depth % – between 59.5% – 62%
While the diamond that was previously recommended was graded as 'excellent' by GIA, this actually isn't an indicator that the diamond will definitely sparkle brilliantly.
I'm sure you've see the diagram below which shows how light is reflected from the inside facets of a diamond and back to your eye.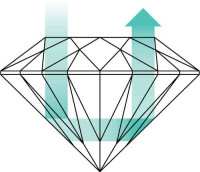 The thing to note is how the light is reflected from two internal surfaces and back out in the direction that it came from. In order to do this, a brilliant cut diamond requires very specific proportions and angles. If the proportions aren't optimum then the light isn't reflected correctly and it is lost.
Many diamonds that are graded 'excellent' by GIA and other grading organisations actually have a poor combination of angles, which don't work together well to maximise the amount of light reflected.
So, my specific table % and depth % requirements were to see whether Taylor and Hart would accomodate a request to find a diamond that would be more likely to have a combination of angles that would sparkle brilliantly.
I also sent through an example of a setting style to see whether it is something that they could accomodate.
Alastair: Specific diamond and setting style requests (click to expand)
From: fakeaddress@outlook.com
Subject: Re: Taylor & Hart: Your Ring Design
To: kate@taylorandhart.com
Hi Kate,
Thank you for sending through the update and the advice on the taxes etc – that's great. I think I will get the ring shipped to Aus then as it sounds like it is likely to incur lower taxes than the UK.
I've been reading online a little about diamonds and there are a couple of dimensions that I would like the centre stone to have. Is this something that you can accomodate?
– Table % – between 53% – 58%
– Depth % – between 59.5% – 62%
Trillion diamonds
Are the trillion diamonds assessed by in-house jewellers? Or by the people that you source them from? I know that it's not the most important part of the ring, but I want to make sure that ever part of the ring is stunning!
3D drawing
Yes, I would love it if you could create a 3D design of the ring. I've been looking online and I really like the way that that the ring in the attached pic holds the diamond. Is this something that you could do for me?
Thank you,
Pete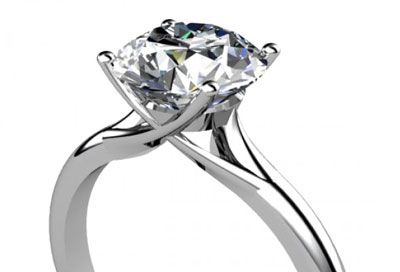 3D CAD Engagement Ring Drawing
Kate replied to say that Taylor and Hart could accomodate my specific requests for table % and depth %, which is exactly what I hoped for and expected.
She also sent me through a link to my updated quote page, where he had created a 3D model of the ring setting. I was incredibly impressed by the speed that this generated – it incorporated exactly what I requested and was a really well thought-out design, with the prongs that hold the center stone looping through to become the prongs that hold the side stones. Perfect!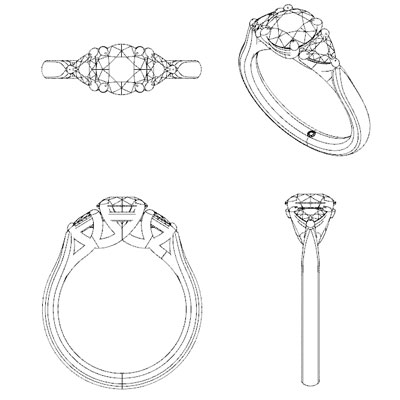 Taylor & Hart even supplied this incredibly cool rotatable 3D model of my ring design:
Kate also answered my question about the trillion diamonds, to say that they weren't accompanied by a grading report from an independent lab, but rather were graded by herself and their in-house gemologist, who is a GIA graduate.
There is a cost associated with a diamond being graded, so this isn't unusual. However, the two side stones are 0.25 carats each and their total cost is £1,432 (around US$1800). Having a diamond grading assessed does cost a retailer money ($65) which means that for smaller diamonds, it often adds too much to the cost of the diamond to be worth it. However, it would have been nice to be offered the opportunity to have 'certified' side stones used to give me confidence that they were of the quality stated.
Taylor and Hart: Meeting my diamond request and link to 3D drawing
From: kate@taylorandhart.com
Subject: Taylor and Hart Ring Enquiry
Hi Pete,
I can absolutely search through and select a diamond for you that fall within:
– Table % – between 53% – 58%
– Depth % – between 59.5% – 62%
​The trillion diamonds are accessed by our Gemmologists and myself​ ​. Our Gemmologists are GIA graduates, the GIA are the worlds foremost authority on diamonds.
I made the workshop bring 3 pairs of trillion diamonds to me today. I wanted to take photos so you could see, although, once I input the measurements into your 3D drawing, I found they need to be slightly smaller.
So, I thought it may be best for us to get the design perfect, then we can look at the diamonds. With this in mind, please find I have added your drawing to Your Quotation Page.
The design service is complimentary including 3 amendments, so if you would like to make any changes, please let me know and I am more than happy to make them for you.
Please can I ask for your thoughts on the design? Would you like to make any changes?
​Kind regards,
Kate​
---
ASET image request and hearts and arrows
I decided to become a really tricky customer and ask whether Taylor & Hart could supply ASET and Hearts and Arrows images of the diamonds.
'Hearts and arrows' are an indicator of the very highest symmetry in a diamond. When viewed from the bottom through a special tool known as a 'firescope ', the facets of a diamond line up to create white hearts, and when viewed from the bottom the facets line up to create white 'arrows'.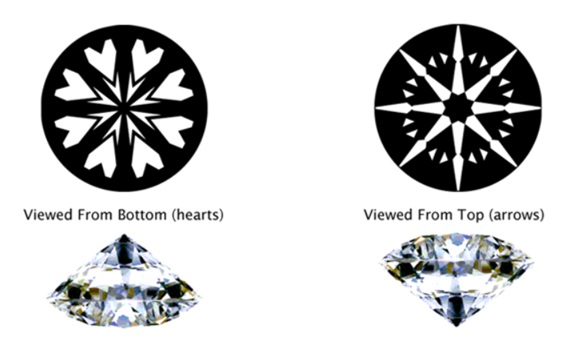 Achieving hearts and arrows is very, very difficult and very few stones have it.
When they do, they command a significant price premium, but this doesn't necessarily mean that they are a more beautiful stone or sparkle more. A diamond could have perfect hearts and arrows but poor overall proportions. So although perfect hearts and arrows is a nice to have, it isn't necessary to get a diamond that sparkles beautifully.
ASET images are another special way of taking a picture of a diamond, using a specific filter. This is not a common request unless someone has been reading in depth about diamonds, but it's the one way to ensure that a diamond will sparkle truly brilliantly, without seeing it for yourself.
Example ASET images which show light efficiently returned by a diamond as red and light lost as green:




Alastair: AGS Diamond and ASET image request (click to expand)
From: fakeaddress@outlook.com
Subject: Taylor and Hart Ring Enquiry
Hi Kate,
Thanks for everything so far – it's looking great.
I've got a couple more questions about the centre diamond – sorry!
1) Are you able to provide ASET images to show how much light the diamond returns?
2) If I wanted to ensure that the diamond had 'hearts and arrows' symmetry, is this something that you could source?
Sorry to be so difficult!
Pete
---
Hearts and arrows secured
Kate's reply delivered – she had had to source two new diamonds for me – one of which had a hearts and arrows image, and the other had both a hearts and arrows and ASET image.
Requesting these types of images reduces hugely the number of diamonds that are available to choose from. Most diamond suppliers will only go to the trouble of taking the pictures for stones with specific proportions they know are likely to perform well.
Taylor & Hart: Two hearts and arrows options to consider (click to expand)
From: kate@taylorandhart.com
Subject: Taylor and Hart Ring Enquiry
Hi Pete,
Please find I have added selected a exceptional diamonds for you. You can see them on quotation 2 of Your Quotation Page.
Quotation 2 has very good hearts and arrows, whereas quotation 3 has excellent hearts and arrows.
Due to the restrictions on the parameters we are looking for, the options available are very rare and limited.
I understand quotation 3 is quite a bit more in price, this is predominantly due to it being Internally Flawless.
Please view the videos. ASET's were originally invented to help with understanding the light performance of a diamond, although now the industry have the 3D videos which are the best representation of a diamond.
We have Hearts & Arrows images for diamond 2: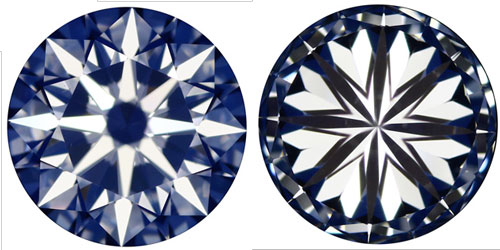 And please find the ASET images for diamond 3 below:

Personally, I think you and I agree with diamonds; everyone has their favourite of the 4C's and my personal favourite is the cut.
Can I ask for your thoughts on these 2 diamonds please
​Kind regards,
Kate​
---
Ready to purchase
At this stage, I came clean to Kate and let her know that I wasn't going to purchase the ring on this occasion, but thanked her for her hard work in producing exactly what I was looking for and for her excellent service.
She had answered all of my questions, given me great advice on import tax, designed a beautiful three stone ring and sourced a high quality diamond for the center stone. I would have had no problem at all in selecting this ring and it offered excellent value for the level of service, the quality and carat weight of the diamonds.
Taylor & Hart Value For Money
The easiest way to understand whether a retailer offers good value for money is to compare it to others in the market who sell comparable products.
In this review, we'll compare it to Boodles – a jeweller that started in Liverpool, but now has several stores around the UK.
It's not a 'designer' jeweller in the same way Tiffany & Co. is, but positions itself as offering a premium service, so is a good place to compare.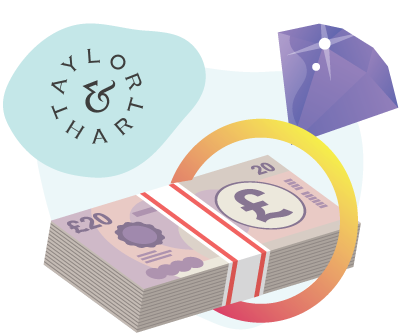 When comparing, we'll keep the ring style, diamond clarity, colour, carat as simple similar as possible.
Choosing a pear cut diamond with G colour, VS2 clarity and 0.9 carats in a halo setting, Taylor & Hart's price is £5,599: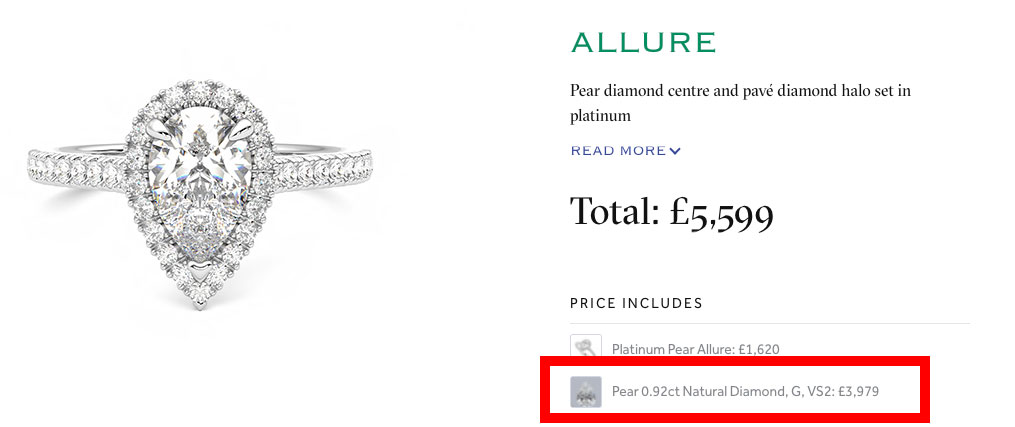 0.9 carat diamonds are usually priced very well as they're just below the magic 1 carat mark, and choosing an elongated shape like the pear will mean it faces up large for its carat weight, increasing the impressiveness without the associated high price tag of a a 1 carat diamond.
Choosing this ring, I was able to review a selection of diamonds using the online search tool, view the GIA reports and then make an decision on which diamond I liked.
Boodles asks you to enquire to obtain details of individual diamonds, which they send through over email.
The ring they sent through was a the "Vintage Pear Cut Platinum Diamond Ring", with a .90 carat, G colour, VS2 Clarity diamond, priced at £11,000 including all taxes;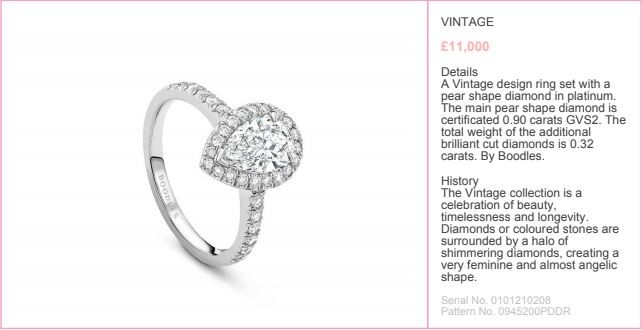 The Taylor and Hart ring also has a GIA-graded diamond with excellent symmetry and polish, but costs just over half of the Boodles ring – there is a saving of £5,401.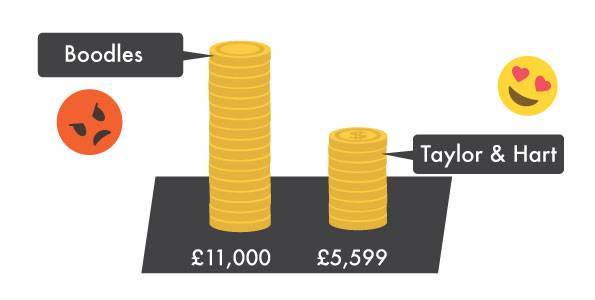 While you may not be looking for a diamond of this size or price, it is indicative of the excellent value that Taylor & Hart offer compared to other jewellers – a saving of more than £5,000 for a ring with the same quality of centre stone.
This is obviously a significant difference – you could either save £5,400 by buying from Taylor and Hart, or if you did want to spend the same amount as the Boodles ring, you could:
Increase the diamond cut quality so it sparkles more
Increase the clarity so that inclusions aren't visible
Increase the carat weight so that it looks bigger
The prices at Taylor & Hart may be different on the day you look – maybe higher, maybe lower – it's worth clicking through to see today's prices for exactly what you're looking for.
Diamond Quality

Ring Settings

Customer service

Value for money
Do we recommend Taylor & Hart?
Taylor & Hart sets themselves apart from other online retailers by their dedicated to personalised service. This is rare within any industry, but especially with engagement rings where it can feel like organisations are chasing a sale, or trying to shift diamond inventory that they are currently holding.
We feel that Taylor & Hart are a great fit for anyone except those who are on the tightest of budgets. If you are looking for a beautifully designed ring with a high quality centre diamond at a reasonable price, we definitely recommend that you at least check out Taylor & Hart and see whether you feel they are a good fit for you.
Pros
Excellent service
Can create bespoke, personalised rings
Ability to visit showroom, if needed
Cons
Diamond search function on website could be a little more intuitive
Would be nice to have more granular search for lab grown diamonds