77 Diamonds Review
Should you buy your engagement ring from 77 Diamonds?
---
77 Diamonds has been one of the UK's pre-eminent online diamond sellers for the last 18 years.
For any business to survive that long, it has to be doing something right. But should you buy from tem in 2022?
In this 77 Diamonds review, we're going to examine them from the point of view of buying a diamond engagment ring. However, the indings are equally relevant for any other type of jewellery.
If you'd like to jump straight to the 'value for money' section and see how choosing one of my recommended retailers could save £671 compared to 77 Diamonds, click here.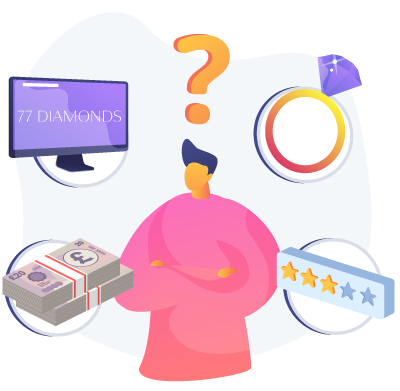 On this page you'll learn everything you need to know about:
15 years ago, buying a diamond or engagement ring in the UK was a very different prospect.
On the High St, you could find low quality diamonds at low prices.
At the top end of town, designer jewelers like Tiffany sold high quality rings at pumped-up prices. Someone has to pay for the beautiful stores, glasses of bubbly and expensive ad campaigns, after all.
And then there were the specialised diamond shops, often found in clusters like Hatton Garden or Birmingham's Diamond District. These had a reputation for baffling buyers with terminology and sending them off with a very average diamond that they had been told was top quality.
Not great.
It was into this environment that 77 Diamonds launched in 2004: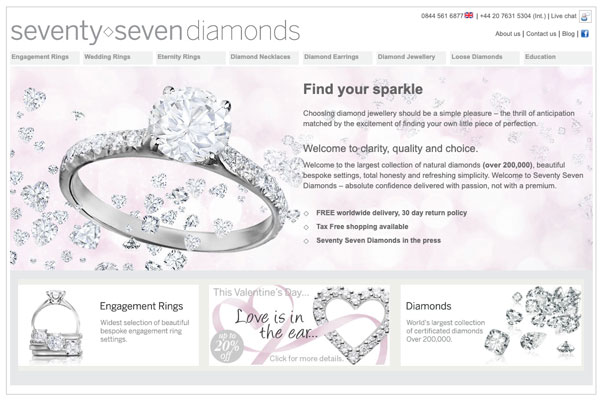 Their aim was to leverage the power of the internet to bring greater choice, better prices and more transparency to diamond buyers in the UK.
And while there were already businesses with similar models operating in the US, this was a new concept over here.
Key takeaway:
77 Diamonds has a wide selection of diamonds and fair prices.
However, there are some pitfalls in buying through them that seem designed to catch people out and mean that they are more likely to choose a diamond that doesn't sparkle particularly well.
Our recommended alternative is Taylor and Hart, who put customer service first and ensure that every customer receives a diamond that sparkles beautifully.
77 Diamonds Ring Selection
When buying a diamond ring, I always recommend three steps, in this order:
Decide your budget. Write it down. Look at it. This is important
Find the setting style you are looking for. Note down the price.
The difference between the two is the budget for your diamond.
This may sound extremely obvious, but many people get so caught up in the diamond purchase that they forget about the setting cost until it is too late.
77 Diamonds has a wide section of settings to cater to any budget.
Importantly, they have many variations of individual styles. For example, if you're looking for a classic solitaire setting, there's 16 different settings to choose from: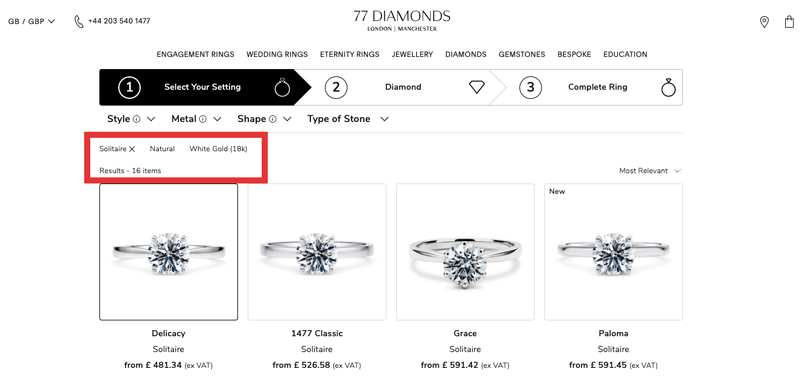 Solitaire settings start from £481+VAT, which is reasonably competitive, although the prices quoted on the website exclude VAT, so the least expensive solitaire will actually bemore like £577 rather than the £481 it initially appears.
Choosing a retailer that offers reasonably priced settings means that there's more of your budget available to spend on the diamond.
And if you are looking for something more ornate, they also offer a good selection of other ring styles too: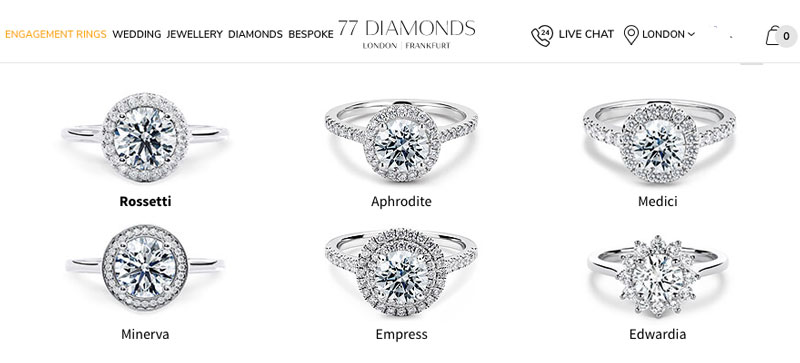 Lastly, if you're looking for a shape other than a round diamond, then 77 Diamonds offer a great selection for you too. For example, they offer five variations for pear diamond halo rings: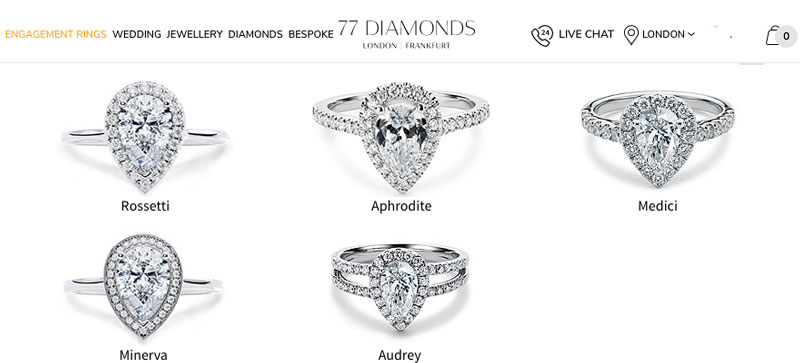 This is not common, and again means that you should be able to find what you're looking for.
A wide selection of setting styles plus fair prices is a good place to start your ring hunt.
77 Diamonds: Diamond Quality
The centrepiece of most engagement rings is a diamond, and getting the right stone is therefore imperative to ensure that your ring sparkles beautifully.
77Diamonds claim to have the largest selection of diamonds available in the world. With reportedly 500,00 available to choose from at any one time, this seems likely.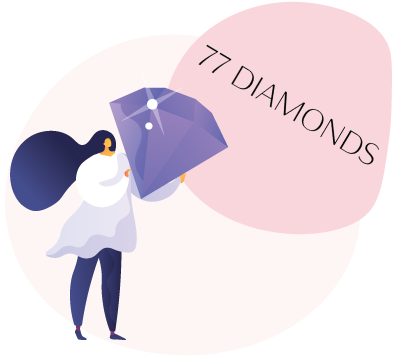 If we look at just round brilliant diamonds, they have over 400,000 to choose from: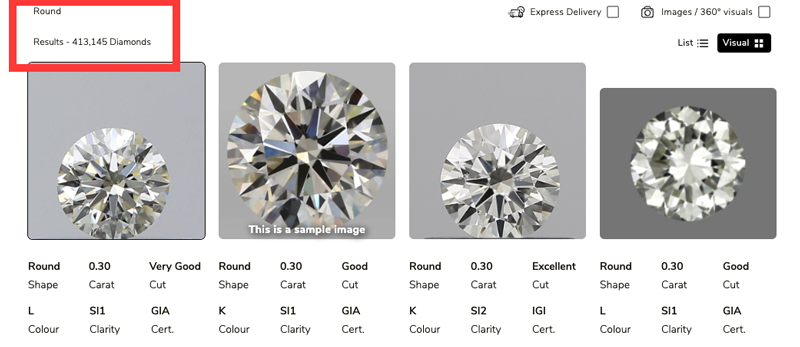 With so many diamonds available, it's likely that you'll be able to find the right one for you, although such a huge selection can be slightly overwhelming.
One thing to be careful of is that 77 Diamonds includes lower quality diamonds in their search results than many other retailers – diamonds with clarity of SI2, colour L and K or 'good' cut grades.
If we limit the search to diamonds of a quality I would deem acceptable (VS2+ clarity, H+ colour, Excellent cut), the number of round brilliant diamonds is 14,000, which is much more manageable: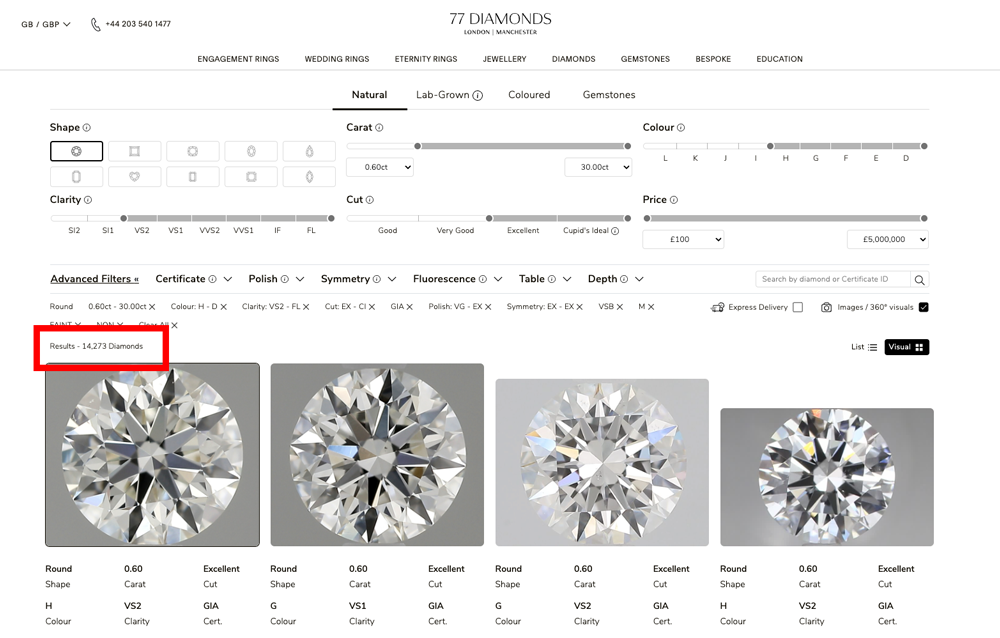 When searching, I'd recommend choosing the attributes that result in a great looking diamond without overpaying for 'quality' that can't be seen.
77 Diamonds certificates and grading reports
One thing to know though is that in this huge selection of diamonds includes a small proportion of stones that have been graded by labs that I would recommend avoiding.
Some labs are less strict when grading diamonds, which means that you may not be getting the quality of diamond that you think you are. I go into more detail on this in the 'buying guide' further down, this page, but the bottom line is that when searching for your diamond, I recommend that you only consider diamonds with a GIA grading report:
Diamond certification is incredibly important to guarantee that you are getting what you are paying for. They are issued by laboratories who assess the diamond on the 4Cs and a host of other aspects too.
Ideally, all labs would grade diamonds equally, so that if you were looking at a 1 carat, G colour, VS2 clarity, Excellent cut diamond anywhere in the world, you would be able to compare it to another and be able to rely on the grading to compare them.
The issue with some certificates is that the labs that issue them are less rigorous than others when assessing a diamond. So a diamond that receives a mediocre grade from a strict lab, may be judged to be excellent by another. This inconsistency can make it difficult to compare diamonds that have been graded by different labs.
To test the labs, diamond industry body 'Rapaport' conducted a test where it sent the exact same stone to six diamond grading labs to see how they graded it.
The table below shows the results from one of the tests:

If you compare the results you can see that GIA graded the diamond more strictly than all of the other grading labs.
And the difference between some of them is pretty shocking – particularly GIA and EGL Israel. While GIA graded the diamond G for colour (fourth on the scale), EGL Israel awarded the same diamond the very top grade – D.

Something to know is that the diamond industry knows that EGL grading reports are overly-generous. As a result of this, diamonds with these grading reports are priced significantly lower. Even allowing for this, I would recommend avoiding any diamond that has been graded by any variety of EGL.
My strong recommendation is that you click 'GIA' when searching on 77 Diamonds:

Choosing another certificate means that while it may seem like you are getting a bargain, you are actually receiving a lower quality diamond than you thought.
77 Diamond Service
Buying a diamond ring is a big purchase, both financially and emotionally, so it's important to find a retailer that has:
Exceptional reviews to give you peace of mind over your purchase
Excellent after-sales service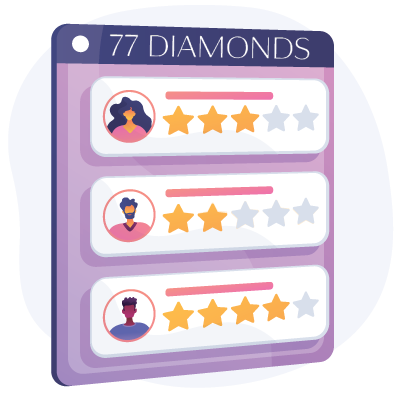 77 Diamonds has both of those covered with an average 4.8 / 5 rating over the last 12 months:
Important after-sales service offered by 77 Diamonds includes:
Lifetime Guarantee
All items are covered against manufacturing problems or issues forever. This is important for settings like a halo or a pave band, where there are lots of tiny 'melee' diamonds which can easily fall out if the workmanship isn't top drawer.
While this isn't necessarily likely to happen, it's good to know that if it does as a result of a manufacturing issue, 77 Diamonds will stand behind it.
30 Day Returns Policy
If you're not satisfied for any reason, 77 Diamonds will refund your money no questions asked. This is definitely not something that all jewellers will offer, many of whom make it very difficult to get your money back.
Free resizing
This is a big one. If you're buying an engagement ring as a surprise, it's unlikely that you'll get the ring size spot on, so it's very likely that you will have to take them up on this offer.
Tip: go slightly bigger than you think to make sure that you can actually fit it onto the finger at the time of the proposal to take the all-important selfie!
77 Diamond Value For Money
Buying a diamond is a dignificant expense and it can be surpsing just how much different retailers can charge for a diamond of the exact same size and quality.
In this section of our 77 Diamonds review, we'll examine whether the prices they charge are fair when compared to other UK retailers.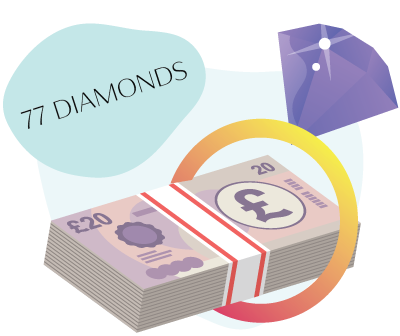 The best way to judge value for money is to compare to a comparable retailer. I like to compare the price of 1 carat diamonds with a platinum solitaire setting as the focus is then on the price of the stone, rather than being complicated by a fancy setting with intricate workmanship costs built in.
At first glance, the prices on 77 Diamonds seem excellent. When you load up their diamond search tool, a 1 carat, G colour, VS2 clarity diamond with excellent cut is priced at around £6,100. Amongst the lowest I've seen.
However, one very important thing to note about the prices you see on the 77 Diamonds side is that they don't include VAT: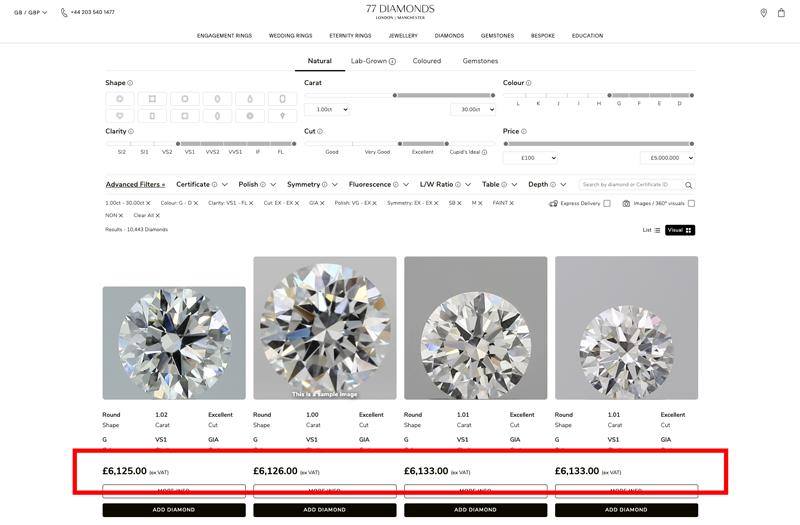 So while it may seem like these diamonds are priced markedly lower than other online retailers, an extra 20% (in this case around an extra 1,200 needs to be added on to each of these prices.
This actually takes them higher than my recommended retailer Taylor & Hart, who do include VAT in their prices: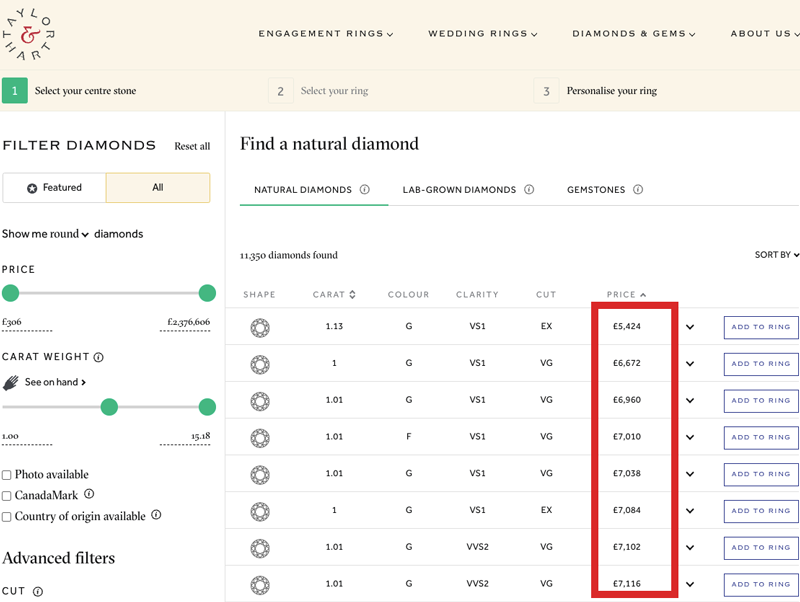 This is a significant failing on the 77 Diamonds website and something that would make the experience of using the site much easier if it was changed.
To find the total for our ring, we'll add the lowest price 77 Diamond to our cart and add a platinum solitaire setting.
The total comes to £8,212.69, including VAT: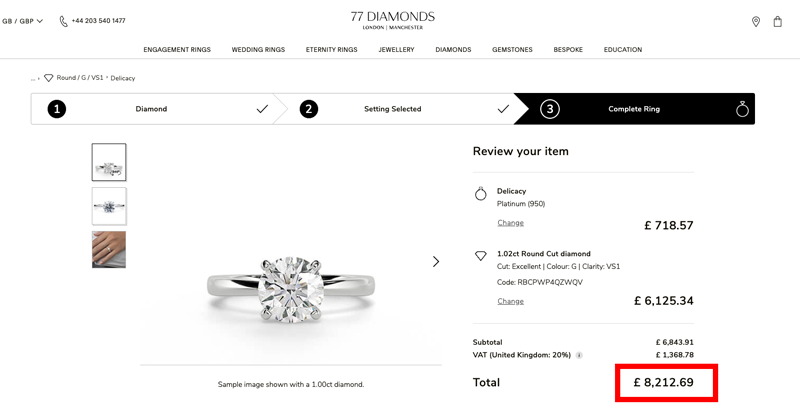 By comparison, at Taylor & Hart, the total price is £7,542: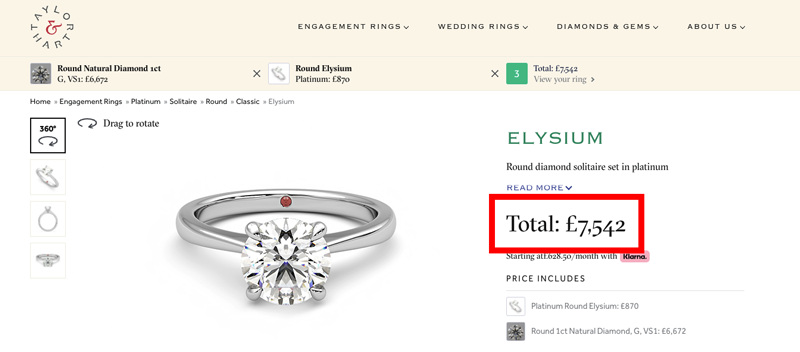 This is a difference of around 10% – not huge, but not insignificant either: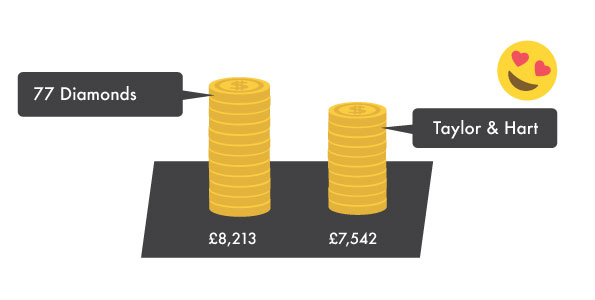 While you may not be looking for a diamond of this size or price, it's a good indicator that while 77 Diamonds is priced lower than premium jewellers like Tiffany & Co, there are other jewellers that can offer greater value.
With the money you would save by shopping at Taylor & Hart you could:
Increase the carat weight of the diamond
Increase the quality of the diamond
Spend it on a really special proposal
Put it towards your wedding cost
Or possibly all of this!
The prices at both 77 Diamonds and Taylor & Hart may be different on the day you look – maybe higher, maybe lower – it's worth clicking through to see today's prices for exactly what you're looking for.
Settings selection

Diamond quality

Service

Value for money
Do we recommend 77 Diamonds
77 Diamonds is a good retailer with a huge number of setting styles and diamonds to choose from. Its online buying experience has been significantly improved, although could still be better. 
The lack of VAT in the pricing makes finding a ring within your budget more complicated than it needs to be and while their prices are good, other retailers can offer more value.
While you may find that 77 Diamonds is the right retailer for you, I'd also recommend that you consider Taylor & Hart as I've found that their prices and dedication to customer service are the best in the UK.
Pros
Huge selection of setting styles
Large number of diamonds to choose from 
Good diamond search function
Cons
No VAT makes the purchase process more confusing than it needs to be
Includes low quality grading reports which could result in some buyers getting a lower quality diamond than they though they were getting
Prices are good, but could be better