Importing a diamond or engagement ring into the UK
Everything to know about importing jewellery into Britain
---
Bottom line: if you want to understand how much tax you'll pay when importing jewellery into the UK, this tax calculator will help.
If you've found your way to this page you've probably been looking at jewellers on the high street and wondered whether there was a better alternative out there.
The good news is that there can be. US-based retailers like James Allen, Brilliant Earth or Blue Nile can often offer more choice and more value than UK jewellers.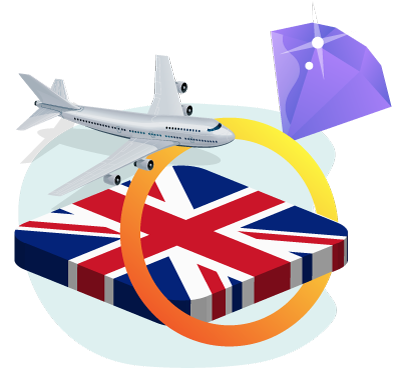 Things to consider when importing an engagement ring into the UK
1.Foreign exchange rates
The strength of the pound to the US dollar can vastly affect the price of your ring and make it an even greater option if the pound is doing well against the dollar.
In the last 12 months the pound has hit the following extremes against the US$:
High: £1 = $1.4189
Low: £1 = $1.3232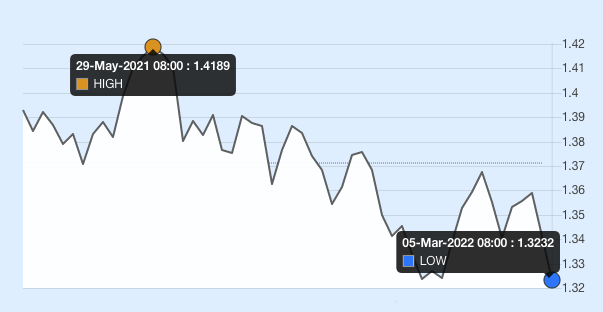 This fluctuation can make a vast difference to the price of your ring when importing. For example, at the high of $1.42 a US$10,000 ring would cost you £7,042.
At the low of $1.32 a US$10,000 ring would cost you £7,575 – over £500 more. That's a big difference.
There's not much we can do about the exchange rate, but we've included it in this guide as it does impact the price you'd pay. While we recommend American retailers quite a bit, they may not always be the best option if the pound is lower compared to the US dollar.
2. Import duty
Duty is 2.5% of the total price of the engagement ring. This will be charged on top of the price. Despite this additional cost, US-based retailers are still usually less expensive than UK jewellers.
If you order from Blue Nile, as they have a facility in The Republic of Ireland (ie. inside Europe), purchases from them won't be charged any duties.
3.VAT
The Value Added Tax rate is 20% of the cost of the engagement ring – the same as you would pay when buying from any UK jeweller.
Most US-based retailers don't include this in the price online, so it needs to be added on and factored into your calculations.
James Allen has a useful 'duties and taxes' calculator that will show you how much Duty and VAT you'll need to pay.
Click here to check it out.
Different retailers treat taxes differently
What can be confusing when comparing different retailers is that each may have a different policy to tax, duty etc.
Some retailers like James Allen, will not charge you for the duties and taxes. Taxes etc will be collected by the shipping service (DHL, FedEx, etc.) before delivery.
Other retailers, like Blue Nile, act as the 'importer of record' for customers in the UK. This means that they build the duties and taxes into the price, giving a breakdown of this can be seen at checkout. This does make it a little easier to understand exactly how much you will need to pay.
Other things to think about when importing a ring into the UK
Shipping
Most jewellers offer free shipping via an international carrier like Fed Ex or UPS. This takes about 2-4 business days after the ring has been made which can take anywhere from 1-3 weeks, depending on the complexity of the setting.
They'll send the ring in a discreetly labelled and packaged box, so it will be sure to avoid detection by your special someone.
Insurance
A short answer here: most retailers insure the package for the full value and this is included in the price of the ring, so there's nothing to worry about.
Returns and Service
Most retailers offer a 30 day 'no questions asked' return policy. If you do decide you want to return the ring for any reason, you'll just need to let the customer service team know, request a return authorisation number and arrange return shipping and insurance (this is usually a cost that you'll need to cover).
Refunds via your original payment method should take about 2 weeks once the ring is accepted back.
Tax and ring returns
The good news is that you can get the VAT back on refunded rings – how you get it back will depend on who you buy it with.
If you buy it from Blue Nile for instance, which includes VAT included in the purchase price, then they will refund you the VAT.
If you purchase it from someone like James Allen, who doesn't include VAT (FedEx collects it before delivery), then you'll have to claim it back directly from HM Revenue and Customs. James Allen will send you the appropriate forms when you request your refund to make it as easy as possible.
Is it worth importing an engagement ring into the UK?
After reading the information above, you might be wondering if it's really worth the effort of buying a ring from the US. We'll do a little price comparison to show you that it often can be – you could get an engagement ring for a considerably lower cost.
We used an example from a typical high street jeweller – Mappin and Webb. We chose a simple solitaire setting for ease of comparison and looked for a 1 carat diamond: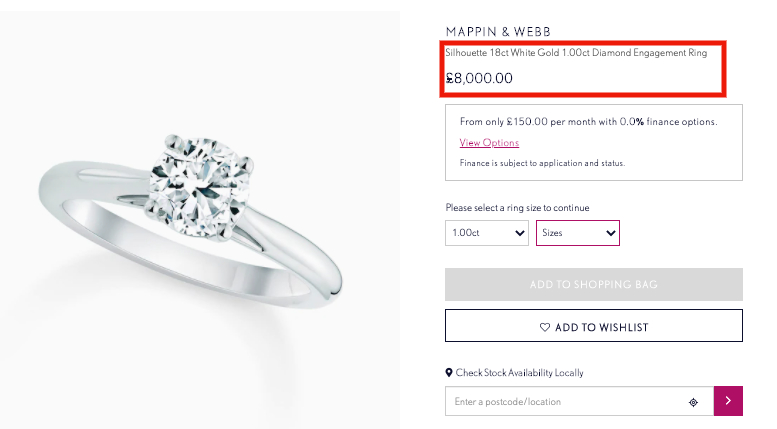 Mappin and Webb are charging £8,000 for this 1 carat solitaire ring, with an 18k white gold setting.
The first thing to note is the only variable you can choose with the diamond is the carat weight. You have no control over the quality of diamond they give you and they give no information on the cut quality the diamond, which is the most important factor that determines how much it will sparkle.
The second thing to note is that the colour is H and clarity is I1: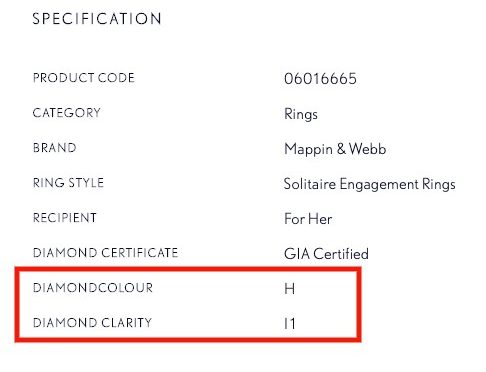 H colour is fine, as long as the diamond has a good cut. However, I1 clarity is significantly lower than I would recommend – this is what a typical I1 colour diamond looks like: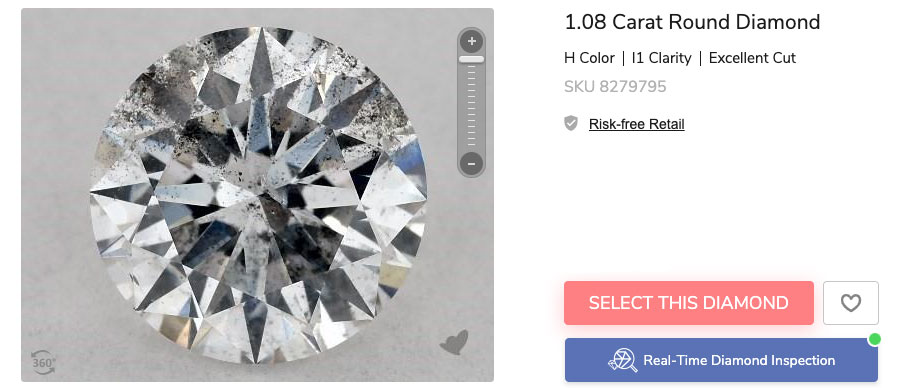 As you can see, it has noticeable inclusions which diminish its beauty.
Not what you want if you are paying £8,000 for your ring.
My recommended clarity range is VS1 and VS2, which delivers a great balance of being 'eye clean' (looking perfect) while still delivering value:

Looking at other UK jewellers, they frequently offer similarly low clarity stones which will have visible inclusions.
While we wouldn't recommend getting a diamond of this quality, for the sake of our comparison, we found a diamond with the same specs in a similar 18ct white gold setting in the US.
A 1 carat, H colour, I1 clarity, 'good' cut diamond is priced at £1,784. With the setting, the total is £2,111 and it's estimated that VAT will be a further £495 on top of this. The total would therefore be £2,606: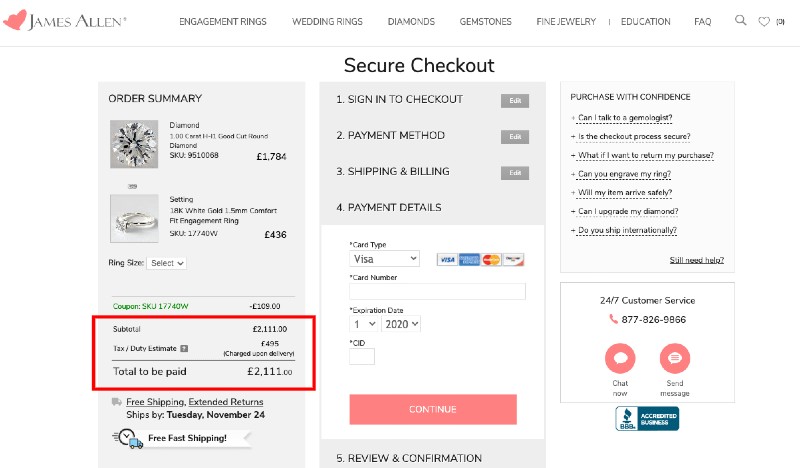 £2,606 is a huge £5,394 less than the UK retailer was charging for the exact same quality of ring.
Pretty astounding!
It's also worth noting that you have absolute control over what sort of quality diamond you get if you buy from one of the US sites. You can filter by stone shape, colour, clarity, cut, carat and price. You can even choose the exact stone you want to buy, and view it in 3D: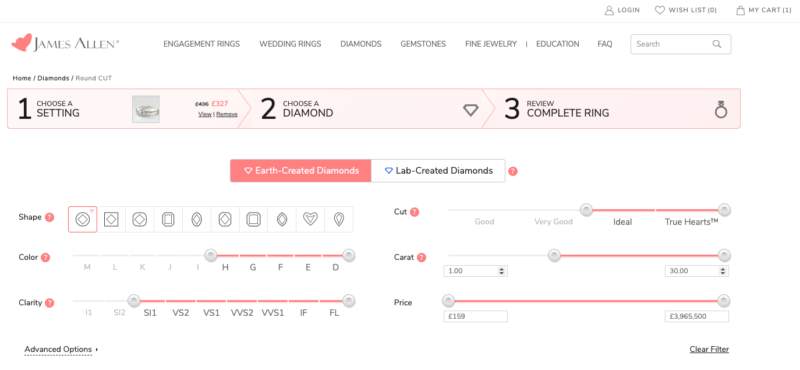 What about if we change things up to a diamond that I would recommend you buy?
A 1 carat, VS2 clarity, Ideal cut diamond which will sparkle brilliantly and have no visible inclusions comes in at £3,458: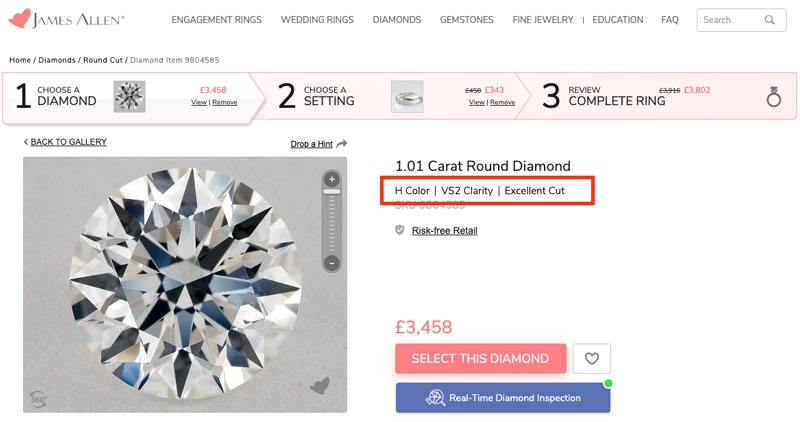 Adding the setting and the total comes to £3,801: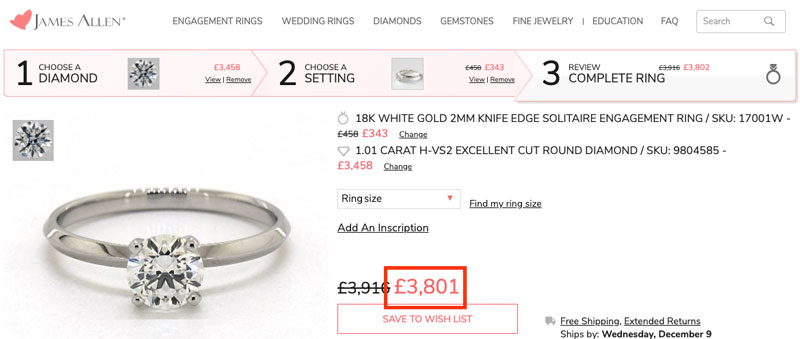 Of course, we then need to add VAT and duty, bringing the total to £4,657 – just 58% of the cost of the lower quality, less sparkly and dirtier looking diamond from the UK retailer.
Should you import an engagement ring into the UK?
We hope that the example we provided is enough to prove that it is certainly worth your while to at least consider buying from the US.
The choice and quality of diamond is significantly greater than many retailers, although we do have articles about the best place to buy an engagement ring in the UK with some excellent choices here too.
Two useful links are James Allen's tax and duty calculator and their gallery of recently purchased engagement rings to get some inspiration.