James Allen UK Guide
Everything to know about buying an engagement ring from James Allen when you're in the UK
---
We've put a handy guide together to tell you everything you need to know if you're considering buying from James Allen in the UK.
They've got a great array of quality diamonds on offer at unbelievably low prices compared to what's available in the UK, but you're probably wondering about the ins and outs of the process and if it's really worth your while.
Read on to find out.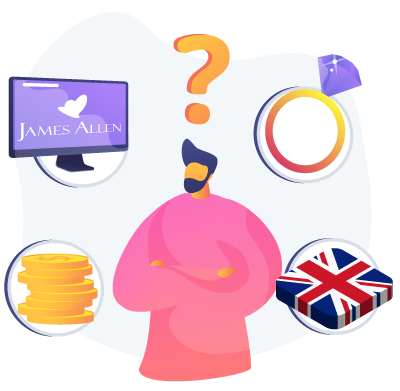 Import fees and taxes when shipping an engagement ring from James Allen to the UK
This is a big one when importing anything from outside the UK, and many people are worried that it will make it more expensive than buying locally.
In fact, the additional costs are pretty small, with the majority of the tax being the same VAT that you would have to pay when buying from a local retailer.
Import duty:
Import duty when purchasing from the US is 2.5% of the total cost of the ring.
Despite this, purchasing a ring from James Allen is almost always significantly cheaper than purchasing a ring from the UK.
VAT:
As with a purchase made within the UK, your ring will be subject to the standard 20% Value Added Tax.
Understanding the taxes due
One thing to know when looking at diamonds or rings on the James Allen site is that taxes and duties are not included in the prices you see.
The reason for this is that James Allen do not charge you duty or taxes, instead they give you an estimate of this cost on check out and you pay these fees when it enters the UK.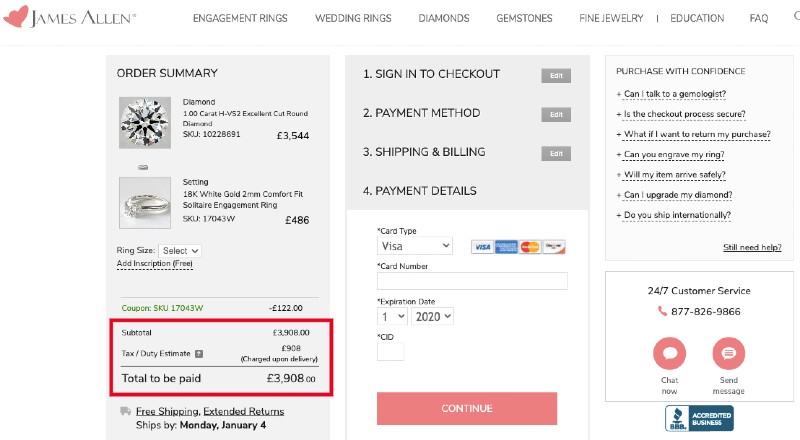 When you're looking at diamonds and rings, it's important to remember to factor this cost into the total cost of the ring and to make it easier to do so, James Allen's tax and duty calculator that will help you understand the amount you'll have to pay on top of the cost of the ring. You can check it out here.
The fees will be collected by FedEx before delivery – payment can be made online or over the phone with a credit or debit card or you can opt to pay by bank transfer.
Read more about this in the 'how to pay' guide here.
James Allen Shipping to the UK
When you're looking into shipping from the US to the UK, there are a few things to think about:
How much does shipping from James Allen to the UK cost?
James Allen use FedEx International Priority service if your order is over $500 (approx £370) to ship to the UK. The most important things to know are that shipping is completely free, fully insured and discreetly packaged to avoid detection from potential thieves or your significant other.
How long does shipping from James Allen to the UK take?
Shipping takes 2 business days once your ring is ready.
Depending on the design chosen, it usually takes about 2 or so weeks to make your ring.
Once you place your order on the site, your chosen diamond will be sourced from their inventory and matched with your setting. Complex rings may take a little longer but due to the size and efficiency of the company, this is significantly faster than most local jewellers.
To make sure that it works with your dates, James Allen will give you a shipping estimate on check out: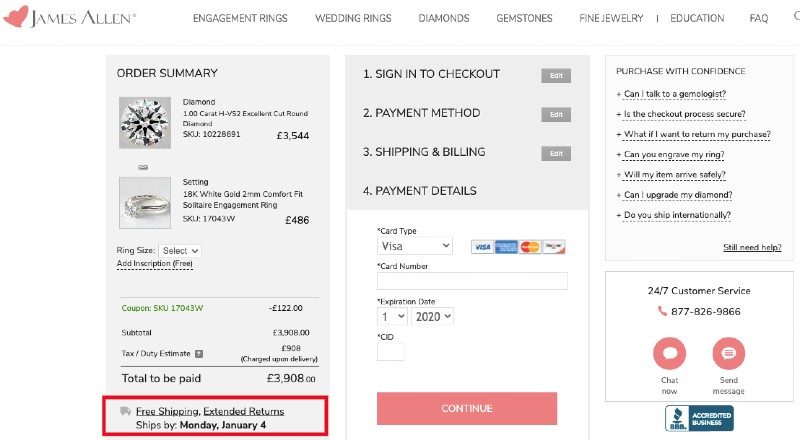 How do James Allen returns work in the UK?
James Allen offers a 30-day refund or exchange for rings in their original 'unused' condition.
Just contact their customer service team 24/7 here. They'll issue you with a returns authorisation and you can send it back for a refund.
What if you need to get the ring resized?
There is 1 free resize available within the first year from purchase. However, there's a $50 fee for the return shipping to get the ring back to their workshop, or getting a ring resized locally usually costs around £30.
To avoid having to get it resized, James Allen offer lots of ring sizing resources so you can get it right the first time, including using an existing ring, measuring the finger and a ring size conversion chart.
Check it out here. It's also good to remember that if you're not sure about the ring size, it's always better to overestimate the size, as it's easier to downsize than add more to the ring.
Do we recommend buying from James Allen if you're in the UK?
James Allen are our top recommended retailer and we have helped thousands of happy people buy from them. They offer unparalleled choice and value for money, where you can often get the same size and quality diamond ring you'd find from a UK retailer for more than 50% less. They also have a dedicated 24/7 customer service team and offer free engraving and resizing.
Their 'Inspiration Gallery' is a great place to start if you're looking for guidance on styles and settings and their James Allen sales tax calculator is a very handy tool.
International James Allen Guides
If you're outside the UK and have somehow found your self here, we also have guides to buying from James Allen for several other countries. Click below to access your local guide: