[current_post_breadcrumbs]
James Allen Review & Australian Buying Guide
Everything you need to know about buying James Allen Jewelry when you're in Australia
---
In Australia and thinking of buying a diamond or engagement ring from James Allen, but not sure whether it's the best choice?
It's understandable to be cautious – buying a diamond is a huge decision, and one that you want to get right.
This page will show you everything you need to know about importing a ring from James Allen into Australia, so you can decide whether it's worth it and whether it's the best option for you.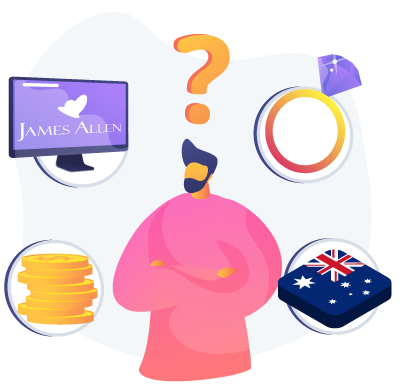 On this page you'll learn everything you need to know about:
Import fees and taxes when importing from James Allen to Australia
First things first – taxes. Everyone's favourite topic! James Allen have a handy tax calculator here.
What you'll be taxed on depends on what you buy:
If you buy a loose diamond from James Allen, you'll just be charged the standard Australian rate of 10% GST, just as you would have to pay if you bought locally. Because of the free trade agreement between the US and Australia, you won't have to pay any import duty on it.
If you buy an engagement ring with a diamond set into a ring, you'll be charged 10 % GST plus 5% import duty if the ring is over $1000. If it's under $1000 you won't have to pay any duty.
One thing to be aware of is that James Allen don't charge any tax or import duties for rings purchased on their site, so it's important to be aware of what you'll need to pay so you can include it in the total cost of your ring.
Another thing to bear in mind that all local purchases also have a 10% GST charge, but this is usually built into the price of the ring.
As well as duties and taxes, Custom Entry Fees may apply to certain orders based on the total value of the shipment.
Orders AU$1,001 – AU$10,000 are subject to a Formal Entry Fee of AU$83.00. All purchases above AU$10,000 are subject to a formal Entry Fee of AU$185.00. These fees are mandated by the Australian Border Force and the Department of Agriculture and Water Resources.
To calculate the tax and duty owed on your purchase, the James Allen sales tax calculator will show you exactly what tax you will be liable for when importing your diamond ring to Aus.
James Allen Australia Shipping
James Allen ships express to Australia. Shipping is done via FedEx International Priority for orders over USD $500 in value. Packages valued below USD $500 are sent via USPS Priority Mail.
How much does shipping from James Allen to Australia cost?
James Allen offers free shipping to customers in Australia. Once the package arrives in Australia, the courier will contact you to collect any taxes or duties.
How long does shipping from James Allen to Australia take?
After proper inspection by gemologists, loose diamonds are shipped 1-4 days after payment. All other jewelry and engagement rings will be shipped in one to three weeks, depending on the production schedule.
Estimated shipping dates are also indicated in the product description and on check out: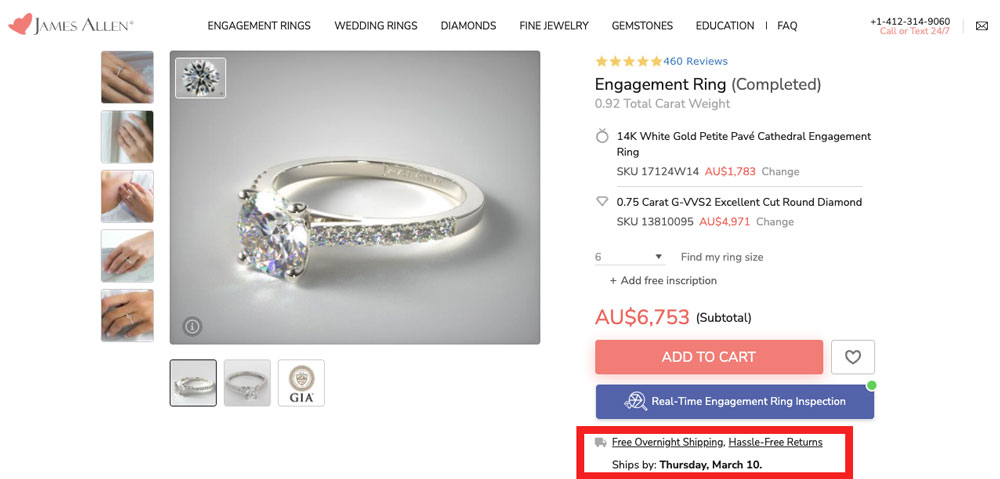 Once the order ships, it should arrive in Australia within 3-5 days.
How do James Allen returns work in Australia?
If for any reason, you are not completely satisfied with your order, you may return it within the first 30 days of shipment for full refund or exchange.
To return an item, simply contact the James Allen Customer Service department.
What if you need to get the ring resized?
Just in case you've ordered the incorrect ring size, James Allen will resize your ring once for free within first year of your purchase.
Australia customers pay a small return shipping fee of USD $50. If more than 1 resize is needed or outside of the first year, a USD $25 fee applies to resize white, yellow and rose gold rings, and USD $50 for platinum. James Allen does not charge to ship the ring back to you. To resize the ring locally, will cost you anywhere from $50 – $200 depending on the complexity, metal and amount of resizing required.
To make sure that you get the ring size right before you buy, James Allen have ring size guides here
International James Allen Guides
If you're outside Australia and have somehow found your self here, we also have guides to buying from James Allen for several other countries. Click below to access your local guide:
James Allen Australia Review: Do We Recommend Them?
---
The main benefit of buying in James Allen huge selection of diamonds to choose from, plus significantly better value than most local jewellers.
To show you just how much you can save, we've compared a typical diamond used in an engagement ring to a local Australian retailer.
Diamond prices are constantly changing (sometimes by up to as much as 30% in one year!), so the exact figures may be different when you're reading this, but the difference should still be similar.
We used the following specs in comparing loose diamonds:
1.00 carat
VS2 clarity
H color
Excellent/Ideal cut
GIA
On the James Allen site, a diamond matching these specs is listed at AU$6,016: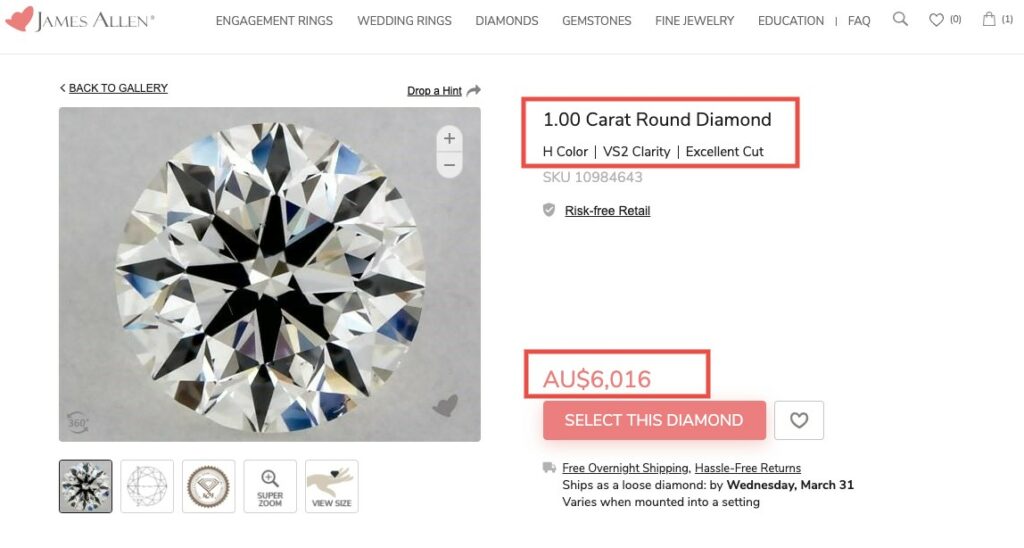 Of course, you would also need to add 10% GST worth AU$601.6 plus the customs entry fee of $83, which brings the total up to AU$6,700.60 for this diamond.
If we compare this to a local Australian retailer, we can see that there is a significant difference in price and value.
Australian retailer 'Diamond Exchange' has an identically-specced diamond listed for $9,201: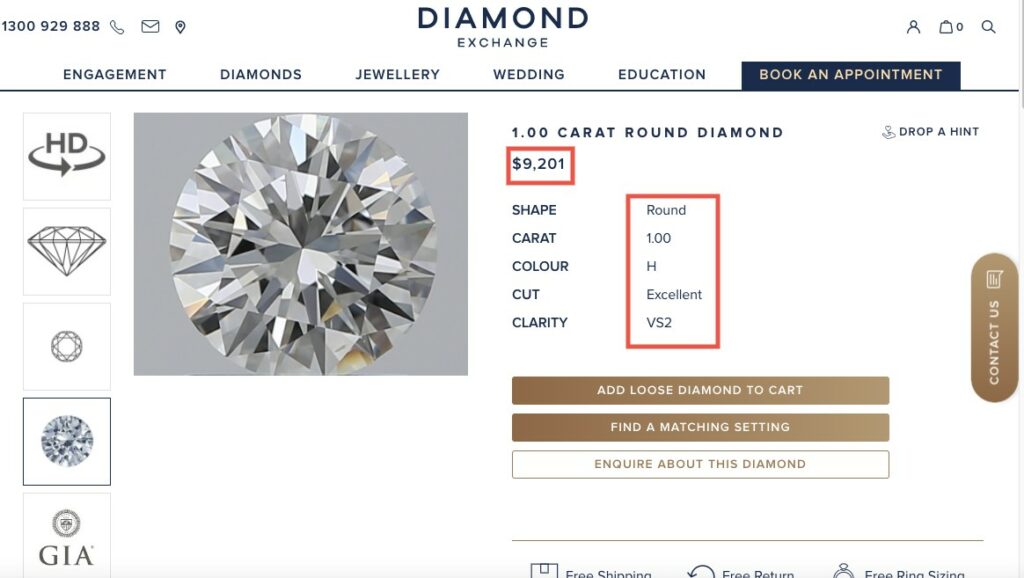 This price does include GST, so there's nothing more to add there… but comparing the two prices, it's clear to see that James Allen offers more value:
Comparing the price of these 2 diamonds you can see that a loose diamond from JamesAllen.com is cheaper by $2,500.40 That's a fair whack!
James Allen Review: Australia
Setting selection

Diamond Quality

Customer Service

Value for Money
Do we recommend James Allen?
James Allen is one of the top online jewelry stores for a reason – they provide high quality products at fair prices through an easy to use website, with excellent service policies.
The imagery of the diamonds on their website has been in the best in the industry for over 5 years, despite competitors trying to catch up. The benefit of this to you is that can see exactly what you're buying, which makes it possible to buy VS2 or even SI1 diamonds and be confident that the inclusions won't be visible.
Having images of all of the fancy shaped diamonds also makes it much easier to choose a good stone, as buying a fancy shape sight unseen can mean that you end up with a diamond that has been shaped poorly.
You'll have to weigh up the pros and cons of buying a ring locally or from James Allen, but it's definitely worth considering buying a ring from them especially when there's such potential for huge savings. We've helped many Australians buy from James Allen and they've been extremely pleased with the beauty and the value of their diamonds.
Their inspiration gallery is a good place to start to get ideas of rings styles you might like and their tax and duty calculator is a fantastic tool. 
Overall, James Allen remains the jeweller I use the most when sourcing recommendations and continues to provide a great service at excellent prices.
Pros
Excellent imagery of diamonds, allows you to understand exactly what you're buying
Huge selection of diamonds, means you should always be able to find what you are looking for
Very competitive prices
Cons
'True Hearts' diamonds aren't always perfect hearts and arrows
While they make it as easy as possible, returning to James Allen from Aus is more trouble than returning locally