James Allen Canada: Buying Guide & Review
All the information you'll need to know if you're in Canada and want to buy an engagement ring from James Allen.
---
James Allen is one of the biggest online jewelers in the world, offering huge choice and great value – over 200,000 conflict-free diamonds to choose from, paired with a lifetime warranty and 24/7 customer service.
However, they are based in the US, so you may have a few questions around shipping, returns and taxes and how all it all works if you're buying from the Great White North.
Keep reading to find out everything you need to know about buying from James Allen if you're in Canada.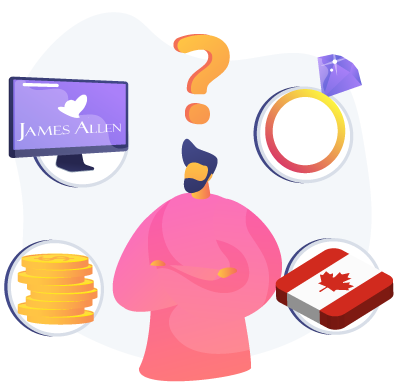 Import fees and taxes when importing an engagement ring from James Allen to Canada
Canada and the USA are part of the USMCA agreement (this replaced the North American Free Trade Agreement), which means that you don't have to pay import duty on goods that are manufactured in the USA when transferred between the members of the agreements (US, Mexico and Canada).
James Allen's operations and fulfillment center is located in New York, which means that there's no import duty to be paid.
Instead, you will just need to pay your province's regular sales tax – just like if you were buying from a local Canadian jeweller.
Understanding what taxes are due
Unlike some other engagement ring retailers like Blue Nile, James Allen doesn't collect international taxes and duties. However, they do provide an accurate tax and duty estimate during the checkout process so you can see exactly how much your ring will cost.
James Allen also have a handy 'Tax and Duty Calculator' that will help you understand what you'll need to pay for tax in your state without having to go through the whole checkout process. The amount of tax will vary depending on where you live.
Tax will be collected by FedEx once your package arrives in Canada and before your ring is released. It's worth reiterating that this is exactly the same amount of tax you'd be charged should you buy a ring from Canada, but you obviously are taking advantage of James Allen's lower prices compared to Canadian retailers.
For example, this ring is priced at C$2,212 before taxes are included: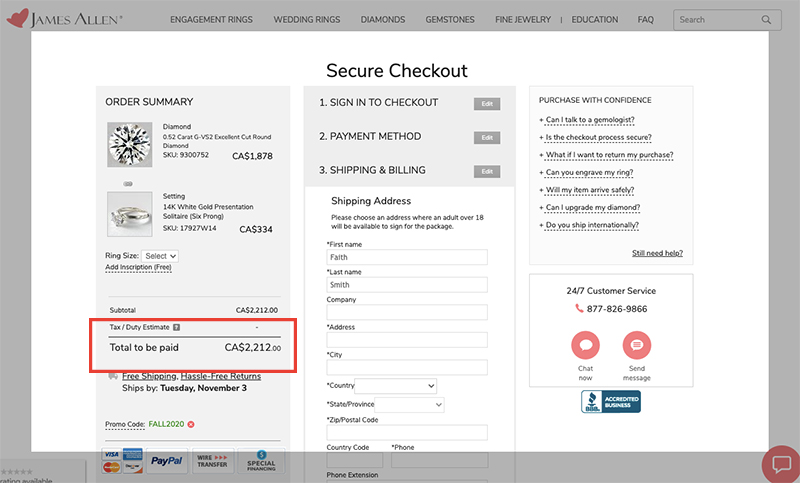 Once you enter in your address details, the tax you'll have to pay on arrival will appear.
For example, if you live in Alberta, you'll need to pay C$110 on arrival of the package:
If you live in Quebec, you'd have to pay C$331 on arrival: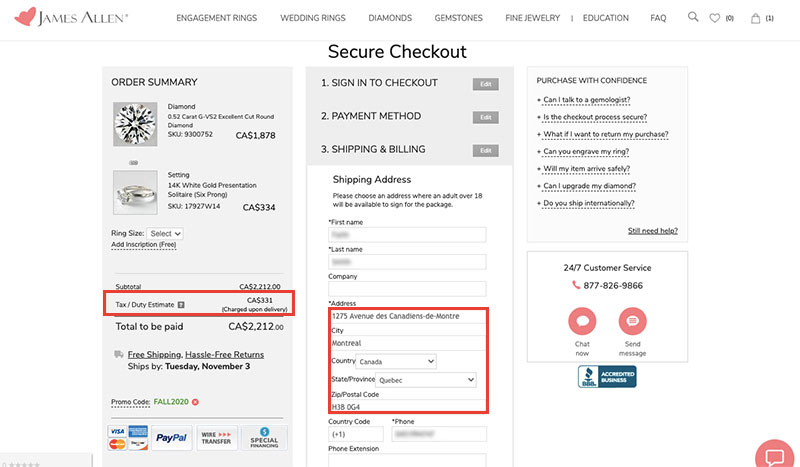 As James Allen doesn't charge for the tax, the tax is paid directly to FedEx.
We contacted James Allen to ask about the exact process of how they would take payment.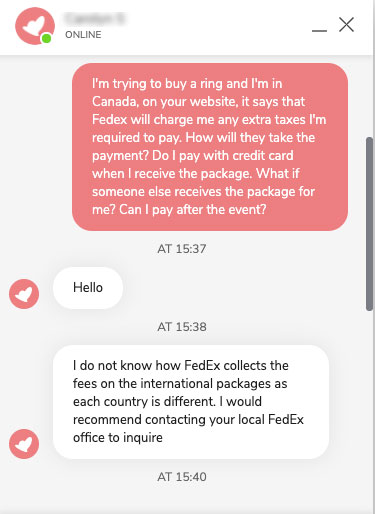 Unfortunately, they weren't able to tell me. So I went on to FedEx to find out more.
When your ring arrives in Canada, you'll be contacted by Fedex and informed of the tax that is due before they can release the ring.
If you have an account with FedEx, you can sign into your account and settle the bill. Unless you use FedEx to send a lot of packages, you might not have an account, in which case you can:
Pre-pay by credit card by calling 800.463.3339 and quoting your tracking number
Pay by cash, cheque or credit card at the time of delivery
If you've received an invoice, you can pay here
James Allen Canada Shipping
There are a few things to consider when shipping between the US and Canada:
How much does shipping cost?
Shipping an engagement ring from James Allen to Canada is absolutely free, sent via FedEx if you've spent over $500. If your package is under $500 it will be shipped via FedEx or USPS.
This includes insurance and the package is sent in discreet packaging, so it's not obvious as to what's inside. This is important so that thieves don't know what is in the package, but also ensures that if you're buying the ring as a surprise, the recipient won't know what it is either.
They require that all deliveries be made to a physical business or home address, and do not allow delivery to a PO box address. They'll require a signature for the package. You can also nominate an alternative address or a FedEx station for pick up. Which might be the safest if trying to avoid detection by your significant other.
How long does it take?
James Allen will give you an estimate shipping date on check out.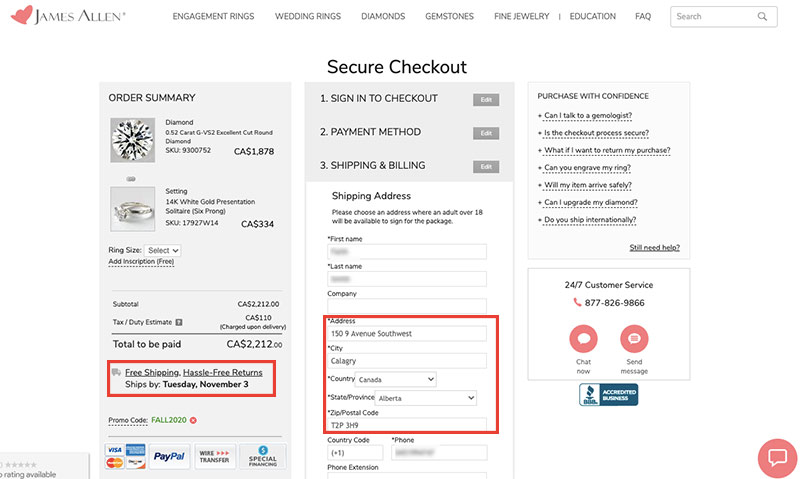 This allows them enough time to make the ring, and makes sure it passes all their quality control checks. If it's a loose diamond, this ships immediately after passing inspection. If it's a ring it will take 1 -3 weeks to process, depending on the complexity and their production schedule.
After shipping it should take around 1-3 business days if it's sent via the FedEx international priority service. If your order is under $500 it will be sent via FedEx international economy and it will take 2- 5 days.
How do James Allen returns work in Canada?
James Allen offer a hassle-free 100% money back guarantee. You have 30 days to return for a full refund or exchange as long as in its original condition and is unworn.
You'll just need to call James Allen's customer service department on +1-412-314-9060 and let them know you wish to return the ring. They'll send you out a pre-paid return label and you simply mail it back to them. The refund will be processed via the original purchase method within two weeks of receiving the ring.
Read more about the returns policy here.
What if you need to get the ring resized?
James Allen offer 1 free resize within the first year of purchase. This includes free return shipping. It's always easier to size down rather than size up, so if you're not sure of the finger size, it's better to over-estimate.
You can also take advantage of their ring size estimator methods here.
Do we recommend buying from James Allen if you're in Canada?
Absolutely – James Allen are our #1 recommended retailer for a good reason and we have helped hundreds of happy Canadians buy from them. They offer the largest selection (200,000 +) of certified diamonds, paired with a huge variety of settings.
They also have great features like free engraving, for that meaningful message, a lifetime upgrade on loose diamonds, 24/7 customer service and a lifetime warranty (this covers things like free prong tightening, re-polishing, rhodium plating and cleaning services). A couple of useful links are the tax calculator and the gallery of recent engagement rings for inspiration.
James Allen review
Ring selection

Diamond quality

Service quality

Value for money
Do we recommend James Allen?
James Allen is one of the top online jewelry stores for a reason – they provide high quality products at fair prices through an easy to use website, with excellent service policies.
The imagery of the diamonds on their website has been in the best in the industry for over 5 years, despite competitors trying to catch up. The benefit of this to you is that can see exactly what you're buying, which makes it possible to buy VS2 or even SI1 diamonds and be confident that the inclusions won't be visible.
Having images of all of the fancy shaped diamonds also makes it much easier to choose a good stone, as buying a fancy shape sight unseen can mean that you end up with a diamond that has been shaped poorly.
Of course, no retailer is perfect and a large frustration with James Allen is the need to request individual grading reports from their online chat team. This greatly slows down the process, but isn't an insurmountable obstacle.
Overall, James Allen remains the jeweller I use the most when sourcing recommendations and continues to provide a great service at excellent prices.
Pros
Excellent imagery of diamonds, allows you to understand exactly what you're buying
Huge selection of diamonds, means you should always be able to find what you are looking for
Very competitive prices
Cons
Grading reports have to be requested on an individual basis, which is time-consuming
'True Hearts' diamonds aren't always perfect hearts and arrows
International James Allen Guides
If you're outside Canada and have somehow found your self here, we also have guides to buying from James Allen for several other countries. Click below to access your local guide: