Cushion cut engagement rings in Canada
Where to get a stunning cushion diamond and the best value
---
If you've had your heart set on a cushion cut diamond ring, you may have been underwhelmed by what you can get from jewelers in Canada.
While cushion cut diamonds are certainly available from Canadian retailers, many are significantly marked up, and there's no guarantee of quality. That means you might pay a premium price for a cushion cut engagement ring that's full of visible flaws, hardly a good deal.
But don't worry just yet, we've done all the research for you, and compiled this crucial guide.
In this guide, you'll find out:

Why cushion cut engagement rings make a great choice
What you need to be cautious of when purchasing
A handy buying guide to make sure you get the best diamond possible
Where to go to get the greatest value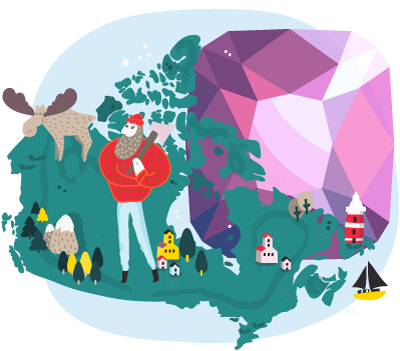 Cushion cut diamonds are timeless
Before the round brilliant came onto the scene, cushion cut diamonds were the default choice for engagement rings for a couple hundred years. So, naturally, you'll find them set in the centre in a large number of vintage rings.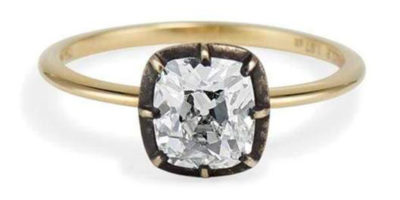 Modern cushion cuts have learned a thing or two over the past century, and are now cut to reflect light to increase sparkle way beyond their 1900s counterparts.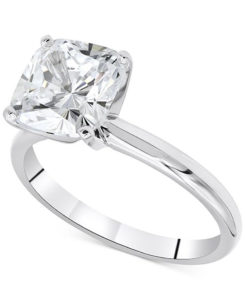 One thing to know is that cushion cuts and "pillow" cuts are one and the same. In fact, you may hear the two terms thrown around interchangeably.
Cushion cut diamonds are well-priced
As with many square-shaped diamonds, a big tick in the box for cushion cuts for engagement rings is their lower price than the much more common 'round brilliant' shape.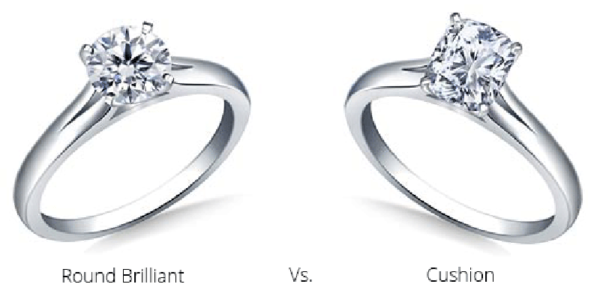 Not only are cushion cut diamonds in lower demand, but they also require less wastage of the original diamond rough, so a larger finished gem can be created from a chunk of rough stone. This all results in added savings, passed on to you, the buyer.
This table shows the price difference between a round brilliant diamond and a cushion cut diamond at the same size and quality when the prices were compared on one of our recommended retailers.
1 carat
Color F
Clarity VS1
Here's how they stack-up:
| | | | |
| --- | --- | --- | --- |
| SHAPE | PRICE (C$) | DIFFERENCE (C$) | DIFFERENCE (%) |
| Round Brilliant | 8,853 | | |
| Cushion | 5,503 | -3,350 | -38% |
So, for the same size and quality of stone, you can save yourself a huge 38% by choosing a cushion over a round brilliant shape.
Of course changing the colour, size, and quality of the stone will result in different amounts saved, but there will always be a significant difference between the two.
Cushion cut diamonds are practical
Cushion cut diamond engagement rings are great, because they don't have any sharp edges or corners because of their rounded shape, which makes them ideal for a ring that is going to be worn every day.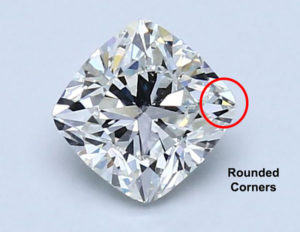 There are no points to snag on clothing or exposed and delicate edges heavily susceptible to being chipped.
Every cushion cut diamond needs to be examined
Due to variations in shape, cushion cut diamonds can be a bit harder to buy than some of the other, more common diamond shapes.
While with a round diamond you can check out the 4Cs listed on the grading certificate and trust the stats to ensure that you are getting a great looking rock, because each cushion cut diamond is different, you really do need to examine the individual stone to check that you like its shape, know whether it is chunky or crushed ice and verify that it is eye clean.
Chunky vs. crushed ice cushion cut diamonds
Another thing to keep in mind, there are two distinctions that people make with cushion cut diamonds — calling them either "chunky" or "crushed ice". These two terms refer to the look of the diamond when viewed from above.
When you look through the top table of the stone (the flat part on top), you can see the facets line up, often making the shape of an "X" that meets in the middle.
When you look through the top table of a crushed ice cushion, the facets are organized randomly – there's no "X" in the center. Instead, it looks like crushed ice, or it's also sometimes called "broken glass".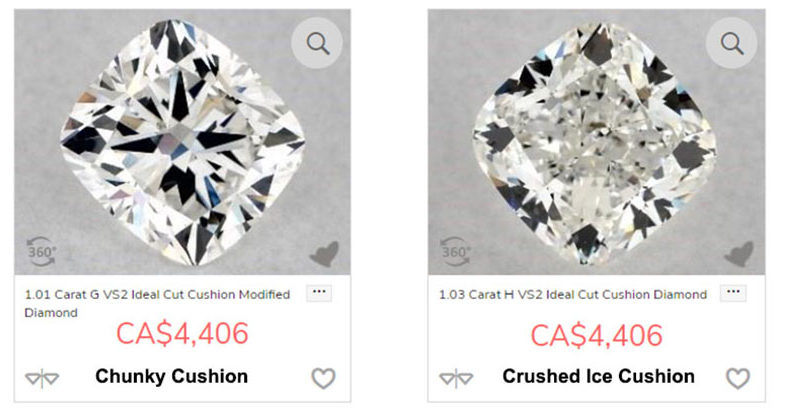 Neither type of cushion is better than the other; it's all down to your personal preference.
You should be aware that once the diamond is actually mounted into a ring, it is much, much more difficult to tell the difference between variations. It's always great to be informed and to know just what you're buying, but don't get too hung up on the details.
Make sure you can see the stone you are buying
Retailers that don't offer images of each individual stone shouldn't be used when purchasing a cushion cut engagement ring. Even if they offer the most competitive price, it is definitely worth going with a retailer that allows you to examine individual stones to make sure you get what's right for you.
Recommended retailers that have great images of their cushion cut diamonds are:
International cushion cut guides
Each country has its own retailers we've therefore created individual guides for different countries. If you live outside of Canada and have found yourself on this page, click below to access your local guide:
Where to buy cushion cut engagement rings in Canada
---
When buying any diamond, there are basically three places to consider:
Large, chain stores
Smaller, more upmarket jewellers
Online stores
Where you choose to buy your diamond will make the biggest difference on how much value you get with your purchase. If you choose the wrong place, you could end up spending more that you need to and get a lower quality stone, as we'll see.
In this section of the guide, we'll take a look at the selection and prices for cushion cut diamonds, and how a couple of Canadian jewellers stack up.
Finding a well-priced AND good quality cushion cut diamond from a Canadian Jeweller is difficult
So, first of all, we have to acknowledge that while definitely more popular than some other more niches shaped diamonds, the Canadian brick and mortar selection for cushion cut diamonds is still lacking compared to more common cuts like round and princess.
When they do have cushion cuts available they tend to be over-priced compared to their common counterparts, and many are low quality, as we'll see.
Buying a cushion cut diamond ring from Peoples
Peoples Jewellers is well known as the largest fine jewellery retailer in Canada, with nearly 150 locations. As part of one of the largest jewellery retailers in the world, Signet, they often call themselves "the diamond store", so let's see what they've got.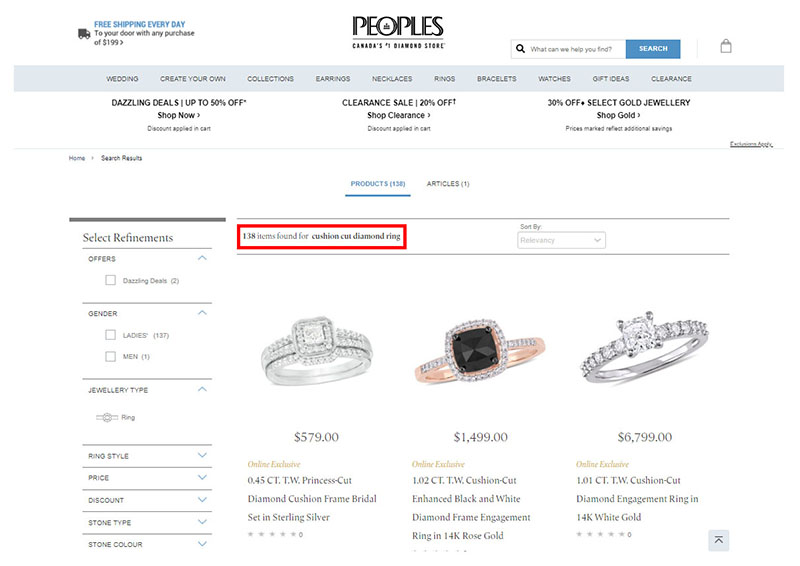 Searching through the Peoples website they have a selection of 183 cushion cut diamond rings. However, "diamond" is used loosely, and many of the rings have other gems as centre stones, and merely feature some small diamonds in a halo or along the band.
That's not the most promising start.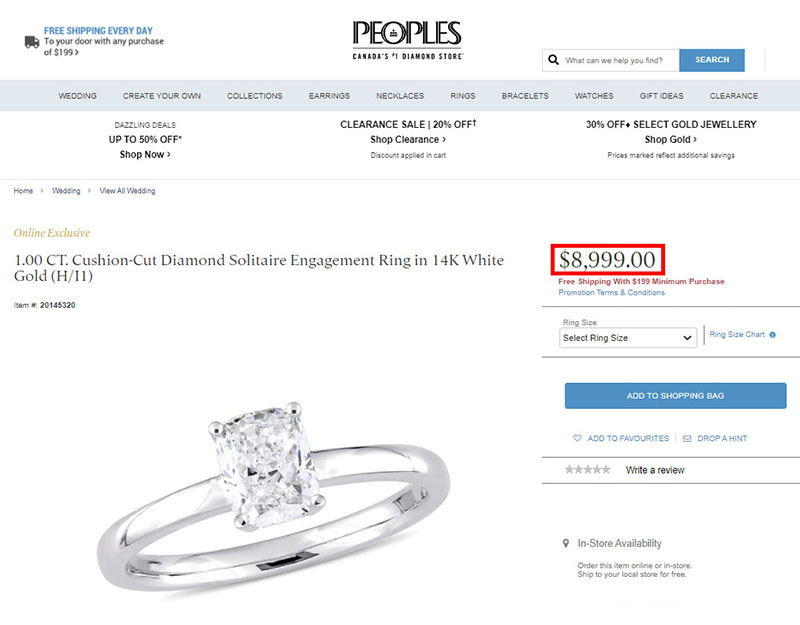 Digging deeper on the website, they have a 1 carat cushion cut diamond engagement ring priced at C$8,999. The centre diamond for this ring has the following specs:
Carat weight: 1 carat
Colour grade: H
Clarity grade: I1 (Included 1)
That's a hefty amount of money to spend on a diamond ring, and of course you'd expect excellent quality to match. However, large brick and mortar chains often include large markups to increase profits.
While Peoples doesn't allow us to see the exact diamond that will be included with this ring, we can look at what a typical I1 clarity diamond looks like.
The definition of an I1 or Included 1 diamond states:
"Included diamonds have inclusions that are usually visible without magnification or have inclusions that threaten the durability of the stone.
Inclusions in I1 diamonds often are seen by the unaided eye. I2 inclusions are easily seen."
If we look at an example of an I1 clarity stone, there is a very obvious inclusion under the table: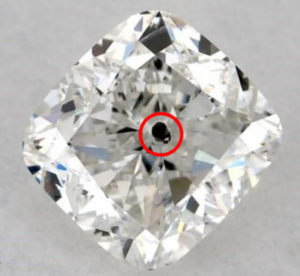 This isn't a diamond I would recommend as the inclusion will significantly reduce the beauty of the stone.
Even allowing for that, if you did decide that this diamond's specs were acceptable, you don't need to spend nearly that much money to get a diamond with the same exact specs at the one above. In fact, by being savvy about where you shop, you can pay less than half the amount for a very similar diamond.
We can find a diamond with identical specifications (1 carat, H colour, I1 clarity) through one of my recommended retailers for just C$2,854: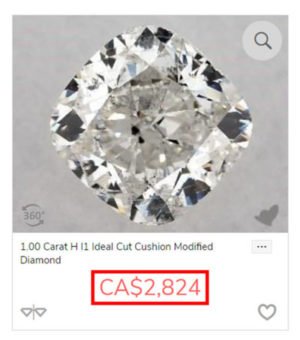 As you can easily see, this cushion cut diamond has numerous inclusions as well.
It should be noted that this is a US-based retailer, which means that taxes in your province will need to be added to this. I have a whole blog on importing a diamond into Canada with the specific taxes listed for each province, but the short version is that the highest HST that could be added is 13% on top of the sale price. 13% would add $371 to this diamond, bringing the total to C$3,225:
If you were to add a simple 14k white gold setting to this diamond to make it comparable to the Peoples' ring, that would still come to just C$3,677 before tax, or C$4,155 after tax at the most.
But wait just a minute!
Neither of these cushion diamonds is actually worth buying!
I wouldn't recommend you buy this quality of diamond (H, I1) from either Peoples, or even my recommended retailer – it has way too many compromises in its colour and clarity.
For cushion cut diamonds, my recommendation is choosing a stone that has been graded G colour or above: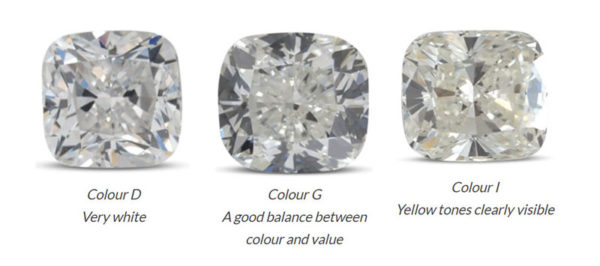 Going lower than a G colour means that warmer/yellow tones may be visible in your diamond, which many people find undesirable.
The exception to this would be if the diamond was going to be set into a yellow gold setting, in which case you could definitely go up to a J, and the contrast provided by the yellow gold would still make the diamond appear a bright white.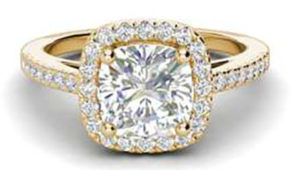 Another factor that rules out this diamond is the poor clarity grade.
For a cushion cut diamond, I recommend that people choose either a VS2 or a VS1 clarity:

This guarantees that your diamond does not have any visible inclusions, but also that you aren't spending more for higher clarity grades which don't make a difference to what the diamond will actually look like in a ring.
So, with either of the diamonds above, it's likely that it will look yellower than you would like and would have visible black inclusions. That's objectively not great!
Get a better cushion cut for less money
My usual recommendation for a cushion cut diamond would be G colour and VS2 clarity, which will mean it'll look perfectly white once set into a ring setting and will be "eye clean" ie. no ugly inclusions.
The price of a 1 carat diamond that fits these specs in C$4,263: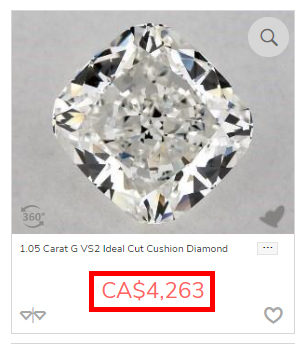 You can see similar diamonds here to confirm the price.
Adding the maximum 13% HST which would be due when importing into Canada and the total is C$4,817.
If we add a classic 14k white solitaire setting, similar to the diamond used in the People's ring, the total is $4,715.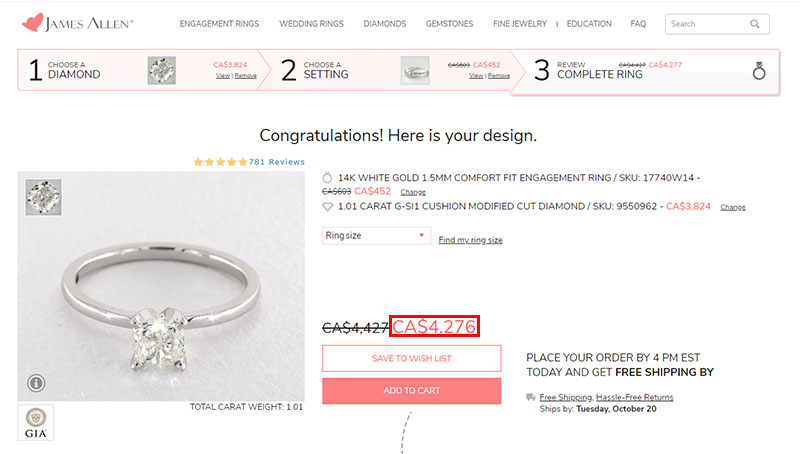 If we add tax to this, the total comes to C$5,269 – significantly less than that $8,999 People's was charging for an inferior ring.
In fact, it's a a saving of C$3,730 for a higher quality diamond, which will look perfectly white and have no visible inclusions – money which could be spent on your wedding or your honeymoon!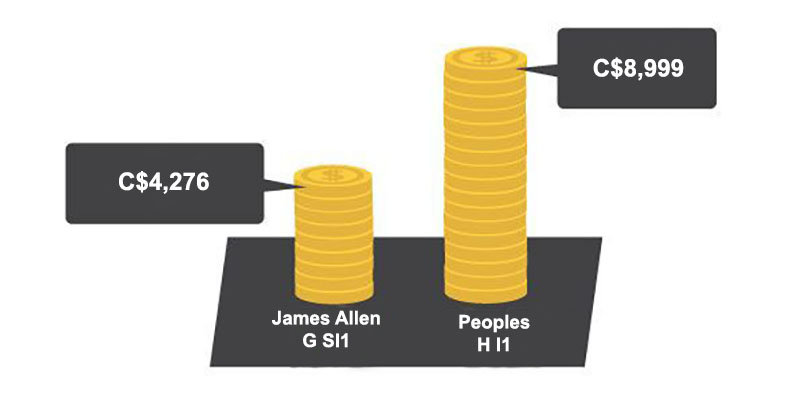 Buying a cushion cut diamond ring from Charm Diamond Centres
We'll now look at another Canadian diamond retailer – Charm Diamond Centres.
Charm Diamond Centres specializes in fine jewellery and since opening their first store in 1972 in Dartmouth, Nova Scotia, they have grown to over 59 stores across Canada. They currently stand as the largest independently owned and operated jeweller in Canada.
Looking at an alternative from Charm Diamond Centres, in this case a popular halo setting, we are presented with the option below: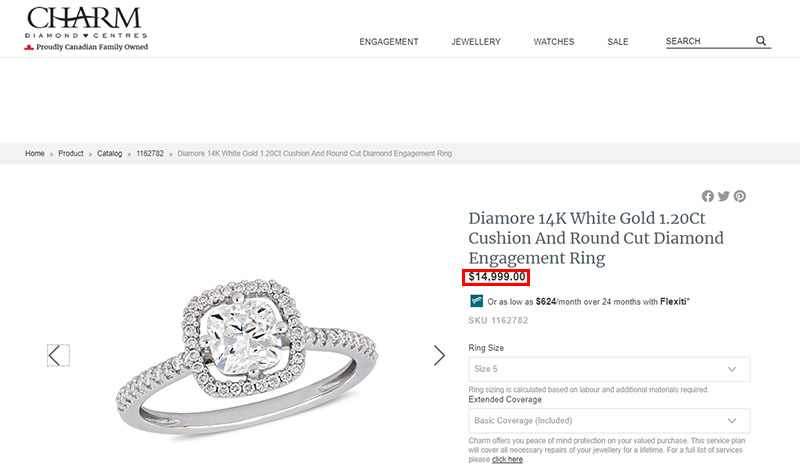 Charm Diamond Centres offers a 14k white gold halo setting with diamond pave, set with a 1 carat cushion cut diamond, priced at C$14,999. The website lists the diamond stats as:
CTW: 1.20
Clarity: I1
Colour: GHI
Carat Weight VS. Total Carat Weight
It's important to understand the difference between carat weight and total carat weight when shopping for an engagement ring online, as if you aren't mindful you could end up with a much smaller center stone than you were expecting.
Something a little sneaky about this Charm Diamond Centres ring listing is the fact that in large print at the top they state that this is a 1.20 ct engagement ring. However further down on the web page they list the ring as having a 1.20 ctw (carat total weight).
This means that when they are coming up with the carat weight of the ring they are factoring in all of the tiny diamonds in the setting as well as the larger center stone, oftentimes to give the impression that the center diamond itself is larger than it is.
If you purchased the Charm Diamond Centres ring based solely off of its title listing, you might think that you are getting a 1.20 ct. cushion cut diamond surrounded by a halo of melee diamonds, and be sorely disappointed.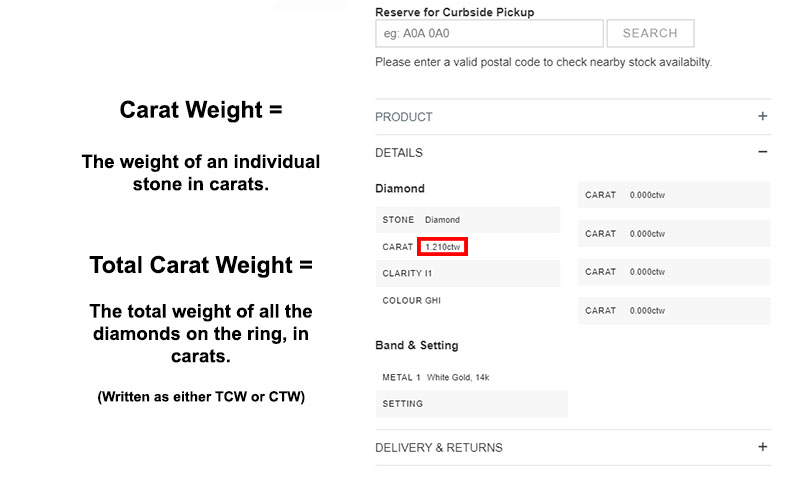 While Charm Diamond Centres doesn't come straight out and tell us the carat weight of the center cushion cut, it is likely to be a 1 carat, placed into a ring setting with a ct. of .20. For reference, here is a very similar cushion cut halo setting from my recommended retailer James Allen, with a ct. of .23.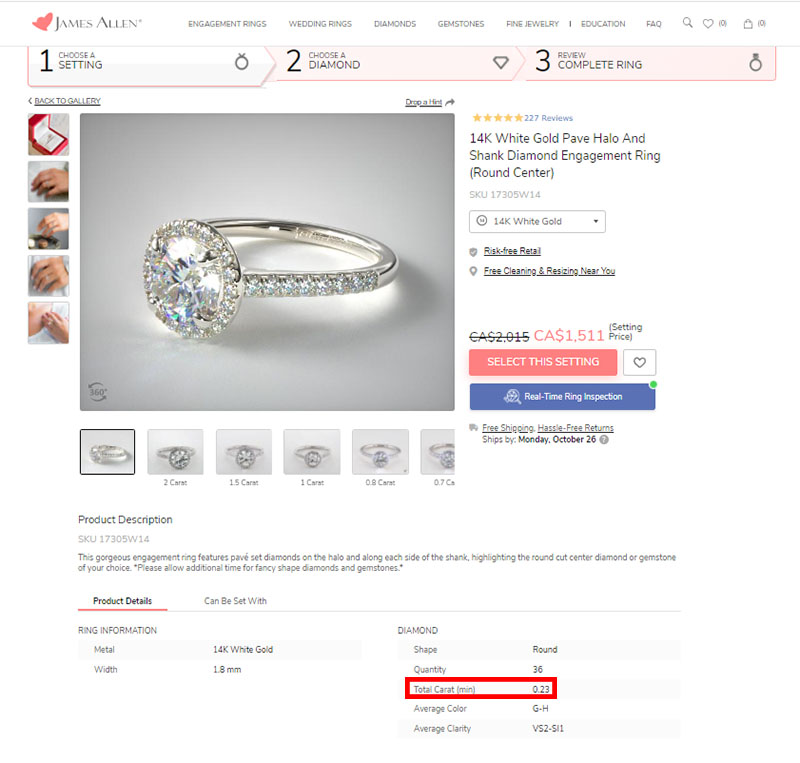 Colour Ambiguity
The listing for this cushion cut halo ring also lists a very vague colour range of GHI. While these letters may be right next to each other in the alphabet, there can be a world of visible difference between them.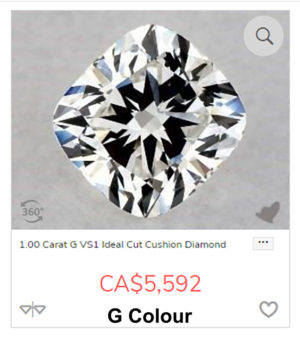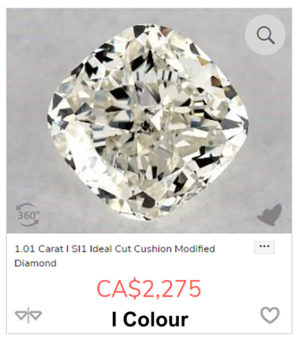 Just look at how yellow the I colour cushion cut diamond looks next to the G colour diamond, and this would be visible to the naked eye.
Not to mention the difference in cost between a G and an I diamond of otherwise the same quality: C$1,741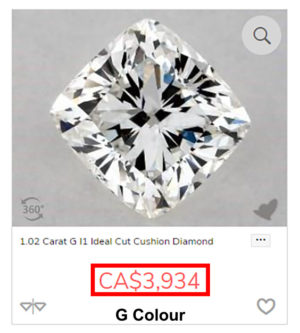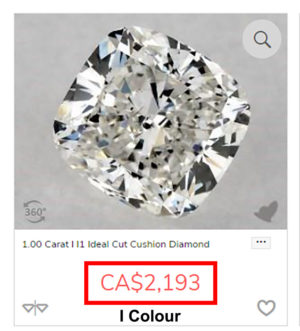 Again, the difference in price between the Canadian retailer and the price of importing a diamond from the U.S. is striking, and there are no quality guarantees.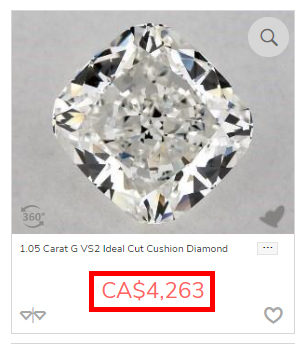 If you're looking to maximise your value when buying your ring and don't want to pay more than you need to, it makes sense to check out U.S. online retailers. James Allen offers a comparable halo setting which adds just C$1,922 to the price of the ring, equaling C$6,185 or C$6,989 after adding 13% HST: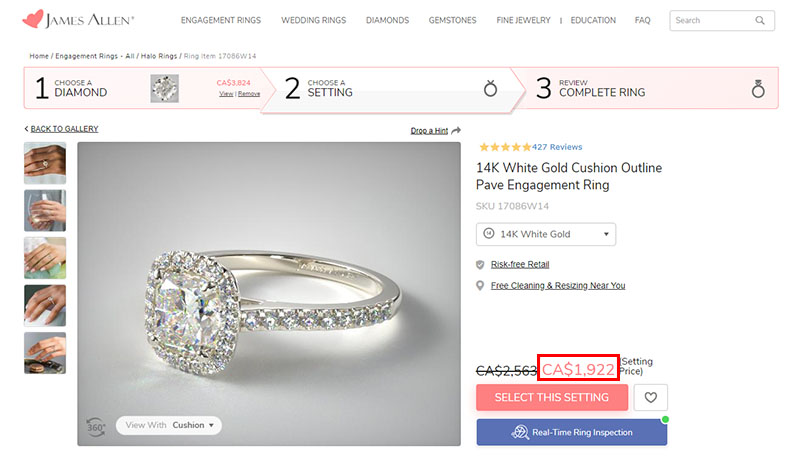 Again, my recommendation is James Allen which offers high quality imagery of every cushion cut diamond so you can see what you're buying before committing to it, and compare fair prices to ensure you aren't paying an excessive amount.
Here's a visual price comparison between a 1 carat halo cushion cut engagement ring from Charm Diamond Centres and a very similar, higher quality ring from James Allen: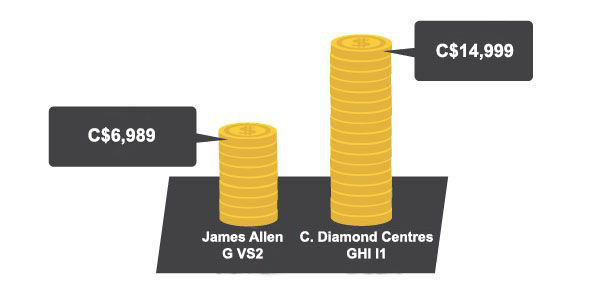 How to select the most beautiful cushion cut diamond for your ring
---
Not all diamonds are created equal, so this section will talk you through the 4Cs in relation to the Cushion cut so that you can make sure you get an incredible stone.
We're going to look at:
– Cut
– Color
– Clarity
– Carat
We'll also look at another factor that is important to ensure that you get the most beautiful Cushion cut for your budget:
– Certification
– Choice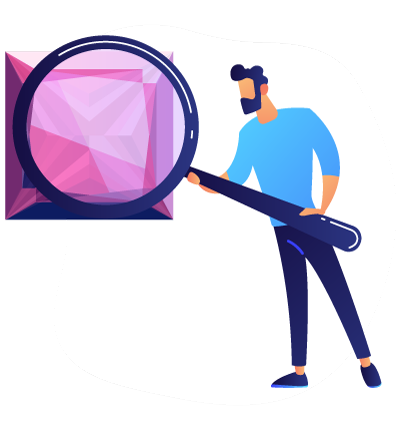 Cushion diamond cut quality
Unlike more commonplace diamond shapes like a round brilliant, there are no "ideal" proportions for a cushion cut; no industry standard for what makes a "perfect cushion." But there are some standards and specs to pay attention to make sure you end up with your, perfect cushion.
Traditional cushion cuts were square, so if this is the look you're going for then you should aim to get as close to a 1:1 length-to-width (L/W) ratio as possible.

Any stone between 1.15 and 1.3 is a rectangular cushion cut, and even though the original cushion cut shape was square, rectangular cushions are now increasingly popular. Their elongated shape looks sleek on the hand, making fingers appear longer and more slender. So, square or rectangular, it's all up to you.
A good way to see what shape of cushion you like is to look at online galleries which allow you to compare a high number of stones with each other to see which you think are the most beautiful.
Corner Shape
Nothing on the certificate will tell you how rounded the corners are: some cushion cut diamond corners are nearly round, and some are nearly square. Again, the only want to know what the stone that you are looking at will really look like, and what you personally like, is to look at real cushion cuts to see.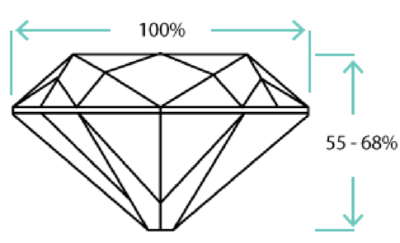 Cushion Cut Diamond Table Percentage
Table percentage is the width of the top "table" of a diamond (the flat area on top) expressed as a percentage of the total width of the stone.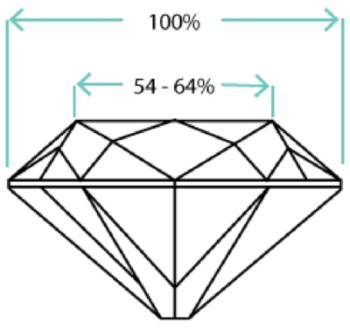 This is important because the top table controls the amount of light that enters into a diamond. And the more light that enters, the more can be reflected back as sparkle.
Recommendations for cushion cut table % are below:
| | | |
| --- | --- | --- |
| EXCELLENT | VERY GOOD | GOOD |
| 54% – 64% | 52% – 66% | 60% – 68% |
Depth Percentage
Depth percentage is the depth as a percentage of the width of the stone.
This is super important as the correct proportions are required to make sure as much light is reflected back to your eye and the stone sparkles as much as possible. If it's too deep or too shallow, light is bounced off in the wrong direction and lost, reducing sparkle.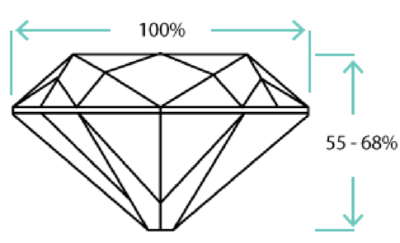 My recommendations to ensure the most sparkling cushion cut diamond:
| | | |
| --- | --- | --- |
| EXCELLENT | VERY GOOD | GOOD |
| 55% – 68% | 52% – 72% | 50% – 76% |
Cushion cut diamond colour
Cushion cut diamonds have a vintage charm which can sit well with warmer yellow tones coming through. Some people actively look for these warmer tones when choosing their stone, which is convenient because for better or worse cushion cuts show their true colors much more visibly than many other cuts.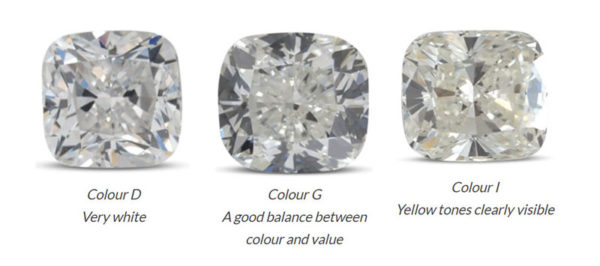 However, if you're looking for a whiter, more colourless look, then I recommend going to a G colour as a minimum if you are going with a white color setting, or possibly a J if you are going for a yellow gold setting, which will help disguise the warm colour better.
Cushion cut diamond clarity
Cushion cuts are "brilliant" stones, meaning they sparkle well due to their shape reflecting light off the inside of the stone and back up to your eyes. As well as generating beautiful sparkles, the other advantage is that the scintillation and brilliance can mask inclusions well.
With cushion cuts, you can pretty much trust the grading report, as long as you are going with one of my two recommended certification labs – GIA or AGS.
Almost all diamonds have some inclusions, as they are all unique, but some are definitely more noticeable than others. Anything down to a VS2 should be eye-clean, and that brilliant sparkle will definitely work in your favor to hide any minor little imperfections.

Again, you can go higher than this if you want, but you are paying for a stone that is 'mind clean' rather than one that has any noticeable visual difference.
Cushion cut diamond carat weight
The relationship between a diamond's carat weight and its visible size isn't always a direct one.
When we judge a diamond's size, we look at it from the top – known as the 'face up' position in the jewelry trade. However, much of the weight of a diamond is actually carried on the bottom half of the stone, where it can't be seen.
The image below shows an average size for cushion cut diamonds at a range of carat weights: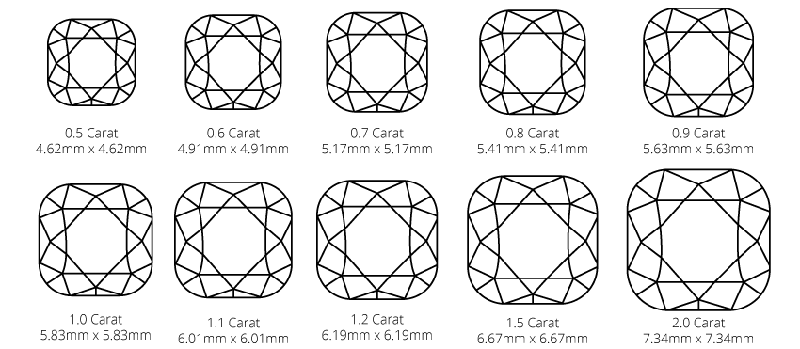 As you can hopefully see, increasing the carat weight doesn't necessarily translate into a much visibly bigger diamond. Of course the priority you place on diamond carat weight is completely up to you, but I wouldn't recommend making it the most important thing when choosing your engagement ring.
Cushion cut diamond choice
When you're purchasing from a Canadian retailer, unfortunately your choices are very limited. You're reduced down to looking at the few diamonds they present to you, which can often be over-priced as well.
When you shop for your diamond online you have the ability to search through thousands of diamonds, completely at your own pace, without pressure. You're also able to take advantage of great deals, and typically save a good deal of cash compared to a brick and mortar establishment.
I know that "thousands of diamonds" may sound intimidating, but using the filters in the search results will quickly reduce things to a manageable number to choose from.
These specs are the minimum that we recommend to ensure that the diamond on your Cushion cut engagement ring looks fantastic.
You can of course go higher than these specs, if your budget allows, but for many of the characteristics you are paying for improvements that are very difficult, if not impossible, to see with the naked eye, especially when mounted in a ring setting.
Clarity: VS2
Colour: G
Symmetry: Excellent
Table%: 54% – 64%
Depth%: 55% – 68%
Certification: GIA