[current_post_breadcrumbs]
Ritani Canada
Everything to know about buying a diamond or engagement ring from Ritani when you're in Canada
[current_post_author_name]
---
While it has now grown into a sizeable business with a great website and beautiful rings available throughout North America, Ritani was originally established by family of jewelers who understand your desire to find a perfect engagement ring as a symbol of your love. Click through to their website here.
Ritani offers price matching, transparent pricing and a 'market analysis tool' which gives you an idea of how the value of a particular diamond stacks up against the market. They're trying to make diamond shopping more honest and fair for their customer.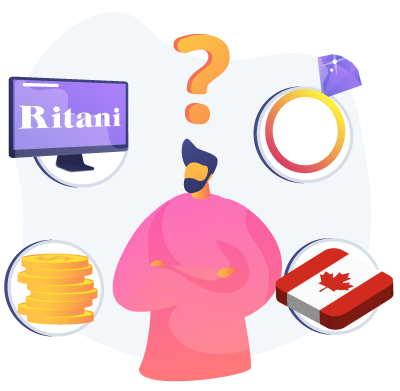 Read on to find out everything you need to know before buying a diamond and engagement ring in Ritani when you're in Canada.
In this blog, we're going to look at:
Import fees and taxes you'll need to pay
Shipping and returns
The service you'll receive
How Ritani compares to local jewelers
Import fees and taxes when importing an engagement ring from Ritani to Canada
As part of the free trade agreement between Canada, United States and Mexico (CUSMA), diamond and engagement rings don't have any import duties applied to them when shipping from the US.
However whether you buy locally or overseas, taxes will need to be paid.
Diamonds and engagement rings in Canada are subject to additional 5% -15% GST depending where you live and your province's PST. To make things each for you, Ritani collects the GST for orders shipped to Canada – it's calculated and included upon check out.
For example, if you order an engagement ring that cost US$6,478, if you live in Alberta you need to pay an additional 5% GST:
If you order the same item and want to ship it to Quebec you'll need to pay 14.975% sales tax: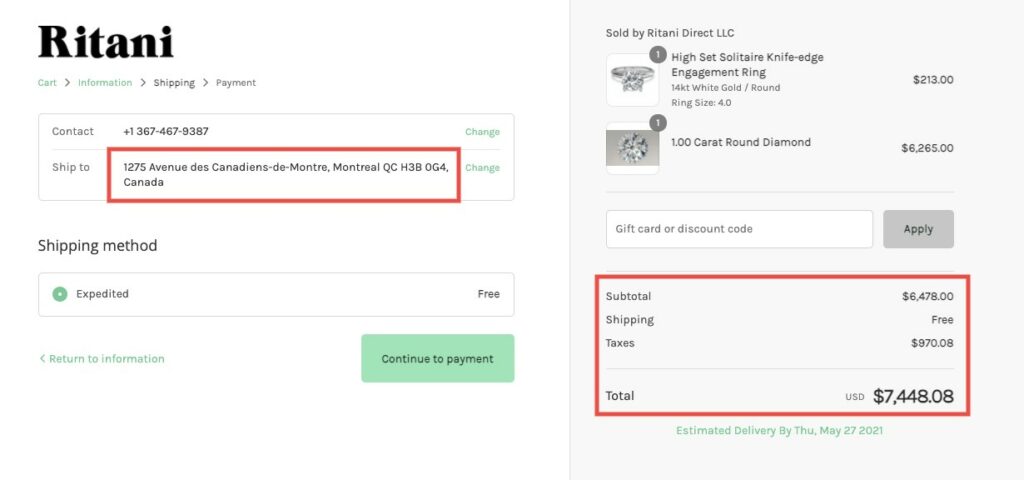 Items on the Ritani website are priced in USD, so you'll need to convert them to CAD to know the exact amount of your purchase.
We've included a list of estimated taxes from different provinces of Canada.
| Province / Territory | Type | GST (%) | PST (%) | Total tax rate |
| --- | --- | --- | --- | --- |
| Alberta | GST | 5% | 0% | 5% |
| British Columbia | GST + PST | 5% | 7% | 12% |
| Manitoba | GST + PST | 5% | 8% | 13% |
| New Brunswick | HST | 5% | 10% | 15% |
| Newfoundland & Labrador | HST | 5% | 10% | 15% |
| Northwest Territories | GST | 5% | 0% | 5% |
| Nova Scotia | HST | 5% | 10% | 15% |
| Ninavut | GST | 5% | 0% | 5% |
| Ontario | HST | 5% | 8% | 13% |
| Prince Edward Island | HST | 5% | 10% | 15% |
| Quebec | GST + PST | 5% | 9.975% | 14.975% |
| Saskatchewan | GST + PST | 5% | 6% | 11% |
| Yukon | GST | 5% | 0% | 5% |
One thing to know is that the amount of taxes due is determined by your place of residence and not the location where it enters Canada.
Ritani Canada Shipping
Another thing to consider when you buy an engagement ring from Ritani is the shipping from the US to Canada. We'll take you through the following:
Cost
Security
Time
Returns
How much does shipping cost from Ritani to Canada?
After finishing your order, Ritani will ship your engagement ring to Canada for FREE via FedEx Express Shipping. See their shipping policy here.
They can ship your order to your door or pick it up for free on one of their partner jewelers in your area (your purchase must be over $500). A signature will be required at delivery.
How long does shipping from Ritani to Canada take?
After shipping, your parcel will arrive in Canada in 2-8 days. You will see the estimated delivery date in the product description:

In rare cases, shipping from overseas may be delayed due to Covid-19 issues. Ritanis' customer service team is available to answer any questions if there's an issue.
How do Ritani returns work in Canada?
If you are unsatisfied with your purchase, you are eligible for a 30 day return policy. They want to make it as easy as possible and will actually pick up the item you want to return from you. Don't forget to include the GIA and AGSL certificate with your return to avoid charges for certification.
For more information call the Ritani customer service team at 1-888-202-0801 or read their full return policy here.
What if you need to get the ring resized?
If you ordered a wrong ring size, Ritani offers one free ring resizing within the first year of purchase. Just be reminded that eternity bands are not resizable due to its style and stone count.
To make sure that you get your perfect ring size you can use the Ritani ring size sheet or visit a jeweler to measure your ring size.
Do we recommend buying from Ritani if you're in Canada?
Purchasing locally or overseas is up to you. It's quite a big decision with lots of different factors, but to help you with your decision, we do a simple price comparison of a local jeweler and Ritani, to show you just how much you can save.
We use the following specifications in comparing two loose diamonds:
1.00 carat
H color
VS2 clarity
Excellent cut
GIA certificate
Whether you're buying from Ritani or another jeweler in Canada, these are good specs to consider as the diamond will look white, eye-clean and sparkle well, without overpaying for quality factors that don't make a visible difference when you're looking with the naked eye.
Looking at the 'Canada Diamonds' website, a diamond with these specs will cost you C$10,066.61 including GST.
For the purposes of our comparison we used an address in Alberta, which has a tax rate of 5%. This price will vary, depending on what province you live in – the total price may end up being higher if you live in a province with a higher tax rate.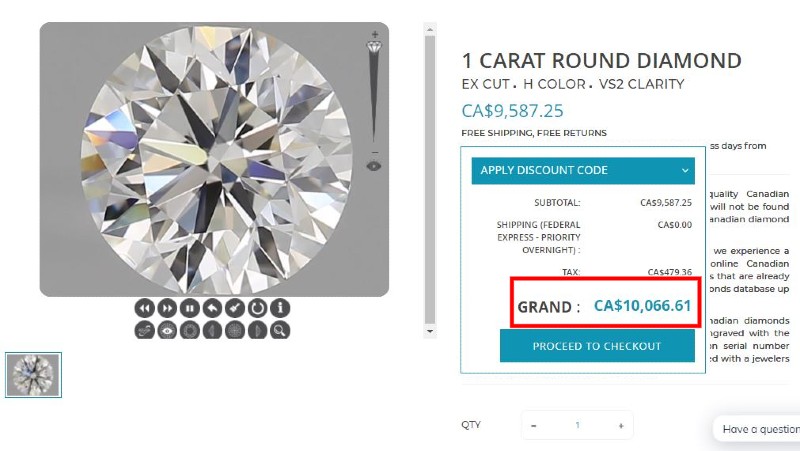 If we find a diamond with identical 1 carat, H colour, VS2 clarity, Ideal cut specs at Ritani, the price is significantly lower: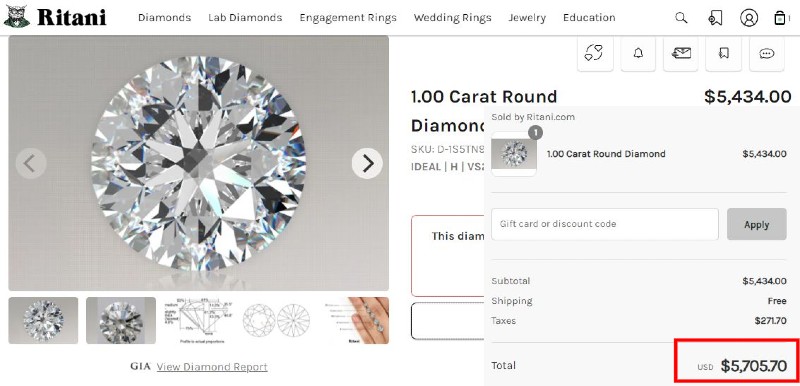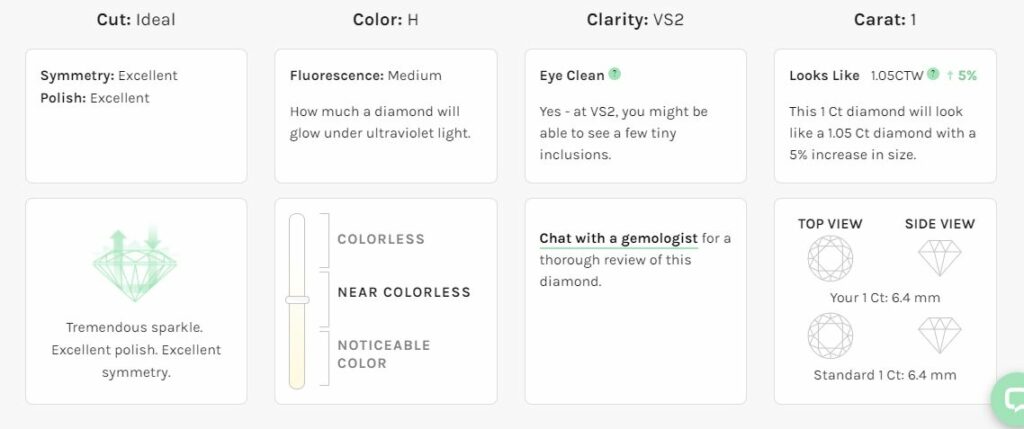 Ritani offers the same diamond for only USD $ 5,705.70 this includes GST (based on an Alberta sales tax rate). If we convert that to CAD it will cost C$7,003.86.
Ritani's price of C$7,003.86 is a huge C$3,062.75 lower than the C$10,066.61 that 'Canada Diamonds' were charging for a stone of the exact same quality.
While you may feel some understandable caution about buying a diamond from the US, Ritani's reputation for customer service and transparent and fair pricing, they offer a worry-free option.
You can browse their website to look have a closer look at their diamonds or engagement rings.