Birks Review
Should you buy your engagement ring or wedding ring from Maison Birks?
---
Maison Birks has a rich history – having been founded in 1879 and growing to 95 stores nationwide. For any business to survive that long, it must be doing something right.
Birks is a high class and quality jewellery store; they position themselves as a leading designer of fine jewellery, timepieces and gifts.
In this Birks review, we will primarily examine them from the point of view of buying a diamond engagement ring. However, the findings are equally relevant for any other type of jewellery.
If you'd like to jump straight to the 'value for money' section and see how choosing one of my recommended retailers could save $8,137.50 compared to Birks, click here.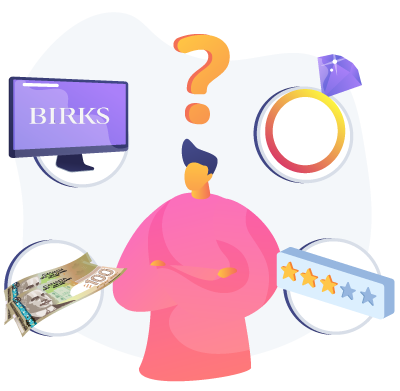 On this page you'll learn everything you need to know about:
Maison Birks ring selection
Birks offers a total of 30 ring styles of diamond engagement ring to choose from:

The majority of the engagement ring styles that Birks sell are either solitaire or halo settings – two classic styles that have stood the test of time. Solitaire settings are generally less expensive setting than other styles and are great for keeping the focus on the centre stone, while a halo setting can make the stone look larger and more impressive.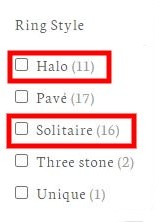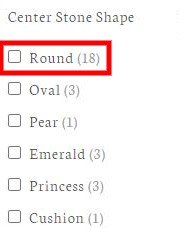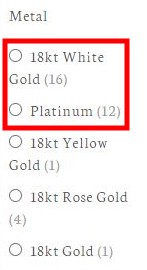 The most common shape they offer is the round brilliant – it's not only the most popular shape, but it also the best shape that sparkles the most.
Looking at the precious metals that Birks mostly use, 18k white gold and platinum are the most commonly used metals – 18k white gold is good for people who suffer from metal allergies and it requires less maintenance while platinum is a great choice for engagement rings that are going to be worn every day because of its durability.
While there is some variety within the setting styles offered, 30 isn't a huge number to be able to choose from, which could mean that you might struggle to find the perfect setting style for you.
Birks diamond quality
Engagement rings are all about the diamond, and being able to choose a diamond that will sparkle brilliantly will make the difference between a truly stunning engagement ring and one that looks dull and unimpressive.
In this section, we'll examine the quality of diamonds Maison Birks offers, as well as how transparent they are about the quality of the diamonds themselves.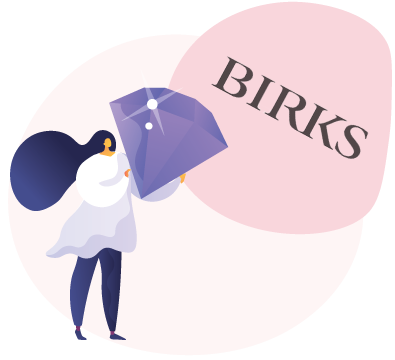 When choosing your diamond, it's essential that you can select the '4Cs':
Cut quality
Color
Clarity
Carat weight
Thankfully, Birks allows you to choose color, clarity and carat weight once a ring setting style has been chosen, as you can see on the 'Birks 1879′ round solitaire ring: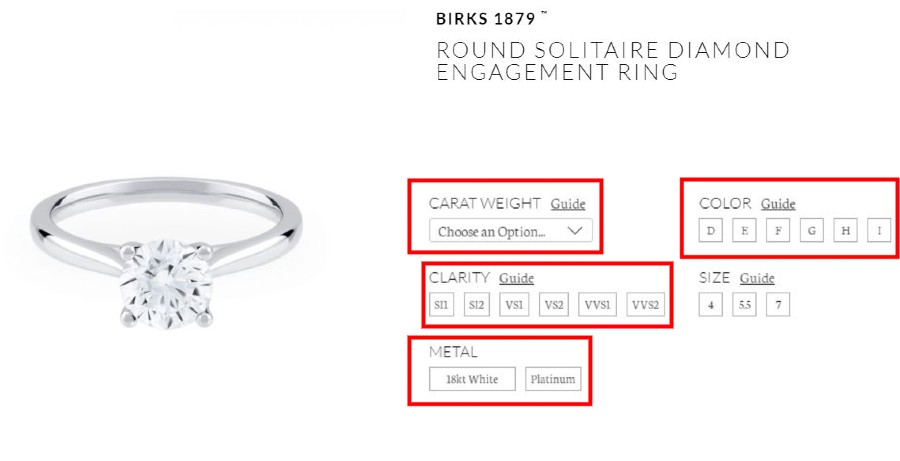 As we can see, it's easy to select clarity from SI1 to VVS2 and the colour from I to D. This level of customisability is great, and my usual recommendation would be to choose G or H for color and VS2 for clarity. Above this color level the diamond doesn't look much whiter, but is much more expensive and below this level and the diamond can look yellow (which most people don't like). Lower than VS2 clarity and 'inclusions' can sometimes be seen in the diamond, while above this level, diamonds don't generally look any different.
Looking at the carat weight, for this ring Birks allows you to choose the carat weight from 0.25 – 1.75 carat, this is good because you have many carat choices and you can choose according to your budget.
One thing to note is that not all the clarity and colors are available for all carat weights. For example, if we choose 1 carat weight for this ring, the only available clarity are SI1 & VS2 and colors are F, H and I with Platinum metal. Also not all carat, clarity and colors are available for other rings.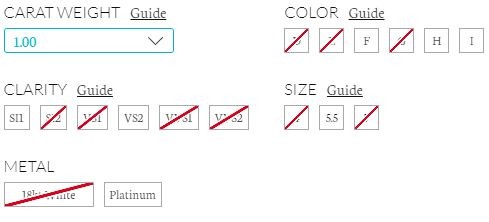 While carat weight may be the biggest determinant of diamond price, the factor that determines how much a diamond sparkles is diamond 'cut'. Diamond cut is a measure of how well the diamond has been formed and it is essential that a diamond has good proportions to reflect light; otherwise it will be dull, lifeless and unimpressive. If a diamond is too tall or too shallow, it won't reflect much light.
Understanding the cut quality of a diamond is absolutely essential to be able to understand whether it will sparkle. If you don't know the cut quality then you may very well be wasting your money.
Birks don't show any information about 'cut' grade on their website, when we ask about this on their live chat they said; "This information is not available for all products" and when I ask her why they replied "We chose to do it this way. This information is not requested by many of our customers".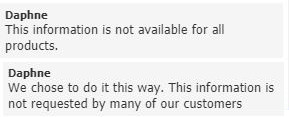 The lack of information on cut quality is a huge red flag for Birks. Many other jewellers do include diamond cut quality on their websites – often it is one of the filters on their search tool.
Birks diamond grading labs
Maison Birks don't show any information about grading labs on their product filter and product details, but looking at their "Birks Diamond Guarantee" page, they said that "A GIA report is issued with every Birks Diamond that is 0.30 carat and above".
This is great because GIA diamond grading levels can be trusted – you don't want to pay more for an F colour diamond if it is actually an H. This is why independent diamond testing labs are important. An independent testing lab doesn't have any incentive to say that a diamond is higher quality than it is, as they don't make any more money if they do. In fact, if they bump up diamond quality grades, it may mean people trust them less, which might mean they make less money.

GIA has the strictest standards, so you will be sure that you are getting the quality that you are paying for.
Maison Birks service
Buying an engagement ring is a special purchase, and you want to have confidence that the retailer will not only treat you well during while buying your ring, but also that they will stand behind their product after the purchase too.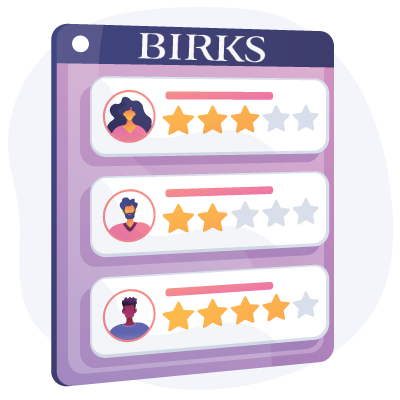 Birks have two separate sections on their site – shop online and shop in-store, the difference between these two is Birks have some products that simply cannot be sold online so they sell it in-store. Birks have a 30 day return policy, which is better than a lot of jewellers. They also have bespoke service.

Looking at reviews on Google, the Birks store in Calgary scored 3.7 from 62 reviews: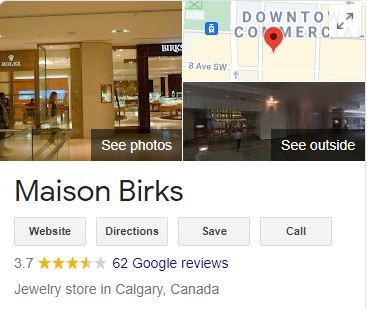 A score of 3.7 indicates that a significant number of people weren't exactly blown away by the service they received from this particular Birks store.
Birks value for money
Buying a diamond ring is a big commitment – both financially and emotionally. So it's important that you ensure that you are getting good value for money and aren't spending more than you need to.
After all, if you're buying an engagement ring, it's likely that you will have a wedding to pay for soon.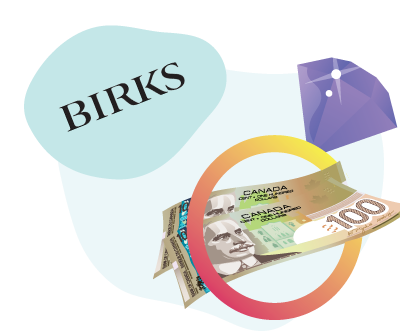 To see how Birks value for money compares, we'll compare it to one of my recommendations of where to buy a diamond ring – Brilliant Earth.
Brilliant Earth is the global leader in ethically sourced fine jewellery, which is a big bonus and makes it a good option for a retailer comparison.
When comparing, we'll keep the ring style, diamond clarity, colour, carat as similar as possible. A good way to compare is looking at solitaire diamond rings as they are simple and timeless, without an ornate setting to make the comparison more complicated.
Looking at Birks, the "Birks 1879 Round Solitaire Diamond Engagement Ring" with a 1 carat, F colour, VS2 clarity and round brilliant shape, is priced at $21,000 plus tax: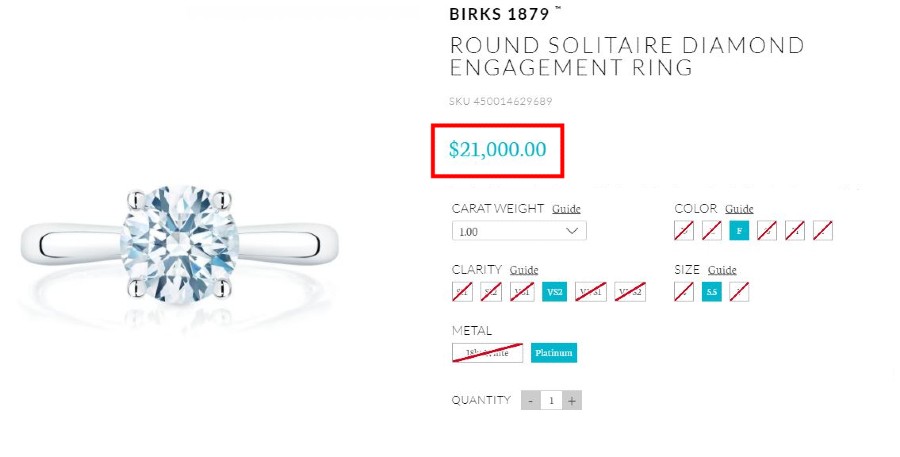 The final price will obviously depend on your province e.g. tax would be $1,050 in Alberta, but $3,144.75 if you were in Quebec: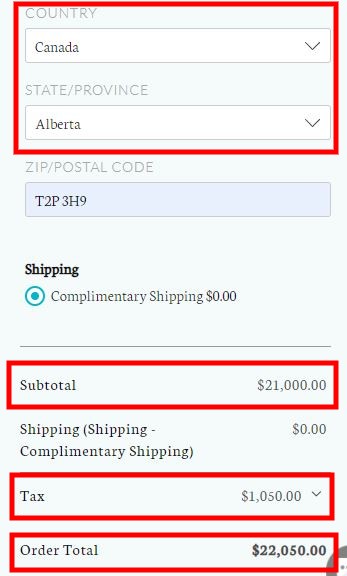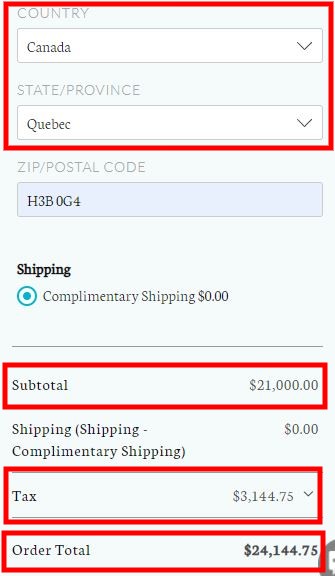 Important:
The amount of tax you pay depends on which province you live in and can vary from 5% -15% GST/PST/HST.
Canadian Tax Rates By Province
| Province / Territory | Type | GST (%) | PST (%) | Total tax rate |
| --- | --- | --- | --- | --- |
| Alberta | GST | 5% | 0% | 5% |
| British Columbia | GST + PST | 5% | 7% | 12% |
| Manitoba | GST + PST | 5% | 8% | 13% |
| New Brunswick | HST | 5% | 10% | 15% |
| Newfoundland & Labrador | HST | 5% | 10% | 15% |
| Northwest Territories | GST | 5% | 0% | 5% |
| Nova Scotia | HST | 5% | 10% | 15% |
| Ninavut | GST | 5% | 0% | 5% |
| Ontario | HST | 5% | 8% | 13% |
| Prince Edward Island | HST | 5% | 10% | 15% |
| Quebec | GST + PST | 5% | 9.975% | 14.975% |
| Saskatchewan | GST + PST | 5% | 6% | 11% |
| Yukon | GST | 5% | 0% | 5% |
Note: As we discussed, Birks don't show any information about cut grade so we don't know the actual cut grade for this ring.
If we look at this price compared to my recommended retailer – Brilliant Earth, a "Platinum Elodie Engagement Ring" in platinum with 1 carat diamond, F colour, VS clarity and Super ideal cut at CAD $13,250 plus tax: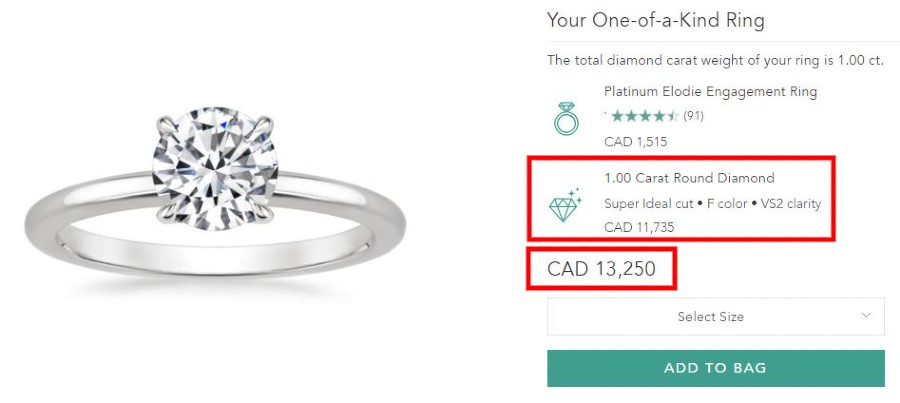 Tax will again be dependent on where you live – it would be $662.50 in Alberta, or $1,984.19 in Quebec.
If you look at the price with a Super Ideal cut from Brilliant Earth, we can see that there is a huge difference of $8,137.50!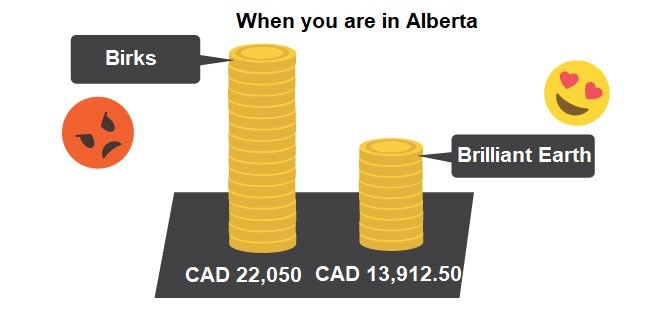 While you may not be looking for a diamond of this size or price, it is indicative of the high prices Birks are charging – over $8,000 more for a ring with the same quality of center stone.
This is obviously a significant difference in price! With the $8,137.50 you would save by shopping at Brilliant Earth instead of Maison Birks you could:
Increase the carat weight of the diamond
Increase the quality of the diamond
Spend it on a really special proposal
Put it towards your wedding cost
Or possibly all of this!
The prices at Brilliant Earth may be different on the day you look – maybe higher, maybe lower – it's worth clicking through to see today's prices for exactly what you're looking for.
Ring Selection

Diamond Quality

Service Quality

Value for Money
Do we recommend Birks?
Birks is a luxury store with 95 stores nationwide, but have relatively few choices of ring style; meaning customers have limited choices for the ring style that fits their taste.
Despite Birks not showing diamond cut grading on their website, it is a positive that they provide GIA grading reports with their diamonds. Their customer service policies are also good, with a 30 day return policy that is much better than many other jewellers.
However, the high prices means that it just doesn't make sense to buy from Birks. I recommend that you save a large amount of money when buying your ring and visit my recommended retailer instead. You'll get a high quality diamond at a significantly lower price.
Pros
Luxury store
GIA certified
30 days return-policy
Cons
Limited ring styles
No cut quality information
Inconsistent clarity and color for each ring
Expensive prices