Whiteflash Canada
Everything to know about buying a diamond or engagement ring from Whiteflash when you're in Canada
---
Whiteflash have firmly established themselves as a purveyor of diamonds of the very highest quality. Their trademarked 'A CUT ABOVE ' super ideal diamonds have few peers when it comes to cut quality, sparkle and impressiveness.
If you're in Canada and considering buying a diamond or engagement ring from Whiteflash, it's understandable that you might have some questions.
Read on to find more before buying a diamond or engagement ring from Whiteflash.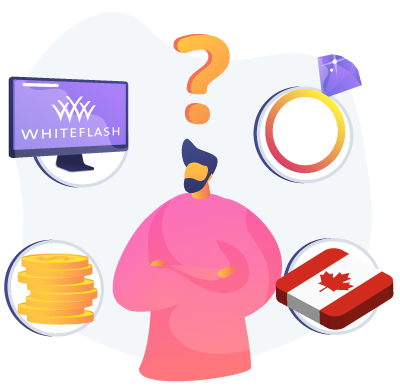 Import fees and taxes when importing an engagement ring from Whiteflash to Canada
Taxes are unfortunately something you can't avoid when importing a diamond an engagement ring, just as they would be if you were buying within Canada.
The good news is that, because of the CUSMA international free trade agreement, diamonds and engagement rings made in Canada, United States and Mexico are duty free between the three countries.
However, your province's taxes will need to be paid. These are paid to the delivery company before they deliver the ring and it is usually a very easy experience – call up with a credit card number, pay the taxes and then your ring will be delivered.
Province Sales Tax (PST) and Harmonized Sales Tax (HST) or Goods and Service Tax (GST) vary between different provinces in Canada. You can see what the various taxes are below:
| Province / Territory | Type | GST (%) | PST (%) | Total tax rate |
| --- | --- | --- | --- | --- |
| Alberta | GST | 5% | 0% | 5% |
| British Columbia | GST + PST | 5% | 7% | 12% |
| Manitoba | GST + PST | 5% | 8% | 13% |
| New Brunswick | HST | 5% | 10% | 15% |
| Newfoundland & Labrador | HST | 5% | 10% | 15% |
| Northwest Territories | GST | 5% | 0% | 5% |
| Nova Scotia | HST | 5% | 10% | 15% |
| Ninavut | GST | 5% | 0% | 5% |
| Ontario | HST | 5% | 8% | 13% |
| Prince Edward Island | HST | 5% | 10% | 15% |
| Quebec | GST + PST | 5% | 9.975% | 14.975% |
| Saskatchewan | GST + PST | 5% | 6% | 11% |
| Yukon | GST | 5% | 0% | 5% |
To show an example of the difference in provinces' taxes, if you purchase an engagement ring that costs CAD $7,370 and ship it to Nunavut, Canada, the GST will cost $368.50 (5%).
The total you could need to pay would therefore be CAD$7,738.50.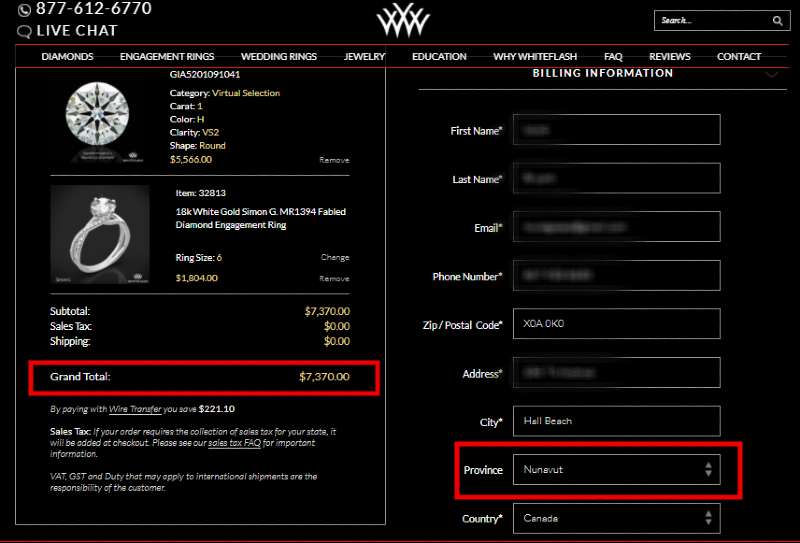 However if you order in New Brunswick with 15% HST, it will cost: CAD$ 1,105.50 plus the item price for a total of CAD$8,475.50
To see how your budget be affected by taxes; it's handy to use the Canadian government's tax calculator.
WhiteFlash Canada Shipping
Apart from sales taxes, you'll also need to consider the shipping process from Whiteflash to Canada – the cost, security, time and returns.
How much does shipping cost?
The great news is that Whiteflash guarantee that shipping to Canada is free and insured via FedEx Priority.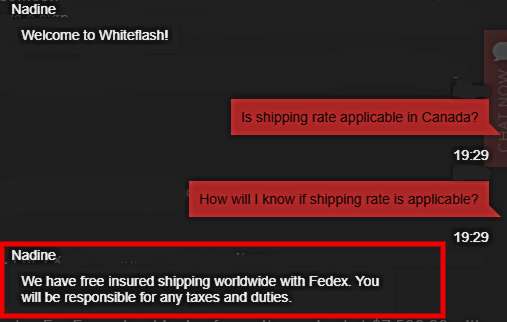 Since Whiteflash are very aware of the value and importance of the products that they sell, they have a standard delivery method called "Hold for Pickup", which means your package will be securely delivered to a FedEx branch near you.
You are required to show identification to get your package, this allows for extra security as the package won't be left unattended at your door. This also allows for the precious cargo to be picked up in your own time and fitted in around your schedule.
There's over 1,200 FedEx locations in Canada, so there's bound to be one near you. To find your nearest FedEx office, click here.
You can also opt to have it delivered to your address but you'll have to sign a special waiver to enable this.
How long does shipping from WhiteFlash to Canada take?
You'll be able to see how long a particular ring will take to make in the product description.
For example the ring below will take 18 days, while custom orders normally take about a month.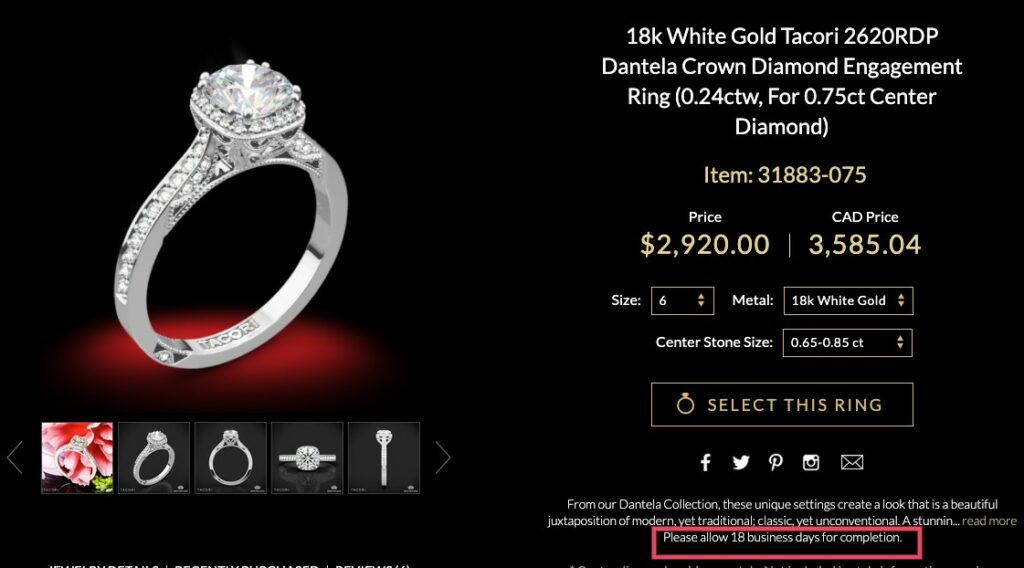 After check out, customers are sent an e-mail confirming the expected delivery date. A tracking number is given after the item has been purchased.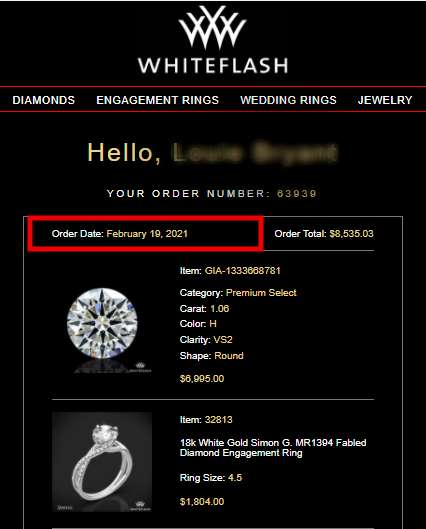 Packages usually arrive within 2-3 business days after they are shipped.
How do Whiteflash returns work in Canada?
If you are not completely satisfied with your purchase, Whiteflash offer a 30 day full refund/exchange policy for all their in-house certified diamonds. The return period eligibility begins on the date the item arrives at your FedEx hold location.
This guarantee applies to most of their product offering, namely:
A CUT ABOVE round brilliant and princess cut diamonds
Expert Selection and Premium Select categories
Regular catalogue settings and jewelry items
A 10 day full refund guarantee applies to Certified Diamonds from their Virtual Selection category and other diamonds that they may source for you.
To return your purchase, simply contact the Whiteflash customer service team for specific guidance base on your residence. Refunds will be issued within 10 business days.
Any returning fees are the sole responsibility of the customer. So it is important to consult your local customs department first.
Some rings are not returnable so you have to carefully consider before buying them. They are:
Non-catalogue special order items
Full eternity rings
Customer's modified rings
What if you need to get the ring resized?
Whiteflash provides one complimentary sizing within the year of purchase on most rings. Additional fees may be charged to certain designs. Some rings cannot be resized or may have limited ranges of size ability.
All materials, handling and labor required for sizing are provided by Whiteflash for free. The customer is responsible for the shipping and insurance to and from Whiteflash.
Do we recommend buying from Whiteflash if you're in Canada?
Deciding where to make such a big purchase is a tough decision. And of course the choice of whether to buy locally or from abroad is totally up to you. To aid in your decision making process, we've done a simple price comparison between a local jeweler and Whiteflash, to show you how much money can be saved if you purchased from Whiteflash.
We use the following specifications in comparing two loose diamonds: 1.00 carat, H color, VS2 clarity, excellent cut and with GIA certificate. The tax rate is based on Alberta, Canada GST (5%)
We found a sample from CanadaDiamonds. A diamond with these specs is priced at CAD$10,066.61, once tax is included: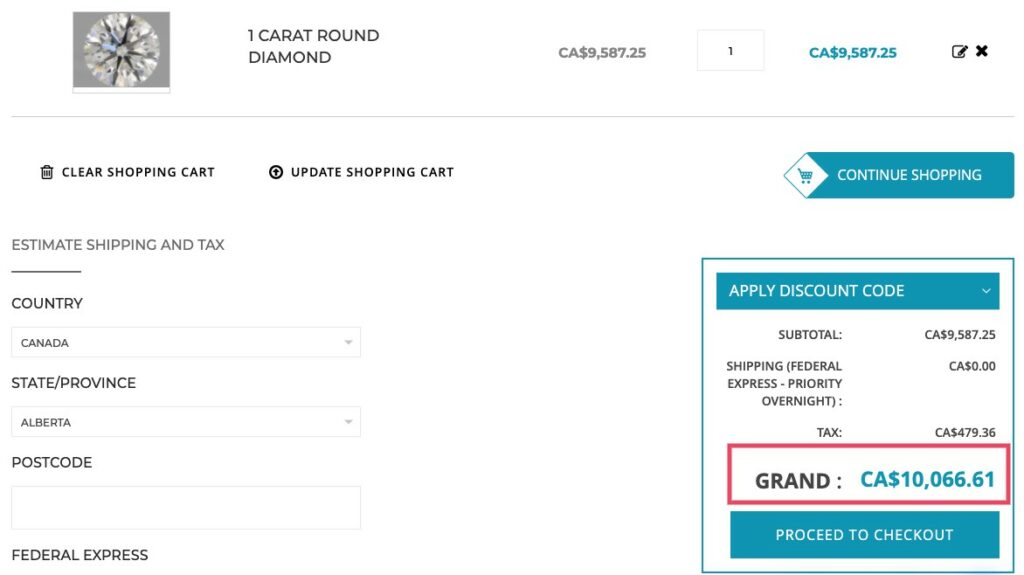 Purchasing the same diamond on Whiteflash will cost you US$6,155 or CA$7,752.38: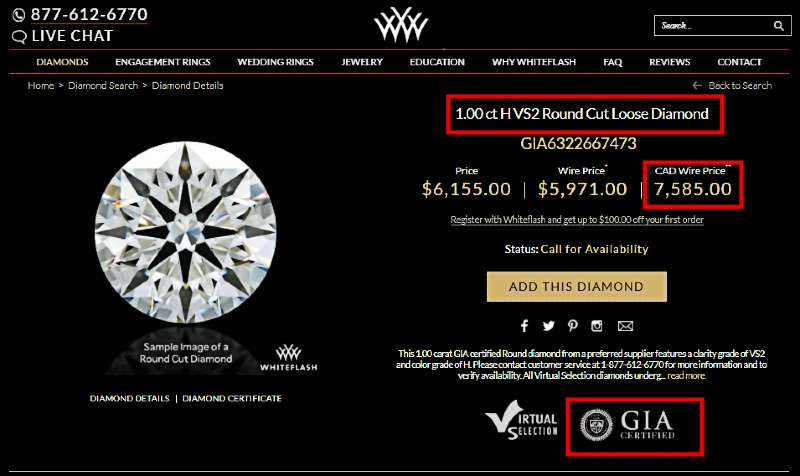 If we add the 5% GST in Alberta which is CA$387.62, its total cost will be CA$8,140.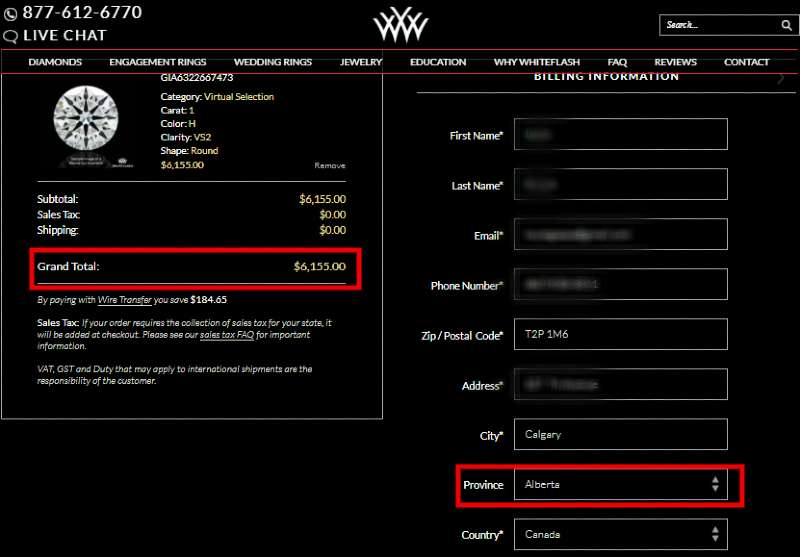 Whiteflash's price is CA$ 1,926.61 less expensive than Canada Diamonds – a pretty good saving!
Of course, if you're looking at Whiteflash, you may not be considering a 'standard' excellent or ideal cut stone, and you may be choosing one of the signature stones. The value means that you could possibly get an 'A Cut Above' diamond for around the same price as you would pay for a regular ideal cut diamond from a Canadian retailer. While the price may be similar, the 'A Cut Above' diamond will sparkle much more brilliantly.
If you think that's a compelling enough reason to buy abroad, check out the White Flash site, get inspired and find the perfect engagement ring for you or your partner.