Blue Nile Canada
Everything to know about buying a diamond or engagement ring from Blue Nile when you're in Canada
---
Blue Nile is a great option when buying a diamond or engagement ring from Canada – offering more choice and more value than local Canadian jewellers.
But ordering from a US retailer, especially such a significant purchase, is bound to raise some questions.
Read on to find out everything you need to know about buying an engagement ring from Blue Nile when you're north of the border.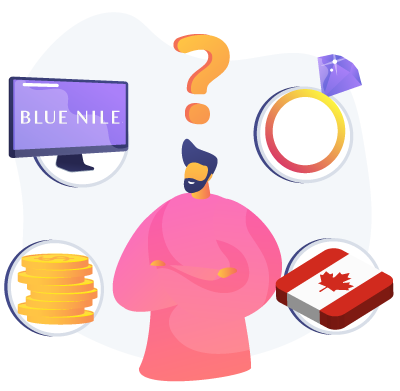 Import fees and taxes when importing an engagement ring from Blue Nile to Canada
The good news is that as Canada and the USA are part of the USMCA agreement that replaced the North American Free Trade Agreement, which means that goods that are manufactured within North America aren't subject to import duty when transferred between the members of the agreements (US, Mexico and Canada).
Blue Nile's jewelry workshop is located in Seattle, which means that there's no import duty to be paid.
Instead, you will just need to pay the your provinces regular sales tax – just like if you were buying from a local jeweller.
Blue Nile is the 'importer of record' when shipping to Canada
Unlike some US-based retailers like James Allen, Blue Nile acts as the 'importer of record' on your behalf which makes it even easier to understand exactly how much your jewellery will cost.
What this means is that Blue Nile is responsible for ensuring that goods are imported in accordance with Canadian laws and regulations and they take care of all taxes, and fees.
Understanding what taxes are due
As each province in Canada has different tax rates, the total price (including tax) can only be shown once you have told Blue Nile where you live.
When you are choosing a diamond and ring setting, you therefore need to allow for this in your calculations. Once you have chosen both, you will be shown a total price, with the caveat 'Subtotal. Duty free':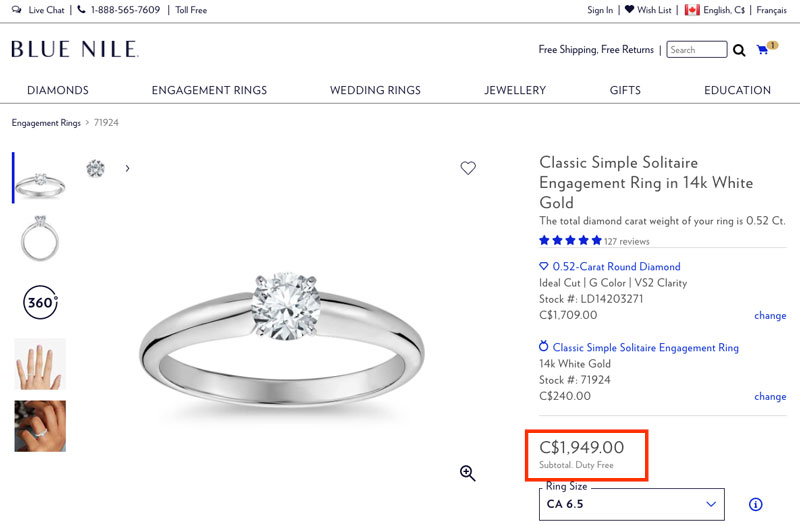 While no import duty will be paid, this price doesn't include your province's tax, which will need to be added on.
How much this will be will depend where you live. For example, if you live in Alberta, the tax that would be due on the ring above would be C$97.45:

However, if you like in Quebec, the tax is considerably higher at C$291.86:

Again, it should be noted that these are the exact same tax amounts that you would be charged if you were to buy your ring within Canada.
Fellow US-based jeweler James Allen has an excellent import duty calculator which can tell you exactly how much tax you will need to pay for your province, which you can find here.
Blue Nile Canada shipping
There are a few things to consider when shipping between the US and Canada:
How much does shipping cost?
Shipping an engagement ring from Blue Nile to Canada is absolutely free, either by FedEx or UPS.
This includes insurance and the package is sent in discreet packaging, so it's not obvious what is inside.
This is important so that thieves don't know what's in the package, but also ensures that if you're buying the ring as a surprise, the recipient won't see it either.
How long does shipping from Blue Nile to Canada take?
Shipping times from Blue Nile to Canada will depend on which province you are in.
Target times are below:
| PROVINCE | SHIPPING TIME |
| --- | --- |
| Alberta | 1 – 4 days |
| British Columbia | 1 – 5 days |
| Manitoba | 1 – 4 days |
| New Brunswick | 1 – 5 days |
| Newfoundland and Labrador | 1 – 5 days |
| Nova Scotia | 1 – 6 days |
| Northwest Territories | 2 – 8 days |
| Nunavut | 2 – 8 days |
| Ontario | 1 – 5 days |
| Prince Edward Island | 1 -3 days |
| Quebec | 1 – 5 days |
| Saskatchewan | 1 – 5 days |
| Yukon Territory | 3 – 8 days |
One thing to know is that these shipping times are from when the ring leaves Blue Nile's workshop, which is usually around two weeks after you place the order.
The shipping time for your ring can be seen in the first screen of the checkout process.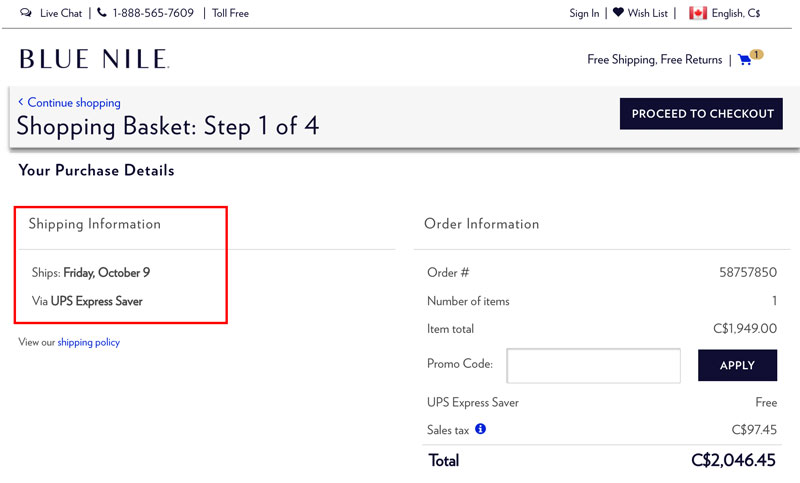 This two week period is for the diamond to be sourced and paired with the ring setting and is very efficient for a custom jeweller.
The lead times for most jewellers to pair a diamond you have chosen with a setting is significantly longer than this, but Blue Nile have built extremely efficient processes to get you your ring as quickly as possible.
How do Blue Nile returns work in Canada?
Blue Nile accept returns for refund or exchange within 30 days of shipment from the date that a ring was shipping from their facility.
To make it as painless as possible, Blue Nile will will send you a fully insured, free shipping label via email within one business day of your return request.
What if you need to get the ring resized?
Blue Nile offers free resizing for the first year of you ring, which is a great service.
Pro tip: if you aren't sure on the size of the ring then err on the side of larger, as it's easier to make a ring smaller than it is to make it larger.
If you do have to get your ring resized, then the ring will be shipped to a Blue Nile fulfilment centre within Canada. This is important because it means that you won't need to worry about getting hit by taxes when the ring is sent back to you.
Do we recommend buying from Blue Nile if you're in Canada?
We are big fans of Blue Nile – it offers a fantastic selection of settings, great customer service and very competitive pricing. Plus, they offer over 150,000 diamonds at any one time, which means that no matter what you are looking for, they should be able to help.
A great place to start for inspiration is their 'recently purchased engagement rings' gallery which will show you the breadth of the styles they offer and give you a good idea of the price of different styles and sizes of diamonds.
International Blue Nile Guides
If you're outside Canada and have somehow found your self here, we also have guides to buying from Blue Nile for several other countries. Click below to access your local guide: