Blue Nile New Zealand
Everything to know about buying a diamond ring from Blue Nile when you're in New Zealand
Last updated on: June 21st, 2022
---
Blue Nile is one of the world's largest jewellers online and offers more than 150,000 loose high-quality diamonds with industry-leading diamond certification and a great-selection of handcrafted engagement ring settings.
Blue Nile also offers shipping to 45 countries worldwide (including NZ!) matched with a promise of secure delivery, 30-day returns and lifetime guarantees for its products.
Blue Nile consistently offers more value for your money than local New Zealand retailers, so if you're considering buying from them, this page will tell you everything you need to know.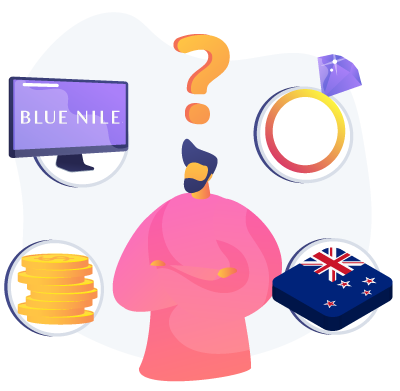 Blue Nile's international shipping policy
Although Blue Nile ships their products to many countries around the world, their international shipping policy may vary depending on which country you're in.
Recipient as the Importer of record
The 'importer of record' is the party responsible for paying all duties, taxes, and fees assessed by customs or the carrier.
For orders from Blue Nile to New Zealand, the recipient is the importer of record, which means they are responsible for paying all duties, taxes and fees to NZ customs or the carrier before the ring will be delivered.
If you're importing a ring, this means that you are the importer of record: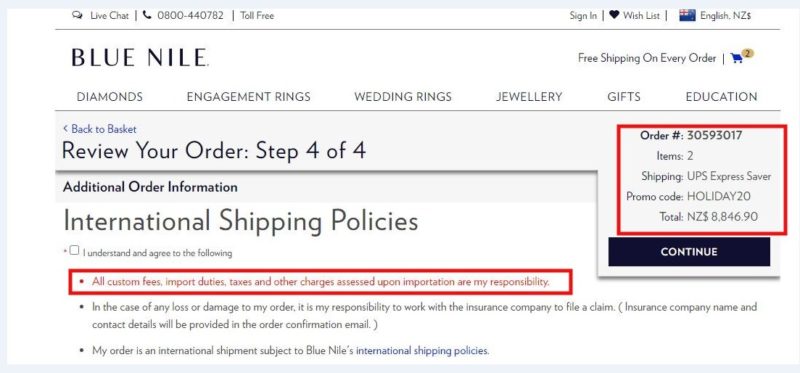 This isn't a big deal – it basically means that duties, taxes and fees will be collected by NZ customs when it arrives in the country, rather than being bundled into the price you pay on the website.
It also means that when you are looking at the prices of rings on the Blue Nile site, the prices you see don't include tax: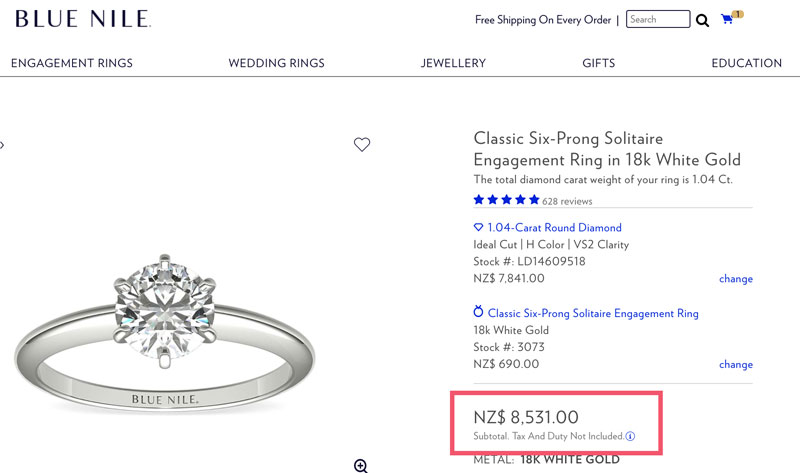 Taxes and fees when shipping orders from Blue Nile US to New Zealand
The fees that you will have to pay for are:
Duty of 5% the cost of the ring if it's over $1,000. If you're buying a loose diamond (ie. not set into a ring, you won't have to pay any duty on it).
GST of 15% (the same as buying a ring within NZ)
Import Transaction Fee and Biosecurity Fee
If you read the customs information on the Blue Nile website, they say that all orders valued at NZD 400 or higher will be subject to these fees. However, according to the NZ Customs Service site any item over NZD1000 will be subject to the NZD 29.26 Customs Import Transaction Fee and Biosecurity levy of NZD 26.45 as part of the import and export entry preparation for shipments.
Other fees to be aware of, as listed on Blue Nile:
Security fee – When shipping from overseas to New Zealand, a security fee of NZD 3.00 is required on all orders.
Disbursement Fee – 3% of its value or minimum of NZD 11.00 whichever is greater.
An example of the breakdown of fees and taxes on a NZD10,000 ring are below: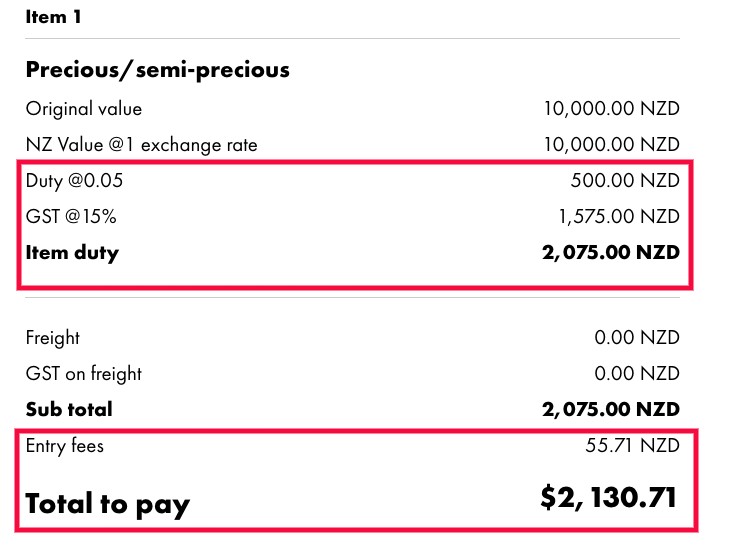 While there are several fees listed above, the significantly lower prices on Blue Nile's site compared to NZ-based retailers means that they will almost always be less expensive compared to buying locally. And if your item is under NZ$1,000 you won't have to pay any duty, GST or fees.
The payment for these taxes and duties will be collected by New Zealand Customs Service by credit card or bank transfer here before the delivery of your order. They'll get in touch with you once your ring arrives, and once you settle up with them, the ring will be released to you.
To confirm the amount you'll need to pay, NZ Customs provides a handy tax and duty calculator on their website, you can check it out here.
If you have any other enquiries or need to speak to a Customs officer, you can contact their customer service centre on 0800 428 768. You can also email them at service.delivery@customs.govt.nz, and finally here's a step by step guide.
Blue Nile New Zealand shipping
Blue Nile is committed to delivering the best shopping experience by providing:
Free shipping
Insured and discreet packaging
Secure and convenient pickup option
For items shipped to New Zealand, Blue Nile uses UPS with its UPS Express Saver.
How much does Blue Nile shipping cost to New Zealand?
Although they are based in the US, Blue Nile offers insured, fast and free shipping to international destinations.
How long does shipping from Blue Nile to New Zealand take?
Shipping time from the Blue Nile facilities to New Zealand will take around 3-10 days, once the ring is made.
Actually crafting the ring can take anywhere from 1 -3 weeks, and you'll get a shipping estimate date on check out.
For orders with multiple items, please note that the shipment date is dependent on the item with the longest lead time.

---
The combined production and shipping time is usually shorter than a local jeweller would be able to create and supply a ring in, due to Blue Nile's excellent production processes.
Insurance Protection for Your Jewellery
Blue Nile charge a non-refundable fee for the insurance of your ring, which will cover you for the period of when the ring is shipped to you till it arrives safely at your door. This is a 0.5% of the cost of the ring and is charged at time of checkout.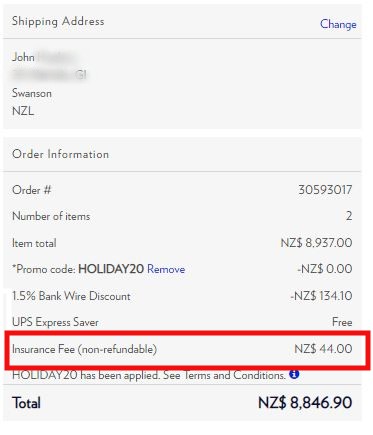 How do Blue Nile Returns work in New Zealand?
Blue Nile offers a 30-Day Money Back Guarantee.
Items can be returned or exchanged within 30 days from the day it was shipped, no questions asked. Blue Nile will send you a shipping label within one business day upon receiving your return request.
It's also worth noting that for the item to be eligible for a return or exchange, it must be in its original condition. It should also include all product documentation and sent back to Blue Nile within the return period.
What if you need to get the ring resized?
If the size of the item you received does not fit, Blue Nile offers complimentary resizing for engagement rings and wedding bands within the manufacturer's recommended sizing range, during the first year. If you need a different ring, they offer a 30-day exchange policy for your convenience.
Do we recommend Blue Nile for your engagement ring when you're in New Zealand?
Blue Nile are one of our most recommended retailers. With their vast selection of diamonds, wide range of ring settings and competitive pricing, it's a great place to shop for your ring.
If you're looking for inspiration then a good place to start is their 'recent engagement rings' gallery and then the Build Your Own Ring tool is a great way to customise your engagement ring to celebrate your unique love story.
International Blue Nile Guides
If you're outside NZ and have somehow found your self here, we also have guides to buying from Blue Nile for several other countries. Click below to access your local guide: