Importing a diamond ring into New Zealand
Everything you need to know about importing an engagement ring or any other diamond jewellery into NZ
---
If you live in New Zealand and you're looking for a diamond engagement ring, or any other piece of diamond jewellery, importing from US retailers like James Allen or Blue Nile can be very tempting.
They seem to offer much greater value than the majority of retailers within New Zealand. And often, they do.
But importing a diamond or engagement ring into New Zealand can be complicated. How much are you going to be charged on taxes and what happens if something goes wrong?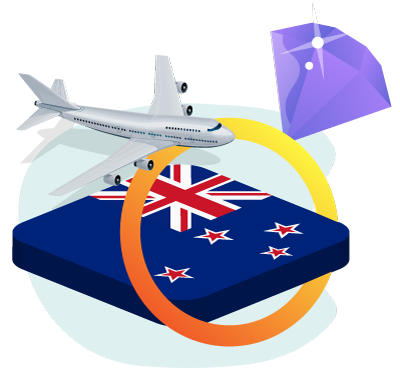 In this blog, you'll learn
The two things that will affect how the price of your engagement ring
The import tax you will pay importing a diamond engagement ring into New Zealand
What to do if you need to get a ring resized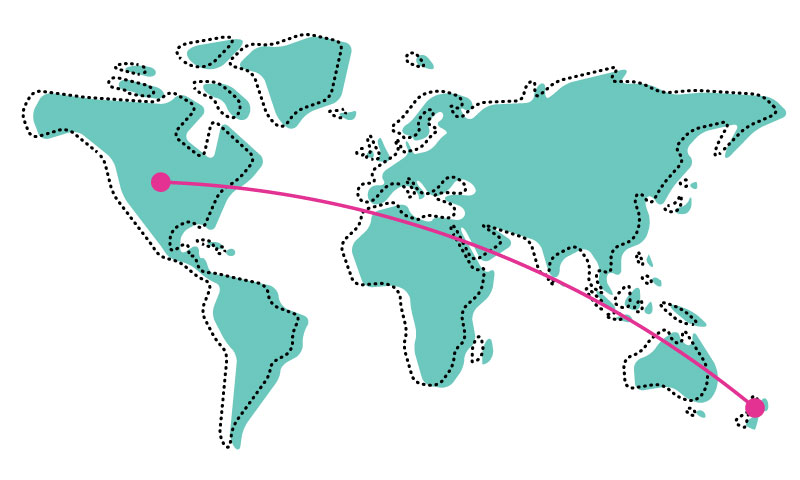 Two things that will affect the price you pay to import a diamond ring into New Zealand
1. Foreign Exchange rates
The relative strength of the NZ$ to the US$ can play a huge part in how attractive it is to import a diamond or engagement ring into NZ.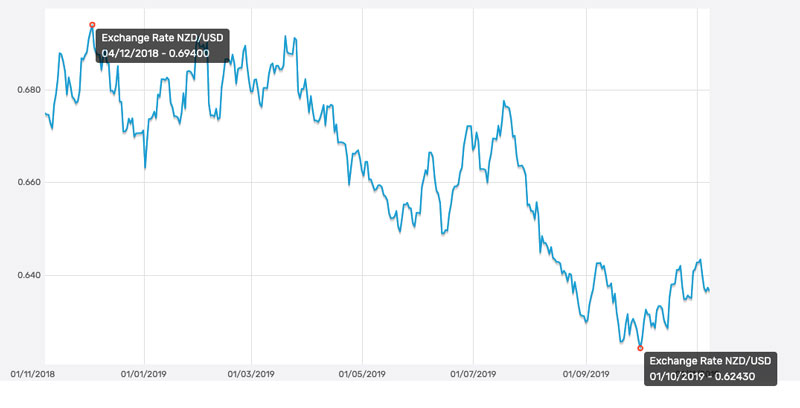 In the last couple of years since the time of writing, the NZ dollar has hit the following extremes:
High: US$ 0.694
Low: US$ 0.624
This makes a big difference to how much a diamond or engagement ring would cost.
At the high of US$0.694, a US$10,000 diamond ring would cost you NZ$14,409.
Conversely, at the low of 0.624, that same diamond ring would cost you NZ$16,025.
That's a difference of NZ$1,616, which is pretty significant.
While foreign exchange rates are outside our control, I wanted to include it to explain that, while I recommend US retailers a lot on this site, they aren't always the best option.
The exchange rate at the time that you are looking to buy will make a big difference to their competitiveness.
---
2. Tax
The second big consideration when importing diamond jewellery into NZ is the tax that needs to be paid.
For most jewellers in the US, the person buying the ring is the 'importer of record'. This means that they are responsible for paying all duties, taxes, and fees assessed by customs or the carrier.
There are three parts to this:
1. Import duty on a diamond ring when importing to New Zealand
New Zealand Import duty on a diamond engagement ring is 5% of the cost of the ring over $1,000.
But, something to know is that if you're are just importing a 'loose diamond ie. one that hasn't been set into a ring then there is no import duty to be paid.
Navigating the NZ Customs website to confirm this can be confusing, but here's an email from a Senior Customs Officer at NZ Border Operations confirming that no duty is payable on a loose dianod:
From: CUMMINGS Russell <Russell.Cummings@customs.govt.nz>
Subject: NZ Customs enquiry – importing a diamond

Good afternoon,

Thank you for your enquiry.

A loose diamond will not attract any import tariff (duty), but GST will be assessed on the cost of the diamond, the cost of shipping and the cost of any insurance.

The Working Tariff Document (https://www.customs.govt.nz/business/tariffs/working-tariff-document/working-tariff-document/), Chapter 71, Heading 71.02 details the import tariff on diamonds, and Section 12 of the Goods and Services Tax Act 1985 sets out how GST is assessed on imported goods.

Regards,
Russell Cummings
Senior Customs Officer
Border Operations, Timaru
Choosing a loose diamond can therefore be a great way to absolutely maximise your savings without getting stung in any way for buying outside NZ.
2. GST on an engagement ring when importing to New Zealand
Regular GST of 15% needs to be paid on both a diamond engagement ring and a loose diamond.
3. Additional fees
There are a couple of additional fees which may be also need to be paid on a diamond engagement ring – the 'Formal Entry Fee':
Import Entry Transaction Fee (IETF) = NZ$29.26
Biosecurity Levy = NZ$26.45
Calculating the tax to import a ring into New Zealand
Working out the exact tax that needs to be paid isn't too tricky, but James Allen have provided a great sales tax calculator.
You can enter the cost of your ring and find out the total of the import duty, GST tax and other charges that will be payable.
It will also show you the difference between just importing a diamond, and importing a diamond and a setting.
Click here to check it out.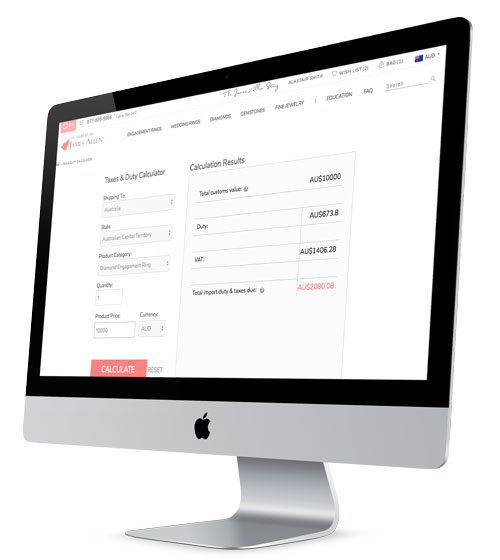 ---
Other things to think about
The price of your ring is just one thing to think about when deciding whether important a diamond ring to NZ is the right decision
Shipping an engagement ring from USA to NZ
Almost all US retailers offer free international shipping.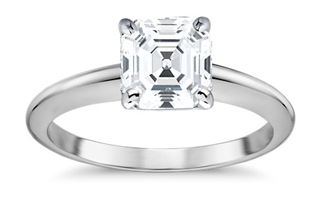 Once an order ships, it should arrive in NZ within 3-5 business days and once it arrives the shipping company will contact you and to finalise any taxes that are due before they release the ring.
Insurance
Most jewellers will include insurance within the cost of the shipping. Some may add a small charge to the ring.
For example, Blue Nile add a fee of 0.5% of the value of your order which protects your order from the time it leaves Blue Nile to when it arrives at your door. Technically this is an agreement between you and the insurance company. As an example, if your ring is going to cost NZ$10,000, 0.5% insurance on top is an extra NZ$50.
Returns and service
Most online retailers in the US offer great service. No-quibble returns within 30 days and the ability to have your ring resized for free at no cost.
If you do need to send the ring back to the US for any reason, most retailers will ask you to cover the cost of shipping back to the US.
---
Is it worth importing an engagement ring into NZ?
You may have read all of the above and wondered whether it is worth the hassle of importing an engagement ring into New Zealand, and that it definitely a fair question.
My recommendation would always be that you investigate importing a diamond ring into NZ because compared to local retailers, it is very likely to end up being significantly less expensive. You could get a higher quality diamond at a lower price.
For example, a typical diamond that I help people find is:
1 carat
Excellent cut
H colour
VS2 Clarity
GIA grading report
Looking on a local, NZ jeweller's website, the price for a stone that meets these criteria is anywhere from around $9,800 to around $10,100: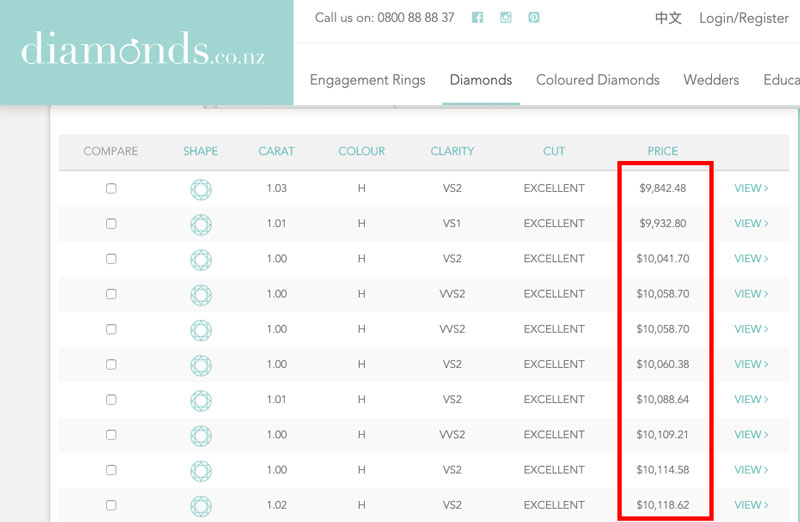 An important thing to note is that these prices are excluding GST: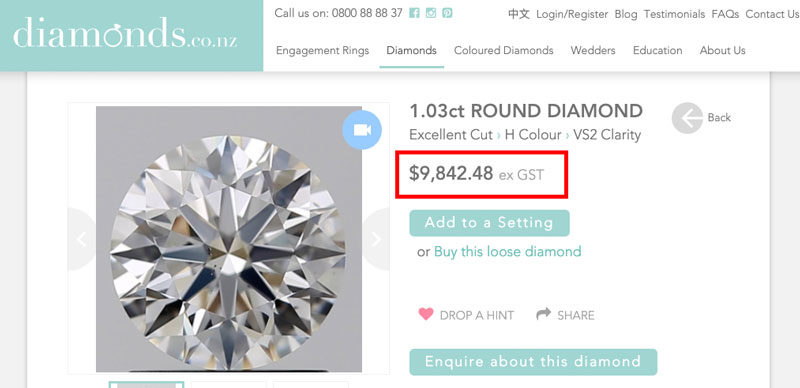 With GST added, these diamonds will be closer to $11,500.
If we compare this price to the prices on a US engagement ring retailer (which translates it into NZ$), the prices are much lower – around NZ$7,600 – NZ$7,800: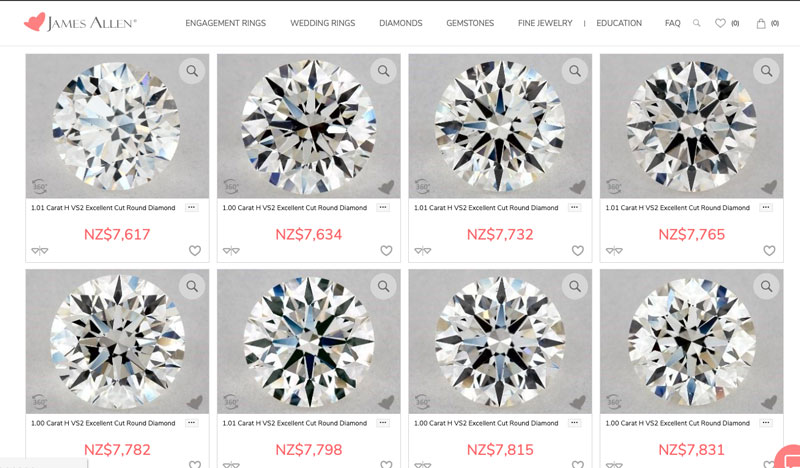 Of course, the GST and import duty would need to be added to this too.
The additional costs to import one of these diamonds would be (based on a NZ$7,700 diamond):
| ITEM | COST |
| --- | --- |
| 15% GST | NZ$1155 |
| IEFT | NZ$29.26 |
| Biosecurity levy | NZ$26.45 |
| Total additional costs | NZ$1,210.71 |
| Total cost for diamond | NZ$9,210.71 |
That would be a saving of at least NZ$2,300 over buying locally, which is pretty significant.
You can check today's prices for an equivalent diamond here.
Importing less common diamond shapes and sizes
The above example is a very common diamond shape and quality that I recommend. But the difference in prices can be even more stark if you are looking for a larger diamond, or a less common shape.
The price of a 2 carat pear diamond with G colour and VS2 clarity is listed on an NZ retailer for nearly NZ$37,000.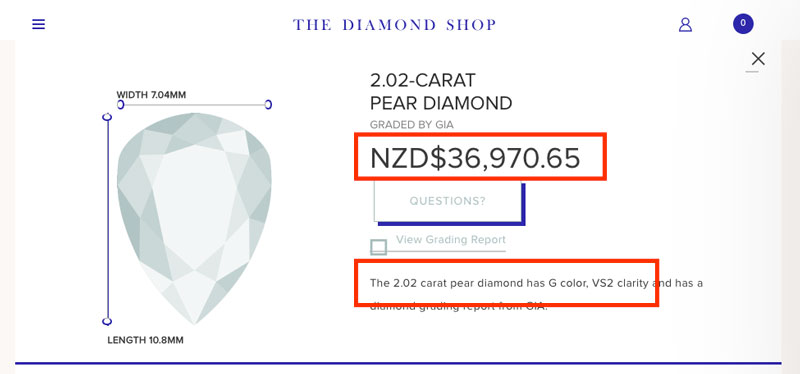 Again, this price doesn't include GST, so the total will be NZ$42,515.
A comparable diamond on a US retailers website starts from NZ$28,000.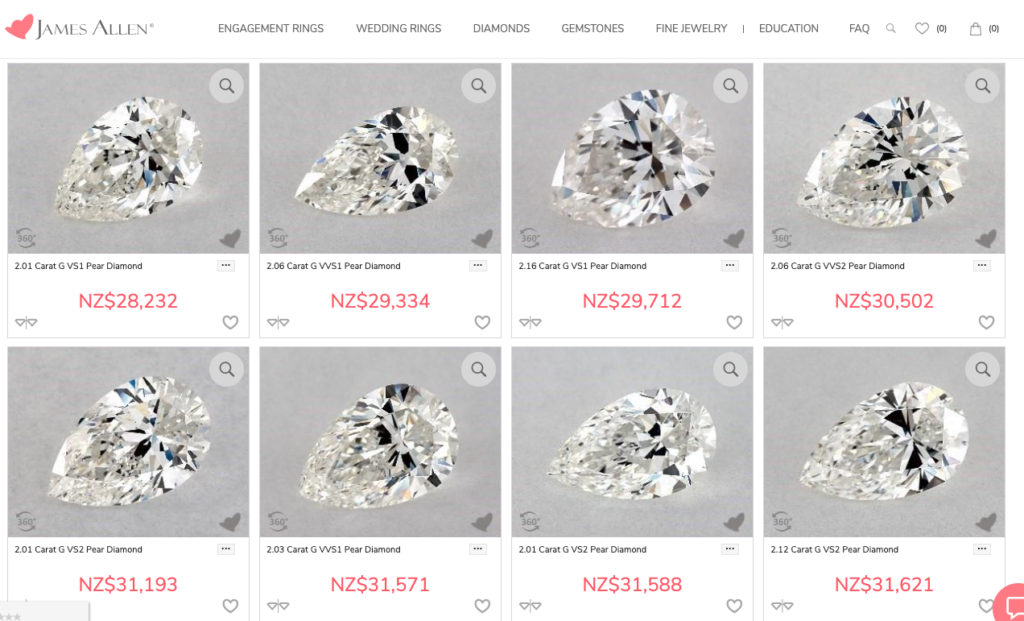 Once GST and other fees are added, this would bring it up to around $32,500 ie. a NZ$10,000 difference!
Again, it's always worth having a look for yourself to see how much you could save on your diamond, which you can do here.
Should you import an engagement ring into New Zealand?
Whether importing your diamond ring into NZ is right for you is a decision I can't help with, unfortunately. But I would say that before you decide either way, you should have a look at US retailers and see how they compare to local jewellers. The jewellery import duty calculator here is a really useful tool to understand what the total cost will be.
Two of the US retailers I recommend most are Brilliant Earth and James Allen.
Top recommendation: James Allen
James Allen is one of the largest jewelry retailers on the web, with access to a huge range of diamonds.
What sets them apart is the incredible imagery of every diamond they sell so you can see exactly what you're getting. This makes them a great choice for any diamond, but an especially good places for non-round 'fancy' shaped stones.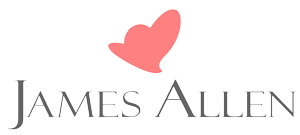 Ethical choice recommendation: Brilliant Earth
Brilliant Earth goes above and beyond current recommended standards for responsible sourcing with their Beyond Conflict Free Diamonds, which have been selected for their ethical and environmentally responsible origins.
Whether you're looking for a lab-grown or a natural diamond, Brilliant Earth is the jeweler to choose if making a conscious, ethical choice factors into your decision when choosing your ring.

Best for diamond quality: Whiteflash
Whiteflash is one of the most well respected jewelers online, having built an international reputation for top quality diamonds and designer engagement rings since their founding in 2000.
They are developer and sole provider of 'A Cut Above' round and Princess cut diamonds, which are cut to 'super ideal' ie. higher quality even than 'ideal cut' diamonds, making them some of the finest and most brilliant diamonds in the world.
Whiteflash are also authorized distributors for some of the finest designer engagement rings in the market including Tacori, Verragio and Simon G.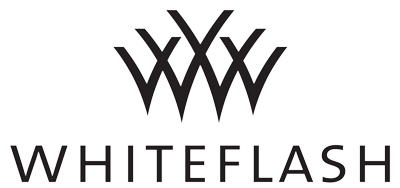 Colored Diamond Recommendation: Leibish & Co.
Leibish & Co. specialize in just one thing – fancy colored diamonds. Whether it's a yellow, black, pink or any other color of diamond that you're looking for, Leibish & Co. is the store to check out.
And with a wide range of ring setting styles on offer, there should definitely be a ring that ticks all of your boxes.