James Allen New Zealand
Everything to know about buying a diamond ring from James Allen when you're in New Zealand
Last updated on: November 28th, 2022
---
If you're in New Zealand and you're considering buying from James Allen, you probably have a few questions about the purchase process.
After all, it's a big purchase to make, so you want to make sure that you're making the right decision. Thankfully, it can save you money compared to buying within NZ and you can get a higher quality diamond too!
In this blog, we're going to look at:
Import fees and taxes you'll need to pay
Shipping – how long it takes and how much it costs
The service you'll receive
How James Allen compares to local retailers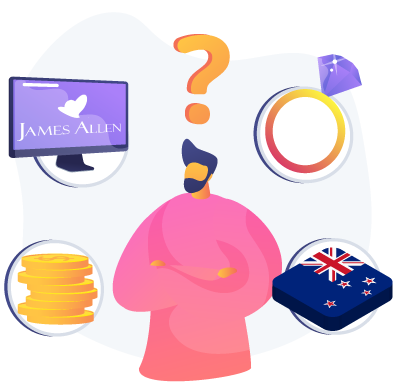 Import fees and taxes when importing an engagement ring from James Allen to New Zealand
When buying anything from overseas, the prices you see on the website sometimes do include import taxes and fees and sometimes they don't.
With James Allen, taxes and fees aren't included in the prices on the website when you're looking at a diamond or ring in NZ$.
This is important because it means that when you are looking at the prices on the James Allen website, you'll also need to factor taxes into your budget. The tax is applied on the total sum of the item cost, insurance cost and shipment cost.
Taxes and duties:
New Zealand import duty on a diamond engagement ring is 5% of the cost of the ring over NZ$1,000. But, if you are importing a loose diamond or a loose gemstone, that hasn't been set into a ring then there is no import duty to be paid. Choosing a loose diamond can therefore be a great way to absolutely maximise your savings without incurring any additional fees for buying outside of NZ.
The average GST rate applicable in New Zealand is 15% and this will be applied to your purchase from James Allen. But, it's important to bear in mind that you would also have to pay this on a ring if you purchased in New Zealand
There are extra taxes and customs fees while importing which will also need to be paid.
Import Entry Transaction Fee (IETF) = NZ$29.26 (If the sum of duty and GST is more than NZ$60. If it is lower than $60, this is waived)
MPI Biosecurity System Entry Levy = NZ$26.45
You can find out more at the NZ customs site here.
Understanding how much tax you will need to pay
James Allen provide a handy tax calculator so you can see the exact amount that needs to be paid to customs. You can check it out here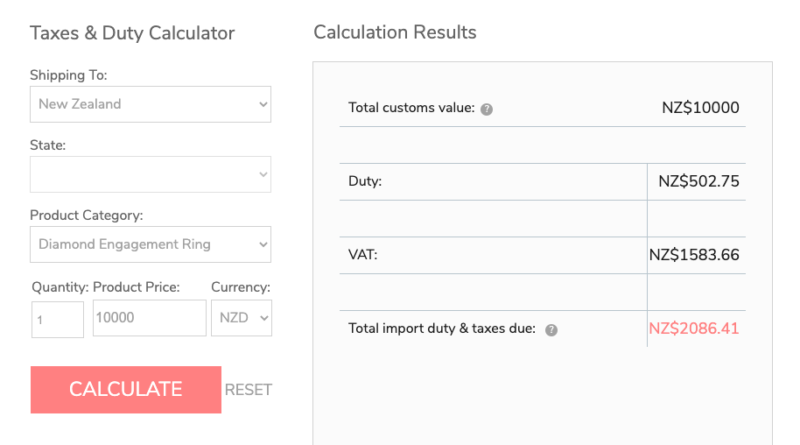 Just enter the product price to find out the total cost including the import duty, GST tax and other charges that will be payable.
It will also show you the difference between just importing a diamond, and importing a diamond and a setting.
James Allen will also show you what taxes and duties you can expect to pay once you have added a ring to your shopping basket and started the checkout process: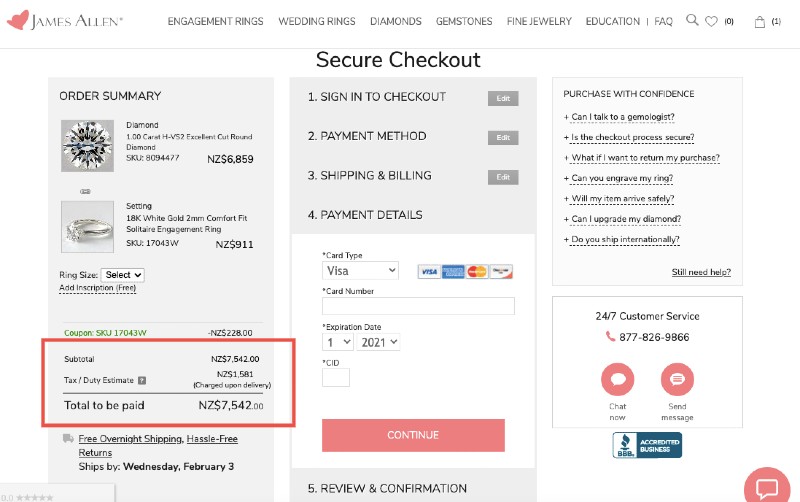 Please note that neither of these estimations include the NZ entry fees which could total an additional $55.71.
How you pay for the tax
Once an order ships, it should arrive in NZ within 3-5 business days and once it arrives the shipping company will contact you to finalise any fees and taxes that are due before they release the ring. You'll be able to pay online.
James Allen New Zealand Shipping
James Allen provide free shipping and insurance to New Zealand, regardless of the order amount. They make sure that all items are securely packaged and fully insured while in transit from their store to your home or office.
For your protection, James Allen always:
Insures and registers all items for their full value.
Uses only FedEx services for all orders, in order to deliver high value packages in the fastest and safest manner.
Requires that all deliveries be made to a physical business or home address.
Disallows delivery to PO Box addresses.
Requires a signature for the package.
Allows an alternative shipping address.
James Allen suggests that any credit card order be shipped to a valid address on file with the credit card company, although alternate addresses are acceptable. They can also arrange to have your package shipped to a local FedEx station for pick-up.

How long does shipping from James Allen to New Zealand take?
Shipping from James Allen to New Zealand takes 3 – 5 days for delivery once your order has been made and passed through quality control. Their loose diamonds are shipped immediately after passing inspections. All other jewelry and engagement rings are shipped in one to three weeks, depending on the production schedule of items.
New Zealand orders over $500 in value are shipped via FedEx International Priority while orders under $500 in value are shipped via FedEx economy or USPS. You can keep across your order status and tracking information on their website. You'll also get a shipping estimate on checkout: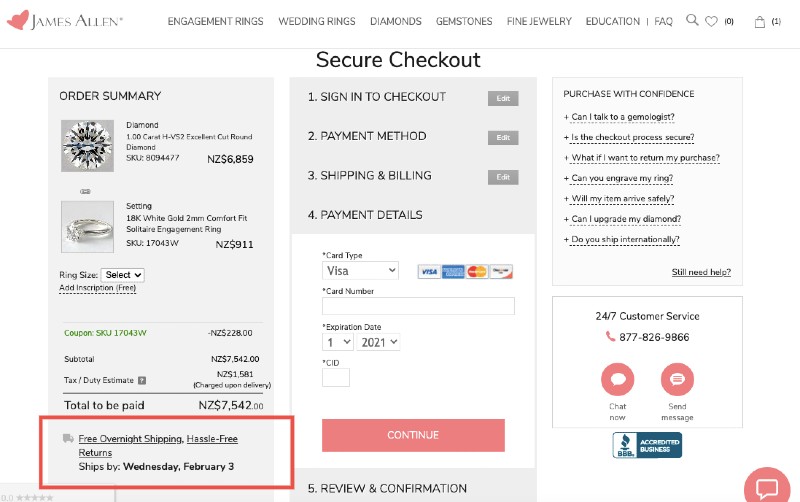 How do James Allen returns work from New Zealand?
James Allen ensures that if you are not satisfied with your purchase just return the item in its original, unworn condition within 30 days for a 100% refund. This refund is for the price of your purchase only – you need to cover the cost of shipping back to US which will be around US$50.
To ship the ring back to James Allen, all you need to do is to drop the ring off to any FedEx store. This way your ring is fully insured and safe. Or, if you'd prefer, you can choose to use your own courier. If you have any questions on this the James Allen customer service team will further guide you through the returns process.
What if you need to get the ring resized?
James Allen's resizing policy allows you to return a ring and have it resized for free within the first year of purchase. New Zealand customers pay a small return fee shipping fee of $50. In case you need to resize more than once, a $25 fee applies to resize white, yellow and rose gold rings and it's $50 for platinum. The return shipping to you is always free, even after 1 year after purchase.
Getting it resized locally will cost anywhere from $40 -$140 depending on the complexity of the resize and metal used.
Do we recommend buying from James Allen if you're in New Zealand?
Buying an engagement ring from a different country can be a bit daunting. Of course, nobody likes to waste money or time, and you want to get this incredibly important decision right.
Over the years, we've helped hundreds of people buy their engagement rings from James Allen, including many from NZ. In fact, while we recommend several jewellers, James Allen remains our #1 choice due to their excellent prices, 360-degree videos, wide range selection of diamonds and the ability to create the exact ring you're looking for.
How James Allen compares to NZ jewellers
The big decision to make when buying your ring is whether it is easier to just buy locally, or whether going to the effort of buying from the US is worth it.
That decision is ultimately up to you, but comparing prices of a NZ jeweller with James Allen can show just how much money can be saved. It is significantly cheaper to buy diamonds and engagement rings from James Allen compared to most local New Zealand stores.
Looking at a 1 carat, H colour, VS2 clarity, excellent cut diamond from a jeweller in Auckland, they have priced the diamond at $12,049.59: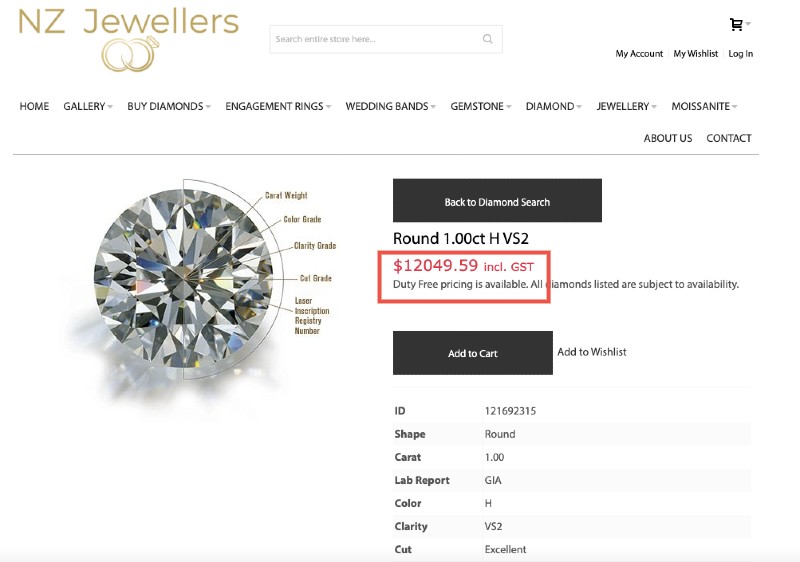 If we search for a diamond with identical size and quality on James Allen, it is priced at NZ$6,859: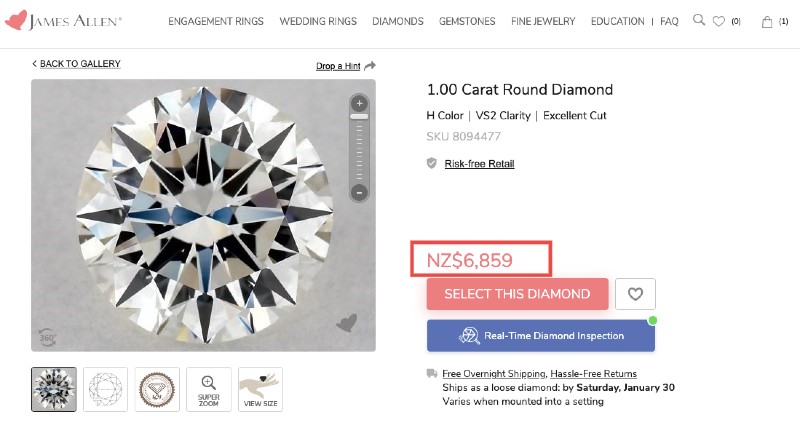 The GST you'd pay on this diamond is 1,037.10, which would bring the total to $7,896.10.
As you can see it has exactly the same specs as the NZ Jewellers diamond but even allowing for the import fees and tax, it is $4,098 less expensive. Quite a considerable saving!
Importing a diamond or an engagement ring from other countries could seem risky, but James Allen have a solid reputation for quality and service and a great history of delivering beautiful engagement rings to New Zealanders at fair prices.
If you'd like to see a selection of real rings that people have recently bought, their online gallery is a great place to get inspiration for your own ring.
International James Allen Guides
If you're outside NZ and have somehow found your self here, we also have guides to buying from James Allen for several other countries. Click below to access your local guide: