James Allen Singapore
Everything to know about buying an engagement ring from James Allen when you're in Singapore
---
Are you looking for an engagement ring or diamonds but find that Singaporean jewelers don't offer enough selection or are just too expensive?
If so then buying a diamond or an engagement ring online could be the best option for you.
One of the most reputable online jewelry shops is James Allen.
Established in 2006, James Allen has pioneered the way consumers shop for jewelry online. James Allen is known for their huge selection of diamonds, competitive prices and custom ring designs.
If you're considering James Allen as an option, this blog might help you decide either way.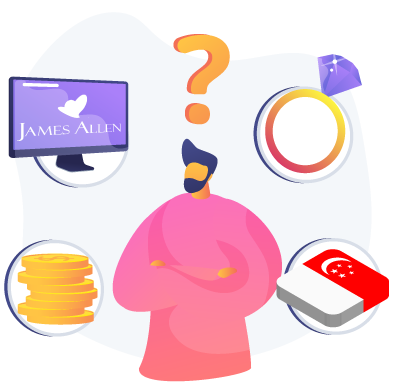 Import fees and taxes when shipping an engagement ring from James Allen to Singapore
First, the bad news: you can't escape GST!
All goods brought into Singapore are subject to standard Goods and Service Tax (GST) at 7% of the total value of the item, which may include the cost, insurance and freight plus other chargeable costs.
However, this is exactly the same as you would pay pay on any local purchase from Singapore.
When you're looking at rings on the James Allen online store, this isn't included in the cost displayed, so it's important to remember this cost so you can add it to the total price of the ring.
You will, however, be able to get a GST estimate on check out.
James Allen also have a handy sales tax calculator which allows you to enter any value and get a tax estimate, without having to go through the checkout process – check it out here.
Thankfully, there's no import duty when importing diamonds and engagement rings to Singapore.
Also, if your purchase is under $400 you won't have to pay GST on it.
You can find more information on the Singapore Customs website.
Once your ring arrives in Singapore you'll be contacted by the courier company to pay the GST before delivery.
James Allen Singapore Shipping
How much does James Allen shipping to Singapore cost?
James Allen provides complimentary, express shipping to Singapore, regardless of the order amount. All items are securely packaged and fully insured while in transit to your home or office.
International orders over USD $500 in value are shipped via FedEx International Priority, while those under USD $500 in value are shipped via FedEx Economy or USPS.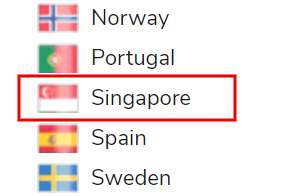 How long does shipping from James Allen to Singapore take?
Your order will take 1 -3 days for delivery once your order has been shipped. Loose diamonds are shipped immediately after passing inspection. All other jewelry and engagement rings will be shipped in one to three weeks depending on the complexity of the ring and their production schedule.
Each ring includes an estimated shipping date in the product description: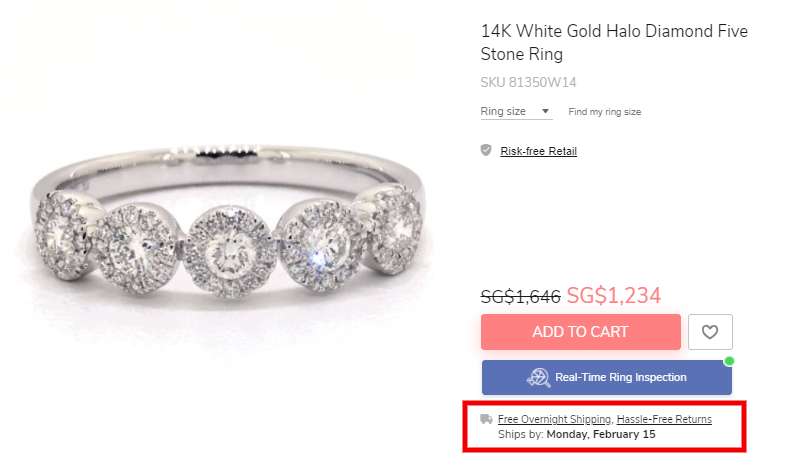 Once the ring is purchased you can check your order status and tracking information here
How do James Allen returns work in Singapore?
If you are not satisfied with your order, you have 30 days to return your item and receive a full refund or exchange. Please note that there will be a USD $25 re-polishing fee if an engraved item is return. You'll have to pay for the courier cost to return the ring to them. This is around USD $50.
To return an item, simply contact the James Allen customer service department on +1-412-314-9060 or through their website here.
Returned items must be undamaged and in a "new and unused condition". Items showing obvious signs of wear or alteration will not be accepted.
What if you need to get the ring resized?
James Allen resizes your ring once for free within the first year of your purchase.
Singaporean customers pay a small return shipping fee of USD $50. If more than 1 resize is needed or outside of the first year, a USD $25 fee applies to resize white, yellow and rose gold rings, and USD $50 for platinum. James Allen does not charge to ship the ring back to you.
To resize your ring locally will cost you anywhere from $30 -$60 depending on the metal used and the complexity of the resize required.
Do we recommend buying from James Allen if you're in Singapore?
To buy or not to buy? Unfortunately we can't make up your mind for you, but we can show you a simple price comparison between James Allen and a local Singaporean jeweler, and that might help with your decision.
We used the following specs in comparing loose diamonds:
1.00 carat
VS2 clarity
H color
Excellent/Ideal cut
GIA
Prices on James Allen range from SG$6,300 – SG$6,900:

On top of these listed prices, you would also need to add 7% to get the total price you need to pay, so around an extra SG$500.
If we compare this to a local Singaporean jeweler, we can see that their prices are significantly higher – starting at SG$9,138 and going all the way up to over SG$10,000 for a diamond with the same carat, clarity, colour and cut quality.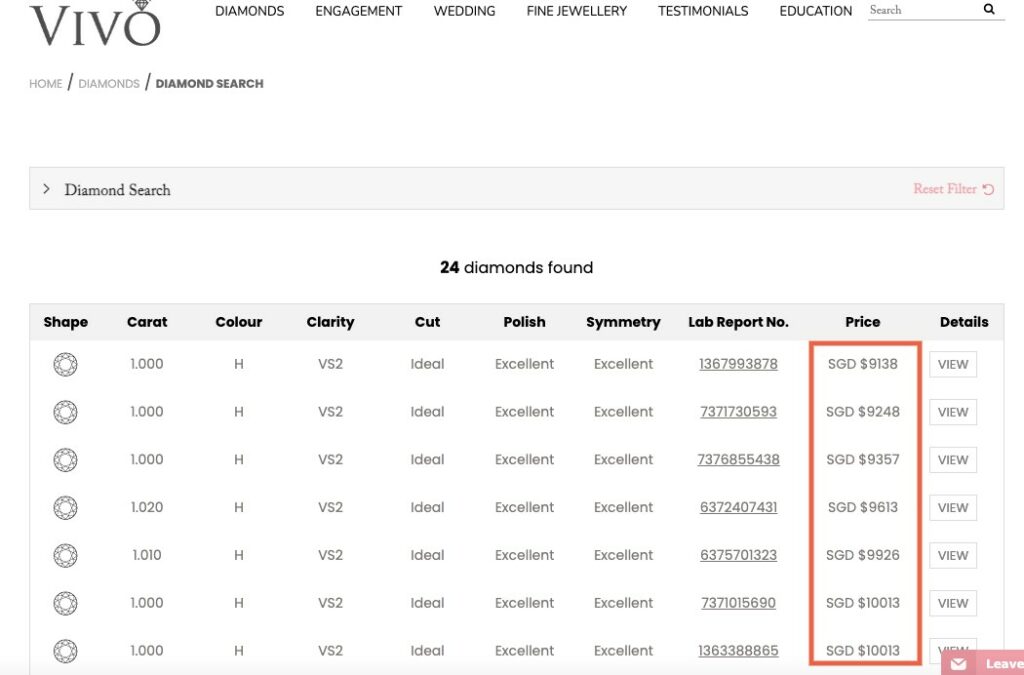 Let's take a closer look; this 1.00 Carat Round Diamond from James Allen costs SG$6,328: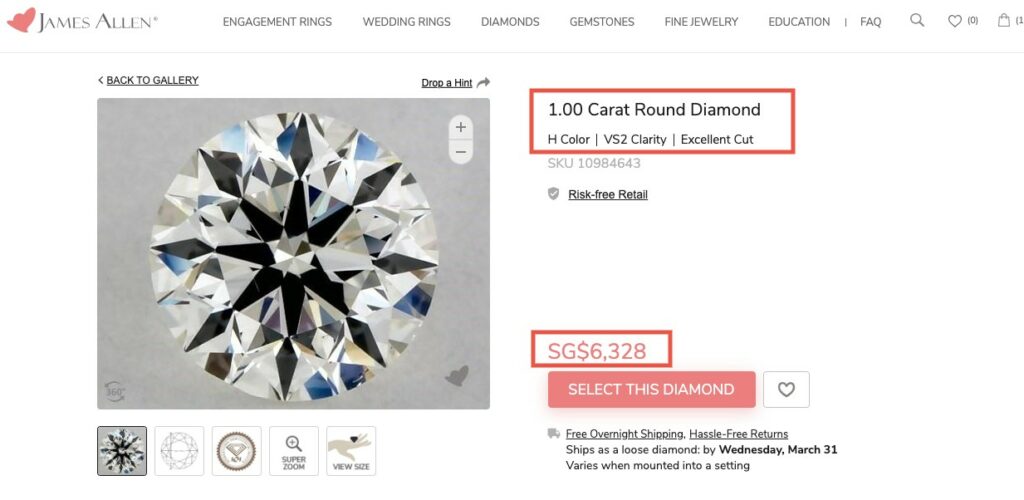 7% GST will need to be added to this, which is SG$442.96 – bringing the total to SG$6,770.96.
You can use the James Allen Tax and Duty Calculator to see your estimated total import duty and taxes due.
You can see in this screenshot that the specs of the diamond are exactly the same, and Vivo's price of SG$9,138 does include the GST.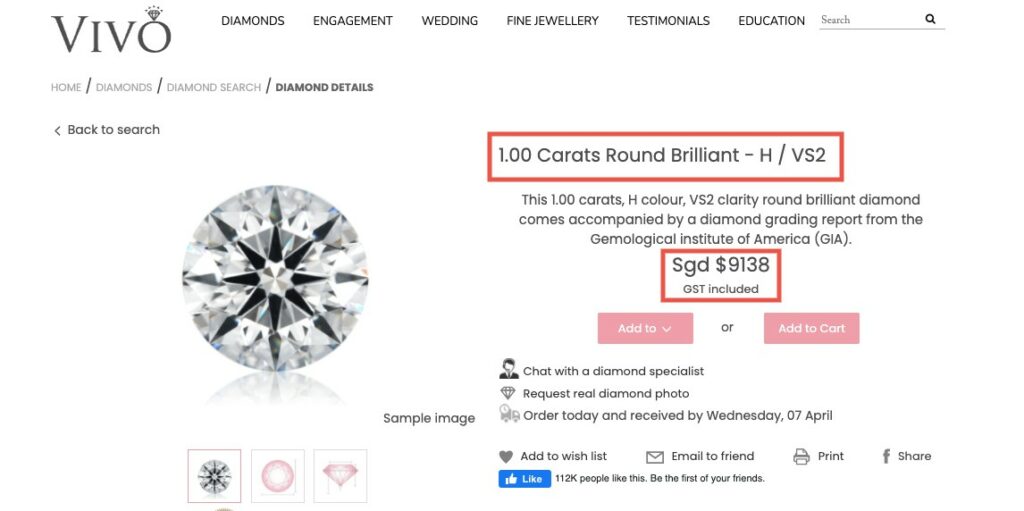 The difference in price and value are clear:
| | JAMES ALLEN | VIVO | DIFFERENCE |
| --- | --- | --- | --- |
| Loose Diamond Price | SG$6,328 | SG$9,138 | |
| GST | SG$442.96 | | |
| Total | SG$6,770.96 | SG$9,138 | SG$2,367.04 |
You can save SGD$2,367.04 if you buy from James Allen, rather than buying locally in Singapore.
To give you some inspiration on what you could get when buying from James Allen, they provide a beautiful gallery of recently purchased engagement rings, which is definitely worth checking out: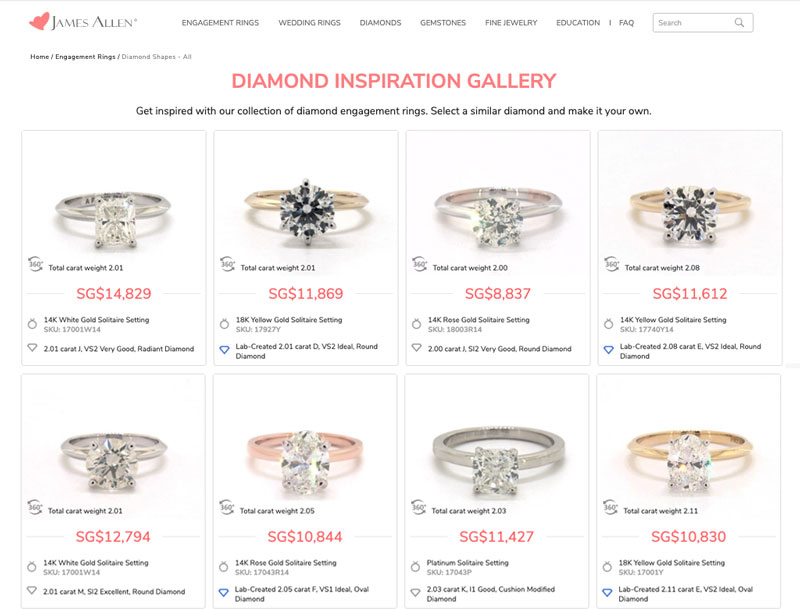 Or, if you'd like to check out their selection of diamonds (over 200,000!) and ring settings, click the button below to see whether you can find your perfect engagement ring.
International James Allen Guides
If you're outside Singapore and have somehow found your self here, we also have guides to buying from James Allen for several other countries. Click below to access your local guide: