Importing a diamond ring into Singapore
How to import an engagement ring or any other jewellery into Singapore
---
If you've been looking at buying an engagement ring in Singapore you may have visited Orchard Road or researched on HWZ – there are hundreds of pages of content about which is the best retailer in Sing to buy from.
But buying from a local retailer like GoldHeart or Lee Hwa will mean that you will likely pay more for your diamond ring than you need to. Importing a diamond ring to Singapore from the USA can save you thousands of dollars.
And because diamonds are all graded to the same standards all over the world, you can actually get a higher quality diamond at the same time!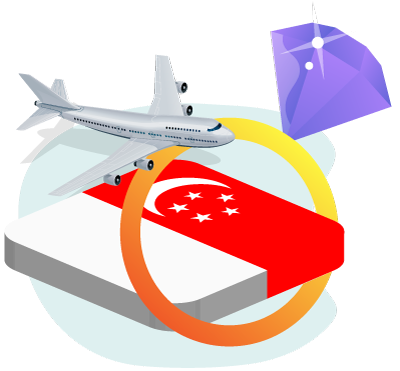 In this blog, you'll learn:
How much you could save by importing a ring rather than buying locally
The two things that will affect how the price of your engagement ring
The import tax you will pay importing a diamond engagement ring into Singapore
What to do if you need to get a ring resized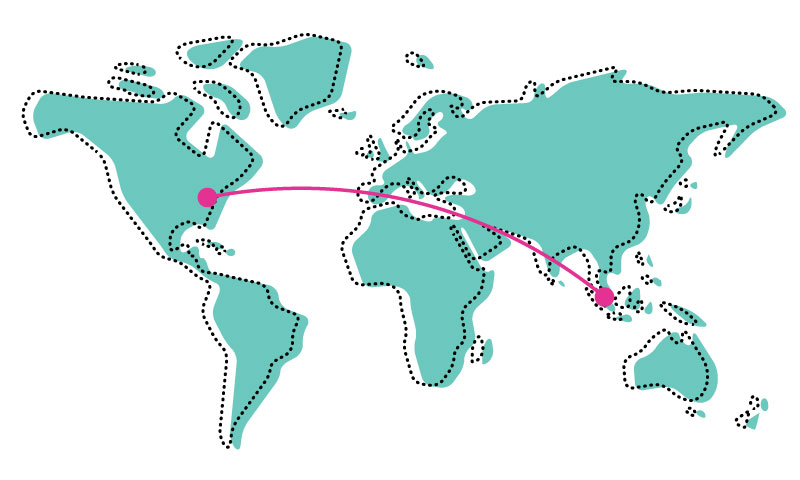 How much you could save on your ring by importing your ring
The amount you will save by importing an engagement ring will depend on what you are looking for. It could be 10%, it could be more.
As an example, a typical diamond that I help people find is:
1 carat
Excellent cut
H colour
VS1 Clarity
GIA grading report
Looking on a local, Singaporean jeweller's website, the price for a stone that meets these criteria is listed as around SGD$8,300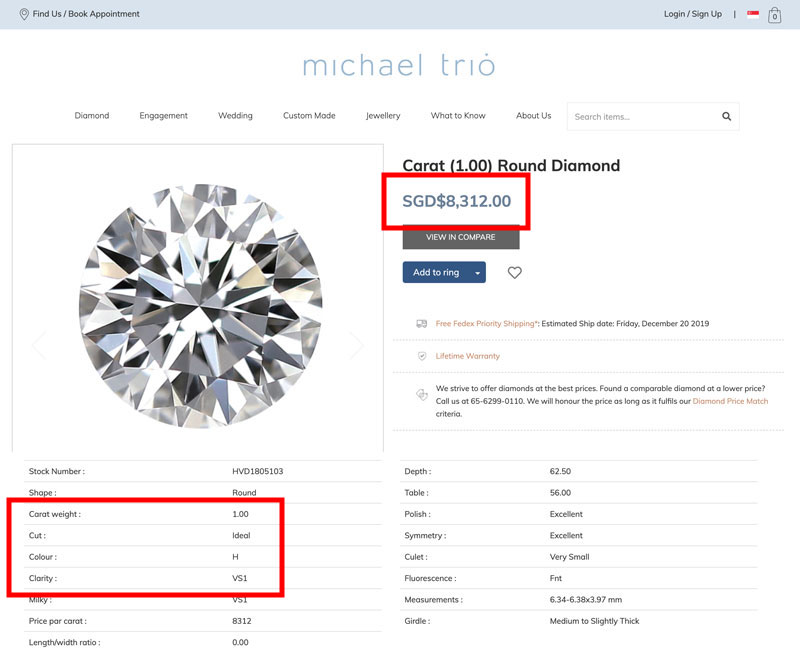 Of course, we'll also need a ring setting for the diamond to sit in. A 18k pave diamond ring is listed for SGD$1,308, which is actually a very good price: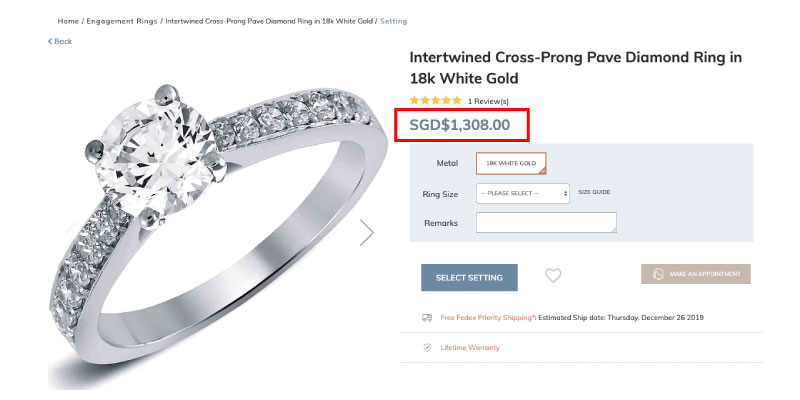 Combining these two costs should give us our final price, right?
Well actually these prices don't include 7% GST, which needs to be added on top:

The total cost for this ring is SGD$10,293.
If we compare the prices to one of my recommended US-based retailers, we can see that the prices are significantly lower.
A 1 carat, H color, VS1 clarity, excellent cut diamond with a GIA certificate costs from SGD$7,000 up to around SGD$7,250:

If we add an 18k white gold page setting onto the price, the total comes to S$8,440:

Of course, because this is a US-based retailer, it doesn't include Singapore GST. We therefore need to add 7% GST:
The total cost to import this ring would therefore be:
| ITEM | COST |
| --- | --- |
| Ring | SGD$8,440 |
| 7% GST | SGD$594.65 |
| Total costs | SGD$9,034.60 |
The price in Singapore was SGD$10,293, so that is a SGD$1,259.
The diamond has been graded by the same independent organisation (GIA) and it is the exact same quality, but you are saving 12%.
And with different shapes and carat weights, the savings can be significantly higher.
You can check today's prices at this retailer here.
Things to consider when importing jewellery into Singapore
---
While importing a diamond ring into Singapore can deliver significantly more value than buying locally, there are a few things to think about
Foreign exchange rates
Taxes
Shipping and returns
We'll look at each of these below.
1. Foreign Exchange rates
The relative strength of the Singapore dollar to the US$ only plays a small part in how attractive it is to import a diamond or engagement ring into Sing.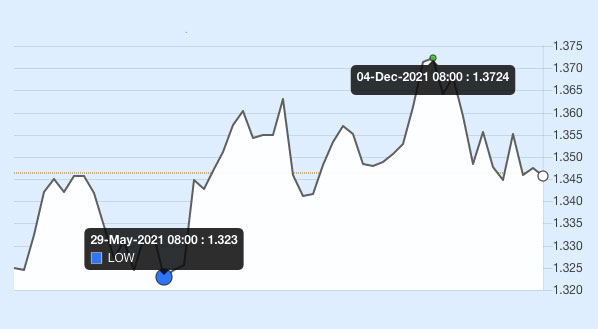 In the last 12 months since the time of writing, the Singapore dollar has hit the following extremes:
High: US$ 1.3724
Low: US$ 1.323
This makes a big difference to how much a diamond or engagement ring would cost.
At the high of US$1.3724, a US$8,000 diamond ring would cost you SGD$10.979.20.
On the other hand, at the low of 1.323, that same diamond ring would cost you SGD$10,584 – around SGD$400 more.
Of course, you wouldn't need to do this maths yourself as prices on US retailers websites are shown in SGD$, but I wanted to include it to explain that, while I recommend US retailers a lot on this site, they aren't always the best option.
The exchange rate at the time that you are looking to buy will make a big difference to their competitiveness.
---
2. Tax
The second big consideration when importing diamond jewellery into Singapore is the tax that needs to be paid.
For most jewellers in the US, the person buying the ring is the 'importer of record'. This means that they are for paying all duties, taxes, and fees assessed by customs or the carrier.
There are two parts to this:
1. Import duty on a diamond ring when importing to Singapore
Thankfully, there's no import duty when importing a diamond ring into Singapore. In fact, there are only four categories of product that do :
Intoxicating liquors
Tobacco products
Motor vehicles
Petroleum products and biodiesel blends
This is a great thing, as it means that you aren't penalised for buying overseas and ensures that your savings are larger.
2. GST on an engagement ring when importing to Singapore
As with all purchases, GST of 7% will need to be paid on your ring.
You may have heard that precious metals are exempt from GST, but this is only for investable precious metals ie. gold bullion etc. It doesn't apply to jewellery.
Lastly, I wanted to include a link through to GST exemptions. GST import relief is available to travellers to bring relatively small items into Singapore for personal use. Travellers who spend less than 48 hours outside Singapore can import goods worth just S$100 without paying GST on them, while travellers who spend at least 48 hours outside Singapore will get GST relief on $500 of goods:
| TIME SPEND OUTSIDE SINGAPORE | VALUE OF GOODS GST RELIEF IS AVAILABLE FOR |
| --- | --- |
| Less than 48 hours | S$100 |
| More than 48 hours | S$500 |
Calculating the tax to import a ring into Singapore
Working out the tax on your ring isn't too tricky, but James Allen have provided a great sales tax calculator.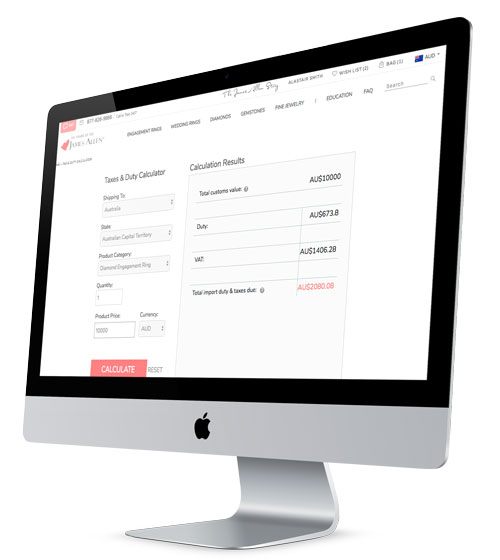 You can enter the cost of your ring and find out the total of the GST tax and other charges that will be payable.
Click here to check it out.
---
Shipping an engagement ring from USA to Singapore
Almost all US retailers offer free international shipping.
Once an order ships, it should arrive in Singapore within 3-7 business days and once it arrives the shipping company will contact you and to finalise any taxes that are due before they release the ring.
Insurance
Most jewellers will include insurance within the cost of the shipping. Some may add a small charge to the ring.
For example, Blue Nile add a fee of 0.20% of the value of your order which protects your order from the time it leaves Blue Nile to when it arrives at your door, which is a pretty minimal fee. As an example, if your ring is going to cost S$5,000, 0.2% insurance on top is an extra S$10.
Returns and service
Most online retailers in the US offer great service. No-quibble returns within 30 days and the ability to have your ring resized for free at no cost.
If you do need to send the ring back to the US for any reason, most retailers will ask you to cover the cost of shipping back to the US.
Tax and ring returns
If you decide to return the ring to the retailer, then it's easy to reclaim the GST that you paid.
The bottom link on this page explains what you need to know and you need to just submit a simple form to claim for your GST refund.
Should you import an engagement ring into Singapore?
Whether importing your diamond ring into Singapore is right for you is a decision I can't help with, unfortunately. But I would say that before you decide either way, you should have a look at US retailers and see how they compare to local jewellers.
My most commonly recommended retailer in the US is James Allen as they offer an incredible selection and great value. I'd definitely recommend that you check them out!