Blue Nile Singapore
Everything to know about buying a diamond or engagement ring from Blue Nile when you're in Singapore
---
Blue Nile is home to a vast array of beautiful diamond engagement rings and usually offer significantly better value than local Singaporean retailers.
They also take pride in providing every customer with a great shopping experience by having diamond certification, secure delivery, 30-day returns and lifetime guarantees included in their affordable prices.
You may feel that making a significant purchase like a diamond ring from abroad may be risky – read on to know more about buying a ring from Blue Nile when you're in Singapore to understand just how easy it is.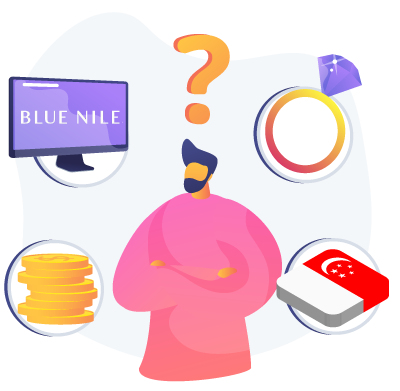 Import fees and taxes when importing an engagement ring from Blue Nile to Singapore
Different retailers handle taxes differently on their websites.
On some online stores, the price includes all taxes which means you don't have to worry about it. On others, the taxes aren't included, which means that you need to factor it into your pricing decision.
When purchasing a ring from Blue Nile, you'll be the importer of record, which means that you are responsible for paying all customs fees and taxes for the ring.
This isn't a big deal, but it is important to factor in to the total price of your purchase.
The good thing to know when buying a ring from Blue Nile to Singapore is that there are no import duties. Great news!
The only tax you'll have to pay is 7% GST, which is exactly the same amount you'd have to pay if you bought a ring locally.
Blue Nile also charge a non refundable insurance fee which is 0.5% of the cost of your ring. For example if you bought a ring for $8,249, the insurance fee would be $41.98.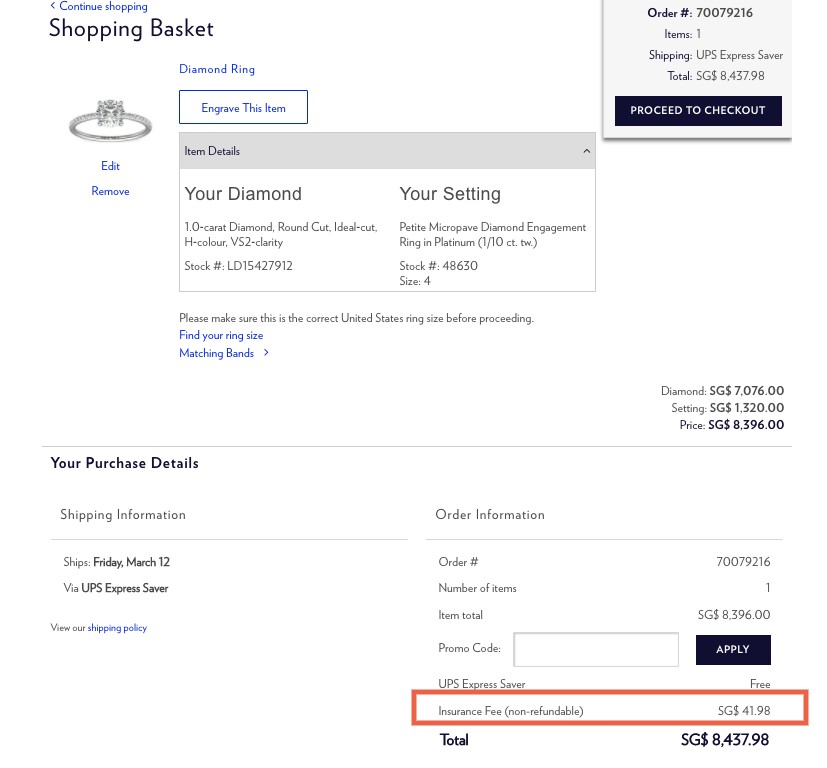 On their website Blue Nile also mention that the courier company might charge you a 'disbursement fee' which is 5% of the cost of the ring with a minimum of $10 and a maximum of $100.
Additionally, there might be warehouse fees if the delivery can't be delivered after the third attempt. You can read more here.
When your ring arrives in Singapore, the courier will contact you to pay the fees and GST before delivery.
Blue Nile Singapore Shipping
All Singapore orders will be shipped for free via courier and insured during transit.
Shipping from Blue Nile to Singapore usually takes 3-7 days from the time your order is dispatched to landing here. You'll be given an estimated dispatch date on check out.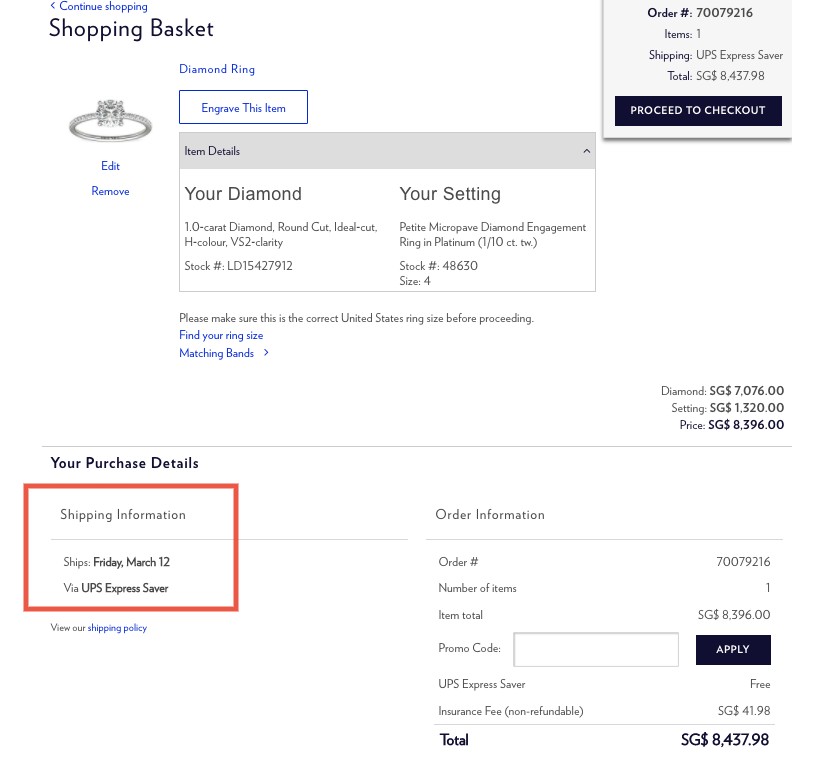 How do Blue Nile returns work in Singapore?
To make sure that you feel confident with your purchase, Blue Nile offers a flexible return policy.
Items may be returned or exchanged within 30 days from when they were shipped. You need to pay for return shipping and insurance fees. A Return Merchandise Authorization (RMA) number is required for all returns.
You can request an RMA by following these steps:
Initiate your return by calling or emailing customer services. You will receive a RMA code as well as detailed instructions for returning your order.
Arrange shipping and insurance. You can return your merchandise via Blue Niles' preferred Parcel Pro insured FedEx, UPS carrier or any carrier of your choice. You are responsible for any return shipping cost and insurance fees.
Package your item(s) securely in the original packing materials.
To expedite an exchange for a different product, Blue Nile recommends you return the original item for a refund and placing a whole new order. It takes two weeks to process your refund.
What if you need to get the ring resized?
During the first year of your purchase, Blue Nile provides complimentary resizing for most engagement rings and wedding bands.
To make sure you get the best possible fit, the ring resizing process requires adding or removing small amounts of metal depending on the difference between the size purchased and the new size requested. As a result, the ring may be slightly thicker or thinner after resizing. These tiny changes are often visually imperceptible.
Do we recommend buying from Blue Nile if you're in Singapore?
Blue Nile's reputation as the leader in the online diamond market has made them an ideal place to buy an engagement ring.
The selection and value offered is frequently much better than buying locally in Singapore.
Let's take a quick look at buying a diamond ring from Blue Nile compared to a Singaporean diamond retailer.
We used the following specs in comparing loose diamonds:
1 carat
VS2 clarity
H color
Excellent cut
GIA certification
These are good specs that I would be happy to recommend to anyone.
Blue Nile has a range of diamonds matching these specs, with prices ranging from around SG$7,200 to around $7,400:

We can click into any of these diamonds to get more details:

This 1 Carat Round Cut Diamond is priced at SG$ 7,271.00, and the standard GST at 7% would add SG$ 508.97 to bring it up to a total of SG$ 7,779.97.
If we compare this to a local retailer – Michael Trio – we can see that the price for a diamond with the exact same specifications is much higher: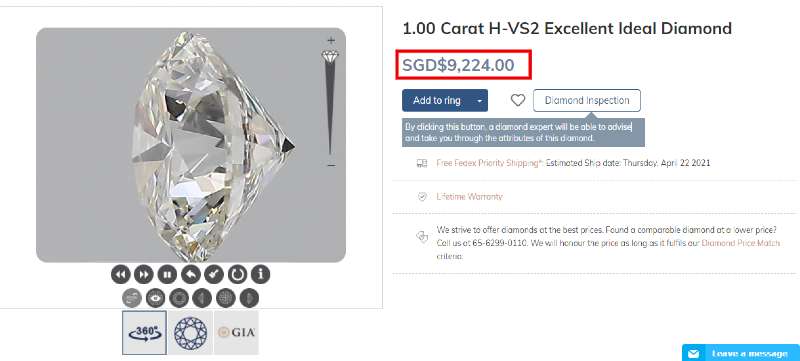 Michael Trio is selling a diamond with the same specifications as Blue Nile for SG$9,224.00.
Blue Nile's price was SG$ 7,779.97 which means that it is SG$ 1,444.03 less expensive for an identically specced diamond. That's a lot!
A great place to start for inspiration is their recently engaged section, which shows a variety of examples of recently purchased rings: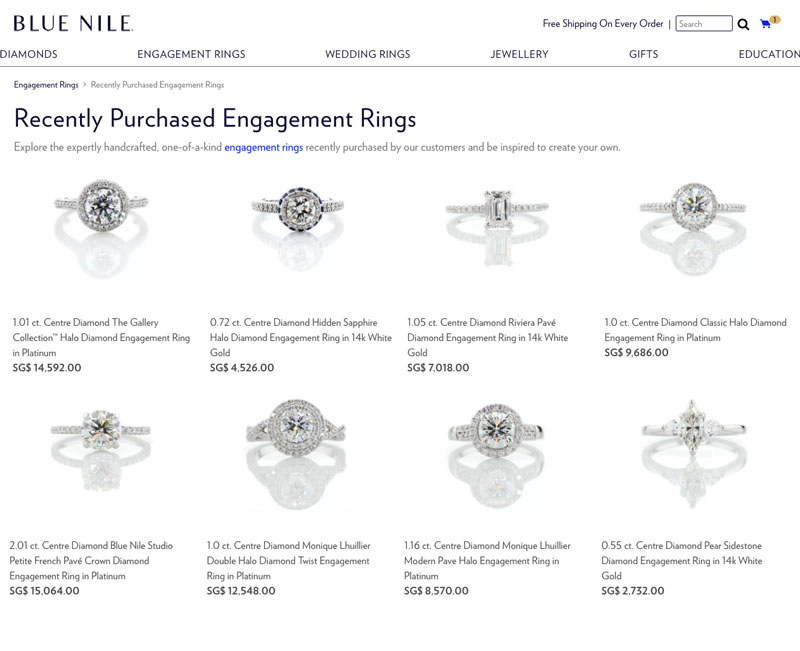 Or, if you'd like to start finding your perfect ring from Blue Nile to see just how much you could save compared to local jewelers in Singapore, click below to visit now:
International Blue Nile Guides
If you're outside Singapore and have somehow found your self here, we also have guides to buying from Blue Nile for several other countries. Click below to access your local guide: