Brilliant Earth Canada
Everything to know about buying a diamond or engagement ring from Brilliant Earth when you're in Canada
---
Brilliant Earth position themselves as the sustainable choice when it comes to buying an engagement ring, with everything in their business aiming to deliver a more transparent experience and minimize harm to the environment.
They've also got a great choice of beautiful rings that are made from recycled precious metal plus a large selection of Canadian Diamonds from some of the most ethical and progressive mines on earth.
If this sounds like it aligns with your values, read on to find out about the purchasing process and more.
In this blog, we're going to look at:
Import fees and taxes you'll need to pay
Shipping and returns
The service you'll receive
How Brilliant Earth compares to local jewelers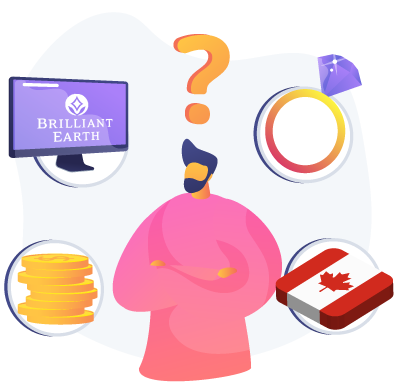 Import fees and taxes when importing an engagement ring from Brilliant Earth to Canada
Thankfully, the CUSMA free trade agreement between Canada, United States and Mexico means that you won't have to pay any import tax for a diamond or engagement ring purchased from the US.
However you will need to pay your local sales tax, just as you would if you were buying from a local Canadian jeweler. The amount of tax you pay depends on which province you live in and can vary from 5% -15% GST/PST/HST.
Brilliant Earth calculates the tax on their website in the shopping cart once you have input your address, so you'll know the total cost and there'll be no additional charges after you purchase the ring.
To show you an example of how this changes the amount you'll pay, if you order an engagement ring that cost $7,410 and live in Alberta, the 5% GST will bring the price to $7,780.50: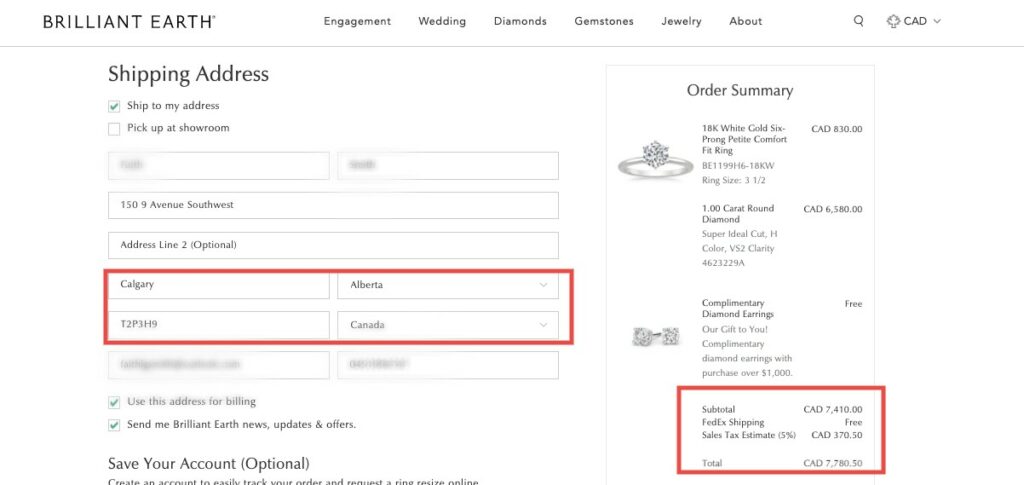 However, if you order the same item and you live in Quebec, the 14.975% GST will bring the total to $8,519.65: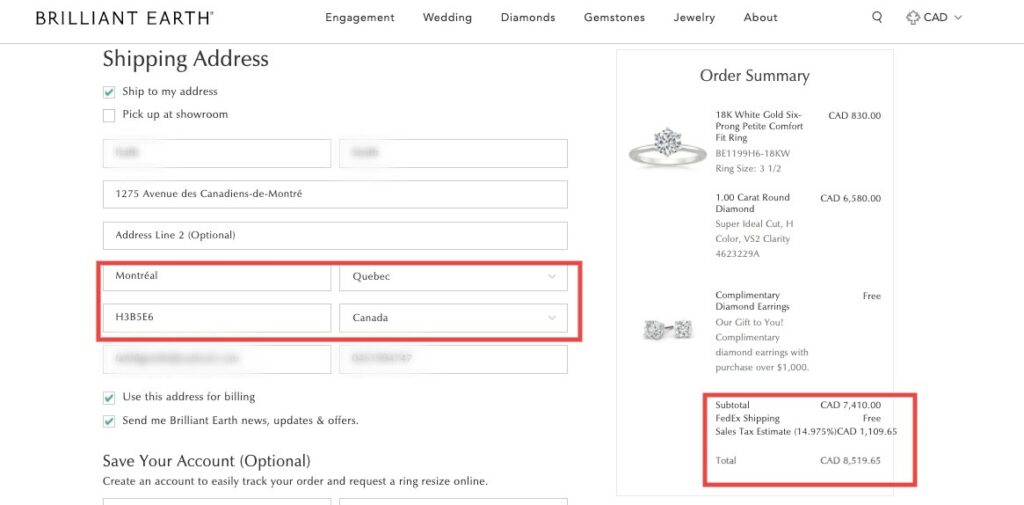 As a reminder, you can see the sales tax for each Canadian province in the table below:
| Province / Territory | Type | GST (%) | PST (%) | Total tax rate |
| --- | --- | --- | --- | --- |
| Alberta | GST | 5% | 0% | 5% |
| British Columbia | GST + PST | 5% | 7% | 12% |
| Manitoba | GST + PST | 5% | 8% | 13% |
| New Brunswick | HST | 5% | 10% | 15% |
| Newfoundland & Labrador | HST | 5% | 10% | 15% |
| Northwest Territories | GST | 5% | 0% | 5% |
| Nova Scotia | HST | 5% | 10% | 15% |
| Ninavut | GST | 5% | 0% | 5% |
| Ontario | HST | 5% | 8% | 13% |
| Prince Edward Island | HST | 5% | 10% | 15% |
| Quebec | GST + PST | 5% | 9.975% | 14.975% |
| Saskatchewan | GST + PST | 5% | 6% | 11% |
| Yukon | GST | 5% | 0% | 5% |
It's important to note that the sales tax cost is determined by your shipping address and not the location where it enters Canada.
Brilliant Earth Canada Shipping
Another consideration when buying an engagement ring from Brilliant Earth is the shipping from the US to Canada. We'll take you through the following:
How much does shipping cost from Brilliant Earth to Canada?
Brilliant Earth offer free express shipping via FeEdx international priority service for every order. Each package is insured for the full cost of the item, so you can have a worry free experience.
Brilliant Earth also offer free return shipping in case you need to return your ring for any reason, including if you need it to be resized. This is a huge perk of shopping with them, as most US retailers only cover the cost of getting it to you, meaning that you have to pay for your own return shipping and insurance if needed.
How long does shipping from Brilliant Earth to Canada take?
If you're selecting your diamond and setting, it will usually take anywhere from 1-4 weeks for your ring to ship, depending on the complexity of the design and the location of the diamond itself.
After shipping, your parcel will arrive in Canada in 1-3 days. You'll be able to see the estimated shipping date in the product description and in the cart to see if it works with your timings. In some rare cases there may be an additional few days on top of this for it to clear customs, but Brilliant Earth work with customs officials to expedite the process.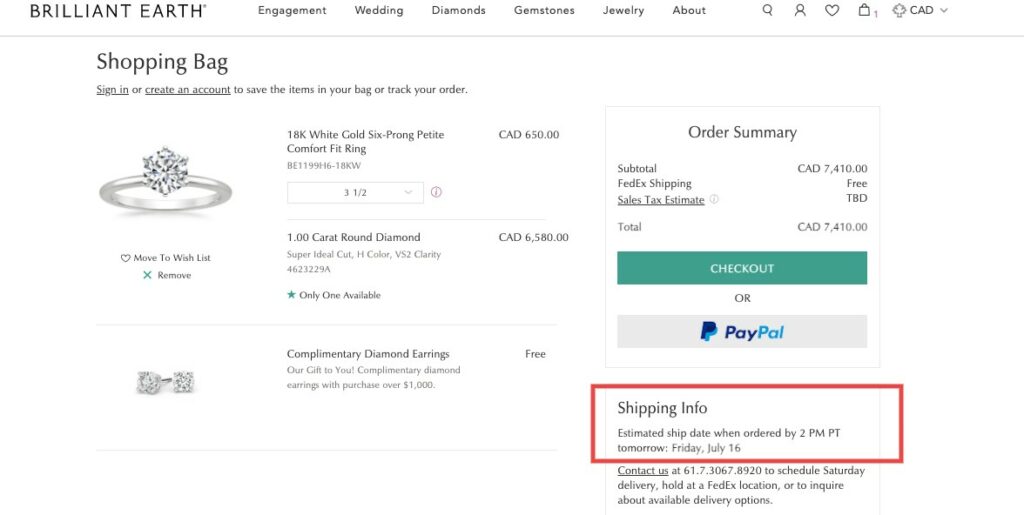 How do Brilliant Earth returns work in Canada?
If for any reason you would like to return your purchase, you have 30 days to return it to Brilliant Earth. The time on this starts from when the item is shipped to you. They give you a return shipping label to make the process as easy as possible for you.
Just make sure that the item is in its original condition with all original paperwork and packaging. Read more about it here.
What if you need to get the ring resized?
If the ring is too big or too small, Brilliant Earth offers one free ring resizing within 60 days. Again, just pop this in the post back to them and you'll get it back the perfect size.
Or to make sure you have it right the first time, they offer lots of ring sizing tips and tricks.
Do we recommend buying from Brilliant Earth if you're in Canada?
We like Brilliant Earth for its customer-first ethos and the fact that they really are making a difference by being a business with purpose.
If you're looking for a Canadian diamond, they also have a wide selection, which are frequently higher quality than those sold by local Canadian jewellers.
There are both pros and cons to buying a ring locally as opposed to overseas, but something that will almost always be a consideration is price and value. To help you with this, we do a simple price comparison with Brilliant Earth and a local jeweler to show you just how much you could save.
We use the following specifications in comparing two loose diamonds. These specs will get you a beautiful diamond with sparkle, but you won't be paying too much for qualities that you can't see with the naked eye.
Round diamond
1 Carat
H color
VS2 clarity
Excellent/Ideal cut
GIA certification
On the 'Canada Diamonds' website, this diamond is priced at $9,587.25 ex GST: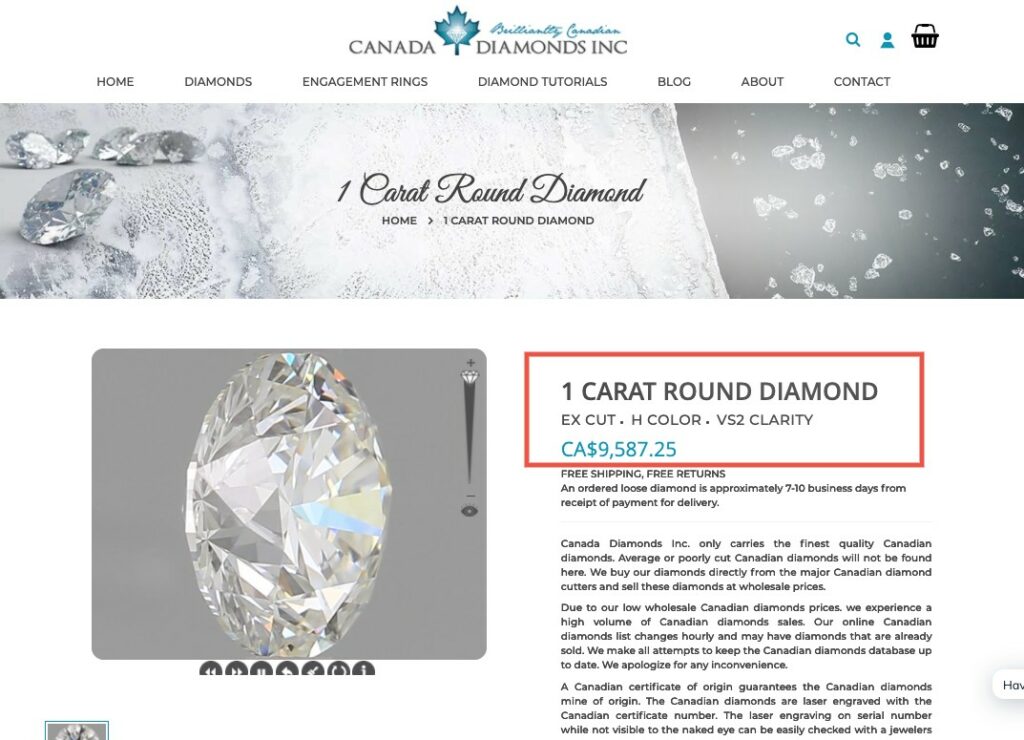 We found a similarly specc-ed diamond on the Brilliant Earth Site for $6,580 ex GST.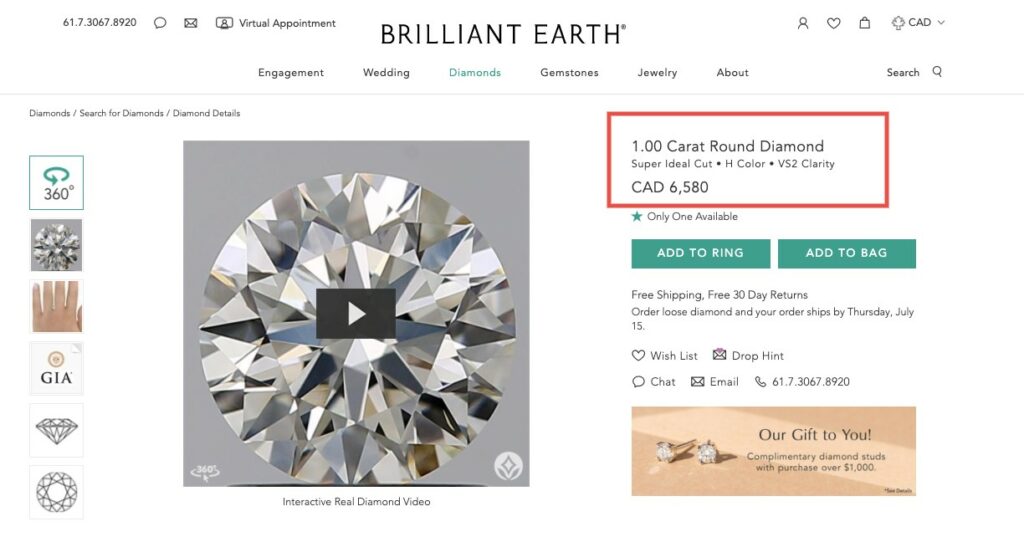 As you can see, you can buy an equivalent diamond from Brilliant Earth for $3,007.25 less – quite a massive saving!
Hopefully you are now armed with all the information you need to make a confident purchasing decision. Brilliant Earth's recently purchased gallery is a great place to start to get some ideas and inspiration.
Brilliant Earth review
Ring selection

Diamond quality

Service quality

Value for money
Do we recommend Brilliant Earth?
Brilliant Earth are an excellent choice for the conscious consumer.
While there are some mis-steps (recycled diamonds are too expensive, the hearts and arrows selection isn't great), overall the selection of diamonds and settings are better than almost any other retailer, without
For me, the real pick is the blockchain-tracked diamonds – a really awesome innovation that allows you to be certain of the origin of the stone and knowing the backstory of such a financially and emotionally significant purchase really appeals.
If you care about where about where products come from and the effect that they have on the earth, it should be an easy decision to choose Brilliant Earth for your diamond ring.
Pros
Blockchain-tracked diamonds are a great innovation that allows you to understand the provenance of your stone
Excellent selection of beautiful and on-trend settings
Very well priced, even compared to larger online jewelers
Good service guarantees
Cons
Not as strong with diamonds that aren't its specialty e.g. hearts and arrows
Recycled diamonds are a great idea, but too expensive
Production estimates are longer than some other retailers – ensure you allow enough time for creation and shipping of your ring.
International Brilliant Earth Guides
If you're outside Canada and have somehow found your self here, we also have guides to buying from Brilliant Earth for several other countries. Click below to access your local guide: