Crescent Gold & Diamonds Jewellers review
Should you buy your engagement ring or wedding ring from Crescent Gold & Diamonds?
---
Crescent Gold & Diamonds has a rich history, having been founded in 1919 and it recently celebrated its centenary. For any business to survive that long, it must be doing something right and Crescent Jewellers has grown into 9 stores across Canada.
In this Crescent review, we will primarily examine them from the point of view of buying a diamond engagement ring. However, the findings are equally relevant for any other type of jewellery.
If you'd like to jump straight to the 'value for money' section and see how choosing one of my recommended retailers could save $2,130 compared to Crescent Gold & Diamonds, click here.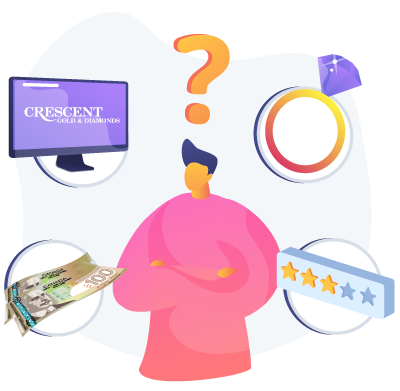 On this page you'll learn everything you need to know about:
Crescent Gold & Diamonds ring selection
At the time of writing this review, Crescent Gold & Diamonds offers an incredible 752 rings:

Not all of these are engagement rings, but Crescent Gold & Diamonds does offer a far wider selection than most jewellers, which means that there should be a style available that you like.
Crescent Gold & Diamonds offers the largest number of rings in the classic round brilliant diamond shape. It's the most popular shape for a reason – it's the shape of diamond that reflects the most light and sparkles the most, so is always a great choice for an engagement ring centre stone.
When it comes to precious metal, the majority of Crescent Gold & Diamonds rings are either 10k or 14k white gold, although some yellow gold settings are also available.

White gold is a good option for an engagement ring as its rhodium coating makes it very durable, while being more affordably priced than platinum. It would be great if Crescent Gold & Diamonds did offer some platinum settings for those who are looking for it, but as Crescent is generally a more affordable option, it makes sense that it doesn't offer the more expensive metal.
Overall, there's an impressive range of diamond ring setting styles and diamond shapes on offer from Crescent Gold & Diamonds, which means you should be able to find something that fits your taste.
Crescent Gold & Diamonds Jewellers diamond quality
Engagement rings are all about the diamond, and being able to choose a diamond that will sparkle brilliantly will make the difference between a truly stunning engagement ring and one that looks dull and unimpressive.
In this section, we'll examine the quality of diamonds Crescent Gold & Diamonds offers, as well as how transparent they are about the quality of the diamonds themselves.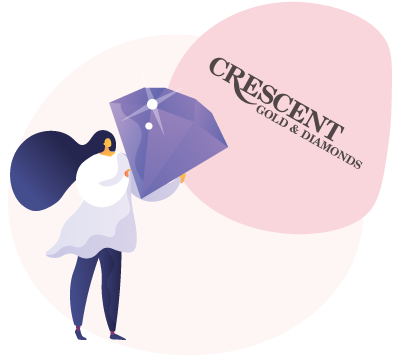 Crescent Gold & Diamonds make it easy for you to choose a diamond by diamond colour and clarity on their website: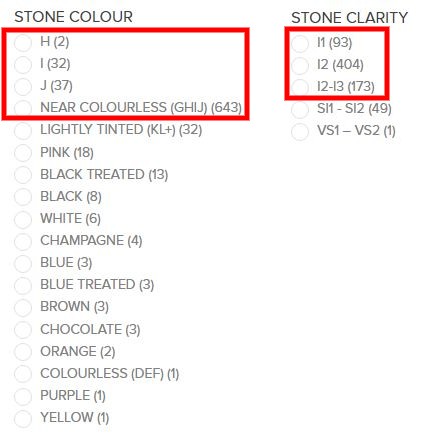 Crescent Gold & Diamonds offers a huge range of colours of diamond which is good, the most commonly offered are 'near colourless' (GHIJ). G and H in the 'near colourless' range are good colours – they should look white, without being as expensive as other diamonds higher up in the colour grade range. At I and J levels, most people can start to see some yellow tones, which are generally viewed as undesirable.
The most common clarity that Crescent Gold & Diamonds are I1, I2 and I3 which are at the very bottom of the diamond clarity scale:

Diamonds in this range have inclusions which are very easy to see with the naked eye and which severely impact the beauty.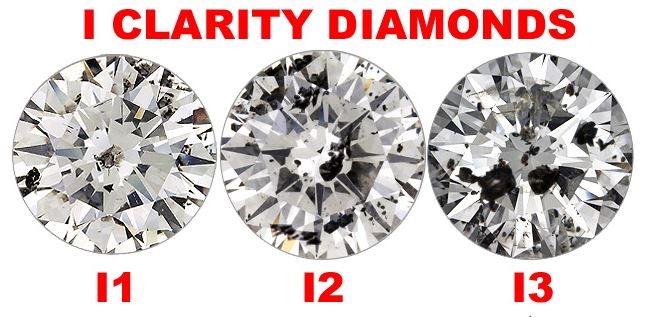 I1 to I3 clarity diamonds are very low quality which we don't recommend because they have obvious inclusions which can be easily seen by the naked eye. Some inclusions in I diamonds can also pose a significant durability risk to the stone.
By offering diamonds with such low clarity grades, Crescent Gold & Diamonds is able to offer 1 carat diamonds at prices that seem low, but actually offer poor value as the diamond will look so flawed.
We normally recommend VS2 and above because if a diamond is less than a VS2, 'inclusions' can sometimes be seen in the diamond that people might not want to see.
While clarity is a measure of the inclusions, or flaws, of a diamond, it's the diamonds 'cut', or proportions that determines how much it will sparkle.
Diamond cut is essentially a measure of how well the diamond has been shaped and it is essential that a diamond has good proportions to reflect light, otherwise it will be dull, lifeless and unimpressive. If a diamond is too tall or too shallow, it won't reflect much light.
Diamond is too shallow: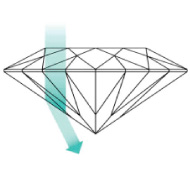 Light passes through the diamond and is lost, meaning the diamond looks dull and sparkles less than it should.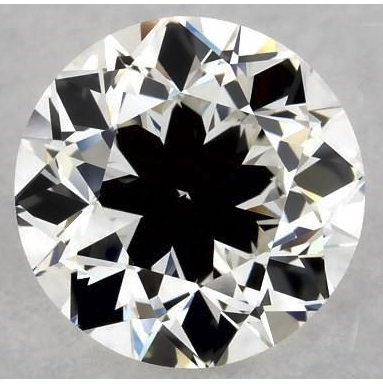 Diamond is too deep: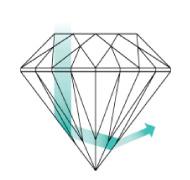 Light is bounced off the bottom facets at the wrong angle and is lost out of the side of the diamond, reducing sparkle.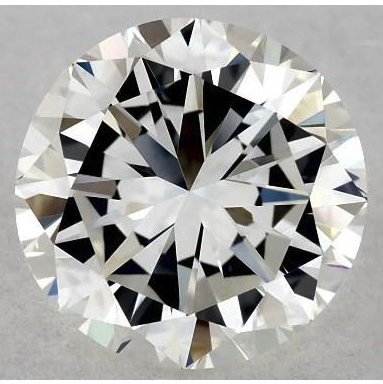 Excellent / Ideal cut: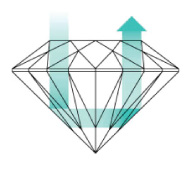 Light is reflected off the bottom facets and back through the table to your eye, meaning the diamond sparkles beautifully.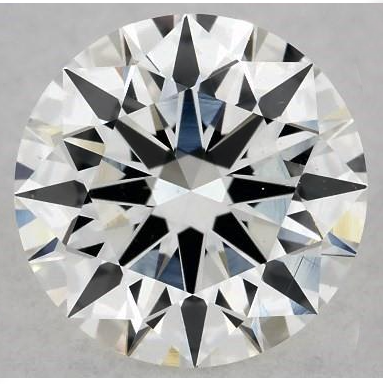 Understanding the cut quality of a diamond is absolutely essential to be able to understand whether it will sparkle. If you don't know the cut quality then you may very well be wasting your money. In the education section of Crescent Gold & Diamonds website under 'Cut', they discuss the importance of diamond cut:


Despite knowing the importance of 'cut' quality, Crescent Gold & Diamonds doesn't allow you to select 'cut' in their product filter and diamond details, although it can be seen in the product details of some rings.
When I asked them about this through email, I received an email back from the service centre of their parent company Charm Diamonds, who said; "Cut grade is not commonly information customers ask for but should you have a particular piece in mind I would be happy to request the information on your behalf"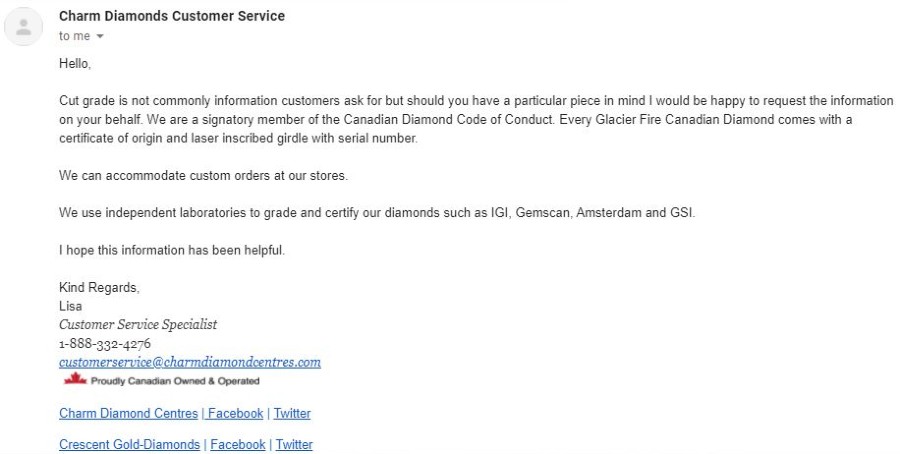 Crescent Gold & Diamonds diamond grading labs
Diamonds are graded on four key factors – carat, colour, clarity and cut – and a host of smaller factors too.
Diamonds which score higher are generally more expensive – an F colour diamond will be pricier than an H colour, if everything also is the same.
It's important therefore that diamond grading levels can be trusted – you don't want to pay more for diamond that has been graded as an F colour but it is actually an H.
This is why independent diamond testing labs are important. An independent testing lab doesn't have any incentive to say that a diamond is higher quality than it is, as they don't make any more money if they do. In fact, if they bump up diamond quality grades, it may mean people trust them less, which might mean that people use their service less and the make less money. Being able to rely on the grading scores from independent labs is a key part of comparing diamonds across retailers – you know that you are comparing like-for-like.
On the other hand, retailers DO have an incentive to increase diamond quality scores, as it will mean that they can sell a diamond for a higher price.
For this reason, I recommend that you always look for a diamond which has been graded by an independent authority – my usually recommendation is the GIA, although there are other good diamonds labs too.
Crescent Gold & Diamonds doesn't show information about diamond grading labs on their website. When I asked about this via email, I was told that "We use independent laboratories to grade and certify our diamonds such as IGI, Gemscan, Amsterdam and GSI."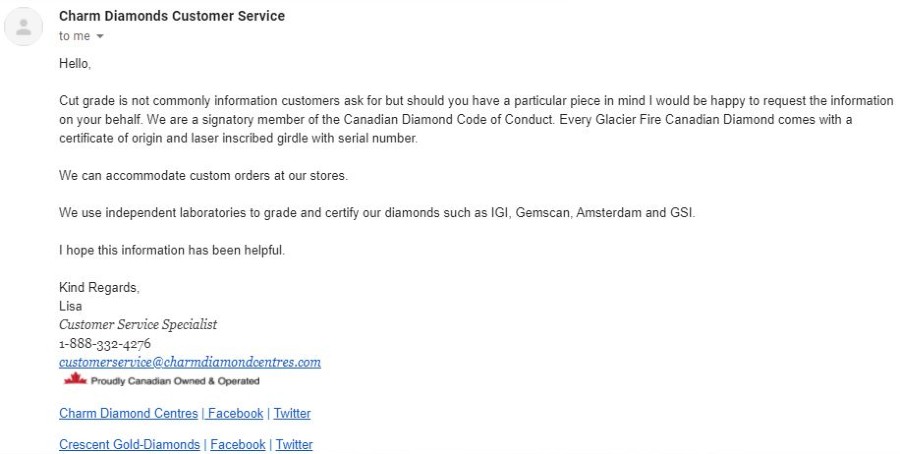 IGI has an OK reputation within the industry, although the others less so. However, none of these labs are as rigorous as GIA, which means that a diamond that is graded as an F colour, may actually be a G, H or I instead. Not ideal.
Crescent Gold & Diamonds service
Buying an engagement ring is a special purchase, and you want to have confidence that the retailer will not only treat you well while buying your ring, but also that they will stand behind their product after the purchase too.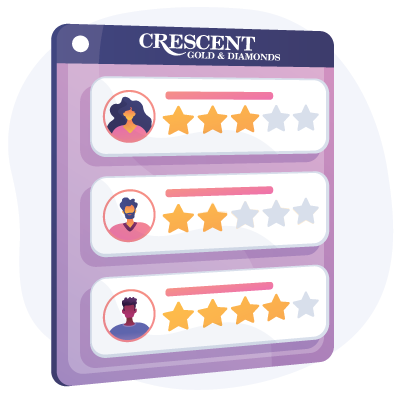 Crescent Gold & Diamonds has 9 stores across Atlantic Canada, which means that visiting a store to choose a ring if you're on that side of the country should be very easy.
Crescent also stand behind their products – customers may purchase a Lifetime Extended Service Plan to cover all necessary repairs or service for all time or 3 years.
Returns-wise, Crescent Gold & Diamonds offers a 30 day return policy, the same as its sister organisations Charm Diamond Centre and Ben Moss. This is longer than many other retail stores in Canada, and is a big positive to being part of a larger organisation
Looking at Google reviews, the reviews are split out by individual stores. The Fredericton store in New Brunswick has score of 4.4 from 12 reviews – a good score indicating that customers are happy with the service received.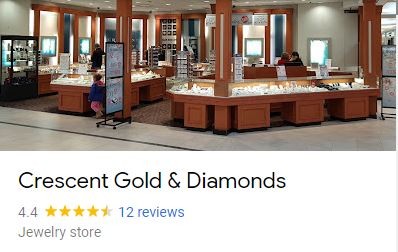 Crescent Gold & Diamonds value for money
Buying a diamond ring is a big commitment – both financially and emotionally. So it's important that you ensure sure that you are getting good value for money and aren't spending more than you need to. After all, if you're buying an engagement ring, it's likely that you will have a wedding to pay for soon.
The easiest way to understand whether a retailer offers good value for money is to compare it to others.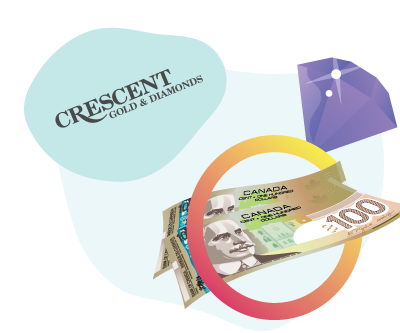 We'll compare to one of our top diamond retailers: Brilliant Earth.
Brilliant Earth focuses on ethically sourced diamonds and has an excellent selection of Canadian-sourced stones.
When comparing, we'll keep the ring style, diamond clarity, metal, colour, carat as similar as possible. A good way to compare is looking at solitaire diamond rings as they are simple and timeless, without ornate settings to make the comparison more complicated.
Looking at Crescent Gold & Diamonds, they offer a 1 carat, Glacier Fire, 14K White Gold ring on their website for $7,999: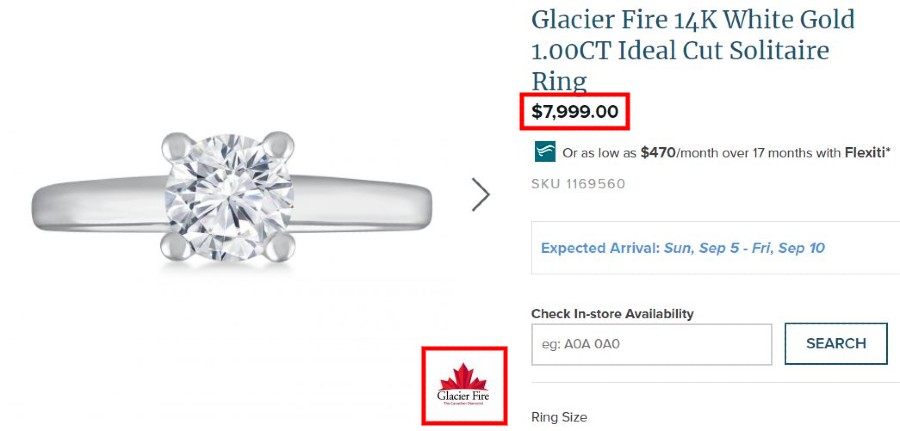 This ring's diamond has the following specs:
1 carat weight
H-I colour
I1 clarity
Round shape
No information is given on the cut quality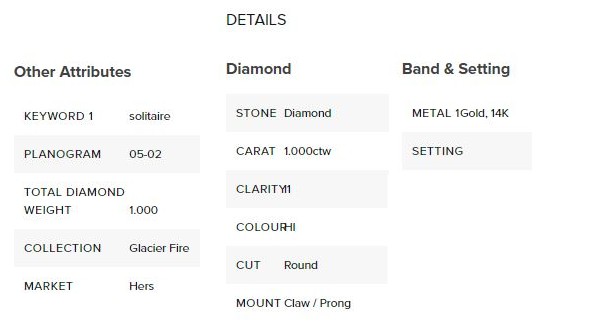 As you can see, this diamond from Crescent Gold & Diamonds is a "Glacier Fire" diamond. Glacier Fire diamonds are laser inscribed with a unique identification number and maple leaf to guarantee their Canadian origin. Each Glacier Fire diamond is accompanied by a Certificate of Origin, its own unique birth certificate – a nice touch.
This ring is priced at $7,999, but province-specific sales taxes also need to be added to this price.
If you live in Quebec, the total will be $9,916. If you live in Alberta, the total will be $8,398.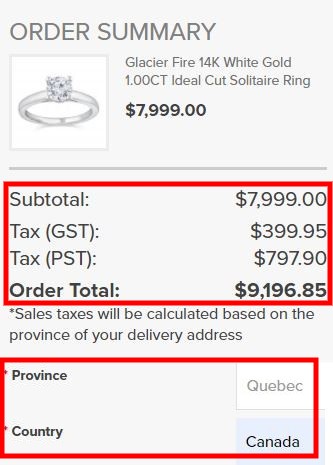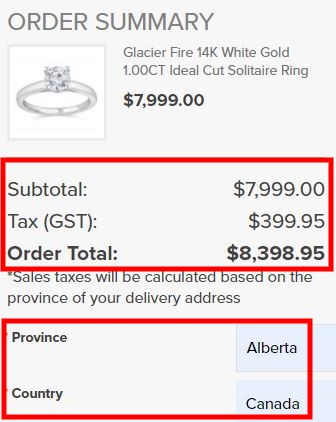 A good retailer to compare with is Brilliant Earth, who also offer certified Canadian diamonds.
We can see that a solitaire ring with a GIA graded diamond is priced at just $5,860: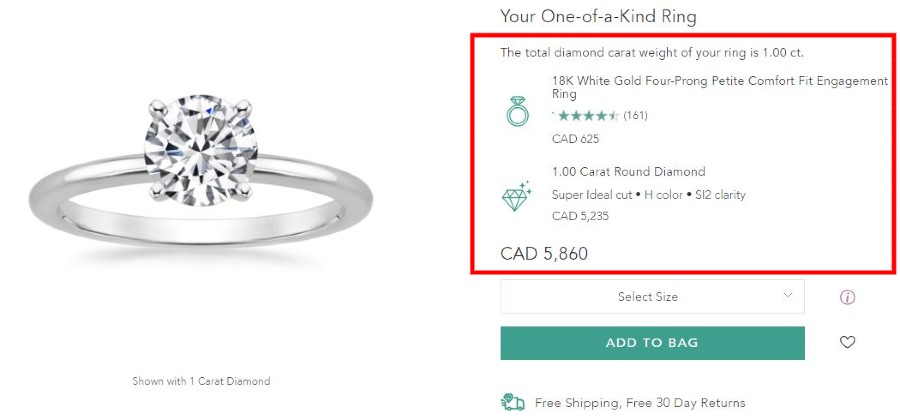 At $5,860, this ring is priced $2,130 lower than the Crescent diamond ring.
A significant difference!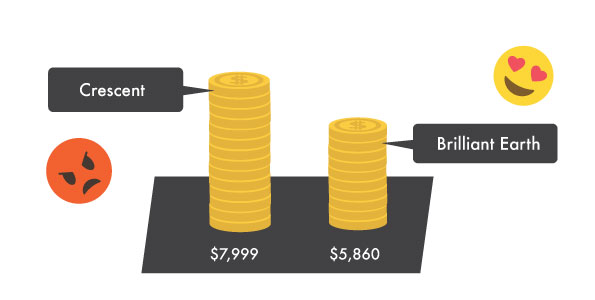 Of course, you will also need to pay your province's sales taxes on top of this, but under the USMCA regulations, any diamond ring that is manufactured in the US does not have any duty applied to it, so there will be no other taxes due.
If you want to know more, read our full article on importing a jewellery into Canada.
Compared to the Crescent Gold & Diamonds ring, this ring has the following specs:
H colour – while the Crescent was either H or I
SI2 clarity – higher than the Crescent ring's I1
'Excellent' cut quality, while we aren't told the Crescent jeweller's quality
GIA graded, while we aren't told the Crescent diamond's certifying authority
So as well as the lower price, you are also getting a better diamond!
With the $2,130 you would save through buying your Canadian diamond at Brilliant Earth instead of Crescent Gold & Diamonds, you could:
Increase the carat weight of the diamond
Increase the quality of the diamond
Spend it on a really special proposal
Put it towards your wedding cost
Or possibly all of this!
The prices at Brilliant Earth may be different on the day you look – maybe higher, maybe lower – it's worth clicking through to see today's prices for exactly what you're looking for.
Crescent Gold & Diamonds review
Ring selection

Diamond quality

Service quality

Value for money
Do we recommend Crescent Gold & Diamonds?
Crescent Gold & Diamonds offers good service to their customers, a huge number of ring styles and we like that they offer Canadian-origin diamonds.
However, the low clarity grades, lack of transparency over the 'cut' grading of their diamonds (which is the biggest factor that determines a diamond's sparkle) is a red flag and the lack of value compared to online only retailers means that it's hard to recommend them.
Overall, I would recommend that you always consider visiting my recommended website Brilliant Earth to choose a higher quality diamond at a lower price – it just makes sense.
Pros
Easy to choose ring style
Offers Canadian-origin Glacier Fire diamonds
30 day return policy
Cons
Offers low clarity grades, which means flaws will be visible
No cut information, which means your diamond may not sparkle
Expensive prices