Asscher cut engagement rings in Canada
Where to get the most beautiful asscher diamond with the best value
---
You may know the feeling: finding an asscher cut diamond ring from a Canadian retailer can feel a lot like searching for a needle in a haystack.
There simply aren't that many options available in Canada, as we'll see.
But don't worry, we've done all of the legwork for you to make sure you get most beautiful Asscher cut at the best price.
In this guide, you'll find out:

Why asscher cut engagement rings make a great choice
What you need to be cautious of when purchasing
A handy buying guide to make sure you get the best diamond possible
Where to go to get the best value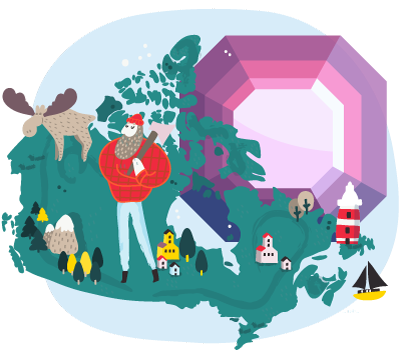 Asscher cut diamonds are a discerning choice
The Asscher shaped diamond was first created in 1902 by visionary jeweller Joseph Asscher, and it's essentially a version of the emerald cut, with squared off corners and 'stepped' sides like a pyramid.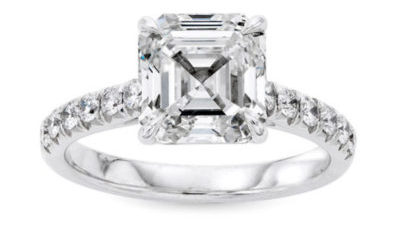 It's estimated that only 2% of diamonds are cut into the Asscher cut, which means that choosing them for your ring marks you out as an individual.
Asscher Cut Solitaire Vs. Emerald Cut Solitaire
One thing that many people don't realise is that the majority of 'asscher' cuts are actually just a square variation of an emerald cut diamond:

In fact, on a diamond's grading report, the term used to describe an Asscher cut is typically 'square cut emerald':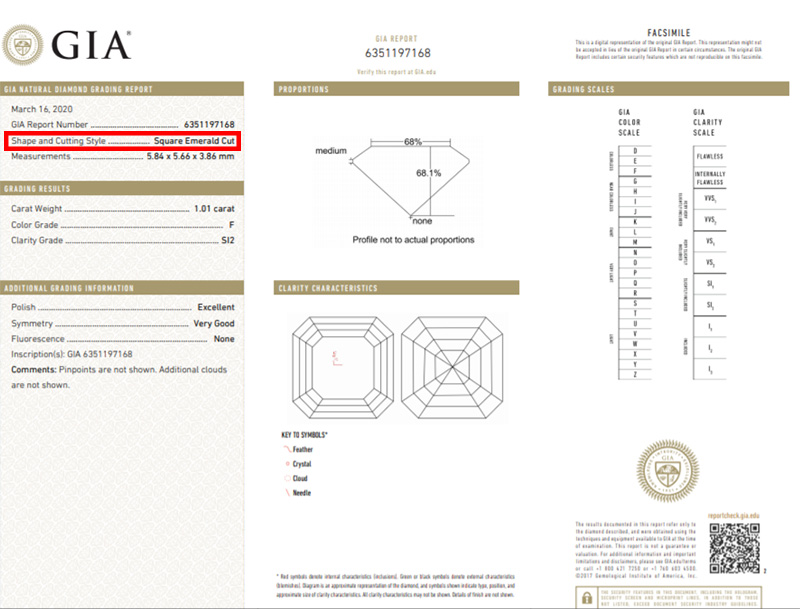 Due to its symmetrical shape and the squared off corners at the top and bottom of the stone, an 'X' windmill shape can usually be seen in the top table, or top, of the diamond. It's a dazzling visual effect that draws your eye to the centre of the stone.
Asscher cut diamonds are well-priced
Asscher cut engagement rings are often priced significantly lower than engagement rings with round diamonds, for a few reasons.
Firstly, square cuts like the Asscher are much more efficient at using more of the original rough diamond.
In fact, compared with a round brilliant stone, around 20% more of the original diamond rough can be used. This means that a much smaller piece of rough diamond is required to produce a finished diamond, and a small piece of rough diamond is obviously cheaper.
Asscher cuts are also a slightly simpler shape to create than some others, so less technical expertise and time is required, which results in lower labour costs which can be passed on to you, the end consumer.
The table below shows the price difference between a round brilliant diamond, a princess cut diamond and an Asscher cut at the same size and quality, found through one of my recommended retailers.

The specs that were compared were:
1 carat
Color F
Clarity VS1
Here's how the pricing compares:
| | | | |
| --- | --- | --- | --- |
| SHAPE | PRICE (CA$) | DIFFERENCE (CA$) | DIFFERENCE (%) |
| Round Brilliant | 8,695 | | |
| Princess | 5,848 | -2,847 | -32.7 |
| Asscher | 4,893 | -3,802 | -43.7 |
That's an absolutely huge 44% saved over a round brilliant for stone which is exactly the same carat weight and quality. And the asscher shape is over 10% cheaper than the Princess cut too.
While the exact size and specs you're looking for will change, there will always be significant savings available when choosing an asscher cut diamond. You can see today's prices for your specs of Asscher cut diamond at my number one recommended retailer here.
International Asscher cut guides
Each country has its own retailers we've therefore created individual guides for different countries. If you live outside of Canada and have found yourself on this page, click below to access your local guide:
Buying an Asscher cut engagement ring in Canada
---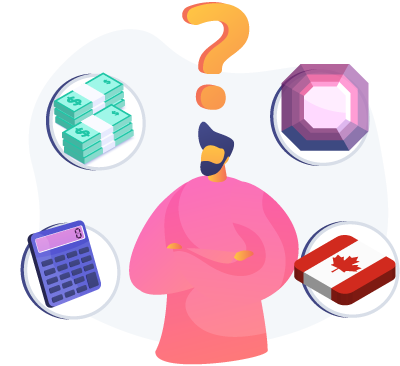 When buying any diamond, there are basically three places to consider:
Large, chain stores
Smaller, more upmarket jewellers
Online stores
Where you choose to buy your diamond will make the biggest difference on how much value you get with your purchase. If you choose the wrong place, you could end up spending more that you need to and get a lower quality stone, as we'll see.
In this section of the guide, we'll take a look at the selection and prices for asscher cut diamonds, and how a couple of Canadian jewellers stack up.
Finding an asscher cut diamond from a Canadian jeweller is difficult
First thing's first, we need to address an unfortunate truth: purchasing an asscher cut diamond engagement ring in Canada can be quite the challenge.
For example, Peoples (probably the largest jewellery chain in Canada, with over 150 locations), offers only three asscher cut ring options:.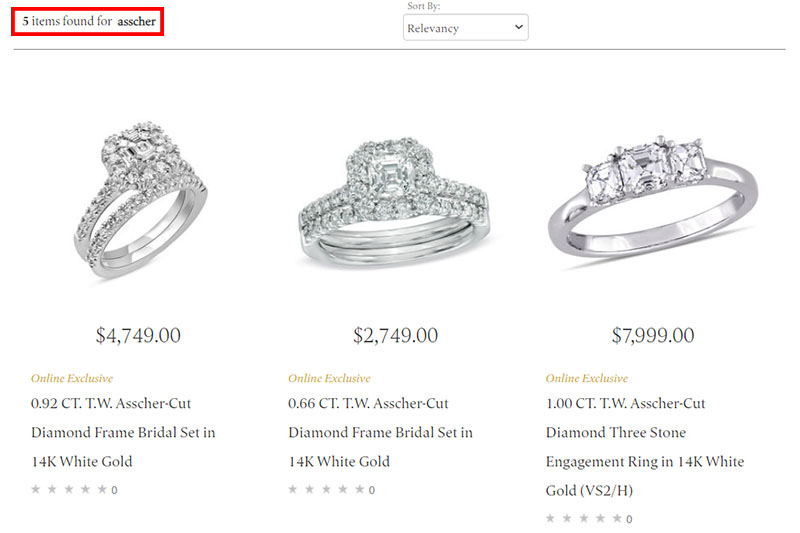 (While five items are listed, the other two are asscher cut Topaz earrings and a necklace.)
This is where online retailers such as James Allen come into their own – they offer nearly 2,000 asscher cut diamonds to choose from.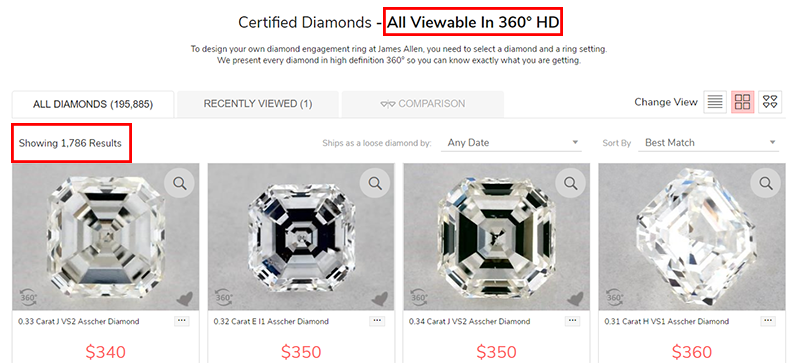 In the next section, we'll look at what the experience of buying an asscher cut engagement ring is really like from Canadian jewellers.
Buying an asscher cut diamond ring from Serli and Siroan
The first jeweller we'll look at in detail is an upmarket jeweller that specialises primarily in diamond jewellery.
Founded in the mid 1970's in uptown Toronto, Serli & Siroan gained national prominence with loyal customers in all 13 provinces and multiple states in the U.S.
Looking on the Serli & Siroan website, they have a 1 carat asscher cut diamond engagement ring in a classic solitaire setting: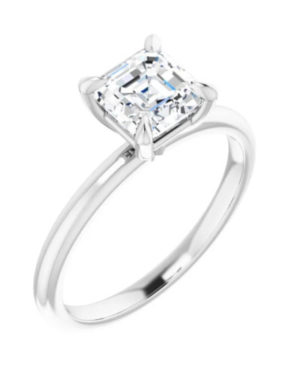 The centre diamond for this ring has the following specs:
Carat weight: 1.21 carat
Colour grade: H
Clarity grade: SI1 ( Slightly Included 1)
This is priced at C$14,275.32: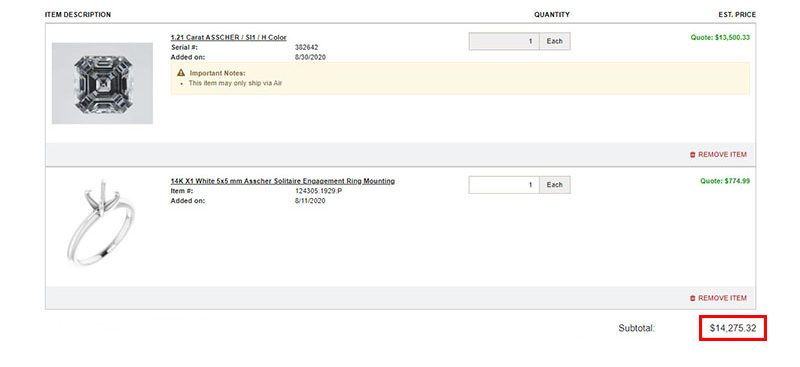 C$14,275 is a significant price for a diamond ring, and if you are spending that much money, then you should expect to get a diamond that looks great. Unfortunately, that might not be the case.
If we look at the grading report from Serli and Siroan for this diamond, we can see that there is significant feathering along the edges of the diamond, a general term for any fracture or fissure in a diamond that extends to the surface.
The diamond also has a dark inclusion near the centre also shown on the grading report: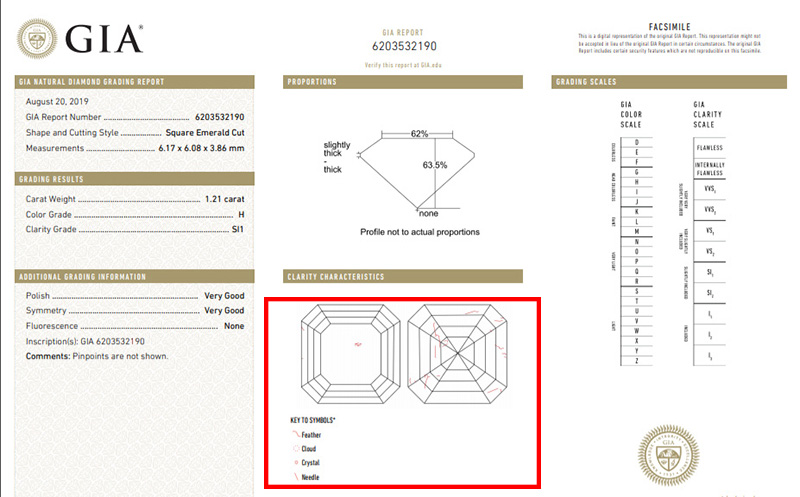 When we look at what that actually looks like in real life, the inclusion appears as a black mark right in the centre of the diamond: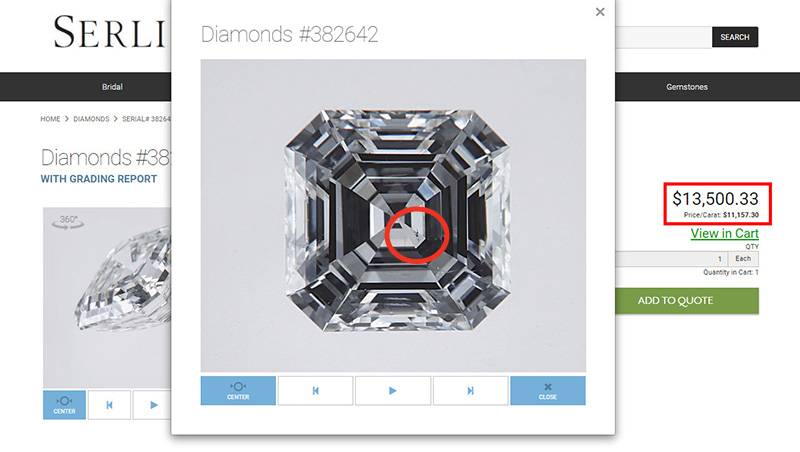 This isn't the worst inclusion I've ever seen, but it's likely that this would be noticeable when the diamond is mounted into a ring setting – not what you want when you are spending C$14,275 for your diamond ring.
Finding a similar stone for much, much less
If you did want to buy an asscher cut diamond like this, you certainly don't need to spend that much to get a diamond with the same specs as the stone above.
In fact, by being smart with where you buy, you can pay less than half that amount for a diamond with the exact same specifications.
Serli and Siroan are charging C$13,500 for a 1 carat, H colour, SI1 clarity diamond.
We can find a diamond with identical specifications (1.21 carat, H colour, SI1 clarity) through one of my recommended retailers for C$6,854: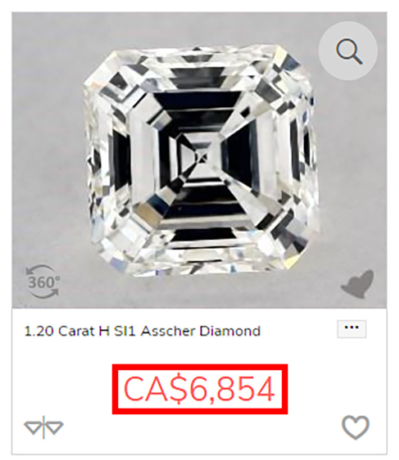 This diamond may have sold as you read this, but you can see today's prices for similar sized asscher cuts here.
However, when examined closely we can see that this asscher cut diamond has its fair share of inclusions as well.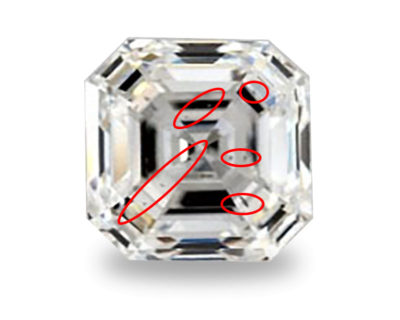 It should be noted that this is a US-based retailer, which means that taxes in your province will need to be added to this.
I have a whole blog on importing a diamond into Canada with the specific taxes listed for each province, but the short version is that the highest HST that could be added is 13% on top of the sale price. 13% would add $891 to this diamond, bringing the total to C$7,745.
If we add the same 13% tax to the Serli and Soan diamond, it brings the to to $15,255: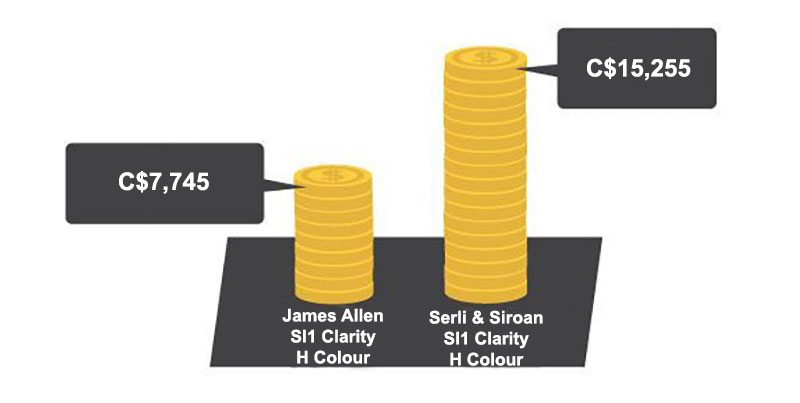 The James Allen stone obviously delivers considerably more value and if you had to choose between the two, it makes sense to save thousands of dollars by buying from James Allen.
But.. hold it right there!
Neither of these diamonds is actually worth buying!
Something to know when looking at this comparison is that I wouldn't recommend that you buy either of these diamonds – either the one from Serli & Siroan, or even my recommended retailer.
They have too many compromises in their colour and clarity which means they won't look good in your ring.
For asscher cut diamonds, I recommend that you choose a stone that has been graded G colour or above: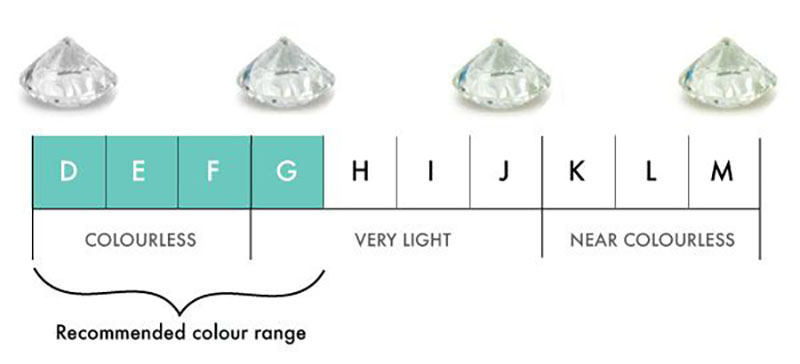 Going lower than this means that warmer / yellow tones may be able to be seen, which many people find undesirable.
The exception to this would be if the diamond were going to be set into a yellow gold setting, in which case up to J would be an acceptable colour. To get a better idea of the colour difference for yourself, visit here and have a play with the colour filters to see how it affects what the diamond actually look like..
The other factor that rules out this diamond is the clarity grade.
With an asscher cut diamond, I recommend that people choose either a VS2 or a VS1 clarity. This ensures that the diamond does not have any visible inclusions but also that you aren't paying extra for higher clarity grades which don't make a difference to what the diamond actually looks like.

The diamonds above are both 'SI1' diamonds, which the GIA describes as:
"the term SI1 stands for "slightly included 1" which means that there are inclusions and they are visible under 10x magnification, but they may or may not be noticeable with your bare eyes.
Inclusions in SI1 diamonds often are seen by the unaided eye. SI2 inclusions are easily seen"
Just by taking a quick glance at the reference image provided for the SI1 asscher cut diamond on the Serli & Siroan website you can see the stone has feathers along its edges, and a large dark inclusion near the centre.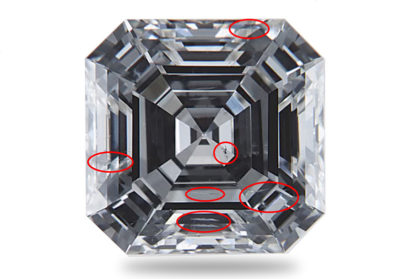 So, with either of the diamonds above, it's likely that it will look yellower than you would like and would have visible black inclusions – something that most people are keen to avoid.
Get a better asscher cut for less money
My usual starting recommendation for an asscher cut diamond would be G colour and VS2 clarity, which will mean that it looks perfectly white once set into a ring setting and will be 'eye clean' ie. there are no ugly inclusions.
The price of a 1.2 carat diamond that fits these specs is C$6,2333: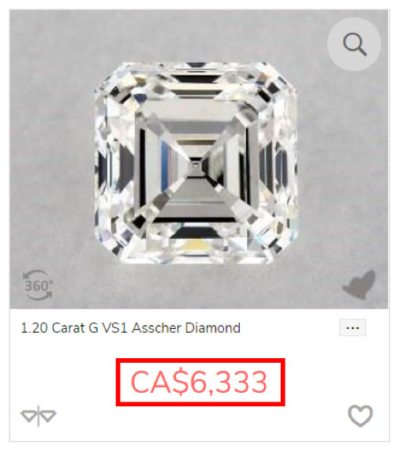 That's actually lower than the H SI2 diamond listed above – clear evidence of the importance of searching around the available options.
Adding the maximum 13% HST which would be due when importing into Canada and the total is C$7,956.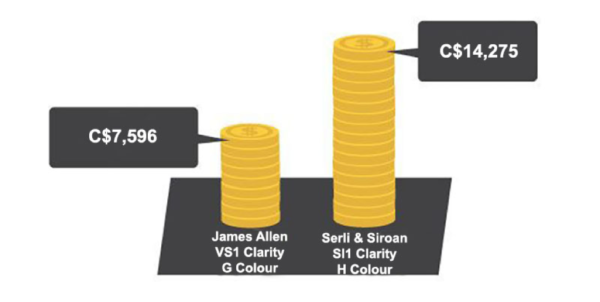 So, for nearly C$7,000 less than the Canadian retailer is asking, you can get a significantly higher quality diamond, which will look perfectly white and have no visible inclusions.
Of course, a setting needs to be added to this too, and this comes in at $440: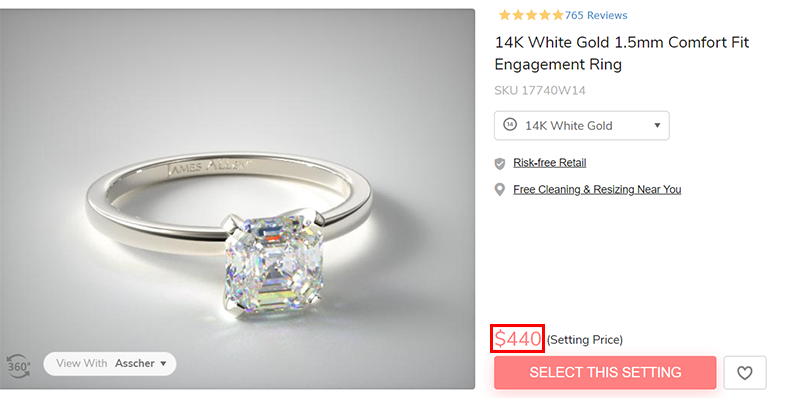 Again, this is just one example, but while researching we found many other Canadian jewellers with a similarly limited selection and high prices – none of which came close to James Allen's choice and value.
How to select the most beautiful asscher cut diamond for your ring
---
Not all diamonds are created equal, so this section will talk you through the 4Cs in relation to the Asscher cut so that you can make sure you get an incredible stone.
We're going to look at:
We'll also look at another factor that is important to ensure that you get the most beautiful Asscher cut for your budget: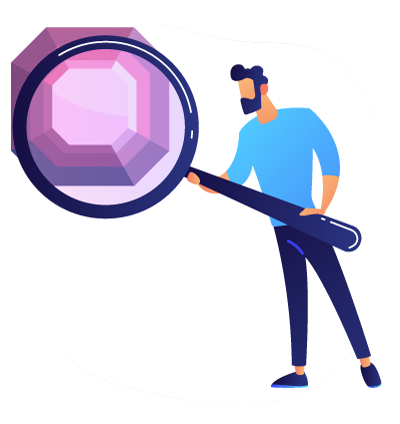 Asscher diamond cut quality
Unlike some diamond shapes there are no set 'ideal proportions' for an Asscher cut diamond.
However, there are some key things to look for when sourcing your stone.
Even 'steps'
The steps in an Asscher cut diamond should be evenly spaced, and not too large: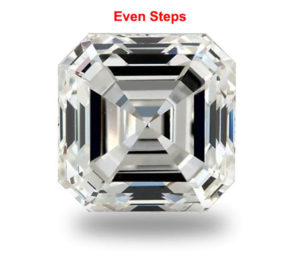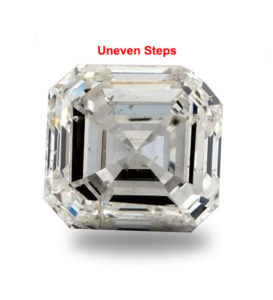 Variation between light and dark
If you're buying online, look for a clear difference between light and dark on the diamond's steps – this is known as 'scintillation' and will mean that the diamond 'flashes' as it sparkles when mounted in a ring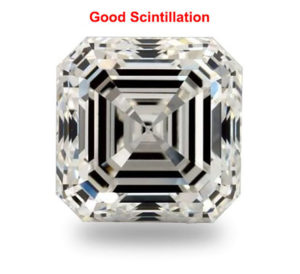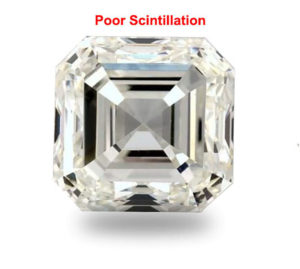 No black boxes
Sometimes called a 'dark flash', this is a dead area in the centre of the stone which doesn't reflect light and should be avoided.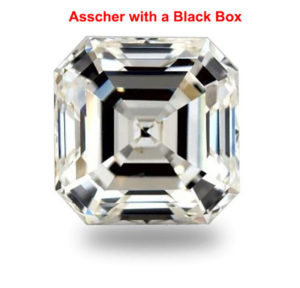 Proportionate clipped corners
Asscher diamonds' corners should be in good proportion to their size – some are too small and look like an afterthought, while others are too large so that it looks almost like a stop sign: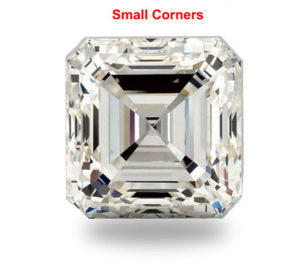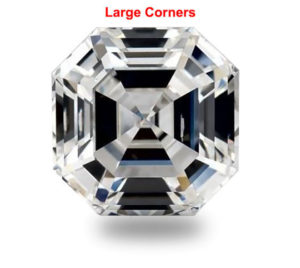 Asscher diamond length / width ratio
The perfect Asscher cut is a square with equal length and width. This this is a 1:1 length / width ratio and ideally your diamond should be as close as possible to this.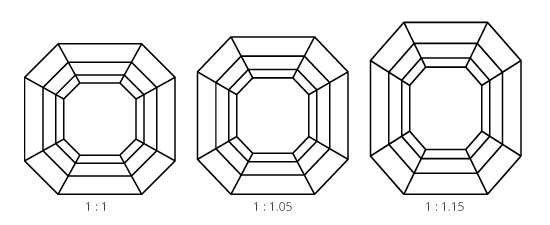 While ratios of up to 1:1.15 can be found in Asscher cuts, aim to keep it below 1:1.05 and it will still look square once mounted in a ring.
There are also two primary characteristics you want to pay attention to when looking at proportions. These are depth percentage and table size which are both expressed as percentages in a grading report.
Asscher cut diamond depth percentage
Depth percentage is the depth as a percentage of the width of the stone.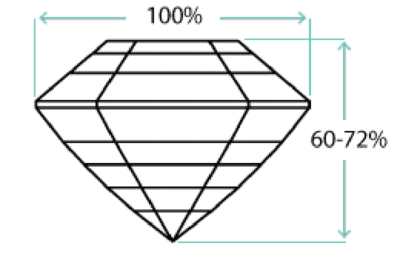 My recommendations to ensure that the most light possible is reflected back is and the stone looks a good size for its carat weight is:
| | | |
| --- | --- | --- |
| EXCELLENT | VERY GOOD | GOOD |
| 60% – 72% | 56% – 76% | 54% – 78% |
Asscher diamond table percentage
Table percentage is the width of the top 'table' of a diamond (the flat are on top) expressed as a percentage of the total width of the stone.
Again this is an important ratio because the proportions here will affect how light is reflected within the stone and therefore how much is reflected back to your eyes, making the diamond sparkle.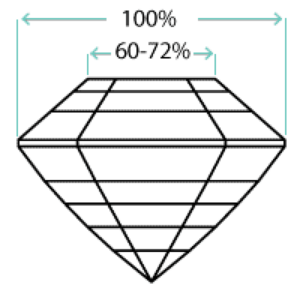 | | | |
| --- | --- | --- |
| EXCELLENT | VERY GOOD | GOOD |
| 60% – 72% | 55% – 74% | 50% – 76% |
Asscher diamond color
As a stepped cut diamond, asscher cuts show colour more than some other diamond shapes. As such, while with some shapes you can choose an H colour diamond without warmer tones showing through, with an asscher cut we don't recommend choosing a colour lower than G to ensure that your diamond doesn't appear yellow.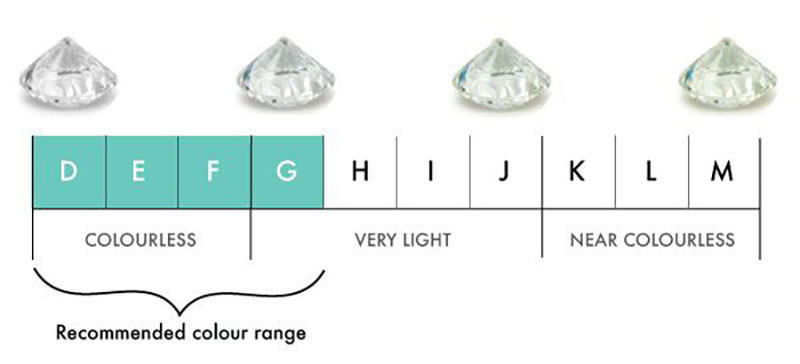 Asscher cut diamond clarity
Asscher cut diamonds' large 'table' at the top of the stone make flaws and inclusions easier to see than many other diamond shapes.
As a result, it's advisable go a little higher than some other diamond shapes to ensure that there are no inclusions visible.. As we've seen, chunky large black inclusions can turn an otherwise lovely stone into quite the disappointment.
VS2 clarity is a great balance between quality and value and almost all should look absolutely perfect when viewed with the naked eye, with no inclusions possible.
However being able to view high quality imagery of every stone is essential to ensure that there are no inclusions visible.
Asscher diamond carat
One thing to know is that 'carat' is a measure of an asscher cut diamonds' weight, not it's size.
This is an important difference because two diamonds of the same weight can look very different size.
For example, the two diamonds below are both one carat, but one faces up significantly larger than the other
Carat weight
Size
Face up difference
1 carat
5.43mm x 5.3mm
1 carat
5.61mm x 5.51mm
+7%
While there is variation, the images below show examples of the relative difference in size for Asscher cut diamonds at a range of carat weights: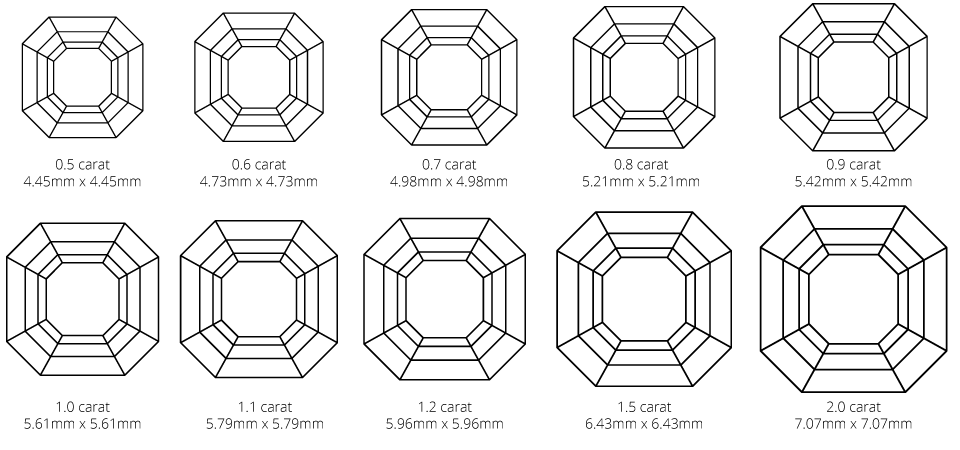 Hopefully you can see that increasing the carat weight doesn't necessarily translate into a much visibly larger diamond.
Changing the size from 0.8 carat to 1 carat is an increase in width of 0.4mm – less than 10%. However, the difference in price will be much more significant – an 80% increase: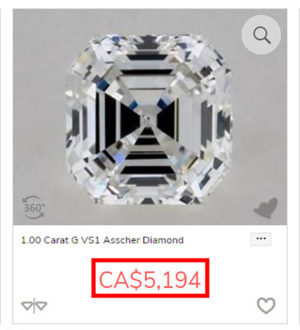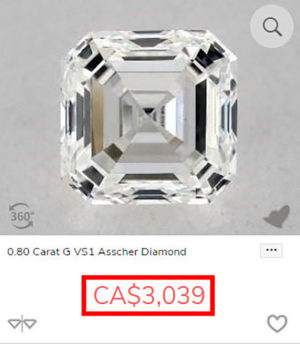 The priority that you place on diamond carat weight and how big you want to go is totally up to you. However, I would recommend that you don't make it the most important thing when choosing your engagement ring.
A well-rounded diamond will be much more impressive than a big stone that is dull or has obvious imperfections.
Asscher cut diamond choice
Purchasing from most Canadian retailers unfortunately means that you are forced to choose from the limited selection of diamonds that they present to you.
This is another reason I recommend looking online. Not only are you able to search through thousands of diamonds until you find the one that's perfect for you, but you are able to take advantage of lower prices.
And while thousands of diamonds may seem intimidating, using the filters in the search results will reduce this very quickly to a manageable number to choose from.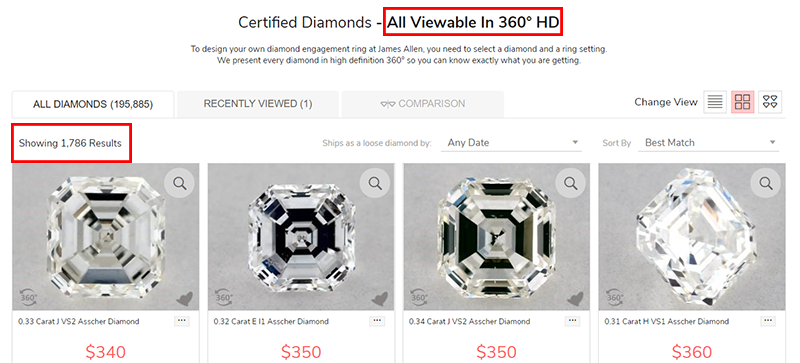 These specs are the minimum that we recommend to ensure that the diamond on your Asscher cut engagement ring looks fantastic while delivering great value.
You can of course go higher than these specs, if your budget allows, but will often be paying for improvements that are impossible, to see with the naked eye.
Click below to search the selection of Asscher cut diamonds with these recommended specs on James Allen:
Clarity: VS2
Colour: G
Table %: 60% – 72%
Depth %: 60% – 72%
L/W ratio: 1.00 – 1.05
Certificate: GIA