Ecksand Review
Should you buy your engagement ring or wedding ring from Ecksand?
---
Ecksand was established in 2010, and as a relatively young growing company, they place a big focus on customer service to differentiate themselves from more established competitors.
They also position themselves as an ethical choice which means you can buy natural, lab and recycled diamonds from them. In this Ecksand review, we will primarily examine them from the point of view of buying a diamond engagement ring. However, the findings are equally relevant for any other type of jewellery.
If you'd like to jump straight to the 'value for money' section and see how choosing one of my recommended retailers could save $8,723 compared to Ecksand, click here.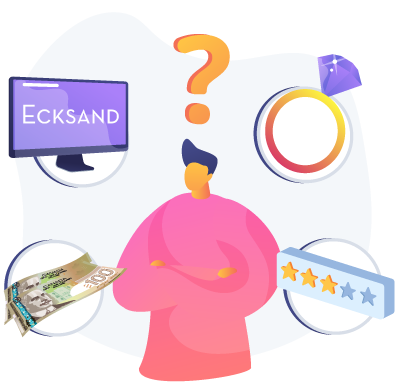 On this page you'll learn everything you need to know about:
Ecksand ring selection
Ecksand offers a total of 260 styles of diamond engagement rings to choose from: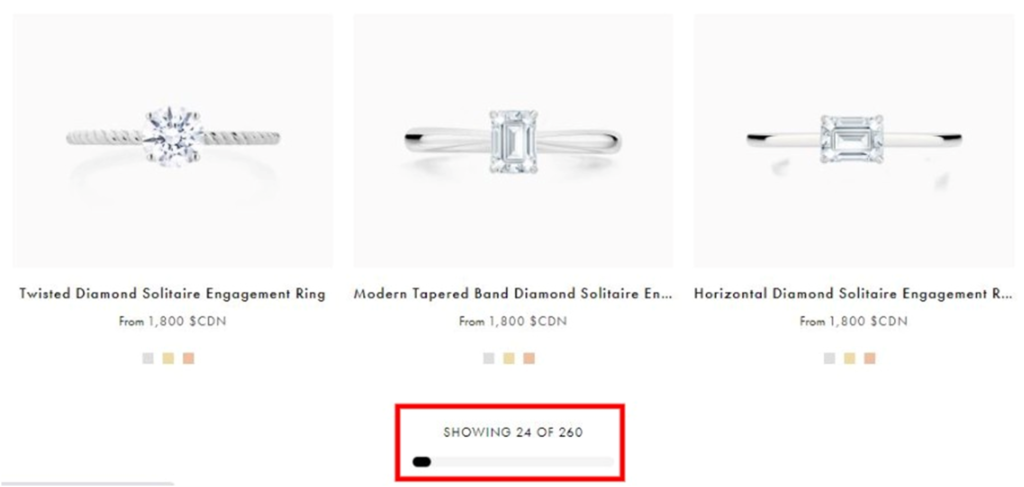 Ecksand's rings are sustainable and ethical, which mean they feature ethically sourced diamonds and their settings are made of recycled metal, to minimise environmental impact.
The majority of the engagement ring styles that Ecksand sell are either solitaire or halo settings – two classic styles that have stood the test of time. Solitaire settings are generally less expensive than other styles and are great for keeping the focus on the centre stone, while halo settings can make the ring stone look larger and more impressive.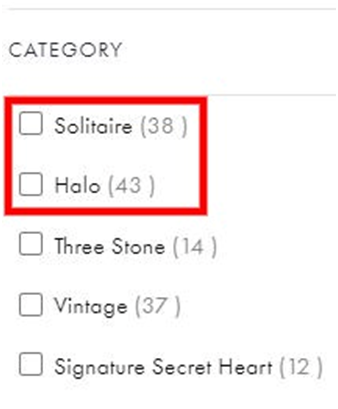 The most common shape they offer is the round brilliant – it's not only the most popular shape, but it's also the best shape that sparkles the most.
Overall, there's an impressive range of engagement ring setting styles and diamond shapes offer from Ecksand, which means you should be able to find something that suits your taste.
Ecksand Diamond Quality
Engagement rings are all about the diamond, and being able to choose a diamond that will sparkle brilliantly will make the difference between a truly stunning engagement ring and one that looks dull and unimpressive.
In this section, we'll examine the quality of diamonds Ecksand offers, as well as how transparent they are about the quality of the diamonds themselves.You can choose natural, lab or recycled diamonds to fit your budget.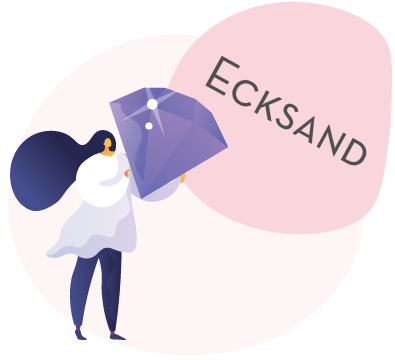 Looking at the educational section on the Ecksand website, they discuss the importance of cut, colour, clarity and carat of the 4C's of diamond.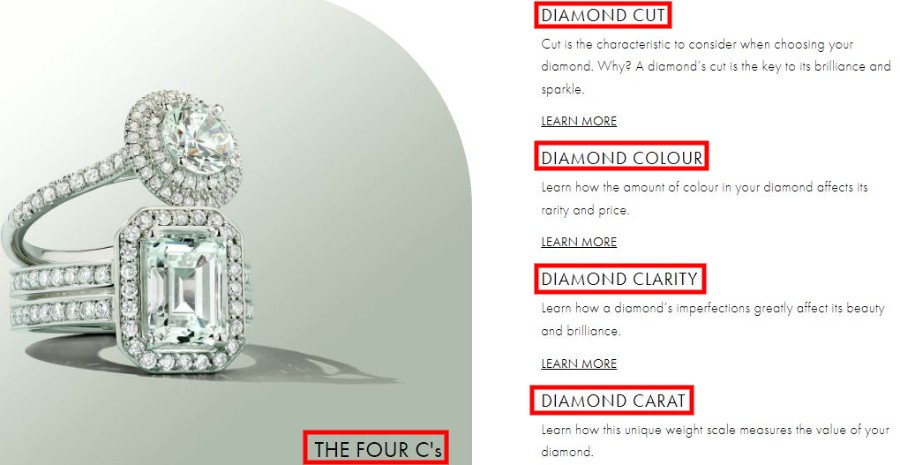 If you are looking for a perfect quality diamond, you must consider this 4Cs of diamonds when making your selection, as each of the Cs can have a significant effect on how your diamond looks.
If you have a tight budget, the first thing you need to check is the carat as this is the factor that makes the largest difference to the price of your ring. Carat actually refers to the weight, rather than the size of of a diamond, and two diamonds that weight the same can actually look like very different sizes. One thing to note is that a shape like an emerald cut (as seen in the picture above), can look larger than a round diamond at the same weight, as the weight is spread out through a shallower diamond.
The clarity of the diamond refers to the number, location, size and type of 'inclusions' within a diamond. These are tiny little marks or 'flaws' present inside the diamond and as a guide, VS2 clarity is a good grade to start with. At grades below VS2, inclusions can sometimes be seen in the diamond, while above VS2 you are often paying for extra 'quality' that can't be seen with the naked eye.
Colour is a measure of how white or yellow a diamond is. G or H are generally good colours to start your search with. Above this level, the diamond doesn't look much whiter, but is much more expensive and below this level the diamond can look yellow (which most people don't like).
Lastly, the cut unlocks a diamond's beauty and sparkle – Ecksand correctly place it as the most important factor when choosing your diamond. A quality diamond has an excellent or ideal cut which allows the light to sparkle more. For this we only recommend that you buy a diamond which is either 'excellent' or 'ideal' cut, otherwise it may not sparkle as much as hoped.
Diamond is too shallow: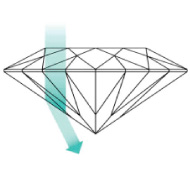 Light passes through the diamond and is lost, meaning the diamond looks dull and sparkles less than it should.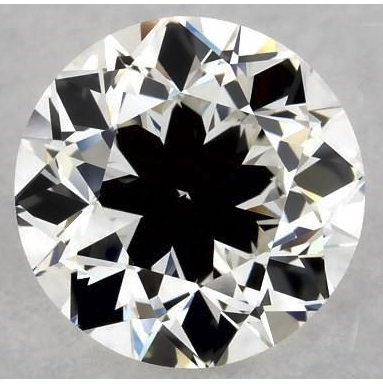 Diamond is too deep: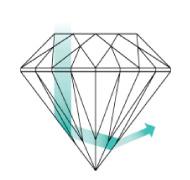 Light is bounced off the bottom facets at the wrong angle and is lost out of the side of the diamond, reducing sparkle.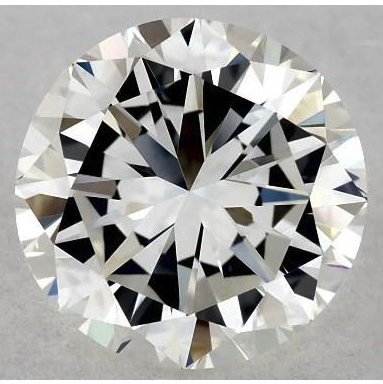 Excellent / Ideal cut: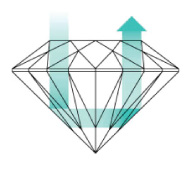 Light is reflected off the bottom facets and back through the table to your eye, meaning the diamond sparkles beautifully.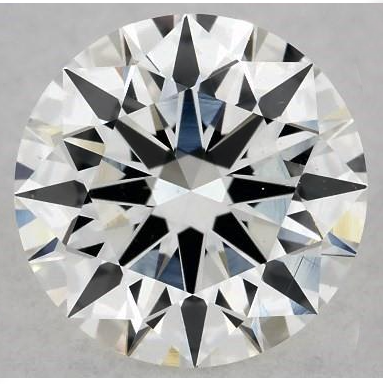 Despite knowing the importance of 4C's of the diamond, Ecksand don't show any information about individual diamonds on their website and they want you to "Quote" first to begin the process of buying a ring.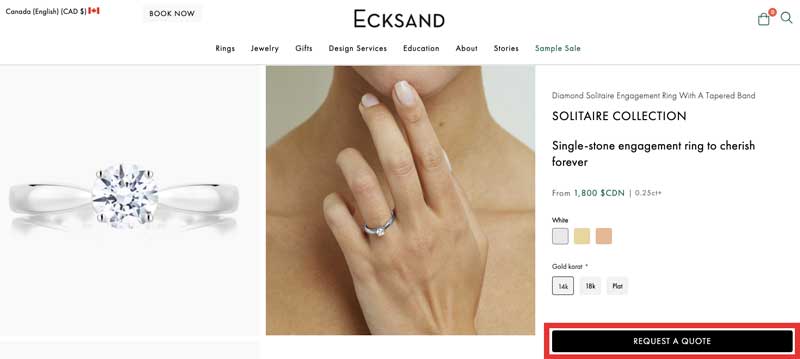 In a world where anything can be bought online, this is a frustrating approach to take. Many other jewellers allow you to browse a range of diamonds, filtering by colour, clarity, carat weight and cut quality to find the diamond that matches what you are looking for and fits your budget.
When we requested a quote for a 1 carat diamond, Ecksand sent us through a quote for both a natural and a lab grown diamond.
The natural diamond was:
Clarity VS2
Color G
Excellent Polish
Very Good Symmetry
The lab diamond is:
Clarity VS1
Color D
Excellent Polish
Excellent Symmetry
No Fluorescence
For the stats provided, these are good.
But there's a big thing missing, and it's the most important factor of all – diamond cut quality.
Despite them saying that it's the most important factor in determining a diamond's beauty, Ecksand have missed it off. To the uninitiated diamond buyer, this could mean that they get a diamond with a low cut quality grade which ends up not sparkling well.
Ecksand Diamond Grading Labs
'Certification', also known as 'grading' is when a diamond is assessed or Cut, Colour, Clarity and Carat weight, with these recorded on a certificate which is totally unique for each diamond.
A diamond certificate acts like a passport which tells you all about your diamond's credentials and should give you peace of mind that you are actually buying what you think you are buying.
Diamonds that score higher in their grading report are generally more expensive – an F colour diamond will be pricier than an H colour, if everything else is the same.
It's important therefore that diamond grading levels can be trusted – you don't want to pay more for an F colour diamond if it is actually an H. This is why independent diamond testing labs are important. An independent testing lab doesn't have any incentive to say that a diamond is higher quality than it is, as they don't make any more money if they do.
In fact, if they bump up diamond quality grades, it may mean people trust them less, which might mean they make less money.
Retailers DO have an incentive to increase diamond quality scores, as it will mean that they can sell a diamond for a higher price. For this reason, I recommend that you always look for a diamond which has been graded by an independent authority – my usually recommendation is the GIA because they have the strictest standards, so you will be sure that you are getting the quality that you are paying for. The diamonds that Ecksand quoted on have been graded by GIA, which is excellent:

Surprisingly few Canadian jewellers offer GIA-graded diamonds, so Ecksand scores some points over local compeitors here.
Ecksand service
Buying an engagement ring is a special purchase, and you want to have confidence that Ecksand will not only treat you well while buying your ring, but also that they will stand behind their product after the purchase too.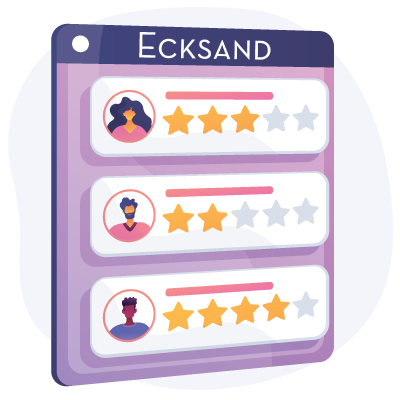 Ecksand has some decent post-sale service, including a free resize and first cleaning of your ring. When you're buying an engagement ring as a surprise, it's very common that the size isn't 100% correct, so knowing that Ecksand will resize it for you is a big plus.
If you feel that the ring is not right for you, Ecksand returns are accepted within 10 days from the date of receiving the package (minus a 5% restocking fee). This isn't great TBH – many retailers offer a 30 days, no questions asked return with no restocking fee.
Looking at Google reviews however, Ecksand scores 5.0 from 455 reviews.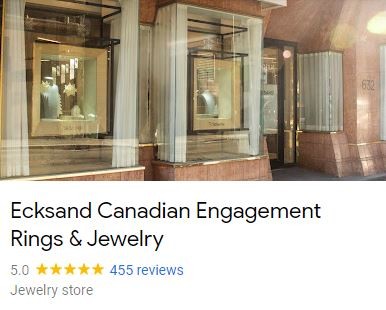 This is obviously a very impressive score and means that despite some service policies that could be better, people are very happy with the service they have received.
Ecksand Value For Money
The easiest way to understand whether a retailer offers good value for money is to compare it to others.
Buying a diamond ring is a big commitment – both financially and emotionally. So it's important that you ensure sure that you are getting good value for money and aren't spending more than you need to. After all, if you're buying an engagement ring, it's likely that you will have a wedding to pay for soon.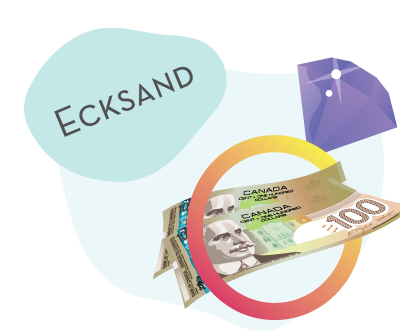 We'll compare Ecksand's prices to one of our top engagement ring retailers: Brilliant Earth.
Brilliant Earth focuses on ethically sourced diamonds and has an excellent selection of Canadian-sourced stones.
When comparing, we'll keep the ring style, diamond clarity, metal, colour, carat as similar as possible. A good way to compare is looking at solitaire diamond rings as they are simple and timeless, without ornate settings to make the comparison more complicated.
As we discussed, Ecksand wants you to get a quote to get more information about the diamond. I asked for a quote for the Secret Heart Diamond Solitaire Engagement Ring in 18k gold:

The quote with a 1 carat natural diamond, with VS2 clarity, G colour, GIA certified diamond was $17,873, plus tax.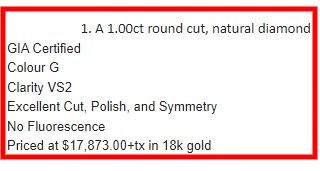 If we look at the price compared to my recommended retailer – Brilliant Earth, a 18K solitaire setting ring with 1 carat diamond, G colour, VS2 clarity with GIA certification is priced at just $9,150: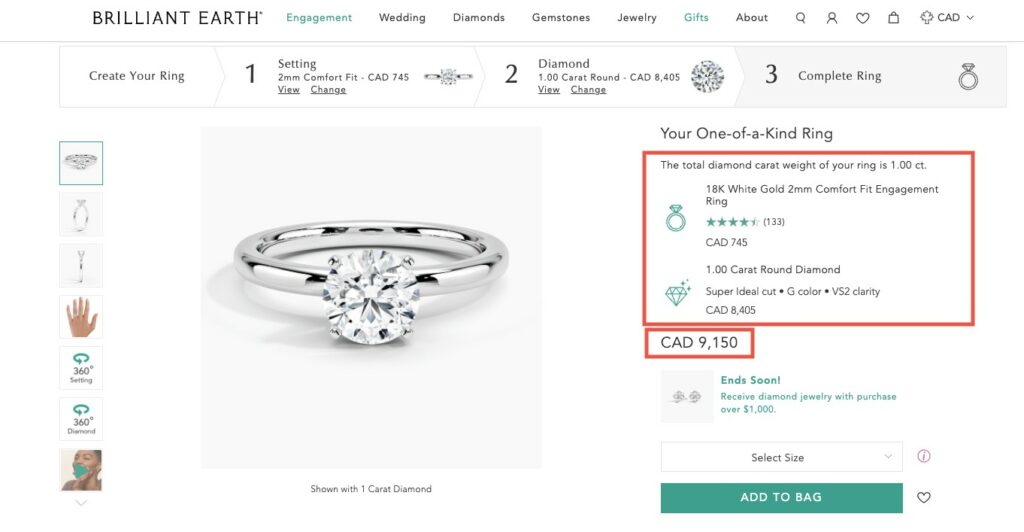 Ecksand's price of $17,873 is a huge $8,723 more expensive than Brilliant Earth – it's nearly twice as expensive as a ring with a diamond with the exact same specs for quality.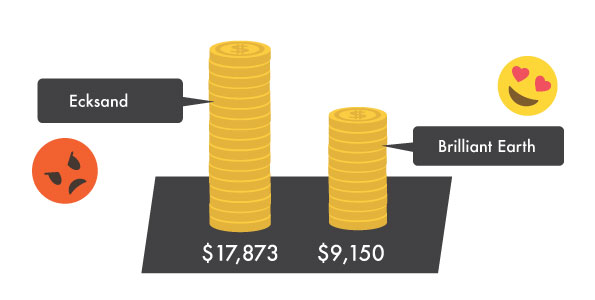 Of course, you will also need to pay your province's sales taxes on top of this, but under the USMCA regulations, any diamond ring that is manufactured in the US does not have any duty applied to it, so there will be no other taxes due. You can read our full article on importing a diamond ring to Canada here.
If you're in Quebec, tax on the Ecksand ring will be $2,850.46, while the tax on the Brilliant Earth ring will be $1,459.24, further improving the price difference.
With the $8,723 you would save by buying your diamond at Brilliant Earth instead of Ecksand you could:
Increase the carat weight of the diamond
Increase the quality of the diamond
Spend it on a really special proposal
Put it towards your wedding cost
Or possibly all of this!
The prices at Brilliant Earth may be different on the day you look – maybe higher, maybe lower – it's worth clicking through to see today's prices for exactly what you're looking for.
Ring selection

Diamond quality

Service quality

Value for money
Do we recommend Ecksand?
Ecksand offers very good service especially when you visit their store and talk to their in-person sales staff.
Online, the process is less well thought-through, and the fact that the 4Cs of individual diamonds are not included on their website makes the purchase process more frustrating than it needs to be. 
Post-purchase, Ecksand only offers a 10 day return policy which is a very short period if you feel your ring is not right for you. Other stores offer a 30 – 60 day return policy.
Lastly though, the lack of value is hard to ignore. By buying online from a recommended retailer like Brilliant Earth, you can get a high quality diamond for approximately half the price, leaving you with significantly more money in your pocket and the same quality of diamond. For me, that's a no-brainer.
Pros
Offers ethical diamonds
Good service with 5 star reviews
GIA certified diamonds
Cons
Diamond details are not included on website
Short period for returns 
Very expensive prices