James Allen Return Policy
---
Engagement rings are a big commitment, so you don't want to be stuck with a ring that doesn't fit or that isn't perfect for your partner.
Thankfully, James Allen offer a 'no questions asked' returns policy as long as the ring return follows all the required conditions. If you want to read their full returns policy click here.
Or we'll take you through the ins and outs of the James Allen returns policy below.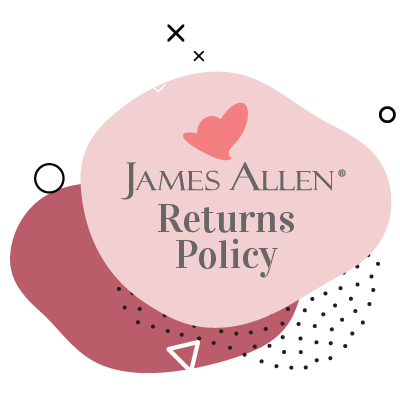 On this page you'll learn everything you need to know about:
We've written an in-depth review of James Allen, you can read more here.
James Allen Returns Process
You have up to 30 days to return your order to James Allen for a full refund or an exchange.
If you're in the U.S or Canada, return shipping will be covered by James Allen, and you can do this up to three times.
International customers pay a small return shipping fee.
You can read more about the James Allen hassle free return click here.

Read related articles: James Allen Resizing
There are a few things to be mindful of:
If an engraved item is returned there will be a $25 re-polishing fee
In order to be eligible for a refund, the ring must be unworn and in a new condition
Rings that have been altered by another jeweler will also not be allowed to be returned
How does the James Allen returns policy compare to competitors?
The James Allen return policy is similar to other online jewelers, but better than most bricks and mortar jewelers.
Most comparable online jewelers also offer a 30 day return window and free return shipping. Read more about the returns process, click here.
However some jewelers do not allow you to return engraved items, but James Allen does, which significantly reduces the risk if you are planning on personalizing your ring.
Organizing the return is made super easy as James Allen you will send you a prepaid and insured FedEx shipping label so you will not have to pay for shipping.
Read related articles: James Allen warranty
Returning damaged items to James Allen
If for some reason your item arrives in a damaged condition, follow the steps below. This also applies for the returns process in general.
Contact Customer Service:
Once you've decided that you want to return the ring you have to call the James Allen customer service team at 1-877-826-9866 and let them know that you wish to return your order, you can contact James Allen customer service anytime as they have 24/7 customer service available.
The customer service team will get back to you
The James Allen team will get back to you with a prepaid return label a day after you've lodged your return request. They'll also let you know how to package your return in a secure manner.
Send it back via FedEx
Take your package to your nearest FedEx and they'll send it off to James Allen for you. If you need help with packaging, FedEx can accommodate you with this. It should take 2 days to get back to the James Allen offices.
Locate your nearest FedEx location here.
Please note that James Allen only uses FedEx services for all orders in order to deliver high value packages in the fastest and safest manner.
Read related article: James Allen Shipping.
Returning loose diamonds to James Allen
A loose diamond is a diamond that is not mounted in a ring, a pendant, earring or any piece of jewelry.
When returning a loose diamond to James Allen, you must also return the grading certificate with it, or a $150 fee will be incurred. This is to cover the cost of the diamond being regraded and a new certificate issued, before it can be sold again. Read more on the James Allen returns page here.
How long does it take for a James Allen return to be processed?
After your item arrives in James Allen office and all the necessary information is verified, the refund will be processed within two weeks, via the original purchase method.
Bank wires will be refunded through a James Allen check.
Which items can't be returned to James Allen?
There are several items that cannot be returned to James Allen:
Special orders
Items without a RAN number
Packages shipped beyond the 30-day return period
Not properly packed items
Uninsured items
Damaged items
Items showing obvious signs of wear or alteration by a jeweler other than James Allen
Eternity bands and tension rings cannot be resized because of the nature of the ring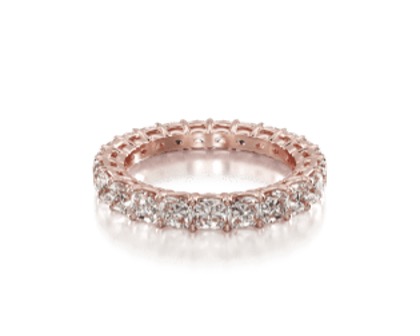 Please carefully check your item to see if it is eligible for return, if you have any questions get in touch with the James Allen customer service team, click here.
Pros and cons of James Allen's returns policy
Pros
No question asked returns for a full refund
Allow up to three free returns per year
24/7 customer service available
Insured complimentary FedEx shipping label
Fast initiation of returns process
Cons
Free return only applies in US and Canada
Takes 2 weeks for the refund to be processed
$150 charge for replacement of certificate if returning a loose diamond
Like all jewelers, returns guidelines apply