James Allen Ireland
Everything to know about buying a diamond ring from James Allen when you're in Ireland
Last updated on: November 28th, 2022
---
If you're ready to take the next stage in your life together and you're looking for a ring, you may be looking at James Allen as a retailer to buy from.
But buying an engagement ring, let alone one from another country can be daunting. So is buying from James Allen worth it if you're in Ireland?
in this article, you'll learn everything you need to know about buying from James Allen so you can decide whether it's right for you.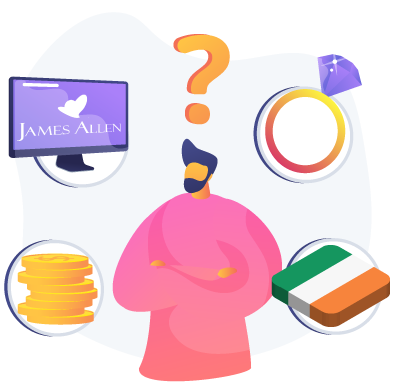 There are a few things to consider when thinking about whether you should import a ring from the US to Ireland:
We'll look at each of these in order.
Duties and taxes when buying from James Allen from Ireland
If you're making a significant purchase from overseas, it's only natural that you might be worried about being stung with a whole load of extra fees that you wouldn't have had to pay if you had bought locally.
Thankfully this isn't the case, and the main cost of the tax is made up of VAT, which you'll have to pay with a local jeweller anyway.
You'll have to pay the following duties and taxes when buying from James Allen:
Customs Duty – This is 2.5% of the total cost of the item.
Value-Added Tax (VAT) – This is the standard 23% of the value of the item – identical to buying a ring from a jeweller located in Ireland.
Calculating the tax you will actually have to pay
James Allen has a handy Tax and Duty Calculator that will help you determine how much you'll have a to pay on a ring. Check it out here – it's well worth investigating to understand the exact figures you're working with.
This is important because the prices you see in Euros on the James Allen website when looking at a diamond or a a ring don't include Irish taxes.
However, James Allen will let you know on check out how much tax and duties you'll have to pay for the ring: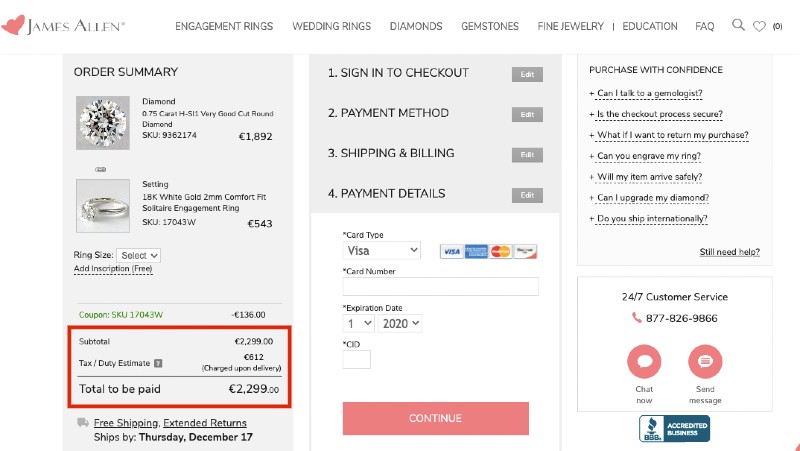 James Allen doesn't take payment for this, and it will be collected by the courier before delivery. But it's good to keep in mind, so it can be factored into the overall cost of the ring.
How will the duties and taxes be collected?
Before you receive your item, you need to settle the duties and taxes with the courier first, you'll be contacted with instructions on how to do this.
FedEx also charge a clearance admin fee of 2.5% of the customs fee and VAT or €15, whichever is greater. For example on a €5,000 ring the admin fee will be €29.
FedEx has an online platform which you can conveniently use to make a payment for the fees so you can receive your ring. You can click this link to pay your import fees via FedEx.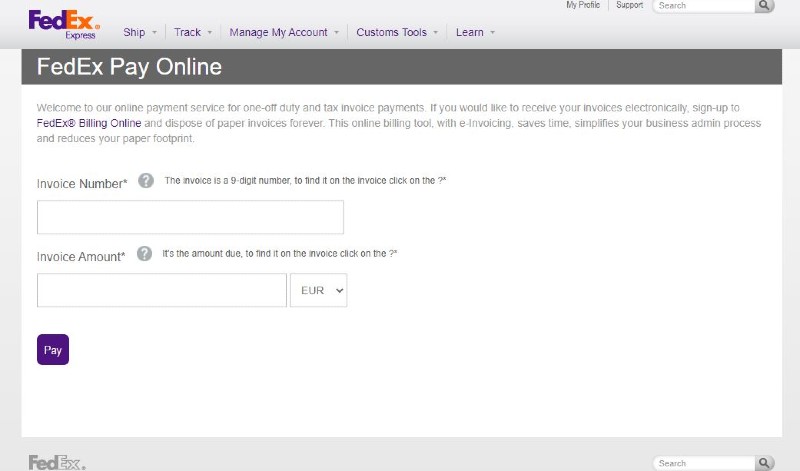 Shipping your items from James Allen to Ireland
Importing a diamond ring to Ireland is a significant expense and certainly not something that you would want to worry about being lost in transit.
James Allen provides worry-free, fast and free shipping, with all items securely packaged and fully insured while on its way to their shipping destinations worldwide.
For orders valued above $500, the items are sent through FedEx International Priority Mail and will take around two to three business days to arrive. Items from James Allen below $500 in value are shipped via USPS Priority Mail and will take three to five days.
It is important to note the item ships once it's been made, which can take anywhere from 1- 3 weeks. James Allen will give you a shipping estimate on check out.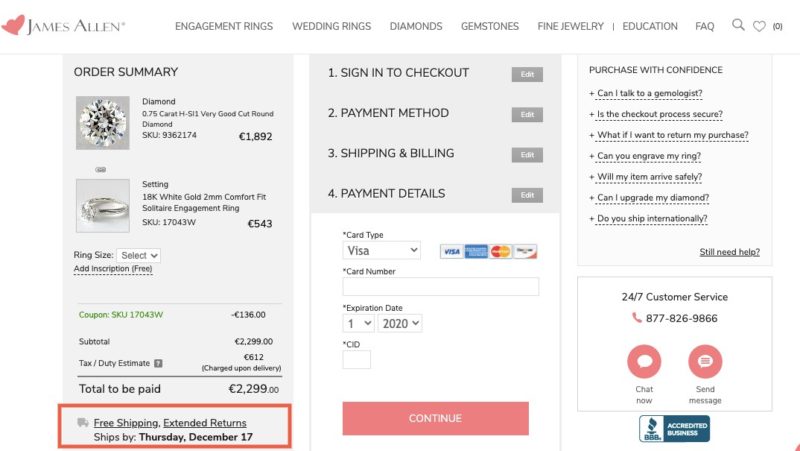 How does the James Allen return policy work in Ireland?
If in case you are not happy with the ring, James Allen normally has a 30-day return period from the day it has passed the quality assurance and shipped to you.
Just contact their customer service team and they'll issue you a returns authorisation. If you want to send the ring back via their couriers it will be $50 for a return shipping label.
What if you need to get the ring resized?
If you need to resize your ring, James Allen offers free resizing within the first year of your purchase. The only cost to you is the return shipping fee which is $50.
If you need more than one resize or if it's been more than a year since you bought it, it will be $25 to get a white, yellow or rose gold ring resized. For platinum rings there is a $50 fee.
If you wanted to do it locally, jewellers charge around €20 – €50 depending on the complexity and the type of metal used.
James Allen also offer lots of resources so you can get the ring size right the first time. Check it out here.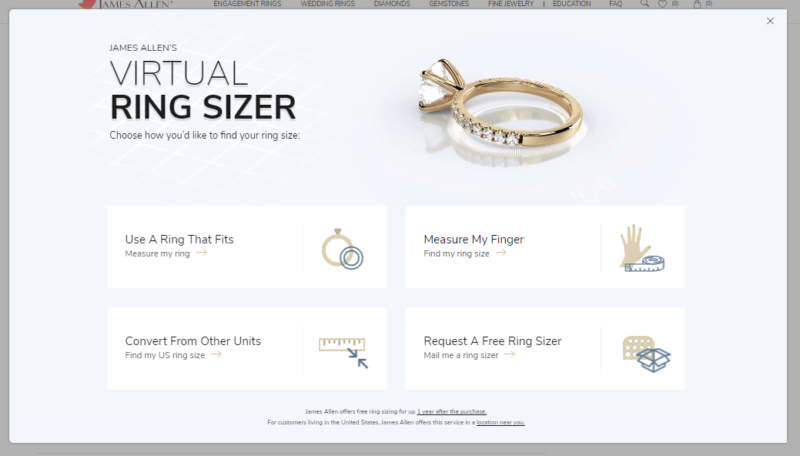 Do we recommend buying from James Allen if you're in Ireland?
James Allen is our number one recommended retailer for diamonds and engagement rings. Its vast collection of loose diamonds and rings offer elegantly crafted pieces of luxury which would stand out on every occasion.
Ready to pop the question? Make it the most special event in your relationship through James Allen's diamonds and engagement rings. Their inspiration gallery is a great place to check out for ideas and the tax and duty calculator is the other handy resource worth visiting.
International James Allen Guides
If you're outside Ireland and have somehow found your self here, we also have guides to buying from James Allen for several other countries. Click below to access your local guide: