Importing a diamond ring into Ireland
How to import an engagement ring or any other diamond jewellery into Ireland
Last updated on: November 28th, 2022
---
Buying an engagement ring can be a lengthy process involving hours of research and deliberation to find your perfect ring.
Once you've decided on the type of stone and setting you want; the big decision is where to buy it from.
The good news is that you aren't limited to the retailers in Ireland and widening your search to international options like James Allen in the US will likely mean you get a better diamond for less money.
Keep reading to find out everything you'll need to know about importing an engagement ring into Ireland.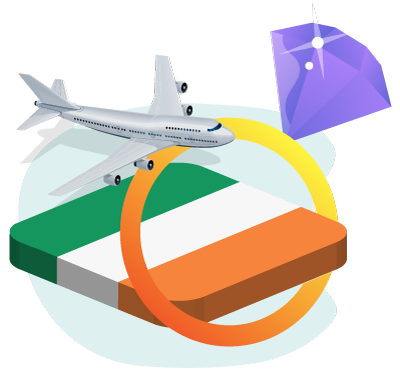 Things to consider when importing an engagement ring into Ireland
First off, we'll take a look at some of the things to think about when you're looking at importing a diamond into Ireland. We'll mainly focus on importing from the US, as this is where the retailers that deliver the most value are.
1.Foreign exchange rates

You can see on the chart below that there can be significant changes in the value of the Euro against the dollar over the last year, which can have a huge bearing on the cost of your ring if you choose to import: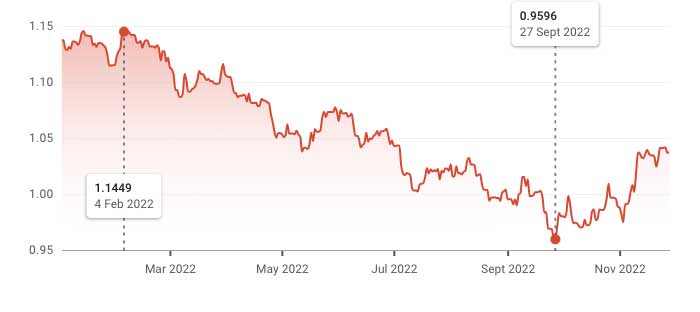 In the last 12 months the Euro has experienced the following ups and downs.
High: US $1.1449
Low: US $0.9596
This difference can make a vast difference to the cost of your ring when importing. For example, at the high of $1.1449 a US $10,000 ring would cost you €8,734.
But when it was at the low of $0.9596 the same ring would cost you €10,421.
That's a considerable saving of €1,687 if you had bought when the Euro was performing well against the USD.
There's not much we can do about the exchange rate, but it's worth a mention as it can greatly affect the cost of a ring.
2. Import duty
The Customs Duty rate on the purchase of a ring or diamond from the US is 2.5%.
On a €5,000 ring, this would add €125 to the price of a ring.
3.Tax
The VAT you'll have to pay on an engagement ring is currently 23% and it's a tax that you'll have to pay regardless if you bought the ring in Ireland or from overseas.
James Allen have a handy tool that will calculate how much tax you'll have to pay on a ring based on your budget. Check it out here.
If buying a ring from James Allen and you're in Ireland, the customs duty and VAT will be collected from the courier company (FedEx). They pay for your duty and tax upfront and will contact you for reimbursement (you can pay online, on the phone or by bank transfer) before delivery.
FedEx charge a clearance admin fee of either 2.5% of the duty + VAT or €15, whichever is greater.
On a €5,000 ring, the FedEx fee would be €29.
Other things to think about when importing a ring into Ireland
Shipping
Most US retailers offer free and insured shipping using a courier company. After your ring is made (will take 1-3 weeks), shipping only takes 2 days. Most companies will give you a shipping estimate at check out.
Returns and Service
If you change your mind about your purchase, most retailers offer a 'no questions asked' returns policy, as long as you let them know within 30 days of buying the ring. All you have to do is let their customer service team know and they'll issue you with a return authorisation and you can post the ring back.
Tax and ring returns
The EU does not allow VAT refunds on returned good bought outside of the EU. You can claim the customs duty back, and the retailer should supply you with all the forms you need to make the process as easy as possible.
Is it worth importing an engagement ring into Ireland?
It may seem like it's there's a lot of things to consider and be aware of if importing an engagement ring into Ireland, and you may wonder if it's really worth the effort. However we'll do a price comparison to show you that it really is worth your while considering buying from the US retailers.
We had a look Fields, a high street jeweller with 14 stores across Ireland. For ease of comparison, we'll look at a solitaire setting with a round diamond: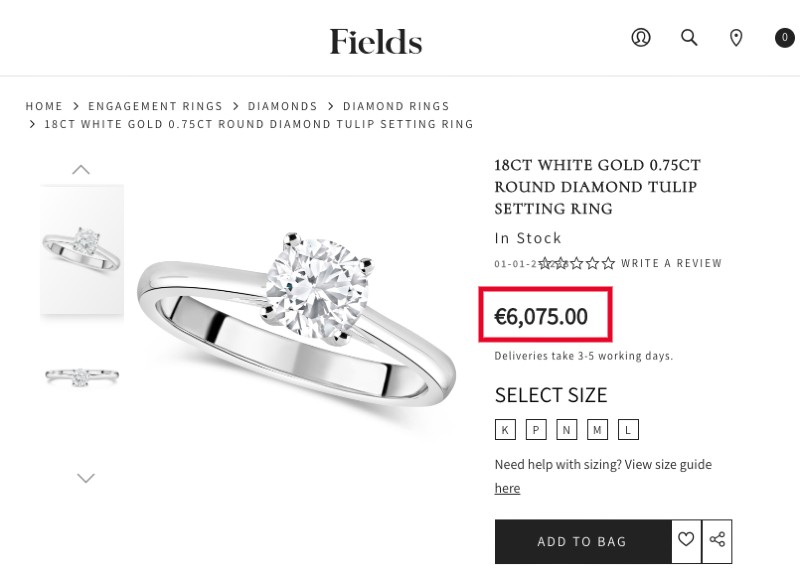 This 18ct white gold 0.75ct round diamond ring costs €6,075 from Fields.
Customisation on this ring isn't possible and the only variable you can choose is the ring size. There is no option to choose another size of diamond, you would have to choose a whole other ring to change the size of the diamond. Additionally, you have no say over the quality of diamond. You get what they give you. Let's have a look at the quality of the diamond that is included with this ring.
The diamond is a H colour and the clarity is SI1, while Fields give no information about the cut of the ring, which is one of the most important qualities as this determines how much it sparkles.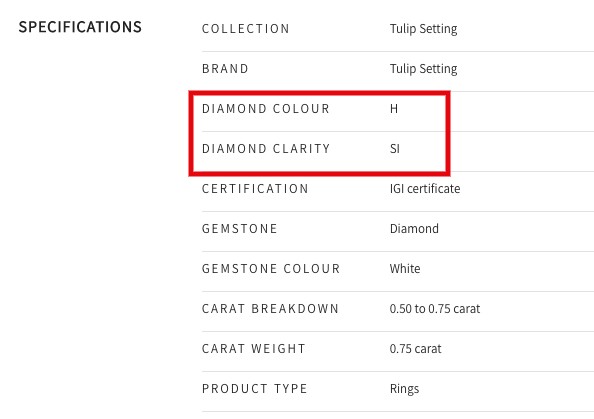 H colour is ok (it's 5th highest on the GIA colour scale) and in the 'near colourless' segment which means that it will look eye clean.
However, SI1 clarity means that the diamond will likely have inclusions that are visible to the naked eye.
If you look at the typical SI1 diamond below, you can see there are dark inclusions near the centre, which will detract from the appearance of the diamond. Not what you want when you are spending €6k on a ring!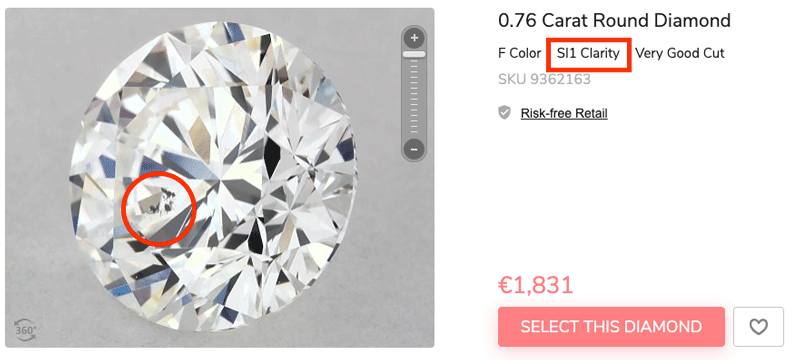 My recommended clarity range is VS1 and VS2, which is still affordable, but looks perfect (the inclusions are so small that that can't be seen with the naked eye).

Although we wouldn't recommend getting a diamond of this quality, in the interests of our comparison, we found a similarly spec'd diamond to the Fields diamond from my recommended retailer James Allen.
This is a .75ct H clarity, SI1, very good cut, round diamond in an 18ct white gold solitaire setting.
The diamond and the setting come to a total of €2,229, with an addition of duty and VAT of €612 the total comes to €2,841: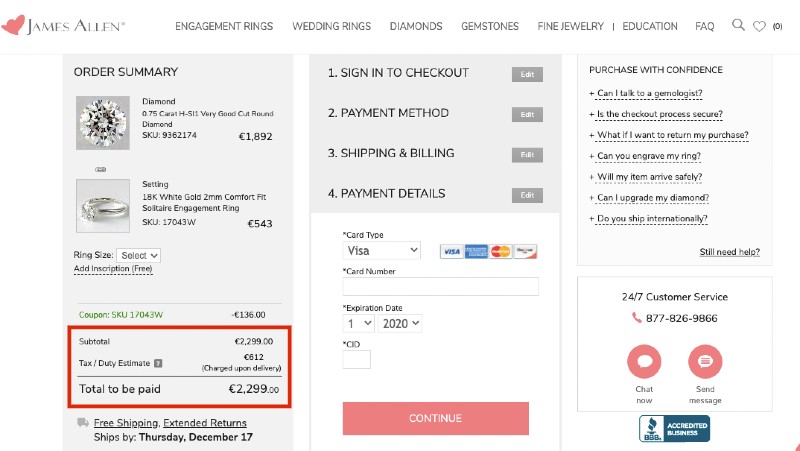 This is a massive €3,234 less than the Fields ring for exactly the same product. Mind boggling.
Finding a better diamond that is worth you buying
Aside from the much higher value that James Allen offers, the real advantage is that you also have ultimate control of the quality of diamond you can buy.
Using their search tools, you can toggle between all of the cut, carat, clarity, colour, stone shape variables and match it with your perfect setting.
And with their zoomed in, 3D imagery you can see the exact stone you are buying so you don't need to worry about there being any ugly inclusions.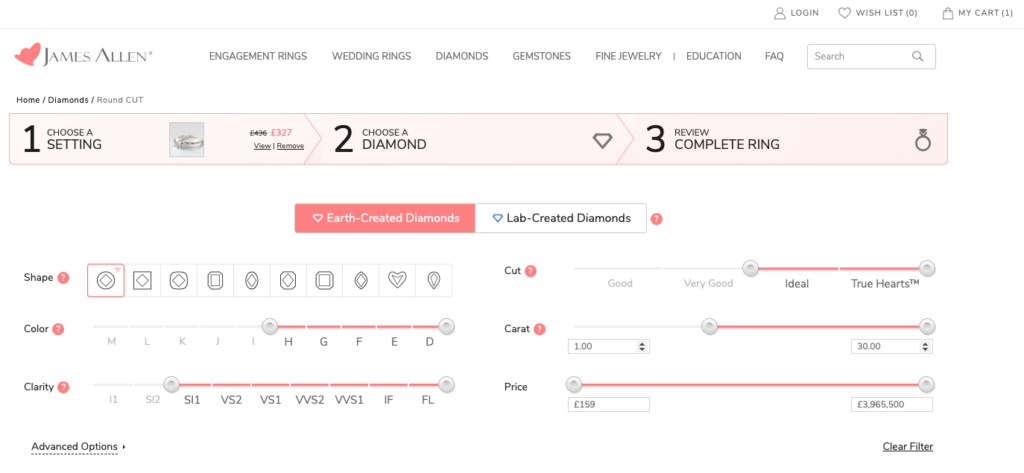 So what would happen if we were to change the diamond to one that I would recommend?
We found a .75ct diamond with a VS2 clarity with no visible inclusions and an excellent cut, priced at €2,348. Compared to the Fields diamond this will look cleaner and sparkle more.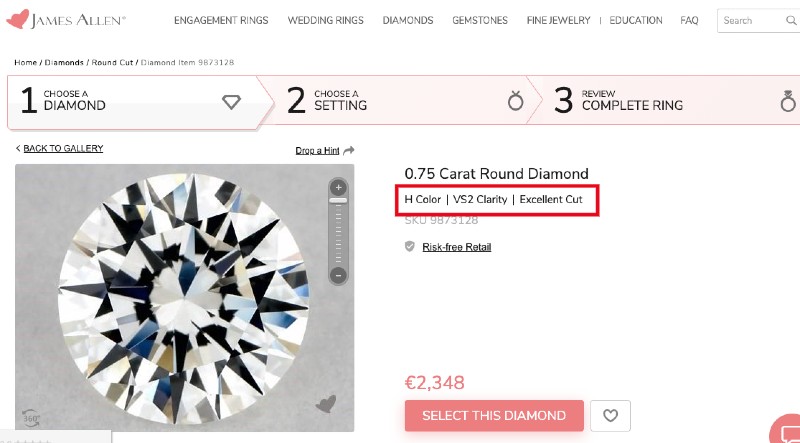 When you add our setting, it comes to a total of €2,755: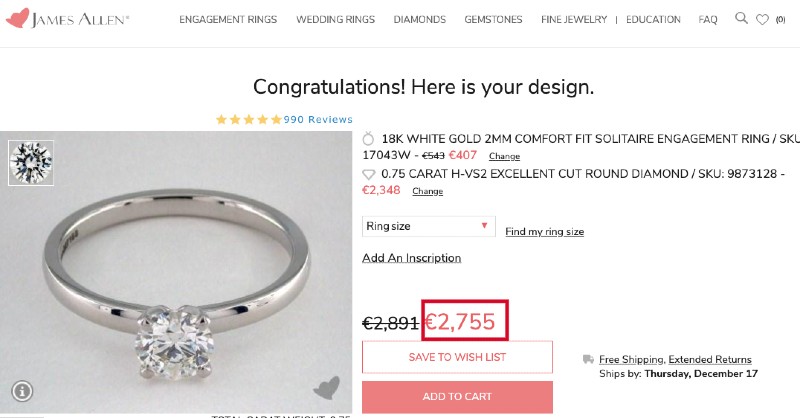 Once taxes and duties are added, it comes to a grand total of €3,487.
This is a 42% saving compared to buying a lower quality diamond from within Ireland.
Should you import an engagement ring into Ireland?
There are a lot of variables to consider when buying an engagement ring, and hopefully we've demonstrated that it's definitely worth putting buying from US retailers like James Allen on your consideration list. They offer unrivalled value for money, while providing the best shopping experience with a vast array of options. Rather than having to settle for whatever the jeweller gives you, you are in complete control and can customise all aspects of your diamond to get an amazing result for your forever ring.
If you're looking for inspiration, we recommend that you check out their recently purchased engagement ring gallery and also have a play on the James Allen sales tax calculator so you can be armed with all of the information about the costs of importing.