Blue Nile Australia: Review and buying guide
Everything to know about buying a diamond or engagement ring from Blue Nile when you're in Australia
---
This guide walks you through everything that you need to know about purchasing a diamond or engagement ring from Blue Nile if you live in Australia
Buying an engagement ring from a US merchant might seem a bit daunting, but we've compiled everything you need to know to make purchasing from them as easy as possible so you can take advantage of the better selection of diamonds and better prices than Aus-based retailers.
Here's everything you need to know.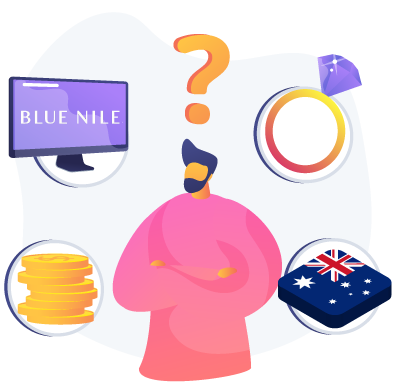 Import fees and taxes when shipping an engagement ring from Blue Nile to Australia
The import of a diamond or engagement ring in Australia from Blue Nile is covered by the Australia-United States (AUSFTA). This agreement came into force in 2005, directing both countries to give preferential rates of duty on items originating from the other country.
Blue Nile rings are made in-house in Seattle, Washington, meaning that they qualify as US-originated under AUSFTA. And while certain features such as diamonds, gemstones, and precious metals may originate from other countries, they become eligible for preferential treatment with import fees into Australia as the rings are made on-site in Seattle.
Most imported goods are subject to Australian Custom duties and the 10% GST.
Blue Nile is the 'Importer of Record' when shipping to Australia.
Being the 'Importer of Record' means that Blue Nile will take care of all the required legal documentation for you. This makes it simple for you as you'll know the exact price of your jewelry without having to work out the tax and duty for your ring separately, as you do with some other US-based retailers. All taxes are shown on the checkout page when purchasing your ring.
Understanding what fees and taxes are due
GST: as with a purchase made within Australia, your ring will be subject to the standard 10% Goods and Services (GST).
Duty: If you're buying a diamond mounted into a ring and it's priced over $1,000, you will also need to pay an extra 5% duty, which is set by Australia's Custom and Border Protection authority. However, if you are buying just an unmounted diamond which you will be setting into a ring in Australia, this duty is waived.
Prices on the Blue Nile platform are presented inclusive of Australia's GST and Duty. The GST and Duty can be reimbursed if your order is returned to Blue Nile. You can see all the fees and taxes in the image below. Customs Fee: Orders from $1,001 – $10,000 will be subject to a Customs Entry Fee of AU$88. All orders above $10,000 will be charged a Customs Entry Fee of AU$190.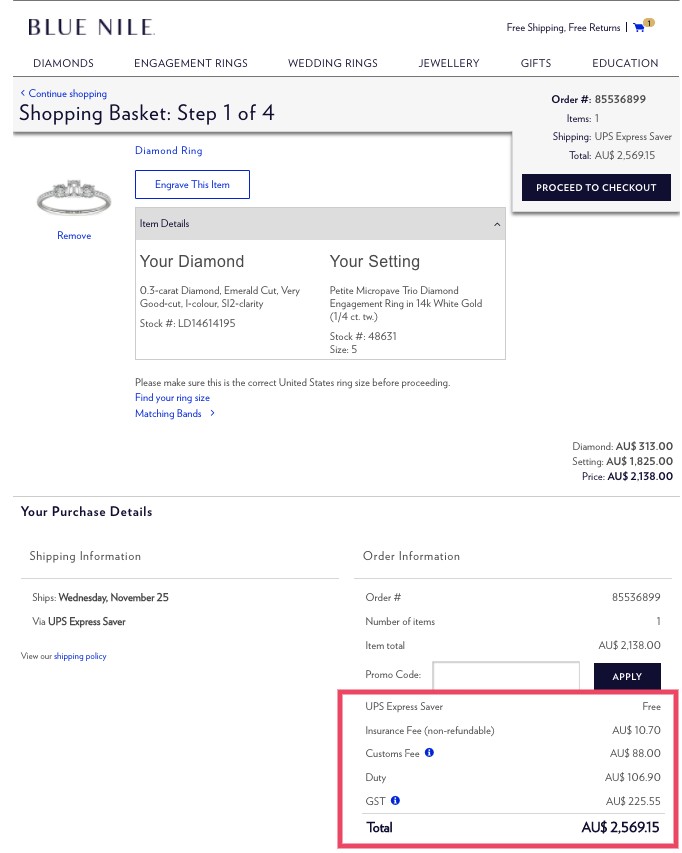 The amount of tax you'll pay is exactly the same in each state in Australia.
Blue Nile Australia Shipping
Things to think about when shipping between the United States and Australia include:
How much does shipping cost?
Blue Nile ships engagement rings via UPS to Australia free of charge. All packages are insured and are packaged carefully so that its contents are completely concealed.
With UPS' discrete packaging, potential thieves won't be able to identify what's in the order, plus if the ring is intended to be a surprise, the recipients will also be kept in the dark.. Phew!
How long does shipping from Blue Nile to Australia take?
Blue Nile shipping times are estimates and may be subject to circumstances outside their control e.g. like custom delays, but it usually takes 3 to 10 days for items to ship to Australia.

It is important to note that shipping times start from the time the ring leaves the Blue Nile shop, which is about two weeks after order placement.
Within these two weeks, the diamond is sourced from their inventory and matched with the ring setting. Two weeks is pretty fast to pull this together, but you'll be able to get a more accurate estimate on the shipping date at the checkout screen.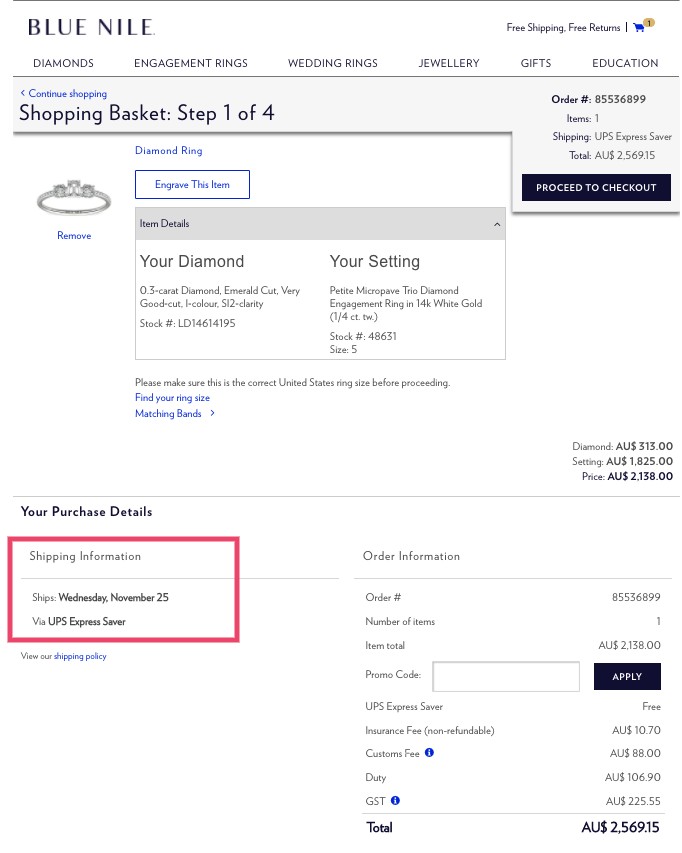 How do Blue Nile returns work in Australia?
Blue Nile offers returns for refunds or exchange within 30 days from the time a ring was shipped from the workshop.
To make this as easy as possible, Blue Nile will forward a completely insured, free shipping label over email within two business days of your return application.
Once your return application has been lodged, you can track the status of it using a dedicated online portal: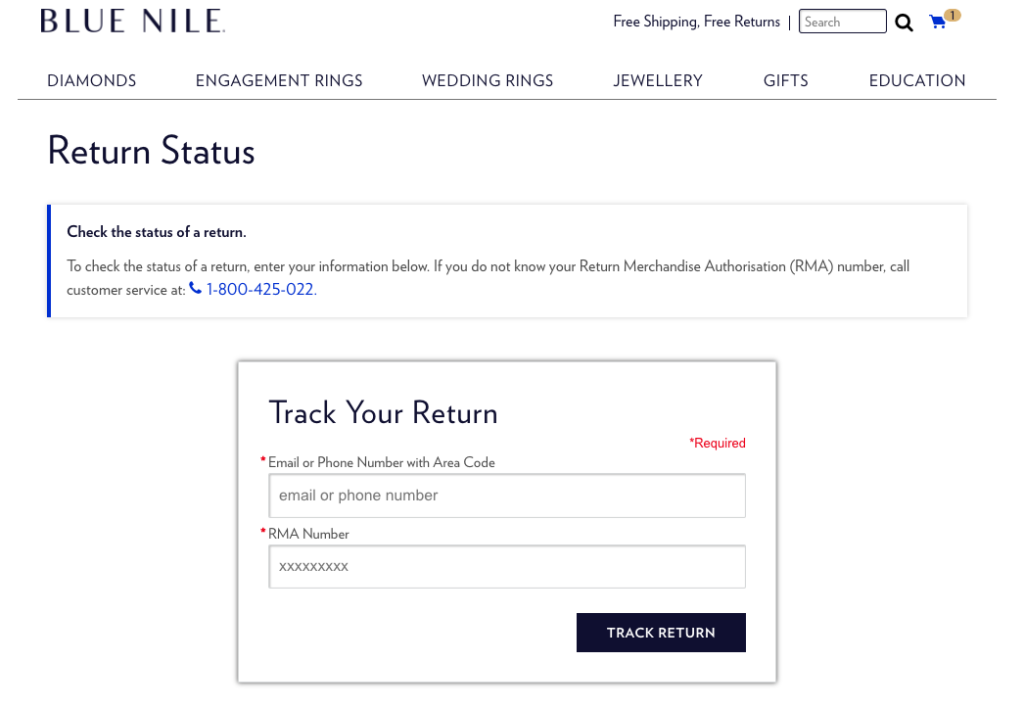 What if you need to get the ring resized?
Resizing a ring on Blue Nile is free for the initial year of you owning the ring.
If you are not certain about the size of your ring, then it's always a good idea to order a size up. It's easier to reduce the size of a ring than to enlarge it. But it's also handy to get it right the first time. Blue Nile has a lot of ring size measuring resources to help.
International Blue Nile Guides
If you're outside Australia and have somehow found your self here, we also have guides to buying from Blue Nile for several other countries. Click below to access your local guide: