Brilliant Earth Australia: Review and buying guide
Everything to know about buying a diamond or engagement ring from Brilliant Earth when you're in Australia
---
Brilliant Earth are an ethically sourced diamond retailer with a mission to inspire a more transparent, compassionate and sustainable jewelry industry. This ethos can be seen throughout their offering, from going above and beyond with responsible diamond sourcing, using recycled precious metals for their fine jewelry or putting 5% of profits towards helping the mining communities in the countries they operate in.
These are just a handful of the many reasons to buy from Brilliant Earth, but if you're in Aus, you're probably wondering how feasible it is to buy from a retailer in the US.
We take you through all the ins and out of purchasing from Brilliant Earth – read on to find out more.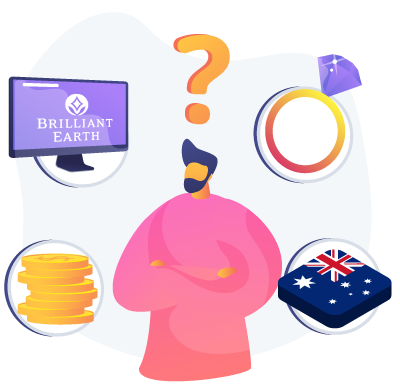 Import fees and taxes when importing an engagement ring from Brilliant Earth to Australia
Here's where reading this article will pay off straight away in making sure you're fully armed with the info you need to buy from the US.
If you are going by the Brilliant Earth website, you may think that the only taxes you'll have to pay are the standard 10% GST – the same you'd also have to pay for any purchase you make locally.
Brilliant Earth will show you this during the checkout process and you will actually pay the GST directly to them – again, as you would with an Aussie retailer.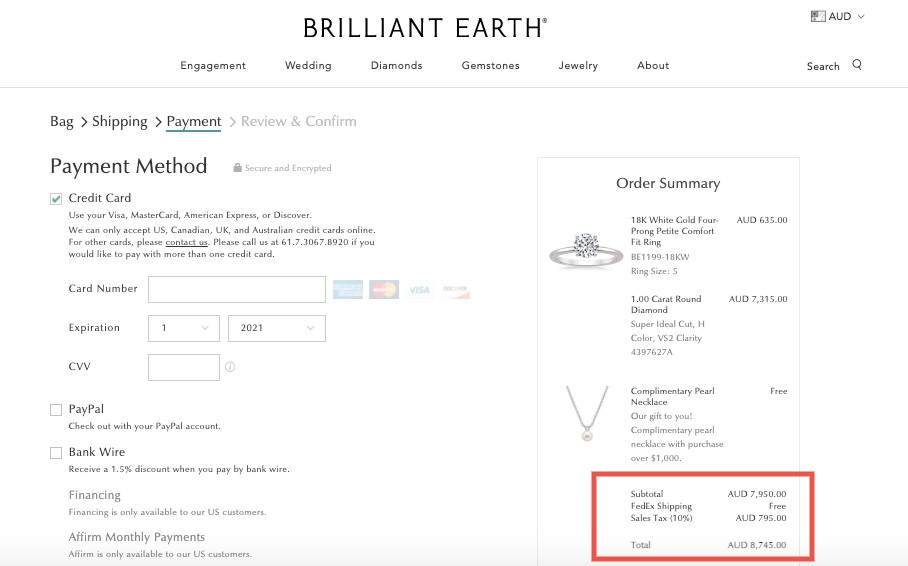 If you are buying a loose diamond then there will be no additional import fees because of the free trade agreement between the US and Australia.
However, according to the Australian Government, there is an additional 5% import duty fee for engagement rings worth over $1,000. We've helped many people buy from the US into Aus and know that this extra 5% does need to be budgeted for in your calculations.
There's also possibly an import processing charge of $90 for goods valued between $1,000-$10,000, for goods over $10,000 there's a fee of $192. You can read more about it on the Australia Border Force website.
These fees do sometimes seem to be waived though – it can be luck of the draw on whether you will be charged them. However, it's obviously smart to still allow for them in your budget.
We've let Brilliant Earth know that their website isn't telling the full story for importing an engagement ring into Australia, and we're hoping that they can fix the issue with the extra 5% that is due on diamond rings (but not loose diamonds!) shortly.
---
Brilliant Earth Australia shipping
How much does shipping cost?
Shipping from Brilliant Earth to Australia is completey free for every order. Brilliant Earth use FedEx International Priority shipping which is fully insured for the full value.
One of Brilliant Earth's unique benefits is that they offer free return shipping as well – most other US retailers ask Australian customers to bear this cost.
How long does shipping from Brilliant Earth to Australia take?
Once an item is shipped by Brilliant Earth it takes 1-3 business days to be delivered to Australia ,and then there will likely then be a few extra days on top of this to clear customs as you pay any additional fees that are due.
Most items are made to order so it can take anywhere from 2- 4 weeks to make the ring and pass all the quality control inspections. You'll be able to see a shipping estimate on check out, to see if this works with your timings.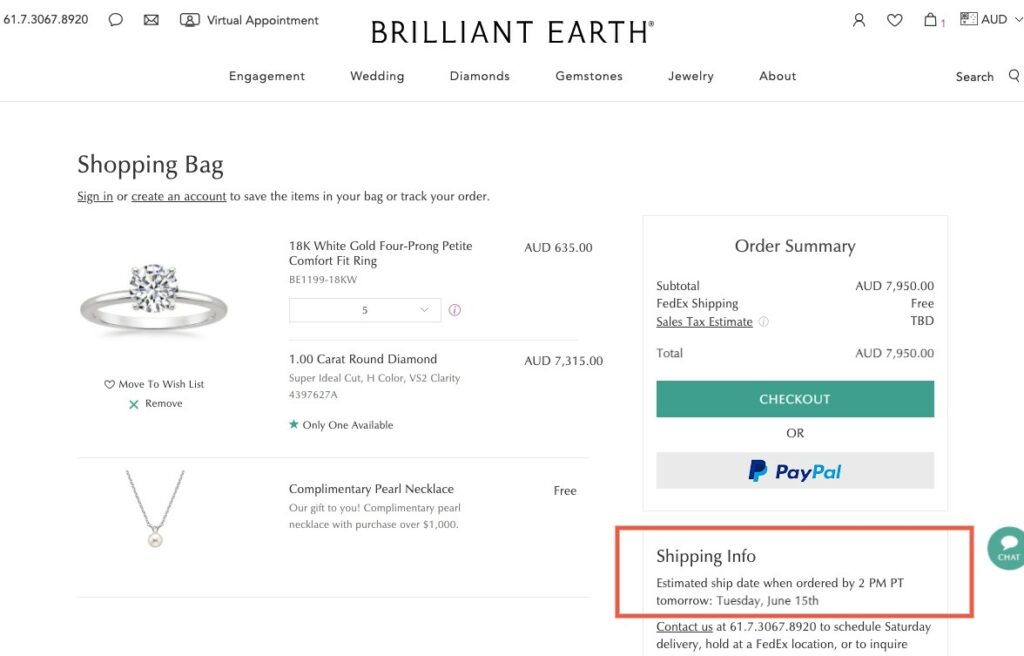 How do Brilliant Earth returns work in Australia?
Brilliant Earth have a 30 day return policy, with the clock starting from when your order is ready for shipping.
You can return your purchase for a full refund or exchange as long as it's in its original, unworn condition with all the paperwork. They provide a free return shipping label to make the process as easy as possible. You can read more about the conditions here.
What if you need to get the ring resized?
Brilliant Earth offer one free resize for 60 days after you've purchased the item. With their free shipping both ways, it's a pretty seamless process.
It's important to note that the sizes listed on their website are in standard US sizes, but they have a handy ring size conversion chart you can refer to.
They also have a ring sizing guide which details lots of ways you can find out a person's ring size. They'll even send you a free ring sizer!
Do we recommend buying from Brilliant Earth if you're in Australia?
Brilliant Earth's focus on ethical sourcing and sustainability sets them apart from many online jewellers, but for a lot of people the purchasing decision can boil down to price.
Brilliant Earth stands up well on this front too compared to local Aussie jewelers.
We conducted a simple price comparison to show you how much you could save buying from Brilliant Earth compared to a local jeweler in Australia.
We compared loose diamonds with the following specs:
Round diamond
1.00 carat
VS2 clarity
H color
Excellent/Ideal cut
GIA grading report
These are good specs to use as a starting point for your search – the diamond will look beautiful but you aren't overpaying for 'quality' that can't be seen with the naked eye.
At Brilliant Earth, a diamond matching these specs is listed at AU$7,315: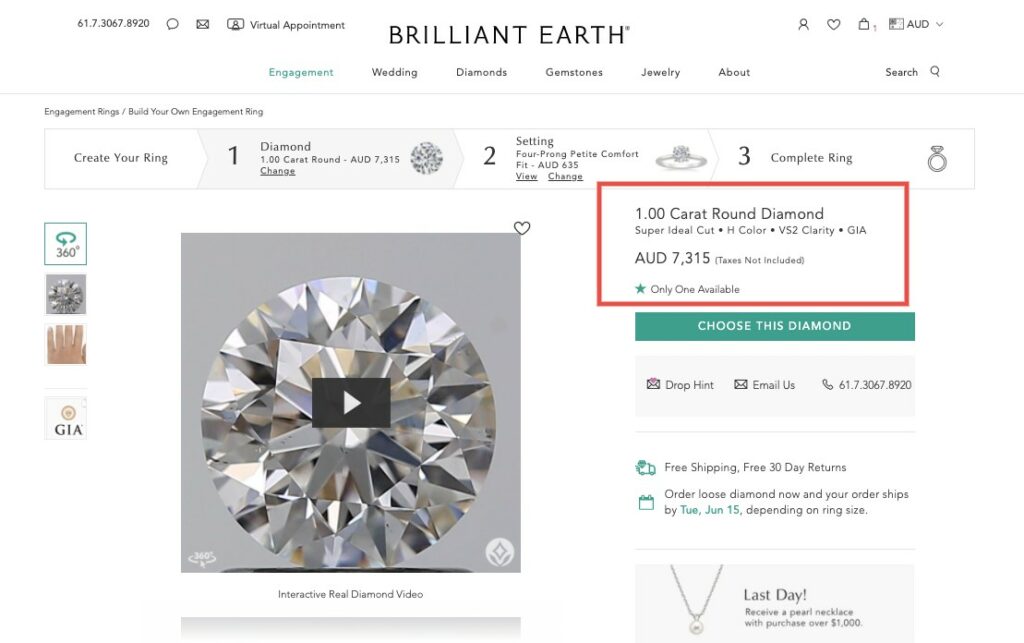 You would also need to add to add the 10% GST (AU$731.50), which brings the total cost of the diamond to $8,046.50. Brilliant Earth calculate this for you at checkout, but for the purposes of this illustration we've taken a screen grab before getting to the cart so you can see the diamond detail.
If we find a similar diamond with the same specs at an Australian jeweler, you can see there's a quite a big difference in price.
Diamond Exchange has an identically-specced diamond listed for $9,201: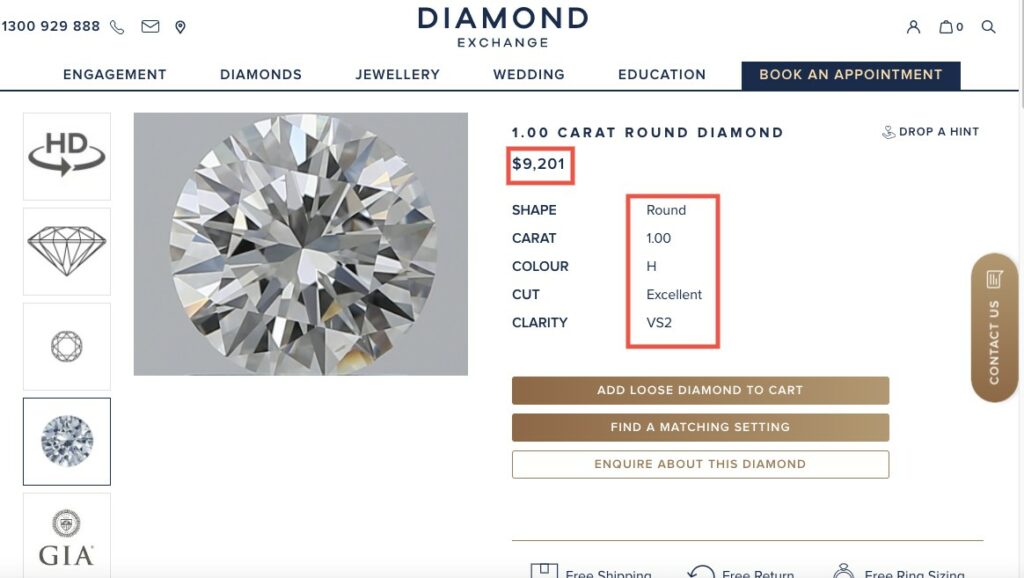 This price includes GST, so that's the final price, but comparing the two figures, it's plain to see that Brilliant Earth offers better value – a saving of $1,154.50 is pretty good!
There's a lot of factors in play when it comes to deciding whether to buy from a local jeweler or from Brilliant Earth, but hopefully we've been able to help a little bit by answering some of your questions around the buying process.
If you're looking for some inspiration to get started, Brilliant Earth's ''recently purchased' section of their website is a great way to see what other people have been buying lately – definitely worth checking out.
International Brilliant Earth Guides
If you're outside Australia and have somehow found your self here, we also have guides to buying from Brilliant Earth for several other countries. Click below to access your local guide:
Setting selection

Diamond quality

Customer service

Value for Money
Summary
Brilliant Earth are an excellent choice for the conscious consumer.
While there are some mis-steps (recycled diamonds are too expensive, the hearts and arrows selection isn't great), overall the selection of diamonds and settings are better than almost any other retailer.
For me, the real pick is the blockchain-tracked diamonds – a really awesome innovation that allows you to be certain of the origin of the stone and knowing the backstory of such a financially and emotionally significant purchase really appeals.
If you care about where about where products come from and the effect that they have on the earth, it should be an easy decision to choose Brilliant Earth for your diamond ring.
Pros
Blockchain-tracked diamonds are a great innovation that allows you to understand the provenance of your stone
Impressive sourcing policies.
Excellent selection of beautiful and on-trend settings
Very well priced, even compared to larger online jewelers
Good service guarantees
Cons
Not as strong with diamonds that aren't its specialty e.g. hearts and arrows
Recycled diamonds are a great idea, but too expensive
Production estimates are longer than some other retailers – ensure you allow enough time for creation and shipping of your ring.