Boodles review
Should you buy your engagement ring or wedding ring from Boodles?
---
Boodles has a long and distinguished history. Having been founded in 1798, they have more than two centuries of experience in creating high quality jewellery. For any business to survive that long it must be doing something right!
Boodles is a premium retailer – they have 9 stores nationwide in carefully chosen locations. Buying from them is undoubtedly a lovely experience, with an emphasis on personal service and quality at every touchpoint.
In this Boodles review, we will primarily examine them from the point of view of buying a diamond engagement ring. However, the findings are equally relevant for any other type of jewellery.
If you'd like to jump straight to the 'value for money' section and see how choosing one of my recommended retailers could save £5,401 compared to Boodles, click here.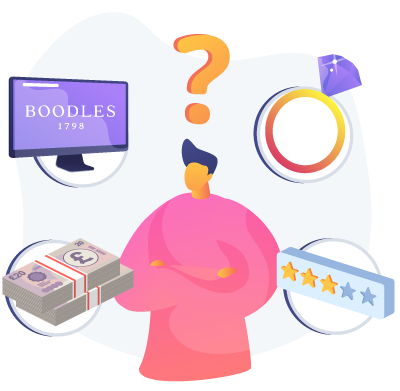 On this page you'll learn everything you need to know about:
Boodles ring selection
Boodles have beautifully designed rings, with a total of 35 styles of diamond engagement ring to choose from: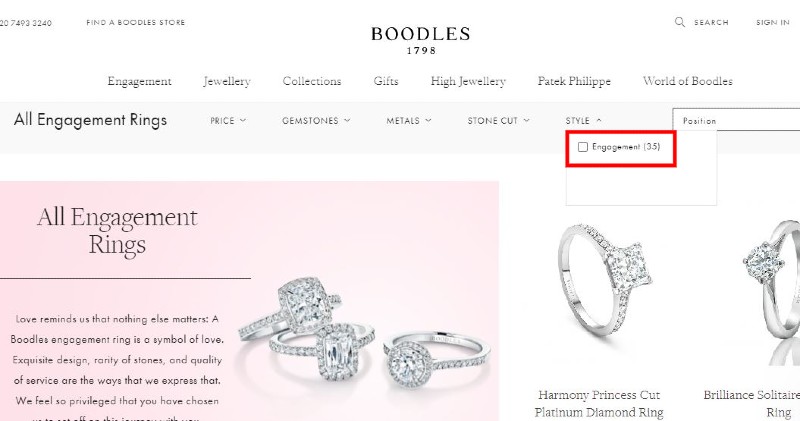 This is a smaller number of designs than some other retailers, but the flipside of this is that every design Boodles offers is a classic design that will never go out of style.
Boodles' premium positioning is reinforced by the precious metals it offers for its rings, offering only platinum or 18carat rose gold, with no white gold available. Platinum is more expensive than white gold but is heavier and harder wearing, so a better choice for a ring that is going to be worn every day.
Boodles appears to specialise in halo settings, with a ring of small accent stones, typically pave diamonds, encircling a larger centre stone.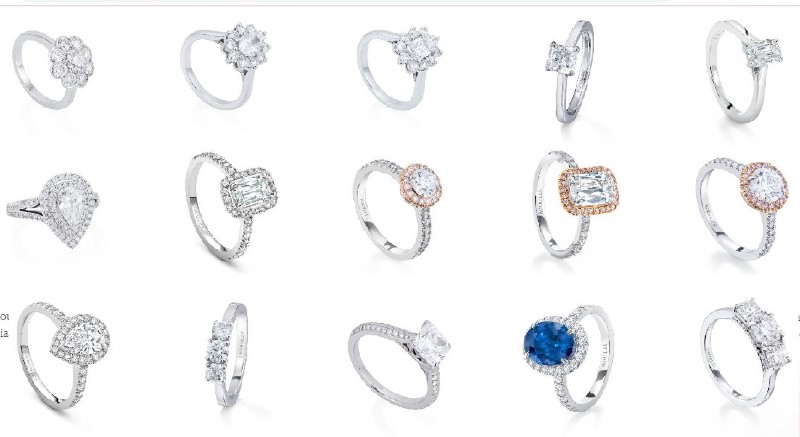 Halo rings not only look beautiful, but also have the advantage of making your ring look larger and more impressive.
Overall, Boodles ring selection is lower on numbers than most other jewellers, but higher in quality. One thing to be considered though is that the limited selection does mean that if you are looking for a less common diamond shape e.g. an Asscher cut, Boodles may not be able to help you.
Boodles diamond quality
Engagement rings are all about the diamond, and being able to choose a diamond that will sparkle brilliantly will make the difference between a truly stunning engagement ring and one that looks dull and unimpressive.
In this section, we'll examine the quality of diamonds Boodles offers, as well as how transparent they are about the quality of the diamonds themselves.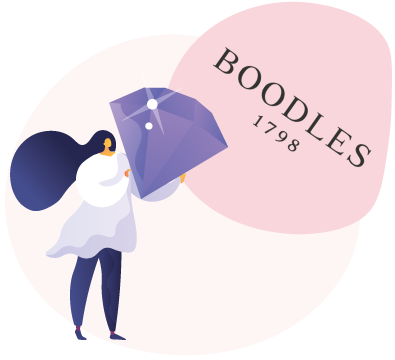 Finding the right diamond is usually a case of finding the right combination of the 4 Cs of diamond quality that match your budget. If you're not familiar with the 4 Cs:
Clarity refers to the number, location, size and type of 'inclusions' within a diamond. These are tiny little marks or 'flaws' present inside the diamond.
Colour is a measure of how white or yellow a diamond is. G or H are good colours, above this level and the diamond doesn't look much whiter, but is much more expensive and below this level and the diamond can look noticeably yellow (which most people don't like).
A diamond's 'cut' is important because it unlocks a diamond's beauty and sparkle. A quality diamond will have an 'ideal cut' which allows the light to sparkle more.
Lastly there's carat, probably the most talked about aspect of a diamond. It refers to its weight and in turn, its overall size. Usually, the bigger the diamond, the higher the carat number and this may be the biggest determinant of diamond price.
Boodles don't show any information about carat, cut, clarity and colour on their website, which does make it a little tricky to understand what is available. When I asked their customer service through email about this, they said; "The reason we don't provide details on our website is that we are a family company and don't mass produce our jewellery so may only have a few of each pieces on our website on the entire company."

In order to find out about the diamond cut quality, you'll therefore need to enquire, and will then receive some options based on their current availability.
We enquired about a pear halo diamond ring and received several options at a range of carat weights and prices – we'll show the least and most expensive below: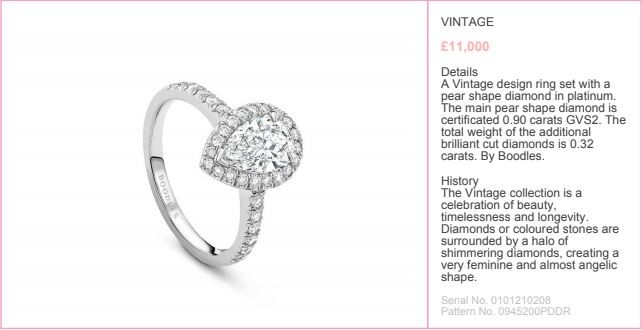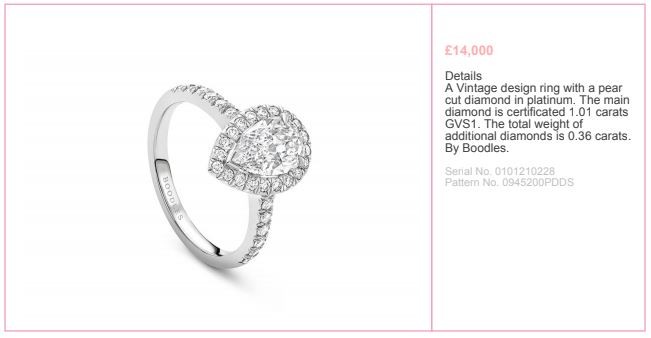 The difference between them is that the second ring has a centre stone with a 0.11 higher carat weight and 1 clarity grade, plus 0.04 higher carat weight in the setting.
While the lack of diamond information on the website is a little frustrating, the actual diamond quality recommended is very high. The majority are in the sweet spot of diamonds that look perfect to the naked eye, without paying more for 'quality' that can't actually be seen.
Boodles diamond grading lab
Diamonds are graded on four key factors – carat, colour, clarity and cut – and a host of smaller factors too. Diamonds which score higher are generally more expensive – an F colour diamond will be pricier than an H colour, if everything is the same.
It's important therefore that diamond grading levels can be trusted – you don't want to pay more for an F colour diamond if it is actually an H. This is why independent diamond testing labs are important. An independent testing lab doesn't have any incentive to say that a diamond is higher quality than it is, as they don't make any more money if they do. In fact, if they bump up diamond quality grades, it may mean people trust them less, which might mean they make less money.
Retailers do have an incentive to increase diamond quality scores, as it will mean that they can sell a diamond for a higher price. For this reason, I recommend that you always look for a diamond which has been graded by an independent authority – my usually recommendation is the GIA, although there are other good diamonds 'labs' too. Boodles don't show any grading lab information on their website, but when I asked Boodles about this, I was told that "All diamonds that are over .70ct are GIA certified"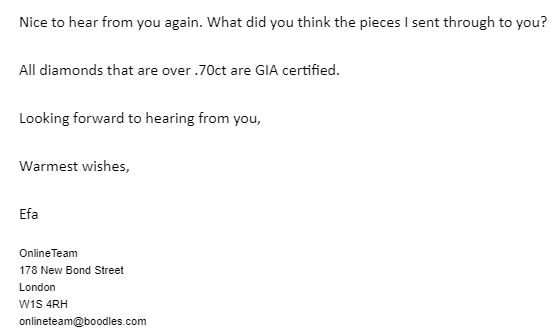 GIA is my most recommended lab, so it is reassuring the Boodles do offer GIA graded stones for higher carat weights.
Boodles service
Buying an engagement ring is a special purchase, and you want to have confidence that the retailer will not only treat you well during buying your ring, but also that they will stand behind their product after the purchase too.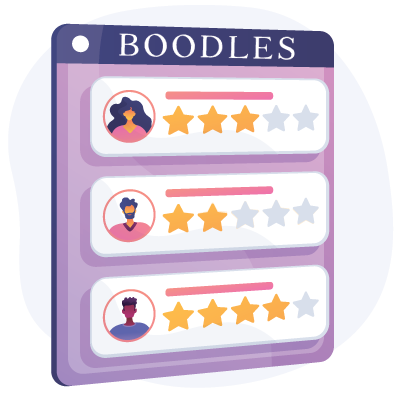 Boodles offers quality service to their customers – it appears that buying from them would be a lovely experience, with bespoke service.
Boodles have a 30 day return policy; this is a more than adequate amount of time to decide if you feel that the ring is not right for you. Also they have free resizes if you feel that your ring doesn't fit your finger.
Looking at reviews on Google, the reviews are split out by individual store. Boodles – Jewellers Bond St. store in London has a very impressive score of 4.5 from 15 reviews, indicating that people are very pleased with the service they have received from Boodles.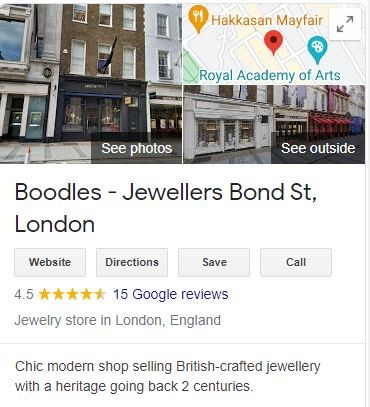 Overall, the service from Boodles seems excellent from their return policy to resize services.
Boodles value for money
Buying a diamond ring is a big commitment – both financially and emotionally. So it's important that you ensure that you are getting good value for money and aren't spending more than you need to.
After all, if you're buying an engagement ring, it's likely that you will have a wedding to pay for soon.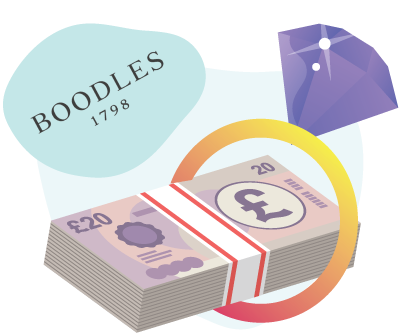 To see how Boodles value for money compares, we'll compare it to one of my recommended retailers – Taylor and Hart. Taylor and Hart is an award-winning jeweller specialising in custom designed engagement rings headquartered in London, so is a good place to compare.
When comparing, we'll keep the ring style, diamond clarity, colour, carat as simple similar as possible. Looking at Boodles, the "Vintage Pear Cut Platinum Diamond Ring", with a .90 carat, halo style, G colour, VS2 Clarity and Pear shape together with 0.32 carat additional brilliant cut side diamond is priced at £11,000 including all taxes;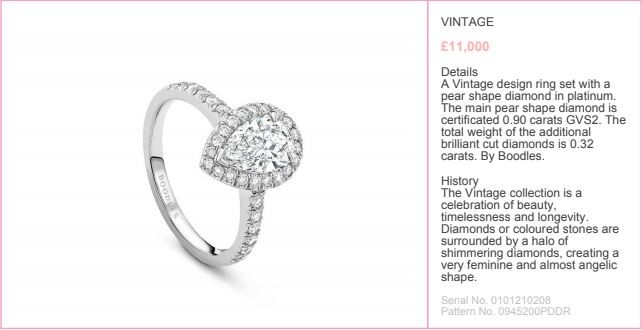 For an extremely similar ring, the price at Taylor and Hart is just £5,599: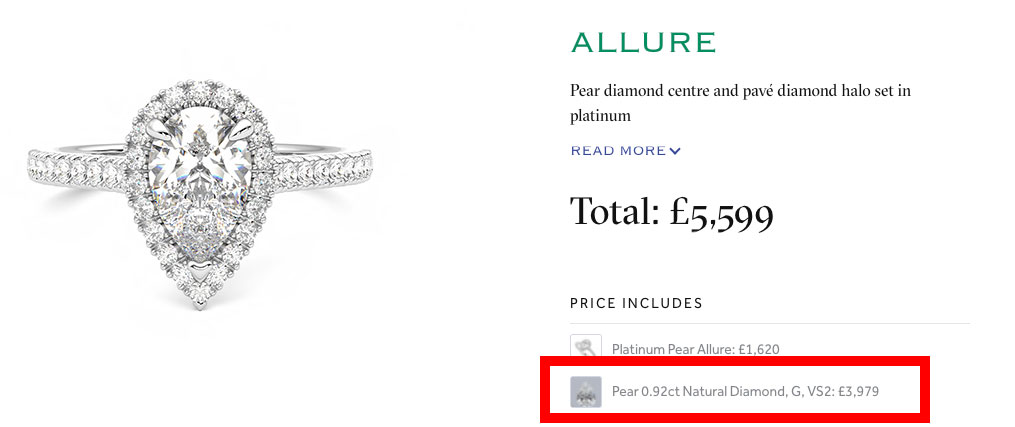 The Taylor and Hart ring also has a GIA-graded diamond with excellent symmetry and polish, but costs just over half of the Boodles ring – there is a saving of £5,401.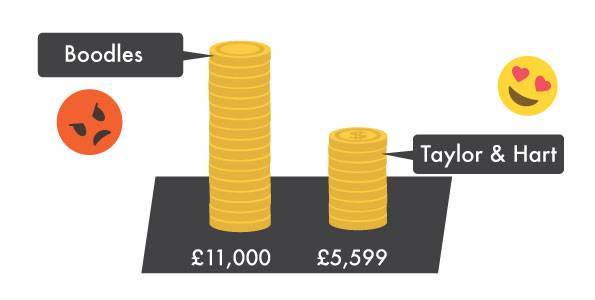 While you may not be looking for a diamond of this size or price, it is indicative of the high prices Boodles are charging – over £5,000 more for a ring with the same quality of centre stone.
This is obviously a significant difference – you could either save £5,400 by buying from Taylor and Hart, or if you did want to spend the same amount as the Boodles ring, you could:
Increase the diamond cut quality so it sparkles more
Increase the clarity so that inclusions aren't visible
Increase the carat weight so that it looks bigger
The prices at Taylor & Hart may be different on the day you look – maybe higher, maybe lower – it's worth clicking through to see today's prices for exactly what you're looking for.
Ring selection

Diamond quality

Customer service

Value for money
Do we recommend Boodles?
Boodles offers beautifully designed rings, and the fact that they don't mass produce their jewellery means that each piece is crafted carefully. Boodles have great customer service, evident from their 30 day return policy, bespoke service and free ring resizing. This is great because their customers feel special when visiting their store.
A downside of buying from Boodles is that diamond qualities are not specified on their website and you need to enquire. Not the biggest red flag as they do offer high quality diamonds, but a bit frustrating.
The biggest drawback though is undoubtedly the price – for the ring we looked at, Boodles was nearly twice as expensive as my recommended retailer Taylor & Hart.
Pros
Beautifully designed rings
Bespoke service
30 day return policy
Cons
No diamond information on website
No GIA certification for diamonds less than 0.7 carat
Very expensive engagement rings