Best Place to Buy Lab Grown Diamonds in the UK
Learn where to buy a lab grown diamond ring
---
Lab grown diamonds are a fantastic option for an engagement ring in 2023.
They sparkle just as brilliantly as mined diamonds, but offer much more value and have a lower environmental footporint. Win-win all round!
In this article, we're going to look at some of the options in the UK, including where we recommend as the best place to buy a lab grown diamond ring to get the best value and the most beautiful ring.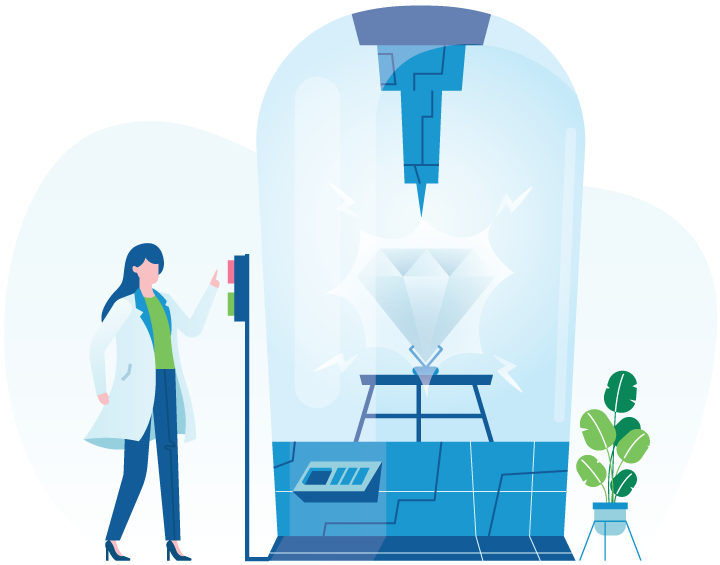 Key takeaway:
After reviewing the options, our recommendation for the best place to buy a lab grown diamond ring in the UK is Blue Nile.
They offer the high quality lab grown diamonds, fair prices and excellent service.
How we review lab grown diamond retailers
When we are reviewing any diamond retailer, we primarily look at four things:
Setting selection and quality
While lab grown diamonds may be less expensive than mined diamonds, the still deserve a beautiful, high quality setting.
We look at the range of styles offered, the quality of the materials used and the workmanship involved in crafting the ring.
Extra credit is also awarded if the retailer allows you to personalise the ring to make it truly yours.
Diamond quality
Just like natural diamonds, lab-grown diamonds are judged on the 4Cs
However, there are some added complications with lab grown diamonds as there are two ways that lab-grown diamonds: 'chemical vapour deposition' (CVD) and 'high pressure high temperature' (HPHT), and each can result in different flaws if the diamonds are grown too quickly.
Lastly, whether the diamonds are accompanied by an independent grading report, or whether we are asked to accept the jewellers own opinion on the quality of the diamonds.
For most lab grown stones, this will be issued by IGI: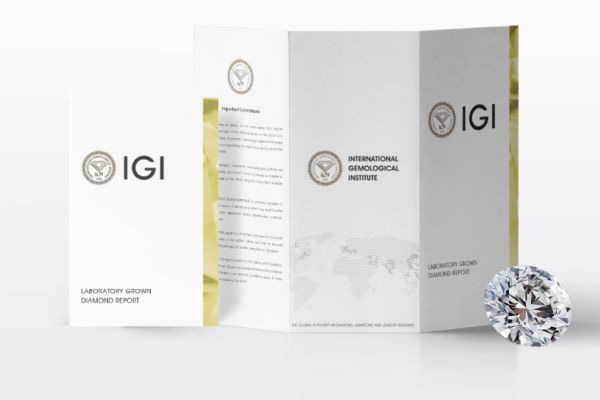 However, reports from our preferred laboratory, GIA, are also increasingly becoming available.
Service policies
We want to know that a lab grown diamond retailer will provide a great buying experience and then stand behind its diamonds post-purchase.
Many traditional diamond retailers have very short return policies, or don't accept any returns at all. We're looking for a minimum of a 30 day, no questions asked return policy on all lab grown diamonds.
Value for money
Lastly, and this is a big one: how much value does your lab grown diamond deliver?
Lab grown diamonds definitely offer much more value for money than mined diamonds, but there can be a surprising difference between the price of diamonds that look identical on paper.
It's also important to note that there's a difference between 'price' and 'value'. Something can be low cost and poor value if it's poor quality (quite common with lab grown diamonds). We are looking for fair prices for beautiful diamonds, paired with excellent service quality.
Where should you buy your lab grown diamond ring?
---
Our rankings for your options for buying a lab grown diamond in the UK are below.
It should be noted that some of these are US-based retailers who will show up in UK search results, so it's worth understanding how they compare to UK-based retailers too.
We have a guide to importing a diamond from the US to the UK here.
Rank
Retailer
Review
Visit site
Top Choice

taylorandhart.com
Dedicated to the best in personalised customer service. They have a large choice in ring settings with quality diamonds and have the ability to create beautiful bespoke rings. 

Read more
Visit website
Wide selection

bluenile.com/uk
Have a

huge range of GIA-graded lab-grown diamonds and high quality engagement ring settings at extremely competitive prices.



Read more
Visit website
Ethical leaders

Brilliant Earth
Have been at the forefront of ethically-sourced diamonds since their founding in 2006

Read more
Visit website
Lowest prices

Clean Origin
Lab grown specialists, despite being based in the US, Clean Origin offers lower prices than most UK-based jewellers.

Read more
Visit website
Coloured lab grown stones

James Allen
The best imagery of diamonds on the web, frequent 10% off sales but most significantly the largest selection of 'fancy' colour lab grown diamonds.

Read more
Visit website
Interesting setting styles

Vrai
Lab grown specialist with high quality stones and interesting and modern setting styles.

Read more
Visit website
Taylor & Hart
Taylor & Hart offer a personalised service to buying a lab grown diamond ring, both in selecting the diamond itself and allowing you to tweak the setting to include the wearer's birthstone hidden on the inside of the band, which is a lovely touch.
Rather than offering thousands of lab grown diamonds in their search engine, Taylor & Hart offer just the four most popular sizes, and then use a consultative approach to find the perfect stone for each person.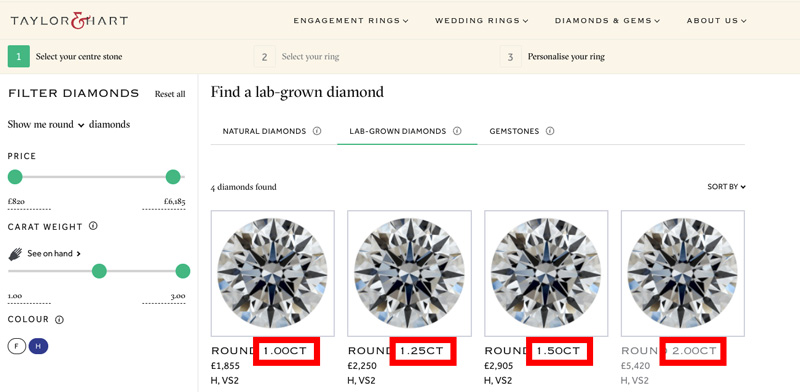 This is a different experience to many retailers and it's a different experience even than buying a natural diamond through Taylor & Hart.
However, it means that they can filter out the low quality lab grown diamonds that sneak into many online retailers inventories and ensures that you'll get a high quality stone, rather than one with flaws that have crept in during the manufacturing process.
But what really sets Taylor and Hart apart is their focus on quality and personal service – their team genuinely care about each ring
---
Blue Nile
Blue Nile are the largest online diamond specialists and have been established since 1999. Primarily a US-based company, their huge economies of scale means that they can offer more diamonds then anyone else, at lower prices.
When you go to the Blue Nile diamond search, you'll need to click the button near the top to view the lab-grown, rather than natural diamonds: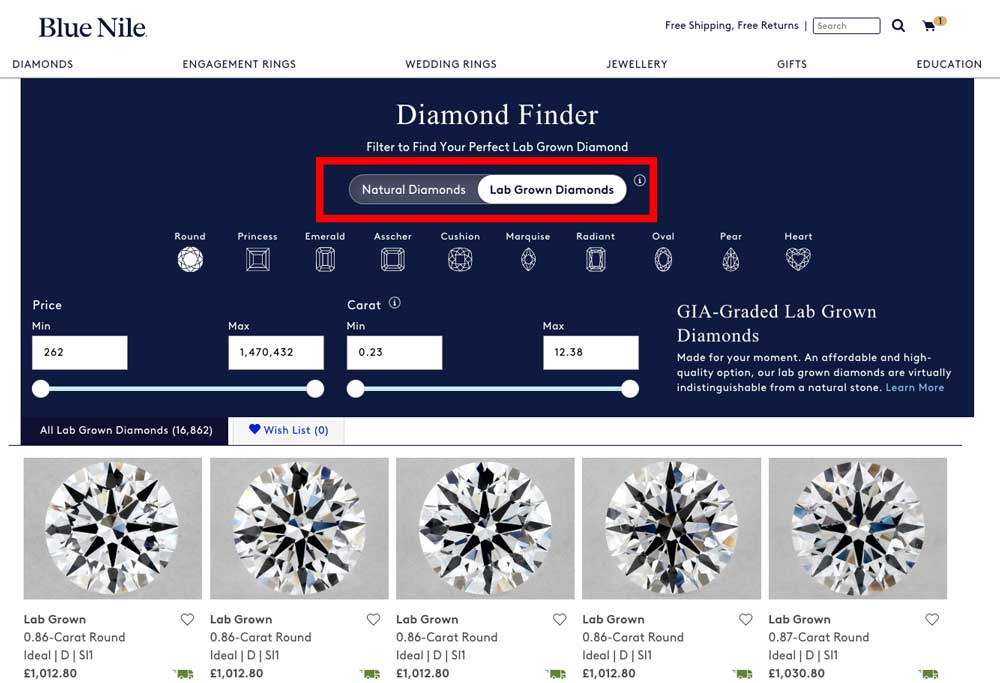 Although they are a US company, Blue Nile has a distribution centre in Ireland, which means there are no expensive import fees.
When it comes to lab-grown stones, no-one else in the UK can match them for offering the most for your money without compromising quality.
---
Brilliant Earth
Brilliant Earth are a US-based retailer who have been at the forefront of ethically-sourced diamond rings since they were launched in 2006.
With mined diamonds, this means that you can use blockchain technology to track diamonds back to their source mines. With lab grown, it's a commitment to ensuring that the diamonds have as small a footprint as possible.
If you're searching on Brilliant Earth, I recommend that you ensure 'real view' is clicked, which allows you to restrict the search to only show diamonds with an actual picture: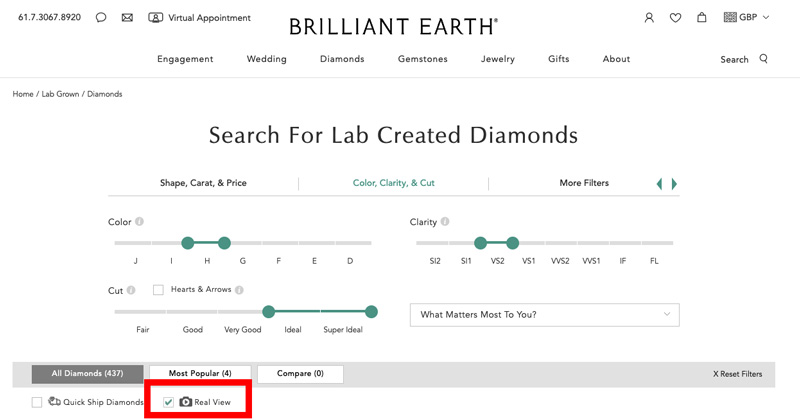 This is important for lab-grown diamonds to ensure that there are no secondary colours (e.g. browner tones) that have crept in during the manufacturing process.
Overall, if you are comfortable importing from the US to the UK, Brilliant Earth can be a great option.
---
Clean Origin
Clean Origin are probably the most successful lab-grown diamond specialist.
They have a huge selection of diamonds available and their scale means they can offer extremely low prices e.g. this 1 carat, E colour, VS1 clarity, Ideal cut lab grown diamond is just £935 plus import duty and VAT: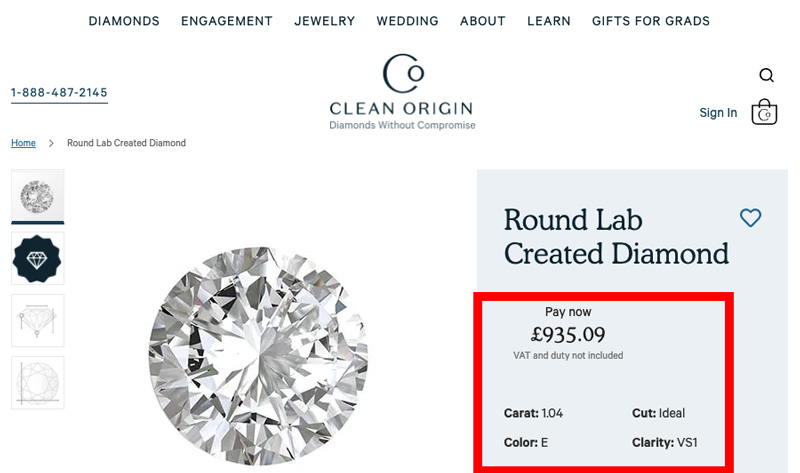 This is a price that many UK-based lab grown retailers will struggle to match. However, care does need to be taken as Clean Origin don't always show you images of the actual diamonds themselves, which means that for borderline colours (H or I) or borderline clarity (SI1, VS2), you may be getting a diamond that doesn't look as you were expecting.
It can therefore be a good idea to bump up the colour and clarity, to specs similar to the diamond above, where you can still get a significantly sized diamond for a very low price.
---
James Allen
James Allen are my most recommended retailer in the US, either for natural or lab-grown diamonds.
They have the highest quality diamond imagery, with diamond magnified up to 40x which means you can see exactly what you are buying. This is great for borderline clarity diamonds like SI1 or even VS2 as you can see the location of flaw/
James Allen are also the only jeweller I know of to offer a large selection of lab grown 'fancy colour' diamonds ie. yellow, pink, green etc: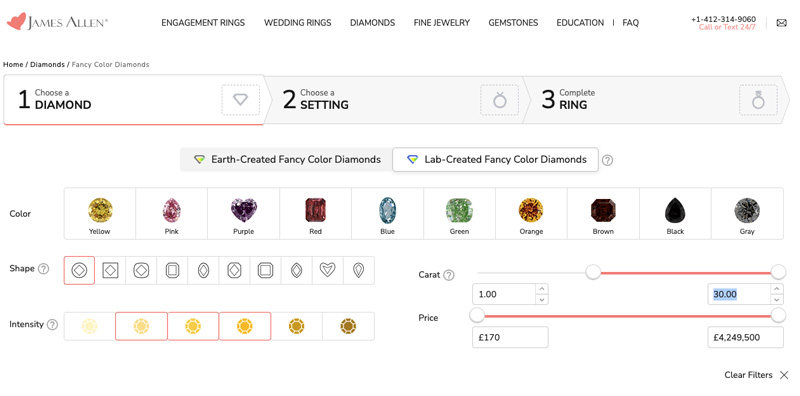 Traditionally, some mined fancy colours have been more expensive than white diamonds, particularly pink and blue diamonds, so being able to buy lab grown fancy colours at a fraction of the price is a big bonus:
---
Vrai
Vrai are the consumer facing arm of Diamond Foundry, which counts Leonardo Di Caprio as one of their investors.
Vrai offer a limited selection of ring setting styles, but some of the designs they do have are really interesting and not commonly found elsewhere e.g. this toi et moi (you and me) ring: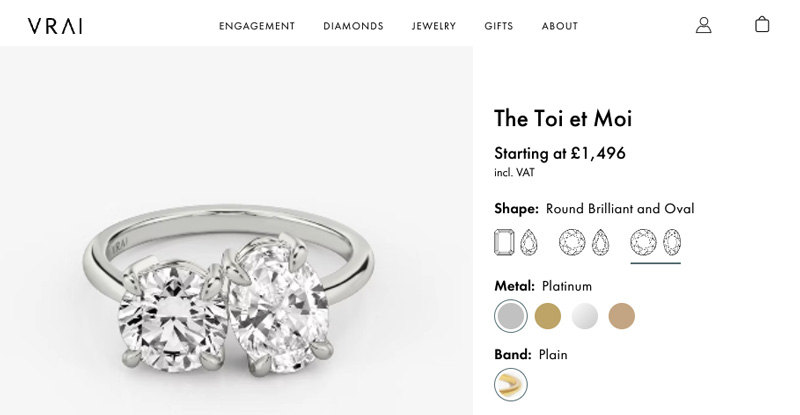 Vrai are definitely worth checking out if you are looking for a more unique lab grown diamond ring.
Making your final decision
---
Buying a diamond ring is a significant financial and emotional commitment and where the 'best' place to buy your lab grown ring is will depend on exactly what you're looking for, how quickly you want it and how much judge value vs. price.
However, as stated above, we'd recommend that at least one of the jewellers you consider is Taylor & Hart as we have found they offer great prices, beautiful rings and incredible service.
Find out more about buying from Taylor & Hart here, or click below to visit their website and check out their lab-grown diamond selection.