Tiffany Soleste Pendant Necklaces: A Guide for Buyers and Sellers
---
Spanish for 'sun', Tiffany Soleste pendants feature a center stone surrounded by a brilliant halo of sparkling diamonds, which evoke the radiance of the sun's rays.
Soleste pendants come in many variants, from the yellow diamond to the emerald or the tanzanite, each offering its unique charm.
This guide aims to assist both buyers and sellers of Tiffany Soleste Pendants, offering key insights and pragmatic advice to help them make informed decisions.
Whether you're considering purchasing a pendant from a pre-owned jeweler or looking to sell your Tiffany Soleste Pendant for the best possible return, this article should be your go-to resource.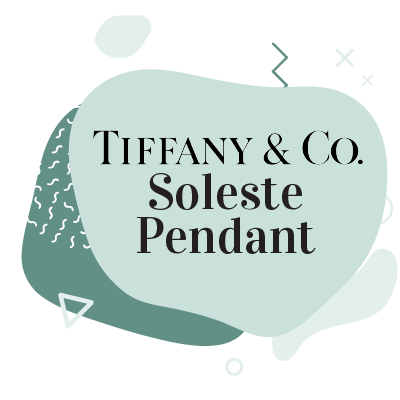 Tiffany Soleste Pendant Styles
There are four main styles of Tiffany Soleste pendant that you are likely to come across, and many variations within this:
Single halo pendant with a diamond center stone
Single halo pendant with a gemstone center stone
Double halo pendant with a diamond center stone
Pear double pendant halo with a gemstone center
Single halo with a diamond center stone Soleste pendants are often platinum and have a total carat weight of 0.16 carats: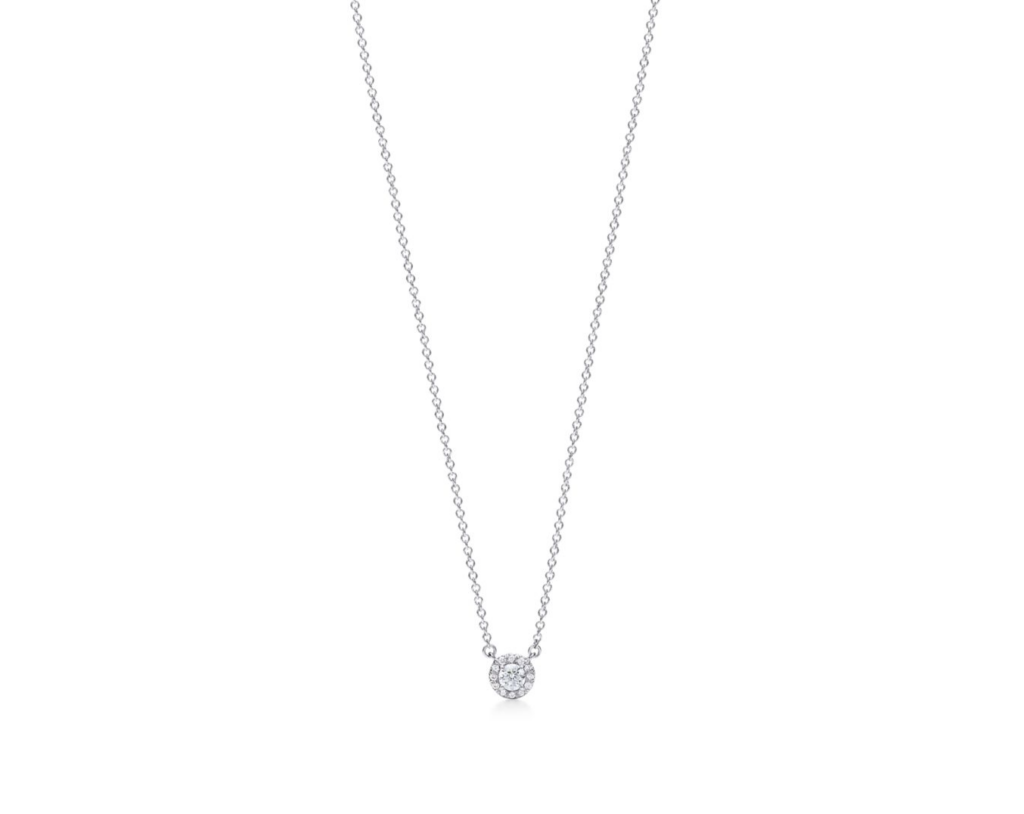 Based on other Tiffany Soleste jewelry, it's likely that the center stone of this Soleste pendant is approx. 0.08 carats.
Single halo with a gemstone center stone Soleste pendants are available with a variety of gemstones, including aquamarine, sapphire, emerald and more.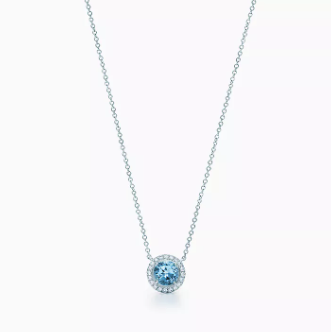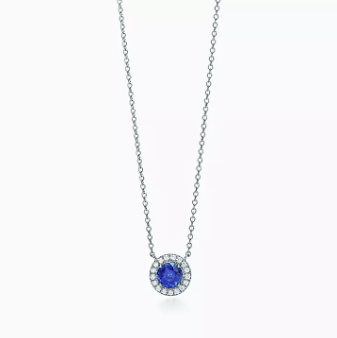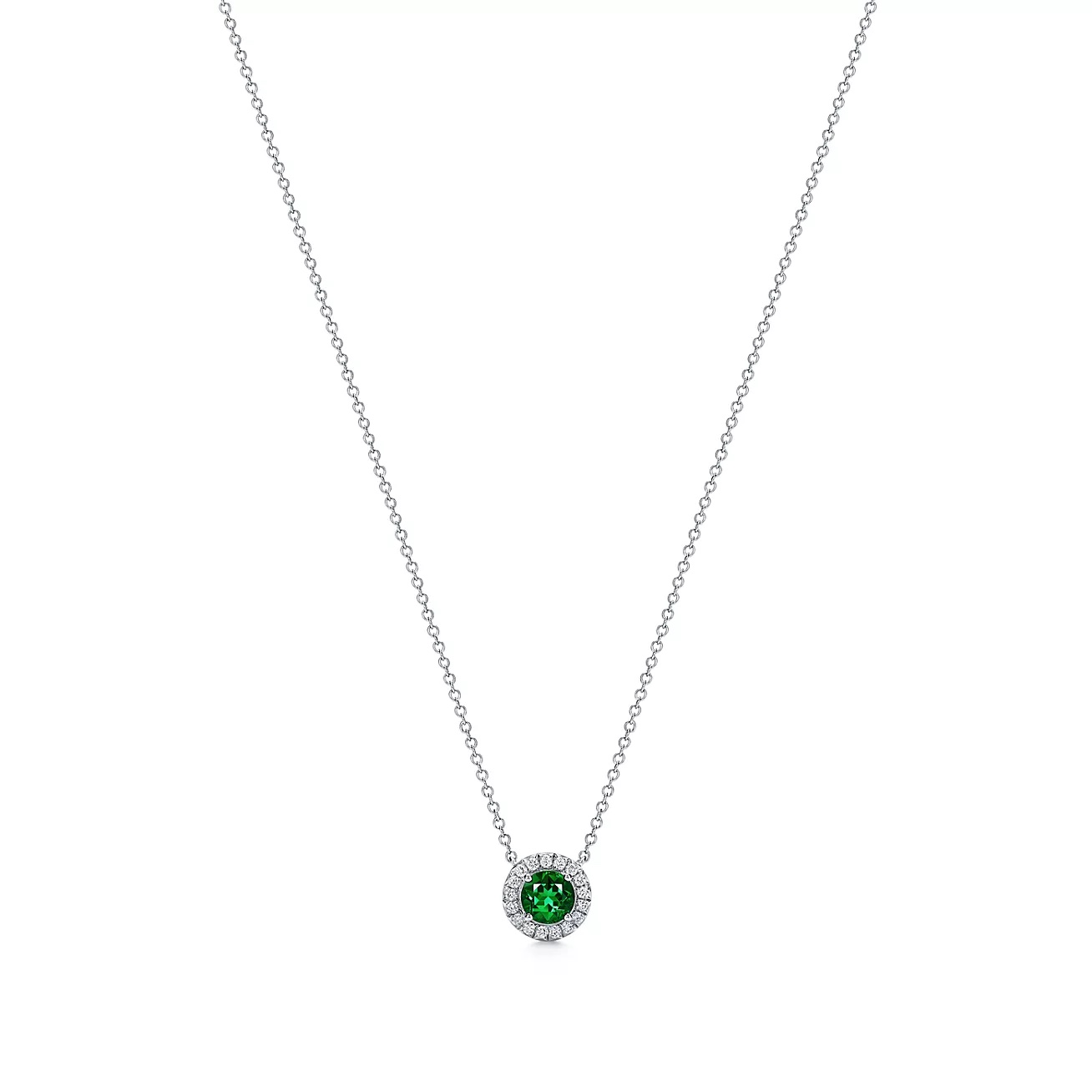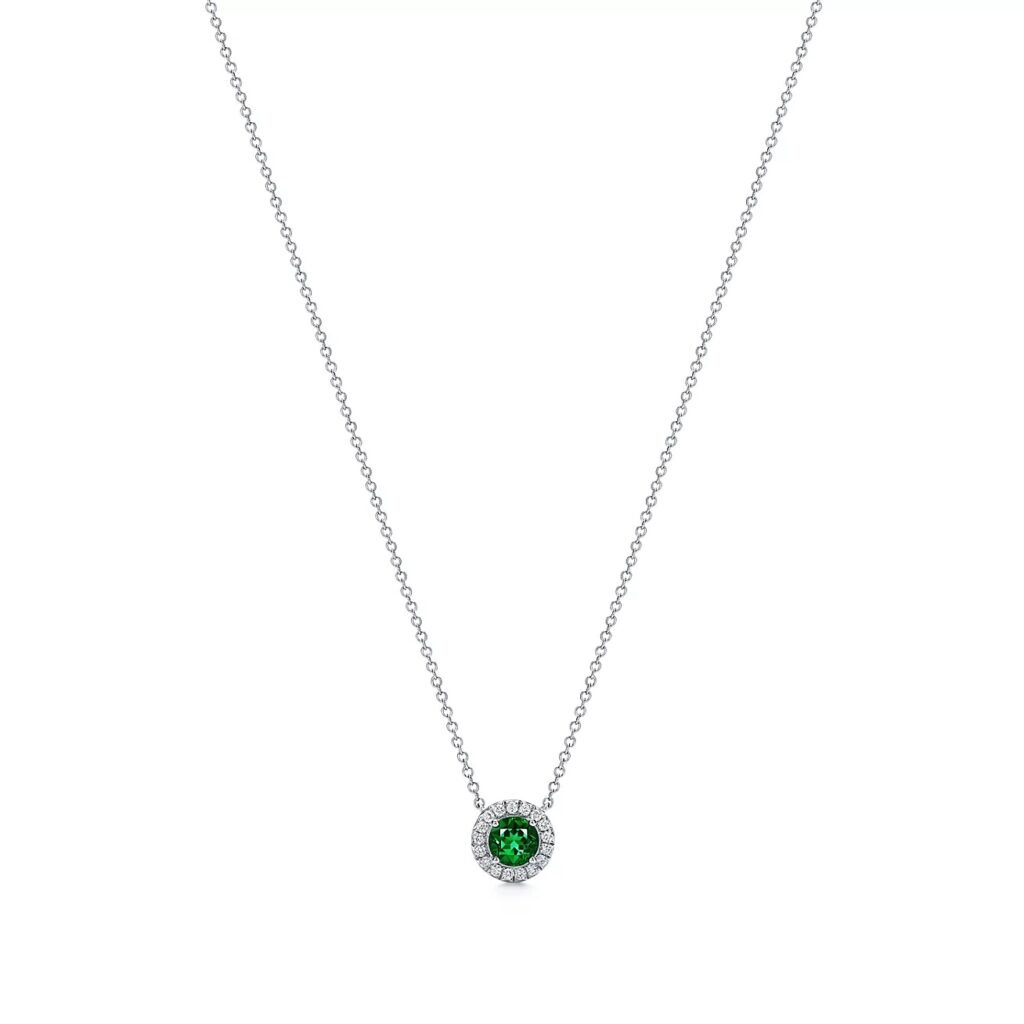 While the size of the center stone is always the same width, the carat weight will differ, depending on the ensity of the gemstone. For example, the emerald in the soleste pendant weighs 0.3 carats, while the aquamarine weights 0.5.
The diamonds used in the halo have a combined carat weight of 0.9 carats.
Double halo soleste pendants feature a 0.15 carat round brilliant center diamond with color graded as G-J and clarity graded as between IF – SI1.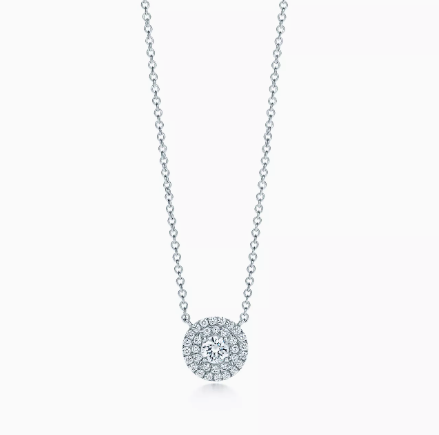 G-J colors are within the 'near colorless' range of the GIA grading scale and it would be difficult to tell the difference in color between the diamonds once they are mounted in the pendants.
The clarity range, however, is quite significant. 'IF' clarity stands for 'Internally Flawless', which is the second highest clarity grade of diamond. At the other end of the potential range, SI1 clarity means that inclusions are likely to be able to be seen with the naked eye when examined closely. At 0.15 carats, this couldn't be an issue, but is something to bear in mind and it may be worth looking at the individual pendant to ensure you are happy with the clarity.
The final style of soleste pendant we want to introduce are the pear-shaped drop pendants, which often include a different gemstone in the center.
The two examples below use tanzanite and aquamarine, but other gemstones including tournamline, pink sapphire, blue sapphire and yellow diamonds may also feature.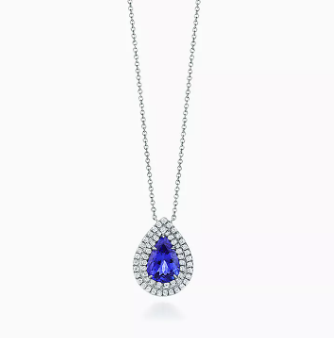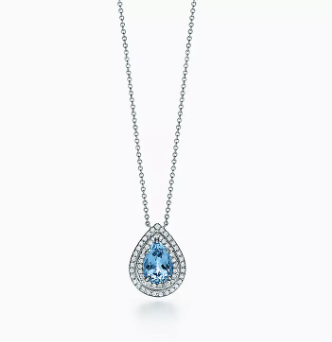 The carat weight of the center stone will depend on the gemstone used, but is usually approximately 1.25 carats, while the total carat weight of the surrounding diamonds may vary from 0.2 – 0.25 carats.
These pendants would go beautifully with a matching pair of Tiffany Soleste Earrings or a Tiffany Soleste Engagment Ring.
Tiffany Soleste Pendant Cost
Due to the variety of styles and gemstones used in the Soleste pendant collection, the price of a pair of Tiffany Soleste pendants will depend on format you choose:
Single halo with a diamond center stone are priced at $2,350
Single halo with a gemstone center stone can range from $4,150 with an aquamarine center stone to $11,650 with an emerald center stone
Double halo with a diamond center stone can range from $3,750 – $3,950, depending on whether gold or platinum is used
Pear double halo soleste pendants with a gemstone center can range from $8,900 – $9,900
Buying Tiffany Soleste Pendant Necklaces
There are many options to purchase Tiffany Soleste Pendant Necklaces, whether that's directly from Tiffanys, or another jeweller in store or online, and there's also the option to buy a pre-owned ring if you don't have the budget for a new one.
We'll take you through the different choices below.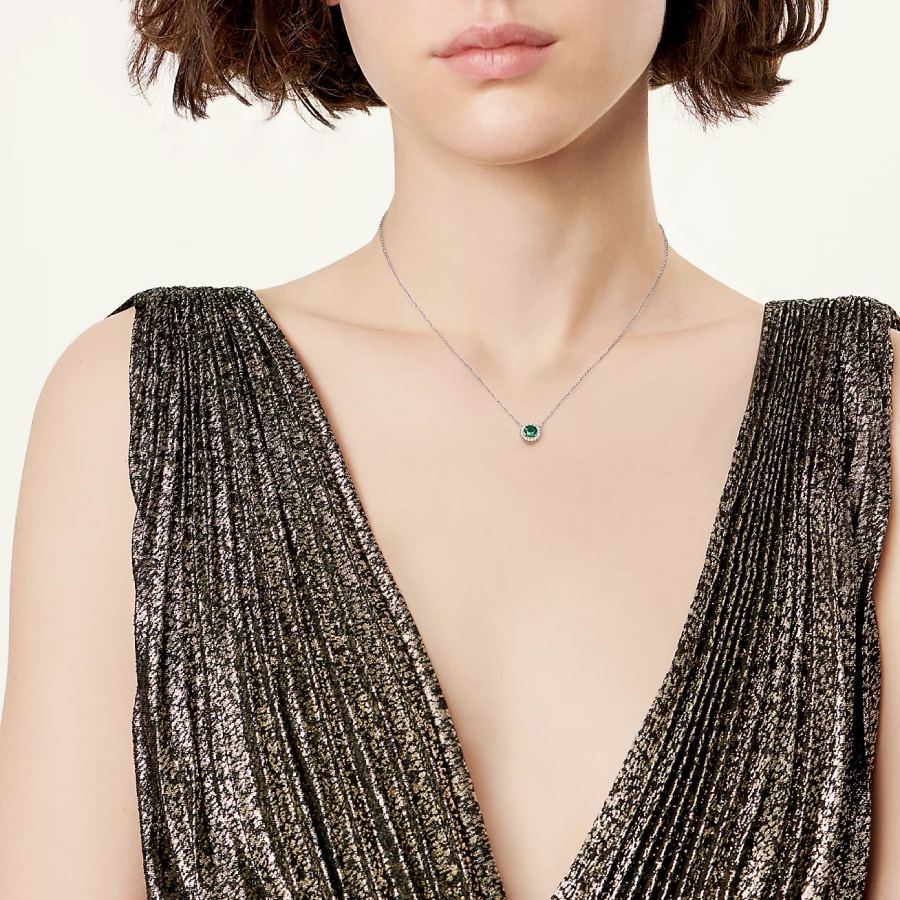 Tiffany & Co has 94 official stores across the US, in 80 cities, which allow you to view and try on Soleste pendant yourself.
Part of the pleasure of owning Tiffany & Co. jewelry is the in-store experience, and you can find the closest Tiffany store to you using the store locator on the Tiffany website.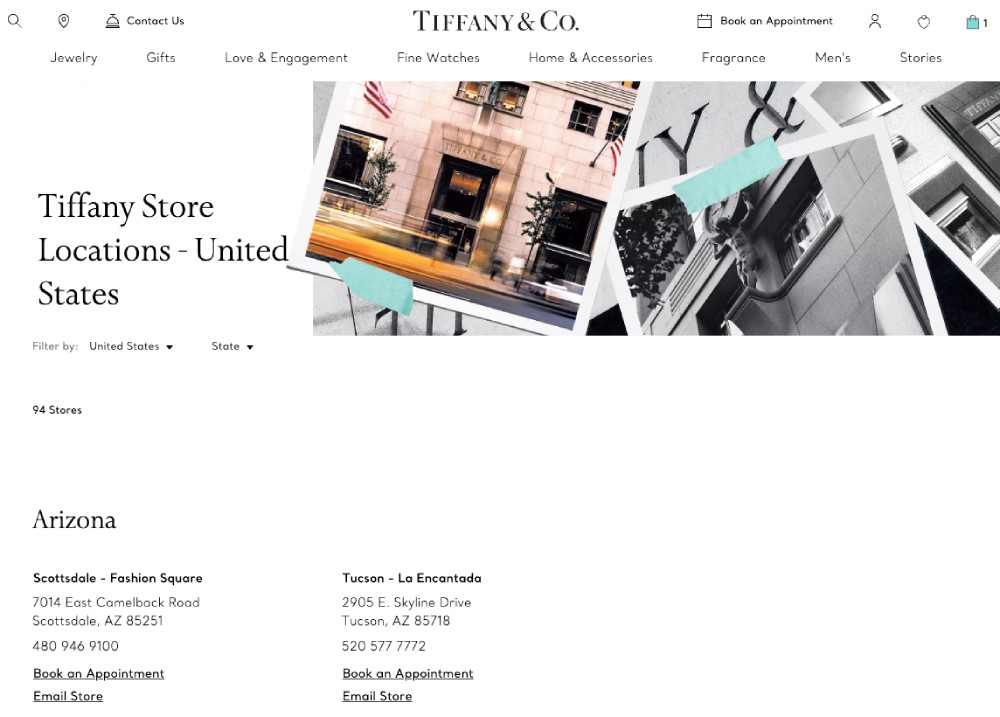 The Tiffany website itself is also an excellent option to buy a Soleste Pendant Necklace, if there is no physical store within a convenient distance.
Online offers the full range of current collections with the ability to choose from the currently available , with complimentary postage within the continental US and a 30 day return policy.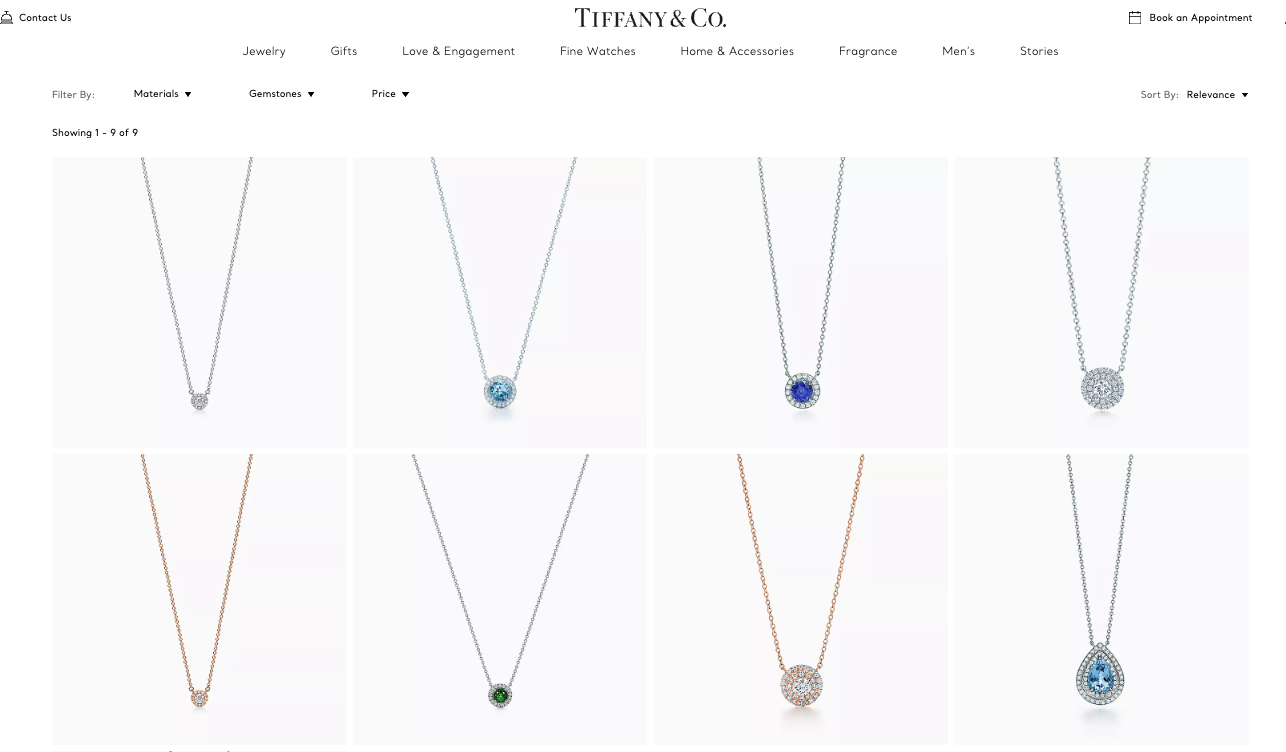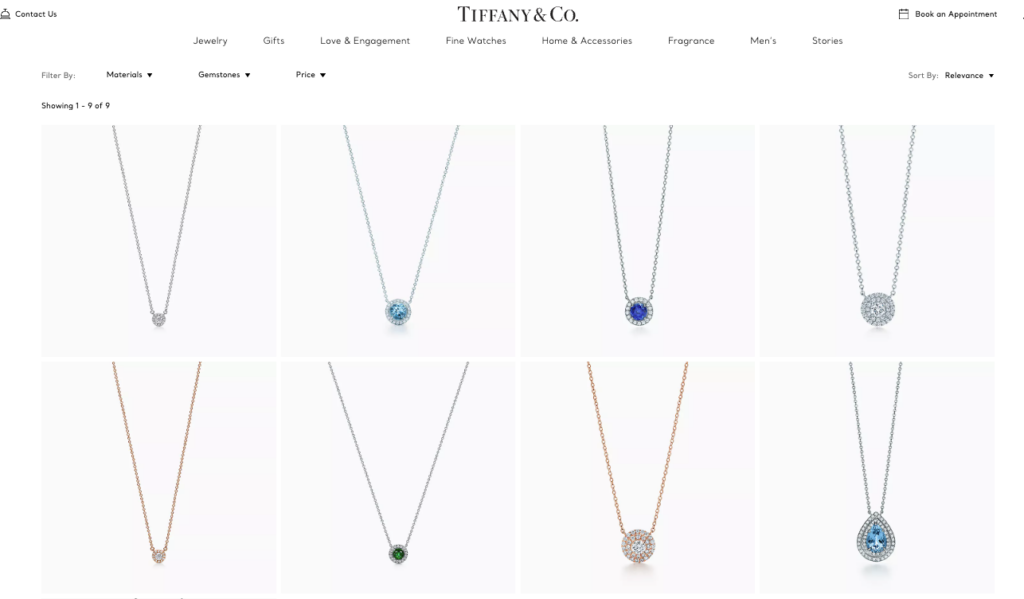 Another option is to buy from a specialist in pre-owned Tiffany jewelry.
Jewelers like The Diamond Oak can offer significant savings over buying new.
For example, this Tiffany Soleste pendant necklace is being sold for $2,650: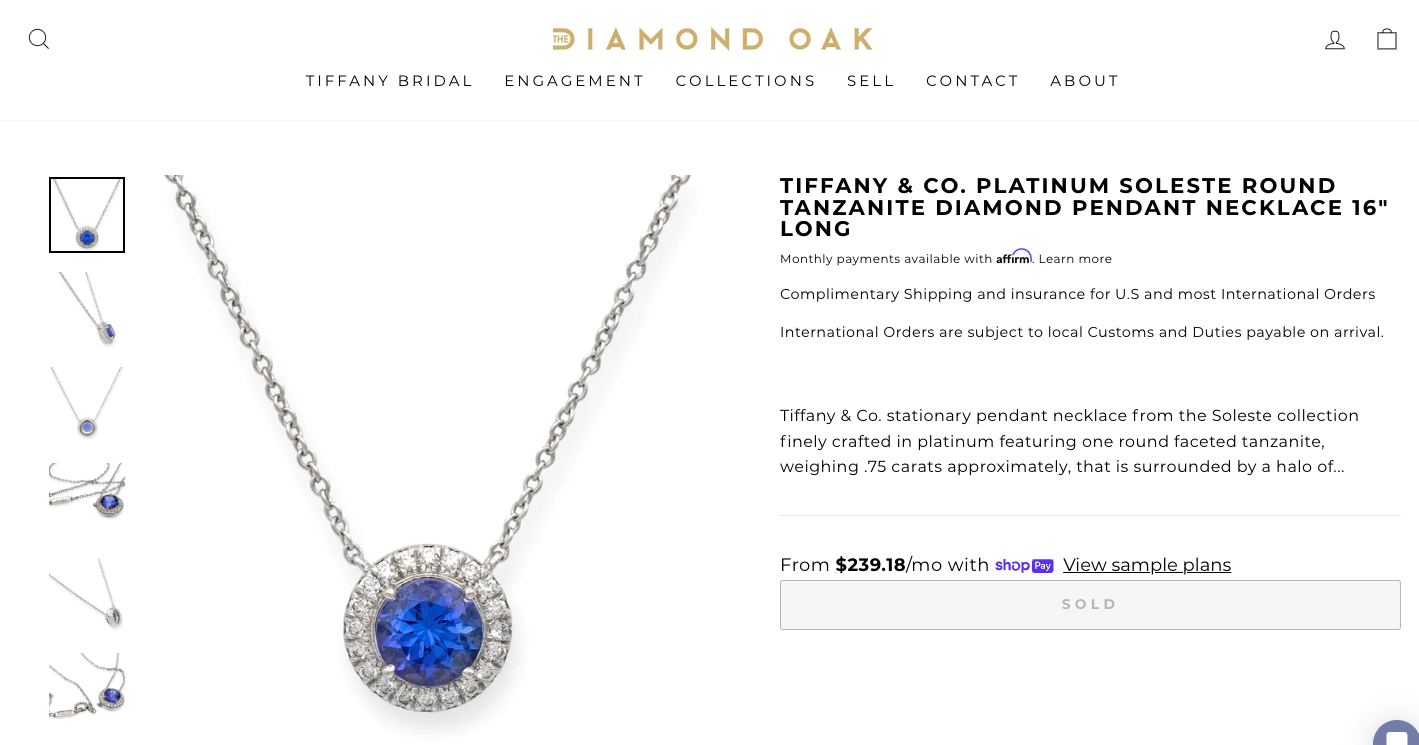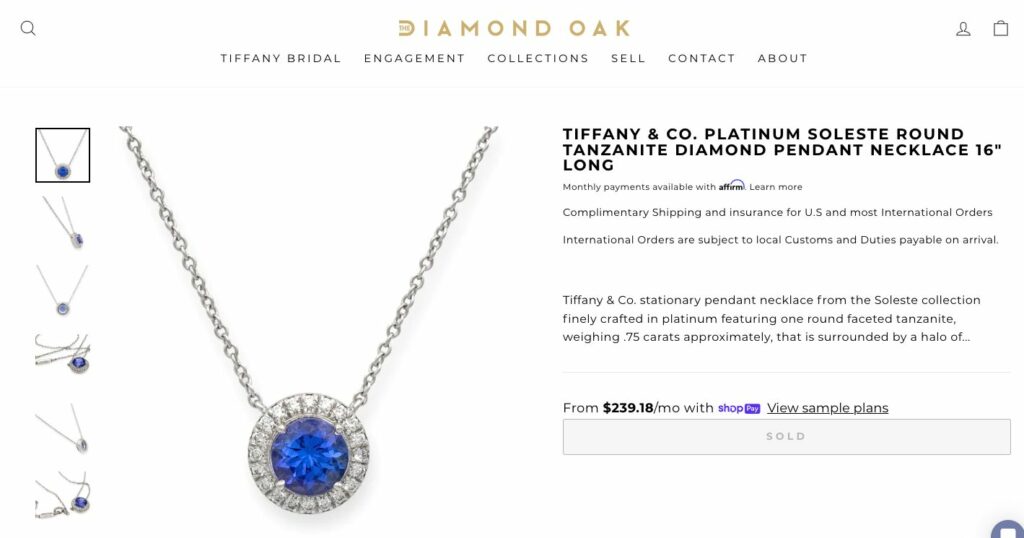 This could be a potential saving of around $2,500 over buying new, for a ring that has been reconditioned to 'as new' condition.
How to Buy a Tiffany Soleste Pendant from a Pre-Owned Jeweler
Purchasing a Tiffany Soleste Pendant from a pre-owned jeweler can offer several benefits over buying new. For one, you can save significantly as pre-owned items often cost less than their original retail price. Additionally, you may find rare or discontinued models not available from new retailers, adding unique pieces to your collection. Lastly, buying pre-owned supports sustainability and ethical practices by extending the lifespan of fine jewelry.
Tips for Buying a Pre-Owned Tiffany Soleste Pendant
When buying a Tiffany Soleste Pendant from a pre-owned jeweler, consider these guidelines:
Research the Pre-Owned Jeweler: Investigate the jeweler's reputation and reliability. Check online reviews, ratings, and testimonials to ensure they have a history of satisfied customers.
Request a Detailed Description and Clear Photos: Ask for a comprehensive description and clear images of the pendant, particularly any flaws or defects. These can help you understand the piece's condition and confirm it matches the provided description.
Ask for Authenticity Proof: Request a certificate of authenticity or appraisal from the jeweler. If these aren't provided, consider getting one from a third-party appraiser. This step is crucial to confirm the piece's authenticity and value.
Compare Price and Condition: Compare the price and condition of the pendant with similar items from different pre-owned jewelers or sources. This can help you ascertain whether you're getting a fair deal.
Negotiate the Terms of Sale: Feel free to negotiate the price and terms of the sale, including payment methods, shipping options, and return policies. Most pre-owned jewelers are open to negotiations.
Inspect the Pendant Upon Receipt: Once you receive the pendant, inspect it carefully and verify its authenticity and value.
Purchasing a pre-owned Tiffany Soleste Pendant can be a rewarding experience when done correctly. For more guidance, consider reaching out to our recommended Pre-Owned Jeweler – Alon at Diamond Oak, to ensure you're making an informed purchase.
The Diamond Oak is a third generation fine jewelry specialist in New York, they are experts in pre-owned Tiffany jewelry and always have a large selection to choose from.
Click here to see what Tiffany Soleste Pendants Diamond Oak have available at the moment.
Remember, buying pre-owned doesn't mean compromising on quality or beauty—it's a smart, sustainable, and economical way to own a piece of Tiffany's timeless elegance.
How to Identify a Genuine Tiffany Soleste Pendant
Identifying the authenticity of a Tiffany Soleste Pendant is crucial, whether you're looking to buy or sell. Authenticity not only ensures that you're getting what you pay for but also establishes the real value of the piece. Counterfeit or fake pendants are often of inferior quality and do not hold the same value as genuine Tiffany jewelry.
Recognizing Counterfeit Pendants
It's beneficial to understand common signs of counterfeit Tiffany Soleste Pendants. Here are some pointers to consider:
Poor Craftsmanship and Quality: Authentic Tiffany pieces boast high-quality craftsmanship, with each pendant carefully and meticulously made. Counterfeit pieces, in contrast, often exhibit poor craftsmanship with rough edges, loose stones, or uneven polish.
Mismatched or Missing Hallmarks and Logos: Genuine Tiffany pendants bear specific hallmarks, including "T&Co" or "Tiffany & Co.," along with a quality mark denoting the metal type (for example, "750" for 18k gold). Counterfeit pieces may have inconsistent, unclear, or missing hallmarks.
Inaccurate Details and Dimensions: The design details and dimensions of counterfeit pieces may differ from those of authentic pendants. Be cautious if you observe any discrepancies in the size or placement of the diamonds or gemstones.
Low-grade or Synthetic Diamonds or Gemstones: Tiffany uses high-grade, natural diamonds and gemstones. Counterfeit pieces often use low-grade, treated, or synthetic stones.
Identifying Authentic Tiffany Soleste Pendants
When you are seeking to identify an authentic Tiffany Soleste Pendant, consider these steps:
Compare with Official Tiffany Sources: Refer to the official Tiffany website for the correct specifications, images, and product descriptions of the Tiffany Soleste Pendant. Compare the pendant in question with these official references.
Examine the Pendant Closely: Look closely for any inconsistencies, flaws, or signs of poor quality, which can indicate a counterfeit piece.
Request Documentation: Genuine Tiffany jewelry often comes with official documentation, including a certificate of authenticity or an appraisal. If possible, request these documents from the seller.
Compare with Similar Items: Compare the pendant with similar items from reputable sources, looking for consistency in design, quality, and hallmarks.
In case of any doubts, it's best to consult a professional jeweler or appraiser to confirm the authenticity of a Tiffany Soleste Pendant. A professional eye can discern subtle details and discrepancies that might escape an untrained observer.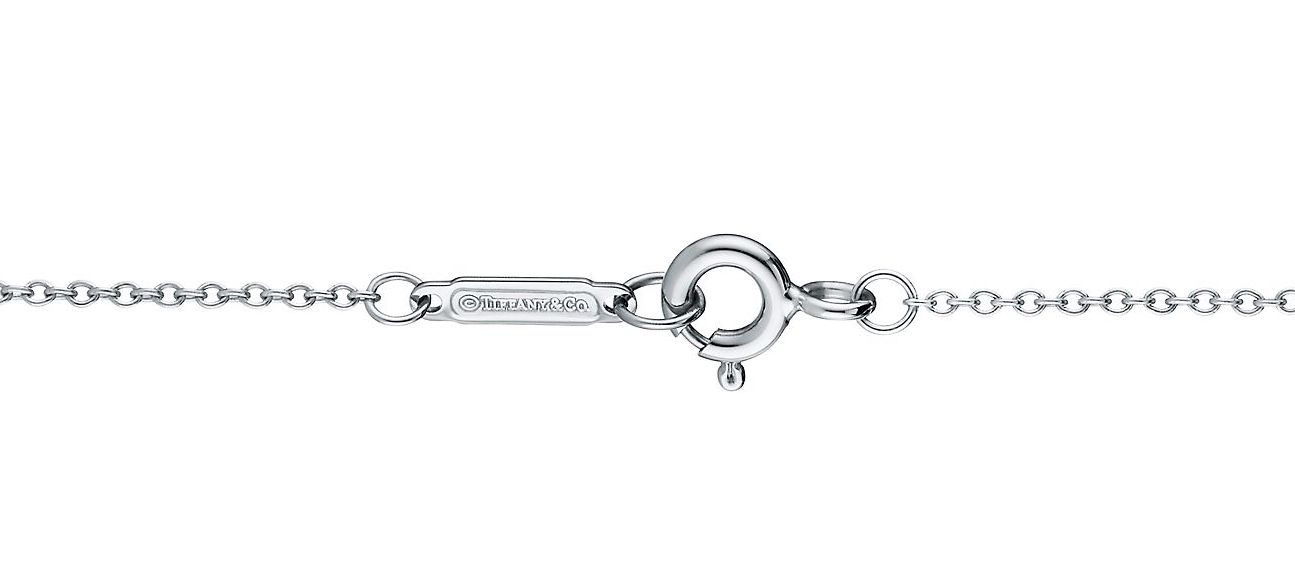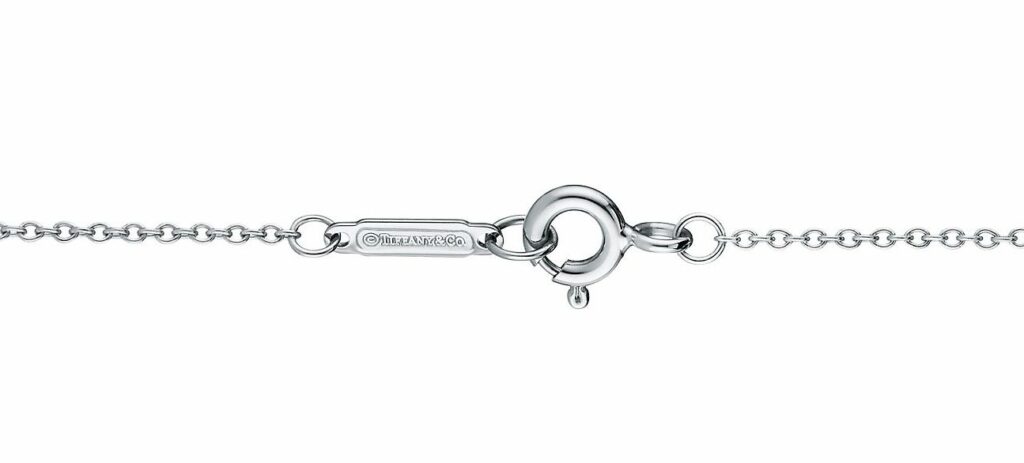 How to Sell a Tiffany Soleste Pendant for the Best Price
There are various reasons you might choose to sell a Tiffany Soleste Pendant. For one, it can be a lucrative way to cash in on the value of your pendant. It's also a great way to declutter or update your jewelry collection by parting with pieces you no longer wear or desire. Plus, selling allows you to pass on the pendant's beauty and joy to someone else who may cherish it even more. We've written a detailed article on selling Tiffany Jewelry here if you want to read more.
Tips for Selling a Tiffany Soleste Pendant
To ensure you fetch the best price for your Tiffany Soleste Pendant, consider the following tips:
Research the Market Value: Use online resources to determine the current market value and demand of your pendant. Knowing its worth will help you price it correctly and realistically.
Clean and Polish the Pendant: A clean, sparkling pendant is far more appealing. Make sure to clean and polish your pendant professionally to enhance its appeal and fetch a higher price.
Take High-Quality Photos and Write an Attractive Description: High-quality images and an accurate, enticing description can attract potential buyers. Highlight the features and benefits of the pendant and point out any distinctive or rare qualities.
Choose the Right Platform to Sell: Online auctions or listings, local classified ads, consignment shops, and pawn shops are all potential venues to sell your pendant. Select the platform that reaches your target audience and minimizes your expenses.
Set a Competitive Price: Price your pendant based on its value, condition, and the current market. Remember to factor in any fees or commissions involved in the sale.
Communicate Clearly with Potential Buyers: Be open and responsive to any queries or concerns from potential buyers. Providing proof of authenticity and value will build trust and can potentially increase the final sale price.
If you need more help or guidance, consider reaching out to industry experts like Alon at Diamond Oak. He often offers above market rates for the purchase of Tiffany jeweller as he knows he will always have an interested buyer. Dealing with Alon means that you get his personalized service, and won't have to deal with multiple buyers, which can often be a time-consuming process. Get in touch with Alon here.
How to Determine the Value of a Tiffany Soleste Pendant
Understanding the value of a Tiffany Soleste Pendant is crucial for both buyers and sellers. For buyers, knowing the worth ensures you pay a fair price. For sellers, it helps set a reasonable asking price that reflects the pendant's actual worth.
Factors Affecting the Pendant's Value
Several factors can influence the value of a Tiffany Soleste Pendant:
Type and Quality of the Center Diamond or Gemstone: The value can be influenced by the 4C's of diamond or gemstone grading – color, clarity, cut, and carat weight. Each Tiffany Soleste Pendant features a center gemstone surrounded by brilliant-cut diamonds. This gemstone's quality significantly impacts the pendant's value.
Quality of the Surrounding Diamonds: The color, clarity, cut, and carat weight of the surrounding diamonds can also affect the pendant's value.
Type and Quality of the Metal: The pendant's metal, whether platinum or gold, can affect the value. Tiffany uses high-quality 18K gold or platinum in its Soleste pendants.
Condition and Age: Like any pre-owned jewelry, the condition and age of the Tiffany Soleste Pendant can influence its value. Pendants in excellent condition generally hold a higher value than those showing signs of wear or damage.
Market Demand and Supply: The demand for a specific type of Tiffany Soleste Pendant, such as one with a yellow diamond, can affect its price. The same goes for supply – if there's a scarcity of a particular pendant, it may hold a higher value.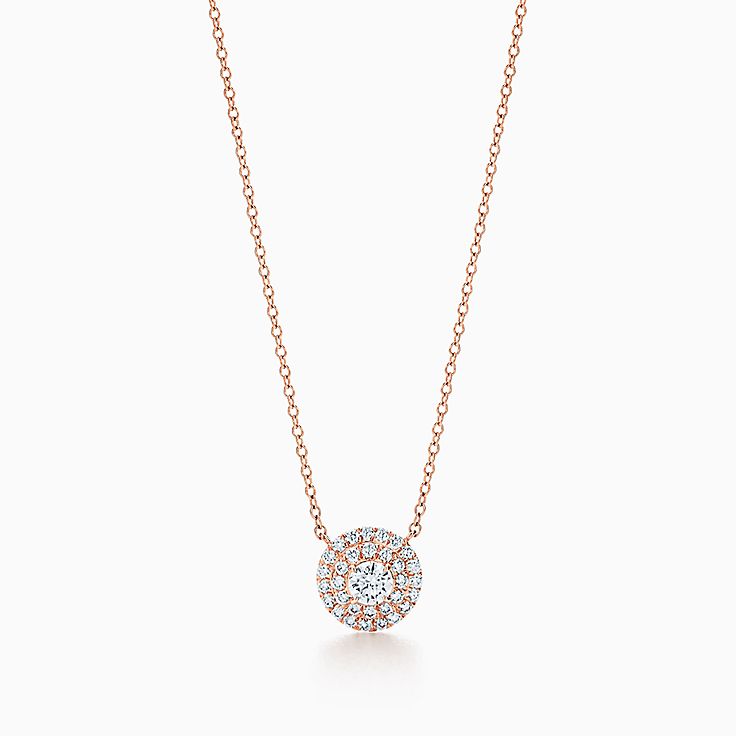 Examples of Value Determination
Here are some examples of how these factors can influence a Tiffany Soleste Pendant's value:
A Soleste Pendant featuring a yellow diamond, set in platinum and gold, might command a higher value than an emerald pendant set in platinum due to the rarity and desirability of yellow diamonds.
Conversely, a diamond pendant in platinum might be less valuable than a ruby pendant in platinum and gold since diamonds are more common and thus less expensive than rubies.
A pendant with a larger, higher-quality center gemstone may command a higher price than a pendant with a smaller, lower-quality center gemstone, as size and quality are key determinants of value.
A well-preserved pendant with all original packaging and documentation may be more valuable than a piece showing signs of wear or lacking documentation, as condition and provenance affect desirability and collectibility.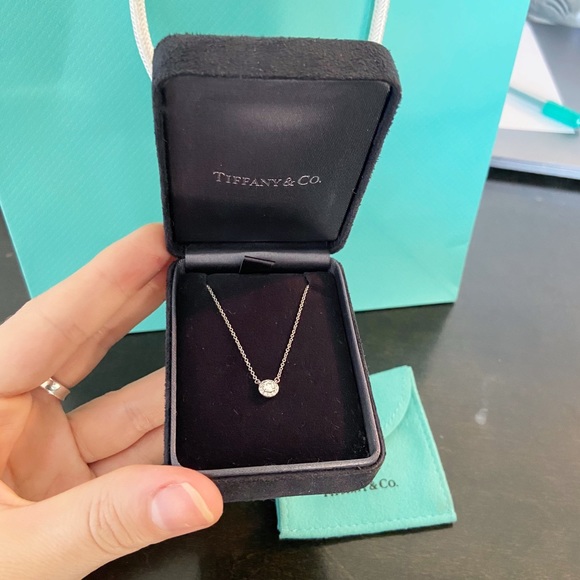 Estimating the Value
Several online tools can help estimate the value of a Tiffany Soleste Pendant:
Online Price Guides or Calculators: Tools that use current market data and trends to provide an estimated value range.
Online Auctions or Listings: Check recent sales or offers for similar items to gauge current market prices.
Online Forums or Communities: Jewelry enthusiasts often share opinions and experiences, providing valuable insights into market trends and prices.
Please note, while online tools can provide an approximate value, a professional appraisal is recommended for accurate valuation. Contact Alon at The Diamond Oak, and he can help with estimating the value of your Tiffany Soleste Pendant.
Throughout this article, we've highlighted the importance of verifying the authenticity and value of a Tiffany Soleste Pendant before making any buying or selling decisions. It's also worth considering the advantages of purchasing or selling such an item from a pre-owned jeweler over a new retailer—these can include cost savings, the opportunity to find rare or discontinued models, and supporting sustainability in the jewelry industry.
As your final takeaway, remember that industry professionals like Alon at Diamond Oak are available to provide further help or guidance in your journey. Don't hesitate to reach out and get in touch with Alon here.
Visit Diamond Oak here