Tiffany Stud Earrings: A Guide for Buyers and Sellers
---
Tiffany & Co. stud earrings are a staple of many people's jewellery collections, often sought after for their timeless design associated with the Tiffany & Co. brand.
This article is tailored specifically for two groups of people. The first group includes individuals looking to acquire Tiffany stud earrings, possibly from a pre-owned jeweler to find a good deal. The second group involves those considering selling their Tiffany stud earrings, wanting to ensure they get the best possible return.
Whether you're buying or selling, this guide will aid you in making informed decisions and potentially save you money while ensuring you get a deal.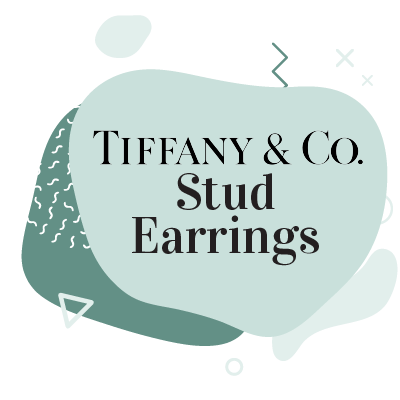 We will start by examining the distinguishing features of Tiffany stud earrings, then move on to factors to consider when buying or selling these earrings. We will also explore how to verify authenticity and lastly, we will look at how to care for these pieces of jewelry to preserve their beauty and value. Let's get started!
What are Tiffany Stud Earrings?
Stud earrings are a quintessential piece in jewelry collections worldwide, known for their simplicity, elegance, and versatility. Unlike hoop or drop earrings, stud earrings are characterized by a single gemstone, design element, or symbol directly attached to a post, which goes through the earlobe. A separate piece, often called the clutch or butterfly, is then used to secure the earring in place.
Different collections of Tiffany stud earrings offer various designs, from classic to contemporary.
Tiffany solitaire stud earrings are their version of the classic diamond stud earring. While Tiffany can supply them in a larger sizes if needed, most Tiffany stud earrings online have a combined total carat weight of between 0.2 and 0.35 carats across both earrings.
G-J colors are within the 'near colorless' range of the GIA grading scale and as the two diamonds are on opposite ears, it wouldn't be possible to detect a difference between them.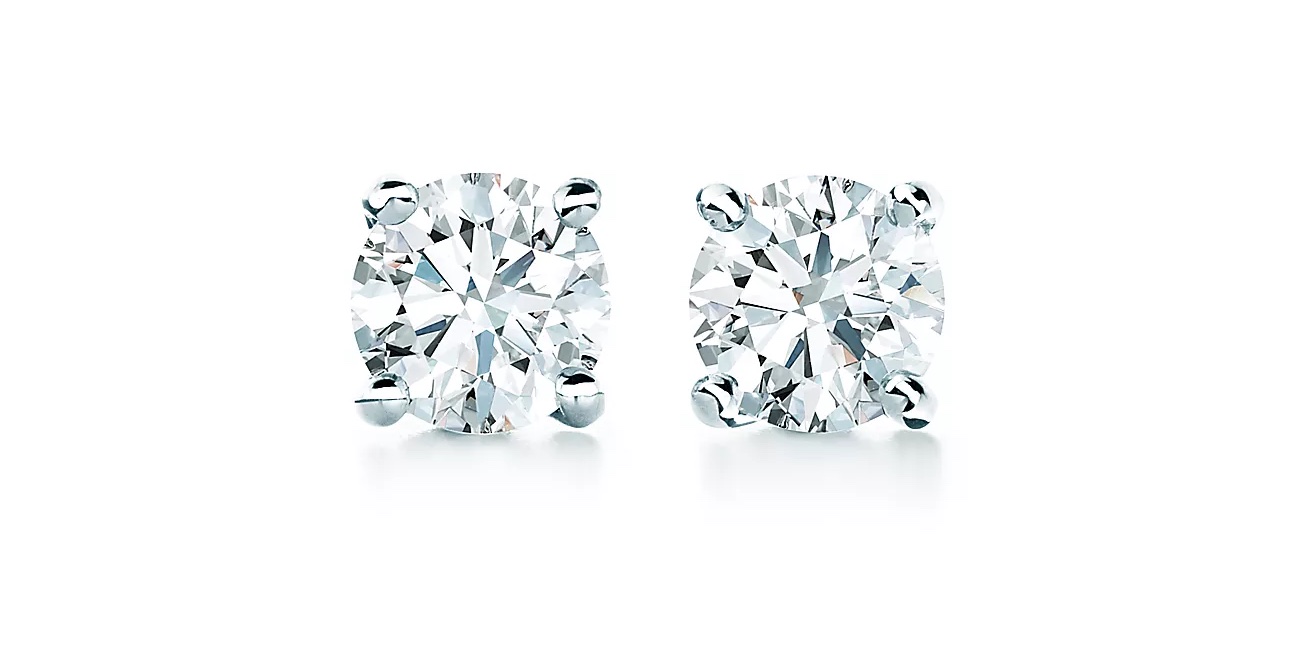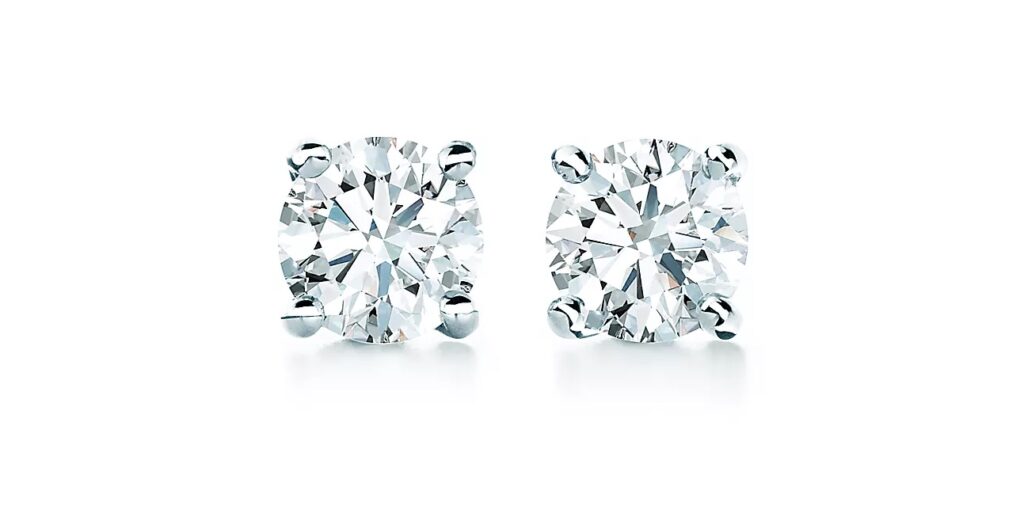 The potential difference in clarity, however, is quite significant. 'IF' clarity stands for 'Internally Flawless', which is the second highest clarity grade of diamond. SI1 clarity, however, means that inclusions are likely to be able to be seen with the naked eye when examined closely. As each solitaire is likely to be between 0.1 and 0.15 carats, this shouldn't be an issue, but is something to bear in mind.
Depending on the carat weight chosen, Tiffany solitaire stud earrings can range in price from $1,350 for 0.22 total carat weight to $2,050 for 0.31 carat weight.
Another popular stud earring style is the 'Tiffany 1837 collection', named for the year the company was founded. The Tiffany 1837 Circle Earrings earrings brings the Tiffany brand to the fore, prominently featuring the signature Tiffany & Co. engraving and including a '750' hallmark, which indicates the they are 75% pure gold i.e. 18karat gold.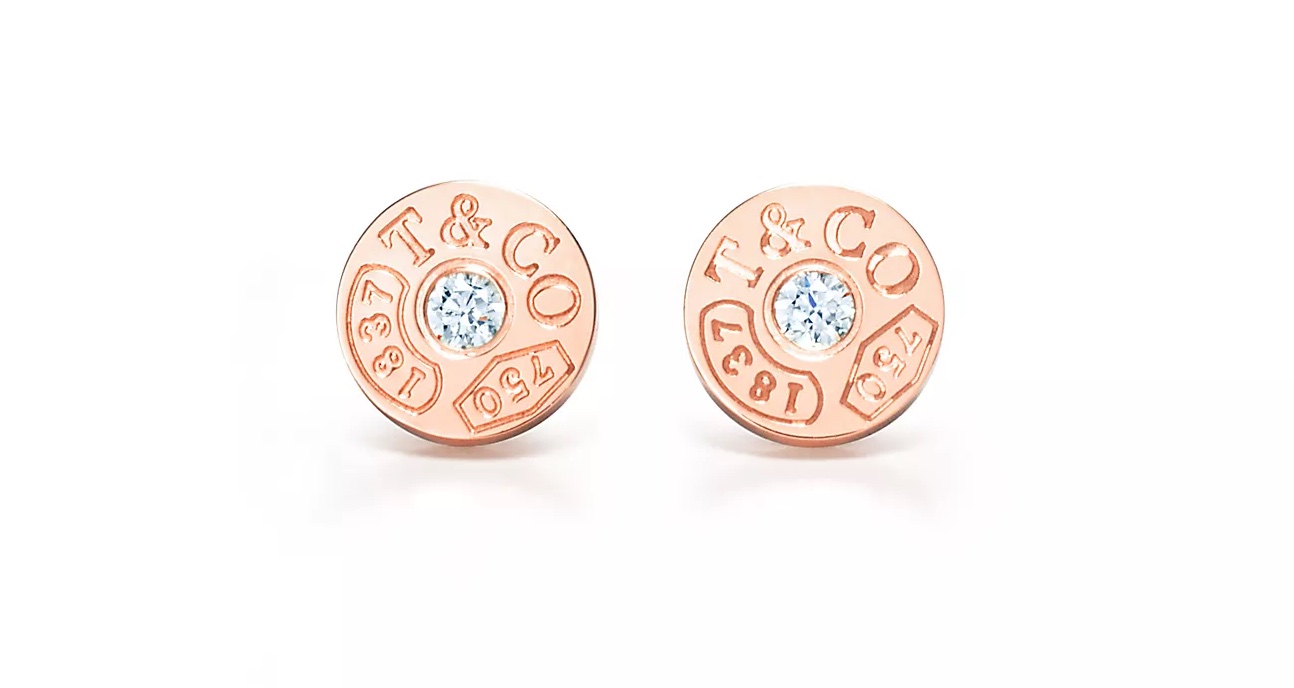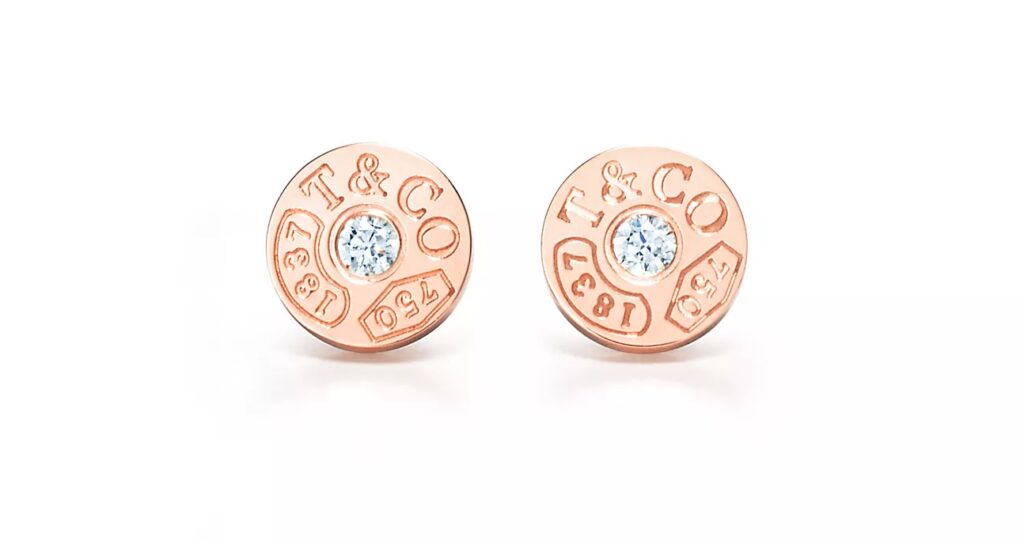 While these stud earrings have a much smaller center diamond than the solitaire stud earrings, they are priced similarly at $1,950 per pair.
The Tiffany Soleste earring are another popular collection and click through to our post on this here.
The Tiffany Victoria collection, inspired by the brilliance and geometry of pear, marquise and round diamond cuts in floral and vine motifs, offers studs that capture light from every angle, enhancing the diamond's natural sparkle.
Victoria earrings are available in a range of sizes with different combinations of diamond shapes.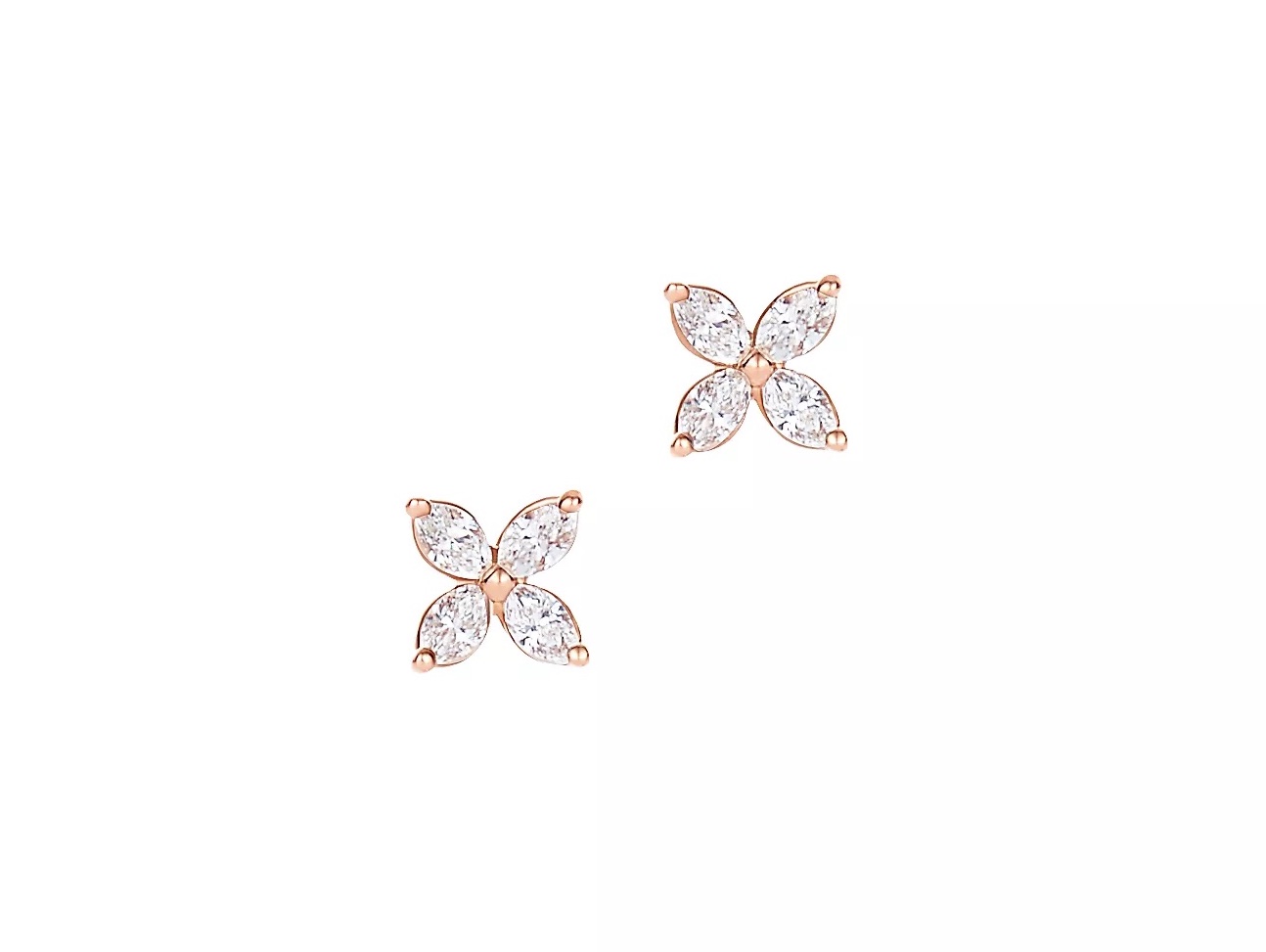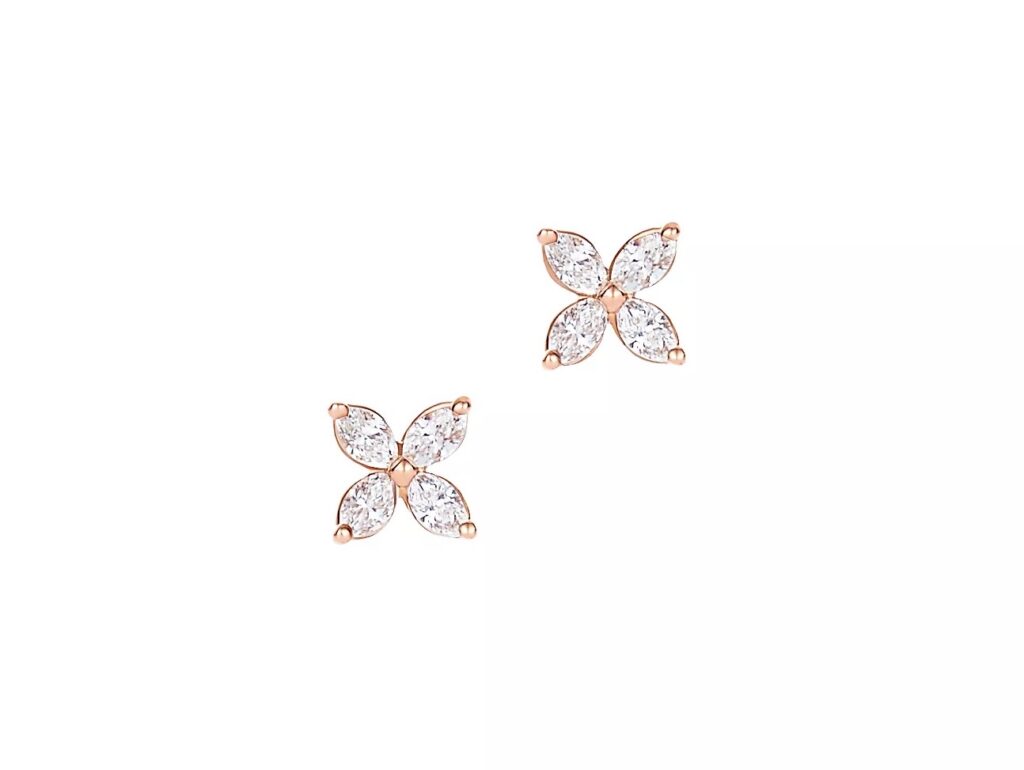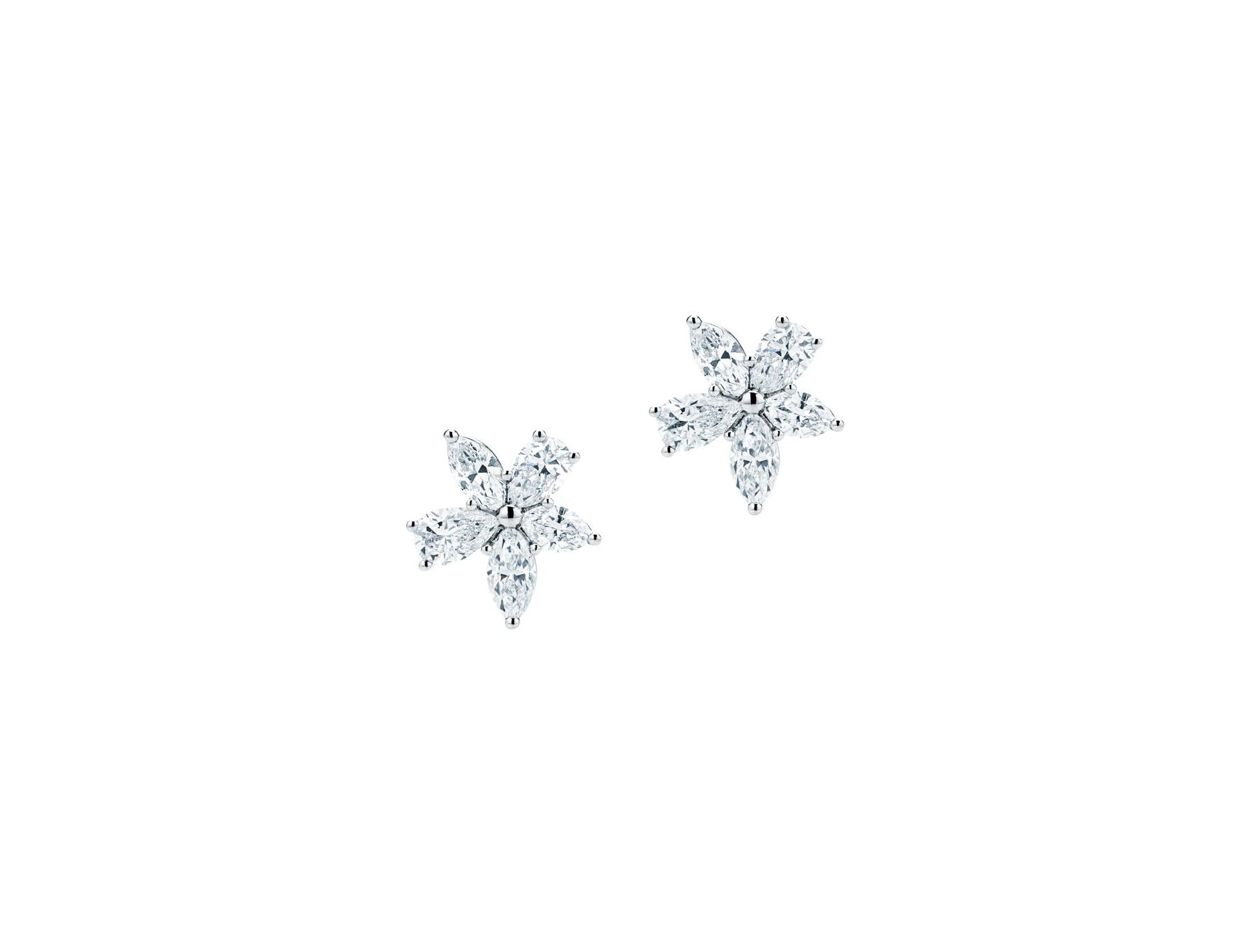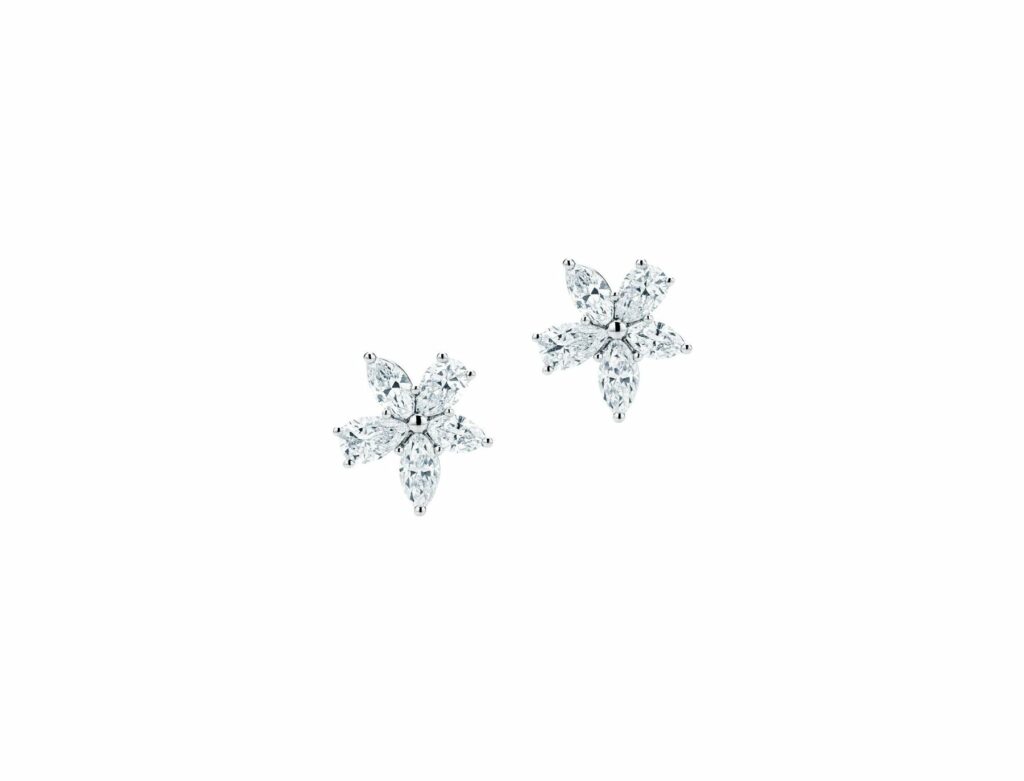 Buying Tiffany Stud Earrings
There are many options to purchase Tiffany Stud Earrings, whether that's directly from Tiffanys, or another jeweller in store or online, and there's also the option to buy a pre-owned ring if you don't have the budget for a new one.
We'll take you through the different choices below.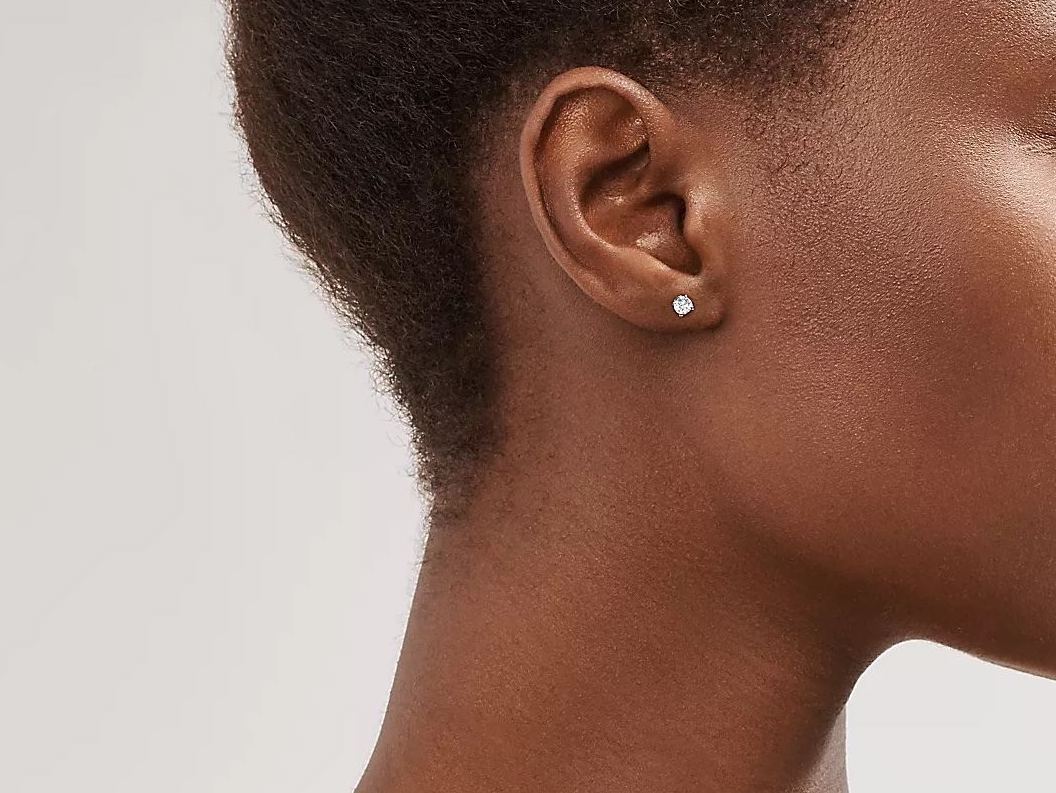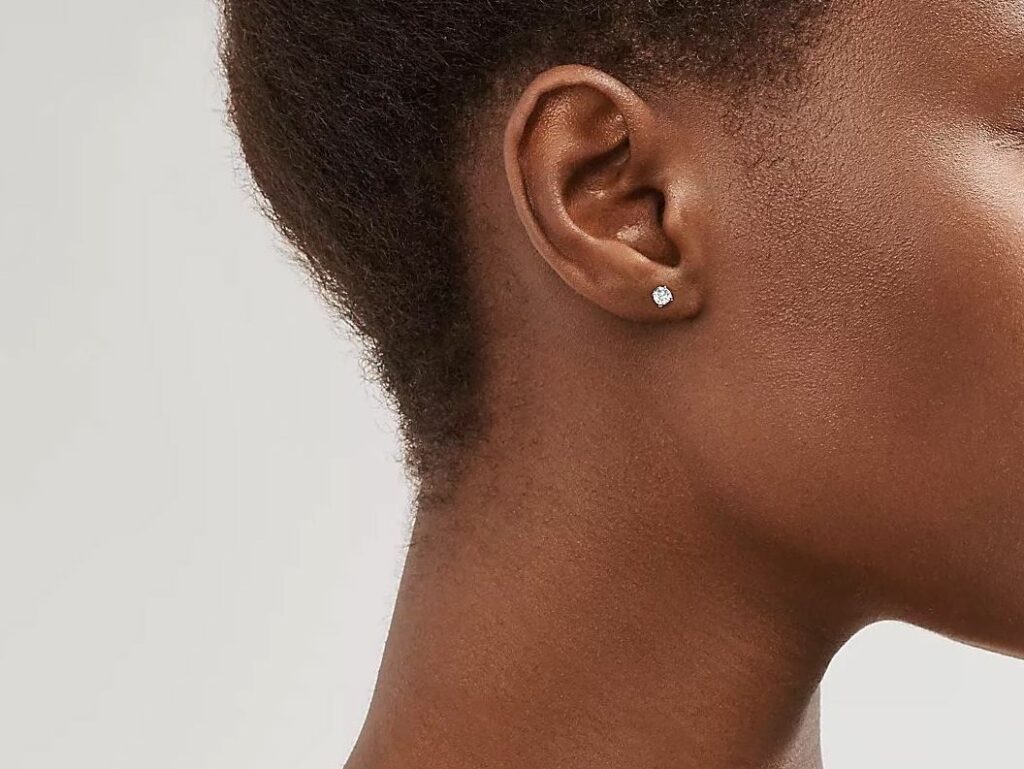 Tiffany & Co has 94 official stores across the US, in 80 cities, which allow you to view and try on a pair of stud earrings yourself.
Part of the pleasure of owning Tiffany & Co. jewelry is the in-store experience, and you can find the closest Tiffany store to you using the store locator on the Tiffany website.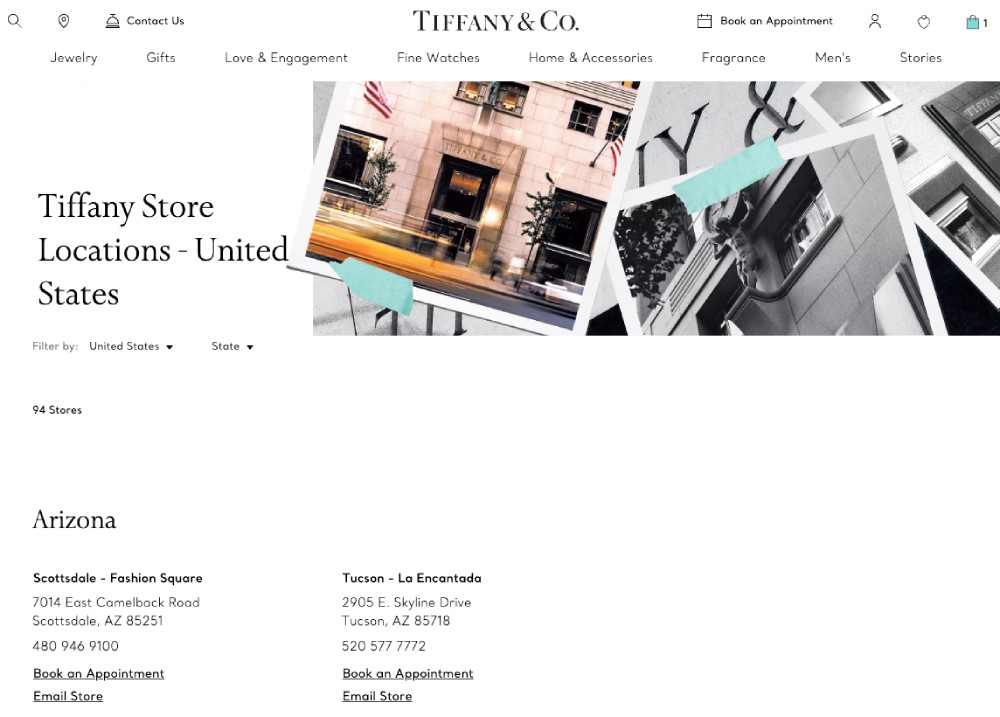 The Tiffany website itself is also an excellent option to buy a stud earrings, if there is no physical store within a convenient distance.
Online offers the full range of current collections with the ability to choose from the currently available, with complimentary postage within the continental US and a 30 day return policy.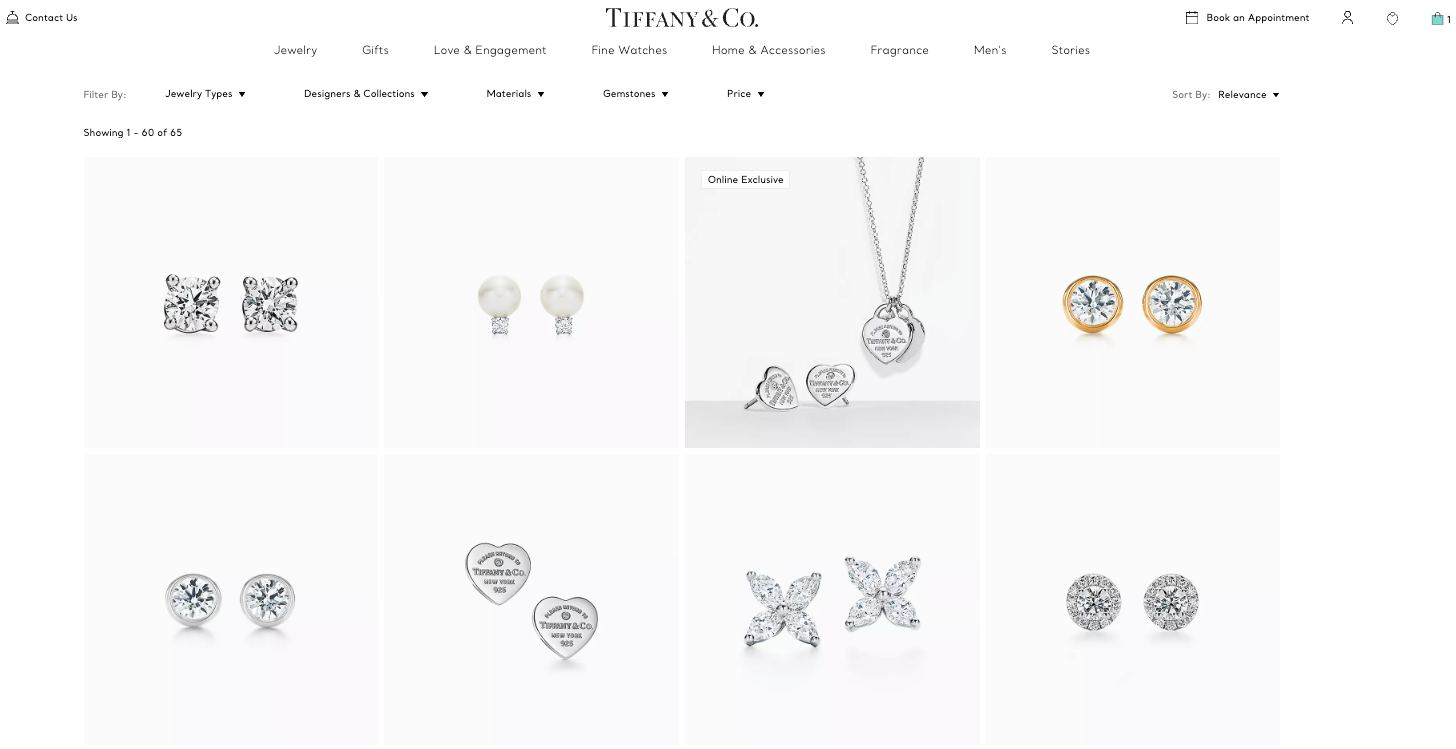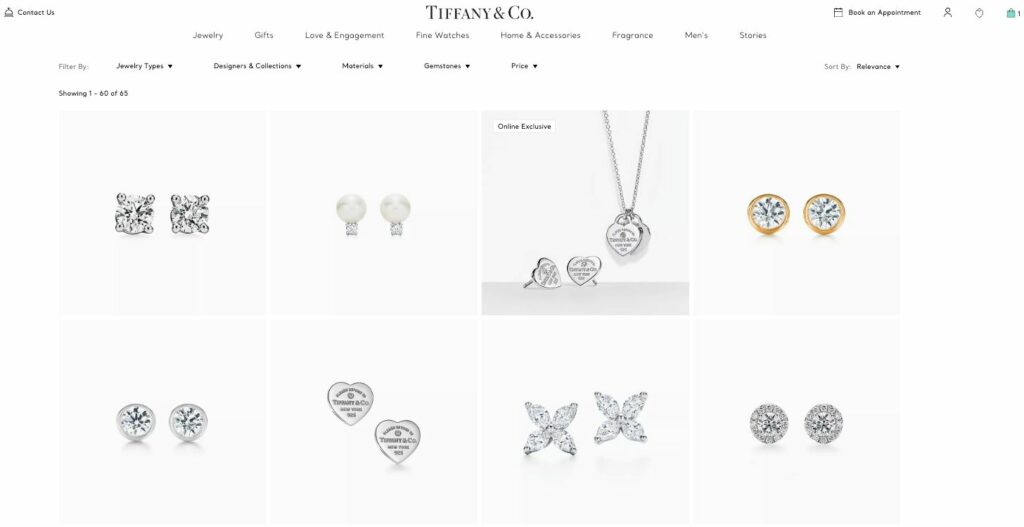 Another option is to buy from a specialist in pre-owned Tiffany jewelry.
Jewelers like The Diamond Oak offer a selection of Tiffany & Co stud earrings, including this pair of 0.62 carat, G color, VS1 clarity earrings, priced at $2,600: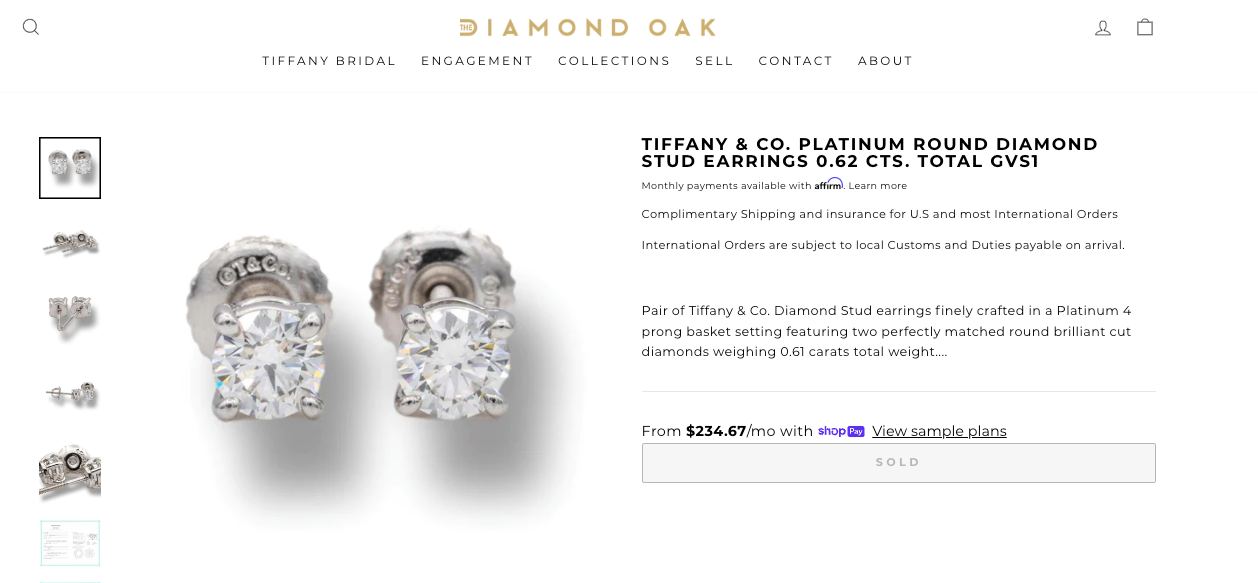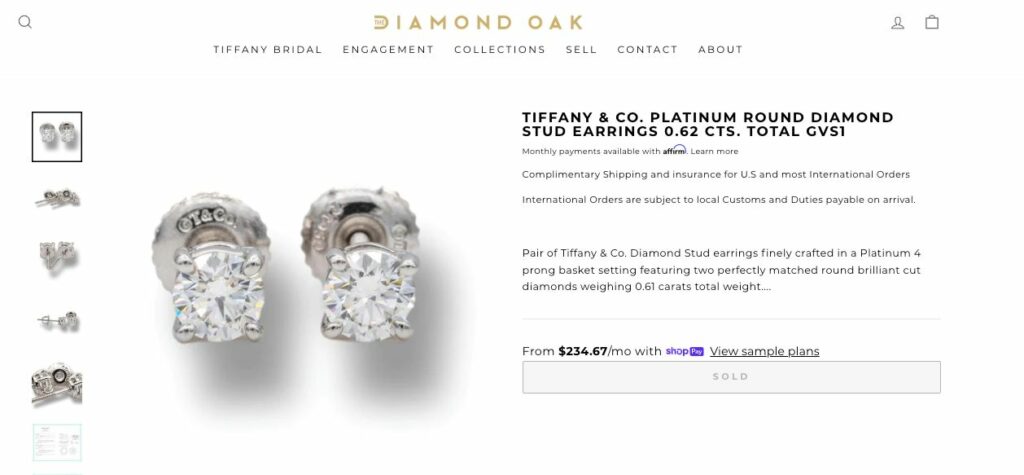 These earrings are accompanied by Tiffany grading reports for both solitaire diamonds and a proof of purchase from Tiffany & co. showing the original purchase price of $4,320.
They therefore offer a saving of over $1,700 over buying new, for a pair of earrings that have been reconditioned to 'as new' condition.
How to Buy Tiffany Stud Earrings
Whether you're a first-time buyer or an experienced collector, purchasing Tiffany stud earrings requires a thoughtful approach. Here are some tips to ensure you make an informed decision that aligns with your preferences and budget.
Choosing the Right Style, Size, Shape, Color, and Metal
Start with understanding your style preferences and the occasions for which you'll wear the earrings. Tiffany's vast array of collections caters to different tastes and styles. Consider factors such as size and shape based on what suits your face shape and personal style. When it comes to color and metal, Tiffany offers various options, including yellow gold, rose gold, and sterling silver, each lending a different aesthetic.
Checking Authenticity and Condition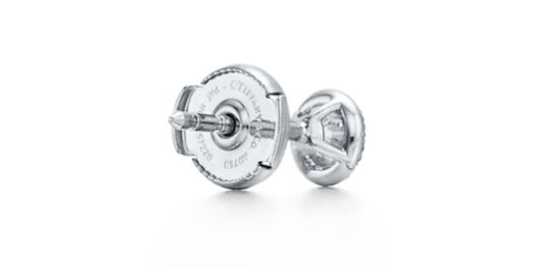 Authentic Tiffany stud earrings are usually accompanied by a certificate of authenticity or a hallmark engraved on the jewelry piece, often these are found on the earring back or the post.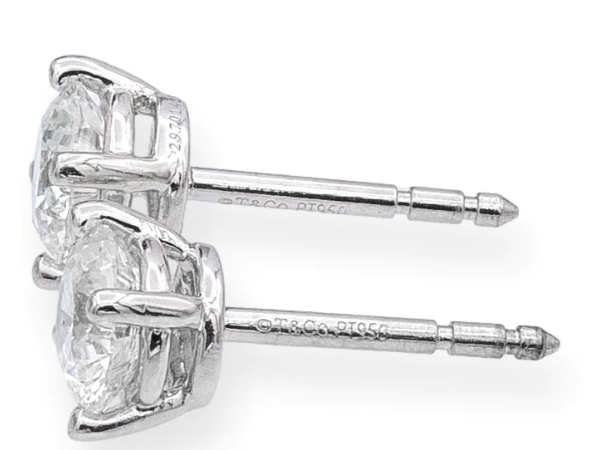 Look for these signs to verify authenticity. It's also essential to inspect the condition of the earrings, especially if they're pre-owned. Look for any signs of wear or damage.
Comparing Prices and Value
To ensure you're getting a good deal, make use of online tools and resources to compare prices of similar items. Research market trends to understand what influences the price of Tiffany earrings. If a particular earring is considered 'rare' as it was part of a limited collection, these might be more expensive than other ones that are part of Tiffany's core collection.
Finding Reputable Sellers
We recommended buying from reputable sources. Tiffany & Co, authorized retailers, and known pre-owned jewelers like Diamond Oak can be trusted. Be cautious with online marketplaces like eBay and Facebook Marketplace; always verify the authenticity of the item and the credibility of the seller.
Negotiating and Securing Payment
When buying from individual sellers or online platforms, don't shy away from negotiating the price. Use third party services like PayPal to ensure secure payment. Beware of scams and always prioritize your safety and security.
It's crucial to validate the condition and authenticity of the pre-owned earrings before purchase, with a trusted jeweller like Diamond Oak, they have already done this part for you.
How to Sell Tiffany Stud Earrings
Deciding to sell your Tiffany stud earrings can seem daunting, but with some thoughtful preparation, you can navigate the process efficiently and securely. Here are some guidelines to help you maximize your return.
We've also written another detailed article on selling Tiffany Jewelry here if you want to read more.
Determining the Value and Demand
Start by understanding the value and demand of your earrings. Online tools and resources can provide a ballpark figure for your jewelry. Consider factors such as the condition, age, and rarity of the piece, and look at similar items currently on the market to gauge demand.
Preparing and Presenting Your Earrings for Sale
First impressions matter when selling jewelry. Ensure your Tiffany earrings are clean and polished. High-quality photographs that clearly show the condition of the earrings are crucial. Describe the item accurately and provide all relevant information, such as original receipts, authenticity certificates, and any included packaging.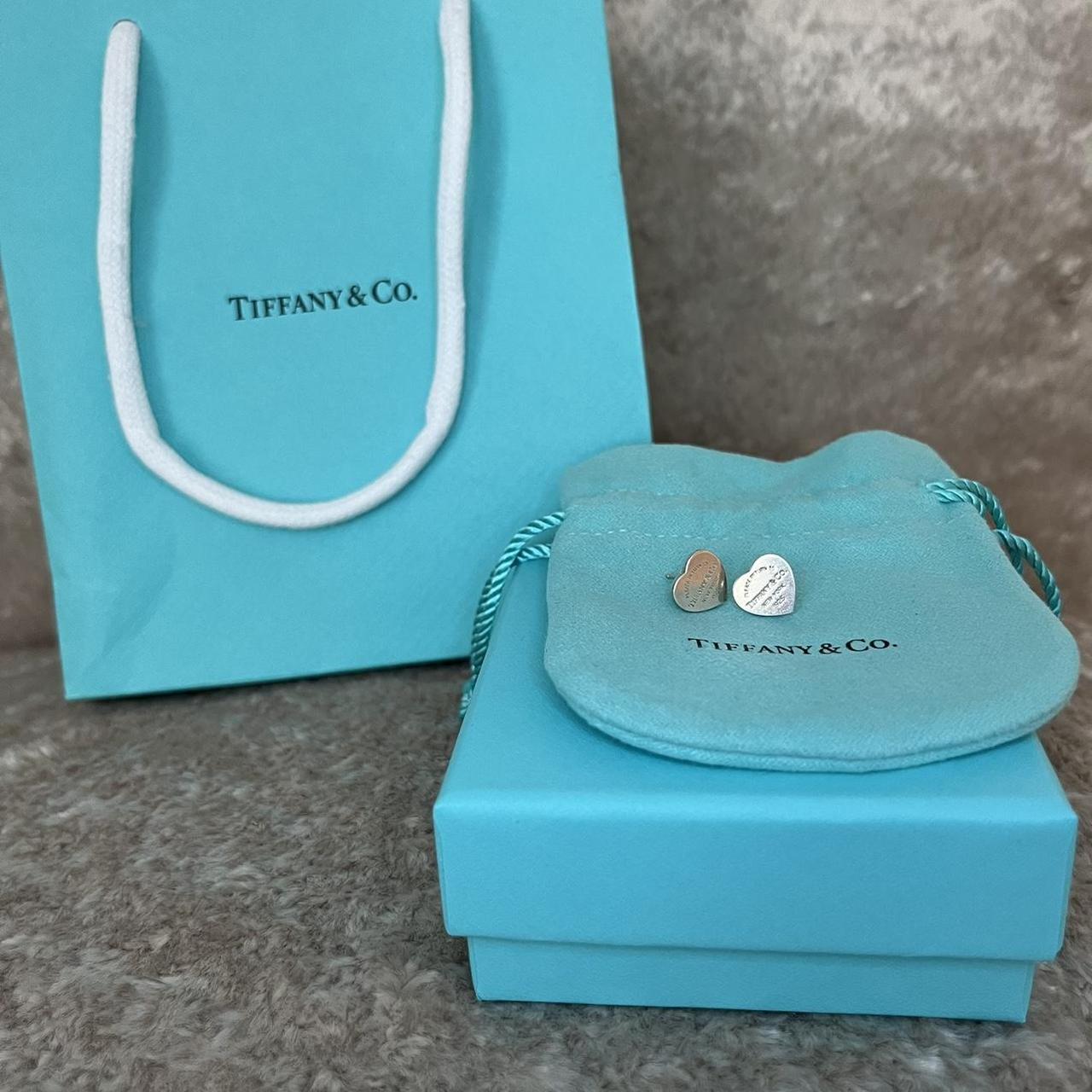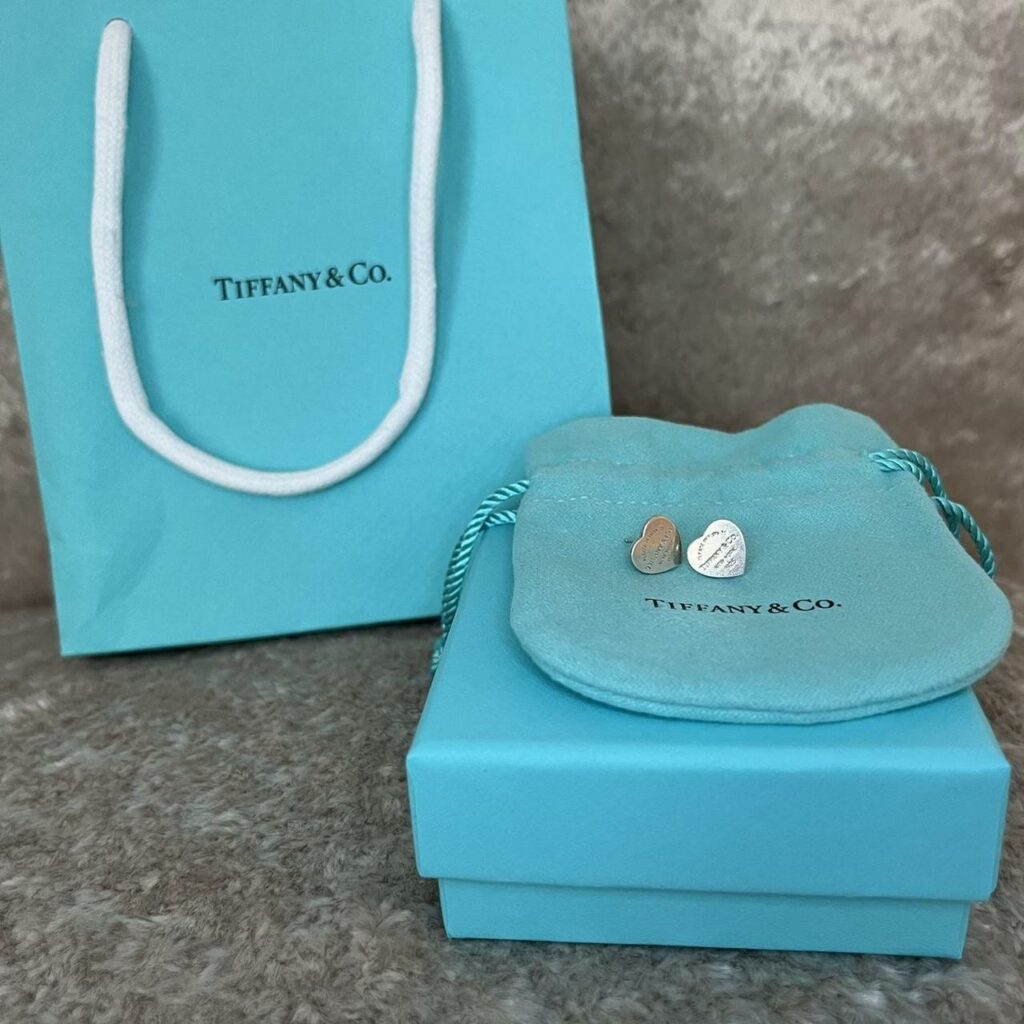 Choosing the Best Platform or Channel
Deciding where to sell your earrings depends on your personal circumstances and comfort level. Online platforms like eBay or social media marketplaces may offer a larger audience, but they also require more effort in terms of listing, communication with multiple interested parties, and shipping. On the other hand, brick-and-mortar establishments like pawn shops can provide quick cash but may not offer the best price.
Selling your earrings to a pre-owned jeweler like Diamond Oak, can often yield a higher return. They specialize in high-end brands like Tiffany & Co. and understand the value of such items.
Attracting and Communicating with Potential Buyers
If using a third party website like eBay or Facebook marketplace, use effective keywords, titles, and descriptions in your listings to attract potential buyers. Highlight the selling points of your earrings and be ready to answer queries promptly and professionally.
Negotiating and Securing Payment
Just as when buying, negotiation is a part of selling. Have a minimum price in mind and be open to reasonable offers. For payment, prioritize secure methods, and consider using third party services that will hold the funds for high-value transactions.
Our recommended contact for both buying and selling Tiffany earrings is Alon at Diamond Oak. With a reputation for fair pricing and expertise in luxury jewelry, he offers a reliable and efficient service. You'll only have to deal with one person and take all the hassle out of haggling with multiple people to get the best price.
Navigating the world of Tiffany & Co. stud earrings, whether you're buying or selling, can be both exciting and challenging.
If you're a buyer, remember to consider factors like style, size, shape, color, and metal that suit your preferences and budget. Authenticity and condition are paramount, particularly when buying pre-owned pieces. Be sure to compare prices and always prioritize buying from reputable sources. On the other hand, if you're selling, understanding the value and demand for your earrings, presenting them attractively, and communicating effectively with potential buyers will set you up for success.
One of the significant advantages of buying pre-owned Tiffany earrings is the potential cost savings without compromising the craftsmanship and quality that the brand is known for. If you're selling, choosing the right platform like a pre-owned jeweler can often yield a higher return than other methods.
For any assistance or guidance on this journey, we recommend reaching out to Alon at Diamond Oak. As a trusted figure in the industry, he stands ready to guide you towards making informed decisions on your Tiffany & Co. stud earrings.
Visit Diamond Oak here